January 1, 2017 by Heather Cowper
Filed under United Kingdom, Europe, World, featured, Aruba, Austria, Balearics, Bavaria, Bristol and Bath, Caribbean, France, Germany, Ireland, Italy, Spain, St Kitts, Tirol, Wales
As we start a new year I'm enjoying the memories of last year's travels, like flicking through a photo album in my head. I visited new places, returned to old favourites and had a great mix of travels with family, friends and the occasional solo trip. This year is wide open to new travel possibilities, but before we move on let's take a moment to revisit some of the places I travelled in 2016.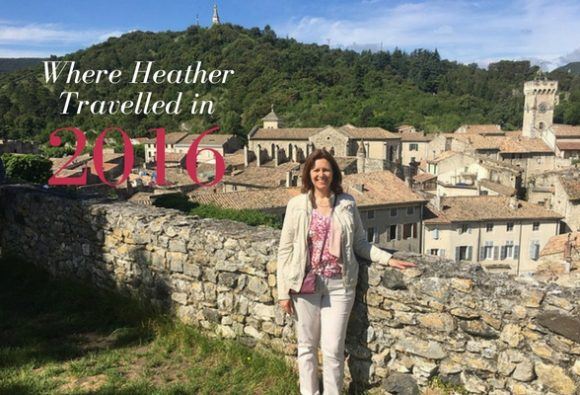 February – a weekend of culture in the Lake District
My weekend in the Lake District brought back memories of family holidays as a child, when we stayed in an old stone cottage in the Easter holidays. This time I was there with my blogging friends and Travelator Media colleagues, Zoe and Kathryn, to enjoy a cottage stay with the Good Life Cottage Company. Despite the rain we had a great time discovering the cultural side of the Lakes, at Blackwell Arts and Crafts House, Beatrix Potter's Hilltop Farm and Wordworth's Dove Cottage, getting out for a blustery walk on Elterwater when the rain finally stopped.
Read More: A weekend of culture in the Lake District (or what to do if it rains)
February – a spring break in Athens
Later in February I visited Athens with my parents and sister who lives in Greece, gathering for the weekend at the classic and elegant Electra Palace Hotel. The warm and sunny weather gave us the opportunity to visit the Acropolis without the scorching heat and crowds that descend on Athens in summer. We loved the fresh spring days, wandering around all the ancient sites and relaxing in a pavement cafes of Plaka to watch the world go by.
Read More: Visiting the Acropolis in Athens: here's what you need to know
March – A Caribbean adventure in St Kitts
March took me to St Kitts, my first ever taste of the Caribbean, where I explored this island that is one half of the island federation of St Kitts and Nevis. I found a laid back and slightly scruffy charm, with lush fields that once grew sugar cane, plantation house hotels and a growing list of stylish new bars and hotels. I tried lobster on the beach and rum cocktails at Salt Plage, learned about the local medicinal plants on a rainforest walk and saw the batik being made at Romney Manor. The visit gave me a desire to visit more Caribbean islands, which despite being small in size are surprisingly diverse, each with its own character.
Read More: A stylish traveller's guide to St Kitts
March – Cliff walks on the Gower in Wales
I've visited the Gower Peninsula in South Wales a few times now, since my son was at university there and in March we made a return visit to the lovely Promenade View in Mumbles. With husband Guy, my son and his friends we explored the coastal paths and gorgeous beaches of the Gower, breezing along the cliff paths of Pennard Cliffs and Three Cliffs Bay. We even clambered along the peninsula of Worms Head, just making it back before the tide turned and covered the jagged rocks with the sea again.
Read More: The Gower in Wales – find your perfect coastal walk and place to stay
April – A farmhouse stay in Costa Brava
After Easter it was off to Costa Brava, for a family break in a large and luxurious farmhouse (read my review) through Charming Villas. The fields around the house were bright yellow with rapeseed and from the bedrooms we had views over the olive trees to the snow capped Pyrenees in the distance. We spent a day in Girona, with pretty pastel houses lining the river, visited the Salvador Dali museum at Figueres and had a tapas lunch in the sunshine at Cadaques, before walking over the headland to Dali's fishermens cottages in Port Lligat.
Read More: A driving tour of Costa Brava
April – Northern Ireland's Causeway Coast
On Northern Ireland's scenic Causeway Coast I found windswept golden beaches, ruined castles and of course what most visitors come to see, the Giant's Causeway. Along with the stunning landscape of the Causeway, I braved the Carrick-A-Rede rope bridge and visited the photogenic Mussenden Temple perched on the cliff-top, staying at the fabulous Bushmills Inn where a welcoming peat fire always burns. I also dipped into the thriving artizan food culture, with fabulous seafood and outstanding quality meat, all served up in huge portions with a healthy dollop of friendly Irish charm.
Read More: 10 fab foodie stops on Northern Ireland's Causeway Coast
May – Visiting laid back Menorca
May took me to Menorca, the smallest and calmest of the Balearic islands, a place that doesn't like to boast too much about its charms, but is full of history, fashion and great food. I spent a day exploring Mahón, the elegant capital of the island, walked to unspoiled beaches along the Cami de Cavalls and  visited some of the island's fascinating Talayotic monuments. Menorca has all the ingredients for a delightful break with mellow old buildings in Cuitadella, stylish shopping and lazy seafood lunches by the port.
Read More: How to spend a perfect day in Mahon, Menorca
June – A Uniworld Cruise through Burgundy and Provence
With husband Guy I took a Uniworld river cruise with Titan Travel through the South of France, from Lyon in the heart of Burgundy, to the medieval walled city of Avignon in Provence. The week flew by with rich insights into local culture and history, as we uncovered the secret passages of Lyon, visited the Papal Palace at Avignon and dipped into the world of Van Gough at Arles. Along the way there were plenty of opportunities to discover the delicious food and wine of Burgundy in vineyards, cookery classes and on board Uniworld's extremely luxurious SS Catherine.
Read More: 10 things to expect on a river cruise with Uniworld
July – A road trip across Canada by RV
As a child our family were great campers, and in July I rediscovered the great outdoors in a road trip driving a motorhome (or RV as it's known in Canada) from Toronto to Montreal. With husband Guy, I mastered how to navigate and park up our home-on-wheels and enjoyed a range of outdoor activities like cycling, hiking and kayaking in Canada's National Parks. We also found that with a bit of planning it's perfectly possible to visit Canada's vibrant cities on an RV road trip. InToronto, Ottawa and Montreal we dipped into cultural highlights from totem poles to street art and new tastes from Poutine to Maple beer.
Read More: How to drive an RV from Toronto to Montreal (Our top tips)
August – Cycling in Dorset
With the end of the summer in sight I went cycling with my daughter in Dorset, one of England's prettiest counties. We set off from Dorchester, stopping for tea in Moreton and lunch overlooking Lulworth cove, passing Lulworth castle before finishing our ride in Wareham. We loved the quiet lanes, rolling countryside and sea views, not to mention all those impossibly picturesque thatched cottages, reminding me just how pretty England can be.
Read More: Cycling in Dorset on the Jurassic Coast
August – An active river cruise on the Danube
In August I took a short cruise with Avalon, starting with the cultural jewel of Vienna and passing through Austria's scenic Wachau Valley until we reached Melk Abbey and disembarked at Linz. In Vienna we learned how to bake bread Austrian style, enjoyed the coffee culture and got to know the famous Lippizanner stallions in the Spanish Riding School. I also had the chance to try out many of the active excursions on offer, cycling past orchards heavy with plums and canoing down river with views of well kept vines in neat rows along the hillside.
Read More: Getting active in Austria's Wachau Valley
Summer in Bristol
This year I've tried to enjoy more of my home town of Bristol, especially in the summer when there are so many festivals and things going on. I've discovered so much more of what's on my own doorstep with levels of creativity and cool that had previously passed me by. In 2017 I hope to connect even more with all the fabulous things going on in Bristol so if you are thinking of paying a visit do let me know and I'll be happy to give you some recommendations.
Read More: 10 Cool things to do on Bristol's Harbourside
September – Hiking in the Dolomites South Tyrol
Every year my friend Julia and I set off for a mountain hiking holiday, and this year we chose the South Tyrol in Northern Italy for our girl's own adventure. Setting off from the luxurious Hotel Cyprianerhof, we made a circular route around the Rosengarten or Catinaccio range, staying in the mountain huts of the Dolomites. The trip gave us the challenge of climbing over high mountain passes and huts with limited facilities (what no shower?) but rewarded us with amazing views and a sense of achievement when we returned to Cyrianerhof for a well earned aperitif admiring the peaks we had climbed over.
Read More: Hiking in the Dolomite – a tour of the Rosengarten in South Tyrol
October – a sunshine break in Aruba
October took me for some much needed sunshine to Aruba in the Dutch Antilles. I found a warm welcome at Amsterdam Manor Resort, indeed everywhere on Aruba which describes itself as "One Happy Island".  I found an island of contrasts – on one side a well developed tourist strip with white sand beaches, on the other a wild northern shore with waves breaking onto the jagged rocks and little in the way of development. There's a sophisticated and cosmopolitan food scene and I loved the street art murals in San Nicholas, showing an unexpected side of the Caribbean.
Read More: My 10 favourite things about Aruba
November – 48 Hours in Florence
With the summer over and Christmas in sight, I nipped off to Florence for a weekend break with Citalia, to get a quick fix of culture and good food. Of course I saw the best known sights, like the Duomo and the David but also took some time to soak up the atmosphere and charm of this ancient city set in the heart of Tuscany. I loved the bustle and great food in the Mercado Centrale where I found a local tripe festival in full swing, dipped into the Salvador Ferragamo shoe museum and wandered through the Boboli gardens behind the Pitti Palace with views over the teracotta roofs of Florence.
Read More: How to spend a perfect weekend in Florence
December – Finding the Christmas spirit in Coburg, Germany
My final trip of 2016 took me to Coburg in Germany, where early in December we caught the first weekend of the Christmas Markets to soak up some seasonal spirit. This pretty town, with medieval buildings clustered around the town square, was also the birthplace of Prince Albert, consort of Queen Victoria who visited Coburg several times. As well as enjoying the mulled wine and Coburger Bratwurst cooked over a smoky wood fire, we visited the elegant palaces of Ehrenberg, Rosenhau and the Veste fortress overlooking the town where Martin Luther stayed and worked for a few months.
Read More: Christmas in Coburg – Discovering th seasonal magic in Coburg
What's next for 2017?
At the moment the New Year is wide open for travel plans with just a few things pencilled in and lots of possibilities. So far I'll be off to:
Dublin in January – my son has just started university at Trinity College, Dublin so I hope to pay him a visit with my parents. You can read about our last trip – 10 fun things we did on a weekend in Dublin
Seefeld, Austria in February – as a travel blogger I often come across places on blog trips that I want to return to with the family and Seefeld was one of them. I was there in September 2015 on a walking holiday and fell in love with the pretty resort of Seefeld which is also a popular winter-snow destination. I'll be returning there in February to try out some of the outdoor snow activities like cross-country ski, snow-shoe and winter hiking with my husband and friends. I'll be trying to have a proper holiday (believe it or not blog trips do involve quite a lot of work!) but I'll still be posting some photos on my social media channels.
Otherwise I have on my wish list to see more of the Caribbean, Canada and generally explore some new destinations further afield as well as enjoying all the great stuff in Bristol where I live.
Whatever your plans for 2017, I hope that health, peace and happiness follow you, wherever you travel this year.
Pin It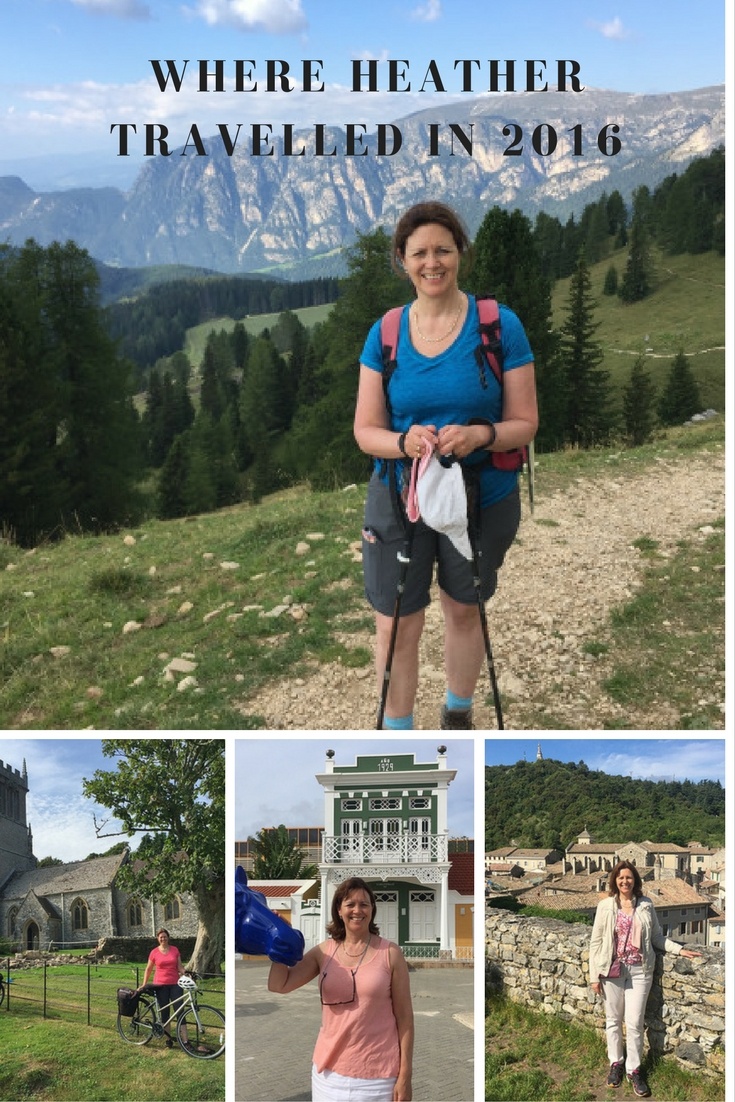 This article is originally published at Heatheronhertravels.com – Read the original article here
Dylan Thomas is the favourite literary son of Wales, born in Swansea and much celebrated before his untimely death at the age of 39. Even if you don't know his poetry, my driving tour of the places he lived and loved will show you some of the most beautiful scenery in South Wales and give you a fascinating insight into the times that Dylan lived through.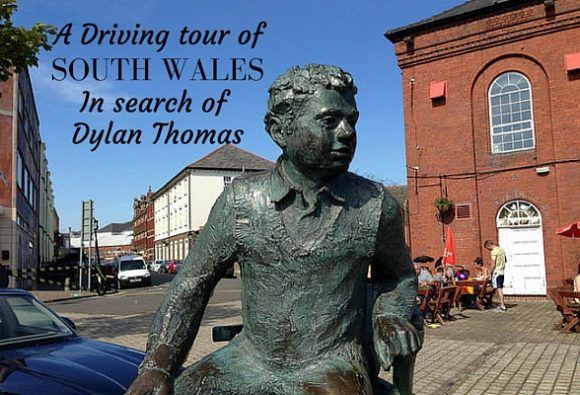 Let's start in Swansea
Let's start our driving tour in Swansea, where Dylan Thomas was born, the place he spoke of as "an ugly, lovely town" since it was heavily bombed in the blitz and lost much of the charm of its pre-war Victorian architecture. If arriving in Wales by public transport, you can easily pick up a hire car in Cardiff, Swansea or Newport as the places on our tour are most easily visited by car. (Check out Alamo Rent A Car if you need a rental car)
In recent years Swansea has undergone a regeneration and in the Maritime Quarter surrounded by new apartments and restaurants, you'll find a statue of the city's most famous son, in front of the Dylan Thomas Theatre.
Dylan was a member of the local amateur dramatics society, the Swansea Little Theatre, who met in Mumbles and the theatre now provides a permanent home for the theatre group. All kinds of productions are put on here but it's worth checking in advance whether there are any preformances related to Dylan Thomas. If not, you can still enjoy the murals on the walls of the theatre, depicting many of the characters that Dylan wrote about in his famous radio play, Under Milkwood. Dylan Thomas Theatre Website
The Dylan Thomas Centre in Swansea
Nearby is the Dylan Thomas Centre, which provides a permanent exhibition about Dylan's life and work. On the walls are large photo murals of Dylan, his friends from the Swansea literary scene and a portrait of his wife Caitlin painted by Augustus John. You can hear the voice of Dylan himself, from the radio broadcasts he made to read his poetry and radio plays.
What comes through above all else is Dylan's love of words which he used like colours in a paint box to create each scene, making lists of the words he might use on scraps of paper to keep by his desk.  He wrote; "I wanted to write poetry in the beginning because I had fallen in love with words, I cared for the colours the words cast on my eyes".
Read my article about Swansea – an ugly, lovely town
Dylan Thomas Centre, Somerset Place, Swansea, SA1 1RR
Let's visit the Dylan Thomas Birthplace in Swansea
Dylan was born in 1914 into an upper middle class family and inherited a love of literature from his father, DJ Thomas, who was Head of English at Swansea Grammar School. The house at 5 Cwmdonkin Drive where Dylan was born and where he grew up has been restored in the same character as when the family lived there and is open to the public, as well as being available to rent as a place to stay. It's just a short drive from the Maritime Quarter in the residential neighbourhood of Uplands.
The dark green and red colour scheme of the sitting room is just as Dylan described in "A Child's Christmas in Wales" when aunts and uncles gather in front of the fire after Christmas lunch. Owner Geoff Haden restored and furnished the house from auctions and car boot sales, using information in family letters and Dylan's own descriptions to recreate the house as it might have looked when Dylan was growing up, right down to the old gramophone player.
Upstairs Dylan's tiny bedroom has been left just as if he had been living there now, with a messy desk covered with books, a packet of woodbines and a bottle of Hancock's local ale, posters of Shakespeare next to Greta Garbo. At this tiny, crowded desk, Dylan would write poetry until he left home at the age of 20, doted on by his mother Florence who would bring him breakfast in bed.
Read my article about the Dylan Thomas birthplace
Visit the Dylan Thomas Birthplace at 5 Cwmdonkin Drive, Uplands, Swansea for a guided tour – check the website for times, events or to book an overnight stay.
Cwmdonkin Park – where the young Dylan played
The Dylan Thomas birthplace looks out to Cwmdonkin Park where Dylan would play as a boy. In Dylan's day there was a reservoir with swans which has now been filled in for a children's playground, but the bowling green and pavilion look much as they did in Dylan's childhood. The pavilion is open as a tea room with a pleasingly retro feel, serving ice creams, tea and welsh cakes on 1950s style china.
Where to stay in Swansea
Morgans Hotel was once the Harbour Trust Office, a grand Edwardian building from the era when Swansea was a major port and industrial city known as "Copperopolis" due to the large amount of copper smelted there.
The bedrooms, with mahogany doors, high ceilings and plaster mouldings, are individually named after the Swansea ships of the period. Downstairs is a stylish bar for evening drinks and breakfast is taken in the former banking hall of the Harbour Port Office, with original murals and copper globe lamps recalling Swansea's industrial heyday. Morgans Hotel makes a luxurious base for exploring Swansea and the Dylan Thomas trail.
Morgans Hotel, Somerset Place, Swansea, SA1 1RR.
Mumbles and the Gower beaches where Dylan loved to walk
Let's take a short drive to the seaside village of Mumbles, just outside Swansea, a place Dylan came to regularly to rehearse with the local amateur dramatics group, the Swansea Little Theatre. Afterwards the group would go for a drink at the Antelope pub where Dylan was known to enjoy a few pints.
From his home in Uplands Dylan could take the bus with friends to Mumbles and the beaches of the Gower peninsula, where they would go walking and camp overnight. Caswell beach which can be easily walked to from Mumbles, still has a retro air with the green painted beach huts and the cafe on the promenade.
A couple of his short stories were set on Rhossili beach and Dylan enjoyed long walks along the cliff path. Read my article about walking the coastal paths of the Gower.
Mumbles is a good place to base yourself for a night or two to explore some of these same beaches, either walking direct from Mumbles along the cliff path or driving to the stunning beaches of Caswell, Langland and Rhossilli.
Where to stay in Mumbles
Promenade View is a stylish 3 bedroom holiday home set right on the promende at Mumbles and an ideal place to base yourself to explore Mumbles, the Gower peninsula and be within easy reach of Swansea. The house has 3 en suite bedrooms with views over Swansea bay and the cyclists, walkers and sailing boats on their stands along the promenade, as well as being a short stroll from plenty of pubs, restaurants and the Mumbles pier where the coastal path begins. Read my review of Promenade View here.
The Boathouse at Laugharne in Carmarthenshire
From Mumbles you can drive to Laugharne, the village in Carmarthenshire that Dylan made his family home in the final years of his life. The Boathouse is set just below the cliff path with striking views across the Taf Estuary from the windows and was described by Dylan as "my sea shaken house on a breakneck of rocks".
Here Dylan lived with his wife Cailin and children until his untimely death in 1953 and it's furnished partly as it was when he lived there, partly as a museum in the attic room that would have been their bedroom.
A little further along the path is Dylan's writing shed where he worked, with desk with cigarette stubs, as if he had just popped out for a walk. The window looks over the Taf estuary, where the sandbanks are exposed at low tide and wading seabirds pick their way through the shallows, described by Dylan as "the mussel pooled and the heron priested shore."
Read my article about Lovely Laugharne – on the Dylan Thomas trail
When he lived here, Dylan would walk along to Browns bar to read the papers, or drop in to see his parents who lived opposite, before working in his writing shed in the afternoon and returning in the evening to Browns with his wife Caitlin for a few more beers.
The Dylan Thomas Boathouse, Dylan's Walk, Laugharne, Carmarthenshire, SA33 4SD
Laugharne Castle
Overlooking the estuary is Laugharne Castle, which was built in the 13th century and came under siege in the English Civil War after which it was partly dismantled. When Dylan first came to Laugharne, the castle and house next door were owned by his friends the writers Richard and Frances Hughes. Dylan was allowed the use of the gazebo in the garden which overlooks the estuary and it was here that he wrote the short stories "Portrait of the artist as a Young Dog".
The castle is now open to the public and there's a writing desk and old typewriter within the summerhouse to recreate how it would have looked when Dylan worked there. Laugharne Castle website. 
Where to stay in Laugharne
Brown's Hotel where Dylan went for a drink is now a stylish pub with rooms that have a retro feel with stripy carpets and modern oak furniture. They only serve snacks in the evenings but there are several places to eat when you are staying there including the Three Mariners pub next door. Brown's Hotel, King Street, Laugharne, Carmarthenshire.
A tour of South Wales taking in the places associated with Dylan Thomas is easily done in 2-4 days but of course there are plenty more things to enjoy in Wales if you'd like to extend your stay. If you are planning a driving holiday in Wales, check out Alamo Rent A Car for your car rental.
Useful information for visiting Wales
For more information on everything to see and do in Wales check the official website at Visit Wales
For more information about Dylan Thomas on the official Dylan Thomas Website
For more information about things to do in and around Swansea including the Dylan Thomas attractions visit the Visit Swansea Bay website
This article was brought to you in partnership with Alamo Rent A Car
Pin It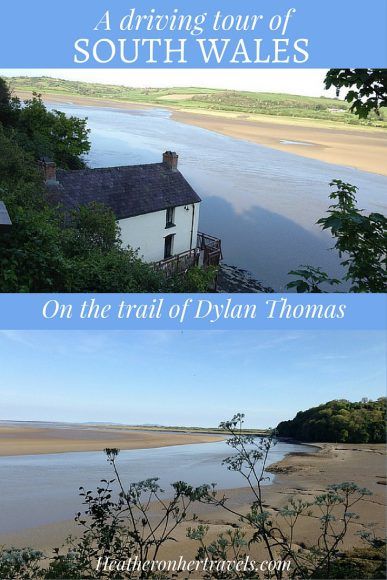 This article is originally published at Heatheronhertravels.com – Read the original article here
Walking along cliff paths and blowing the cobwebs away on a breezy beach is one of my favourite things to do at the weekend, at any time of year and whatever the weather. I've been to the Gower Peninsula in South Wales quite a few times now, since my oldest was at university at Swansea, spending his time 'studying' the best surfing beaches of the Gower coast. Last weekend I was back with my husband Guy, my youngest and a couple of his friends, staying for a second time at a very stylish and comfortable holiday house called Promenade View in Mumbles which is a perfect base for exploring the coastal walks and gorgeous beaches of the Gower.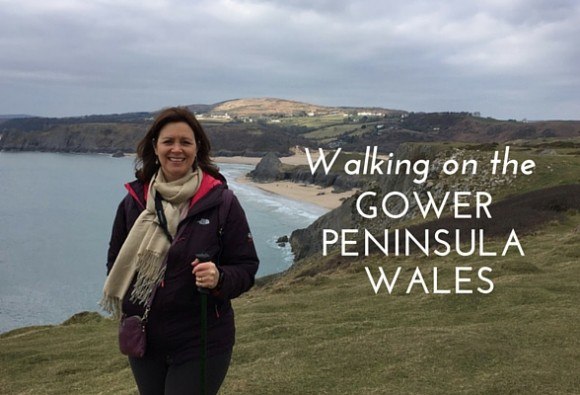 We started our walk at Pennard Cliffs
Arriving on the Friday night we made our grand plan of how to spend the weekend. We would take the bus to Pennard where we had finished our walk a couple of years earlier (read about it here), then walk as far as we could to a point where we could catch the bus back to Mumbles. It was a good plan, but with three teenage boys, a much deserved lie in and a late start on the Saturday morning, it was a plan that we soon had to abandon. At 11am, fearing that the best of the day would be gone if we didn't get a move on, we decided to drive instead of take the bus and set off for the National Trust car park at Pennard.
Leaving the car park, we followed the broad, grassy path along the edge of the cliff with patches of yellow flowering gorse, dwarf trees blown into windswept shapes and the waves crashing on the rocks below. The limestone cliffs are a natural habitat for many wildflowers, although it was a bit too early to see the pink clumps of thrift that bloom here later in the spring.
The cliff top of this section of the Welsh coast is common land where the local farmers have the right to graze their livestock, although the only animals that we saw were dogs taking their owners for a walk and swooping seagulls. Soon Three Cliffs Bay came into view, the sun lighting up the mottled brown hillside and the few white cottages with grey slate roofs.
Getting to Pennard Cliffs

The National Trust Car park at Southgate is about a 20 minute drive from Mumbles or 30 minute drive from Swansea centre and parking for the day costs £3. There are public toilets and a cafe by the car park and bus stop. The number 14 and 14A runs from Swansea to Pennard every 1-2 hours – bus map and information here.
The scramble down to Pobbles Beach
Just before Three Cliffs Bay the path led down through the dunes of Pennard Burrows to the secluded Pobbles Beach. The short grass gave way to deep swathes of sand and the boys pretended to snowboard down through the dunes, while on the cliff above us, we could hear the knock and thwack of balls on Pennard Golf Course.
Down on the beach we picked our way over boulders, stones and piles of driftwood until we reached the sand and the boys clambered over the rocks to a smaller section of beach where there was a sea cave that smugglers would have loved. The tide was coming in and as I stood there taking photos, I got caught out by a wave washing over my boots, jumped and nearly dropped my camera.
I had to call to the boys to come back round onto the main beach, before they got cut off by the sea but of course they were in no hurry. It would be all part of the adventure to scale the cliff face or climb over rocks risking the sheer drop below!
The Photogenic Three Cliffs Bay
Scrambling up through the sand dunes from Pobbles beach we came down on the other side to Three Cliffs Bay, one most photographed beaches on the Gower. I'm sure it has been on many of those 'best beaches in the world' lists. We picked our way along a very narrow cliff path, although subsequently realised there were easier routes around the back of the sand dunes, and came sliding and slithering again down to the beach.
A band of grey shale that marked the high tide mark stretched across the beach, behind it the valley through which the silvery ribbon of Pennard Pill river flowed into the sea. On the cliff above us sat the picturesque ruin of Pennard Castle that was built between the 12th and 14th centuries by Henry de Beaumont, the first Earl of Warwick, but later abandoned because of sand blowing in from the dunes and beach.
We sat on a log to rest a while then crossed the beach to where the shallow river could be crossed on stepping stones. Guy remembered how he had brought our daughter Sophie-Anne here with some friends when they were a lot younger, staying in the campsite up on the cliffs and they'd all come down to make a fire on the beach. What an wild adventure for tiddlers!
Visiting Three Cliffs Bay

The beach here is not easily accessible except by walking unless you are staying at the Three Cliffs Bay Holiday Park where they have both camping and farm cottages. Parking is available at Pennard where we walked from or at the Gower Heritage Centre at Parkmill on the other side of the golf course.
Had we continued, the path on the other side of Three Cliffs Bay would have brought us to the next beach at Oxwich Bay, another long sandy beach with easy parking and cafes at the far end, which is served by the 117 bus from Swansea. Looking out we could see the headland where the next bus stop would be and decided that it looked a very, very long way to walk to Oxwich. The executive decision was taken to turn back here and retrace our steps to the car. Our walk around the whole Gower would have to wait for another day.
Returning by the same way we'd come, we clambered up through the dunes, wading through sand that resembled soft brown sugar and along the boardwalk that led through the spindly grass. Our walk back to Pennard was much quicker on the return since I had taken all my photos and we soon arrived back to our holiday house at Promenade View on the seafront at Mumbles.
Where to stay on the Gower
Before I tell you what we got up to on the Sunday of our walking weekend, let me introduce you to our luxurious holiday house at Mumbles, called Promenade View. We'd stayed here a couple of years ago and loved everything about it, so I was really pleased when the owner Kim invited us back (read my review and watch the video here)
Mumbles is the traditional seaside town that's now a suburb of Swansea but was originally a small fishing village until the railway joined it to the city in the 19th century. The promenade that the house is named after runs from Mumbles right around Swansea Bay to the city and it's a favourite stretch for joggers and cyclists.
Staying in Mumbles gives you the best of all worlds since there are plenty of shops, bars and restaurants, but it has the feel of a seaside village. Only a short drive or even walk to the end of the promenade and you are on the cliff paths heading for some of the most fabulous beaches in Wales.
Guy and I had the first floor master bedroom while the boys took the two second floor bedrooms, each with its own en suite bathroom, making it ideal for a families or groups of friends to share. The ground floor sitting room was beautifully decorated in calm shades of cream and stone with wooden plantation shutters to give some privacy and there's space to park your car right outside.
At the back of the ground floor is the open plan kitchem with large dining table and a small patio garden where you can sit out and eat in sunny weather. The thing that I really love about this house is that you can open the shutters in the two front bedroom and sit in bed looking out over Swansea Bay while the occasional walker and cyclist passes by – really very hypnotic and relaxing.
For more information on one of the most stylish Gower Cottages around, check out the Promenade View Website and book through local cottage company Home from Home who offer many luxury Gower cottages like this one.
Walking to Worm's Head
Although we originally planned to continue our walk from Three Cliffs Bay, we decided that on Sunday we should really visit another of the best beaches in the Gower at Rhossili. Unfortunately the forecast sunshine failed to materialise but undaunted we drove for 30 minutes to reach Rhossili, at the furthest end of the Gower peninsula. We'd been there quite a few years ago on a family camping weekend (read about it here) when the kids were a lot smaller and spent a sunny day on the broad sandy beach playing cricket and generally lolling around.
On previous Gower holidays we'd never tried the walk to Worm's Head, a jut (did I just invent that word?) of rock that is joined to the headland by a causeway. You need to check the times of the tide to be sure that the causeway will be open and you won't be cut off. There's a big sign and a coastguard's hut to make sure you don't do anything too foolhardy, but I'm sure that quite a few must get cut off, in fact we spotted a board outside the hut that told us how many. By pure chance we managed to time it perfectly and arrived at 11am with the causeway open for another couple of hours, which seemed plenty of time.
The first challenge was to clamber down from the grassy bank to a slope with uneven layers of rocks, pebbles and boulders. On the causeway, the rocks were topped by colonies of miniature mussels, looking as if a sea giant had slapped dollops of tar all over the causeway. I stuck to the area closer to the sea but it was impossible to avoid the mussels, everywhere tiny mussels, on every rock, in every nook and cranny although none of them big enough to make a decent moules marinière.
I kept an eye on the water lapping up on the rocks hoping to see one of the seals that swim near the causeway but none appeared. By the time I had stopped to photograph every mussel, whelk and limpet, the boys and Guy were way ahead of me and I decided to turn back, leaving Guy to make sure they all got back safely before the tide turned.
As I picked my way cautiously back across the causeway (definitely ankle twisting territory!) I remembered my friend telling me about the time when she was at Worm's Head with small children frantically calling her older ones back before they got stuck on the wrong side of the causeway. I saw the binoculars at the coastguard's hut and wondered whether they count them out and count them back in.
Soon I was relieved to see my crew making their way back and all were back just by 1.00 when the tide was due to turn and flood the causeway. Since it was past lunchtime we found a cosy Gower hotel and had a plate or two of chips at the Worm's Head Hotel before heading back to Promenade View for a late sandwich lunch.
Back at Mumbles Promenade
Annoyingly, as soon as we drove away from Rhossili, the brooding grey cloud cleared and we started to see patches of blue sky at last. On the Mumbles promenade families were out enjoying the sunshine, strolling up past the boats towards the pier to treat themselves to an ice cream.
Sadly we had run out of time to join them on this weekend, but I'm sure there will be another installment of the 'Walking around the Gower' project, when we return to walk just a little further and explore more of those glorious Gower beaches.
Visitor Information
For more information about staying at Promenade View Holiday Home check out their website and follow them on Facebook and Twitter.
You can book Gower holidays through Home from Home holiday cottages who specialise in Gower holiday cottages and have a great many lovely ones to choose from. Follow them on Facebook | Twitter | Instagram
To find out more about what's going on in the area of Mumbles and Swansea Bay check out the Visit Swansea Bay website and follow on their social channels Facebook | Twitter | Instagram
For more holidays in Wales check out the Visit Wales tourism website and follow their social media channels Facebook | Twitter | Instagram
More things to do in Wales
A weekend on the Gower Peninsula at Langland and Caswell Bay
Lovely Laugherne – on the Dylan Thomas trail in South Wales
An Ugly Lovely Town – Dylan Thomas in Swansea
Find all my Photos from the weekend in my Flickr Album: Mumbles and Gower
Pin It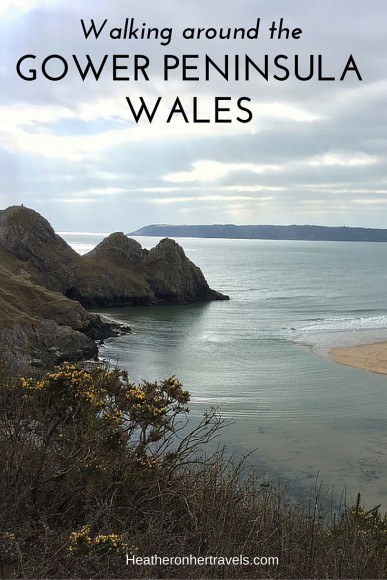 Thanks to Kim at Promenade View Holiday House for hosting our weekend stay.
This article is originally published at Heatheronhertravels.com – Read the original article here