November 5, 2014 by Heather Cowper
Filed under Eating and drinking, Europe, featured, Greece, Leisure, Misc, Museums, Sightseeing, TBEX, video
"We want you to help the world dream about Greece", the Minister of Tourism, Olga Kefalogianni told us at the opening night party for the TBEX travel bloggers conference in Athen. The city had opened its arms wide to welcome over 500 travel bloggers attending the conference so that we could help change perceptions about what Greece has to offer. In the opening speeches the Mayor of Athens, Giorgos Kaminis told us "We felt that during the economic crisis we were treated unfairly by the mainstream media and so we wanted to invite you bloggers to see Athens for yourselves and tell the real stories of our city."
Greece has been through some tough times in the last couple of years fillng the newspapers with reports of strikes and public protests. During the crisis the government was forced to take drastic measures to balance the books and pensioners, students and families alike struggled to make ends meet. But in Athens last week we could feel a new energy as Greece leaves the worst behind and looks to the future. Local tourism businesses had come together to show us their best side and at the opening party restaurants and food businesses wow'ed us with a feast of Greek cuisine and enterprise.
A showcase of Greek gastronomy at the TBEX opening night party
Arriving at the Technopolis cultural centre it took me a very, very long time to extract myself from the main hall where stands of food and drink producers tempted me with tastes from all the regions of Greece. From Stremmenos I tasted my way through the naturally matured proscutio and salamis from the pine forests of Central Greece, washed down with Verve natural juices in blends of apple, celery, melon and ginger from Farmer's Republic. I sipped Greek wines from Papaioannou Wines and nibbled a plate of miniature hot dogs from local restaurant ManhManh who offer Greek regional dishes with a modern twist. Another local Athens restaurant Aleria was serving a creamy, nutty Halva mousse to die for and I was given a bag of traditional Loukoum sweets made by Nedim, perfumed with rosewater, coated with coconut and dripping with syrup. I took them back to my hotel room and looking for a late night snack I'm ashamed to say that I couldn't resist eating the whole bag.
During the day I had taken the Athens Food Tour with Big Olive City Walks, a new business run by young Athenian entrepreneurs including the founder, Yannis and architecture expert, Nikos who fed us historical snippets during our walk.
Greek pastries and yoghurt at Stani Dairy bar
The gastronomic walking tour started back to front with the deserts first, although of course the Greeks tend to eat their yoghurt and honey in the morning for breakfast and their cakes in the afternoon when guests come visiting. At Stani, a family run dairy cafe just off Omonia square, tubs of creamy Greek yoghurt were piled in the chiller cabinet and jars of honey stacked on the shelves of cream painted cabinets transported from some Greek grandmother's kitchen.
Plates of sweet treets were laid out for us to try, with crisp Loukoumades, miniature doughnuts drizzled with honey, a slice of Galaktobureko custard tart enclosed in syrupy filo pasty and Moustalevria a sweet jelly made from grape pulp left over from the wine pressing and scattered with nuts. And of course there was creamy Greek yoghurt made from sheep's milk bathed with honey and scattered with walnuts. Stani: 10 M. Kotopouli str, Omonia square
A tasting of olives and LIA oil, the symbol of Athens
Our next stop took us to the Big Olive offices where we had a tasting of olives and olive oils with sweet, hard biscuits flavoured with orange and almond. These traditional Koulouraki biscuits would be hard baked to preserve them but then softened by dipping into olive oil. The LIA extra virgin oil from Messinia, beside the Ionian sea was poured into a cup to sip on its own and savour the green grass flavours. We tasted the small, salty, black Kalamata olives from the Pelleponese and the plump, fleshy Amphisa olives from central Greece, the Kalamata ones being the more expensive of the two.
The olive is seen as a symbol of peace and prosperity in Greece since the legend goes that the Greek Goddess Athena planted a tree on the Acropolis, so founding the city of Athens which was named after her. I thought perhaps that the Big Olive city walks had started from selling olives, but Yannis explained that it was a play on names like Big Apple for New York, but Big Olive for Athens since the olive is not only the symbol of the city but also of regeneration and will spring up and grow again after a forest fire.
With the fishes in the Athens Central Market
Our gastronomic tour now took us through the amazing Central market on Athinas Street known as the Varvakios agora where stand after stand of fish was laid out, with all the vendors keeping up a constant calling and exhorting us to buy their fish. Silver scaled and yellow striped fish stared up at me with dead eyes and open mouths from their bed of ice strewn with lemons while plump pink crayfish were standing ready to make a seafood supper.
At the farthest end of the fish section we reached the meat section where half carcasses of dead animals hung from the meat hooks. I winced as the butchers wielded their cleavers expertly on the chopping blocks and hoped that no fingers would be chopped off in the process.
Nikos the story teller told us how the market had originally been located within the archaeological area until this new one was built in the 1880s to allow the excavations to take place. The traders resisted moving into it since it was further away from the busy shopping areas, until a fire mysteriously broke out and burned down the original market, leaving them no choice.
Flatbreads warm from the oven from Antiochia
Next stop on our gastronomic journey around the regional influences on Greek cuisine was Feyrouz Lahmajoun, another new family venture featuring the flatbreads of Antiochia. What is a Lahmajoun? It's a Turkish or Armenian street-food that is somewhere between cross a pizza, pitta and a pie. The owner, Andreas explained how the shop was named for his mother Feyrouz who made all the doughs and fillings for the Lahmajoun and also for the much admired singer Fayrouz who was considered the queen of Lebanese music and whose portrait was hanging behind the counter. "She is the only Arabic singer who is loved by all religions and all nationalities" he told us.
We could see the different flatbreads laid out behind the counter covered with minced meat or vegetables to which you could add humus or olive paste as an extra topping. The Peinirli or open top pies were laid out along the window counter for us to try, warm from the oven with toppings of cheese and tomato or cooked vegetables, with a glass of perfumed amber Turkish tea flavoured with cardoman and cloves. Each of these a bargain at around €3. Feyrouz: Karori 23 in Aiolou, Athens
Ham and charcuterie at Karamanlidika
Reluctantly our group moved out of Feyrouz, having devoured everything that had been laid out for us and headed through the side streets to another cafe/deli specialising in cheese and charcuterie called Karamanlidika. Strings of red sausages, bunches of garlic and chillis and whole hams were strung above the counter like Christmas decorations. With bare stone walls and simple wooden tables the place looked like a classy village taverna serving simple plates of cheeses and sliced charcuterie to appreciative diners.
Many of the hams had a thick red coating of spices like pepper and fenugreek which once thinly sliced, made a ribbon edge of the meat, giving a zap of flavour as we greedily ate it with our fingers. Also on the menu were Meze like the stuffed vine leaves and matured cheese with plenty of jars and bottle full of oils and condiments to take home. Karamanlidika: Sokrates 1 & Evripides 52, Athens
Coffee and a sweet spoon at the Museum of Gastronomy
Our final stop was the charming Museum of Greek Gastronomy, a private house that had been opened up with a restaurant upstairs, some specialist produce on sale and downstairs an exhibition about the foods and cultivation of the monks of Northern Greece. We sat in the small courtyard looking out towards the church next door and enjoyed a strong Greek coffee perfumed with rosewater and a "Sweet Spoon" which in this case was a miniature aubergine preserved in syrup like a crystallised fruit. Museum of Greek Gastronomy: 13, Agiou Dimitriou Street 10554, Athens.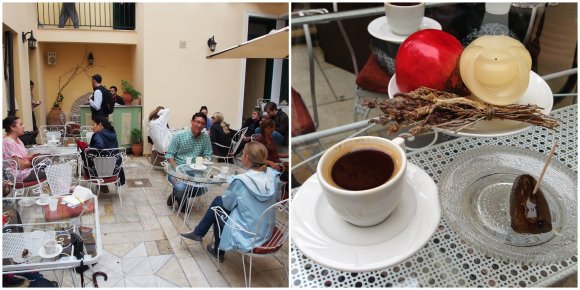 Now mid-afternoon and our Big Olive Gastronomic walking tour completed, it was time for a bit of tick-list sightseeing. Paris may have the Eiffel Tower, Rome the Colosseum, London the Elgin Marbles (don't mention the Elgin, or should I say Parthenon Marbles to a Greek!) and of course when in Athens one must see the Acropolis.
The heavy rain that we had battled through in the morning had given way to warm sunshine and so with my new blogging friend Paula from Soothed in the city I headed up the hill towards the Parthenon. By pure chance we had chosen the perfect time to take photos of those famous monuments, at the golden hour of late afternoon when the sun bathes the golden stone of the Parthenon and those lovely ladies holding up the roof bask in the sunshine.  The Parthenon was something of a building site and seemed to be in a process of being dismantled and put back together with cranes and scaffolding everywhere. We walked around, took lots of photos and marvelled at the size and sprawl of Athens below us, stretching as far as the mountains in the distance.
Sightseeing boxes ticked, we headed back down and wandered around the narrow streets filled with cafes and restaurants, stopping for a pistachio ice cream (me) and an enormous chocolate truffle (Paula) from Da Vinci, an artizan ice cream parlour that it seemed churlish to pass by without going inside to investigate the flavours on offer.
The next two days were taken up with the TBEX conference but our final Saturday night was spent at a street party put on for us by the local traders of Pandrossou Street. Emerging from Monastiriki Metro station and crossing the square I was half expecting that this narrow street nestling below the Acropolis hill would be full of tourist tat, but instead I found charming family businesses that were full of character, displaying Greek crafts and artizan goods. I stopped to watch the lady handpainting gorgeous vases at Pagani and stepped inside to find a treasure trove of painted gifts from all over Greece.
Further along the street the shops were putting on demonstrations of their crafts, a shoemaker tooling traditional leather sandles that a fashionable Ancient Greek lady might have coveted and the bouzouki maker at the Pegasus musical instrument workshop. I tried a real Greek coffee outside the Mikro cafe, strong and sweet just how I like it, but beware drinking it down to the last drop or you'll end up with coffee sludge between your teeth.
At the end of the street the bouzouki band were playing all the old favourites, those foot tapping, shoulder swaying tunes that demand to be danced to. Since my sister lives on the Greek island of Zakynthos, I've had the pleasure and fun of the Greek night that she puts on in her hotel each week for guests, and all the songs were familiar to me. This is the music of festivals and wedding celebrations, enjoyed by every age from the trendy young things to their black clothed grandmothers and believe me when the band strikes up, the Greeks don't need much excuse for a dance.
I'd like to say that I joined the circle of dancers, a mixture of locals and bloggers and danced the night away in the streets of Athens, but I was too busy recording the music on video for you dear reader (please watch it below). "We invite you all to be Athenians" the major had told us, and on our final night in Athens, listening to the familiar songs we took that message to heart. Come to Greece was the message, come enjoy our ancient cuture and our modern spirit, come enjoy the sunshine and the music and the people. Come enjoy a glass of wine with new friends, come eat our traditional dishes reinvented in new ways, come feel the warmth and spirit of Athens and Greece. Come visit us in 2015.
I hope you enjoy the video below of Bouzouki music in Pandrossou Street Athens
If you can't see the video above of Greek Bouzouki music in Athens, see it on my blog here or Youtube here and please do subscribe using the button above
Click here for direct download of video
Subscribe to all my videos in I-tunes
If you enjoyed this video, check out the others in my Video archive
This article by Heather Cowper is originally published at Heatheronhertravels.com – Read the original article here
You'll also find our sister blog with tips on how to build a successful travel blog at My Blogging Journey
Before today I thought that a Via Ferrata was a hiking trail with some sections of ladders and cables to keep you safe on the tricky bits. Now I'm in South Tyrol, in the heart of the Dolomites, I quickly realise that a Via Ferrata is not a hiking trail, but a rock climb and since I've never climbed in my life it's a somewhat scary prospect. On my previous hikes in the Alps on the Tour de Mont Blanc I'd come across the odd cable or ladder, but always managed to find an easier alternative route. Today there's no escape.
I meet my guide Veronika at the Catores Mountain Guide offices in Ortisei where she fits me out with the helmet and harness I'll need, as well as the two karabinas and the rope that she'll secure to my harness. The back story here is that these climbing routes, literally "iron roads" were originally built with ladders and cables to enable soldiers in the First World war to move around the Dolomites safely. Italian and Austrian solders, just as young and fit as the climbers I'll meet on the mountain today, fought to dominate this area, building trenches and trying to blow each other up on the mountain.
I hope you enjoy my video below of climbing the Via Ferrata in South Tyrol
If you can't see the video above of climbing the Via Ferrata in South Tyrol, see it on my blog here or Youtube here and please do subscribe using the button above
Click here for direct download of video file
Subscribe to all my videos in I-tunes
If you enjoyed this video, check out the others in my Video archive
Despite the Austrians having won the battle, the Italians won the war because they were on the side of the Allies and in the post-war division of spoils were given the province of South Tyrol to add to their territory. These days the Via Ferrata have been restored to allow climbers to enjoy the Dolomites, beginners like me in the company of a guide, while more experienced climbers can use them on their own so long as they have the right equipment.
The cable car takes us up the mountain to the start of our climb, although by now the cloud is swirling around us and hiding the peaks opposite from view. The path climbs steadily above the mountain restaurant, getting progressively more steep, while I get progressively more breathless. As I walk up mundane thoughts swim and swirl around in my head. Will my nails, newly manicured and polished for this trip stand up to the battering? What are the kids doing back home? How can I capture the experience (for your benefit dear readers) without my iPhone slipping from my hand and plunging down to the valley below?
I scrabble for handholds to steady myself on the dusty rocks, wishing that I'd worn my fingerless cycling gloves that Veronika said I didn't really need for such a short climb. At the top of the approach Veronika suggests that I take off all my rings as they could get caught or damaged on the rocks and I very carefully zip them into my pocket, terrified that I'll drop my wedding ring and it will roll all the way down the mountain.
"Where are all the ladders and cables?" I ask. Veronika points up the mountain and tells me "this is just the start". I look up at what seems like a sheer wall of rock with a cable running up it. Fear takes hold. I'm no climber. How on earth will I get up there?
At the start of the cable, Veronika shows me how I should clip on both my karabinas and slide them along with one hand while the other hand finds a hold on the rock. At the places where the cable is secured to the rock I unclip one karabina and clip it back on the other side of the metal bar, then do the same with the other karabina, always secured to the cable in case I fall.
Veronika points out an edelweiss, an increasingly rare sight on the mountain. I once posted a photo of what I thought was edelweiss when I was walking the Tour de Mont Blanc, quickly to be corrected on Twitter that it was a thistle! This is the real thing – looking like a felt flower that you might tuck in your hat. Set into the side of the raw rock nearby, I spot a little shrine with a statue of the Madonna. "She keeps us safe on the mountain," Veronika tells me.
A group is climbing up below us and I start to panic slightly – will I need to speed up or will I be holding up the entire mountain? They all look like they know what they are doing with wrap around sunglasses and tanned muscular arms. Veronika is endlessly patient as she waits for me to take my time and progress slowly upwards. In the meantime she takes out her camera and takes photos of me grinning up at her. I AM enjoying this, I tell myself.
Now I start climbing in earnest and everything is focused on this moment. Everything becomes very small. One step up. I look up to find the next handhold. Now the next foot. Will I really be able to balance my weight on such a tiny ledge? Don't look down. It's just about the next handhold. It's just about the next foothold.
Now I understand how climbing can be a kind of meditation to clear your mind of the jumble of thoughts and crumbs of everyday life. As I climb it's not about admiring the views or the wonder of the Dolomites. It's about this moment of concentration, the next foothold, the next handhold. Like a mathematical problem to be solved, there's a sequence of moves that will get me up the rock face. If my hand goes here, then my foot can go there and my next hand here and my next foot there.
"Small steps", says Veronika encouragingly "small steps". But there are places where only a big step up will do, as I hoist myself up inelegantly, praying that the tiny ledge I've chosen as a foothold won't give way. My upper body strength is pathetic and I'm feeling every old twist or sprain in my arms and wrists. I can see why climbers are so lean and strong and why they seem so calm and confident. Up here on the mountain is no place to get excited, you can't take your frustration out on the mountain because the mountain will win.
It's a relief when we arrive on a flatter path with sheer drops on either side and take the opportunity to pose for a few photos. Now I have the chance to look around at the view. The cable car station is a toy town building down in the valley with the access track snaking up to it and the cloud hanging over the plug of rock that is Sasso Lungo.
Veronika is agile as she trips lightly up the steep slope, surefooted as a mountain goat. I scrabble behind her on all fours in undignified fashion trying to find handholds on the slope ahead of me, more of a spider than goat. A short climb later and we're suddenly at the top, sharing a tiny peak of rock with two other ladies of my age who are chatting away as if this were  a social gathering (which it probably is for them). Once I am settled with my bottom on that peak they head down and now we have the whole of the Dolomites to ourselves. Without moving my bottom an inch I gingerly get out my camera and twist my body round to take in the panorama of jagged peaks around me.
Veronika takes more photos of me sitting there, clambering surefooted up to the next bit of rock and leaning so far out to get the perfect shot that I feel sure she will fall.  I savour the moment of my success in getting up here but then the realisation dawns that I'm going to have to get down again. "Don't worry" says Veronika "the way down is much easier". I'm relieved that I won't have to climb back down that vertical rock face, but first we have to rappel the short distance down off this peak to where we pick up the cable again.
Veronika instructs me how to lean away from the rock face, letting the harness take my bodyweight. "Two hands on the rope" she calls to me but I'm too scared and my hand reaches out for the cable, half scrambling, half abseiling down. Just below the peak we pick up a different path, easier than the sheer rock face as Veronika has promised but still not a walk in the park.
We are still clipped to the cable but the dusty shale and rubble slides underfoot and my muscles are now rebelling against the contortions they've been put through. I've scraped my knee and my thighs keep going into spasms. After my brief success it's time to focus again, we're not down yet. The cable snakes down a rocky couloir and again I scrabble as Veronika follows surefooted behind. At some point we abandon the cable but she still has me on the rope. Finally she expertly winds up the rope and we're walking over the dusty rock on a path that's barely there. Down to where the rock ends and the grass starts, down again to the cable car station and down again to the valley to pick up the car and drive back to Ortisei.
Back in Bolzano that afternoon I meet a local lady and tell her of my daring exploits climbing in the Val Gardena. "Oh yes" she smiles, "that's where we love to take the kids climbing on a Sunday". My bubble bursts as I realise that for the locals a family climb in the Dolomites really is a bit like a walk in the park. But even though it's not quite Everest, I still feel secretly thrilled at the achievement of climbing MY first Via Ferrata.
If you'd like to try a Via Ferrata in South Tyrol
The Piccola Cir Via Ferrata took around 4 hours door to door from the Catores office and around 2.5 hrs from the top of the Dantercepies cable-car station (1.5 hours climbing up & 1 hour down). All safety equipment (harness and helmet) was provided as part of the climb.
Thanks to my guide Veronika Schrott who can be contacted via the Catores Alpine School in Ortisei, Val Gardena e-mail: info@catores.com. The main office of the mountain guides is at Via Rezia 5 in Ortisei where you can arrange guided climbs, hikes and ski safaris in South Tyrol with routes suitable for families and beginners as well as advanced climbers from €95 per person as part of a group. Four people is the maximum each guide can cover.
For more technical details of the Piccola Cir Via Ferrata visit the Sentres website
Information, articles and resources for South Tyrol
For more information to plan your own visit, find accommodation and discover all the things to do in South Tyrol, visit the South Tyrol Tourism website and watch videos about the region on their YouTube channel. For updates on things to do in South Tyrol follow the South Tyrol Twitter, Facebook, Google+ and Instagram pages
My thanks to the South Tyrol Tourism Board for their support in this trip in collaboration with Travelator Media
This article by Heather Cowper is originally published at Heatheronhertravels.com – Read the original article here
You'll also find our sister blog with tips on how to build a successful travel blog at My Blogging Journey
I'm relatively new to cruising so my week's cruise in the Mediterranean with MSC Cruises was a very enjoyable way of learning what cruising's all about and how to get the most from this kind of holiday. I've realised that, just as there is a style of hotel or resort to suit each person's taste and budget, every cruise line and cruise ship brings a different flavour, so it's important to research carefully before you book your cruise. We had a wonderful week with MSC Cruises and if you're thinking of booking or have already booked on MSC Splendida, here's what you need to know to get the most from your cruise;
About MSC Splendida – big is beautiful
First the vital statistics. There's no getting away from the fact that MSC Splendida is a big ship, with over 1600 staterooms and room for 3247 guests – or more if you happen to be travelling in the holiday season when there will be plenty of children to swell the numbers on board. She's a relatively new ship too, built in 2009 and one of the four "Fantasia" class of ship in the MSC fleet which incorporate the most modern designs.
We found that MSC Splendida was a beautiful and glamourous ship and everything on board was extremely well maintained. A big ship has pros and cons – it means that there's lots of choice of things to do and many different bars and restaurants to spread out, but you do need to be aware that the most popular areas such as the pool decks will become very busy especially on sea days.
I hope you enjoy the video below – my tour of MSC Splendida with MSC Cruises
If you can't see the video above, view it on my blog here or on YouTube here and please do subscribe using the button above
Download the Video Tour of MSC Splendida
Subscribe to all my videos in I-tunes
If you enjoyed this video, check out the others in my Video archive
Who are the other guests on an MSC Mediterranean Cruise?
One of the key differences with MSC Cruises is that this is very much an Italian run cruise line, attracting a large proportion of European guests on the Mediterranean routes. Since passengers can board at different ports such as Barcelona, Marseille and Genoa, the majority of guests on our cruise were from Italy, Spain and France, with a few from China and Japan and a minority of English and Irish. This was never a problem from a language point of view since all announcements were made in 5 languages, including English and we were left in admiration at the multilingual skills of the crew.
The European flavour also extends to the way things are done on board, for instance the dress code is less formal, charging for bottled water seems strange for the British but is acceptable for European guests, and the service is friendly and efficient but less effusive than you might find on a North American ship.
The broad mix of European nationalities also meant that the entertainment could not rely on the language – so no comedy acts but more song and dance shows with a broad appeal. If you want a very British ship this may not be the cruise for you but if you are travelling as a family group or with friends then the cosmopolitan mix of guests will probably suit you.
MSC Cruises is also doing a great job in attracting a younger audience to the cruise market and on our cruise there were plenty of families, couples and groups of friends from 30+. This cruise certainly dispelled any preconception that cruises are only for the retired and the age range was similar to that you might find in a large resort hotel.
Dining options on MSC Splendida
There were two formal dining restaurants on board MSC Splendida, where you can eat breakfast, lunch and dinner as part of your inclusive cruise package. We were assigned to the Villa Verde restaurant on Deck 6 which was at the back of the ship, giving some nice sea views which we enjoyed at breakfast and we shared a table at dinner with a Norwegian and German couples who luckily spoke some English. The La Reggia restaurant was a two-level restaurant on deck 5 and 6 in the middle of the ship and we ate there for lunch on the sea day. The menus were the same in both restaurants and were excellent quality 3 or 4 course menus serving a mixture of European and Mediterranean dishes, with a few different choices of appetisers, soups, pasta, meat or fish dishes and deserts. Most guests were assigned a set dining time of 7pm or 9.30pm although in La Reggia there was also a flexible dining time option which you needed to opt for before your cruise.
For informal buffet-style dining, there were the adjoining Pago Pago and Bora Bora buffet restaurants on Deck 14 which merged into the pool area, with some seating outside. At main meal times there buffet restaurants were very busy and so we preferred to eat in the formal restaurants most of the time, although we would often dip into the buffet for a snack or a cake on our return from a shore excursion. The variety of food in the buffet restaurants depended on the time of day with a wide selection at meal times and at other times plenty of fresh pizza, sandwiches, fruit and cakes on offer.
We also took the opportunity to eat in the Santa Fe Tex-Mex Speciality Restaurant on Deck 7 which served exceptional steaks as well as other Tex-Mex specialities and brilliant Margaritas. There was an additional charge, depending on what you chose, just like a normal restaurant, rather than a fixed cover charge as I've found in other speciality cruise restaurants. Interestingly the restaurant seemed to be not very busy which could be that the guests were not looking to pay extra for dining on this cruise.
Overall the food on board MSC Splendida had a very Mediterranean feel with plenty of pizza and pasta and was high quality in taste and presentation. However, the speciality dining options were more limited than some other cruise lines so I would say that if you are looking for a gourmet experience on board, with a focus on trendy or more unusual food experiences, this may not be the ship for you.
Our Balcony Stateroom
We loved our balcony stateroom on deck 13 (room 140) which had a modern, Italian feel in the decor and a coffee and gold colour scheme. There was a seating area with sofa which could become a third bed and desk next to the windows, a fridge with mini bar and a flat screen TV. The bathroom had plenty of space with a moulded vanity unit and mirror above and a powerful shower with a curtain and some shampoo and soap in large refillable containers. Our balcony had room for 2 lounger chairs and the small table by the sofa could be used for drinks. The stateroom was a lovely place to relax before dinner or on the sea day when other areas of the ship were quite crowded, and we sometimes would pop up to deck 15 to get a coffee or cake and enjoy it in our room.
What additional charges will I need to budget for?
As with all cruise lines there are some things that are included in the price of your cruise on MSC Splendida and other things that you will need to budget for. My impression is that MSC Cruises pitch their cruises at a competitive entry price but that you may then need to budget for extras that some other cruise lines would include in the price, such as bottled water and bus transfers. Here's what you need to budget for;
As on most cruise lines gratuities are something extra you need to budget for and are not really optional. On MSC a service charge of  7 euros per person per day is added automatically to your bill, so there is no need to tip individual members of staff unless you have received exceptional service. An additional 15% service charge is also added to speciality restaurant, bar and spa charges.
If you wish to take excursions, the prices are published on the MSC website and range from around €50 for a city tour to €80 for a longer all day tour.
If you decide not to take the ship's excursion but to explore on your own you may need to pay for the coach transfer to and from the port which may be some distance away. The price for the MSC bus service was typically €8-15 per person return. Another option is to take a taxi (likely to be a similar price to the cruise bus) or take public transport which requires some advance research.
On MSC many people purchase a drinks package in advance which is likely to save you a lot of money, even if you are a moderate drinker and gives you the peace of mind of knowing that your drinks are at a flat rate. For our 7 day cruise on MSC Splendida the Cheers Adult drinks package was €115.50 per person allowing table wines, beer and soft drinks at lunch and dinner as well as soft drinks and coffee from the bar while the Alegrissimo package for €161 per person allowed the same type of drinks including drinks from the bar on a 24 hour basis.
If you wish to try out the speciality restaurants on board (the main one on MSC Splendida being the Tex Mex Santa Fe restaurant) there will be an additional charge depending on what you choose from the menu – from memory a steak meal was around €20 supplement.
If you enjoy spa, hair, nail or beauty treatments as part of your cruise obviously you would need to budget for these and there are plenty of different packages and special offers that you can check out when on board.
Wifi is another extra and tends to be both expensive and slow (since it has to come via satellite) so it's probably better to forget about catching up on your e-mails and use the time to relax.
So if you are a moderate drinker and take a couple of excursions during the cruise, you should budget €250-300 per person on top of the price of the cruise, more if you want to enjoy spa treatments, speciality dining and a wider range of drinks.
What's there to do on board?
In my experience so far, you'll never be short of things to do on a cruise, but will leave wishing there were more than 24 hours in a day to take advantage of everything on offer. For us one of the attractions of this cruise was being able to visit a different destination on each day of the cruise, which left us with limited time to try out all the entertainments on board. We did however very much enjoy the evening show each night, with two separate performances designed to fit in before or after your dinner sitting. The shows were mainly song and dance routines that would appeal to a wide audience with some juggling, balancing or acrobatic elements incorporated. Over the course of the cruise the evening shows transported us with different themes to Paris, Ancient Greece, Italy, the land of the Aztecs, as well as a Luciano Pavarotti tribute show one evening.
Of course one of the most popular parts of the ship is the pool deck and MSC Splendida had much to offer with an outdoor Aqua Park including jacuzzis and fountains as well as the pool. The second indoor L'Equatore pool area was ideal for younger children and families and had a retractable roof but was covered during our cruise. At the back of the ship was the smaller Playa del Sol Zen area, although the "Zen'" could be a bit misleading as this area was just as busy as the others. The Aqua Park was full of families and groups enjoying themselves with music, karaoke and dance classes taking place at one end, so great if you like a buzz of activities but not if you are looking for peace and quiet on your cruise. You would need to lay out your orange towel early to be sure of a sunbed in any of the pool areas although you could retreat to the Top 18 solarium area for an additional charge.
During the day and into the evening there was a wide range of entertainment including dance lessons, bingo, quiz events, sports tournaments, culinary demonstrations and Karaoke. We did attend a destination talk on our first day but this was mainly to provide information on the excursions on offer and one thing I did miss was any insights about the ports of call that we were about to visit. We found that the activities on board MSC Splendida were mainly about entertainment rather than education or culture, perhaps due to the issues of operating in multiple languages. So if you are a culture vulture or are looking for education from your cruise, you may have to create your own, but if you like plenty of lighthearted entertainment, there's lots on offer.
Fitness and spa on MSC Splendida
Because we were so busy on this cruise visiting all the interesting ports of call, we didn't make much use of the fitness facilities on board. However, Guy did use the gym a couple of times and on our sea day I had the treat of a lovely facial and Balinese massage. The spa has a large seating area with healthy snacks and drinks to order at the bar and a shop area selling sportswear and beauty products. I had a lovely relaxing facial and on a separate occasion indulged in a Balinese massage with scented aromas and soft music leaving me with my skin soft and glowing and in a soporific mood. It's worth checking for special offers and packages if you are someone who enjoys a relaxing spa experience as part of your cruise.
What do I need to wear on board MSC Splendida?
Cruise ship dress codes can vary widely between different cruise lines and ships and also depend on the route and itinerary. Most people will pack comfortable clothes and shoes for sightseeing on shore excursions, something casual for relaxing around the pool on sea days and a few smart outfits to dressing up in the evening. However, the thing that concerns most guests who are new to cruising is what they need to pack for formal nights on board.
I was also unsure whether I should be packing my long evening gowns and whether Guy needed his dinner jacket/tuxedo as would be the norm on some more traditional and British cruise lines. However a bit of advance research told me that most guests on an MSC Cruises around the Mediterranean adopt a more European style of dress, since there are so many Italians, Spanish and French on board.
On our cruise noticed that there were not so many ladies on gala evenings were wearing long dresses, but they tended to adopt a more 'cocktail' style of glamour and that the men were wearing a wide range of different jackets but very few went for the "black tie" or tuxedo. In the end my sparkly Eileen Fisher sequin top and my versatile black Joseph Ribkoff evening cover-up were perfect for the two gala evenings on board and on other evenings I dressed as you would when going to any nice restaurant, while Guy wore a blazer and open neck shirt.
Did I say there were two gala evenings on our week's cruise? This was because the Mediterranean route we sailed on MSC Splendida calls at many different ports on a circular route and so guests are able to start their cruise at different points such as Barcelona, Marseille and Genoa. Two different gala evenings gave everyone the opportunity to experience a formal night wherever they boarded. On other nights there were different party themes that included "Carnival Party", "Flower Glory – a trip to the 60's, 70's and 80's" and "White party" but I never saw anyone but the crew dress to these themes, since most guests would not know about them before they came on board.
On the sea day, dress around the ship was much more informal, such as you'd wear around the pool or for a day at the beach. You can read more about what I packed for my Mediterranean cruise in my article – What to wear on your Mediterranean Cruise – my 6 top tips
Who is this cruise suited for?
As I said at the beginning, there's a cruise for every taste, so who is a Mediterranean cruise on MSC Splendida best for? In my opinion
You will enjoy this cruise and ship if…
You enjoy visiting a lot of different destinations in one cruise
You are looking for a lively atmosphere, lots of entertainment and plenty to do on board
You enjoy a cosmopolitan European atmosphere on board
You want a cruise with a youthful feel which is ideal for families with young children, groups of friends, multi-generational groups and those from their 30s upwards.
But this may not be the cruise for you if…
You are looking for peace and quiet on your cruise
You want a cruise that offers a gourmet experience or wide range of speciality dining options
You enjoy a lot of cultural and educational activities
You want to mix with passengers from an older age range
You are looking to mix with mainly British or North American passengers on a ship that is mainly English speaking
Other articles in my Mediterranean Cruise series
Join me on a week's Mediterranean cruise with MSC cruises
All aboard at Barcelona – Day 1 of my MSC Mediterranean Cruise
Bonjour Marseille – Day 2 of my MSC Mediterranean Cruise
Palazzo and Gelato in Genoa – Day 3 of my MSC Mediterranean Cruise
Naples and an excursion to Pompeii – Day 4 of my MSC Mediterranean Cruise
Messina and an excursion to Taormina – Day 5 of my MSC Mediterranean Cruise
Tunis and Carthage – Day 6 of my MSC Mediterranean Cruise
A day at sea and back to Barcelona – Day 7 of my MSC Mediterranean Cruise
What to wear on your Mediterranean cruise – my 6 top tips
Thanks to MSC cruises who hosted Guy and Heather's Mediterranean cruise. Heather and Guy travelled on MSC Splendida from Barcelona on a 1 week cruise calling at Genoa, Marseille, Naples, Messina, Tunis. Prices for a similar cruise start at around £700 per person. For more information, visit the MSC Cruises website or follow them on Twitter @MSC_Cruises_UK or on the MSC Facebook page.
This article by Heather Cowper is originally published at Heatheronhertravels.com – Read the original article here
You'll also find our sister blog with tips on how to build a successful travel blog at My Blogging Journey