During my previous hikes in the Alps I got to know those pesky mountain-bikers only too well. On the Tour de Mont Blanc I'd seen them whizz by, spraying gravel and mud or weaving between the pine trees in a flash of luminous lycra. Give me a nice, gentle cycle ride, I thought, through rolling vineyards with a glass of chilled white wine at the end of the trail. Mountain-biking seemed just too much like hard work.
But here I was in Wilder Kaiser, the eastern corner of the Tirol region of Austria, with plenty of gorgeous mountain scenery that just begged for some mountain-biking.
I hope you enjoy my video below about the Alpine Sports in Wilder Kaiser, Austria
If you can't see the video above of the Alpine Sports in Wilder Kaiser, Austria, see it on my blog here or Youtube here and please do subscribe using the button above
Click here for direct download of video
Subscribe to all my videos in I-tunes
If you enjoyed this video, check out the others in my Video archive
I'd come for the annual Alpine Sports Week that gives hikers like me a chance to try out some of the other outdoor activities on offer. Each day the group would try a different activity, from high rope climbing to canyoning, trail-running to Via Ferratta and of course mountain-biking. The best thing is that during Alpine Sports Week, the 5 days of activities are on offer for the knock-down price of €99.
For mountain-biking without tears I had a secret weapon, an e-bike which enables you to pedal up the steepest mountain with ease, prompting envious looks from those poor souls who have gone for the traditional bike option. My e-bike had a small motor attached to the frame which cut in whenever the going got tough. At the press of a button I could go into sports mode, touring mode or turbo mode to muster up some extra oomph on the hills. Suddenly mountain-biking seemed a much more attractive proposition; less sweat and more time to admire the view.
At Going Bike, we were kitted out with helmets, gloves and water bottles, then followed our leader Markus who runs mountain-bike tours in this valley. The path ran beside a stream, then we cycled up a bit of a hill and 20 minutes later reached the cable car station down the valley. Thank goodness that we could load the bikes into the cable car and reach the top of the mountain without even breaking into a sweat, taking in the views on the way. In no time at all we were at the upper cable car station, a surprisingly busy place, with a childrens' playground, cafe and trampoline.
Before we were let loose on the mountain, we had a talk on how to ride down safely. According to Markus the trick is to keep your feet parallel on the pedals and to lean back, with your 'aaarsh' at the back of the seat. We set off down the mountain with iron-man Markus leading the way, joking and laughing although you could tell that he was a hard-core sporty type and not taking any prisoners. I'd have loved to pause to take a few more photos and enjoy the Alpine views but there was no stopping Markus.
The tracks we followed downhill were broad and surprisingly manageable although you had to concentrate to avoid skidding on the gravel. For most of the time I was freewheeling downhill, growing in confidence all the time, taking in the views when I had the courage to glance up from the path. I'd love to have stopped in those Alpine meadows, with lush green grass sprinkled with purple clover, yellow buttercups and lacy white flowers, but Markus was insistent in his quest to get us down the mountain.
At the halfway point we stopped at a mountain restaurant and enjoyed a well-earned rest and some hearty dumpling soup for lunch. The sun was out and we all sat at one big table beside the cable car station where the cute red cable cars were strung up the mountain like beads on a necklace.
After filling up the water bottles, we were off again down the mountain, a line of bikes following down the winding trails. Only one lady skidded and fell at a sharp bend while I managed to topple over in a rather undignified fashion when I came to a halt but couldn't touch the ground.
By early afternoon we reached the bottom of the mountain and arrived again at the cycle shop. As Markus took my bike he patted me on the back, and told me; "You are a warrior woman, it was hard but you never gave up!" Pleased with my efforts, despite a stiff 'aarsh', aching thighs and wobbly knees I was happy to bask in his praise, although secretly I knew the e-bike had done most of the work.
Read about my day of tree-top climbing and zip wires in Wilder Kaiser
Outdoor activities in Wilder Kaiser, Austria
Heather tried out her outdoor activities as part of Alpine Sports Week in Wilder Kaiser. This special week long event allows you to try out 6 different mountain sports over 6 days under the guidance of expert instructors at a special price of €99 (normally €358). Add your details to their mailing list here to get more details for next year. In addition to the high rope course and mountain-biking that Heather tried you can go canyoning, trail running and do a Via Ferrata. Sign up here for more information.
All of these activities are also available throughout the summer to try as you like. In addition the region is a paradise for hikers with many day walks as well as multi-day hut-to-hut walks of 3 to 5 days in length. A similar mountain-bike tour to the one Heather enjoyed can be booked through Going Bike who rent e-bikes and other bikes from their shop in Going and run group tours.
For more information on things to do in Wilder Kaiser visit the Wilder Kaiser tourism website and their social media channels on Twitter | Facebook | Instagram | Google+ and keep up with latest news on the Wilder Kaiser blog. More information about things to do in the Tirol region of Austria on the Tirol tourism website.
Read more articles about Alpine Sports Week
Bemused Backpacker – Real Mountain-biking and Cultural awakening in Tirol
Scarlett London – Exploring Tirol by Bike
Daniellicacy – Wilder Kaiser, Austria – Mountain Biking
Emtalks – Exploring Austria – the Wilder Kaiser Region, Tirol
How to get to Wilder Kaiser
Heather flew from Bristol to Munich with BMI Regional who fly 12 times each week on this route, so you often have a choice of 2 flights per day. The ticket includes 20kg checked baggage and full at-seat in-flight bar and snack service at no extra charge.
Transfers from Munich to Wilder Kaiser take around 1.5 hours and can be arranged through Four Seasons Travel who have a desk at the airport. Alternatively Innsbruck airport is around 1 hour drive from Wilder Kaiser.
Where to stay in Wilder Kaiser
Heather stayed at the comfortable, family run Vitel and Panorama Hotel Sonnenhof in Going. This four star hotel is furnished traditionally with plenty of Tyrolean wood and has a spa and indoor swimming pool. I enjoyed the hearty breakfast spread with a full selection of muesli, fruit, nutty German breads and freshly cooked omlettes as well as fresh juices, honeycomb and anything else you would wish for. Check prices and book your stay here.
Pin It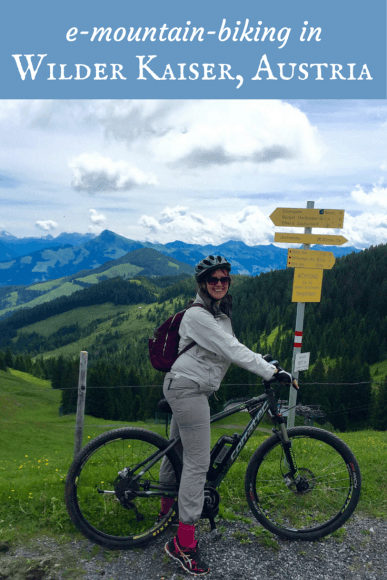 Thanks to Wilder Kaiser Tourist Board who hosted Heather's stay and provided the experiences mentioned and to BMI regional who provided Heather's flight to Munich.
You'll also find our sister blog with tips on how to build a successful travel blog at My Blogging Journey
There's something magical about waking up in Cornwall in springtime with a view of the Fal estuary from your bedroom window. "Tide's in" says Guy as we open the curtains and lie in bed watching a tanker chug past St Anthony's lighthouse and the St Mawes ferry heading for Falmouth.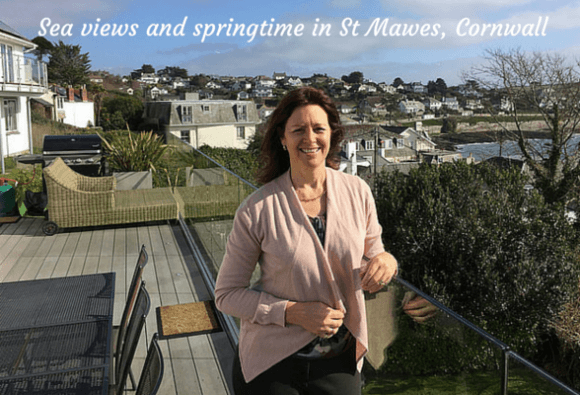 From our luxury holiday house, the aptly named Dreamcatchers booked through St Mawes Retreats, we have a view of the sea over the slate rooftops of the cottages, where people are waking up this fine morning. I can walk out from the living room, through the French windows, onto the deck with a cup of coffee in hand and bask in the spring sunshine, just drinking in the view.
In spring the sea has a wild and mesmerising charm, as little ruffles of white speed across the grey-blue water and subside again. I've stayed here before of course, at Stargazers, another St Mawes Retreats property and have been hearing the call of the sea and Cornwall ever since – read about our last visit here.
I hope you enjoy the video below from our spring weekend break at Dreamcatchers in Cornwall with St Mawes Retreats
If you can't see the video above of our stay with St Mawes Retreats, see it on my blog here or Youtube here and please do subscribe using the button above
Click here for direct download of video
Subscribe to all my videos in I-tunes
If you enjoyed this video, check out the others in my Video archive
Dreamcatchers is one of five luxurious holiday houses in the St Mawes Retreats portfolio, four of which are in St Mawes itself, the fifth in nearby Fowey and all have spectacular views of the sea. The house is beautifully furnished with oversized Designers Guild florals, white walls and a sprinkling of sparkle and glamour. It's light and airy yet warm and cosy and with those fabulous sea views, you really want to just curl up on the sofa or sit on the deck with a glass of wine and never leave. The houses are perfect for groups of friends like us who want to get away from our city lives for a relaxing short break by the sea.
Luxury and the Wow! factor
While we're staying at Dreamcatchers for the weekend I reflect on how 'luxury' means different things to different people. For the girls in our party it's the fabulous decor, the huge baths and walk-in showers within the bedrooms that have the Wow! factor. "I want to go back home and paint everything white!" declares my sister-in-law Clare as she dreams of recreating that 'by the sea' feeling. "I love all the colour" sighs my friend Penny and reminisces about wet camping weekends in Cornwall of the past that didn't quite have the Dreamcatchers magic.
As for the men, the house brings out the cave man spirit as Guy's eyes light up at the wood burning stove, with logs set by ready for him to stoke it up. Meanwhile, my brother-in-law Andrew spots the enormous gas fired BBQ on the deck, and immediately starts planning our dinner around it, since he's been known to cook the Christmas turkey on the BBQ before. My teenage son and friends fiddle with the sound system that defeats the rest of us and are duly impressed by the flat screen TVs in every room – there's even the one above the bath in their own en suite bathroom.
Dreamcatchers is beautifully liveable as a holiday house to relax with friends and family. The house seems to swallow us all effortlessly, with a second sitting room that the teenagers can make their den.  We lounge around on the squashy leather sofas, play cards, drink wine, admire the twinkly lights in the oak staircase, gaze out to sea and generally catch up on everyone's news.
When it comes to mealtimes, the kitchen has so many cupboards that we spend ages opening them all just to find a coffee cup or a plate. With two large fridges, a wine chiller, a super duper coffee machine to bring out your inner barista and pretty mother-of-pearl mosaic tiles this kitchen is made for a party.
Along the seafront
On Saturday morning, we wander down to the harbour at St Mawes that we had surveyed from the deck of Dreamcatchers. The narrow seafront road is lined with whitewashed cottages with blue shutters and daffodil window boxes and further on towards the Tresanton Hotel we pass pretty pastel villas with fanciful sea-faring names. I can't resist stopping in the Waterside Gallery, filled with lovely glassware, paintings and sculptures from Cornish artists where I give the wooden seagull sculpture that hangs from the ceiling a pull to make it sway hypnotically up and down.
St Mawes Harbour
Around the harbour at St Mawes there are plenty of pubs, cafes and gift shops, although in March everywhere is quiet since the main holiday season starts at Easter. I imagine that in August the village is packed out but I quite like visiting places like this out of season before the crowds arrive. A racing gig comes onto the beach since the all-female crew have been out training and we watch them heave the boat out of the water.
In the past these pilot gigs were working boats, used to take a pilot out to a ship coming into the estuary and the race was to see who could get to the ship first to win the business. Now the pilot gigs are raced for sport along the Cornish coast and you'll spot the Rosaland Gig club in the centre of St Mawes by the vintage petrol pumps standing outside.
The St Mawes Ferry
Last time we visited St Mawes, I'd seen the blue ferry passing by, but there were so many other places to explore that we didn't have time to try it out. The ferry has the appearance of an old fashioned wooden toy boat, only life size, and it runs every day of the year but Christmas (more information here). On boarding the ferry we sat in the sunshine on the open top deck, enjoying the wind on our face and the fantastic views of St Mawes Castle and the boats in the estuary as we made the 15 minute journey across to Falmouth.
Reaching Falmouth Harbour
Falmouth is a town that faces a deep natural harbour with a history that has for centuries been linked to the sea. As we approached on the St Mawes Ferry, we could see the marina with industrial cranes where they build Pendennis superyachts and the castle on the headland that mirrors the one on the other side at St Mawes to protect the estuary. The tide was out with seagulls making a constant shriek and shrill as they picked over the seaweed while the water lapped against the quayside.
From the ferry pier we turned left and passed a range of unremarkable high street shops, but further on these gave way to smaller art galleries and cafes, with plenty of places to buy your Cornish pasty or fish and chips. We thought Falmouth seemed like a great place to live, a proper town with plenty of charm without being too touristy or bijoux. We wandered past the Georgian shop buildings painted in shades of pale grey, lemon and sky blue with bunting strung between them fluttering  jauntily in the wind. From the main street we could follow small alleyways, leading up the hill or down to the sea, giving a tantalising glimpse of blue between the buildings.
A Cornish pasty and a pint
This being the heartland of the Cornish pasty we were planning to try one for lunch, preferrably combined with a jug of Cornish Ale and a view of the sea. Down on Custom House Quay we spotted a sign in the pasty shop that said we could eat them in the pub opposite called "The Front bar on the quay" and entered the old style pub with a bar lined with Cornish ales and ciders that made Guy's eyes light up. To get the view of the sea we had to sit on a bench outside, with a fine harbour view, only slightly marred by the constant stream of cars coming down the lane to park.
Having eaten our pasties, I went to explore the interesting Watermen's Gallery with my sister-in-law, Clare and got chatting to the artist in residence, Sophi Beharrell who was working on a half finished painting of a cliff scene in Cornwall. There were many lovely Cornish seascapes on the wall, and other artistic gifts, but we made do with buying a few greeting cards of the paintings.
St Mawes Castle
Returning to St Mawes on the ferry, we decide to extend our walk to St Mawes Castle, following the lane of well kept Edwardian villas, pastel pink or bright white with freshly painted blue windows. It's rather sad that almost all seemed to be holiday homes, with not a light on and no-one at home. I wondered what it's like to be a local around here, seeing these houses go empty for much of the year.
Further on, we reached St Mawes Castle, a petite fortress built by Henry VIII to guard the strategic Fal estuary from invasion, matched by its twin of Pendennis castle on the other side above Falmouth. The castle is now run by English Heritage, although it was just closing as we arrived, so we didn't go in but continued up the muddly lane with the sea on our left. Here we passed more smart houses, with gardens full of rosemary, hydrangeas and camelias that would withstand the sea air, but again found all the houses in darkness. The path would have taken us to St Just in Rosaland but the fields were muddy and dusk was falling so we returned to Dreamcatchers for the scones and clotted cream tea that had been left for us by St Mawes Retreats.
Cream tea – Jam first or cream first?
If you ever meet a Cornishman be aware that the innocent cream tea has become a hot topic over how it should best be eaten. In Devon it seems that the scone is always spread with cream first then the jam on top while in Cornwall it's jam first and cream on the top and there's heated debate over which way is best. I remained impartial, tried both and found it delicious either way.
To the Lighthouse
On Sunday the blue skies and spring sunshine had turned to grey cloud and light drizzle but we pressed on with our visit to St Anthony's Lighthouse which I'd visited on previous trips to St Mawes. In summer you can get a 10 minute ferry ride straight across from St Mawes, but we had to drive the 20 minutes around the headland and parked in the National Trust carpark at the end of the road.
St Anthony Head is the site of many Second World War fortifications, concrete bunkers and observation posts with a fine view over the estuary. We walked down through the sheltered pines to the path to St Anthony's lighthouse, which featured as the lighthouse in the TV puppet show, Fraggle Rock. You can't get close up to the lighthouse which is still in use although there is a holiday cottage there that can be rented. We retraced our steps and walked along the sheltered path to the beach of Great Molunan, walking past the first cove and scrambling down to the next with the help of a rope. The tide was out with only us and a couple of kayakers on the beach and a view back to St Anthony's lighthouse.
After our blustery walk we drove back to St Mawes, diverting for lunch at Portscatho at the Plume of Feathers pub in the heart of the village.We installed ourself in a cosy side room and ordered some hearty pub fare – both the fish and chips and the roast Sunday lunch were excellent and ticked all the boxes for a proper Cornish lunch.
Back at Dreamcatchers it was time to pack our bags again and take a  final look out at the window at those sea views, wishing we could stay a few more days. There's something therapeutic about being within sight of the sea, the constant motion of the waves breaking on the rocks, the wind blowing away the mental cobwebs, and the rhythm of life on the water with the boats passing by. Our life in Bristol required us back but I know that it's won't be long before I feel the call of Cornwall, St Mawes and the sea again.
More information for your short break with St Mawes Retreats
St Mawes Retreats offers luxury holiday accommodation in Cornwall, with 4 properties in St Mawes and 1 in Fowey, sleeping between 4 and 12 guests. The larger houses are ideal for groups of family and friends to share and the St Mawes properties are all close to each other so are ideal for extended family stays and celebration events. The houses are available for short breaks and weekend stays in spring and autumn at surprisingly affordable rates, with special low occupancy rates for smaller groups in the winter, and the cost per person is well below that of a similar standard boutique hotel.
Dreamcatchers where we stayed has 5 en suite bedrooms, 2 sitting rooms, breathtaking sea views from the living rooms and master bedrooms, a south facing garden and is a short walk from St Mawes village on the beautiful Rosalind Peninsula. Dreamcatchers can be booked for short breaks from £952 in spring and autumn with low occupancy discounts in winter.
To book visit the St Mawes Retreats website or ring owner Amanda Selby on 0800 0886622 to discuss your requirements, as there are many concierge services available such as a private chef, beauty treatments, shopping services, childcare and help with organising your celebration event. For news and special offers follow St Mawes Retreats on Facebook | Twitter | Instagram | Pinterest |
Thanks to St Mawes Retreats for hosting Heather and friends for their weekend stay in Dreamcatchers.
More Cornish adventures
Is this the perfect sea view? Our luxury weekend at St Mawes in Cornwall
Cliff walks and country houses in Cornwall
Just me and the boys down on the farm in Cornwall
 Pin It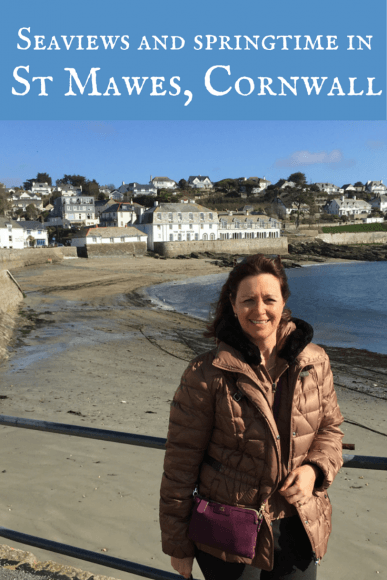 This article is originally published at Heatheronhertravels.com – Read the original article here
You'll also find our sister blog with tips on how to build a successful travel blog at My Blogging Journey
A collection of 500 year old thatched cottages, set around a cobbled farmyard, Red Doors Farm in Devon has all the chocolate box charm that you'd wish for in a holiday cottage. However, we've learned from past experience that a centuries-old thatched cottage, picturesque though it may be, does not always mean warmth and comfort. Thank goodness the owners Gill and Adrian seem to have that cracked, with Byre Cottage where we stayed being kept at a cosy constant temperature by the biomass wood-pellet fired boiler.
Our stay was arranged through Premier Cottages who specialise in luxury holidays cottages and this one certainly lived up to expectations. Having arrived in darkness on a Friday night from Bristol, we wake up to glorious views of the Blackdown Hills and spot the red doors of all the cottages that seem to epitomise the cheerful spirit of the place.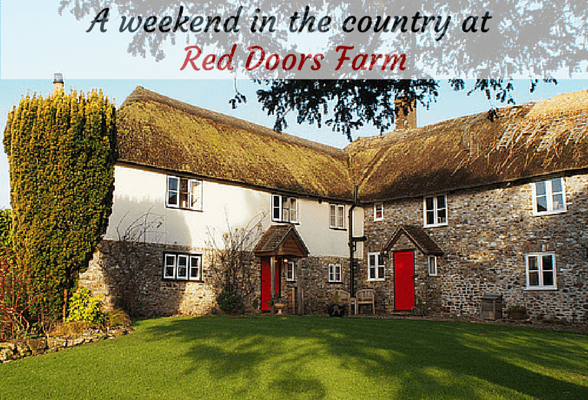 In the morning while the boys are cooking the bacon and eggs, Gill offers to show me around and tells me their story. She and Adrian gave up busy jobs in London to follow their dream of a calmer life in the country and took over the holiday cottage business of Red Doors Farm three years ago. "If we'd realised how much work it would be, we probably wouldn't have taken it on!" Gill told me, since they have gradually worked through all of the six cottages, renovating them one by one.
I hope you enjoy my video below of our weekend at Red Doors Farm
If you can't see the video above of our stay at Red Doors Farm, see it on my blog here or Youtube here and please do subscribe using the button above
Click here for direct download of video
Subscribe to all my videos in I-tunes
If you enjoyed this video, check out the others in my Video archive
Our cosy cottage at Red Doors Farm
Furnishings have been upgraded, bathrooms modernised and now all the cottages meet Visit England's exacting 5 star Gold Standard. Although Red Doors Farm is very popular with young families, it seems there's a cottage for everyone down on the farm. The Swallows Loft is a one bedroom apartment on two floors with stylish mezzanine kitchen, luxurious modern bathroom and a four poster bed with an "Out of Africa" look, which suits professional couples looking for a relaxing country break. Meanwhile Holly Cottage is popular with older couples, or couples with a baby, since it's all on one level with a terrace overlooking the croquet lawn, perfect to sit with your sundowner admiring the views of the Blackdown Hills.
We're staying in Byre which is a 3 bedroom cottage, sleeping 6 people in comfort, a spacious master bedroom for me and Guy and two twin bedrooms for my teenage son and two friends to spread out. No queues for the bathrooms either, since there's a family bathroom upstairs and a shower room downstairs. We really can't fault the cosy furnishings, well equipped farmhouse style kitchen and best of all the log burning stove in the sitting room. Since all men seem to love stoking up a real fire, and Guy is no exception, this is something we always love to see in a country cottage and we make the most of it with a fire in the evenings.
Feeding the goats at Red Doors Farm
Saturday morning is crisp but sunny with winter-blue skies and views over farmland to the valley beyond. Across the lawn is the swimming pool in a separate building for those (relatively) early morning swims which quickly become a favourite with our teenage boys. After breakfast and the swim we've arranged to meet Adrian and Gill for the 10.30 morning ritual of feeding the animals.
For younger guests the farm keeps guinea pigs and rabbits in the covered play area but our teenagers are more interested in the goats, Charlie and Dora. "These are the most spoiled goats in Devon", Gill tells me, since they have their own heated shed, decking walkways so their feet don't get wet on the grass and a climbing frame which comes into its own at feeding time.
Once Charlie and Dora have enjoyed their breakfast it's time for the Muscovy ducks to have theirs in the next field. The ducks all have names beginning with D; there's Dick, the alpha male of the group and Daisy, although we joke that Dyson might be a better name based on the speed at which they vacuum up the grain we hold out to feed them.
Hunting for ammonites at Lyme Regis
Feeding time over, we decide to make the most of the glorious winter sunshine and drive the 25 minutes to Lyme Regis, the heart of the Jurassic Coast. Last time I was here with my blogging friend Barbara Weibel who is a rock hound and fossil lover if ever there was one and am determined to show the boys the ammonite pavement that we visited together.
Lyme Regis is a holiday town that I am continually drawn back to, having just the right balance of Jane Austen charm and fish'n'chips holiday fun, as well as being one of the top places on the Jurassic coast to find fossils. From the harbour, locally known as The Cobb, we walk along the rocky beach, with cliffs looming above us. The cliff face reveals the layers of sedimentary rock that were built up in pre-historic times containing the fossils, especially ammonites for which the beach is famous. "Don't get to close" I call to the others, since there are frequent and dangerous rockfalls from the cliffs, especially after storms, revealing new fossils that have been trapped in the rock.
We clamber awkwardly over the boulders and squish through the black mud until we reach the ammonite pavement, a flat plate of rock where millions of years ago a shoal of ammonites settled on the bottom and were pressed down for eternity. Now at low tide you can see numerous little coils in the bare rock and spot them pressed into larger rocks along the beach. The local fossil hunters are to be seen tapping at the rocks with small hammers, splitting them open to reveal the ammonites trapped inside. As I walk, my eyes scan the pebbles that crunch under my feet and then suddenly I spot it, an ammonite on a smooth round pebble just lying there!
A walk on the Cobb at Lyme Regis
We walk back to The Cobb where a broad wall casts a protective arm around the harbour and the colourful fishing boats are lying on their sides at low tide. It's fun to walk along the broad top of The Cobb wall although the stone pavement slopes like a tipsy sailor towards the sea to catch out the unwary. It's a steep drop on both sides and our friend tells us that their dog once fell off and rolled down the wall but luckily survived with nothing broken.
The stormchasers might emulate Meryl Streep with swirling cloak in the film The French Lieutenant's woman, standing on the end of The Cobb looking out to sea, although it's not advisable or even allowed. Walking along to the end of the wall there are store houses for the fishing boats and we get the feel that this is still a thriving fishing community with plenty of notices advertising fishing trips and the blue and green nets piled up along the quayside. The notice above the door promises that 'The Gods do not subtract from the allotted span of mens lives the hours spent in fishing".
Back on the quay, we check out the local fishmonger's where I can't resist buying some fresh squid while the boys browse in the second hand bookshop next door. Later that evening I fry it up in butter to eat with some of the orange, pepper and chilli chutney that we found in our welcome pack, although the boys turn their noses up at it. Guy has already drunk the bottles of Otter Bitter and Norcott's Somerset cider without giving me a look-in but we all enjoy the local chocolate fudge and award winning ice cream that we bought from the freezer in the games room, made just across the valley. The fire is stoked up and the boys have a noisy monopoly game in progress, just as it should be.
A climb to Dumpdon Hill Fort
Sunday morning and we take a last chance to explore some of the countryside around Red Doors Farm. Armed with instruction found in the Games Room, we walk up the lane towards the Dumpdon Hill Fort, an iron age fort which takes us on a steep and muddy climb up from the road. From the flat area of the top we can survey the many shades of green making a patchwork quilt of fields, then we turn back towards the farm and with rosy cheeks and lungs full of fresh air ready for our drive back to Bristol.
What we liked about Red Doors Farm;
The high quality furnishings and amenities with attention to detail and everything you need on the farm (even ice cream and meals in the freezer!)

The cheerful and helpful approach of Gill and Adrian who live on site.

Feeding the goats and ducks was a fun experience, even for our teens!

Lovely to have an indoor swimming pool on site and we made full use of it.

The beautiful Devon countryside and short drive to the coast at Lyme Regis or Sidmouth.
What you need to know;
The setting is quite rural so you do need a car and we didn't find any shops within walking distance.
The free wifi is provided through a mobile in each cottage and you'll need to give your credit card details as a deposit.
Booking at Red Doors Farm

Red Doors Farm have six luxury holiday cottages which sleep between 2 and 8 people, in the Blackdown Hills of Devon, set in beautiful countryside and only 30 minutes drive from Lyme Regis and the Jurassic Coast. A week's stay in Byre Cottage at Red Doors Farm for up to six people starts from £775 and a short break starts from £540. Book Red Doors Farm through Premier Cottages here

Premier Cottages' collection features almost 1,000 four and five-star self-catering cottages across the UK. Properties range from small, romantic boltholes to large family-friendly country estates. The collection includes pet-friendly accommodation. It also offers the widest range of accessible properties in the UK and many properties have  onsite facilities like swimming pools, gyms, spas, indoor games rooms and children's play areas.

Follow Premier Cottages and Red Doors on their Social Media channels below;
Premier Cottages: Website | Twitter @premiercottages | Facebook | Google+ | Pinterest | YouTube
Red Door Farm: Website | Twitter @reddoorsfarm | Facebook
Heather and family stayed as a guest of Premier Cottages and Red Doors Farm in Byre Cottage.
This article is originally published at Heatheronhertravels.com – Read the original article here
Click to subscribe to our monthly newsletter, news and reader offers
You'll also find our sister blog with tips on how to build a successful travel blog at My Blogging Journey