February 1, 2016 by Heather Cowper
Filed under Cruise, Eating and drinking, Europe, featured, Greece, Greece & Turkey Cruise, Leisure, Sightseeing, Turkey, video
Are you someone that loves to travel, exploring new destinations, discovering the local food and culture but doing so in luxury and style? Perhaps you thought that cruising was not for you: too many people, too many restrictions, not enough time to explore what you want to see?
While I'm relatively new to cruising I've realised that there's definitely not "one size fits all". Just as you might choose to stay in a boutique hotel or a luxury resort, a homely bed and breakfast or a local's apartment, there is a cruise ship option to suit your travel style. If you are looking for small ship luxury and more time in the destinations you visit, as well as a chance to quiz Captain Johannes about that time he stopped the ship to go fishing, then Azamara Club Cruises could be the cruise line for you. Read on and watch my video for what to expect from an Azamara Club Cruise: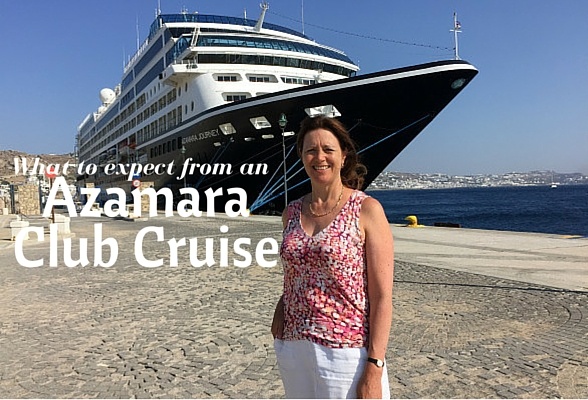 I hope you enjoy my video below – a ship's tour of Azamara Journey
If you can't see the video above about a tour of Azamara Journey see it on my blog here or Youtube here and please do subscribe using the button above
Click here for direct download of video
Subscribe to all my videos in I-tunes
Small Ship Cruising
When Guy and I sailed with Azamara Club Cruises last summer on their 7 night Greek Isles and Turkey cruise from Athens to Istanbul, I really felt the difference between travelling on a smaller ship with less than 700 guests, compared to the larger ships that take 3000+ passengers. While Azamara Club Cruises benefits from being part of the larger Royal Caribbean Cruise group, this niche luxury cruise line has just two ships. We sailed on Azamara Journey but Azamara Quest is practically identical and both have a capacity of 686 guests.
So how does being small affect for your cruise experience? It means that the atmosphere on board is friendly and intimate and it's very easy to make new friends. While there is everything on board you'd find on any cruise ship it's on a smaller scale; one swimming pool instead of three, for instance. More importantly it means that the ship has more flexibility to visit ports that some of the larger ships couldn't get into or to adapt the itinerary if bad weather is forecast.
You'll find that captain and senior crew are very visible around the ship, mingling with guests in the evening, and they have a lot more freedom to adapt the needs of the moment. If you bump into the charming Captain Johannes, be sure to ask him about the time he stopped to ship off the coast of Norway for a spot of fishing!
On Azamara Journey we were able to visit the Greek Island of Patmos which has a sleepy feel of the old Greece that Guy loved when he went island hopping as a student. Smaller ships also allow you to sail right into the heart of a city, within an easy walk of all you want to see, rather than have to be transported from the newer port where the larger ships will dock.
It's all about the destination
Azamara Club Cruises is much more about the places you visit rather than spending your days on board, a concept they call "Destination Immersion". Many of the excursions or "Land Discoveries" take you to places that are not normally open to the public or offer unusual, insider experiences that give you special insights to the local culture.
One of my favourites was the day we spent learning about Turkish cuisine and culture in a country house near Kusadasi. The house had been beautifully designed as a showcase for local crafts and artisans with Turkish rugs, carved marble fireplaces and Suzani cut-work throws on the bed. In the family's kitchen, we learned how to make Turkish dishes like stuffed peppers and sat under the shady pergola rolling vine leaves to make Dolma. We were shown how a Turkish woman would tie her headscarf depending on the region of Turkey she came from and how to wash your rice many times so that every grain of your pilaf would be separate.
The meal ended with tiny cups of strong Turkish coffee and when we'd finished the cups were upturned so that the ladies could have their fortunes told from the pattern of the coffee grounds, the art of fortune telling being passed from mother to daughter. It was a lovely and relaxing insight into Turkish culture and cuisine and of course all the ladies came away with a headscarf and recipe book to bring home. Read about our day of Turkish culture here.
Contemporary elegance
I'd describe the style of Azamara Journey, when we sailed last summer, as elegant, luxurious and classic. But if you're planning to cruise from spring 2016 you'll find a new contemporary look on board as both ships will go into dry dock to be refitted and come out "Re-imagined". The natural elements of earth, air, water and fire have inspired a paler, more muted colour scheme, using creams and earthy tones throughout the ship.
Already last summer we could see some of this new contemporary look being introduced in the sun loungers and deck furniture in some parts of the ship, while in staterooms the darker wood and furnishings will be replaced this spring by light, fresh tones while retaining the luxurious feel.
Other innovations will be part of the refurbishment, with new spa suites being created that not only have a sea view from the bathroom but allow special access to the spa amenities included in the price of these staterooms. There will also be new investment in technology since most guests these days travel with tablets and smartphones, so a new wifi system on board will provide faster internet connections and there will be interactive tabletops in public areas for social media surfing.
Fabulous food
We found the food on board Azamara to be excellent and unlike many cruise lines, the wines, beers, soft drinks and speciality coffees are included in the price of your cruise holiday. The small ship experience doesn't mean you miss out on choice and you can eat with full waiter service in the Discoveries Restaurant, or choose from the buffet selection while still receiving waiter service for drinks in the Pool Grill and Windows Café.
On larger cruise ships the buffet restaurant can feel like a seething mass of humanity, but on board Azamara Journey we found an altogether more elegant experience. Our favourite place to dine was in the outdoor seating area of the Windows Café at the back of the ship where it felt as if we were sitting in a seaside restaurant with a view of the waves.
There are two excellent speciality restaurants on board, for an additional charge of $25 per person per meal: Aqualina which specialises in contemporary Italian cuisine and Prime C which has a country club feel, serving excellent steak and meat dishes. We dined at Aqualina one evening and had the most delicious meal featuring light, fresh dishes and plenty of seafood.
Informal lifestyle
Guests who are new to cruising are often concerned about what they need to pack for their cruise. While there are shops on board, it's not as if you can easily pop out to find the outfit you need, nor do you want to spend your holiday worrying about whether you'll be caught out by a black tie dress code.
You can rest easy when you sail with Azamara Club Cruises since the dress code is elegant but informal. Most guests dressed up in the evening as you would if you were going to a smart restaurant, but it was more about a pretty dress and jewellery or a crisp shirt and jacket for gentlemen than about anything more formal. You won't need a tuxedo or a long sparkly dress on board and of course there is a free self-service laundry so you can travel light if you like, knowing that your outfits can multi-task, especially on longer voyages. The only thing you should remember to pack is something white – more of that later.
Arrive early, sail late
You may not realise this but it costs a lot for a ship to be in port; like being in a very expensive car park with the clock ticking. That's why on some cruises you'll find that you'll have to be back on the ship by mid-afternoon having rushed around trying to see everything. Not so when you sail with Azamara Club Cruises.
In most of the destinations you visit you'll have time for an unhurried look around the port of call and just when all the other cruise ship guests are heading back to the ship you can enjoy a relaxing afternoon with less crowds. There's plenty of time to see the sunset and have a leisurely dinner onshore at the places the locals like to eat once most cruise ships have sailed.
Arriving early also means that if you're an early bird you can enjoy the views from the ship and disembark to make the most of the day. Our magical moments on our Greece and Turkey cruise were seeing the sunrise from the caldera of Santorini with the mist rising off the shore, or sailing through the Golden Horn as we arrived in Istanbul past the Topkapi palace and the Blue Mosque. Read about our stop in Istanbul here.
A lot more's included
One of the big things to consider when choosing your cruise is what's included and what's not included in the cost of your holiday. Many cruises have a lower entry price but you'll also need to budget for drinks, gratuities, self service laundry and shuttle buses. All of these can add hundreds if not thousands of pounds to your bill, but they are included in the price you pay for your Azamara Club Cruise. I must say that I found it a lot more relaxing to know that I didn't have to think about the cost of that cappuccino or debate whether it was worth paying for the shuttle bus or taking public transport.
Another thing that is included in the price is an AzAmazing Evening on every cruise; a unique evening experience that you probably couldn't recreate yourself. While Azamara Club Cruises are priced in line with the luxurious small ship experience they offer, once you take into account everything that's included the overall cost may compare favourably with other cruise lines that appear to be cheaper but can't offer such a unique experience.
Enjoy your evenings onshore
A big benefit of later sailing times is that you can enjoy evenings onshore, dining in a local restaurant or having a drink as the sun goes down. Azamara make this very easy through their Cruise Global, Eat local programme where they introduce you to restaurants that are recommended for their authentic local dishes, or are included in a lunchtime stop in the land discovery that you book.
We had a delicious meze lunch on Patmos after looking around the sights of Chora, in a restaurant with a gorgeous sea view. Read about our stop in Patmos here.  On Santorini we dined on fava bean puree, Greek salad and roast lamb at Kalisti taverna in Prygos, which allowed us to see a different part of the island away from the crowds and heat of Oia.
Look out for Nights and Cool Places experiences that you can book, allowing you access to interesting places after dark, perhaps an art gallery or after hours museum visit, where you have a unique insider access.
A White Night party
One event that was not especially well publicised is the White Night Party that is the closest that the Azamara gets to a formal night; you just need to remember to pack some white clothes to wear. Depending on the weather, tables are set out on deck with a buffet selection and the Azamara singers and dancers perform a show to entertain you.
Our White Night Party was held in Patmos and the view of the sun setting over the island was magical as we sat on deck enjoying the warm night air. Captain Johannes thoughtfully delayed the sailing time until after dinner had finished, so that we would not be disturbed by any motion of the sea, although it was a pretty calm night.
An AzAmazing Evening
While the White Night Party was great fun, our AzAmazing evening at Ephesus was a truly magical event. On every cruise, Azamara offers a unique evening event that would be difficult to recreate on your own, and even better it's included in your cruise. For our AzAmazing evening, we took the short coach journey from Kusadasi to Ephesus where cocktails and wine had been set out just as the sun was setting.
While we didn't get the opportunity to walk through the entire site, we could stroll among the ancient pillars and see the sun setting behind the sillhouette of the Library of Celcus, built in 117 AD. After a glass of wine, we took our seats on the stone seats of the Odean amphitheatre where cushions had been thoughtfully provided.
As dusk fell, the Camera Izmir Orchestra entertained us with pieces by Bach and Mozart, a guest harpist performing Handel's harp concerto, and a rousing Hungarian Dance with gypsy violins that got an enthusiastic round of applause. Read about our evening at Ephesus here. Other AzAmazing evenings have included opera in Venice and an orchestral concert in Liverpool cathedral, but since the ship's itineraries change each year it will always be something unique and special.
By now you probably have a feel for whether this is the kind of cruise you'd enjoy and we certainly loved every moment of our Azamara Club Cruise. If you love to travel but are not sure if cruising is for you, I'd highly recommend Azamara for a first cruise since the experience is so personal and not at all overshelming in the way some of the bigger ships can be. It's also perfect for solo travellers and couples since it's easy to make friends on board. If you like to travel in style and luxury but still feel a connection to the places and cultures you visit be sure to look at Azamara Club Cruises for your cruise this year.
Have you sailed with Azamara Club Cruises? If so, do let me know in the comments how you found it and what you enjoyed.
Read More about our Azamara Greece Island Cruise
Sailing into Santorini – Day 1 of our Azamara Greek Island Cruise
Windy Mykonos – Day 2 of our Azamara Greek Island Cruise
Charming Patmos – day 3 of our Azamara Greek Island Cruise
Kusadasi and Ephesus – day 4 of our Azamara Greek Island Cruise
Istanbul – day 6 of our Azamara Greek Island Cruise
Pin It
About Azamara Club Cruises
Azamara Club Cruises is a small luxury cruise line with two ships; Azamara Journey that Heather and Guy sailed on and Azamara Quest, each with a capacity of 686 guests. The smaller ship size means you often visit destinations that larger ships can't get into and the ships can dock in more central locations. The emphasis is on destination immersion; enjoying the destination to the full, arriving early and sailing late so that guests can enjoy nights and cool places ashore, with insider access programmes and a unique AzAmazing evening included in each cruise. No itinerary is the repeated and each year the ships visit different destinations around the world. Azamara is part of Royal Caribbean Cruise group. Visit the Azamara Club Cruises website more information about a Mediterranean luxury cruise like the one Heather and Guy enjoyed.
You can also connect with Azamara Club Cruises on Social Media via:
Azamara blog | Twitter | Facebook | Instagram | Google+ | Pinterest | YouTube | Flickr
Joining your Azamara Club Cruise
Heather and Guy flew from London Heathrow to Athens and back from Istanbul using British Airways, although obviously each cruise is different in the best way to get there.
Heather used the Meet and Greet Parking Service booked through Airport Parking and Hotels (APH) who offer airport parking at a range of airports across the UK as well as travel extras such as airport lounge booking and airport hotel stays.
Both flights and transfers from the airport to your cruise ship can be arranged through Azamara Club Cruises.
Thanks to Azamara Club Cruises who hosted Heather and Guy for their 7 day Greek Island Cruise and to Airport Parking and Hotels (APH) who provided their airport parking at Heathrow.
This article is originally published at Heatheronhertravels.com – Read the original article here
You'll also find our sister blog with tips on how to build a successful travel blog at My Blogging Journey
Heidelberg is a delightful university town in Germany, set by the banks of the River Neckar, with a picturesque ruined castle on the hill that inspired the romantic poets and painters of the 19th century. Many visitors arrive as part of a tour of Germany or a day visit while on a Rhine river cruise, as we did the first time we visited. Whether you're visiting just for the day or have time to stay longer (a long weekend is highly recommended), watch my video to discover the best things to do in Heidelberg.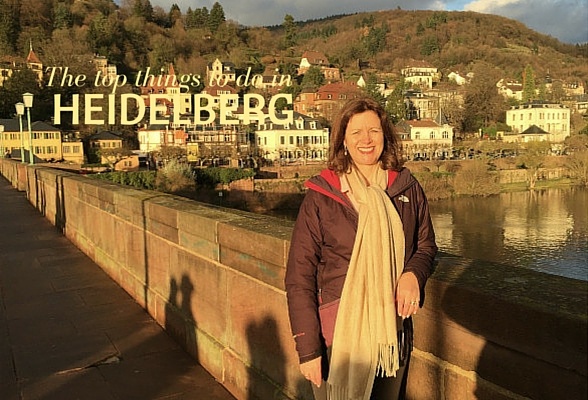 I hope you enjoy my video below about what to see in Heidelberg
If you can't see the video above about the best things to do in Heidelberg Germany see it on my blog here or Youtube here and please do subscribe using the button above
Click here for direct download of video
Subscribe to all my videos in I-tunes
1. Walk across the Alte Brücke or Old Bridge
The Alte Brücke is one of the first places to visit in Heidelberg since it stands at the centre of the picturesque Old Town. The bridge was built of stone in 1786 by Prince Elector Carl Theodor to replace the numerous wooden bridges that had crossed the river at this spot but were washed away by floods. Look out for the marks on the pillar of the bridge that show how high the water came in the floods, the last one being in 1784. There's also a more recent bronze monkey statue beside the gatehouse that reminds us that those living on either side of the bridge are no better than one another, since there was a longstanding rivalry between them when the river formed the border between two regions of Germany.
Our Tip: Walk right across the Old Bridge from the Old Town, since the best photos are taken from the opposite bank looking back towards the castle.
2. Schloss Heidelberg – the romantic castle on the hill
The romantic Schloss Heidelberg on the hill above the old town was built in the 13th century and became the residence of the Prince Electors who ruled the Palatine region of Germany, until the 18th century when war and fire led to the castle's decline. What you see now is the shell of the old Renaissance palace with finely carved stone facades, courtyards and a terrace with views over the town. The ruined castle was much admired by painters and writers of the 19th century at a time when ruins were considered picturesque and romantic, a symbol of Germany's historic past.
Our Tip: Look out for the foot sized depression in the stone pavement on the terrace – legend has it that a fire broke out causing a knight in full armour to jump from the window onto the terrace. Not sure whether I believe that story!
3. Take a river cruise along the Neckar
We enjoyed a river cruise from the pier near the Old Bridge with Weisse Flotte who run many different river trips depending on the season. We took the boat down to Neuberg Abbey where there was a Christmas Market, and with beautiful gardens, a farm shop selling regional produce and a restaurant with biergarden, this would be a fine place to visit in summer too. Read more about the 9 German Christmas Traditions we enjoyed in Heidelberg.
Our Tip: If you visit Neuberg Abbey, it can also be reached on the path by the river and by the Philosopher's Way path along the hill, so you may like to take the boat one way and walk back the other.
4. Walk up the Philosopher's Way
Crossing the Old Bridge from the old town, ascend the mossy stone pathway on the other side that takes you up to the Philosopher's Way. There's a flat path running along the side of the hillside with fine views over the town and if you turn left at the top you'll reach some terraced gardens where you can sit to admire the view. The path is named after the University professors and philosophers who loved to walk here among the vineyards and orchards that clothed the slopes of the valley.
Our Tip: When you get to the top, follow the signs with a small castle symbol and you will find the Bismarck Tower above the flat path, which is open to climb with great views over the valley.
5. Enjoy coffee and cakes in a cosy café
Around the cobbled streets of the Old Town are many cosy cafés, often favourites with the University students over the years. Sit here with a coffee and a slice of creamy cake or a traditional German pastry. We recommend exploring the small squares or side streets that lead off Hauptstrasse as you'll get a more authentic experience. In summer the same cosy cafés will often have tables on the street or a biergarten, perfect to sit and watch the world go by. Read more about the food we enjoyed in Heidelberg here.
Our Tip: We enjoyed sitting in the small side room of Café Knösel where there were old photos of University students, many with bandages on their face from duelling, one of the favourite sports of the student fraternities.
6. Climb the church tower of the Holy Ghost
If you find yourself in the heart of the Old Town in Markplatz, you'll easily find the imposing church of The Holy Ghost. The interior of the church is quite plain but pay a couple of euros in the gift shop and you can climb the steps of the church tower for 360 degree views over the old town.
Our Tip: If you're outside the church when the small kiosk shops are closed, look out for the bagel symbols that are carved into the stone that are normally hidden by shutters. They were a measure of size to ensure that the bakers in the old days were not cheating the housewives coming to buy their daily bagels.
7. Wander the Heidelberg Altstadt or Old Town
The whole of Heidelberg's Altstadt or Old Town is a very pleasant place to wander with cobbled streets, with plenty of shops and cafes and glimpses of the river Neckar. While you'll find many shops and restaurants on the main street of Hauptstrasse, be sure to explore the streets that are just a couple of blocks on either side of this which are much less crowded and where you'll find plenty of interesting little artizan shops and cafes that have a more local feel.
8. Ride the 100 year old funicular up to the Kings Throne
After you've visited Schloss Heidelberg, take the 100 year old funicular up to the very top of the mountain for views from the Königstuhl or King's Throne. The funicular, which was opened in 1907 still retains the charming old wooden carriages, while the lower portion of the funicular between the castle and the town has been completely modernised. Up at the top there are plenty of walks through the woods as well as a falconry centre and childrens' park.
Our Tip: When you get to the very top at the King's Throne be sure to look in the waiting room which is full of interesting memorabilia and some information about the history of the funicular.
9. The Students Prison
In the last century, the University had its own legal juristiction over the students, who when they were found drunk or disorderly would spend a few days in the Studentenkarzer or Student's Prison. They spent their time playing cards and painting murals and slogans on the walls which now make a colourful mural of 100 year old graffiti.
Our Tip: Your combined ticket for the Student Prison will also take you into the Student Museum and Great Hall in another part of the building. Be sure to ask at the desk of the museum for a visit to the Great Hall with wooden seating and classical murals where University lectures were held in the past.
10. Stay at Qube hotel
For a stylish, boutique hotel try Qube hotel, which is a 20 minute walk or short tram ride from the Old Town. Our room was in Villa Qube, a large townhouse next to the main hotel, on the 4th floor with sloping ceilings facing the gardens. There were interesting lighting effects which bathed the room in a purple glow and the bathroom was huge with both walk in shower and bathtub.
Qube Hotel Website | Address: Bergheimer Str. 74, 69115 Heidelberg |Twitter @QubeHeidelberg | Facebook |
If you prefer a Heidelberg hotel in the Old Town, you could try Hotel Hollaender Hof, a traditional hotel right by the Old Bridge, Hip Hotel where every room is themed to a different country of the world, or Heidelberg Suites, a luxurious Boutique Hotel.
Compare prices and book Hotels in Heidelberg through my Hotel Booking page powered by HotelsCombined.com. You can search for the best price from multiple hotel booking sites and I will receive a small commission which helps support this blog at no extra cost to you.
I hope you enjoyed my roundup of what to do in Heidelberg.  If you've already been to Heidelberg, what did you enjoy? Do let me know in the comments!
Read more about our visit to Heidelberg:
9 German Christmas Traditions we enjoyed in Heidelberg
A Food Lover's Guide to Heidelberg
Pin It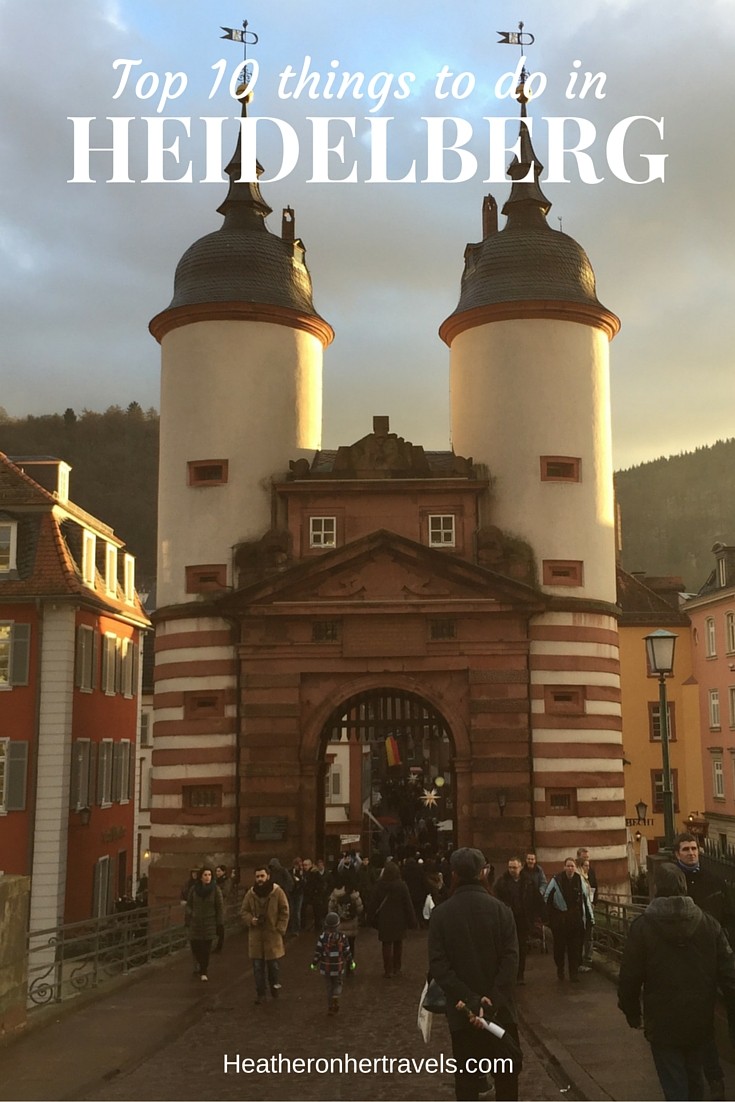 Plan your visit to Heidelberg
For more information about planning your trip to Germany, visit the Germany Tourism Website and read more about German Traditions  | Follow them on Social Media | Twitter @GermanyTourism | Facebook | Instagram | YouTube |
You can also find information about Heidelberg on the Heidelberg Marketing website.
Compare prices and book Hotels in Heidelberg through my Hotel Booking page powered by HotelsCombined.com.
If you need a guide in Heidelberg, we highly recommend Susanne Fiek who runs culinary and other tours of Heidelberg.
How to get to Heidelberg
Heather and Guy flew from Bristol to Frankfurt and took the train to Heidelberg. Trains run around every hour from the Frankfurt airport station with a change at Mannheim. On arrival in the airport follow signs for train station and then Fernbahnhof ( long distance train). Tickets can be bought from ticket machines as you reach the Fernbahnhof. The cost is €25 one way or €19 for a saver ticket which must be purchased 1 day in advance. The journey takes around 1 hour.
Thanks to the German National Tourism Board who hosted Heather and Guy's weekend in Heidelberg
This article by Heather Cowper is originally published at Heatheronhertravels.com – Read the original article here
You'll also find our sister blog with tips on how to build a successful travel blog at My Blogging Journey
January 4, 2016 by Heather Cowper
Filed under Accommodation, Art and design, Copenhagen, Denmark, Europe, featured, Hotels, Leisure, Spa & Pampering, video
Set between the ocean and the forest, Kurhotel Skodsborg just north of Copenhagen is one of the leading luxury spa hotels in Denmark and an easy 30 minute train ride from the city or the airport. Although close to the vibrant centre of Copenhagen, the hotel is seductively relaxing, with views of the ocean from the rooftop terraces and a private jetty where guests can swim all year round. With a fabulous spa and state of the art fitness and wellness facilities, this could be the perfect hotel if you are planning a spa break this year. Read on for my review of Kurhotel Skodsborg;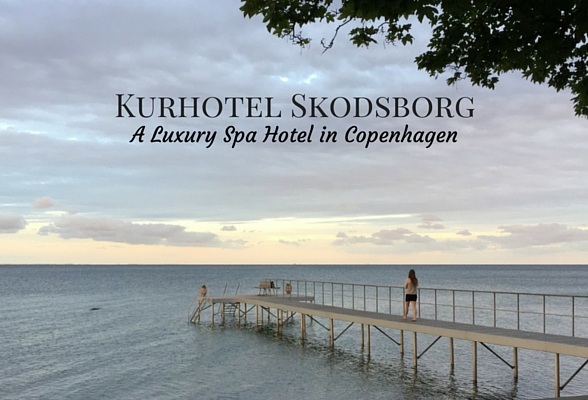 Kurhotel Skodsborg and the royal connection
In the 19th century, King Frederick VII of Denmark bought a country estate just outside Copenhagen and had a large villa built in what is now the grounds of the hotel. Since the king's wife, Countess Danner was a divorcée and had risen from humble beginnings, their marriage was not popular in Danish society and so they preferred to spend time together at Skodsborg, away from the glare of the Danish court.
Villa Rex, as it is now known, was built in 1857, set in lovely gardens and was used by the king to entertain and to hold meetings with his ministers during the summer months. The villa has been restored to its original appearance based on drawings of the period and is now used for special dinners and parties at the hotel. When we visited it was beautifully set out with pink roses for an engagement lunch.
I hope you enjoy my video below about Kurhotel Skodsborg in Copenhagen
If you can't see the video above about Kurhotel Skodsburg in Copenhagen, see it on my blog here or Youtube here and please do subscribe using the button above
Click here for direct download of video
Subscribe to all my videos in I-tunes
Because of its lovely setting, the hotel is popular with Copenhageners for parties and celebration events and there were three christenings and a birthday party going on the weekend we were there. There's also a cookery school in Villa Rex, where Thomas Rode, a Michelin-starred chef, TV personality and fitness trainer runs cookery demonstrations with lunch in the Villa, combining delicious, healthy food with lifestyle advice.
Check out my hotels booking page for this and other small luxury hotels in Copenhagen
Dr Carl Ottosen and the Skodsborg Sanitorium
In 1898 the hotel was founded as the Skodsborg Sanitorium by Dr Carl Ottosen who had studied health and physiotherapy in the USA. His belief in a healthy lifestyle for the prevention and treatment of illness was extremely modern for the time and the sanitorium was built around his principles of light, air, water, nutrition, exercise and rest. Read my article about finding a healthy holiday in Copenhagen.
" Man has more endurance when work is interchanged with rest" wrote Dr Carl Ottosen and at that time before antibiotics, rest and recuperation after illness were essential. Sea bathing was considered extremely healthy and many Badehoteller or bathing hotels were established along the Danish coast. Kurhotel Skodsborg also combines spa and wellness, with a health centre offering professional medical help for rehabilitation, convalescence and physiotherapy, with an acupuncturist, reflexologist, podiatrist and chiropracter available for consultation.
Inspired by Dr Carl Ottosen a different fresh juice drink is available each day in The Lobby, made from fruit and vegetables pressed by a slow juicing method to retain the vitamins and minerals in each glass. We enjoyed the performance-boosting combination of cucumber, celery, pear and apple while on other days you may be offered the anti-inflamatory beetroot, apple, watercress, lemon and ginger, created by top Copenhagen cocktail maker Gromit Eduardson to be delicious as well as healthy.
Where will you stay?
Last summer I stayed with my daughter at Kurhotel Skodsborg in a lovely room with a balcony looking towards the sea. The theme of understated luxury extended to the bedroom which had been recently renovated in a design scheme that is being rolled out throughout the hotel in 2016. The soft green décor reflected the royal forest of Dyrehaven behind the hotel with green-grey walls, a luxurious deep carpet and velvet curtains. I loved being able to see the occasional white sail drift across my view on Øresund, the stretch of sea that divides Denmark and Sweden.
The bathroom was also luxurious, with a huge black sink, powerful walk in shower and plenty of delicious natural Karmameju toiletries in big bottles to avoid waste. In the wardrobe we found our towelling robes for the spa as well as a stylish rubber basket to carry all our things. When we visited in June many of the rooms still had the old style decor from a few years ago, but all are due to be redecorated in 2016, so it is worth checking when you book which style you will be getting.
Check out my hotels booking page for this and other boutique hotels in Copenhagen
Spa and fitness at Kurhotel Skodsborg
The spa is one of the highlights of a stay at Kurhotel Skodsborg, which is perfect for those looking for a relaxing spa weekend by the sea with easy access to Copenhagen.  The hotel spa fills one wing overlooking the courtyard and was built in 2012 to create a light, airy oasis of calm with sixteen different water experiences, as well as specialist wellness and beauty treatments.
The Danish artist, Malene Bach was commissioned to create subtle and delicate ornamentation around the spa. Look out for the handblown coloured glass panels set into the roof of the spa, geometric tile patterns inspired by a Moroccan hammam and the washed out stencils in a Japanese fish scale pattern on the walls. At the bottom of the pool the turquoise tiles have a pixel-like pattern to enhance the feeling of moving water, while in other places iridescent mother of pearl effects are used.
With my daughter Sophie-Anne I wafted around the different pools and water experiences, our favourites being the tiled loungers in the small pool overlooking the main spa and the four season water experience with jets of hot and cold water and waterfalls to stand under, accompanied by the tweeting of spring birds and the thunderclaps of autumn. There's even a snow dispenser so you can recreate that authentic Scandinavian experience of running out of the sauna to roll on the fresh snow!
Be sure to book for the Sauna Gus, an aromatic group spa session managed by a "Gus Master" who gradually raises the temperature of the sauna to an almost unbearable heat, while telling you stories or jokes to take your mind off the heat. There are three spells in the sauna broken up by a break to cool down and shower, and after the final one you get the chance to run outside to the sea and jump off the jetty for an invigorating dip. For those who are a little squeamish about going naked in the German and Austrian spas, you'll be pleased to hear that the Danes keep their swimwear on in the sauna! After your spa, we laid out in the relaxation areas, with a view of the outdoor Jacuzzi.
For those who like to keep up a daily fitness routine, the hotel has a state of the art gym and is an accredited CrossFit centre, with fitness sessions being held in the gym, rooftop terrace or even by the sea or in the deerpark adjoining the hotel. While we were there we attended one of the morning fitness classes which ended up with us all running to the jetty and jumping in for a swim at the end of the class. Once the water has reached 16 degrees, usually by June, swimming and paddle-boarding classes are also on offer in the sea.
Relaxing around the hotel
The gardens around the hotel are beautifully kept and the white rose bushes that lined the drive were wafting their perfume when we visited in June. There is a little summerhouse with a classical statue, a wild meadow area under the tree, pots of purple pansies along the paths and everywhere were wicker easy chairs to sit and relax. Across the coast road that runs outside the hotel are holiday homes and the hotel's private jetty, and on a clear day you can see across to Sweden. The atmosphere is elegantly restful and many Copenhageners use the hotel for a relaxing spa weekend break away from the city.
Check out my hotels booking page for this and other luxury spa breaks in Copenhagen
Dining at Kurhotel Skodsborg – the delicious choice is the healthy choice
As you might imagine, with such an emphasis on health and wellbeing, the aim is to make the food both delicious and healthy. The chefs, who have experience from Michelin star kitchens, have created a menu of light, seasonal dishes, based on New Nordic principles of using the best local ingredients in mouth-watering combinations.
On one evening I dined in the light and airy second floor restaurant with a view towards the sea with attentive and charming service. I chose a dish free-range pork with morels, green asparagus and cabbage sprouts  followed by a desert of rhubarb compote with bright green sorrel granitée and white chocolate crumble, all delicious. (Main dishes 250 DKK, Deserts 120 DKK)
Breakfast is also served in the restaurant with plenty of healthy choices such as rye and wholegrain bread, salmon, scrambled eggs, meusli, yoghurts and fruit compotes. (Breakfast is 250 DKK if not included with your room). The restaurant adjoins the roof terrace where you can sit on the white wicker sofas with a coffee and a view of the sea, shaded by a sail, almost believing you could be in Santorini.
For informal dining, cocktails and snacks throughout the day, we loved The Lobby on the ground floor of the hotel with soft grey velvet sofas, marble tables and candles flickering in cut-glass holders – so restful and elegant. This is the heart of the hotel where guests can read, chat with friends or have a coffee outside in the courtyard when the weather is fine.
In The Lobby we tried the Tea with Georg, a healthy Nordic twist on afternoon tea, served on fine china from Georg Jensen, the Danish jewellery and lifestyle brand. Instead of scones and clotted cream, there was nutty paleo bread with thick slices of smoked salmon and creamy soft cheese, raw nutty cookie balls crumbly shortbread and dark chocolate cakes. We drank the fennel tea, a favourite with the Danes who love any licorice flavours. It was an unusual high tea that lived up to the hotel's food philosophy of "the delicious choice is the healthy choice". (Tea with Georg 130 DKK)
On Sunday the main restaurant was closed, so we ate in The Lobby where I tried "The Meal", a healthy dish of the day and Sophie-Anne ordered her favourite Caesar's Salad. A selection of snacks and bistro style dishes are served in the Lobby throughout the day. (The Meal 175 DKK)
New Nordic cocktails
In the elegant bar at Kurhotel Skodsbourg, we couldn't resist trying some of the New Nordic Cocktails created by leading Copenhagen bartender, Gromit Eduardsen, creator of the award-winning Copenhagen cocktail. Sophie-Anne's choice was the Clover Club, a feminine, frothy combination of Tanqueray gin, lemon juice and raspberry syrup while I tried the hotel's classic New Nordic Whiskey Sour, the Nordic twist being the Frederiksdal cherry wine that is used to finish the cocktail. Read more about New Nordic Cocktails in Copenhagen with the recipes of the ones we tried.
Who will enjoy staying at Kurhotel Skodsborg?
Kurhotel Skodsborg is very popular with Copenhageners who come to use the fitness and spa facilities and use the hotel as their weekend escape from the city. The hotel also plays host to conferences and business guests in the week and there are often parties and celebration events at the weekend. The hotel will suit couples and groups of friends looking for relaxing spa breaks close to Copenhagen. Older children are welcomed but it's not really a family hotel.
The hotel would be ideal to stay for a couple of days once you've done your sightseeing from a hotel in the centre of Copenhagen – check out the similar style Avenue Hotel. It is also very well connected by train so that you can easily base yourself here and take the train into Copenhagen or head north to Helsingor to see the Hamlet castle. Being a luxury spa hotel the guests were mainly a 50+ crowd but I also noticed quite a few 30-something couples who love the spa and fitness facilities and use the hotel for weekend breaks. Checkout the Kurhotel Skodsborg spa weekend packages as well as their day packages if you are staying in Copenhagen and fancy a relaxing spa day to treat yourself and break up the sightseeing.
Are you a traveller who enjoys a bit of pampering and relaxation when you travel? Do let me know in the comments if Kurhotel Skodsborg sound like your kind of place.
Stay at Kurhotel Skodsborg
Kurhotel Skodsborg is situated just north of Copenhagen in the North Sealand region, with easy access to the city and airport by road or by train – you can be in the city within 30 minutes. There are 85 rooms and suites as well as meeting rooms and conference facilities, extensive spa and fitness facilities, a private jetty for ocean swimming, a rooftop terrace with sundeck and restaurant and lobby bar serving healthy Nordic cuisine and cocktails. Rooms at Kurhotel Skodsborg start from 1900 DKK (£180/€250/$280) per night for 2 people bed and breakfast with use of spa. Check the best prices for Kurhotel Skodsborg and other Copenhagen hotels on my Hotel Booking Page
What can I see nearby?
If you're staying at Kurhotel Skodsborg there are many things to do nearby that are easily accessible by car or on the train that runs along the coast. It's worth mentioning that bikes are available to hire at the hotel and you can take them on the train, making it easy to get around. We recommend;
The Karen Blixen House: The home of Karen Blixen, the Danish author of Out of Africa, now open to the public and furnished as when she lived there. Take the train to Rungsted and then the house is a 30 minute walk or 15 minute cycle ride from the station. Read my article: Out of Africa and other Danish Stories
Louisiana Modern Art Museum: A seaside villa that has been enlarged to house a fabulous collection of modern art and sculptures in the gardens. There's a large cafe with outdoor terrace or you can bring your picnic and sit on the grass overlooking the sea and even go for a swim from the shingle beach. The museum is open late on summer evenings too. Take the train to Humlebaek station, then walk 15 mins or take a short bus ride down the road following the signs to get to Louisiana. Read my article here.
Dyrehaven: Although the main entrance to Dyrehaven or the Deer Park is closest to Klampenbourg station, the park extends right up to Skodsborg and can be accessed behind the hotel for jogging, walking and cycling. There's an amusement park in the centre of Dyrehaven at Bakken and you can also take a horse and carriage ride around the park.
Helsingør and Kronborg castle: Take the train north to Helsingør to see Kronborg castle, the one that Shakespeare made famous when he wrote about Elinore in Hamlet. You'll find a picturesque old town and harbour, where ferries run across the Sound to Sweden, should you fancy a day trip. Check out the state of the art Danish Maritime Museum while you're there.
Finn Juhl House: I wanted to see this but ran out of time, but if you enjoy art and design this is the former home of Finn Juhl, one of the leaders of Scandinavian design, which he built and furnished in the 1940s. The house is next to the Ordrupgaard Modern Art museum designed by Zaha Hadid and a joint ticket will get you in to both. The nearest station is Klampenborg or Charlottenlund but the museum is a little way from the station so you may want to take a taxi or cycle. More details here.
How to get to Kurhotel Skodsborg
For more information about things to do in and around Copenhagen, check out the Visit Copenhagen website as well as the Visit Denmark website for other parts of Denmark.
Heather and Sophie-Anne flew with Scandinavian Airlines from London Heathrow to Copenhagen. SAS fly several times a day to and from London to Copenhagen giving you a choice of times to make the most of your time in Copenhagen. On arrival take the train direct to Kurhotel Skodsborg on the coastal line stopping at Skodsborg and the hotel is a 5 minute walk from the station (turn right as you come out of the station).
Heather and Sophie-Anne used the Copenhagen Card which covers free public transport around Copenhagen as well as free or reduced price entry to many of the attractions in and around Copenhagen.
More things to do in Copenhagen
Light, Air, Water – finding a healthy holiday in Copenhagen – healthy tips for rest and relaxation on your spa break by the sea in Copenhagen.
In Photos – our weekend break in Copenhagen – Our winter weekend in Copenhagen, staying in hip Vesterbro, taking a gastro-cruise around the harbour and seeing the Danish crown jewels.
Like Mother Like Daughter – What we loved on our trip to Copenhagen – Sophie-Anne suggests some things to do in Copenhagen that mothers and daughters will both enjoy.
Thanks to Kurhotel Skodsborg who hosted Heather and Sophie-Anne for their stay at the hotel and Scandinavian Airlines who provided Heather's flight.
Pin It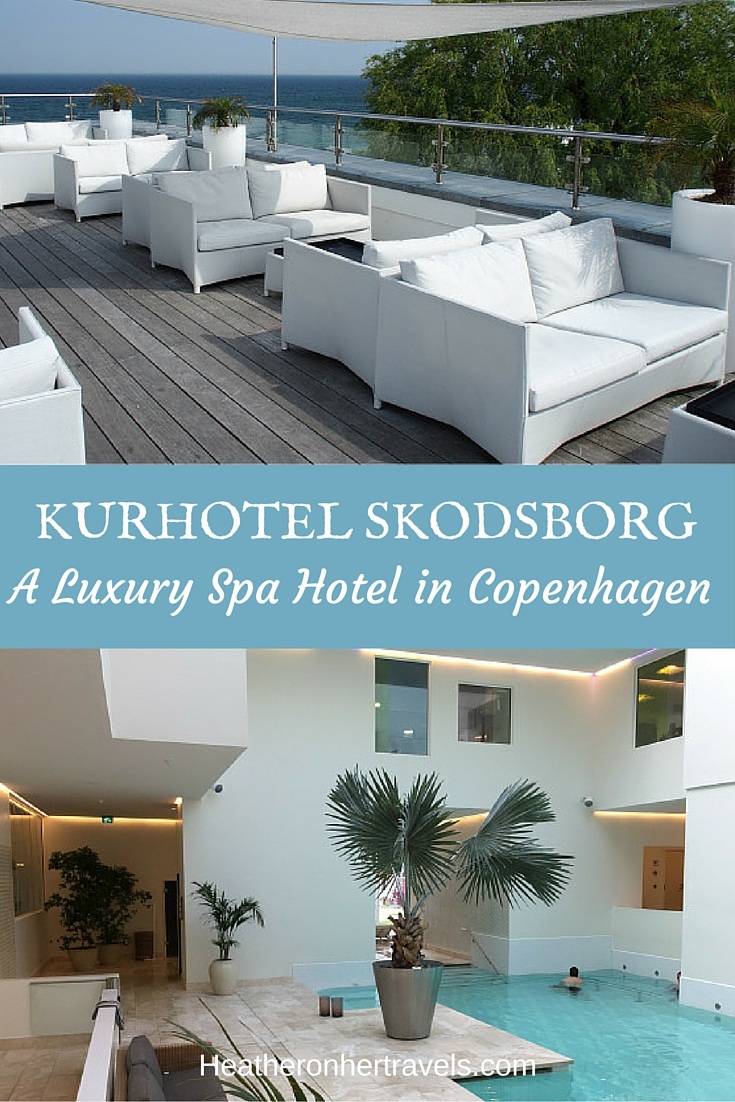 This article is originally published at Heatheronhertravels.com – Read the original article here
You'll also find our sister blog with tips on how to build a successful travel blog at My Blogging Journey