March 14, 2015 by Guest Author
Filed under Accommodation, Eating and drinking, featured, Guest post, Hotels, Leisure, Misc, Shopping, Sightseeing, Spa & Pampering, USA, World
In this article our guest author, Susan Foster shares her girl's weekend getaway at the historic Hotel del Coronado, set by the sea in San Diego, California.
My friend Cherie and I traveled quite a bit together in college and for some years afterwards. These trips came to a halt during the years we raised our children. Recently however, we have enjoyed a girl's weekend getaway together every-other year. A perk of midlife has been the significant upgrade in the accommodations we can now both afford!
This year's destination: San Diego
Cherie is from Virginia and I live in Montana. This year, we chose to meet at the warm coastal resort town of Coronado, just across a bridge from San Diego, California.
Deciding to splurge, we booked a long-weekend stay at one of the leading San Diego hotels, the historic and luxurious Hotel del Coronado. Built in 1880, it is now an American National Historic Landmark.
A glitch in our plans!
Our flights were originally scheduled to arrive into San Diego late morning on a Friday, within minutes of each other. Unfortunately, an airplane mechanical difficulty delayed Cherie's arrival until evening. I found out by reading a text from her just before boarding my own flight:
Despite feeling horrible for Cherie, the Hotel del Coronado was a lovely place to spend an afternoon alone.
I explored the sprawling grounds and beautiful building, walked several miles on the hotel's private beach, ate a lovely ocean-side meal, and watched an incredible sunset from the balcony of our full ocean-view room.
Once Cherie finally arrived, we salvaged the rest of her day by enjoying a light meal and some talented live music downstairs in the Babcock and Story Bar.
Saturday was a full day!
Wearing the matching outfits we had unknowingly packed, we headed down to the beach for a walk, then consulted the helpful hotel concierge to assist with the planning of our day.
 Old Town Trolley Tour and a day in San Diego
It had seemed unnecessary to rent a car. A cab from the airport cost about $30 US, and the village of Coronado is an easy walk from the hotel. Coronado offered more than enough to entertain us, but we decided to spend a day exploring San Diego. We purchasing discounted Old Town Trolley Tour tickets ($33 US each) from the concierge, which turned out to be the perfect way to experience the city.
The trolley route covers 25 miles in about two hours, and the driver provides an entertaining and informative narrative. Passengers can get on and off as they please at any of the 11 different points of interest. Trolleys cycle through each stop about every half hour throughout the day.
Typically, I prefer to be "off the beaten path" and avoid tourist-type activities. With our limited time schedule though, I enjoyed the comprehensive overview of San Diego provided by the Trolley Tour. We disembarked at five stops.
Our first stop was Balboa park in San Diego
Home to 15 museums, and a vast number of other interests, several days could easily be spent at Balboa Park. A free, narrated 15-minute tram tour of the park convinced us both to return someday with more time to explore.
Next up: Little Italy, San Diego
This hilly community with many enticing shops and restaurants is, according to our driver, the largest "Little Italy" in the United States. Had we desired Italian food, this would have been a perfect place for lunch.  Or – we could have had a pint in the British Pub we discovered there!
Visiting Old Town, San Diego
We couldn't leave without a stop at Old Town San Diego. Established in the 1700's, we enjoyed walking through the historic buildings.
Our concierge recommended El Agave Tequileria. The authentic Mexican food and margaritas (mine was avocado!) were excellent.
A stop at San Diego Harbor
You could easily spend an entire afternoon at the San Diego Harbor. We just briefly walked up and down the harbor, but enjoyed seeing the ships and submarines which can be toured there.
Shopping at Seaport Village, San Diego
We enjoyed the quaint shops here, and saw some incredibly beautiful jewelry.
The sea wall was the perfect place to sit and sip a cup of coffee.
The setting sun looked like a ball of fire, back-lighting the sailboats and ships at sea, and the beautiful trees in the park.  We were so enchanted we lost track of time, and missed the last trolley – which we had planned to take to the Gaslamp District, known as the "happening place" for nightlife!
Back to Hotel del Coronado
Reevaluating our plan, we took a taxi back to the Hotel del Coronado. Once there, we ended the day with a glass of wine and some tasty snacks.  The February temperatures had cooled enough to need a coat, but we were comfortably warm sitting by an outdoor fire-pit at the Sunset Bar.
Sunday: Relaxation and spa day!
After a walk on the beach we reported to the Del's Fitness Center, to join a group for a yoga session on the beach.  It was my first yoga experience, and I absolutely loved it, perhaps thanks to the ocean setting!
The Spa at the Del offers over 50 different treatments and advance reservations are recommended.  We pampered ourselves with manicures, pedicures, and facials, and enjoyed all of the delightful spa amenities, such as the steam room, hot tub and sunbathing by the infinity pool.
We watched the sun set while enjoying delicious "Charred Brussels Sprouts," followed by salad and wood-fired pizza outdoors at ENO Pizzaria and Wine Bar.
It would be impossible to fully sing the praises of the Hotel Del Coronado, without making this article much too lengthy. You can read the article on my own blog with more about the history and amenities of this glorious hotel.
My only complaint is that our stay was much too short. Planning our next reunion will be easy – returning to San Diego and the Hotel del Coronado is a must!
About Hotel del Coronado
Hotel del Coronado is a luxury seaside resort in Coronado, California, just minutes from downtown San Diego. In existence since 1888, the hotel is now a beautiful National Historic landmark and a world-class luxury resort. Rooms rates are from $425 USD; book mid-week for lowest rates and be sure to check the resort website for special offers. Website | Twitter | Facebook
Book Hotel del Coronado and other San Diego hotels through our Hotels Booking Page
Read more about Hotel del Coronado in Susan's article: Hotel del Coronado – Perhaps a glimpse of heaven
Susan received some complimentary services from the Hotel del Coronado during her stay, however all opinions expressed are her own.
Thanks to Susan Foster for sharing her weekend in San Diego.  Susan's blog the most – of every moment is about making the most of all life's moments with recipes, tips, inspiring stories and excerpts of life in Montana. You can connect with Susan on Twitter | Facebook | Google+ | Instagram | Pinterest
For more US getaway ideas:
Five Must Try Foodie Experiences in Portland, Oregon
9 Cool things we did in Austin, Texas
Visit Chicago for pizza, popcorn and a walk by the river
Pin It
This article by is originally published at Heatheronhertravels.com – Read the original article here
You'll also find our sister blog with tips on how to build a successful travel blog at My Blogging Journey
New York New York. It's a city that has so far escaped me, but one that I now have in my sights since I can fly there so easily from the UK with Aer Lingus. Starting at my local airport of Bristol (or any one of 19 airports across the UK) I can fly via Dublin where I'll be pre-cleared through customs and arrive at New York with more time to enjoy and less time to stand in queues. You'll be even more interested when you hear about the competition they are running to win two return flights to New York plus £1000 spending money. If you're tempted, read on to find out more.

So here I am, thinking that it's time to start planning that trip that I rather rashly promised my 19 year old daughter for her birthday some years ago (I didn't say which birthday!) With no prior knowledge of what my daughter and I might enjoy in New York, I reached out to a few blogging friends for ideas and here's what they came up with; (Thanks to Sherry, Barbara, Gary, Kenecia and Nancy for their tips)
Neighbourhoods to hang out in New York
I generally prefer to avoid the tourist traps in favour of neighbourhoods that have a more local feel, so Greenwich Village and SOHO sound perfect for wandering around the individual shops and cafes while Bleeker Street is the place for those cute vintage finds. I love the sound of Chelsea Market in the Meat Packing District, an enclosed food court with thirty five food vendors selling everything from artizan cheese to sushi. We might connect up with the Highline Park that runs past the market, an old railway line that's been made into a green corridor and public garden high above the city along the West Side.
Interested? You can win those 2 free flights to NYC over here
Foodie stuff in New York
Whereas in London I might go for cocktails with my daughter, it's a bit of a shock to find out that in New York she wouldn't be able to drink legally until she's 21. Never mind, perhaps we could try an elegant afternoon tea with blinis and caviar and a secret swig of vodka when no-one was looking, at the famed Russian Tea Room. I love to take a food tour since they always take you to those interesting little artizan producers or quirky cafes that you'd never find on your own, so we might try one of the Foods of NY tours. Finally, since we both have a sweet tooth we'd be sure to visit Serendipidy  for a light lunch finished off with their special frozen hot chocolate or stop to buy cupcakes from Baked by Melissa at their cute little store on 14th Street in Union square where I'm told they'll be selling a shamrock green version for St Paddy's day.
Quirky tours and getting local in New York
When I travel I love to connect with the locals so it would be fun to book a dinner through EatWith in a local's apartment to get a feel for how people live, over a sociable dinner with other guests. We might book some time with a Big Apple Greeter and have a local  rather than a tour guide show us around their neighborhood or learn to use the subway – it's a free service although donations are appreciated. And speaking of tours maybe it would be fun to do a Sex and the City tour to see where the girls hung out in the TV series or take an entertaining group tour of the Met or Natural History museum through Museum Hacks where crazy photos are positively encouraged.
Finding my Irish Roots in New York
OK, I admit I don't actually have any Irish roots that I know of, but since we're flying with Aer Lingus, it's fun to explore the Irish connection. We might start with a walking tour with Walks of New York of the Lower East Side where many of the immigrants to New York settled to find out about this part of New York's history and stop at the Tenement Museum to see how working-class families lived crammed together.
With St Patrick's day coming up it's worth looking out for the big parade through Manhattan on Tuesday March 17th starting at 44th Street at 11am, if you happen to be in town – there's a Time Out Guide here. Unfortunately we'll have missed the Craic Fest for this March with Irish music, films and dancing for the kids but look out for it next year and the Irish Arts Centre hosts music and literary events throughout the year.
Feeling the Craic? Find out how you can win those 2 free flights to NYC
 Flying to New York with Aer Lingus
So here's what you need to know about flying to New York via Dublin with Aer Lingus;
Through Aer Lingus and their airline partners you can fly via Dublin from 19 local airports across the UK

From Dublin you have six USA destinations to choose from: Boston, Chicago, New York, Orlando, San Francisco and Washington DC

You'll get US Preclearance in Dublin when travelling on to the USA, with less time waiting for clearance at the other end. 

You can enjoy plenty of food, shopping and free wifi as you transit through the state-of-the-art terminal in Dublin.

You get 23kg free check-in baggage allowance, with bags checked through to your final destination and pre-assigned seating on all flights.
So – in case you haven't realised, Aer Lingus are also running a competition for the next 2 weeks to win 2 tickets to New York plus £1000 spending money – watch the video and enter the competition here
About the Aer Lingus Thru-the-Q competition
If you'd love to be in with a chance of winning 2 free flights to New York + £1000 spending money, this is how you enter. Go to the Aer Lingus Competition page here and vote for your favourite blogger to send to New York from a list of 19 great travel blogs and then Tweet about the competition.
The competition runs until Thursday 26th March and you can vote once in every 24 hour period with each vote giving you an additional chance to win. The winner will be chosen at random on Friday 27th March and the tickets must be used by the end of September 2015.
Hint: Flying via Dublin Airport will get you stateside fastest with no Queue in the USA
Pin It
Thanks to my blogging friends, Sherry from Ottsworld, Barbara from Hole in the donut, Gary from Tips for Travellers, Kenecia from Passport2Pretty and Nancy for their tips.
Photos: High Line Park by Karlis Dambrans, other photos from the places mentioned
This article was brought to you in partnership with Aer Lingus and I was compensated for all my New York tips and telling you about the competition to win 2 free flights to NYC. Good Luck!
This article is originally published at Heatheronhertravels.com – Read the original article here
You'll also find our sister blog with tips on how to build a successful travel blog at My Blogging Journey
Is it worth flying Première class with Jet Airways to India if you get the chance? Of course that's a silly question. Who wouldn't want to be pampered with individual service, plenty of legroom, restaurant quality food and a glass of champagne?
But if we assume that your flight is not being paid for by the company and you're deliberating on whether to treat yourself to Première Class to start the holiday in style, then it's worth looking at what you'll get for the extra cost. On my recent trip to India flying with Jet Airways I flew economy class on the way out and Première Class on the return to London so was able to make a comparison of the two.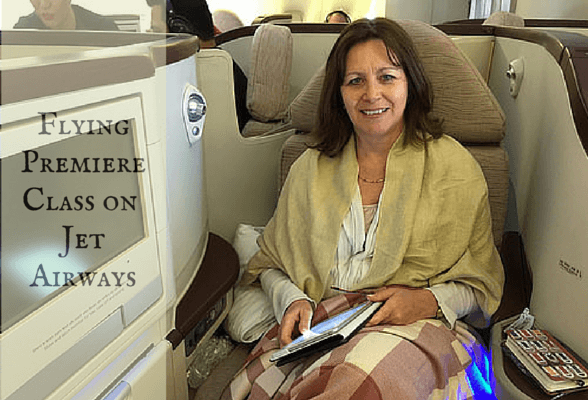 Economy Class on the way out
So I'm off to India on Jet Airways. I'm pleased to be flying with the second largest Indian airline on the way out since I start to feel the vibe of India as soon as I board the plane, through the flight attendants, the food, the movies and my fellow passengers. My Jet Airways flight to Mumbai is full of cheerful Indian families, looking forward to visiting friends and family. Beside me is a chatty 3 year old with Mum doing her best to contain his energy. I remember being that parent myself with little ones, praying that they wouldn't annoy the other passengers too much and would sleep on the way.
I've spent a lot of time recently travelling in Europe and am out of the habit of these long haul flights so the plane feels enormous to me. My seat is right by the loos which means there's a constant ebb and flow of people queuing by me and pushing past each other.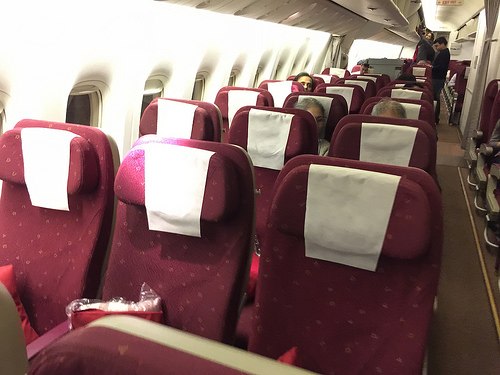 I turn my attention to the screen in front of me to check through the in flight movies. I remember from my last flight to India how I loved watching those East-Meets-West Indian movies, in this case it's The Hundred-Foot Journey in which Helen Mirren runs a Michelin star restaurant in rural France in competition with the Indian family across the road who arrive to start their own Curry Cafe. As in other Indian movies there's a film formula of family ties and loyalties matched against the forces of the ambition and progress in the modern world, plus every opportunity for a bit of song and dance Bollywood style.
Dinner at midnight
The flight moves on and dinner is served at nearly midnight, but in this flight bubble if feels as if time and routine is suspended, it's just about passing the hours. After watching the lovely liquid-eyes Indian chef Hassan in the movie, throwing a pinch of chilli here and some cardoman there, the chicken with spinach and noodles was not quite the Indian flavours I was hoping for, but I enjoy the cous cous salad with parsley and raisins and the creamy coconut rice pudding desert.
The lights are dimmed and we settle down to snatch some sleep under the brown checked blanket. Somewhere on the plane there is a Waaah, Waaah of an inconsolable baby but while feeling sorry for the parents I'm happy that it's not right next to me. By the time the breakfast tray comes round my bottom has fallen asleep and my legs are compressed, but I tuck into the sweet muffin and fruit salad to pass the time before stretching my legs on a wander up the aisle.
All change at Mumbai
At Mumbai we navigate the process of clearing customs, collecting our suitcases and then find the transfer bus outside the terminal that drive us the 15 minutes to the separate domenstic terminal. It's a relatively short hop before we touch down at Bengaluru into another smart, international terminal. The new airport was built around 7 years ago and is an hour's drive from the city centre. From our taxi we admire the beautifully landscaped gardens bordering the airport road but soon the real, less manicured, more chaotic India emerges with streets bordered by rubble, half completed building projects and everything covered with a layer of dust.
Première Class on the way home
On the return flight, with an hour before I board at Bangalore I make use of the Plaza Premium lounge which would normally cost 1000 INR (around £10.50) and welcome the complimentary breakfast since my early start meant I missed eating anything at the hotel. I deliberate between the two hot stations with chefs making freshly cooked dhosa and omelettes as well as the stations of fresh fruit, cakes, pastries, cereals and a machine for coffee. There's endless space in the lounge with large comfortable chairs to spread out and hardly anyone else there.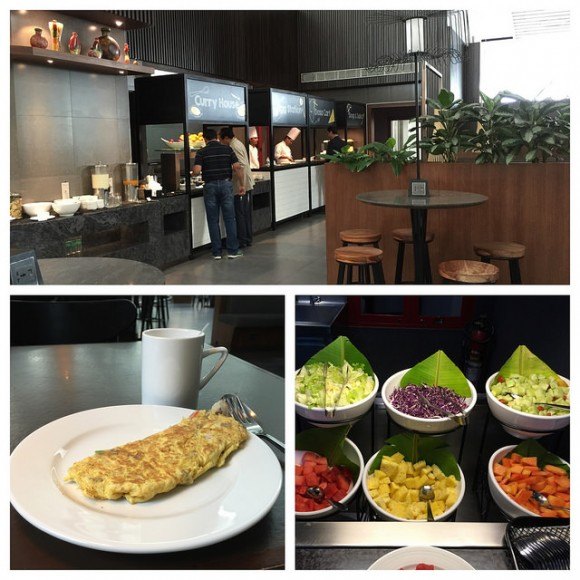 Seeing the Jet Airways flight called I go downstairs and wonder why no-one seems to be boarding yet, then realise that I've made a mistake with the gate and that they're actually giving the final call. Phew, thank goodness for my blogger's tendancy to wonder around and take photos or I wouldn't have spotted my mistake.
The flight from Bengaluru to Mumbai
I settle into my large Première Class seat at the front of the aircraft – with two seats abreast where there would normally be three there is plenty of room to relax. The charming steward Namesh comes forward, shakes my hand to introduce himself – he'll be taking care of me on this flight. I am offered a glass of coconut water or lassi and review the menu card to choose my breakfast, a mushroom omlette which of course I barely have room for due to the breakfast I've already had in the business lounge.
The flight is just a short hop from Bengaluru into Mumbai domestic terminal but the centre of attention is a well known actor or music star (of course I've no idea who he is!) who is travelling on the same flight. After having his photo taken with all the flight crew he is whisked away in a private car. Perhaps I was mixing with a big Bollywood star! Again there's a slightly chaotic wait in a queue for the connecting coach to take us to the international terminal.
The opulent business class lounge at Mumbai
Through security and I head for the third floor GVK Lounge which is included in my Jet Airways Première Class ticket (3,000 INR or around £30 for 4 hours). I feel I'm walking into the lobby of a fabulous 5 star hotel, awash with tasteful opulence, burnished gold partitions, expensive velvet and silk fabrics and plenty of opportunity for a large glass of chilled white wine from the bar or a meal from the buffet area. With more time I might even have tried a spa treatment at the far end of the lounge. While many are on their laptops, making use of the free wifi, I take one of the window seats and watched the planes taking off and landing – a most therapeutic passtime.
My reclineable Premiere Class seat
On boarding the flight from Mumbai to London, I settle into my Première Class seat with an  individual reclinable seat that has armrests and tables built in. Since each seat is set at an angle there is room to stretch right out and I wish my husband was here to enjoy it since he's over 6 foot tall and suffers on long flights with his long legs. I am able to have a play with the buttons to stretch out the padded footrest and recline the back almost flat for a very comfortable sleeping position. The large table slides out beside the seat and swings over, and the large screen swings round in front of me.
Dinner from a Michelin Star chef
As before I get the very personal service and dinner is served on a white cloth with china plates. From the dinner menu I choose an apple, cheese and tomato salad to start followed by a Goan fish curry  served with side dishes of lentils and Indian style vegetables. The menu tells me that on the London to India route some of the dishes are created by Michelin star chef Yves Mattagne who runs the restaurant The Sea Grill in Brussels. Although it's served on a different route, I love the sound of some of his dishes like the salad of golden and red beetroot with blue cheese or the pistachio tartlet with banana mousse. I'd normally jump at the chance of a glass of Bollinger champagne but decide to avoid any alcohol on the flight to preserve my energy on the long flight.
My Jet Airways flight from Mumbai to London passes quickly between meals, a little sleep and getting a bit of writing done and of course this is how I'd love to travel all the time, especially if I'm on my own. The benefits of flying Première class are many but these are the ones that I notice;
You get your own super comfy reclining seat in an individual compartment with loads of legroom.
The reclining seat makes it much easier to get some sleep on a long flight or to get some work done.
There's no waiting behind 10 other people in the queue for the bathroom and no need to disturb your neighbour when you need to leave your seat.

You are unlikely to be disturbed by boisterous children and crying babies.

You get personal and attentive service.

You eat restaurant quality meals served on white linen with proper plates and cutlery , some of the dishes created by Michelin star chef Yves Mattagne.

You enjoy complimentary wine, champagne and other drinks whenever you want them.
You get to use the business lounges in each airport where you can get free food and drinks, free wifi and a calm and relaxing exclusive space to work or relax.
You might get to travel with a film star!
On the downside if there is one
If travelling with your partner you might prefer to sit together rather than in an individual compartment.
The experience is a little sterile and remote from the real world if you are the kind of person that likes to be sociable.
Obviously the cost of flying Première Class is not one that everyone can afford – the cost is over three times as much as an economy fare.
If you gave me the option of flying Première Class on my next Jet Airways flight to India of course I'd jump at the chance – it turns the experience of flying long haul from something to be endured to a pleasurable and luxurious experience. Thanks to Jet Airways who provided Heather with complimentary return flight to Bengaluru and the opportunity to try out Première on the way back.
Planning a trip to India?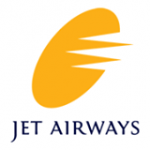 Jet Airways is India's premier airline, flying daily from London Heathrow to Delhi and twice daily to Mumbai, from there on to other Indian cities such as Bengaluru. Flights are also available from Manchester and Birmingham via Brussels. Jet Airways has the largest domestic network and flies to 74 destinations across India and beyond. For more information and to book: Jet Airways website | Twitter @jetairways | Facebook | Pinterest | YouTube | Flickr |
Need Airport Parking?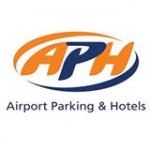 Heather used the Meet and Greet Parking Service booked through APH Parking and Hotels. APH is a multi-award winning company for airport parking & airport hotels, offering airport parking at a range of airports across the UK. APH also offer airport travel extras such as Meet and Greet parking, airport lounge booking and airport hotel stays so you can start enjoying a stress-free holiday before you even take off. Thanks to APH who provided Heather's airport parking on a complimentary basis. For more information: APH website | APH Blog | Twitter @APHParking | Facebook | Google+ | YouTube |
More India Inspiration
My charity visit to India – Podcast
Shopping and Sightseeing in Hyderabad
Meeting my Indian Sponsor Child
 Pin It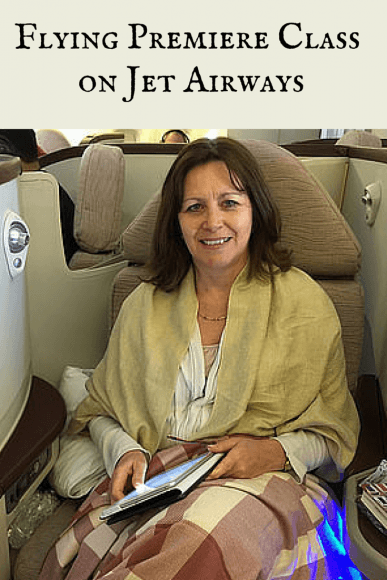 Click to subscribe to our monthly newsletter, news and reader offers
You'll also find our sister blog with tips on how to build a successful travel blog at My Blogging Journey