July 29, 2014 by Guest Author
Filed under Accommodation, Eating and drinking, featured, Guest post, Leisure, Misc, Self-catering, Sightseeing, USA, World
In this article, our guest author Amanda Kusek shares her experience of visiting Disney World in Florida with her mother and shares her tips for having fun together as a parent and adult child without driving each other mad!
I am thrilled to say I've just returned from 7 days with my mother in Disney World, sharing a villa along with her best friend and boyfriend, and have come home unscathed. We certainly had moments of tension, but by reaching toward each other rather than pulling away, we had a fantastic time. If you're planning a similar trip, here are my tips from an adult child's point of view so you too can bask in familial bliss;
Let's Stay Together
Rather than staying in one of the many Disney World resorts, my mother and I opted for a villa at Liki Tiki Resort Village just twenty minutes from the park. We used my brother's timeshare, but you may book the resort online. If you use 3111 World Dr. as your GPS address, Liki Tiki to Disney is completed in a flash on back roads. You'll bypass main entrance traffic and slip easily into main parking via a back entrance. The villas truly do have one of the best locations outside of the parks.
I enjoyed staying away from the free-for-all that is Disney. With the villa, we were able to invite along two others, cook some of our meals, and laze by the pool just steps from our door. Not only was it significantly cheaper for all of us but having a joint space made me feel more at home. We had family style dinners, enjoyed wine, and played cards. It was a nice way to spend time together without hustling around the parks.
The Thin Line Between Doting & Nagging
My mother has explained to me on countless occasions that even though I am 26, she still feels an incredible urge to take care of me. She misses me and cooking dinner or picking up the bill makes her feel closer to me. While being doted on is something I can certainly enjoy, too much of a good thing can make me turn sour.
It's important to remember that your adult children make hundreds of decisions about their lives every day. For example, in Epcot my goal was to eat everything in sight. I wanted to, I needed to, and I was prepared to outdo myself. And yet, my mother took it upon herself to warn me about eating a bite of sushi before our lunch reservations. Food is important to our family and especially to my mother's nurturing, but in this case I was going to do what I wanted anyway, there was no need to mention it.
Admit When You're Tired
Guess what? I'm not as young as I was once was either! I now know what it feels like to be tired, to rise early and want to be in bed equally as early. My late nights are few and I spend more time getting up and going to work than out partying and sleeping in. If you tell me you are exhausted, we can re-do the plans and make new ones, or just head home to have a glass of wine. Chances are, I'm probably tired too. After we had a long day in Hollywood Studios, my team of middle-aged rock stars (I got 2 of the 3 on Aerosmith's Rock N' Roller Coaster) and I decided to call it quits and return to our villa for dinner. We canceled our dinner reservation and enjoyed a steak dinner and an early bedtime. It was just what the doctor ordered. We returned to Disney the next day totally refreshed instead of exhausted and cranky.
Some Things Are Still New To Me
My mother has been to Disney over 20 times in her lifetime. This was only my fourth go around. Though I have grown up, many of the parks rides and attractions feel new to me. While she may know Magic Kingdom like the back of her hand, I certainly do not, and she indulged my wonder with certain buildings, rides, and shows. I know that some of this may have bored her but she embraced it as though I was seeing it for the first time. She must have asked me, "Do you remember this?" countless times but whether the answer was yes or no, we still participated and enjoyed. Together we made Disney World, something that risks being "too perfect", exciting and suited to us. We just had to listen to one another.
I'd love to hear about what it is like to travel with an adult child and how I can be a better version of myself! Please share with Amanda in the comments below.

Many thanks to Amanda Kusek from TripGal for this article. You can read more of Amanda's work at http://trip-gal.com/author/amandakusek/ or cheapcourage.com. Follow her on Twitter at @akaymayday.
For more Fun travel:
What does Orlando offer other than Disney?
Our Top 5 Florida beaches
Our supercalifragilistic day at the Magical Kingdom of Disney
Photo Credit: All photos originally from Amanda Kusek
This article is originally published at Heatheronhertravels.com - Read the original article here
You'll also find our sister blog with tips on how to build a successful travel blog at My Blogging Journey
Whether you fancy getting away to enjoy the summer sunshine or are planning a weekend break in the autumn once things have cooled down, I'm happy to announce my summer hotel-stay giveaway in partnership with HotelsCheap.org. I'm giving away a HotelsCheap.org voucher to one of my readers, worth $250 (or equivalent value of £145/€185) which you can use to book yourself a stay in a lovely hotel and treat yourself and that special someone to a relaxing summer break. The voucher can be redeemed for a hotel booking on the HotelsCheap.org website up until spring next year, so if you prefer you can wait until the autumn or even next spring to enjoy your hotel stay.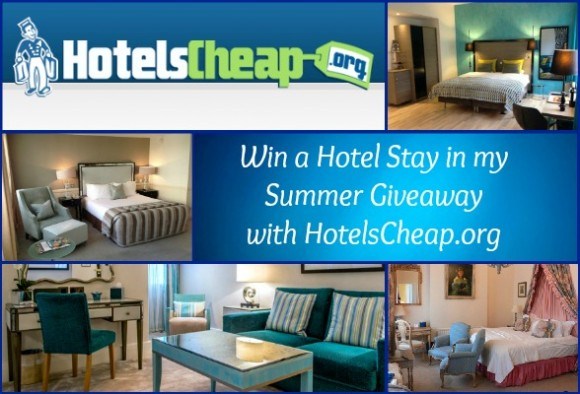 HotelsCheap.org is a hotel booking website that specialises in finding discount hotel rates for travellers worldwide and you can use the voucher to book a hotel stay in the UK, US and Canada, Europe and many other destinations worldwide. To inspire you in your choice of hotel getaway, I've come up with a few ideas, based on destinations and hotels I can personally recommend. If you'd like to enter this giveaway, please follow the details at the bottom of the article to find out how you can gain the maximum chances to win the HotelsCheap.org voucher.
A historic getaway in Winchester
Why go?
The best of England packed into an ancient market town, Winchester has a very walkable historic centre, plenty of green spaces, river walks, interesting artizan shops and great places to eat. If that's not enough, you have the beautiful Hampshire countryside on your doorstep, with walking and country houses to explore within a short drive of Winchester.
Where to stay?
The Winchester Hotel and Spa is a short walk from the historic centre and has rooms in August and September Saturday nights for £150 and under. Read my review of The Winchester Hotel and Spa
What to see?
Wander around the medieval market town and visit the famous cathedral where Jane Austen is buried – perhaps you'll find a farmer's market in full swing. Shop in the craft markets or artizan shops that line the narrow lanes, walk along the river to the city mill where you can see flour being ground as it has for centuries and perhaps spot some otters in the mill stream. The South Downs Way starts at Winchester so you may like a hike in the lovely Hampshire countryside or walk to the top of the town and visit the medieval Great Hall with King Arthur's round table.
Read more about Winchester here: 10 ways to spend a wonderful weekend in Winchester
A lively stay in San Antonio, Texas
Why go?
This town is one of the most historic in Texas, set on the San Antonio river, with some buzzing bars and restaurants along the Riverwalk making it a great choice for a relaxing getaway.
Where to Stay?
Hotel Valencia Riverwalk is an elegant boutique hotel on the Riverwalk and has Saturday night stays in August and September for under $200 although you may prefer to wait until the sweltering Texas heat and humidity reduces and take your hotel break in October or November. Read my review of Hotel Valencia Riverwalk
What to see?
Take a boat tour along the Riverwalk or stroll on foot as evening falls and the area buzzes with bars and restaurants. Of course you will want to visit the Alamo, a landmark in the struggle for Texan independence and perhaps drive out to some of the other historic Spanish missions in the area. You can hire bikes and cycle on the path beside the San Antonio river or shop for local crafts and artizan souvenirs in the La Villita Historic district.
Read more about our stay in San Antonio here: Texas Podcast Part 1, Houston, San Antonio and Picosa Ranch
A cool weekend in Copenhagen
Why go?
Haven of Scandi-cool, Denmark's capital has a compact centre that is easy to explore by bike or on foot and in summer you can take in the party atmosphere as locals enjoy the summer in the parks and around the harbour.
Where to Stay?
The Ibsens Hotel is a stylish hotel near the Copenhagen lakes that is furnished with quirky finds from neighbourhood shops and local artizan businesses and has Saturday night stays available in August and September for €130-180.  Read my review and video of Ibsens Hotel here
What to see?
A boat tour of the canals and harbour will help you get your bearings and locate some of the major Copenhagen landmarks, such as the Opera House, Royal Palace and the Little Mermaid statue. Stroll along Stroget where you'll find luxury Danish design stores and climb the medieval Round Tower, for views over the city. You'll want to enjoy the food scene too, with some of the best restaurants in the world where Michelin stars abound, but you can also find inexpensive snacks and deli-meals in the Torverhallerne food halls.
Read more about Copenhagen here: In photos: Our weekend stay in Copenhagen
A spa break in Budapest
Why go?
Hungary's capital has all the sophistication of Paris but with far more affordable prices and warm, friendly locals. There's so much to see whether you love sightseeing, relaxing in the numerous traditional and trendy cafes or visiting one of the thermal spas.
Where to Stay?
The Intercontinental Hotel is a 5 star hotel that's centrally located for sightseeing by the Chain Bridge with views of the Danube and there are dates in August and September available from €100 per night. Read my review and video of Intercontinental Hotel Budapest here
What to see?
Take the funicular up to the top of Castle Hill to visit the colourful Matyas church and take in the views from the Fisherman's Bastion over the Danube and Hungarian Parliament building. You'll want to visit one of the Hungarian spa baths such as the Gellert or Szechenyi complexes to enjoy a massage or a soak in the warm baths and perhaps afterwards have coffee and cake in an elegant cafe. The House of Terror is a compelling reminder of Hungary's communist past, while a visit to the Hungarian State Opera House for a concert or ballet is a must for culture lovers.
Read more about Budapest here: 48 hours in Budapest, top things to see on a weekend break
About HotelsCheap
HotelsCheap.org specialises in finding discount hotel rates for travellers worldwide operating in 75 countries for hotels, bed-and-breakfasts and holiday apartments. On HotelsCheap.org you can find anything from hostels and popular brand hotels to boutique hotels to luxury resorts, so getting the best hotel price doesn't mean compromising on where you stay. You can also find more tips, traveller interviews and accommodation guides on the HotelsCheap blog
Follow HotelsCheap.org on their social media channels for travel inspiration and tips for the places you'll want to visit; follow along on Twitter @hotelscheap, on Google+ and on Facebook
About the giveaway
I'm giving away a voucher to one of my readers worth $250 US (equivalent value £146 or €185) which can be redeemed on HotelsCheap.org any time before June 2015. The giveaway is open to all readers regardless of your location although the voucher will be redeemed in $US. The giveaway will run for 2 weeks and end on Monday 4 August 2014. To enter the giveaway all you have to do is;
Leave a comment below telling me how you'd like to spend your HotelsCheap voucher; which destination would you love to visit, who will you be going with, where would you like to stay?
You can also add 5 additional chances to win by doing any of the following through the Rafflecopter widget below;
Like the Heatheronhertravels Facebook page
Spread the word about the giveaway on Twitter, for example; I'd love to #win a summer hotel stay with @hotelscheap in the #giveaway at @heathercowper http://ow.ly/zmLnX
Follow Heather on her travels on Twitter @heathercowper
Follow the HotelsCheap Google+ page
Follow HotelsCheap on Twitter @hotelscheap
Entering this giveaway gives permission for you to be added to the e-mail lists of both Heatheronhertravels.com and our sponsor HotelsCheap.org, but you can unsubscribe at any time.
This article by Heather Cowper is originally published at Heatheronhertravels.com - Read the original article here
You'll also find our sister blog with tips on how to build a successful travel blog at My Blogging Journey
Some great contest sites:
Competitions Time
Competitions Today
UK Competitions and Prize Draws at UKwins
Free Online Competitions
ABC The Place to Win
OfferOasis.co.uk – Competitions and Freebies in the UK
In this article, our guest writer Rohit Agarwal explores some of the bizarre Hindu temples to be found in India, where rats are made welcome, Chinese food is offered and a motorbike is on show.
India is land of different cultures, accumulated through its history and characterized by their distinctive customs. Many of these customs can come across as bizarre to the people who are not native to these rituals. Hinduism is the most widespread of all the religions in India and it is a home to some of the most magnificent of the temples or shrines found anywhere in the world. But being a land of strange customs many temples in India are enshrined with mysticism and are often associated with a lot of bizarre myths, legends and customs. Here are some of the most bizarre temples in India;
1. Brahma Temple, Pushkar
Considered to be the only Brahma temple in the world by many, this temple however, is the most famous of the few Brahma Temples that really exist in other parts of the country. It is situated in the holy town of Pushkar in the State of Rajasthan. Pushkar contains over 500 temples most of which were destroyed under the reign of the Mughal Ruler Aurangzeb. The Brahma temple structure as we see today dates back to the 14th century but the temple site is said to be over 2000 years old. The town of Pushkar is said to have been created by the falling petals from the Lotus held by Lord Brahma and due to his wife Savitri's curse, he was only worshipped in this place. However the effects of the curse were nullified by Gayatri (a Gurjar girl who Brahma married and was endowed with the powers of the Yajna or fire sacrifice performed by Lord Brahma). This temple boasts of its marvelous architecture and is built with stone and marble slabs.
2. Karni Mata Temple, Deshnoke
Deshnoke is a small town located near Bikaner in the State of Rajasthan. While it is a rural town, Deshnoke is famous for its prime attraction, The Karni Mata Temple. This temple is dedicated to Karni Mata the incarnation of Goddess Durga and is the ancestral deity of the royal families of Jodhpur and Bikaner. The temple is known for its distinctively bizarre population of approximately 20,000 black rats. The rats are said to be the children of Karni Mata who drowned in a lake while drinking from it and upon Karni Mata's implorations were allowed to be reborn as rats by Lord Yama, the Hindu deity of Death. Various versions of this story exist however, including the one where the rats are considered to be the 20,000 soldiers who deserted a battle and upon realizing the sin they have committed, took shelter in the temple and were turned to rats by Karni Mata and vowed to serve her for atonement. The visitors are not bothered by the rats and usually offer sweets and milk as an offering. The sight of any white rat is also considered a very auspicious moment. This is one bizarre temple indeed.
3. Chinese Kali Temple
This temple is located in a small town called Tangra near Kolkata in the State of West Bengal. Tangra serves as the Chinatown and is populated by the Chinese inhabitants in India. The temple is dedicated to the Hindu Goddess Kali that is surprisingly worshipped by the Chinese inhabitants. Although, the Temple's architecture is not that special or noteworthy, the surprise lies in the offerings that are made. The Chinese people that live here offer rice, noodles, chopsuey and other vegetable dishes. This aspect alone makes the temple famous in the country as many people visit the temple to worship the Goddess and receive noodles, chopsuey and the other Chinese cooked vegetables as the 'Prasad'. Another great aspect of this temple is that the Chinese who live in this area are Christians or Buddhists but they still worship the Goddess Kali devotedly. This place totally exemplifies the cultural bond between India and China.
4. Om Banna Temple, Pali
Yet another strange temple located in Rajasthan, 'The Om Banna Temple' or the 'Bullet Baba' shrine is located in Pali district near Jodhpur. The temple is characterized by a strange deity that is represented in the form of a 350 CC Royal Enfield Motorcycle or 'Bullet Baba' that is worshipped by people for a safe journey especially when bearing liquor. The legend of the temple goes back to 1988, when a rider named Om Singh Rathore was travelling from Pali to Chotila and met with an accident that resulted in him falling into a ditch where he died. The Motorcycle was recovered by the Police who kept it in the nearby police station. However, the next morning the motorcycle was miraculously found at the accident spot again and even though the police tried defueling and locking or chaining the vehicle, it would be found again near the accident spot. This was seen as a miracle and the motorcycle was placed in a shrine built near the accident spot which serves as a temple and a memorial for Om Banna. The place is revered by hundreds of riders and travelers who visit the place to pray to the Motorcycle Deity for a safe journey.
5. Mehandipur Balaji Temple, Dausa
The Temple is dedicated to the Hindu deity, Lord Hanuman and is located in the Dausa district near the "Pink City" – Jaipur in the State of Rajasthan. The deity, Lord Hanuman is usually worshipped by the Hindus as the Monkey God is said to quell the powers of evil and exorcise the influence of any evil spirit. Owing to this, the Mehandipur Balaji Temple is nicknamed the 'Witch Temple' of India. The place can be one of the most thrilling and spine chilling experiences you would come across in India. The temple is frequented by hundreds of people who seek the head priest of the temple to get their painful experiences nullified which are said to be caused by the influence of evil spirits. One can witness various people who have been prescribed therapies like being shackled in chains or placing heavy stones on various parts of the body to ease the pain. Many people who visit the place for the first time might find these customs as strange, inhumane or anachronistic but there are many who claim to have been cured by these bizarre therapies.
On a trip to India, one might often encounter such strange and bizarre customs and traditions. Many tourists often find such rituals as revolting and outrageous but in order to derive the true cultural depth, experiencing these is a must. The temples mentioned not only define the strong sense of religion that the country possesses but also how religion in general influences the people in this mystical and magical country.
Photo Credits: Bramha Temple in Pushkar by Lukas Larsson , Le temple de Karni Mata (Deshnoke) by Jean-Pierre Dalbéra , karni mata rats by Koen, Chinese Kali Mandir in Kolkata, India by Flippy Whale, Om Banna Temple by Studio Matino Reserved (with permission), Mehandipur Balaji by amitk227
Author Bio:
Rohit Agarwal is an Architect by profession and a travel blogger. Having travelled to various places in the country and the world is often intrigued by the various cultures and traditions in different parts of India and the world. Rohit is a blogger at Trans India Travels that provides an insight on the various attractions in India.
This article is originally published at Heatheronhertravels.com - Read the original article here