Our Explore Canada Road trip had taken us from Toronto to Montreal, but now we were at journey's end. Dropping Monty the RV (our recreational vehicle, named after our final destination) back at the Cruise Canada depot, we headed into the city, to enjoy our final day exploring Montreal. In one short day, we fell in love with the charming bilingual Montrealers, discovered something of the city's history and ate our way through Montreal's lively food scene. Of course we didn't see everything, but all the more excuse to return – so here's our version of a perfect day in Montreal.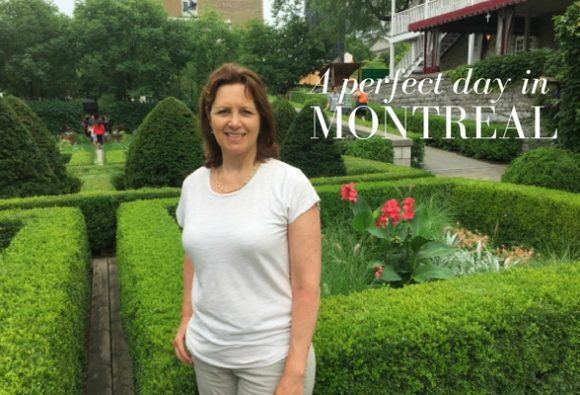 Like most visitors to Montreal, we started our day in the old quarter of Vieux Montreal, wandering along Rue Saint-Paul, where funky clothing boutiques mixed with stylish cafés. Meandering through cobbled pedestrian streets, we reached the tourist hub of Place Jaques Cartier, an open square that looks towards the port on one side and the Town Hall on the other.
Spotting an open gateway at the side of the square, we ducked through explore and found a haven of calm in the Governor's garden behind Chateau Ramezay. The walled garden was laid out as an 18th century style potager, with flowers, vegetables and medicinal herbs, in formal beds enclosed by box hedges. The garden here today is only a small part of the garden that once surrounded this grand house and would have been used as a source of food and healing, as well as genteel relaxation by the first colonists of 'New France'.
After soaking up the peaceful atmosphere, we visited the house of Chateau Ramezay, which was built in 1705 by the Governor of Montreal. Despite being one of the oldest and most historic buildings in the city, the the house fell into disrepair at the end of the 19th century and was only rescued from demolition by the efforts of an antiquarian society. We very much enjoyed our visit to the house with its beautiful panelled rooms and interesting displays that told the story of Montreal's colonial past.
If you go: Chateau Ramezay: 280 Rue Notre-Dame Est, Montréal. Entrance Adults $11, Garden Free.
Bagels and brunch in the Jewish neighbourhood
From Vieux Montreal, the Boulevard Saint Laurent took us north through some of Montreal's most interesting neighbourhoods, such as Plateau and Mile End which were home to the Jewish, Portuguese and Greek communities. While many of the old residents have moved out, you'll still find the ethnic flavour in some of the city's best loved food institutions. Now there's a hip and trendy feel as the neighbourhoods have become gentrified, with cool bars and cafés catering for creative types working for the software and video game companies that have replaced the garment industry.
Bagels are big in the Jewish neighbourhood with the specialist bakeries of Fairmount and St-Viateur found within a few blocks of each other.  There's a friendly rivalry with New York over whose bagels are best, although they are quite different to the Montreal bagels, which are baked in a wood fired oven with a sweet maple glaze and more compact texture than their puffy cousins from NYC. We stopped by both bakeries where I can confirm that the warm-from-the-oven bagels are equally delicious, although for visitors I'd favour St-Viator which has a larger shop where you can easily see the bakers at work and the bagels piled high, making it easier to take photos.
We stopped for brunch at Beauty's (93 Mont-Royal West), a classic Jewish diner with blue banquettes and an open kitchen, where they serve smoked salmon and cream cheese bagels, as well as sandwiches, pancakes and salads. The restaurant opened in 1942 and is now run by the third generation of the Sckolnick family, with grandfather Hymie who is in his 90s still coming in each day to keep an eye on things.
In the same neighbourhood is Schwartz's Deli (3895 Boulevard St-Laurent), another Montreal food institution known for their smoked meat sandwiches. At lunchtime the queues stretch down the street, but there are no frills here – you'll get a mountain of tender smoked salt beef that's barely contained by the soft fresh white bread and garnished only by a squirt of mustard.
Discovering Montreal's street-art scene
Coming from Bristol where we have murals by some incredibly talented street artists, I had to stop for a look at some of the street art in Montreal. Every year in June they hold the Mural festival when a parking lot off Boulevard Saint-Laurent is taken over by music and artists creating new works from high up on their cherry-pickers.
The festival is now in its fourth year and started as a way to encourage regeneration in the area and provide a showcase for some of Montreal's talented urban artists. Founder André Bathalon told me "our goal is to bring people to the area and they take from it what they want. They might enjoy the mural on the wall but if they want to learn more about the artists, the techniques or particular styles, they can also do that – it's accessible 24-7 and its free."
In the area we saw work by local artist Roadsworth whose large scale pieces cover roads and pavements, and Italian Pixel Pancho whose mural was one of the key pieces from this year's festival. It reminded me so much of the building size pieces that are created in South Bristol for our Upfest festival. Check in at the MURAL offices (3527a Boulevard Saint-Laurent) to pick up a map of the street art locations, book a 2 hour street art tour with Spade & Palacio or  find some of the best urban artists on show at Station 16 Gallery. There's also the Under Pressure festival in August which has been going for 20 years and focusses on graffiti artists.
Colourful fruit and veg at the Jean-Talon Market
Heading a little further north on Boulevard St Laurent, we reached the Little Italy neighbourhood and the Jean-Talon Market, the largest fruit and veg market in the city. The market is a riot of colour, especially in summer when the freshest local produce is on display. This is a shopping paradise for foodies and chefs and it's all beautifully presented with each heirloom tomato, rosy radish and even humble potato polished to perfection.
The punnets of strawberries and soft fruit looked so sweet and tempting and I enjoyed chatting to producers of  specialist products like the ice cider that's made in Quebec. Since the climate here is too cold for vines, the first French settlers planted apple orchards instead, pressing apple juice and making cider. Like ice wine, the fruit is picked after a frost to intensify the flavours and made into a sweet cider with a concentrated flavour that's perfect served with blue cheese or fois gras. Of course, thinking of my Christmas menus, I had to buy a bottle to bring home!
If you go: Jean-Talon Market: 7070 Avenue Henri-Julien, Montréal – there is parking but it's oversubscribed to best to take the metro to Jean-Talon stop.
Discovering Montreal's food truck scene
The late afternoon found us returning to the Entertainment District of Montreal where the Just for Laughs comedy festival was joining forces with the BouffonsMTL food truck festival. Food trailers were arranged around an open courtyard and featured many of Montreal's top restaurants, who offer street-food versions of their signature dishes at affordable prices. Montreal restaurateur Jorge da Silva works with Michelin star chef Carles Abellan at Tapas24 and told me how he liked to bring his most popular dishes, such as the Cartalan-style paella to the festival, as a way of meeting food lovers and reaching out to a new clientele.
"Montrealers are so proud of their cuisine, when I travel everyone knows Montreal for the food. You have your food institutions but you also have your star chefs. They are competing  but all offering something different and in a nice environment, so that's where the friendship comes in with all of us."
We enjoyed a dish of the paella, yellow with saffron and packed with juicy prawns and mussels, finishing with an ice cream from Monsieur Cremeaux, owned by TV chef Martin Juneau. Although I'd have loved to have tried the signature dish of fois gras poutine from the Au Pied de Cochon van, by that time I just had no more space to eat another mouthful.
The BouffonsMTL takes place in July but there are many food festivals in Montreal, so look out for the Montreal a la table restaurant week in November and First Fridays at the Olympic Village where food trucks gather on the first Friday of each month from May. You'll also find lots of different food trucks at individual locations around the city during the summer months.
Maple Syrup: the sweet taste of Montreal
Québec province produces over 90% of the maple in Canada, so this was top of my list to bring home from Montreal as a souvenir of the trip and pour over my pancakes for that authentic Canadian breakfast. We found a great range of maple syrup and other maple products at Delices Erable & Cie 84, rue St-Paul Est in Vieux Montreal. I loved that they allow you to taste everything on sale, with maple fudge, ice cream and cakes at the take out counter or to eat in their cafe. There are also excellent maple products at Marché Bonsecours, a domed heritage building full of stores selling unique gifts and crafts from Québec, an essential destination for the stylish shopper in Montreal.
A culinary adventure in the Little Burgundy neighbourhood of Montreal
As evening approached we followed a whim and a recommendation, jumping in a cab for a 10 minute ride to the Little Burgundy District, one of the trendy up and coming neighbourhoods we'd read about. The place we'd been recommended, Joe Beef, was shut but we spotted a taco bar across the road called El Gordo and loved the casual but buzzy atmosphere with a pared back industrial decor, perked up with colourful glasses and Mexican murals. They have an Italian restaurant and pizzeria next door called Gepetto's which also looked super-popular.  Here's what we ate: A flavoursome gaspacho with tomato and watermelon $8, a tasy and colourful advocado and tomato salad $12 and a plate of Tacos each 3 for $8-12 washed down with a mojito $10 and beer $6.
If you go: El Gordo 2518 Rue Notre-Dame Ouest. Montreal
The night is still young in Montreal
Using the metro to return to Vieux Montreal, we took one last wander around the old city where many of the buildings were lit up at night. At Place d'Armes, the Notre-Dame Basilica was beautifully illuminated with details picked out in turquoise and midnight blue and a street musician strumming a guitar in the warm night air.
The City Hall that we had seen earlier opposite Chateau Ramezay was bathed in pink and nearby we noticed a film of rebellious beavers being projected onto the old stone walls of a building in Place Jacques Cartier. It seems that the ghosts of the past come back to haunt corners of Old Montreal as part of the Cité Mémoire project where dream-like tableaux are projected onto the buildings near where the stories happened. Download the Montreal en Histories app for a guided walking tour of all the different sites around Vieux Montreal – there's free wifi provided too at information points along the route.
Where to stay in Montreal
For our last night in Montreal at the end of our Canada RV trip we stayed at the Le Centre Sheraton Montreal Hotel in the heart of downtown Montreal. The hotel is located on a busy avenue in the business district and our room gave us a morning view over the Montreal skyline towards Mont Royal, the park that offers panoramic views over the city.
The hotel is large (825 rooms) with comfortable, modern bedrooms and ideal for business or leisure travellers who like staying at an international hotel with a wide range of services and amenities. The hotel was a 30 minute walk or 10 minute cab ride from the waterfront and heart of Vieux Montreal. As is the norm in Canadian Hotel there is an additional charge for breakfast unless you book a Club bedroom in which case you have access to the Club Lounge where complimentary buffet breakfast is served as well as snacks and drinks throughout the day.
If you go: Le Centre Sheraton Montreal Hotel, 1201 Boulevard Rene-Levesque West, Montreal
I hope that I've tempted you to visit Montreal, which was certainly one of the highlights of our RV trip. There's so much to see here that I'm sure you will find whatever makes your perfect day in Montreal.
Read More about Canada's cities
Vancouver – Three wonderful reasons to visit Vancouver
Calgary – Enjoy 24 hours in Calgary Alberta
Toronto – Waterfront Toronto
Information for Visiting Monteal
You can find more information to plan your visit to Montreal on the Tourism Montreal Website, the Quebec Original Website and also on the Explore Canada Website covering all the things to see and do in Canada.
Our RV (Recreational Vehicle) for the two week Explore Canada Road Trip was provided by Cruise Canada.
To compare prices and book for hotels in Montreal, visit the HotelsCombined website where you can find the best prices from a range of different booking sites.
My visit to Montreal was part of the Explore Canada Road Trip, a project with Travelator Media and Explore Canada
Pin It
This article is originally published at Heatheronhertravels.com – Read the original article here
Comments Off on Alternative places to visit in Tokyo: a 2 day itinerary
Are you visiting Tokyo but want to try something a bit different? Our guest author Mike Gale lives in Tokyo and has been busy discovering alternative places to visit. He shares a two day itinerary that will allow you to find some more unusual places while having a good time in Tokyo.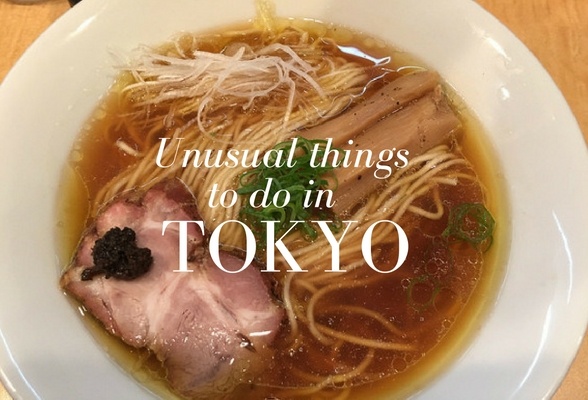 Day 1- Owls, Culture and Delicious Restaurants
Brunch time – If you're looking for a great place to stay while in Tokyo check out some of the recommendations at the end of this article or try our Tokyo hotels booking page powered by HotelsCombined. We recommend the Shinjuku district which is centrally located for getting around Tokyo.
Now it's time to have a leisurely brunch at Bubby's in Roppongi Iichome. Getting there: Take the Marunouchi Line 4 stops then transfer to Yotsuya Station for 3 stops until you reach Roppongiicchome Station. Total trip time is 15 minutes. Once you make it to Roppongi iichome station head to Bubby's nearby where you can find the best brunch in Tokyo. Their pancakes and burgers are absolutely delicious!
Late morning: Next we're heading for the Owl Cafe Fukuro No Mise. Have you ever heard of an owl café? I never did until I spoke to some friends who recommended it to me. Getting there: To get to the owl café you will take the Namboku Line two stops from Roppongiichome station. You will transfer on the Yurakucho Line to Tsukishima Station. The journey takes around 18 minutes.
Visiting Fukuro No Mise:  In this café, you can actually pet owls and have a good coffee. First, you will learn about the owls and how to handle them. You will have time to take pictures with the owls as well and there are small, medium and large ones you can pet and hold! (Timings can be subject to change due to appointments on the day )
Price Range – 2,000 yen per person, Closed on Mondays and Tuesdays. More information here.
As an alternative, visit the Owl Café and Bar Café in Harajuku if going on Monday or Tuesday. You can take the train from Roppongiichome Station to Tameike Station on the Namboku line, transferring at Kokkaogijido-Mae Station.
Afternoon: Head over to JR Harajuku Station to see a cultural area and also try out my restaurant recommendations in the area. Getting there: You will take the Oedo line back to Shinjuku Station then transfer on the Yamanote Line to JR Harajuku Station.
Walk around the Meiji Shrine which is one of Tokyo's most famous shrines. It is dedicated to Emperor Meiji and Empress Shoken. The Shrine was founded in 1920. It is located in a forest that contains 70 hectacres. Pretty impressive in such a crowded city!
Next walk over to Takeshita Street. Although crowded, you will get to see some of Tokyo's famous young street "Harajuku" fashion. Walk around to the different shops, try a crepe and enjoy all of the different fashion styles around.
Late afternoon: Stop for a beer at the Baird Beer Harajuku Taproom. It is on one of the side streets of Takeshita Street and is relatively easy to find. Here, you will find some of the best craft beer Japan has to offer; owner Bryan founded the company in a small southern town of Japan. I recommend trying their beer sampler as you will be able to try three different types of beers for only 1,000 yen. If you are a bit hungry, you can snack on some izakaya food which are Japanese side dishes of fish or vegetables.
Evening:  Time for dinner at Chiles Mexican Grill. You will head over to one of the best Mexican restaurants in Tokyo, which is also in the area of Takeshita Street and easy to find. I recommend trying their chicken ranchero burrito. It is absolutely delicious. The staff at the restaurant speak English as well.
Day 2- Ramen, Art, Shimokitazawa, and Jazz
Early morning: We have an early start today (6am!) –  head over to Sugamo Station on the JR line. Aim to arrive at Tsuta Restaurant by 7am. More information here.
Your goal is to arrive here to get a coveted ticket to this ramen restaurant. Get a ticket for 1PM to give you enough time in the onseon. Here, you will get a chance to try some delicious ramen. How delicious? Tsuta Restaurant was given a Michelin Star two years in a row! I got a chance to try the black truffle ramen and it was absolutely delicious.
Morning:  Visit Tokyo Somei Onsen Sakura, a traditional Japanese style spa. Make sure you have clean clothes and a towel. They charge extra for towels. You must not have any tattoos or you won't be allowed in. Getting there: You will head back to the JR Station and go clockwise on the Yamanote line to Komagome JR Station.
Alternative spa if you have a tattoo: Head over to Akihabara. You can take the JR train clockwise from Sugamo Station and counterclockwise back it will take about 16 minutes to get there. This is one of Tokyo's famous otaku (anime) neighborhoods. I recommend visiting any of the maid cafes around the station. Also, you can walk around and see the weapons store, which will showcase a katakana up close.
Lunchtime: Head back to Tsuta Restaurant (Take the JR line to Sugamo Station) with your ticket to enjoy the delicious ramen. You won't be disappointed.
Afternoon: Ueno Park and art galleries – Stop over to Ueno Station on the JR line (11minutes) to check out the famous park as well as the art galleries. Check out the famous park first then the Tokyo National Museum. It is one of the largest art museums in the world!
Late afternoon: We're exploring Shimokitazawa, one of the Bohemian neighborhood of Tokyo where you will find many interesting boutique shops and restaurants. Getting there:  Take the JR line counterclockwise to Shinjuku Station then transfer to the Odakyu Express train to Shimokitazwa. The journey will take about 39 minutes.
For the best curry in Tokyo, I recommend going to Anjali Spices. The owner is from Osaka and puts pride into his cooking. He also spent time in India so you will expect to have authentic Indian style cooking.
Evening: A drink at Pit Inn. After you finish walking and eating in Shimokitazawa, I recommend one last stop in Shinjuku at the Pit Inn which has been open for 40 years. Take the Odakyu Line to Shinjuku, which is a good area to stay. This Jazz Bar has many local and international artists and is known to have some of Tokyo's best jazz music. As it is a smaller venue, lounging may not be the best option but the sound system is incredible. The shows typically start at 8PM and cover charge is 3,000 yen which includes one drink. Check the website before going because some shows can start at 7:30PM.
We hope you've enjoyed your discovery of Tokyo's alternative side, mixing up cool cafe's, delicious food and nightlife with a bit of authentic Japanese culture.
Need somewhere to stay?
Try these hotel choices in the easily accessible Shinjuku district;
Granbell Hotel Shinjuku: This boutique hotel has a clean and modern look and is centrally located in Shinjuku which will make Tokyo more accessible. The lobby has coffee available and a good view from the roof terrace.
Hotel Rose Garden Shinjuku: This is a family owned boutique hotel with friendly staff and clean rooms. It is located closely to the train station.
Hotel Mystays Asakusa-bashi A modern 3 star hotel close to the station.
About the author: Mike Gale writes at NomadLifestyle, a Tokyo based food and travel blog. His aim is to find delicious food in Tokyo and document his foodie and travel adventures around the globe.
More things to do in Tokyo
Cool Hunting in Tokyo: food, fashion, street-style
10 offbeat experiences in Tokyo
Pin It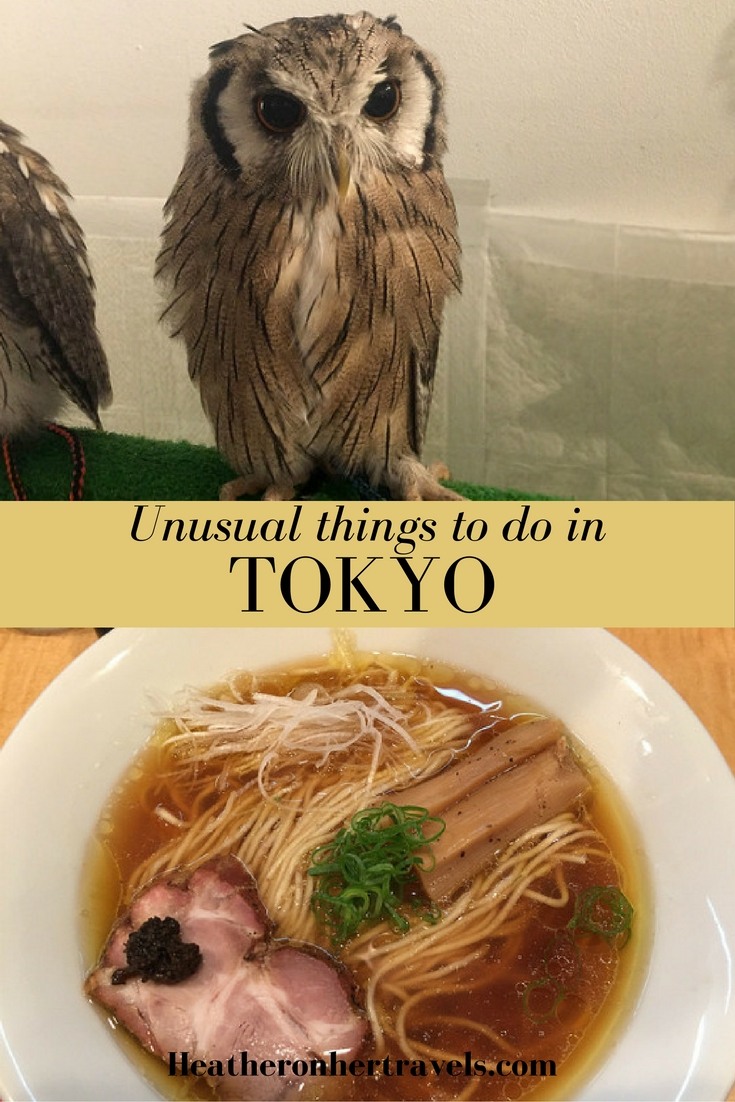 This article is originally published at Heatheronhertravels.com – Read the original article here
Think of Kenya and you no doubt picture prides of lion prowling open grassland, giraffe grazing on acacia leaves and elephant cooling off in waterholes. Safari rightly plays a huge part in most Kenya trips, but your experience can be further enriched spending a few days at Free the Children's Me to We initiative.
Operating just outside of the Masai Mara National Reserve, the initiative supports local communities in a variety of ways, from educational and medical development to hygiene around the home. During your holiday with Audley Travel, you can get involved in some of its projects allows you to contribute to sustainable change and make a real difference to people's lives, as Mark Gillies, East Africa Specialist at Audley Travel, explains.
About Me to We
Me to We itself is a social enterprise that was established by Canadian charity Free the Children. It allows visitors and volunteers to access and experience the charity's development projects in Kenya and seven other countries around the world.
This can include anything from acquiring clean water and improving access to medical facilities to smoothing the way for women to make a living for themselves. It can also involve setting up schools for girls who wouldn't otherwise receive secondary education.
In Kenya, Me to We is run from Bogani Cottages & Tented Camp – a safari-style camp just north of the Masai Mara. Here, visitors not only sleep and eat, but undertake activities beneficial to the local community. They might find themselves helping to build health centres, or collecting water for 'mamas' (local women).
The experience
When I initially heard about Me to We, I was a little cynical. Over the 18 years that I've regularly visited East Africa, I've seen a number of community projects set up with good intentions, only to fade away a few years down the line.
I was therefore taken by surprise when I finally visited the initiative with Audley Travel. The extent of local support for Free the Children's work is exceptional, and a testament to their achievements. Setting realistic aims, their fairly simple ideas have reaped extensive results in many areas of local life. Not only this, but the positive effects have been maintained over the 15 years they've been operating here.
What I liked about the Me to We experience was the feeling that you're an active participant in the work, rather than a passive bystander. You're right there digging gravel, pushing wheelbarrows and carrying tools. It's about getting dirty and speaking to local people, whose gratitude is shown in their warm welcome and wide smiles. Speaking basic Swahili myself, I can usually tell when greetings are genuine or simply out of politeness. But everywhere I went here, people's pleasure in seeing me was unmistakable.
Activities
During your stay, you'll be in a group of around 12 – usually a mix of ages, from families with children to solo travellers and retired couples. Together with a Maasai guide and a Me to We facilitator, you'll engage in a number of different activities.
During my time at Bogani, I helped to build an accommodation block for doctors. Contributing to something I knew would be appreciated by the community was really rewarding. I was also able to learn more about the project by talking to Me to We volunteers and local people as we worked together.
I visited the home of Mama Joyce, who shared her beading techniques with us. Like many other mamas, she's able to generate an income from her craft to support her family. Previously, women here were completely dependent on men to supply food and money. Yet with the help of Me to We, they've been able to learn a craft and sell their products to a wider market.
Mama Joyce was also happy to answer any questions we had about village life, and in exchange for her time we collected water for her from the Mara River. While only 200 m away, carrying heavy bucket loads of water was quite a challenge, and was yet another way for us to appreciate the rigours of daily life here. Together we were able to collect enough water to last Mama Joyce at least three days.
Another activity I enjoyed was venturing to a local market, armed with some Kenyan shillings and a list of items that the village needed. Strolling through the stalls displaying fruits, fresh flowers and woven baskets, I bartered with the market sellers while soaking up the atmosphere.
Back at the camp, you can try out some of the traditional weapons used by Maasai warriors under the tuition of Maasai field guides. These include spears, throwing sticks, and bows and arrows, which you use to hit a target. It's a fun way to learn about Maasai culture in an informal way. I was even given my own throwing stick as a keepsake, and it now sits proudly in my home.
Kisaruni All Girls Secondary School
By far the best thing I did was visit Kisaruni All Girls Secondary School. Opened by Free the Children in 2011, it offers hundreds of girls the chance to further their education. In Kenya, secondary schools are unaffordable for many families, and boys have priority.
All of the young women I met here were incredibly inspiring. Seeing their passion for education and listening to them talking about their aspirations to be doctors, engineers, nurses and accountants was really eye opening. I was left in no doubt that most of them would achieve their ambitions.
We were given a tour around the school, not by teachers, but by the head girl and two prefects. They addressed us confidently as they showed us the building's facilities and spoke about the school's values.
One thing that stood out was the school's efforts in promoting a sense of community and bridging differences between the local Maasai and Kipsigi cultures. The contrasting lifestyles of these two peoples (Kipsigi hold areas of land that they cultivate, while Maasai move around with their livestock) have been the cause of bitter feuds and violence for many years. But in this school, pupils celebrate what unifies them.
The hard work of the pupils, teachers and Free the Children/Me to We has also paid off in the girls' academic achievements. 2016 saw the very first year group to pass through the school graduate with the highest marks in the whole of Kenya.
Bogani Cottages & Tented Camp
Situated around a two hour drive north from the core area of the Masai Mara and an hour's light aircraft flight from Nairobi, the camp is surrounded by open farmland dotted with small villages. The tents are comfortable, with electricity, hot showers and flush toilets, and there are several cottages to accommodate families.
Buffet-style meals, consisting of European dishes with the occasional local delicacy, are served in the camp's main communal area. Something I always remember about the camp is how involved the catering staff are. Unlike in many safari camps, where they're friendly but unobtrusive, at Bogani they're very much a part of the conversation. They'll greet you, ask about your day and proudly introduce the dishes.
Combining Me to We with safari
A Me to We stay works well with a safari in the Masai Mara National Reserve. Both are very powerful but completely different experiences.
Me to We gives you the opportunity to add to a very positive story of development within Kenya. You learn a lot about yourself and your travel companions, as you're taken out of your comfort zone and have to turn your hand to things you wouldn't normally do.
A short drive allows you to enter an entirely different world. A safari in the Masai Mara is all about those close encounters with wild animals – watching lion prides lazing in the sun and wildebeest frantically crossing the wide and fast-flowing Mara River.
A huge grassland area in the southwest of Kenya, between July and October the Masai Mara plays host to the Great Migration. This is a wildlife phenomenon where millions of wildebeest, zebra and antelope follow the rains, attracting predators such as lion, leopard and crocodiles.
The reserve is also home to the Big Five (lion, leopard, rhino, elephant and buffalo), along with cheetah, hyena and a variety of birdlife.
Along its edges are private conservancies where many of the camps and lodges are based. Their experienced and knowledgeable guides will lead game drives and walking safaris through the open grassland. In the evening, you'll share candlelit meals beneath the stars.
Getting there
After flying to Nairobi for your holiday with Audley Travel, a Me to We facilitator will meet you and transfer you to a hotel for the night. The next day, you'll take an hour's flight by light aircraft to the Masai Mara. An hour's drive past fields of grain and rural villages will see you reach the camp.
Practicalities
A trip combining Me to We and a safari suits anyone with an interest in wildlife, Maasai and Kipsigi cultures, or social development and conservation issues. It's also for people who want to experience what life is really like in rural Kenya away from the regular tourist spots.
Families are well catered for, with all guides speaking English and activities offered specifically for children. It's also easy and safe to travel solo: you'll stay within your group once you arrive and the journeys are all escorted.
July to October is the best time for safaris in the Masai Mara as the Great Migration is in full swing and temperatures are comfortable. The only time I wouldn't recommend visiting is between the end of March and May, when rain is heavier and more frequent.
About Mark Gillies
Mark Gillies is an East Africa Specialist at Audley Travel. His first experience of the region was in 1998, when he spent three months working as a research assistant on a biological survey programme in southern Tanzania. There hasn't been a year since that he hasn't been back to Africa, whether for work or adventure.
It was while working for a travel company that he encountered Kenya and grew to love its wildlife and its people. Since joining Audley, he's visited Kenya, Tanzania, Rwanda and Uganda, furthering his passion for the region.
This article was brought to you in partnership with Audley Travel
Read More articles from Audley Travel
A guide to volcano hiking in Indonesia
A guide to gorilla trekking in Rwanda
Russia for Art Lovers – where to go in Moscow, St Petersburg and the Golden Ring
Pin It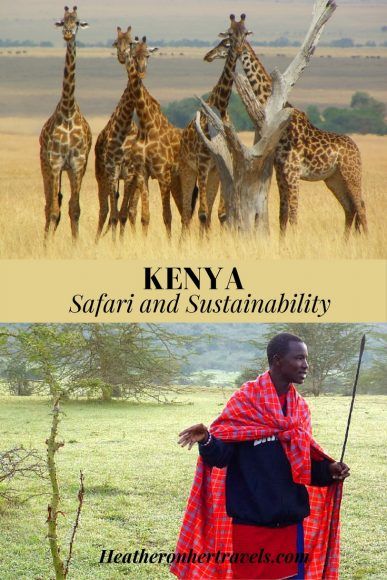 This article is originally published at Heatheronhertravels.com – Read the original article here