April 10, 2015 by Guest Author
Filed under Accommodation, Beaches and swimming, Cruise, Eating and drinking, Ecuador, featured, Guest post, Leisure, Misc, Nature, Photography, Sightseeing, South America, Walking
In this article, our guest author, Kate Convissor, shares an unforgettable week in the Galapagos, with pristine beaches, aquamarine seas and of course the birds, seals and other wildlife.
Most people travel through Quito in Ecuador, heading for the Galapagos Islands as their main destination. My experience was the opposite. I was already traveling through Ecuador and planned to spend several days in lovely Quito. The city was UNESCO's first cultural World Heritage Site, so it's very historic and photogenic. Since I was already so close, my trip had to include the Galapagos and when my sister learned of my plans, she decided to join me.
Still, my expectations were, well, non-existent. Other than cute sea lions and birds with funny names, I had no idea what to expect from an 8-day cruise through one of the most precious and unique places on the planet.
I must say, my first sight of the Galapagos through the windows of the tiny Baltra airport was underwhelming. It looked like a dry, shrubby, rocky moonscape with heat that would melt your eyeballs.
On board the San Jose
But things improved once onboard the breezy deck of the San Jose, the ship that would be our home for the next eight days. Once we found our cabin, which was more comfortable and spacious than I had expected, with twin beds (not bunks) and a nice-sized bathroom and a big window (not to mention blessed air-conditioning for those blistering afternoons), I began to feel the excitement build and the tension drain away.
A ship at sea! What could be more delightful?
And indeed, once we were underway, slicing through an impossibly blue ocean with a far horizon melting into a similarly blue sky and the wind rushing off the bow of the ship, I began to catch the magic of the Galapagos.
 The amazing animal culture
Our first landing that afternoon was on the tiny islet of Mosquera, which was little more than a lump of sand with sea lions lazily scattered about and a handful of other creatures I'd read about, like Sally-lightfoot crabs and tiny lava lizards. At this point, I was completely smitten.
This would be a great week.
Almost every day we woke to sun, sea, maybe another boat or two at anchor, a satisfying breakfast, and new wonders to explore. Days were filled with activity, which usually involved one or two hikes and/or one or two snorkeling adventures, and maybe a panga ride to some interesting cove. We usually visited two different sites each day, but the boat motored during mealtimes or at night, so we weren't twiddling our thumbs en route to the next place.
The hikes, while sometimes very hot, were always interesting and sometimes entrancing. And, of course, there was always the blue ocean to cool off in.
Snorkeling is almost de rigueur in the Galapagos since the water is teeming with all sorts of life, from sea turtles to small sharks to schools of colorful fish. The color and variety is fascinating.
I am not an avid swimmer, but I was determined not to miss this opportunity, so I grit my teeth and wore a life jacket for the first snorkel. It was fantastic! The water was warm and so bouyant that staying afloat was effortless and all that aquatic life under the surface of the ocean was worth enduring any momentary discomfort.
One of the more delightful hikes was at Punta Suarez on Espanola Island. Since it was high tide with waves crashing against the rock, our "dry" landing was a little tricky. (This is where you want experienced guys driving your panga – the little boats that takes you from your cruise ship to the shore.) We walked across a tide-flooded inlet guarded by a big bull sea lion who was jealous of his girls. (This is where you want an experienced naturalist-guide who knows the ways of macho sea lions.)
Birds, birds, birds
Espanola is a nesting condo for Nazca boobies and other birds I've forgotten the names of. The rocks are dripping with whitewash, and fluffy juveniles are waiting patiently (or not) for a snack, while their beleaguered parents are trying to oblige (by regurgitating the fish they've worked hard to find). Bird families were strewn haphazardly across the relatively flat and somewhat rocky clifftop. An occasional blue-footed booby broke the monotony.
We clambered over rocks snapping photos like crazed tourists, while the birds couldn't have cared less. The trail wound among the nesting birds and along a cliff edge until we all settled cliff-side to watch the waves crash on the black volcanic rock and send plumes of mist and water through a blowhole. All of which formed a dramatic foreground as the sun slowly rode down the western sky.
Now, I ask you, where else in the world can you sit with 16 people with this kind of natural wonder playing out around you? (Okay, there was another small tour group waiting to take our place on the rocks, but that doesn't change the overall picture.)
Small luxuries combine with pleasant company
After every activity, our long-suffering steward, Jackson, met us with his broad smile and a juice drink and snacks. Every evening we passengers gathered for a beer to chat and swap notes about the birds or fish we'd seen. And every night we fell asleep to the gentle rocking of the boat as it steamed toward our next magical destination.
Our naturalist-guide, Carlos, was an energetic, informed and personable 26-year-old. He, like many other guides, had grown up on the islands and that native knowledge was honed by the compulsory training all the guides receive.
My sister and I were also lucky in that all the passengers on our small boat were wonderful to travel with for a week, from the 86-year-old lawyer and his wife (Please, God, may I be like them when I am old) to the young brother and sister who came with their mom.
I think our group was so compatible, in part, because we all opted for a small, less luxurious boat (but make no mistake, the San Jose was very clean and comfortable) so that we could focus on experiencing the islands and not staying comfy and entertained on board the ship. Some of the luxury cruise liners carry 100 passengers and can't get to as many islands as the smaller boats.
"If you want a bigger cabin and more amenities, you should choose a luxury cruise. If you want to really experience the islands, you can have a very good time on a smaller boat," said Evelyn, my agent at Happy Gringo, through whom I booked our cruise.
True in every way. Cruising in the Galapagos Islands was a fantastic experience, and a longer cruise on a smaller boat like the San Jose was, for me, the best way to do it.
About our guest author: Many

thanks for this story to Kate Convissor who has been traveling more or less continually since she sold her house in 2010 and trailered around North America. Kate blogs semi-regularly at Wandering Not Lost. You can also find her on Facebook and Twitter
Pin It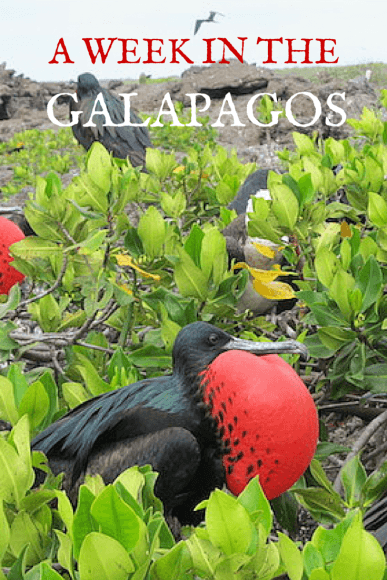 For more Ecuadorian delights:
Ecuador and the Amazon Rainforest
Take a Hot Bath in Banos, Ecuador
Beyond the Galapagos Islands – Ecuador's Forgotten Treasures
This article is originally published at Heatheronhertravels.com – Read the original article here
You'll also find our sister blog with tips on how to build a successful travel blog at My Blogging Journey
I've been to India three times now but not once have I had my photo taken in front of the Taj Mahal. I haven't visited the pink city of Jaipur or floated on the backwaters of Kerala. It isn't that I wouldn't love to do any of these things, just that my trips to India have been for a different purpose.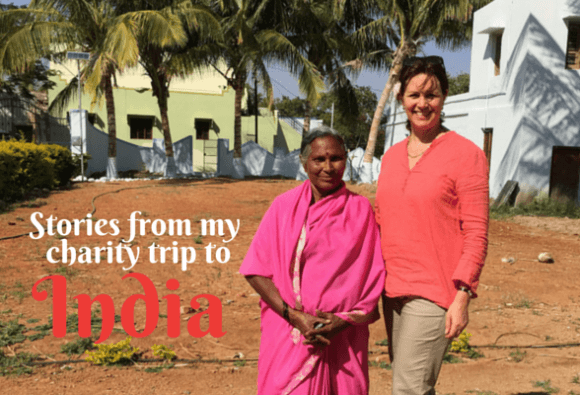 In February I was in India to visit and support a small charity I founded through my church, to see how the money we sent had been spent to help the lives of the poor in the central state of Andhra Pradesh, a part of India where tourists rarely go. Although we met many people who have very little, who live off a daily wage of £1 a day, this was a visit filled with joy and I'd like to share with you some of the stories from my visit.
1. A feast day dinner at the Don Bosco house
Barely had we arrived in the small town of Ananthapur and checked into our hotel, than we were taken to an evening event for the feast day celebrations at the local Don Bosco house. This congregation of priests and nuns from the Salesian order work with young people, especially street children. Ours was the last of many cars parked in the drive, since nuns and priests from the whole area had been invited.
We stepped over beautiful coloured chalk designs on the ground outside the house and arrived just as mass was ending. In true Indian style the altar at the end of the room was garlanded with tinsel left over from Christmas, coloured fairy lights and bright flower arrangement.
After the lengthy vote of thanks the chairs were rearranged and pans of rice and food laid out on a long table so that all the nuns and priests and other guests could queue to get their dinner. As we western guests couldn't possibly be expected to eat with our fingers, a table was brought and a selection of the dishes laid out in front of us with knives, forks and spoons.
We tucked into pilau rice, a fish curry, curds and chapatis, although I noticed that a dish of plain mashed potato, green beans and carrots had thoughtfully been added just in case the spicy food was too much for our sensitive palates.  We shook hands and chatted with many of the nuns and priests who all welcomed us and wished us Happy Feast day.
2. A memorial mass in Ananthapur
On Sunday we were up at 6am to attend the 7.30am mass with our host, Father Pratap, at Our Lady of Mount Carmel Church. We had timed our stay to include a Sunday since we wanted to have a special mass in memory of two special friends. My friend and neighbour Marilyn had been with us on a similar charity visit 2 years ago but had died suddenly a few months later, and the son of one of the charity sponsors, Christian, had also died suddenly at a young age, so we had brought photos of them to put at the front of the church.
Robert, my fellow trustee and Marilyn's husband had joined me on this trip, and we were ushered to sit on plastic chairs in the middle of the church. Behind us were wooden benches where the nuns and older people sat, while in front of us and on the right, ladies sat on the floor in their colourful Sunday-best saris, with younger men and boys sitting to the left. At the front, the choir performed using a keyboard and microphones, with plenty of music throughout the service although no hymn books were in evidence, since everyone seemed to know the words.
After a beautiful commemoration service, Robert and I stood outside the church and gave bags of sugary sweets and snacks in plastic wrapper to the congregation as they came out of church. Later during breakfast in the parish house, we talked about Robert's late wife, Marilyn and Father Pratap told us how sad the people at Nandikotkur had been when they heard of her death. They had remembered her friendliness and spirit from our previous visit and had held a memorial mass at the same time that we were having the funeral in Bristol.
3. Opening the water purification plant
One of the projects we had come to see was a water purification plant that had been constructed with funds raised by friends of Marilyn at the local leisure centre. The water is pumped up from bore wells deep in the ground but it needs to be filtered and purified before it is good to drink. The alternative for local families is to either buy filtered water or to rely on the piped town supply which is not always clean for drinking. Now with the filtered water, the 3000 children on the school campus could be provided with clean, filtered drinking water, which would be distributed to points around the school for children to use.
During a short ceremony with much laughter and photographs, we cut the ribbon to open the filtration unit and then pulled back the curtain over the plaque. We cracked small, young coconuts on the step in front of the water unit, an Indian tradition since the coconuts are a symbol of purity and good luck. The unit was officially open and after the engineer had made a few final adjustments, the tap was ceremoniously turned on and water flowed into the plastic bucket.
4. Schoolgirls dance for us and we try a few Bollywood moves
From our previous visit we'd learned that whenever you visit a school campus some entertainment is laid on to entertain the honoured guests. Garlands of flowers are put around your neck and votes of thanks are given by your hosts. If you visit India on this kind of trip we'd learned that you need to be prepared to be handed the microphone and make an impromtu speech to a whole school at the drop of a hat!
After opening the water purification plant we were entertained with dances by the 40 schoolgirls who stay in the school hostel on campus, since their villages are too far to come each day. Part of money raised through our charity goes to support these hostels which ensure that even children from remote villages don't miss out on their education.
We were treated to Bollywood style dances, local village dances in which some of the girls were dressed as men with painted on moustaches, and a graceful rainbow dance. Of course we weren't to be let off as mere spectators and were dragged up onto the dance floor to much hilarity as we tried to imitate the dance moves and generally made fools of ourselves.
On another occasion we visited the campus of St Anne's school on the outskirts of Ananthapur to find 300 girls seated in a square in the school playground to give us a school performance. Among the dances was one by girls dressed in white, orange and green, the colours of the Indian flag who danced to a patriotic song about making a better India of the future.
Once again the microphone was handed to me and seeing so many eager, bright girls before me, I gave an off the cuff speech on the importance of education for girls and commended them to work hard for their own future and that of their country. The School Principal followed with a speech in the local Telugu language, translating some of my points about the importance of education for girls.
Afterwards we had an interesting discussion with the School Principal about the future of these school girls to understand why many get married so soon after leaving school. The Catholic schools which are run by nuns are highly valued by parents who want a protective and safe environment in which their daughters can learn. Most girls like to stay close to their families who are concerned about their safety and security, so they favour local colleges for further education and rarely go out of the state. The government is discouraging the dowry system and it is now illegal to insist on a dowry but of course most parents want to give their daughter a good start in life and this can be expensive, leading to loans and debt.
5. I meet my sponsor child
On my previous visit 2 years ago I had met the children that I sponsor, Nileema and her brother Pavan, and once again they had travelled by bus some distance to meet us with their father – you can read about our last meeting here. They really did not look any older than last time I had seen them, and we sat in the parish house and chatted with the help of Father Pratap to translate.
I showed them photos of my family and leafed through a book with photos of Bristol. There's a limit to what you can say when you don't speak each other's language but my experience is that smiles and pictures go a long way. I presented Nileema with some earings that I bought at the local jewellery store and the next morning when we saw her again she was proudly wearing them. It was one of the highlights of the trip to meet the children whose education I help with and feel a personal connection between our families.
6. Lunch and tea with the nuns
Whichever school or campus we visited there was always a house of nuns who would have lunch or tea waiting for us. Everything was prepared with great care, with treats of fried chicken or Indian sweets to tempt us and we were always welcomed with great kindness. Normally each house would have a community of around 6 nuns with the younger ones cheerfully running around and organising the meal. In return we would take them gifts of scented soaps or sweets that we'd brought from England (thankyou M&S!).
In India the nuns hold positions of respect and responsibility; they are nurses, teachers and school principals. Unlike the European countries where few young people are coming forward to serve as nuns and priests, in India there is no shortage. Because the nuns and priests can work in different regions of India, with different regional languages, they all learn English and use it as their lingua franca. I think if I were a girl from a poor background who didn't fancy an arranged marriage, it would be quite an attractive career choice seeing the responsibility that these communities of nuns hold and the great work they do.
7. Meeting sponsor children
When I first met Father Pratap through my church in Bristol, he was appealing for people to come forward and make regular donations to sponsor the education of children from poor families in his parish. We decided to sponsor a child as did other families and after a while we decided to register a charity to formalise the donations and reclaim tax on them through the government gift-aid scheme.
The Catholic run schools in India are highly regarded and sought after by parents due to their high standards of teaching and dicipline, but they receive little government funding and so parents have to pay a small fee for their children to attend. The sponsoship money that is sent through our charity helps to cover this fee for the poorest families and some of it is also used to fund books and uniforms for all the children.
One of the most enjoyable parts of our trip was meeting these sponsor children and it was very exciting for them also. Before I left Bristol I had a shopping extravaganza buying or getting donated small items of stationary, soaps, toothpaste (thanks to my dentist), pencils and coloured postcards of Bristol so we could show them where we came from. We would put them together so each child we met would have a small package of gifts to take away and they were all thrilled and excited to meet us.
Most touching was when they would give us something back in return and the girls you see in the photo gave me a rose clip for my hair which you can see me wearing. Luckily Father Pratap was there to translate for us, or the delights of the Clifton suspension bridge and the Bristol cathedral, which we showed them pictures of would probably have been lost on them.
8. Drilling bore wells for irrigation
Father Pratap's jeep took us down narrow roads, surrounded by fields, when we were met by a couple of motorbikes that had come to meet us. They were driven by the farmers who had benefited from two different bore wells that had been sponsored, and the farmers led us on to the fields where they were located.
Father Pratap explained to us how difficult it can be to drill a bore well, since despite employing a water diviner to advise on the best location, there is no guarantee that you will hit water or how deep you will need to drill. Luckily both these wells had hit water but both were currently capped off awaiting an electricity supply which in return required a licence from the local municipality with all the paperwork and bureaucracy involved in India.
When we had visited the villages 2 years before, they were only receiving power for part of the day, which was sometimes cut without warning. Recently things seemed to have improved and the villages were currently getting 24 hours of electricity to their houses, but the agricultural supply was limited to around 3- 4 hours in the day and night time. This meant that the water could only be pumped during those hours, limiting the area of land that could be irrigated. This was a big lesson for me in the politics of infrastructure. Here were we raising money to fund these wells, but perhaps if the government could provide a more consistent electricity supply, they could be used to irrigate twice as much land and feed two families instead of one.
Next to our currently dry wells, we saw another that was gushing water which flowed along channels into the field of groundnuts. We hoped that our sponsored wells would also look like this once they get a power supply. The main crops in this arid area are groundnuts, maize and sunflowers, while if there is a constant water supply more high priced commercial crops such as cotton and chilies can be grown that will fetch a higher price. One well can really transform the fortunes of the family it supports and Father Pratap told us that when these farmers struck water, the celebrations were going on well into the night.
9. The wedding cake church and a mango plantation
The first time I visited Father Pratap in his parish at P. Yaleru, he had recently completed the construction of a new church to replace the old one that was crumbling. Due to the tiered design, we jokingly called it the wedding cake church, and it stood up above the village houses and could be seen from miles away when you approached the village.
On this visit we visited P. Yaleru again and passed by the Little Flower primary school which was run by a nun and two teachers. This was originally a government run primary school but all the teachers had retired and the government no longer supported it, so had been taken over by the church to provide education for the local children.
We walked past the school to the field where a mango plantation had been planted several years ago, with sponsorship from the charity. Father Pratap had told us proudly then how the plantation produced many lorry loads of mangos which were sold to provide income for education and community projects. On our visit two years ago, the plantation had been thriving but since then there had been no rain and the bore well that was being used to irrigate the trees had run dry.
Luckily the trees were by now well established and looked healthy enough, although Father Pratap told us there were fewer flowers than normal. Plans were underway to drill the well deeper after the summer rains and restore the water supply, so that the future of the mango plantation could be assured.
10. The ladies' tailoring project
In the community hall at Father Pratap's old parish on Nandikotkur we found a large group of ladies in their brightly coloured festival saris and jewellery awaiting us, seated on the floor. These ladies had been studying 6 days a week for 6 months how to be tailors, and we were shown a sample book with doll-sized examples of the clothes that they had made as part of their training.
This was the third group of 15-18 ladies that had been trained and Father Pratap hoped to continue the project with further groups and also bring the project to his new parish if further sponsors could be found. The ladies entertained us with much dancing and singing, together with a skit about women who were running a tea stall but exhorted by their friends to come to join the tailoring project so they could earn a better living.
It was heartening to see the women singing songs of empowerment and know that they would now have the opportunity to earn money to support their families. The tailoring teacher sat on the floor since she did not have the use of her legs due to polio and Father Pratap had sent her for training for a year so she could learn to be a tailoring instructor.
At the end of the entertainment, we presented each of the ladies with a sewing machine that they could take home so that they could take on tailoring work in their neighbourhood. This was their graduation ceremony and we were glad to be there to celebrate their achievement.
11. Visiting Fatima at home
While we were at the parish house, Father Pratap introduced us to Fatima, a Muslim lady who worked for him and her young son who was one of our sponsor children. Later that day, we visited her at home so we could get a feel for how many of Father Pratap's parishioners live.
We stepped inside the one room house where Fatima lives with her husband and son, where everything was neat and clean. There was just space for a bed and a TV with all the pots and utensils on high shelves around the walls. In fact this house is rented and Fatima and her husband do have their own house that her husband built on a small plot that they were given in another part of town.
The problem is that they had to take out a loan to fund the house at a high rate of interest from a private moneylender, since no bank would lend them the money. When they fell behind with the loan the lenders agreed to waive the interest on the loan in return for living in the house themselves. Until Fatima and her husband's situation improves, they won't be able to recover the use of the house they built and the lenders are happily living there with no inclination to move.
12. Visiting the Vincente Ferrer foundation campus
We visited the pleasant campus of the Vincente Ferrer foundation, a Spanish charitable foundation that runs schools for mentally disabled, sight and hearing impaired children and runs a handicraft workshop for disabled women, most of whom had no use of their legs.
We found the ladies making brightly painted Papier Mache toys and animals, plaiting and coiling coloured rushes to make table mats and forming tough leaves into disposable plates that would be used at wedding buffet. We longed to buy some of the colourful moneyboxes and later went to the official shop where they are sold in another part of town.
The mentally handicapped children were so sweet and excited when we went into their classroom, jumping and dancing around for us. The four nuns that we visited on the campus oversee the running of these schools as part of the foundation, although this is not a Catholic institution and in fact takes pains to treat all religions equally, giving help on the basis of poverty rather than religion following the principle of the founder, a former Jesuit priest.
13. At the English medium Holy Spirit secondary school
On our previous visit we had been impressed by the large Holy Spirit English Medium secondary school which is run by the nuns and has around 700 children. In India there are both Telugu Medium schools that teach in the local language and English Medium schools that teach in English. Unsurprisingly, parents favour the English medium schools since their children will learn English and will have better job prospects and opportunities to work in other parts of India.
We toured many of the classrooms and noticed the discipline of the children and their focus on learning. I looked over their shoulder in one classroom and saw that they were doing computer studies, learning in English the theory of things that seemed quite complex to me, which would be followed up with a practical lesson in their computer room.
Although all the children were smartly dressed in their uniforms, I remembered that on our previous visit they had all been wearing their own clothes. The School Principal had explained that during the week they have a day to wear their own clothes which gives them an opportunity to wash their uniform, since most families could only afford one or two sets of school uniform.
As it was lunchtime all the children filed out quietly into the dusty playground and sat under the trees eating their lunch, although as we also sat down to eat ours with the nuns we could hear the noise levels rising as they finished lunch and become more exuberant in their playtime.
If you made it this far in this long article, I thank you for joining me on this journey – what was your favourite story from my trip? The truth is that in this kind of work there is no difference between giving and receiving; they are two sides of the same coin and I have come away from my visits to India far richer than I went.
If you want to help in any small way, I have a paypal account that's just for this UK Registered charity Families Initiative For India (F.I.F.I) – Charity No 1093565 which you can find  here or donate directly via Paypal [email protected] or through the Donate button below.
More India Inspiration
Flying Premiere Class with Jet Airways to India – is it worth it? 
Podcast – my Charity visit to India
Meeting my Indian sponsor child
Planning a trip to India?
Thanks to Jet Airways for providing Heather's flight to Bangalore/ Bengaluru, which made this trip possible. Jet Airways is the second largest airline in India, operating over 300 flights daily to 73 destinations worldwide and fly to Bengaluru via Mumbai and Dehli twice daily from London Heathrow. For more information: Jet Airways website | Twitter @jetairways | Facebook | Pinterest | YouTube | Flickr | Read the review of my Jet Airways flight
Need Airport Parking?
Heather used the Meet and Greet Parking Service at Heathrow airport, booked through APH Parking and Hotels. APH is a multi-award winning company for airport parking & airport hotels, offering airport parking at a range of airports across the UK. APH also offer airport travel extras such as Meet and Greet parking, airport lounge booking and airport hotel stays so you can start enjoying a stress-free holiday before you even take off. Thanks to APH who provided Heather's airport parking on a complimentary basis. For more information: APH website | APH Blog | Twitter @APHParking | Facebook | Google+ | YouTube |
Pin it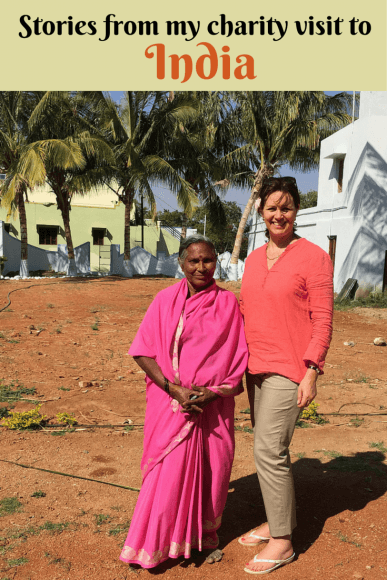 You'll also find our sister blog with tips on how to build a successful travel blog at My Blogging Journey
March 14, 2015 by Guest Author
Filed under Accommodation, Eating and drinking, featured, Guest post, Hotels, Leisure, Misc, Shopping, Sightseeing, Spa & Pampering, USA, World
In this article our guest author, Susan Foster shares her girl's weekend getaway at the historic Hotel del Coronado, set by the sea in San Diego, California.
My friend Cherie and I traveled quite a bit together in college and for some years afterwards. These trips came to a halt during the years we raised our children. Recently however, we have enjoyed a girl's weekend getaway together every-other year. A perk of midlife has been the significant upgrade in the accommodations we can now both afford!
This year's destination: San Diego
Cherie is from Virginia and I live in Montana. This year, we chose to meet at the warm coastal resort town of Coronado, just across a bridge from San Diego, California.
Deciding to splurge, we booked a long-weekend stay at one of the leading San Diego hotels, the historic and luxurious Hotel del Coronado. Built in 1880, it is now an American National Historic Landmark.
A glitch in our plans!
Our flights were originally scheduled to arrive into San Diego late morning on a Friday, within minutes of each other. Unfortunately, an airplane mechanical difficulty delayed Cherie's arrival until evening. I found out by reading a text from her just before boarding my own flight:
Despite feeling horrible for Cherie, the Hotel del Coronado was a lovely place to spend an afternoon alone.
I explored the sprawling grounds and beautiful building, walked several miles on the hotel's private beach, ate a lovely ocean-side meal, and watched an incredible sunset from the balcony of our full ocean-view room.
Once Cherie finally arrived, we salvaged the rest of her day by enjoying a light meal and some talented live music downstairs in the Babcock and Story Bar.
Saturday was a full day!
Wearing the matching outfits we had unknowingly packed, we headed down to the beach for a walk, then consulted the helpful hotel concierge to assist with the planning of our day.
 Old Town Trolley Tour and a day in San Diego
It had seemed unnecessary to rent a car. A cab from the airport cost about $30 US, and the village of Coronado is an easy walk from the hotel. Coronado offered more than enough to entertain us, but we decided to spend a day exploring San Diego. We purchasing discounted Old Town Trolley Tour tickets ($33 US each) from the concierge, which turned out to be the perfect way to experience the city.
The trolley route covers 25 miles in about two hours, and the driver provides an entertaining and informative narrative. Passengers can get on and off as they please at any of the 11 different points of interest. Trolleys cycle through each stop about every half hour throughout the day.
Typically, I prefer to be "off the beaten path" and avoid tourist-type activities. With our limited time schedule though, I enjoyed the comprehensive overview of San Diego provided by the Trolley Tour. We disembarked at five stops.
Our first stop was Balboa park in San Diego
Home to 15 museums, and a vast number of other interests, several days could easily be spent at Balboa Park. A free, narrated 15-minute tram tour of the park convinced us both to return someday with more time to explore.
Next up: Little Italy, San Diego
This hilly community with many enticing shops and restaurants is, according to our driver, the largest "Little Italy" in the United States. Had we desired Italian food, this would have been a perfect place for lunch.  Or – we could have had a pint in the British Pub we discovered there!
Visiting Old Town, San Diego
We couldn't leave without a stop at Old Town San Diego. Established in the 1700's, we enjoyed walking through the historic buildings.
Our concierge recommended El Agave Tequileria. The authentic Mexican food and margaritas (mine was avocado!) were excellent.
A stop at San Diego Harbor
You could easily spend an entire afternoon at the San Diego Harbor. We just briefly walked up and down the harbor, but enjoyed seeing the ships and submarines which can be toured there.
Shopping at Seaport Village, San Diego
We enjoyed the quaint shops here, and saw some incredibly beautiful jewelry.
The sea wall was the perfect place to sit and sip a cup of coffee.
The setting sun looked like a ball of fire, back-lighting the sailboats and ships at sea, and the beautiful trees in the park.  We were so enchanted we lost track of time, and missed the last trolley – which we had planned to take to the Gaslamp District, known as the "happening place" for nightlife!
Back to Hotel del Coronado
Reevaluating our plan, we took a taxi back to the Hotel del Coronado. Once there, we ended the day with a glass of wine and some tasty snacks.  The February temperatures had cooled enough to need a coat, but we were comfortably warm sitting by an outdoor fire-pit at the Sunset Bar.
Sunday: Relaxation and spa day!
After a walk on the beach we reported to the Del's Fitness Center, to join a group for a yoga session on the beach.  It was my first yoga experience, and I absolutely loved it, perhaps thanks to the ocean setting!
The Spa at the Del offers over 50 different treatments and advance reservations are recommended.  We pampered ourselves with manicures, pedicures, and facials, and enjoyed all of the delightful spa amenities, such as the steam room, hot tub and sunbathing by the infinity pool.
We watched the sun set while enjoying delicious "Charred Brussels Sprouts," followed by salad and wood-fired pizza outdoors at ENO Pizzaria and Wine Bar.
It would be impossible to fully sing the praises of the Hotel Del Coronado, without making this article much too lengthy. You can read the article on my own blog with more about the history and amenities of this glorious hotel.
My only complaint is that our stay was much too short. Planning our next reunion will be easy – returning to San Diego and the Hotel del Coronado is a must!
About Hotel del Coronado
Hotel del Coronado is a luxury seaside resort in Coronado, California, just minutes from downtown San Diego. In existence since 1888, the hotel is now a beautiful National Historic landmark and a world-class luxury resort. Rooms rates are from $425 USD; book mid-week for lowest rates and be sure to check the resort website for special offers. Website | Twitter | Facebook
Book Hotel del Coronado and other San Diego hotels through our Hotels Booking Page
Read more about Hotel del Coronado in Susan's article: Hotel del Coronado – Perhaps a glimpse of heaven
Susan received some complimentary services from the Hotel del Coronado during her stay, however all opinions expressed are her own.
Thanks to Susan Foster for sharing her weekend in San Diego.  Susan's blog the most – of every moment is about making the most of all life's moments with recipes, tips, inspiring stories and excerpts of life in Montana. You can connect with Susan on Twitter | Facebook | Google+ | Instagram | Pinterest
For more US getaway ideas:
Five Must Try Foodie Experiences in Portland, Oregon
9 Cool things we did in Austin, Texas
Visit Chicago for pizza, popcorn and a walk by the river
Pin It
This article by is originally published at Heatheronhertravels.com – Read the original article here
You'll also find our sister blog with tips on how to build a successful travel blog at My Blogging Journey