February 10, 2015 by Guest Author
Filed under Accommodation, Art and design, Caribbean, Eating and drinking, featured, Guest post, Hotels, Leisure, Misc, World
Calling all chocoholics as our guest author Magdalena Fielden tells us about the Grenada Chocolate Festival that she founded, for a taste of the chocolate created on this Caribbean island with chocolate food and cocktails, visits to the chocolate factory and even chocolate yoga and fashion. All happening in May 2015.
Grenada has a unique chocolate story to tell which I knew could be turned into an interesting and delicious experience. The more I thought about it the more I realised that we had never really worked collectively to promote Grenada's cocoa history, traditions and the fantastic award winning chocolate that is produced right here on the island.
It was in 2013 that we started to talk about running a chocolate week at True Blue Bay. We had noticed that there was a growing interest in chocolate and workshops to learn how to make chocolate. I wanted to do more than just show people how to make chocolates and so the Grenada Chocolate Festival was born.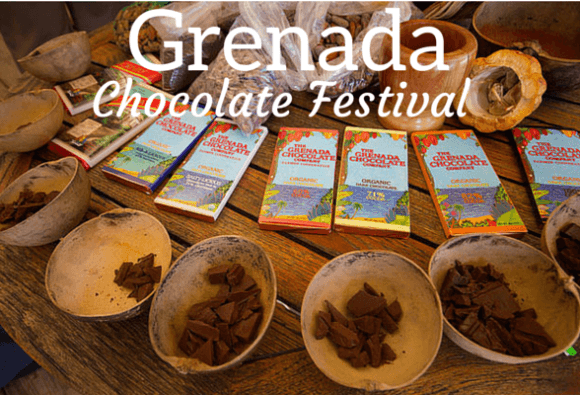 The Grenada Chocolate Company
As my inspiration I looked to the charismatic Mott Green who founded the The Grenada Chocolate Company. It was back in 1999 that Mott helped to organise small-scale local cocoa farmers and workers into a co-operative to produce delicious organic chocolate in a sustainable manner.
I was fascinated by Mott Green and admired his efforts to create chocolate ethically and how he involved the local community. And of course I loved the taste of the chocolate.
Over the years we promoted The Grenada Chocolate Company to our guests, encouraging them to visit the chocolate factory and visit the Belmont Cocoa Plantation to see how cocoa is processed before being turned into chocolate. But it was all very informal with no set itinerary or programme.
So I set about creating a dedicated chocolate event that would be truly Grenadian, involve as many local artisans and growers as possible and introduce people to different attractions and experiences.
Chocolate making
And so the Chocolate Fest was born. We decided to use chocolate as a loose theme and created a programme that covers everything from art and beauty to fashion and food and encourages people to explore Grenada away from the beaches.
After a trial event in August 2014, we refined and expanded the programme to create the first proper Chocolate Fest that will run from 8 to 17 May 2015.
Learning about chocolate
Our programme includes experiences such as the Cocoa Chocolate Hash – a hike through a cocoa plantation, as well as the chance to be a farmer for a day at the Crayfish Bay Organic Farm learning how to pick the cocoa pods, harvest the beans and prepare them for processing.
We have partnered with a local school to take a field trip with some of the children to learn about the history of cocoa and how the island's future depends on having a sustainable farming community. We are also holding a fundraising dinner with proceeds being used to build a playground at the Vendome RC School.
Chocolate yoga
Contrary to popular belief chocolate does not have to be unhealthy. So we are dedicating a day to exploring its health benefits. The day starts with a yoga session at True Blue Bay's Sankalpa studio and includes a meditation to appreciate the texture, smell and taste of chocolate. The session also includes tasting the local cocoa tea. Then there are hands on workshops about the health benefits of chocolate.
Chocolate beauty
Chocolate is also a great beauty aid which will be demonstrated at a mini spa bazaar featuring local organic beauty products. We even offer chocolate themed treatments at True Blue Bay's Blue Haven Spa.
Chocolate as an art medium
Cocoa also inspires local artists so we include a visit to the Art and Soul Gallery, owned by local artist Susan Mains, for the opening of the Cocoa Art Exhibition that features paintings, sculpture and batiks.
On another day we are inviting local artisans to display their wares at an arts and crafts bazaar featuring crafts, jewellery, art and chocolate.
Fashion show
My daughter, Marie will even be organising a fashion show featuring Grenadian inspired fashion created from batiks and soft tropical fabrics.
The best part – tasting!
Of course we haven't forgotten about chocolate's greatest attraction – its taste. And there are ample opportunities to sample our delicious local chocolate with chocolate breakfasts, preparing a chocolate inspired lunch under the guidance of our entertaining cooks, Esther and Omega, chocolate themed dinners and parties.
Chocolate cocktails
We will even offer tastings of chocolate inspired cocktails, chocolate beer brewed at our on site microbrewery, and local chocolate rums. And what better souvenir to take home than a bar of chocolate you have made under the expert guidance of the team at the Diamond Estate Chocolate Factory.
Learning will be made fun for children with a family fun day at the Belmont Estate where they can take part in activities such as dancing, walking and scooping the cocoa.
What more could you ask for from a holiday than combining chocolate with great weather, the warmest of welcomes and the chance to kick back and relax on a beautiful island?
 If you'd like to visit the 2015 Grenada Chocolate Festival
The Chocolate Fest runs from 8 to 17 May 2015. Participation in individual days costs from US$36 for adults and US$20 for children. Some events are free for those staying at True Blue Bay Resort.

Thanks for this article to Magdalena Fielden, organiser of  The Grenada Chocolate Festival who offer a unique visitor experience with their pure and delicious Grenadian organic and sustainable cocoa and chocolate.

Caribtours offers 7 nights at True Blue Bay from £1,221 per person, based on two adults sharing a True Blue Style Room on a bed and breakfast basis, including return scheduled flights from Gatwick and private transfers. A US$300 coupon book offering vouchers for discounts and offers at restaurants, spa, shops and diving at the resort and other outlets nearby. Price based on travel in May 2015.
All Photos by the Grenada Chocolate Festival
Pin It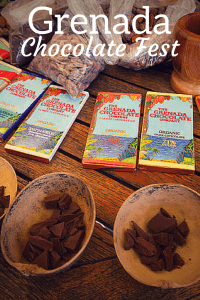 For more chocolate goodness:
In praise of chocolate – in Bristol
Chocolate with sea salt – a taste of West Sweden at Flickorna Kanold in Gothenburg
The fresh taste of Paris – our gourmet tour of Marché d'Aligre
This article is originally published at Heatheronhertravels.com – Read the original article here
You'll also find our sister blog with tips on how to build a successful travel blog at My Blogging Journey
March 8, 2014 by Guest Author
Filed under Beaches and swimming, Caribbean, Eating and drinking, featured, Guest post, Leisure, Misc, Nature, Photography, Sightseeing, World
In this article our guest writer, Catherine Stanley shares her love of Grand Cayman in the Caribbean, with glorious beaches, delicious local cuisine and flower-filled walks where you can spot the island's wildlife.
If you have never experienced the Caribbean's Cayman Islands, you should definitely add them to your bucket list. Having traveled to the Cayman Islands several times over the past few years, I have become very familiar with the three islands. Without a doubt, my personal favorite is Grand Cayman, the largest of the Cayman Islands. Whether you are on a family vacation of just spending time with a group of friends, Grand Cayman truly has so much to offer especially when it comes to the variety of activities you can experience.
Adventure on the beach
When you sit on the soft sand of the renowned Seven Mile Beach in the early hours of the day, it is easy to get lost in the mesmerizing teal-blue water, endless rows of beach chairs and lazy water sports. However, I am not one to just hang around when I am on vacation. Grand Cayman never disappoints as I turn to the adrenaline rush of kitesurfing.
My favorite kitesurfing spot is Barkers Beach, found within the Grand Cayman Nature Reserve, towards the north-western point of the island. With its winding, pot hole-filled dirt road and occasional lizard sighting, it is fair to say that Barkers is off the beaten track.  I love the drive because you can see the bright colored kites, full with air, high above the trees far before you even reach the ocean. Once you arrive at the beach, you will find that it is quite removed from the rest of the island, swarming with locals who spend their free time out on the crystal blue water right off the reef protected beach.
An abundance of local culture and cuisine
After working up an appetite from kitesurfing, I like to make a pit stop on my way back at Jessie's Juice Bar (great smoothies!) and the Farmer's Market in Camana Bay. The Farmer's Market has a wide array of items ranging from fresh produce and baked goods to homemade soaps. I always have to swing by the Ivy's Cayman Treats stand where I do not leave without several bottles of Ms. Ivy's homemade pepper sauces and jerk seasoning rub mix—all of which are to die for!
As someone who is innately curious, I love strolling through the beautiful courtyards sprinkled throughout Camana Bay. I would have to say that Canella Court is my favorite one as I am a sucker for the shady trees and soft trickling sound of the fountains.
If I plan on staying in the Camana Bay area for the rest of the day, I like to walk along Camana Way, a beautiful pathway connecting Camana Bay's Town Center to the Seven Mile Beach. The path is full of life and covered with all types of native plants and flowers, giving you a true appreciation for the Island's nature. Do not be surprised to come across the island's colorful lizards and birds of all size. Make sure to bring a camera, you are bound to find numerous amazing photo opportunities along the path!
When dinner rolls around, neighborhood restaurant and local favorite, Season to the Bone, is my go-to. Located in Windsor Park (about a 10 minute drive from Camana Bay), Season to the Bone has, what I believe to be the best jerk meat I have ever tasted. Grab a picnic table outside the restaurant and prepare to taste the most amazing and authentic jerk chicken you have ever had. For a generous portion of jerk pork or chicken plus a drink, you will spend about $15 and definitely get your money's worth! Expect to experience a wonderful blend of culture and warm hospitality at this local food spot.
A perfect sunset
After dinner, I like to head out to the Seven Mile Beach to watch the Caribbean sunset, one of my favorite parts of the day. The warm red, orange and pink tones painted across the sky make for an absolutely breathtaking picture. Without a doubt, Grand Cayman delivers both a refreshing tropical climate and amazing ocean views as the sun disappears behind the rolling ocean waves. It is quite a sight to see and I can assure you that you will not want to miss it!
Many thanks for this guest post to frequent traveler and blogger Catherine Stanley, who runs The Squirrel Machine blog out of her home (and on the go, as long as there's a WiFi connection!). A New York City native, Catherine has vacationed in the Cayman Islands since she was young and has developed a deep appreciation for the warm weather paradise. In addition to traveling, Catherine is passionate about writing and enjoys providing her readers with posts on a variety of topics. Head over to The Squirrel Machine for more posts on travel, entertainment, health, business and more!
For more Caribbean stories:
Wood-carvings at Anse Chastenet in St Lucia
Swimming, surfing, snorkeling – best beaches of the Dominican republic
Silky sand and clear water – beautiful beaches of Jamaica
This article is originally published at Heatheronhertravels.com – Read the original article here
You'll also find our sister blog with tips on how to build a successful travel blog at My Blogging Journey
November 30, 2013 by Guest Author
Filed under Beaches and swimming, Caribbean, Guest post, Jamaica, Leisure, Misc, Nature, Photography, Sightseeing, World
Jamaica is rich in vibrant culture and you will find good music and good food, which are key to the laid back Jamaican lifestyle, pulsing throughout the country. Jamaica is also famed for its glorious beaches, where both tourists and locals flood to in order to indulge in some Jamaican sun. Here are three of the best beaches in Jamaica, ranging from the hustle and bustle of tourist favorites, to more secluded affairs which will allow you to discover the true, undisturbed beauty of this Caribbean island.
Seven Mile Beach, Negril
Seven Mile Beach, as the name suggests, is a stunning seven miles of beautiful beach, located on Jamaica's western shoreline. Seven Mile Beach has established itself as a firm favorite for tourists, and is the epitome of what Caribbean beaches have come to be known for. The beach has silky, white sand and crystal clear waters, all set in beautiful scenery, which helps to create dramatic panoramic views, especially at sunrise and sunset. Seven Mile Beach is consistently voted as one of the best beaches in the world, however there is a downside to this, as this accolade inevitably brings more tourism to the area, meaning the beach can become busy at times. However, Seven Mile Beach can definitely handle the footfall, with lots of delicious places to eat and drink. A slew of water based activities are also offered, such as snorkeling, to make sure visitors take advantage of the beautiful clear water.
Historically, Seven Mile Beach was a chill out spot for loose-spirited visitors in the 1960s, and this laid back attitude remains. So, if you are looking for a beautiful beach, that has lots to offer and has a very high reputation, then you should definitely head to Negril.
Reggae Beach, Ocho Rios
Reggae Beach is located 10 minutes away from Ocho Rios and offers a more refined affair than the main tourist targeted beaches of Jamaica. Reggae Beach, for the most part, is not flocked to by tourists, partly due to the 900 Jamaican Dollars (9 USD) entrance fee. However, this beach is a private paradise and should not be overlooked. It has immaculate changing facilities and plenty of great sun loungers. This beach may appeal to those who are looking for a quieter experience, but do not let this reputation of a 'quiet beach' fool you. Reggae Beach comes to life at night when the beach bursts into life, with great grilled food being served. In addition to this, the soft reggae music which plays throughout the day kicks up a gear, with live bands and DJs providing the soundtrack for the evening. If you want to soak up the sounds and tastes of Jamaica, then Reggae Beach should be on your list of places to visit.
Treasure Beach, St. Elizabeth
While the previous two beaches mentioned see healthy amounts of tourists, Treasure Beach offers an escape for holiday makers who want to venture off the beaten track. Treasure Beach is totally secluded from the major tourist resorts and is a peaceful paradise, which makes it a popular destination for honeymooners to visit. There is not much going on at Treasure Beach other than beautiful simplicity. There are a few hotels, but that's all, so people are looking for lots of energetic activities will be disappointed, but those who are looking to take in Jamaica's scenery in peace and quiet will love it here.
These are many more beautiful beaches on Jamaica, but these are a good starting place for anyone planning a visit. Everyone looks for different things in a beach, and while some like it busy and active, others like it quiet and lazy. On Jamaica you will find beautiful beaches for everyone to enjoy.
This article is brought to you by the Grand Bahia Principe hotels who promise the best trips and holidays to the best places in the world.
Read about more beautiful Caribbean destinations:
Carnivals, jazz and nightlife – the sounds of St Lucia
Our top 5 sights on Awesome Aruba
Swimming, surfing and snorkeling – best beaches of the Dominican Republic
Photo Credits: Seven Mile Beach by Peter Q, Reggae Beach by Monkeyscrews, Treasure Beach by Nicholas Laughlin
This article  is originally published at Heatheronhertravels.com – Read the original article here
You'll also find our sister blog with tips on how to build a successful travel blog at My Blogging Journey