We're taught to associate the Caribbean with music, quite literally in my experience. Even before discovering Peter Tosh and Bob Marley along with the still popular sounds of reggae music, the British curriculum had me creating my own Caribbean rhythms (Calypso and Reggae particularly) slightly before it had even pointed out to me where the region is on the map. And though I'm now a lot better at reading maps than I am at reading music, the message has been drummed into me with a characteristic percussive power: the atlas may as well declare "Here be Music".
Different Islands, different musical styles
Despite the region-wide image, the three power-houses of Caribbean music are surely Cuba, Jamaica and Trinidad / Tobago. Cuba gave us Mambo and Salsa, Jamaica gave us Ska and Reggae, Trinidad / Tobago gave us Calypso and Soca. There are many other genres and sub-genres created and advanced by these islands. The other islands are usually influenced by whoever they're closest to, and in Castries, the capital of Saint Lucia, the music of Trinidad and Tobago has travelled north up the Lesser Antilles.
The specific origins of a musical style matter little to the tourist, and it would be unwise to ignore an island purely for the fact that its own genres have been pushed to the sidelines in favour of popular music from a number of islands away. The same is true of most nations, after all. Besides, the influences of Kwadril music and forms of folk  – especially via the banjo and cuatro – are still felt in Saint Lucian music. And for the tourist, I have found that St Lucia holidays offer a fantastic opportunity to hear regional music – especially at events like the St Lucia Jazz Festival.
If you're looking for a hotel in St Lucia check prices and book at my Hotels Booking Page powered by HotelsCombined.
The St Lucia Jazz Festival
The website for the island's annual jazz festival is rather refreshingly honest about the origins of the Jazz festival – it apparently "started as a marketing event to boost tourism industry arrivals during a low period". Given the big names in the line-up, the "Jazz" credentials of the event sometimes get legitimately questioned. Nevertheless, you quickly find out that this is a versatile festival that draws you in with international megastars whilst laying on some quality jazz artists and a dash of Calypso and Soca.
This year, the ticket shifting name is Lionel Richie – his only real link to Caribbean music surely being the Soca-influenced 1983 hit "All Night Long" – with Ziggy Marley providing a Reggae set and the Catalonian Gipsy Kings providing a Spanish edge. If you can tear yourself away from these treats on the main-stage (located in the beautiful surroundings of the Pigeon Island Nation Landmark, in the north of the island) I can personally recommend the Jazz in the South programme at the Coconut Bay Resort and Rudy John Beach Park if you're after a little more local 'authenticity' (though local names are still found on the Pigeon Island bill).
The Saint Lucia Jazz Festival is held every year in later April and early May. In 2012, it starts on Monday April 30th and finishes with the Lionel Richie headline event on Sunday 13th May.
If you're looking for a hotel in St Lucia check prices and book at my Hotels Booking Page powered by HotelsCombined.
St Lucian Carnival
Carnivals are an important tourist draw on most Caribbean islands and the Lucian Carnival is no exception. Held in 2012 between Monday 28th May through Tuesday 17th July, the music popular on the island – especially Calypso – is the cement that holds the carnival period together. Obviously, music accompanies the main parades, but this is hardly an environment in which to absorb the best music – even if you were to follow the best sounds, the wild atmosphere of J'Ouvert and the Parade of the Bands is only really a way to sample the scene. At any rate, the parades have a reputation for being most fun for younger, tipsier revellers rather than those after something solely cultural.
The parades are an after the fact event for the musical side of the carnival anyway. Starting in late June, the island's Calypso Association holds a competition to determine the ruling "Monarchs" of Calypso and Soca. The song-contest format judges each artist on their lyrics, music and performance of the song they bring, considering wide ranging aspects such as the "Strength and party appeal of the song" and "The use of the microphone".
It goes without saying that for exploring the contemporary music scene, the finals are the place to be, and the competition encourages some fantastic showmanship. If you're unfamiliar with the music, I'd say that the Calypso monarch event is the most accessible: you can probably tell from the name that Power Soca is a bit more hectic and contemporary (it fuses Hip Hop and Soca) whereas Groovy Soca has a more electronic / pop feel to it. Thanks to the internet, you don't have to go into this experience blind – there are plenty of YouTube videos for past winners of the festival, though atmosphere is a crucial ingredient in really getting into the rhythm of the songs! (And yes, I never did quite get the Saint Lucian way of dancing down).
If you're looking for a hotel in St Lucia check prices and book at my Hotels Booking Page powered by HotelsCombined.
Year Round Entertainment
Whilst the Jazz Festival and Lucian Carnival offer the most obvious events to latch onto if you're exploring the Saint Lucian music scene, the island doesn't go silent as soon as they think nobody is looking. In my own experience, a lot of the best venues are in the relatively youthful town of Gros Islet in the north, which plays host to the Marina. A favourite venue for some casual listening is the Fire Grill and Lounge, which focuses on Jazz and Blues all year round. I also enjoyed the unassuming Jungle Cafe with its Live Music on Thursdays (just don't let the shabby hut scare you off). One final bar recommendation: the Rodney Bay Marina's Boardwalk Bar does a mix of great live music on Fridays with All-Day EC $8 Margaritas, all accompanied by friendly service and those sea views you're probably in the Caribbean for by default.
If you want something more lively, either visit Gros Islet on a Friday for "The Jump-up" for street-vendors and a messy night of revelling in the streets, or visit the nightclubs (Taboo, Pulse and the Loft are just a few names). Seeking out live performances, the nightclubs can be a mixed bag, but are always good if you just want to let off some steam. In general, you should just keep an eye out for promising looking events – there's always something going on!
Thanks to Steph Wood for this article brought to you by Tropical Sky a UK-based Tour Operator who offer travel to tropical adventures in not just the Caribbean, but in the Indian Ocean and the Far East too.
If you're looking for a hotel in St Lucia check prices and book at my Hotels Booking Page powered by HotelsCombined.
Photo Credits: Pigeon Island from Tropical Sky, St Lucia Jazz Festival from St Lucia Jazz, St Lucia Carnival by Fergysnaps
This article is originally published at Heatheronhertravels.com – Read more travel articles at Travel Blog Home
You'll also find our sister blog with tips on how to build a successful travel blog at My Blogging Journey
 Don't miss out – subscribe to Heather on her travels
December 12, 2010 by Heather Cowper
Filed under United Kingdom, Europe, World, Leisure, Misc, Caribbean, India, Lisbon, Northern Ireland, Passports with Purpose, Portugal, St Lucia, Travel products, World Issues
I'm a supporter of Passports with Purpose, the Travel Blogger's annual fundraiser and I've just made my personal choices from the fabulous array of prizes, in the nick of time. The chance to win prizes closes tomorrow although you can continue to donate to help build the village in India through this year's chosen charity, Friends of LAFTI. Here's what I've personally put my bids in for – if you read this in time, head over quick to Passports with Purpose before tomorrow and put in yours.
The prizes I'm hoping to win are;
Apple iPad 16 GB Wi-Fi + 3G
from Andy Murdock at seekingb.blogspot.com
Why?
Well, any shiny new Apple toy is obviously extremely desirable and I also think it's good sport of Andy to give up the prize that he won in a competition for this good cause. Also the Winnie the Pooh ebook must be a big bonus although removing the Tie me Kangaroo down sport MP3 is a bit hasty – not everyone is bored with kangaroos and I'm sure it would give my kids endless amusement. If I win this I'll probably take it on shorter trips when I need to have internet access rather than taking the laptop.
8 GB iPod Nano
from Anil Polat at Foxnomad.com
Why?
Again the shiny new Apple toy rule applies and as a lover of podcasts this little baby will be just the thing for listening to all my faves such as Amateur Traveler, This week in travel, Betty in the sky and Raising Miro. If you happen to win it instead of me, do download some of my Heather on her travels podcasts to enjoy, such as my latest interview with Beth Whitman about Papua New Guinea.
3G Wi-Fi Amazon Kindle
from Lisa and Tim Bergren at theworldiscalling.com
Why?
If I don't get the ipad then I'll settle for a Kindle to play with. If my husband is really nice to me and doesn't nag me about the  amount of time I spend on my laptop, he might even find it in his Christmas stocking.Or perhaps I'll be that girl in the deckchair relaxing on the beach with a Kindle in my hand one of these days that I give up the blogging.
$100 gift card to spend on a Mr & Mrs Smith Hotels
from Mr & Mrs Smith blog
Why?
Because I love staying in Mr & Mrs Smith hotels and have even been known to write the odd review or guest post for them myself. I know that any boutique hotel that they recommend will be just the sort of stylish, welcoming place that you always hope to find and that I'll always get the best available price at the time if I book through them. If you don't believe me, read what I said about these lovelies in their portfolio; The cosy Avenue Hotel in Copenhagen, the country house chic of Fawsley Hall in Northamptonshire or the modern luxe of Avenue Liberdade in Lisbon.
$800 to spend on a HomeAway Holiday Rental property
from HomeAway and Lara Dunston at Grantourismo
Why?
Because I love the flexibility of this prize, to book a holiday stay anywhere I like to enjoy with my family, and I love the idea of finding a home from home somewhere where I can soak up the local colour and feel part of the neighbourhood. I met up with  Lara and Terry at the start of their year long Grantourismo project to travel the world, staying in HomeAway properties and writing about their experiences and you can listen to my podcast interview with Lara Dunston here.
Three Night Stay at Luxury Hotel Tiara Park Atlantic Lisbon
from Matt Long at Landlopers.com
Why?
Because I fell in love with Lisbon when I visited with my husband in November 2009 and the 2 days we spent there just weren't enough. I can jump on a plane from Bristol and be settling into the rather sleek Tiara Park Atlantic that is part of Kiwi collection, another hotel site that I trust to find me impeccably luxurious hotels such as the Mandarin Oriental, Hyde Park in London that I reviewed for them.
A Four-Night City and Country Getaway in Ireland
from Corey Taratuta at Irishfireside.com
Why?
Because I've only once been to Ireland and I remember the unspoilt countryside and windswept charm and because we have friends there that are overdue a visit and because I can easily get there from Bristol courtesy of the charming Mr O'Leary, a man who does not lack the gift of the gab.
A 3 night luxury spa break for two at LeSPORT hotel in St Lucia though the Explorateur
from Jool Stone of Trainsonthebrain.com
Why?
Because my parents have been spending their last few Januaries in St Lucia and love the island, and as I've never been to the Caribbean the island is firmly on my wish list. As I find the grey days of January and February rather dreary, I could do with a bit of sunshine with my husband
If none of these tempt you, get over to Passports with Passport in the next 24 hrs and see what other goodies are on offer – if you're too late, there's always next year….
Read more Indian stories
Exploring the 'Abode of snow' in the Indian Himalayas
Friday photo – my Indian sponsor child
This article is originally published at Heatheronhertravels.com – Read more travel articles at Travel Blog Home
You'll also find our sister blog with tips on how to build a successful travel blog at My Blogging Journey
Don't miss out – subscribe to Heather on her travels
I love to see art that is part of it's surroundings and these wood carvings that my parents saw at the Anse Chastenet resort in St Lucia are a fine example. They are by local wood sculptor Lawrence Deligney who seems to come up with something new each year when my parents visit.
After my parents visited Anse Chastenet last year, I wrote about the artists of St Lucia, many of whom have work displayed around the hotel as well as the wood carvings at Anse Chastenet that they saw in the public areas of the hotel.
I think these are a great example of the type of souvenir you can see and enjoy in it's surroundings, and perhaps buy if they suit your style of decor. I live in a Victorian, traditional English style house, so maybe these carvings wouldn't fit in, but I love to appreciate this kind of art where it looks best, in the place where it belongs.
And if you want to see what the owners have been building next door to Anse Chastenet check out the review of the sister hotel Jade Mountain over at Mr & Mrs Smith blog. When my parents first saw the hotel being built, they thought it looked like a huge ship about to topple off the cliff, but now it's finished and the planting has grown up around it's become a haven of luscious luxury – check out those infinity pools in every room with a view of the Pitons.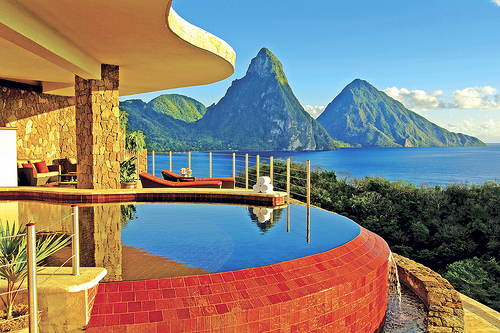 Compare prices and book Hotels in St Lucia on my Hotels Booking page powered by HotelsCombined

See my parent's photos from St Lucia on Flickr
More art to enjoy on St Lucia
Wood-carvings at Anse Chastenet in St Lucia
Artists of St Lucia
This article is originally published at Heatheronhertravels.com – Read more travel articles at Travel Blog Home
You'll also find our sister blog with tips on how to build a successful travel blog at My Blogging Journey
Don't miss out – subscribe to Heather on her travels