One of my favourite games is to dream of the places that I might travel to, the things I could see, imagining the pleasure of sharing the experience with friends and family. Let's face it, at this time of year when the days can be dark and cold, we could all use a little escapism, to imagine ourselves in a place with blue skies and sunshine or at least one that has new and fascinating possibilities. HomeAway have come up with a clever game to help with the daydreaming in a Places to see before you die micro-site which allows you to plug in your interests and see what places you could visit at each age of your life.
To give it a try, I put in my age and location, then selected some of the things that I enjoy such as culture, gastro, activity. To be honest I love doing a whole range of things depending on where I am and who I'm with, but the things I didn't bother to tick were clubbing (I leave that to my kids), shopping (although I love searching out local crafts), beach (love walking along them but not so good at relaxing) and romantic (although I enjoy spending time travelling with my husband).
Here's the link to my passport page
I was impressed to discover that I would be travelling until I'm 82, and why not? My parents are in their late 70s and are always off somewhere interesting, and they were the ones that gave me the travel bug from our family camping trips around Europe. Here are  the HomeAway Places to see before you die recommendation for me and what I thought of them.
When I'm 56 I should visit the Dead Sea in Israel/Jordan
The Suggestion: Bordering Jordan to the east and Israel to the west, the Dead Sea is a unique body of water that lies 423 metres below sea level. That alone ought to make the Dead Sea an intriguing proposition, but its peculiarities don't just end there. With a salinity level of 33%, the Dead Sea is one of the saltiest bodies of water in the world
My Thoughts: Israel and Jordan are both on my bucket list, ever since I spent a week in Lebanon a few years ago. I know that in the Middle East the hospitality is boundless, the people incredibly welcoming, the culture rich and the landscapes varied. I suspect that rather than spending much time drifting around in the Dead Sea, I'd have a quick dip and then get my hiking boots on to explore some of the desert and mountain landscapes of this part of the world.
When I am 61 I should visit Meteora in Greece
The Suggestion: Situated in Thessaly, central Greece, Meteora is one of the world's more unusual destinations. Famed for the ancient monasteries which sit perched atop its cloud-topping rock towers, it's a fantastic spot for those seeking a rural retreat in the mountains; and those looking to discover some of Greece's finest natural landmarks.
My Thoughts: My sister lives on the Greek island of Zakynthos, where I visit her each year. Many years ago, when we were en route to her wedding to her Greek husband, my younger sister and I took a detour through northern Greece. I do believe that we may have visited Meteora or at least some of the rocky peaks and villages of this area, although I know that in some of them women are not allowed. I'd be very happy to go back, perhaps in the spring or autumn and link up with my Greek sister for a stay in the mountains.
When I'm 67 I'll be visiting Socotra Island, Yemen
The Suggestion: Made up of four islands in the Indian Ocean, Socotra is an amazing archipelago; an area of isolated, alien landscapes. Famed for its plant life, a third of which can be found nowhere else on earth, its main island Socotra sits amidst three smaller and stranger isles; Samhah, Darsa and Abd al Kuri.
My Thoughts: Yemen is also a place that's on my list to visit at some point and hopefully by the time I'm 67, some of the political volatility in this part of the world will have calmed down. I've heard that Socotra is one of the safest areas of Yemen to visit and I was fascinated to read what my friend Anil from Foxnomad had to say; It's sort of like evolution got bored with the rest of the planet and decided to drop acid while creating the four-island archipelago. However I probably won't wait until I'm 67 as my spirit of adventure may be waning a little by then.
When I'm 70 I should visit Sapporo, Japan
The Suggestion: Japan's city of Sapporo is famed for a number of things. It boasts the country's oldest beer (Sapporo Draft has been around since 1876), it's the capital of Hokkaido (where the indigenous Ainu people are now settled), and it's home to the Sapporo Snow Festival, which takes place every frost-laden February. Hats and scarves at the ready!
My Thoughts: This is one suggestion that I'm not really sure about. Although in a detatched way I find Japanese culture fascinating, it's not a destinations that would be top of my list. The thought of discovering the country's oldest beer is not especially enticing, although I can see my husband knocking back a few pints, and I'm afraid that I can happily miss out on frost-laden February, as I am more of a sunflower, gravitating towards warmth and sunshine when I travel.
When I'm 82 I should visit Jerusalem, Israel
The Suggestion: Not only is it the capital city of Israel, but one of the most important holy cities to the religions of Christianity, Judaism and Islam. Brimming with historical sites, it's one of the oldest cities in the world, and known as the 'City of Gold' in Hebrew. When you're looking for a destination where glistening skyscrapers sit aside first century dwellings, head for Jerusalem.
My Thoughts: As a Catholic, I would love to visit the Holy Land, in fact I'm not quite sure why I haven't already been as I enjoy connecting with my faith through pilgrimage travel. I'd love to experience at first hand the melting-pot of cultures and religions and to feel the history of the place, to walk where Jesus walked, and connect with what happened there centuries ago.
I've picked out the places I fancied most, but there were also some other suggestions that I might try in the future;
St Helena, the volcanic island in the Atlantic that I'll be visiting when I'm 64
Rome, Italy I'll be visiting when I'm 73
Vienna, Austria I'll be visiting when I'm 76
Knossos, Greece I'll be visiting when I'm 79
If you would like some inspiration for the places you could visit in the future, do check out the Places to die site from HomeAway.
More Travel Inspiration
A culinary tour of Israel
St Anthony's monastery in Lebanon
More than Moussaka – some delicious Greek dishes to try
This article by Heather Cowper is originally published at Heatheronhertravels.com – Read the original article here
You'll also find our sister blog with tips on how to build a successful travel blog at My Blogging Journey
 Don't miss out – subscribe to Heather on her travels
In this Guest Post, Anabelle Harari takes us on a culinary tour of Israel, with advice on where to find the most delicious hummus, what goes into an Israeli Sabich and wineries to look out for in the desert.
What and where to eat in Israel
Friends are always asking me the most crucial questions – where did you get that falafel? What's the best hummus in town? When are we going to go eat? All valid, and all deserving of a blog post entitled what to eat in Israel or more eloquently titled: A Culinary Tour of Israel.
As I pride myself in always finding the best organic and local food around the world, being in my birth country, Israel, will be the biggest challenge of all because it's so close to my heart. Let's just jump right in – shall we?
Hummus Wars
You may have heard about the Israeli-Palestinian conflict, but this is not the subject I will be covering today. No, instead we will take a look at the biggest war around – hummus wars. For years the conflict over who makes the best hummus has been a topic of debate. This of course is a matter of taste preference, and each city in Israel adds its own flair. But if we want to discuss the best of the best, the crème de la crème, you must go to Abu Goush. Abu Goush is a small Arab village situated outside the Jerusalem hills and is literally known to be the hummus capital of Israel.Read that again: the hummus capital! I promise you cannot go wrong here.
If you find yourself making your way actually into Jerusalem be sure to check out Ben Sira Hummus Bar on Ben Sira street in downtown Jerusalem. This tiny hole in the wall place has been the source of a lot of great meals and in my humble opinion, the best hummus in Western Jerusalem.
Sabich: Sa-What?
Sabich – pronounced sah-beech (with a hard "ch" sound, like you have something stuck in your throat) is a delicious sandwich-esque food originating from Iraq. The sandwich is a pita-filled beaut with fried eggplant, hard boiled eggs, "amba" (spicy! Mango chutney), tahini, cucumbers and tomatoes. And of course anything else you want to add in – typically "chips" aka French fries, pickles or other pickled vegetables. Some say Sabich is an acronym for salad (salat), egg (beytzim), and eggplant (chatzilim) – but who knows if that's really true. The most important thing is that you find yourself a good sabich and enjoy the unexpected and harmonious flavors of this favorite Israeli street food.
Frishman Sabich in Tel Aviv is located on the corner of Frishman and Dizengoff streets, and this place is usually packed. Grab it to go and walk down Frishman to the beach. Enjoy your delicious sandwich on the beach as the sun sets over the Mediterranean Sea – sound good? Thought so.
Say Cheese!
Israel happens to be a great place for dairy products. A typical Israeli breakfast includes at least two types of cheese with a few cheese spreads as well. Typical cheeses include Bulgarit (salty Bulgarian cheese similar in texture to Feta), Tzfatit (named from its city of origin – Tzfat, this is a tangy sheep's milk cheese) and of course labaneh – a creamy yogurt cheese often served with za'atar spice and olive oil.
While in Israel don't forget to also try some cottage cheese. While cottage cheese is perhaps the least sexy cheese there is on the market, in Israel it is surprisingly amazing. When a friend of mine asked me what I would most miss about Israel, my immediate response was: "cottage cheese," seriously – it's that good.
In the iconic Machane Yehuda Shuk (Jerusalem's famous open air market) find Basher Cheese store. It has the largest collection of cheeses in Israel and imports many from France and Italy. They carry many Israeli cheeses and are very friendly and love to give samples. Like a cheese you tasted? Get a sandwich to go with their artisanal breads and delicious spreads. Yum! It has been my life experience that a vacation without visiting a goat cheese farm is no vacation at all. And since I want you to have the very best cheese experience in Israel I urge you to visit Goats in the Wind Farm, located in the northern region of Israel. Check out the goats, eat some cheese in their beautiful restaurant and hike around the nearby hills to digest. You won't regret this trip.
Time to Wine and Dine
Israeli wineries have been gaining much more traction in the past few years. In fact my very first "farming" experience was working at Carmay Avdat,  a family-owned winery and bed & breakfast in the Negev desert. Yes – wine making in the desert – pretty agriculturally innovative right? The Golan region of Israel is most famous for its wines but you can find wineries sprouting up all over the country. I've even visited a winery that only sells pomegranate wine – if you're into really sweet vinos. My top 3 favorites (and I am openly biased): are Rimon Winery, Golan Winery and Carmel Winery.
Well there you have it friends, if you're planning a trip to Israel I want you to be well fed and well satiated. Remember, a vacation is only as good as the food you eat – so make it count!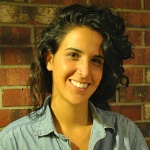 Anabelle Harari writes about local and organic food on her blog, Local Belle and is the community attaché for Birthright Israel. Anabelle can usually be found sampling cheese in the shuk and thinking about her next meal. Connect with her on Twitter @thelocalbelle.
More Middle Eastern Adventures:
Sea Castles, Souqs and soap in Sidon, Lebanon
Meet the wine makers at Chateau Musar in Lebanon
Mezze memories in Lebanon
This article  is originally published at Heatheronhertravels.com – Read the original article here
You'll also find our sister blog with tips on how to build a successful travel blog at My Blogging Journey
 Don't miss out – subscribe to Heather on her travels
September 5, 2012 by Guest Author
Filed under World, Leisure, Misc, featured, Beaches and swimming, Eating and drinking, Guest post, Israel, Shopping, Sightseeing
This Guest Post from Sally Hunt takes us along on her tour of Israel, from shopping in Tel Aviv, to the old city and beach promenades of Jaffa to the markets, pilgrimage sites and ancient walls of Jerusalem.
I travelled to Israel for a short stay but with big plans to cram as much in as I could while my partner was working. When he found out he had to do some business in Tel Aviv he asked me if I would like to come with him and then we could tag a couple of days of sightseeing in Jerusalem on the end. Sounded like a plan, but what I didn't bargain for was being a lone blonde female touring a city where I couldn't speak the language – with NO VOICE!! I had a slightly sore throat when I flew out on the Monday but by Monday evening when we settled down at the Crowne Plaza City Centre, my voice had completely gone.
Hey ho, nothing was going to deter me and I planned my day. The Crowne Plaza was right next door to a huge shopping centre but I had my walking and exploring head on and I decided department store type shopping could wait! I caught a taxi straight outside the hotel lobby and showed the taxi driver the map – pointing out where I wanted to be dropped off. I had based my initial starting point on a guidebook  in the hotel room which said there was an interesting market here and a nice shopping area with some unique boutiques. It took about 20 minutes to get across the city and when I got out I found myself panicking slightly…. It was all well and good holding a map but would I be able to read the street names? … And I certainly couldn't ask for directions!!
Tel Aviv
However, I quickly got my bearings and realised that the street names were written in English too. I was just off Allenby on the pedestrian-only section of Nachlat Binyamin. A Tuesday was a good day to visit as the biggest Arts and Crafts fair of its kind in Israel takes place there on Tuesdays and Fridays. There are around 270 stalls which offer original arts and crafts made of wood, glass, cloth, plastic, metal, paper and stone, all made and designed by the artists standing at the stalls.
From here I made my way to Rothschild Boulevard, an impressive street with high rise modern buildings, financial institutions and many buildings of architectural interest. This has become one of the trendiest areas in Tel Aviv and indeed I returned here that night to eat in an Israeli restaurant.
I hadn't had breakfast and as I first turned into the street I spotted  an American café/shop called Max Brenner and as I was nervous about my lack of voice I decided I could read the menu (written in English) and then just point my choice out to the waitress!
My journey took me down Sheinkin which according to the guidebook is one of the best shopping areas to visit in the city. I had to pick my way round cones and barriers as there were some quite major roadworks going on but I did pop into a few of the shops, some of which were owned by Israeli designers. There were lots of nice cafes down here too and I stopped and got a coffee.
From here I walked down King George Street where I was fascinated by such sights as the rollerskating Orthodox Jew who whizzed past me pushing a buggy. The dog park also made me stop and take pictures. Bang in the middle of this bustling city people were letting dogs off their leads in a cordoned off play area, specially made for our canine friends. You could almost see the dogs high fiving each other, they were that excited to be there!!
I had  planned to walk to the Tel Aviv Marina but when I got there I still had loads of energy so decided to carry on to the port. By the time I got to the Marina my confidence had grown so I stopped at a beach bar and had a beautiful tuna salad.
On my walk to the port I passed several beaches including one where people were allowed to take their dogs known as the 'gay beach' apparently. Another one where bathers were segregated – women on certain days and men on others, but apparently women can go topless on their days because no-one minds!
The port is a bustling area with shops and restaurants and seemed less touristy and mostly full of locals on the day I was there. I didn't explore it much as for some reason I felt slightly intimidated and uncomfortable here.  After this I caught a cab back to the hotel and went straight to the swimming pool. With a slightly naïve jolt I was quite surprised that men and women were separated in the pool, even in an International hotel .
Jaffa
The next day I asked the cab driver to drop me off at Alma Beach, again on the recommendation of the guidebook.  I wanted to try the award winning Manta Ray restaurant renowned for its seafood but when I walked in and sat down I nearly fell out my chair at the prices so walked out again!! Today's plan was to explore the old city of Jaffa and as I walked along the beach promenade I had lovely views ahead  and could see the outline of the old buildings – a sharp contrast to the high rise modern buildings and hotels I was leaving behind. There were a lot of students from the Israeli Defence Forces about and I wondered if they were visiting the Etzel Museum (a military museum) which I walked past.
As I entered Jaffa I took a step back in time. The old winding alleys, beautiful stone buildings and ancient fortifications mix together both middle eastern and European ambiance. There is an abundance of restaurants, shops and cafes and feeling a little lost I followed the crowds, past the Clock Tower in Clock Square and up a main road to the flea market. I carried on past here until I reached the top of the hill and the impressive St Peter's Church. This steeple has for over a century been a signal to sea-weary pilgrims that the Holy Land is near.  I came up to it at the back and stopped at a tourist information office there for a look around. On the way back down the hill I realised this was the 'scenic route'! The path meanders downwards and there is a beautiful view to your left, over the sea, the promenade and Tel Aviv's high-rise skyline. Coupled with a mosque minaret, this is definitely one of Tel Aviv's most romantic spots. There are several benches along the way and a few small cannons from Napoleon's time still there.
Jerusalem
We stayed at the gorgeous Harmony Hotel in the Nahalat Shiva district of Jerusalem and booked a guide for our tour of Jerusalem's walled city for Friday, so on Thursday we decided to explore the newer part of the city. The hotel receptionist gave us a couple of ideas for things to do so we set off, first of all to see King David's tomb. The map was hard to follow and we walked miles, getting there in the end. Unfortunately it was a bit of an anti-climax as we couldn't work out which bit of the tomb King David was buried in! Right next to it though was the room of The Last Supper which was one of the sights I particularly wanted to see.  Annoyingly on the way back we realised there was a much shorter way! We were so close to the walls of old Jerusalem but didn't want to wander in there and spoil the tour planned for the next day.
In the afternoon we walked West along Jaffa Road. It was interesting to see the new Jerusalem Light Rail, just a few months old, operating smoothly. Typical tourists that we were, we hadn't researched this part of the city, just the older part. We spent a couple of hours wandering round the  Mahane Yehuda Market, an indoor and outdoor marketplace popular with locals and extremely busy because it was a Thursday. More than 250 vendors were selling goods ranging from fish, meat and cheeses, nuts, seeds, spices, wines, liquors, clothing, shoes, fresh fruit and vegetables, housewares, textiles and Judaica.
We had lunch here and being so boringly English we opted for the stand that said: 'fishenchips'…. They were delicious and luckily no upset stomach the next day! It was only on my return to England that I found out that this area has been targeted by terrorist attacks in the past.
Old City
The next morning our guide picked us up and we were joined by five other people in a minibus. We parked in a car park just outside the walled city and we walked in. He started by telling us a lot of the history of the city. He explained that there were four quarters of the city, the Muslim Quarter, the Jewish quarter, the Armenian Quarter and the Christian Quarter. As he told us this we had entered the Muslim quarter and he warned us that we needed to be out of here by 11am as there would be tension later in the day! He said as it was Friday the prayer leader in the mosque would be inciting hatred in the worshippers and when they came out there would be tension with the Jews. This all sounded a bit scary and we all hurried along that bit faster.
He took us to a tiny little café down a remote alley for lunch. Probably his relative we thought, but the kebab we had was amazing, better than anything in our local Ali Kebab shop!! We looked at some more sights, which I won't go into here as they are in any guidebook and on every Jerusalem website.
Except for one which must be the most spiritual place I have ever visited. The Church of the Holy Sepulchre. This was built on the site where Jesus was crucified and his tomb is in there. There were long queues to go into it so we didn't, and the way the guide described it to us was that nothing here was real but just representing the crucifixion and the burial. It was hard to get your head round it but we were so moved by the pilgrims that had come from all corners of the earth to be there. Just inside the entrance is The Stone of Anointing which tradition claims is the spot where Jesus' body was prepared for burial. People were falling on their knees to pray on this stone and laying out various religious artefacts. Some people were weeping with emotion and it was obvious that to many people this was the most Holy place on earth.
Later, we realised we were once again in the Muslim quarter. It was about one o clock. I don't think any of us really realised that something was amiss until we came to a crossroads in the alleyway and there were a bunch of armed police standing there looking very menacing. This is an undercover area and the alleyways are very narrow and there isn't really anywhere to hide except in a shop or keep going. Our guide hurried us along and said there was trouble between the Jews and the Muslims and we must get out of here. As we approached the exit a group of police in full riot gear holding shields out in front of them raced past us.
We saw the exit up ahead and the guide went ahead of us to speak to two security guards. He turned to us and said sorry but we weren't allowed to leave!!  Apparently there was stoning going on at the Western Wall which was our next port of call. The only way out was another exit which took us to the Wall. Our guard in his wisdom decided we would be safe if we didn't go right down to the Wall. As we went through security into the Wall we were searched and let through as they decided we represented no danger. My partner bravely went down to the wall with most of the others from our tour group, but I decided to sit at the top of the steps with the guide. Once again feeling conspicuous being the only blonde, western female I could see I felt I would stand out like a sore thumb.
The guide explained to me that the Muslims had got up behind the Wall and were dropping rocks on the Jews. It had been happening as we got there but I was looking downwards expecting people throwing stones at each other – not being dropped from above! I have never been so terrified in my life. There were armed police everywhere but it was difficult to take photos as I had read in my Jerusalem information never to point a camera at a military person or I could be arrested. I did however manage to surreptitiously take a couple. When we got back to the hotel the conflict was on the news on the internet and we found out that it had been simmering for weeks and that two people had been killed in it a couple of weeks before. The weekend before we had visited a group of Christian tourists had been stoned by Muslims. Scary stuff – why weren't we warned?
Despite the drama of the afternoon the bus continued up to the Mount of Olives and the Garden of Gethsemane. This felt very holy and the tree that Jesus lay under when he was betrayed by Judas is still there. I was constantly searching through my memory of Sunday School days and wished I'd read up on the scriptures a bit more before I came. However most things are quite well explained and it makes a big difference having a guide.
I didn't mention my lack of voice any more in the story but what was starting to come back became a frightened squeak for a couple of hours on that Friday afternoon in Jerusalem!
My thanks for this Guest Post to Sally Hunt, a freelance journalist and editor. If you want to get in touch email [email protected] or visit her website www.sallywrites.co.uk 
This article is originally published at Heatheronhertravels.com – Read more travel articles at Travel Blog Home
You'll also find our sister blog with tips on how to build a successful travel blog at My Blogging Journey
Don't miss out – subscribe to Heather on her travels