July 5, 2016 by Heather Cowper
Filed under Europe, featured, France, Galicia, Gardens, Leisure, Northern France, Peru, South America, Spain, Texas, USA, World
At the RHS Hampton Court Flower show this week, destinations from Charleston to Galicia, Normandy to Peru, came alive in the gardens from around the world. Each was inspired by the plants and landscapes that make these little corners of a country unique and special. The show is on for a few more days, so do go along to see these and many other beautiful gardens to find some inspiration for your next holiday.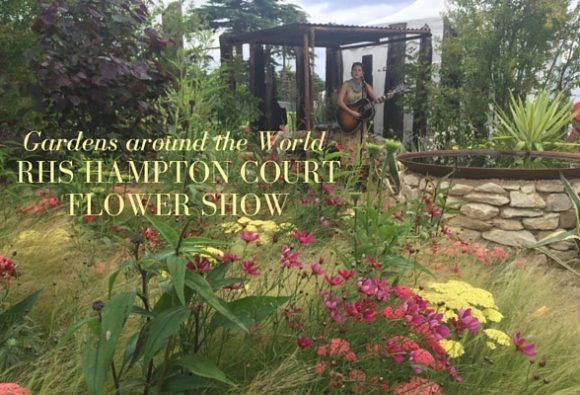 As I was visiting on the 4th July, celebrations were in full swing at the three USA gardens from Oregon, Charleston and Austin.
Landscapes of Austin
At the Austin garden, the strumming of singer songwriter Carson McHone took me straight back to our holiday in Texas a few years ago, remembering all the street performers playing in the bars and by the food trailers in Austin. The stone walling, beaten earth paths and and rusting metal bowl filled with water were just as I remembered, even in the smart hotel where we stayed on our trip to Texas.
I loved the soft swathes of grass that looked as if they were rustling in the breeze, mixed with the dusty reds and yellows of Echinacea and other wild flowers. The spiky Agave were there too, to remind us that Texas is tequila country and they mix a mean margarita in Austin.
Mountains and Vineyards of Oregon
In the Oregon garden it was all about the mountain landscape with rocky outcrops and mountain streams backed by pine forests (or as much of a forest as you can realistically transport and plant at a garden show). There were a few vines too to show that they are a wine growing region and at the front a naturalistic planting of daisies and grasses looking as if they might be growing in the border of some farmer's field. To represent the many cycling routes around the state, the edge of the borders were decorated with bicycle wheels.
Hidden gardens of Charleston
Quite different to the naturalistic feel of the other USA gardens was the Charleston garden, which exhuded elegance and old world charm. Box hedges surrounded the manicured lawn with wrought iron benches to linger a while. The pink and white planting gave a romantic feel mixed with a few more tropical shrubs. It was just the sort of place you'd like to take iced tea with your grandmother and hear her reminisce about her days as a southern belle.
 The Inca Garden with inspiration from Machu Picchu
The Inca civilisation of Peru that created awe-inspiring structures like Machu Picchu was the inspiration for a tropical garden sponsored by British Airways and Journey Latin America. From the outside we were met by a wall of native foliage with banana plants and sculptural leaves, but as we walked further into the garden, the carefully crafted dry stone terraces like those at Machu Picchu were revealed.
Water trickled down from the grassy terraces into pools that could be used for irrigation, with gardens of maize, potato and quinoa standing in well kept rows. The planting was spiky and exotic with variegated red and green planting mixed in with the yellow and orange astromeria. Perhaps if the explorer Hiram Bingham had been able to step back in time, this is what he would have seen of Machu Picchu when the Incas were at their full power, rather than the deserted remains of a lost civilisation that we think of today.
The Normandy 1066 Medieval Garden
To celebrate the 950th anniversary of the Battle of Hastings, the 'Le Clos d'Hastings' garden took on a medieval theme that reflected the garden plants and countryside from both sides of the channel in Normandy and the area around Hastings. The garden was divided diagonally into two parts with a woven hazel fence, the ends of the branches sprouting in places.
On one side of the fence was a field of crops waiting to be harvested; flax and wheat speckled with red popies and daisies. On the other side of the fence were garden plants in shades of white and purple, a rich mixture evoking the Bayeux tapestry. At the back of the plot, a green hedge was planted with saplings to represent the farming landscape of Normandy while at the front a couple of Norman soldiers were standing guard, quite happy to pose for photos!
From Galicia in Northern Spain – the Route of the Camelia garden
One of my favourites among the world gardens was the Route of the Camellia garden, sponsored by Turismo de Galicia. I visited northern Spain a few years ago on a family summer holiday and well remember the mixture of brilliant sunshine and showers that we had – there's a good reason why it's called 'Green Spain'!
The garden celebrates the pilgrim's route of  Santiago de Compostela, which I'd love to hike some day, with the pilgrim's symbol of scallop shells scattered on the path. Overhanging the romantic shrine to the Virgin Mary was a Camellia tree, frequently found in this part of Spain. Since the camellia flowers in the spring, designer Rose McMonigall had used pink coloured shells to represent the camelia petals that might drop onto the pilgrim's path.
RHS Garden Holidays
If you're a garden enthusiast, take a look at the RHS Garden Holidays, which are organised by the Royal Horticultural Society, offering tours of the world's great gardens, accompanied by horticultural experts.
RHS Hampton Court Flower Show
The RHS Hampton Court Palace Flower Show takes place 5-10 July 2016 – visit the RHS website  for more information on this and all the other RHS flower shows.
Pin It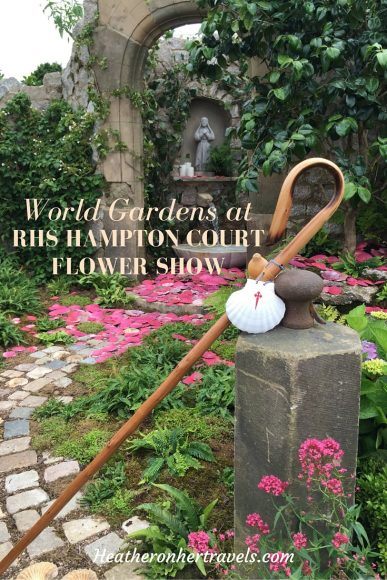 Thanks to RHS Hampton Court Flower Show who provided me with free entry to the show.
This article is originally published at Heatheronhertravels.com – Read the original article here
April 10, 2015 by Guest Author
Filed under Accommodation, Beaches and swimming, Cruise, Eating and drinking, Ecuador, featured, Guest post, Leisure, Misc, Nature, Photography, Sightseeing, South America, Walking
In this article, our guest author, Kate Convissor, shares an unforgettable week in the Galapagos, with pristine beaches, aquamarine seas and of course the birds, seals and other wildlife.
Most people travel through Quito in Ecuador, heading for the Galapagos Islands as their main destination. My experience was the opposite. I was already traveling through Ecuador and planned to spend several days in lovely Quito. The city was UNESCO's first cultural World Heritage Site, so it's very historic and photogenic. Since I was already so close, my trip had to include the Galapagos and when my sister learned of my plans, she decided to join me.
Still, my expectations were, well, non-existent. Other than cute sea lions and birds with funny names, I had no idea what to expect from an 8-day cruise through one of the most precious and unique places on the planet.
I must say, my first sight of the Galapagos through the windows of the tiny Baltra airport was underwhelming. It looked like a dry, shrubby, rocky moonscape with heat that would melt your eyeballs.
On board the San Jose
But things improved once onboard the breezy deck of the San Jose, the ship that would be our home for the next eight days. Once we found our cabin, which was more comfortable and spacious than I had expected, with twin beds (not bunks) and a nice-sized bathroom and a big window (not to mention blessed air-conditioning for those blistering afternoons), I began to feel the excitement build and the tension drain away.
A ship at sea! What could be more delightful?
And indeed, once we were underway, slicing through an impossibly blue ocean with a far horizon melting into a similarly blue sky and the wind rushing off the bow of the ship, I began to catch the magic of the Galapagos.
 The amazing animal culture
Our first landing that afternoon was on the tiny islet of Mosquera, which was little more than a lump of sand with sea lions lazily scattered about and a handful of other creatures I'd read about, like Sally-lightfoot crabs and tiny lava lizards. At this point, I was completely smitten.
This would be a great week.
Almost every day we woke to sun, sea, maybe another boat or two at anchor, a satisfying breakfast, and new wonders to explore. Days were filled with activity, which usually involved one or two hikes and/or one or two snorkeling adventures, and maybe a panga ride to some interesting cove. We usually visited two different sites each day, but the boat motored during mealtimes or at night, so we weren't twiddling our thumbs en route to the next place.
The hikes, while sometimes very hot, were always interesting and sometimes entrancing. And, of course, there was always the blue ocean to cool off in.
Snorkeling is almost de rigueur in the Galapagos since the water is teeming with all sorts of life, from sea turtles to small sharks to schools of colorful fish. The color and variety is fascinating.
I am not an avid swimmer, but I was determined not to miss this opportunity, so I grit my teeth and wore a life jacket for the first snorkel. It was fantastic! The water was warm and so bouyant that staying afloat was effortless and all that aquatic life under the surface of the ocean was worth enduring any momentary discomfort.
One of the more delightful hikes was at Punta Suarez on Espanola Island. Since it was high tide with waves crashing against the rock, our "dry" landing was a little tricky. (This is where you want experienced guys driving your panga – the little boats that takes you from your cruise ship to the shore.) We walked across a tide-flooded inlet guarded by a big bull sea lion who was jealous of his girls. (This is where you want an experienced naturalist-guide who knows the ways of macho sea lions.)
Birds, birds, birds
Espanola is a nesting condo for Nazca boobies and other birds I've forgotten the names of. The rocks are dripping with whitewash, and fluffy juveniles are waiting patiently (or not) for a snack, while their beleaguered parents are trying to oblige (by regurgitating the fish they've worked hard to find). Bird families were strewn haphazardly across the relatively flat and somewhat rocky clifftop. An occasional blue-footed booby broke the monotony.
We clambered over rocks snapping photos like crazed tourists, while the birds couldn't have cared less. The trail wound among the nesting birds and along a cliff edge until we all settled cliff-side to watch the waves crash on the black volcanic rock and send plumes of mist and water through a blowhole. All of which formed a dramatic foreground as the sun slowly rode down the western sky.
Now, I ask you, where else in the world can you sit with 16 people with this kind of natural wonder playing out around you? (Okay, there was another small tour group waiting to take our place on the rocks, but that doesn't change the overall picture.)
Small luxuries combine with pleasant company
After every activity, our long-suffering steward, Jackson, met us with his broad smile and a juice drink and snacks. Every evening we passengers gathered for a beer to chat and swap notes about the birds or fish we'd seen. And every night we fell asleep to the gentle rocking of the boat as it steamed toward our next magical destination.
Our naturalist-guide, Carlos, was an energetic, informed and personable 26-year-old. He, like many other guides, had grown up on the islands and that native knowledge was honed by the compulsory training all the guides receive.
My sister and I were also lucky in that all the passengers on our small boat were wonderful to travel with for a week, from the 86-year-old lawyer and his wife (Please, God, may I be like them when I am old) to the young brother and sister who came with their mom.
I think our group was so compatible, in part, because we all opted for a small, less luxurious boat (but make no mistake, the San Jose was very clean and comfortable) so that we could focus on experiencing the islands and not staying comfy and entertained on board the ship. Some of the luxury cruise liners carry 100 passengers and can't get to as many islands as the smaller boats.
"If you want a bigger cabin and more amenities, you should choose a luxury cruise. If you want to really experience the islands, you can have a very good time on a smaller boat," said Evelyn, my agent at Happy Gringo, through whom I booked our cruise.
True in every way. Cruising in the Galapagos Islands was a fantastic experience, and a longer cruise on a smaller boat like the San Jose was, for me, the best way to do it.
About our guest author: Many

thanks for this story to Kate Convissor who has been traveling more or less continually since she sold her house in 2010 and trailered around North America. Kate blogs semi-regularly at Wandering Not Lost. You can also find her on Facebook and Twitter
Pin It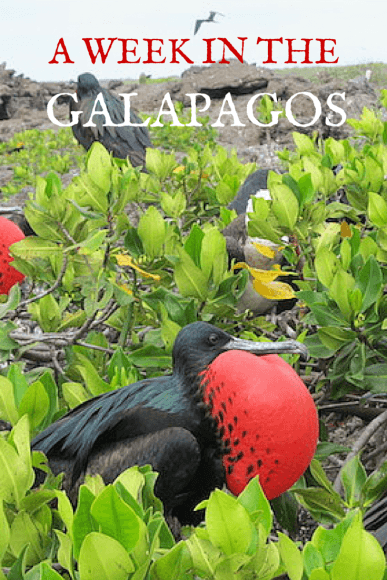 For more Ecuadorian delights:
Ecuador and the Amazon Rainforest
Take a Hot Bath in Banos, Ecuador
Beyond the Galapagos Islands – Ecuador's Forgotten Treasures
This article is originally published at Heatheronhertravels.com – Read the original article here
You'll also find our sister blog with tips on how to build a successful travel blog at My Blogging Journey
April 23, 2014 by Guest Author
Filed under Beaches and swimming, Ecuador, featured, Guest post, Leisure, Misc, Nature, Photography, Sightseeing, South America, Walking, World
Ecuador is one of the countries that you've heard a lot about, but maybe would never consider visiting. Why go to Ecuador on holiday, when there are the exciting destinations of Colombia, with its rich jungles and famous beaches, and Peru, with its Inca history and Andes culture, both nearby?
One fabulous destination that Ecuador does offer, and one that you have probably seen countless times on TV documentaries and in wildlife, travel and photography magazines, is the Galapagos Islands. The islands will forever have their position in history due to their astounding array of endemic wildlife species and their connection with Charles Darwin and his infamous work on evolution following his trip to the islands on the Voyage of the Beagle.
However Ecuador has so much more to offer the discerning tourist than these islands, and the many tourists that fly in to Ecuador, transfer to the islands for a tour or cruise then immediately fly home, are missing out on so much! Having had the pleasure of travelling through Ecuador and experiencing the delights that this country has to offer, over and above the Galapagos Islands, I realised that many people are missing out. Here's my brief guide as to the best of the rest of the fabulous country of Ecuador:
Quito
Quito is one of two main stopover points for international tourists travelling to and from the Galapagos Islands (the other being Guayaquil), but is potentially a destination in itself. If you ever get the chance to visit Quito (and you should give yourself the opportunity!) then try and stay in a hotel in the old-town city centre rather than in the new modern region – it might cost a little more but you won't regret it.
This region of the city is a UNESCO World Cultural Heritage site, due to its outstandingly well-preserved, ancient and beautiful central region. To explore this area is like stepping back to colonial-era South America – labyrinthine cobbled streets wind through white-painted buildings, leafy plazas, and ancient churches and religious buildings. You can get lost here for days, exploring, and soaking up the history. Make sure to visit the Basilica del Voto Nacional, if only for the adventurous climb through the rickety old roof for fabulous views of the city from a viewing platform on top near one of the spires.
Also worth visiting, although a little touristy (but good for a laugh!) is the equator visitor centre, only a few kilometres from Quito – stand on top of a painted line on the earth for a memorable, if a little corny, photo. Just don't tell your friends and family that this isn't "technically" the equator (they built the site in the wrong place – the true equator is a few hundred metres away!). Finally, for those that have fully acclimatised (don't visit this if you've only just arrived), Quito's "TelefériQo", a giant gondola that travels from Quito, at 3117m above sea level, to the top of one of the valleys, at 3945m above sea level, offers excellent views of the city stretching away from you far below.
Guayaquil
Okay, so this may be a metropolis, and quite a large one at that, but if you're going to pass through a destination (many international flights and connections to Galapagos use Guayaquil Airport), then it would be a shame not to visit the best of this city. Maybe not worth visiting for more than a couple of nights, but in that extra day or so you will be able to experience modern Ecuador – how Ecuadorian people see it and live it. Head down to the "Malecon 2000", the walkway overlooking the Guayas River, built in 2000, lovely in the evenings.
During the day Guayaquil can be a sweaty and humid affair, but as dusk begins to set and the temperature falls this modern river-side getaway stretches for a few kilometres along the river-front, and contains many monuments, mini parks, restaurants, art displays and plenty of space for a relaxing stroll. At one end of the Malecon there is the fabulous district of "Las Penas", which is a regenerated area of the city, full of many mini streets built up the sides of a hill, complete with perfect little art galleries, salsa bars and restaurants, and other delights abound – explore to your heart's content! A walk along the streets of Las Penas will eventually lead up towards the hill at Cerro Santa Ana – there are fabulous views of the city below and a lighthouse at the top of the hill.
Unspoiled Beaches of Ecuador
There are many fabulous areas of South America that are not that well known by the English-speaking world. Take the beaches of Uruguay for example – very popular with Argentinians, and with Spanish wanting to escape the humdrum of Europe in the height of summer, but not really on the radar of other Europeans. The same could be said for Ecuador's beaches, and it was tempting to not even mention the beaches on this list for fear of increasing their popularity – some places are best kept secret! The benefit of Ecuador's beach regions, compared to many of their equivalents in the Mediterranean or other similar locations, is their relative quietness without the crowds and without high-rise hotels of purpose built resorts.
Of course, there are exceptions, with the city of Salinas being one example (a resort-town if ever there was one)… however a journey north from Salinas up Ecuador's beautiful coastline (simply a delight at sunset) will take you past endless fishing villages, all sitting atop beautiful sandy beaches – just take your pick. Montañita, once a well-kept secret complete with lovely sandy beaches and fishing shacks serving up cold beers, has over recent years started to grow in popularity (the secret got out!), but is still worth visiting for those seeking a surfing style holiday, cheap beach-side villas, and glorious sun. As you head further north, travel along the "E15" road and either stop wherever takes your fancy – try Mompiche, Cojimies, or countless others.
Cotopaxi National Park
There are many national parks in Ecuador, and all are probably worth a visit if you have the inclination, and time. Cotopaxi is probably the most well-known of the mainland parks, because of Cotopaxi stratovolcano that sits within the park and gives the park its name. The volcano features the beautiful symmetrical cone shape that is synonymous with volcanoes in general, and sits majestically on the Andean plateau (resembling that other equally beautiful volcano – Mount Fuji in Japan). Visitors to the national park are greeted by stunning Andean landscapes – rough tundra shrubbery, grazing llamas, indigenous farmers, sporadic farming buildings offering limited shelter – all with the sight of the giant conical volcano on the horizon. This is a landscape unlike anywhere else. The best way to experience this area is to get up close and personal with the region, and go on a horse-trekking adventure through the lands. For the brave, the volcano can be climbed on a guided climbing excursion, worth it to experience the awe-inspiring views from the top.
Stay in a Hacienda
Not really a destination, but more of a way of life, haciendas were, and still are, large self-sufficient estates situated across much of the Ecuador mainland, around Quito and the surrounding area. Although their traditional ways have started to disappear, many of these haciendas have adapted and provide exceptional, and unique, tourism opportunities. Many excellent haciendas are close-by to Quito, so can easily be visited, and they provide an excellent way of experiencing what life might have been like for colonial people in Ecuador hundreds of years ago. The centre-piece of these large estates is usually the central mansion, some of which contain ancient Inca walls that were used in the construction of the mansions when built by the land-owners, and these mansions have been converted into wonderful and delightfully decorated accommodation.
Many thanks for this article to Jonathan, who spent time living in South America throughout 2008 and 2009, and who has travelled extensively in Ecuador. Since returning home to the UK, Jonathan has taken up photography after being inspired by the fabulous landscapes of the Andes, and works for Go Andes, a specialist holiday company that offers cruises and tours to the Galapagos Islands, as well as many other destinations through South America.
Photo Credits: Galpagos by BlinkingIdiot, Cotopaxi by Ainhoa Bilbao Other photos by Jonathan at Go Andes
For more South American stories:
Ecuador and the Amazon Rainforest
Coca tea or Cappuccino – in Peru
South America Backpacking with Indie Travel Podcast
This article is originally published at Heatheronhertravels.com – Read the original article here
You'll also find our sister blog with tips on how to build a successful travel blog at My Blogging Journey