In this guest post, Stefan Arestis of Nomadic Boys takes us on a delicious  journey around his favourite foods in Argentina, from Mate to Malbec and Empanadas to Chimichurri.
Argentina is well known for its many parilla steak houses and for good reason. With more cattle than people, a gathering in Argentina with friends and family, on a Sunday for an asado barbecue, is a meat lover's paradise.
But there's more to Argentina than just consuming your body weight of cow meat. After two months travelling in Buenos Aires and across the country, here are my eight favorite foods of Argentina: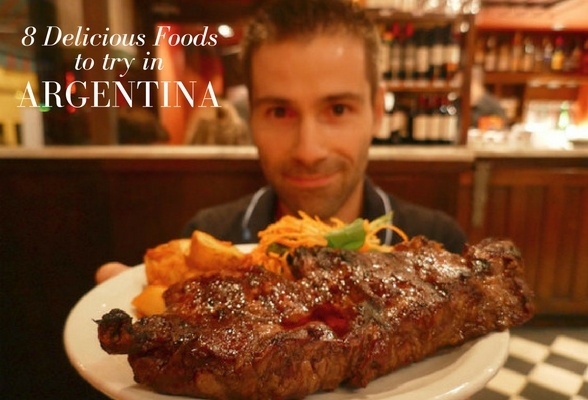 1. Milanesa a la Napolitana
Milanesas are breaded seasoned meat fillets, which are dipped into egg, covered in bread crumbs then fried. They are like Austrian schnitzels but beef is more commonly used instead of pork. Milanesas are a nod to the large Italian influence in Argentina after millions emigrated in the late 1800s and early 1900s.
The milanesa a la napolitana, like the napolitana pizza adds a layer of tomato sauce, mozzarella and ham. It was named after the restaurant Nápoli in Buenos Aires where it was created in the late 1940s and has now become one of the most popular Argentinian foods. When asking our local friends what they miss most from Argentina, they will frequently say they crave a milanesa a la napolitana, washed down of course with the most popular drink…
2. Mate: herbal tea
Mate (pronounced MAHteh) is an institution here. The Argentinians are proud, passionate mate drinkers: it's ingrained in the culture, the focal point in social gatherings, handed around for everyone to share. Whether you're in a business meeting, out in the park with a group of friends or buying a ticket at the bus station, you can be sure to see the iconic flask with pot and metal straw.
Mate is a black herbal tea made from the yerba mate herb, grown in the Northeast Argentinian provinces of Misiones and Corrientes. To prepare the mate, the herb is placed in the mate pot (called a gourd), hot water (not boiling) added and it is then served from a metal straw (called the bombilla).
We visited the touristy Iguazu Falls in Northeast Argentina, which had an hour long queue for the train to take you up to the Devil's Throat. For the Argentinians no problem – whip out the large flask, packet of mate herbs, gourd and bombilla and very soon a mate will be passed round. Completely impractical, very sociable, yet oh so very Argentinian!
3. Dulce de Leche Cookies
Dulce de leche is caramelised milk, used everywhere, particularly in all dessert. This stuff is like the blood of Argentina. One particular dulce de leche dessert are alfajor de maicena cookies. These are 2 vanilla biscuits, which are bound using (lots of) dulce de leche, which is then coated with grated coconut.
Extremely delicious but goodbye abs!
4. Empanadas
Empanadas are a popular snack either to accompany meals or as an appetiser. They are stuffed pastries with a variety of fillings, which are then fried or baked. Empanada comes from the Spanish word empanar.
The most popular filling is confusingly called carne, which means meat, but refers to beef. Other popular fillings include pollo (chicken) jamón (ham) and queso (cheese).
The tastiest empanadas we tried are the spicy empanadas con carne picada North Argentina. The indigenous Quechua influence means that more spices are used in cooking giving them more flavor.
5. Choripán: chorizo hot dog snacks
Choripán is the Argentinian hotdog, served with a chorizo sausage and salad. The name describes its ingredients: chori for the chorizo and pan meaning bread.
Like empanadas, choripáns are finger food, which you're likely to eat as an appetiser at an asado or as a snack at a Boca Juniors football match.
6. Ice Cream
Argentinian ice cream or helado is world famous and another nod to the strong Italian influence in Argentina.
Opinions about where you can try the best helado in Argentina varies with immense volatility. The Porteños will say it's in Buenos Aires, the Rosarians will swear it's in Rosario, the Cordobeses will have you believe it's in Córdoba etc…!
You can be sure an helado in Argentina will blow your mind, and with flavours like dulce de leche or tiramisu, you can't go wrong.
7. Malbec Wine
Argentina developed a world famous wine reputation over the last 20-30 years, primarily as a result of several grapes brought over from France. These grapes didn't grow as well in French vineyards, but the climate in Mendoza meant they instead flourished here, particularly Malbec.
Argentina is one of the few countries we've been to where wine is more popular than the national beer – Quilmes. A few glasses of Malbec nicely complement every steak meal. We tried so many delicious brands that it's hard to pinpoint a particular favorite.
8. Chimichurri
Chimichurri is like the Argentinian pesto. It is a parsley/garlic based sauce, usually used to marinate grilled meats or as a dipping sauce for bread and choripáns.
There is no uniform recipe, but our recipe for Argentinian chimichurri includes finely chopped parsley, minced garlic, olive oil, dried oregano, chilli pepper and vinegar.
In most restaurants in Argentina, you will first be presented with a bread basket, which will come with a variety of dipping sauces, including chimichurri, as well as criolla (tomatoes and raw onions) and provencal (chopped parsley and garlic in oil).
More things to see in South America
Beyond the Galapagos – Ecuador's forgotten treasures
More than Machu Picchu – alternative Inca trails to try in Peru
Finding Paradise in Ilha Grande, Brazil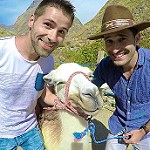 About the Author: Stefan Arestis is one half of The Nomadic Boys, a gay couple with Stefan (Greek) and Sebastien (French) travelling the world on a 2-year adventure which started in Asia in 2014. They are currently on a big trip around Latin America starting south in Buenos Aires and slowly working their way North.
You can also find The Nomadic Boys on Facebook, Instagram and Twitter.
Pin It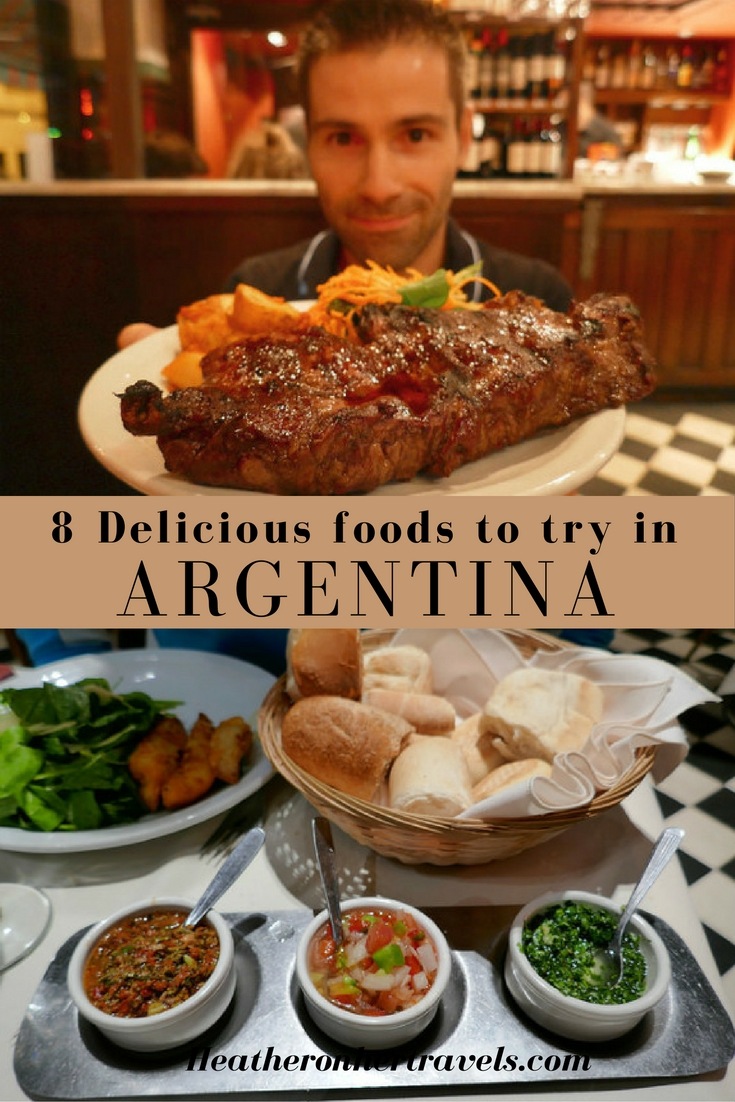 This article is originally published at Heatheronhertravels.com – Read the original article here
April 14, 2013 by Guest Author
Filed under World, Leisure, Misc, Argentina, Brazil, Chile, Cycling, Eating and drinking, Fishing, Guest post, Nature, Sightseeing, South America, Spa & Pampering, Walking
When it comes to appreciating the great outdoors, there are a multitude of destinations around the world which fit the bill, however, nowhere does it in quite as much style as Argentina. There's a huge amount to see in this vast country, from waterfalls to wildlife, city streets to gaucho ranches, wine estates to stunning beaches. Here's a low-down on the very best places for adventure in Argentina.
Patagonia
For some adventurous souls, Argentina's southern state of Patagonia is the jumping off point for cruises to Antarctica. But there's a lot more to this beautiful wilderness. Try heading down to the Los Glaciares National Park – filled with lakes, mountains and quaint local townships – for great treks and ice-walking. Crampon your way up the awe-inspiring Perito Moreno glacier and watch as huge blocks of ice falls away into the ocean as the glacier slowly advances into the water.
The Valdes Peninsula
It's all about the wildlife in the Valdes Peninsula. Go offshore for some staggering whale-watching and feel the thrill as a humpback whale swims beneath your boat. A tour will also introduce you to some of the other residents of the area: orcas, dolphins, penguins, elephant seals and sea lions.
Mendoza
The kind of adventure on offer in Argentina is more of a gastronomic kind. Indulge in tours of the various wineries and dine at the indulgent in-house cafes and restaurants. Back in town, you can wander through the colonial plazas and leafy streets for a relaxing few days of fun.
The Iguazu Falls
Iguazu Falls is a sight to behold. From the Argentinian side of the falls you can thread your way above, below and through the waters and surrounding jungle on brilliantly designed wooden walkways. Because of this, it is sometimes said that 'from the Brazilian side you see the falls, and from the Argentinian side you live them'. For a real taste of adventure, take a motorboat up to the very edge of the falling water – be deafened and drenched by the longest stretch of cascading water in the world!
Cordoba
If you're a huntin', shootin', fishin' kinda gal or guy, you might want to try your hand at dove shooting. Cordoba – Argentina's second largest city – is one of the best places in the world for this sport. Stay on a ranch for the ultimate experiences and trek, cycle or horse-ride up into the surrounding hills for magnificent views and a lungful of fresh air.
The Lake District
From the city of Bariloche travelers can explore the snow-capped Andes and lakes of this stunning part of the country. There's plenty of hiking, fishing, golf and horse riding on offer in the area, as well as some glorious spas and luxury hotels. Particularly adventurous types might want to attempt the lake crossing from Bariloche across into Chile – but only if you don't mind leaving Argentina behind!
This article was brought to you by the luxury travel experts at Exsus, specialists in arranging luxury, bespoke holidays in South and Central America as well as other adventurous destinations around the world.
Photo credits: Perito Moreno by Matito, Peninsula Valdes by Berlotti, Peatonal by betta design, Iguazu Falls by Malingering, Dos Lunas Estancia by longhorndave, and San Carlos de Bariloche by Miradas.com.br.
More tales from South America
South America Backpacking with Indie Travel Podcast
Relax and enjoy the cool lifestyle of Bahia in Brazil
Historic cities, natural beauty and a warm welcome in Colombia
This article is originally published at Heatheronhertravels.com – Read more travel articles at Travel Blog Home
You'll also find our sister blog with tips on how to build a successful travel blog at My Blogging Journey
 Don't miss out – subscribe to Heather on her travels
July 24, 2010 by Heather Cowper
Filed under World, Leisure, Podcasts, Argentina, Brazil, Chile, Nature, Peru, Sightseeing, South America, Uruguay
In Podcast 11 in my travel podcast series, I talk to Craig and Linda from Indie Travel Podcast about their 4 months travelling with friends in South America, visiting Chile, Peru, Bolivia, Argentina and Uruguay. They pick out the highlights of their trip, and give some advice on travelling by bus, how to avoid scams and pickpockets and how they enjoyed staying with locals on this trip.
Podcast: Play in new window | Download
To subscribe to all my podcasts in ITunes click here
If you enjoyed this podcast, check out all my other Travel Podcasts in my Podcast Archive
Chile
Craig and Linda flew into Santiago because of the cheap flights from Auckland in New Zealand. The city is surrounded by mountains and can be bathed in smog although Craig & Linda enjoyed their time there with museums and great street food.
Patagonia in southern Chile has amazing scenery although Craig & Linda didn't visit, as it is one of the most expensive regions to visit in South America and they didn't have enough time.
The island of Chiloé is a great place to relax and slow down, with a Pacific Island feel with food being cooked in underground ovens, and a place you can spot seals and dolphins.
In northern Chile, the area around San Pedro de Atacama is beautiful although the town itself is a tourist trap. You can use San Pedro de Atacama as a base for trips into the surrounding area but as an alternative you can approach from the north from Uyunay in Bolivia. This region is known for its natural beauty with mountains and salt flats.
Craig and Linda enjoyed an astronomy tour with a Frenchman who has set up telescopes in his house to view the very clear night skies in this area that has very little light pollution.
Linda and a friend spent a weekend in Valparaiso in Chile with plenty of street art, funiculars and brightly coloured houses where the local government had commissioned open air murals around the town. They also visited Viña del Mar, the coastal resort of the region.
Unfortunately, Chile is one of the most expensive countries in South America for food and accommodation, along with Uruguay and Argentina.
Peru
Craig and Linda travelled by overnight bus from Santiago to Antofagasta and up to Lima and spent 7 weeks in Peru, 3 of which were in Cusco where they attended a local language school to learn Spanish.
Cusco is not representative of Peru as a whole as it is very touristy, being the main jumping off point for trips to Machu Picchu. We discuss the pros and cons of visiting Machu Pichu which is a major site but also expensive and crowded by comparison to other sites that receive far less visitors.
From Cusco they enjoyed a trek through the Sacred Valley, visiting local villages that were well off the tourist trail.
Craig and Linda didn't visit Machu Picchu preferring to spend time at some other lesser known pre-Incan sites near Trujillo such as Huaca del Sol and Huaca de la Luna.
They especially enjoyed their time in the northern cities of Trujillo, Chachapoyas and Chiclayo and wish that they'd spent more time there than in Cusco.
Bolivia
From Peru Craig and Linda travelled to the shores of Lake Titicaca, stayed at Cococabana and did some walking on Isla de Sol, a large island in the lake.
They visited the Uros floating islands made from reeds that were constructed as a refuge for the local people but have now become a major draw for tourists and brought more prosperity for the locals.
They had mixed feelings about La Paz which Linda loved as they stayed with locals and she enjoyed the street-food. Craig found the city dirty and felt unsafe as they were targeted with 3 pick-pocket attempts while they were there.
From Uyuni in Bolivia Craig and Linda visited the salt flats for a 3 day 4 wheel drive tour staying in a salt hotel and ending at San Pedro de Atacama. They loved the amazing play with perspective, coral islands covered with cactus and the heat haze with the mountains in the distance.
Argentina and Uruguay
Craig and Linda visited the Iguazu falls from both the Argentinian side which they found more developed but also more crowded and from the Brazilian side which had less visitors. The car to take them to the falls was arranged through their hostel and was only a little more expensive and more convenient than taking public transport.
From Puerto Iguazu they took the bus to Montevideo in Uruguay where they stayed with a friend who took them to his grandmother's Lake House. This was close to the popular beach and surfing resort of Punte del Este which was reputed to have the best surfing on Uruguay's east coast.
They also enjoyed Montevideo which was a relaxing place with plenty of culture and galleries, a contrast to the buzzing atmosphere of Buenos Aries. They also spent some time in in the town of Colonia in Uruguay.
In Argentina Craig and Linda did some wine tasting in the Mendoza and la Plata regions but found it difficult to take part in the wine tasting unless you were part of a tour as the wineries would only open their cheapest wines to try.
Tips for travelling by bus in South America
As they were travelling on a budget, Craig & Linda used long distance buses to get around, normally travelling overnight, despite the fact that Linda finds it difficult to sleep on buses.
The standard of the buses were best in Chile and Argentina and in Peru there was also a wide range of standards with some very high quality buses.
At best these buses can be similar in style to air travel with comfortable, reclining seats, airline style meals and drinks and even sometimes on board wifi.
Depending on the bus, you can book semi-cama seats that recline 45-60 degrees, Cama with 160 degree reclining, and even full cama that lie flat.
Craig and Linda suggest that you research your options and book with an bus operator that has a good reputation, even if it costs a little more.
Always keep your valuables with you on the bus and keep hold of any day-packs , especially when sleeping.
You may like a seat at the front of the bus that has more leg-room and you should also check the position of the toilet before selecting a seat to avoid unwelcome smells.
Couchurfingand meeting locals
On this trip Craig and Linda enjoyed staying with locals through Couchsurfing.org – even though their options were more limited as they were travelling in a group.
They combined this with staying in hostels which also gave them a break from speaking Spanish and an opportunity to catch up on the work for their Indie Travel Podcast site, as they also earn a living through the website.
If you enjoyed this travel podcast please check out my other podcasts in my Travel Podcast Archive
Other Indie Travel Podcasts on South America
147 How to catch a bus in Chile and Peru
154 South American travel: Peru and Bolivia
155 – South American Travel: Chile, Argenina and Uruguay
Photo Credits: All photos by Craig and Linda and can be seen on their Mars-Hill Flickr site
More South American stories to enjoy
Relax and enjoy the cool lifestyle of Bahia in Brazil
Historic cities, natural beauty and a warm welcome in Colombia
03 Ecuador and the Amazon Rainforest – Podcast Episode 3
This article is originally published at Heatheronhertravels.com – Read more travel articles at Travel Blog Home
Don't miss out – subscribe to Heather on her travels