When you go for the rainforest you may as well leave your vanity behind. The constant downpours and lack of a hairdryer will make your bouncy locks go limp and forget any perfume or scented toiletries or the mosquitos will soon come buzzing around.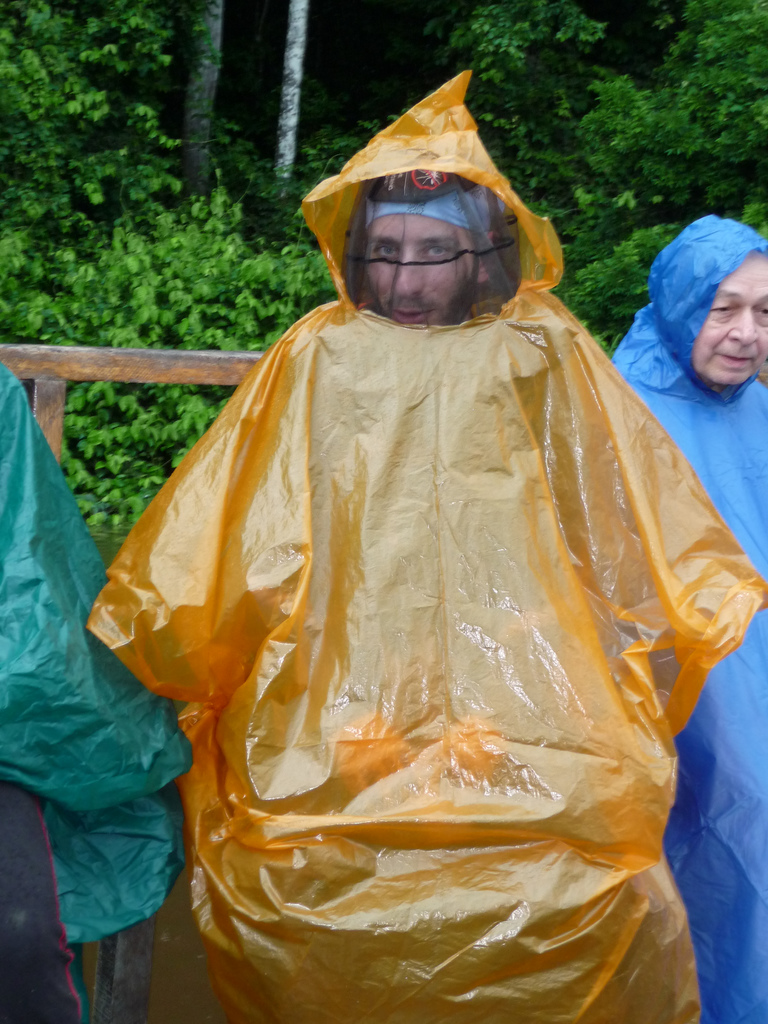 However, one piece of fashion wear is de rigeur for every self respecting eco-tourist and that is a brightly coloured poncho. You can buy it for a couple of dollars at the local riverside store before you jump on your motorised canoe, as my friend Joanne did on her trip to her Peruvian eco-lodge. You can see her Canadian friend Sean modelling it above, completing the look with his mosquito net headgear.
There were some rash individuals who thought that their waterproof jackets would be enough, but little did they know! In the downpours that followed (doh, I guess that's why it's called the rain-forest), theirs were the legs and backpacks that got soaked, while those with a poncho were much better protected by the all-encompassing caress of luminous plastic.
So don't get wet, pick up a Poncho!
Photo Friday is hosted over at Delicious baby – head over and see all the other Friday photos here.
You might also enjoy
Relaxing at the Tambopata ecolodge in Peru
Loading the dug-out canoe in Ecuador
Catfish and anaconda on the Rio Bobonaza in Ecuador
See all Joanne's Peru photos on Flickr

Read more travel articles at Travel Blog Home
Don't miss out – get all my articles through your reader
In October 2007 I took a trip to Ecuador with a couple of friends, down the River Bobonaza as far as the Peruvian border, where the river meets the much larger River Pastaza. Although this isn't an open border between the two countries, we were given permission to cross over to the Peruvian town of Andaos, just for a few hours.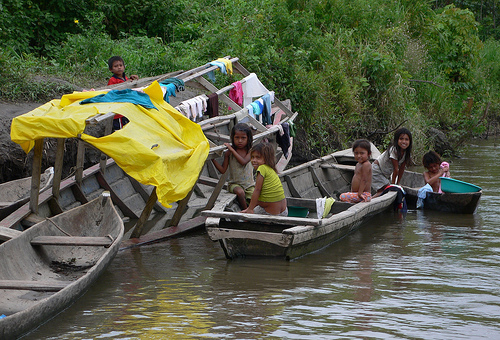 This is where I took the photo of these children on the banks of the river. At first I thought they were just having some fun splashing around in the water, but on looking closer I realised that they were also doing the laundry. The wooden struts of the old wooden boat made a great place for hanging out the washing. I can't imagine my kids having so much fun loading the washing machine, can you?
See all the other Friday Photos over at Delicious Baby
Related Posts
Sleeping in a canoe in Ecuador
A Wika tattoo in Ecuador
Catfish and Anaconda on the Rio Bobonaza in Ecuador
See all my Ecuador photos on Flickr

Don't miss out – get all my articles through your reader
What do you keep as a pet if you live in the rainforest?  Not a pet snake, that's for sure. We saw this little girl and her pet monkey in the village of Pacayaku, on our river journey down the Rio Bobonaza in Ecuador.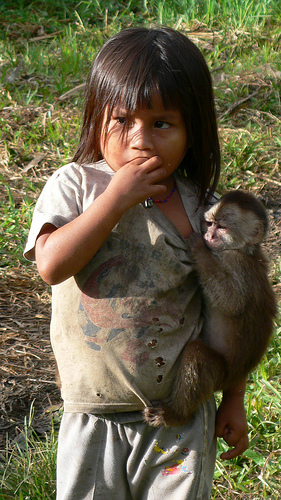 Normally these little creatures are adopted as pets when their mother has been killed in a hunt and brought back to the village as food. Although it seems unthinkable to us to kill a species with features so close to our own, as a meat eater I can't deny the villagers one of the few local sources of meat in their diet. At least the babies get lots of cuddles as their parents are roasted over the fire.
If you're in the US and have been enjoying Mark and Olly on the Travel Channel in their experiences with the Machigenga tribe in the Amazon basin of Peru, you may like to see some videos of Mark falling in love with a pet monkey of his very own. You can see how irresistable these little monkeys are as pets.
You can see all the other Friday photos on Delicious Baby here
See my Ecuador photos on Flickr here
Read Related Posts
Loading the dug-out canoe in Ecuador
Sleeping in a canoe in Ecuador
A Wika tatoo in Ecuador
Read more travel articles at Travel Blog Home
Don't miss out – subscribe to Heather on her travels