This week I met up with an old friend from Ecuador at the World Travel Market and it reminded me of the happy few days I spent in Banos on my trip to Ecuador a couple of years ago. The town is known for being a holiday centre, both for Ecuadorian families and for backpackers. It's a great place for cycling, hiking, white water rafting and of course the hot baths that give the town it's name.
These baths were just along the road from our hotel and were really an out-door swimming pool that were packed with families at weekends. The green colour is caused by the minerals, and there was a tepid pool, like a warm bath, a hot pool and an icy cold pool. You could also take a cold shower under the waterfall coming straight down off the cliff behind the baths.
I liked the fact that this was not a chi chi kind of place but just a public baths where you could take a shower under the waterfall. That's not the sort of experience you could get just anywhere in the world. You can read my full post about my time in Banos in my article Warm Baths and Waterfalls at Banos in Ecuador
See my photos of Banos on Flickr
This photo is posted as part of Photo Friday hosted by Delicious Baby – see all the other photo Fridays here.
Read more travel articles at Travel Blog Home
Don't miss out – subscribe to Heather on her travels
When you go for the rainforest you may as well leave your vanity behind. The constant downpours and lack of a hairdryer will make your bouncy locks go limp and forget any perfume or scented toiletries or the mosquitos will soon come buzzing around.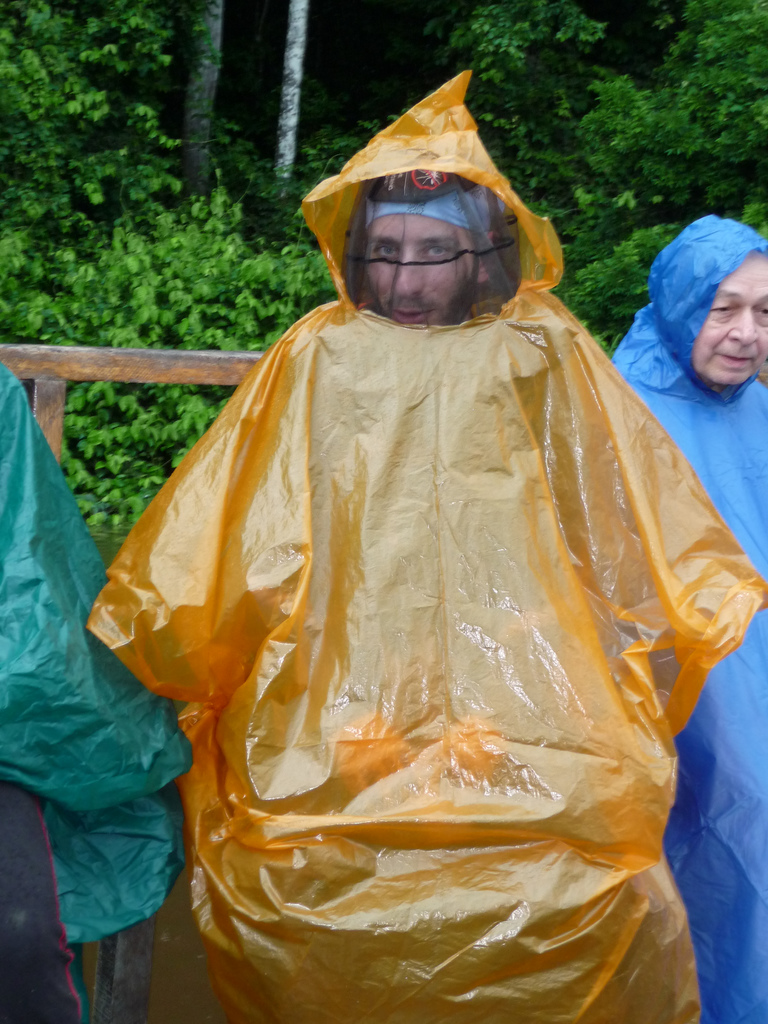 However, one piece of fashion wear is de rigeur for every self respecting eco-tourist and that is a brightly coloured poncho. You can buy it for a couple of dollars at the local riverside store before you jump on your motorised canoe, as my friend Joanne did on her trip to her Peruvian eco-lodge. You can see her Canadian friend Sean modelling it above, completing the look with his mosquito net headgear.
There were some rash individuals who thought that their waterproof jackets would be enough, but little did they know! In the downpours that followed (doh, I guess that's why it's called the rain-forest), theirs were the legs and backpacks that got soaked, while those with a poncho were much better protected by the all-encompassing caress of luminous plastic.
So don't get wet, pick up a Poncho!
Photo Friday is hosted over at Delicious baby – head over and see all the other Friday photos here.
You might also enjoy
Relaxing at the Tambopata ecolodge in Peru
Loading the dug-out canoe in Ecuador
Catfish and anaconda on the Rio Bobonaza in Ecuador
See all Joanne's Peru photos on Flickr

Read more travel articles at Travel Blog Home
Don't miss out – get all my articles through your reader
In October 2007 I took a trip to Ecuador with a couple of friends, down the River Bobonaza as far as the Peruvian border, where the river meets the much larger River Pastaza. Although this isn't an open border between the two countries, we were given permission to cross over to the Peruvian town of Andaos, just for a few hours.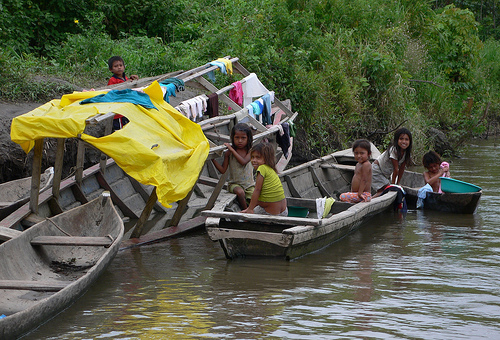 This is where I took the photo of these children on the banks of the river. At first I thought they were just having some fun splashing around in the water, but on looking closer I realised that they were also doing the laundry. The wooden struts of the old wooden boat made a great place for hanging out the washing. I can't imagine my kids having so much fun loading the washing machine, can you?
See all the other Friday Photos over at Delicious Baby
Related Posts
Sleeping in a canoe in Ecuador
A Wika tattoo in Ecuador
Catfish and Anaconda on the Rio Bobonaza in Ecuador
See all my Ecuador photos on Flickr

Don't miss out – get all my articles through your reader