July 5, 2016 by Heather Cowper
Filed under Europe, World, Leisure, featured, France, Galicia, Gardens, Northern France, Peru, South America, Spain, Texas, USA
At the RHS Hampton Court Flower show this week, destinations from Charleston to Galicia, Normandy to Peru, came alive in the gardens from around the world. Each was inspired by the plants and landscapes that make these little corners of a country unique and special. The show is on for a few more days, so do go along to see these and many other beautiful gardens to find some inspiration for your next holiday.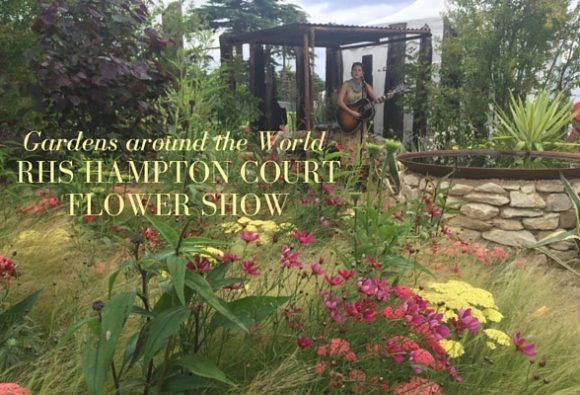 As I was visiting on the 4th July, celebrations were in full swing at the three USA gardens from Oregon, Charleston and Austin.
Landscapes of Austin
At the Austin garden, the strumming of singer songwriter Carson McHone took me straight back to our holiday in Texas a few years ago, remembering all the street performers playing in the bars and by the food trailers in Austin. The stone walling, beaten earth paths and and rusting metal bowl filled with water were just as I remembered, even in the smart hotel where we stayed on our trip to Texas.
I loved the soft swathes of grass that looked as if they were rustling in the breeze, mixed with the dusty reds and yellows of Echinacea and other wild flowers. The spiky Agave were there too, to remind us that Texas is tequila country and they mix a mean margarita in Austin.
Mountains and Vineyards of Oregon
In the Oregon garden it was all about the mountain landscape with rocky outcrops and mountain streams backed by pine forests (or as much of a forest as you can realistically transport and plant at a garden show). There were a few vines too to show that they are a wine growing region and at the front a naturalistic planting of daisies and grasses looking as if they might be growing in the border of some farmer's field. To represent the many cycling routes around the state, the edge of the borders were decorated with bicycle wheels.
Hidden gardens of Charleston
Quite different to the naturalistic feel of the other USA gardens was the Charleston garden, which exhuded elegance and old world charm. Box hedges surrounded the manicured lawn with wrought iron benches to linger a while. The pink and white planting gave a romantic feel mixed with a few more tropical shrubs. It was just the sort of place you'd like to take iced tea with your grandmother and hear her reminisce about her days as a southern belle.
 The Inca Garden with inspiration from Machu Picchu
The Inca civilisation of Peru that created awe-inspiring structures like Machu Picchu was the inspiration for a tropical garden sponsored by British Airways and Journey Latin America. From the outside we were met by a wall of native foliage with banana plants and sculptural leaves, but as we walked further into the garden, the carefully crafted dry stone terraces like those at Machu Picchu were revealed.
Water trickled down from the grassy terraces into pools that could be used for irrigation, with gardens of maize, potato and quinoa standing in well kept rows. The planting was spiky and exotic with variegated red and green planting mixed in with the yellow and orange astromeria. Perhaps if the explorer Hiram Bingham had been able to step back in time, this is what he would have seen of Machu Picchu when the Incas were at their full power, rather than the deserted remains of a lost civilisation that we think of today.
The Normandy 1066 Medieval Garden
To celebrate the 950th anniversary of the Battle of Hastings, the 'Le Clos d'Hastings' garden took on a medieval theme that reflected the garden plants and countryside from both sides of the channel in Normandy and the area around Hastings. The garden was divided diagonally into two parts with a woven hazel fence, the ends of the branches sprouting in places.
On one side of the fence was a field of crops waiting to be harvested; flax and wheat speckled with red popies and daisies. On the other side of the fence were garden plants in shades of white and purple, a rich mixture evoking the Bayeux tapestry. At the back of the plot, a green hedge was planted with saplings to represent the farming landscape of Normandy while at the front a couple of Norman soldiers were standing guard, quite happy to pose for photos!
From Galicia in Northern Spain – the Route of the Camelia garden
One of my favourites among the world gardens was the Route of the Camellia garden, sponsored by Turismo de Galicia. I visited northern Spain a few years ago on a family summer holiday and well remember the mixture of brilliant sunshine and showers that we had – there's a good reason why it's called 'Green Spain'!
The garden celebrates the pilgrim's route of  Santiago de Compostela, which I'd love to hike some day, with the pilgrim's symbol of scallop shells scattered on the path. Overhanging the romantic shrine to the Virgin Mary was a Camellia tree, frequently found in this part of Spain. Since the camellia flowers in the spring, designer Rose McMonigall had used pink coloured shells to represent the camelia petals that might drop onto the pilgrim's path.
RHS Garden Holidays
If you're a garden enthusiast, take a look at the RHS Garden Holidays, which are organised by the Royal Horticultural Society, offering tours of the world's great gardens, accompanied by horticultural experts.
RHS Hampton Court Flower Show
The RHS Hampton Court Palace Flower Show takes place 5-10 July 2016 – visit the RHS website  for more information on this and all the other RHS flower shows.
Pin It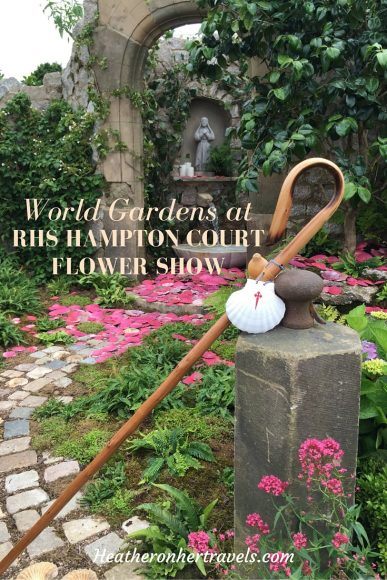 Thanks to RHS Hampton Court Flower Show who provided me with free entry to the show.
This article is originally published at Heatheronhertravels.com – Read the original article here
October 31, 2013 by Guest Author
Filed under World, Accommodation, Misc, featured, Camping, Guest post, Nature, Peru, Sightseeing, South America, Walking
While Machu Picchu and the Inca Trail in Peru are on everyone's bucket list, our guest author Jonathan from Go Andes discovered alternative trails that are  just as stunning and rewarding, as well as far less crowded.
Peru is one of those destinations that is synonymous with travel, and I have always had a passion for a travel, and a desire to travel to Peru. This started when I was a young boy and I had been stupefied by a TV documentary showing the wonder of Machu Picchu. At the time, around about 13 years of age, I don't think I could admit that I knew where Machu Picchu was, only that it was some mystical ruin in some faraway place!
Fast forward 15 years or so, and I was lucky enough to have the opportunity to visit Peru, so I jumped at the chance and included plans to visit Machu Picchu during the trip by trekking on the infamous Inca Trail.
A life changing challenge
The Inca Trail did live up to all expectations: it somehow managed to be amazing and life changing, whilst simultaneously being very tough-going and painful all at the same time! The Inca Trail starts at Ollantaytambo, and is a 4 day trek through rolling hills, that eventually ends up at Machu Picchu early on the morning of the 4th day, just in time to watch the sun rise over the splendid ruin – undoubtedly the best way to experience the site. What a lot of people don't know (I certainly didn't, at least before doing the trek) is that the route of the Inca Trail allows you to visit 3 or 4 other impressive Inca ruins that are situated along the route of the trek that can only be visited by doing the trek itself. This alone makes the Inca Trail a very viable option.
Of course, Machu Picchu is a world famous UNESCO Heritage Site, and the most visited tourist destination in South America, which inevitably means that it is very busy. The Inca Trail is also one of the most famous treks on the planet, and one of the problems I had with the trek was simply the sheer number of people that were doing the walk with me. Every day, except February when the trail is closed for repairs, 500 people start the trek, which means there are up to 2000 people per day at some point of the trail. Although the trail was amazing, and an experience I would do again and recommend to others, after I completed the trial I started to wish that I had had the experience "to myself" a little more, to experience trekking in Peru for real, with a little more isolation. I started to research other options for trekking either to Machu Picchu or in and around Cusco and Ollantaytambo in particular.
A few years after completing the Inca Trail I returned to Peru with the aim of doing some more trekking, and I eventually chose to do two of the "alternative" treks to Machu Picchu: the Lares Trek and the Salkantay Trek. I was successful in finding very good alternative options to the Inca Trail, so I want to share my findings with you here.
More solitary treks to try
Both the Lares and the Salkantay treks start in Cusco, which is the best place in the area to get a good hotel (and a good nights sleep!) ahead of a hard trek at altitude. I did the Lares trek first and immediately realised that this was exactly what was missing from my Inca Trail experience – there was only a small group of us doing the trek (around 8, including guide and porter) and we hardly saw any other people for the whole of the trip! The route took us through rolling valleys and slowly increased in altitude towards some frightening mountain peaks in the distance.
The first night was the best, as the trek stops near an traditional village, so if you want you can head into the village to see a real Andean indigenous community, meet them, try and talk to them, and learn a little about where they live, what they farm, what they wear – I found the whole experience empowering and felt very privileged to have met these wonderful people. The hardest part of the trek was trying to get a good nights sleep, as the campsites on both the first and second nights were at altitude (around 3800 – 4000m), but the views made up for the lack of sleep.
The Salkantay Trek is a little longer, with 4 full days of trekking against 3 days for the Lares option, and, although longer, I actually found this trek a little easier and more enjoyable. With the exception of the first night of camping, which is at a high altitude of around 3800m, the remaining nights were all lower altitude so I found it easier to sleep which made the trekking experience a whole load more enjoyable. The best thing about the Salkantay trek is the outstanding views along the route – this trek heads deeper into the Vilcabamba mountain range and has some stunning views of snow-capped mountains stretching into the sky over 6000m high (including the famous Mount Salkantay). Although we didn't get the opportunity to stop at a village for some time and meet people, as I had done on the Lares trek, this route does pass many farming communities and indigenous people so offers opportunities to see how traditional people still live and work in this challenging environment. Probably the best thing about the trip was also being able to visit the Inca ruin of Llactapata on day 4, which I stunning both from afar and close-up.
Although there is only one official "Inca Trail", what I discovered through my love of Peru is that there are more options available. If you want to tick the "Inca Trail" off your travel check-list, then clearly you will need to do the official trek (so make sure when you book that you are on the Camino Inca – as some Peruvian trekking agencies have been known to mislead tourists with alternative treks), but if you only want to experience trekking in Peru but aren't bothered about the route and want to visit Machu Picchu but don't care about the official trek, then one of these options is a good idea as it will give you more of an education on the traditional way of life in this part of the world, has similar or arguably better scenery, and will avoid the crowds of people that start the Inca Trail every day.
Next on my list of treks…? The trek to Choquequirao, the Inca ruin that some people think rivals Machu Picchu – I can't wait!
My thanks for this guest article to Jonathan who works for the travel company Go Andes. Jonathan has travelled extensively, and lived and travelled throughout most of Peru in 2008 and 2009. Since returning back to normality Jonathan likes nothing more than a bowl of ceviche and a bottle of Peruvian beer to remind him of his travelling days!
More trekking tales
How to choose the perfect hiking boots for the Tour de Mont Blanc (and other mountain trails)
My teenage daughter's trek in Nepal
South America Backpacking with Indie Travel Podcast
This article is originally published at Heatheronhertravels.com – Read the original article here

You'll also find our sister blog with tips on how to build a successful travel blog at My Blogging Journey
 Don't miss out – subscribe to Heather on her travels
July 24, 2010 by Heather Cowper
Filed under World, Leisure, Podcasts, Argentina, Brazil, Chile, Nature, Peru, Sightseeing, South America, Uruguay
In Podcast 11 in my travel podcast series, I talk to Craig and Linda from Indie Travel Podcast about their 4 months travelling with friends in South America, visiting Chile, Peru, Bolivia, Argentina and Uruguay. They pick out the highlights of their trip, and give some advice on travelling by bus, how to avoid scams and pickpockets and how they enjoyed staying with locals on this trip.
Podcast: Play in new window | Download
To subscribe to all my podcasts in ITunes click here
If you enjoyed this podcast, check out all my other Travel Podcasts in my Podcast Archive
Chile
Craig and Linda flew into Santiago because of the cheap flights from Auckland in New Zealand. The city is surrounded by mountains and can be bathed in smog although Craig & Linda enjoyed their time there with museums and great street food.
Patagonia in southern Chile has amazing scenery although Craig & Linda didn't visit, as it is one of the most expensive regions to visit in South America and they didn't have enough time.
The island of Chiloé is a great place to relax and slow down, with a Pacific Island feel with food being cooked in underground ovens, and a place you can spot seals and dolphins.
In northern Chile, the area around San Pedro de Atacama is beautiful although the town itself is a tourist trap. You can use San Pedro de Atacama as a base for trips into the surrounding area but as an alternative you can approach from the north from Uyunay in Bolivia. This region is known for its natural beauty with mountains and salt flats.
Craig and Linda enjoyed an astronomy tour with a Frenchman who has set up telescopes in his house to view the very clear night skies in this area that has very little light pollution.
Linda and a friend spent a weekend in Valparaiso in Chile with plenty of street art, funiculars and brightly coloured houses where the local government had commissioned open air murals around the town. They also visited Viña del Mar, the coastal resort of the region.
Unfortunately, Chile is one of the most expensive countries in South America for food and accommodation, along with Uruguay and Argentina.
Peru
Craig and Linda travelled by overnight bus from Santiago to Antofagasta and up to Lima and spent 7 weeks in Peru, 3 of which were in Cusco where they attended a local language school to learn Spanish.
Cusco is not representative of Peru as a whole as it is very touristy, being the main jumping off point for trips to Machu Picchu. We discuss the pros and cons of visiting Machu Pichu which is a major site but also expensive and crowded by comparison to other sites that receive far less visitors.
From Cusco they enjoyed a trek through the Sacred Valley, visiting local villages that were well off the tourist trail.
Craig and Linda didn't visit Machu Picchu preferring to spend time at some other lesser known pre-Incan sites near Trujillo such as Huaca del Sol and Huaca de la Luna.
They especially enjoyed their time in the northern cities of Trujillo, Chachapoyas and Chiclayo and wish that they'd spent more time there than in Cusco.
Bolivia
From Peru Craig and Linda travelled to the shores of Lake Titicaca, stayed at Cococabana and did some walking on Isla de Sol, a large island in the lake.
They visited the Uros floating islands made from reeds that were constructed as a refuge for the local people but have now become a major draw for tourists and brought more prosperity for the locals.
They had mixed feelings about La Paz which Linda loved as they stayed with locals and she enjoyed the street-food. Craig found the city dirty and felt unsafe as they were targeted with 3 pick-pocket attempts while they were there.
From Uyuni in Bolivia Craig and Linda visited the salt flats for a 3 day 4 wheel drive tour staying in a salt hotel and ending at San Pedro de Atacama. They loved the amazing play with perspective, coral islands covered with cactus and the heat haze with the mountains in the distance.
Argentina and Uruguay
Craig and Linda visited the Iguazu falls from both the Argentinian side which they found more developed but also more crowded and from the Brazilian side which had less visitors. The car to take them to the falls was arranged through their hostel and was only a little more expensive and more convenient than taking public transport.
From Puerto Iguazu they took the bus to Montevideo in Uruguay where they stayed with a friend who took them to his grandmother's Lake House. This was close to the popular beach and surfing resort of Punte del Este which was reputed to have the best surfing on Uruguay's east coast.
They also enjoyed Montevideo which was a relaxing place with plenty of culture and galleries, a contrast to the buzzing atmosphere of Buenos Aries. They also spent some time in in the town of Colonia in Uruguay.
In Argentina Craig and Linda did some wine tasting in the Mendoza and la Plata regions but found it difficult to take part in the wine tasting unless you were part of a tour as the wineries would only open their cheapest wines to try.
Tips for travelling by bus in South America
As they were travelling on a budget, Craig & Linda used long distance buses to get around, normally travelling overnight, despite the fact that Linda finds it difficult to sleep on buses.
The standard of the buses were best in Chile and Argentina and in Peru there was also a wide range of standards with some very high quality buses.
At best these buses can be similar in style to air travel with comfortable, reclining seats, airline style meals and drinks and even sometimes on board wifi.
Depending on the bus, you can book semi-cama seats that recline 45-60 degrees, Cama with 160 degree reclining, and even full cama that lie flat.
Craig and Linda suggest that you research your options and book with an bus operator that has a good reputation, even if it costs a little more.
Always keep your valuables with you on the bus and keep hold of any day-packs , especially when sleeping.
You may like a seat at the front of the bus that has more leg-room and you should also check the position of the toilet before selecting a seat to avoid unwelcome smells.
Couchurfingand meeting locals
On this trip Craig and Linda enjoyed staying with locals through Couchsurfing.org – even though their options were more limited as they were travelling in a group.
They combined this with staying in hostels which also gave them a break from speaking Spanish and an opportunity to catch up on the work for their Indie Travel Podcast site, as they also earn a living through the website.
If you enjoyed this travel podcast please check out my other podcasts in my Travel Podcast Archive
Other Indie Travel Podcasts on South America
147 How to catch a bus in Chile and Peru
154 South American travel: Peru and Bolivia
155 – South American Travel: Chile, Argenina and Uruguay
Photo Credits: All photos by Craig and Linda and can be seen on their Mars-Hill Flickr site
More South American stories to enjoy
Relax and enjoy the cool lifestyle of Bahia in Brazil
Historic cities, natural beauty and a warm welcome in Colombia
03 Ecuador and the Amazon Rainforest – Podcast Episode 3
This article is originally published at Heatheronhertravels.com – Read more travel articles at Travel Blog Home
Don't miss out – subscribe to Heather on her travels