"It's a bit like Bristol really, you're either clinging on by your fingertips or looking out to a bright future!" Well, perhaps Banky's Bristol mural, The Well Hung Lover, is a metaphor for life in the city, as suggested by our street art guide Tina Altwegg of Where the Wall street art tours. Apparently Bristolians approach them all the time during their tours, and this was just one interpretation of the Banksy piece, given to them by a passer by on a previous tour. Our street art tour started and ended with a Banksy, but as we discovered there's a lot more to the Bristol street art scene than the city's most famous and mysteriously anonymous street artist.
As we walked down the steps to view the Banksy mural from below, Tina fed us annecdotes about the art and artists we were passing. This Banksy was created at a time when Bristol City Council was whitewashing street art as fast as it could be created, but since it was painted in a very visible but inaccessible position, on the side of a building owned by a friend of Banksy, no-one could touch it. That didn't stop it being targetted by taggers launching blue paintball splodges which have only partially been removed. Perhaps the theme of betrayal was inpired by the bust-up Banksy had with his manager, or perhaps it's a reference to the sexual health clinic that once occupied this building.
A little further we came across one of my favourite pieces of the tour by JPS – two cute children doing The Big Deal. The artist from Weston Super Mare uses stencils in a way that is reminiscent and even inspired by Banksy. The Queens Shilling, an LGBT nightclub it's next to, liked it so much that they asked him to create another piece just around the corner.
This Spartacus mural by JPS is a tribute to the actor Andy Whitfield who was in the TV series but died of cancer. Apparently it's a favourite photo spot for hen parties – can't think why!
We moved across the centre to the Radisson Hotel Blu Hotel, not the most obvious location for street art – but here was a piece by Cheo that recreates the local Aardman characters of Wallace and Gromit as cool dudes from the hood. The first mural was created when the Shaun the sheep statues were scattered around Bristol but it became such a talking point that the hotel asked Cheo back to create its partner.
In Corn Street Tina pointed out the The Hatter Cafe who had commissioned a piece by Nick Walker using his familiar character in a bowler hat which we spotted again later along Nelson Street. There are an increasing number of businesses around Bristol that tap into the talent of Bristol street artists – you can stay in a room at the Mercure Holland House inspired by Bristol Street art or sip your cocktail on the Urban Roof Terrace of the Marriott City Hotel.
Turning off Corn Street through Leonard's Lane was a revelation, with the murals visible at the entrance of this dark passage only hinting at the menagerie of creatures and stencil, mosaic and 3D pieces to be found by those venturing down the alley. Take a look at my photo album for a taste of some of them.
We emerged blinking into the daylight from the passage, at the old old city walls with the spire of St John in the wall above us and the unicorns and lions from the city's coat of arms decorating the old stone archway – for unicorn chasers there's also one inside the church.
Now we were on Nelson Street, one of the key street art areas of Bristol. Most of the uninspiring concrete buildings were painted with huge murals as part of the See No Evil Street Art Festival in 2011 and 2012. Look up to find the Madonna-like piece by El Mac based on his girlfriend and baby, using a shading technique created by chilling down the aerosol paints in a bucket of ice. Next to it Nick Walker's bowler hatted man is painting the town red. A little further up the road, the wolf by Aryz and stick figure by the artist of the same name Stik brighted up the most unremarkable towerblocks. Nelson Street is now under development with a large building site, so some of the smaller pieces from the festival have been lost, but it's still well worth visiting for the larger murals that remain. The festival was a predecessor of the Upfest festival that now takes place in South Bristol, hosting 300 street artists and 30,000 visitors last July.
As Tina tells us the story behind each piece, I sense a theme emerging. Some of the artists like Stik and JPS had been depressed or homeless and found a way forward through street-art. Others have been honing their artistic talent in Bristol for many years, since John Nation, now a tour guide for Where the Wall, started a street art project at the Barton Hill Youth Club. Artists like Nick Walker and Cheo started painting there before Banksy and, as Rob Dean, the founder of Where the Wall explained, if they have now found success, it's not before time.
"The artists are now getting recognition for what they are doing rather than lurking in the shadows, which is fantastic – the people who have been doing it for 20 years need to become household names. It's not so much commercialism as the recognition that they deserve for the hours they have put in."
The Street Art tours are becoming increasingly popular with school groups, both in Bristol and from abroad and Tina runs the tours in French and German when required. Sometimes the tour is combined with a creative spray session at the end, so that the kids can give it a try for themselves. Art teachers find that it's a great way of getting teenagers excited by the medium – perhaps inspiring the next generation of street artists.
We move on towards Broadmead past the old police station, now a youth centre and gallery with all sorts of artistic stuff going on. As Tina  points out, there's an irony in the place where they took arrested  graffiti artists now being a hub of creativity. On the grimy stonework there's some 'Clean' or reverse graffiti by Moose, created with sturdy stencils and a jet wash.
Heading through the underpass of the Bearpit, we see panels where artists can create murals in an ever changing gallery. This is the starting point for Stokes Croft, the road leading from the city centre which is seemingly one long street-art gallery. Businesses along here regularly commission work from the top street artists, like the Man in the Moon piece by Cheba that we see on the wall of the Full Moon pub and backpacker's hostel. Tagging and spray-can graffiti is common, but the more respected artists or commissioned pieces stay free of it for a little longer.
We meander through the back alleys parallel to Stokes Croft, as Tina points out some of the more unusual pieces like a paste up piece at kerb level. It's literally a painting pasted to a wall so it might stay anything from 1 day to 6 months before it's torn off.  At the top of Stokes Croft is the Carriage Works, an old shell of a building where the panels between the arches are a popular canvas for street artists.
Bristol is so well known for street art that many of the top international artists come here to create a piece over a weekend, to make sure they have Bristol on their creative CV. However, even the best pieces may only last a few days before they are painted over by someone else –  only remembered on Facebook or Instagram.
Now our tour is nearly at an end as we meet up with Where the Wall founder, Rob Dean who tells us of his plans for the future. The company has recently started a Banksy tour which is proving a hit, even though there are only a few pieces by the artist remaining throughout Bristol. It complements the main street art tour we've just done and is an opportunity to give visitors a bit more context about the history of the city. Rob tells us, "I see the street art tours as a great way to go straight into the middle of the creative contemporary culture of Bristol, without having to spend days finding it, or missing it completely."
The tour company also tries to help local street artists get more benefit from their work, by ensuring it is correctly attributed and that their intellectual property rights are not trampled upon. Last year Where the Wall worked with a calendar company on a project that saw a number of local artists being paid to create murals in the Cabots Circus Shopping Centre, which were then photographed for a Bristol street art calendar.
We discover that our guide Tina Altwegg is also an illustrator and artist, as she shows us her Dancing Polar Bear mural in the underground cycle park of Hamilton House, where she has her artist's studio. She tells us how she wanted to imagine the polar bears dancing and having fun as a counterpoint to all the depressing news about climate change.
After a coffee in The Canteen, we check out a couple more pieces on the walls of the neighbouring buildings. The break-dancing Jesus is an iconic mural that's become well known in Bristol and was created by artist Cosmo Sarson following a competition to decide who would paint this very visible space on Stokes Croft. It was inspired by a news story the artist had seen about Pope John Paul II inviting a group of Polish break dancers to perform for him in the Vatican.
On the opposite wall we finish as we started with a Banksy, one of his earliest surviving pieces in Bristol – The Mild Mild West. This one was created in 1999 before the artist moved into a more detailed style using stencils and stopped signing his work. Because it's a simple black and white piece, painted by hand, it's been easy to touch up every time someone tries to tag it or send a few paintballs in its direction. Since the mural was painted there have been protests and riots in this part of Bristol so it seems to always have a relevancy in the theme. We Bristolians may be cuddly and easy going but there's an undercurrent of anti-establishment feeling here too.
Take the Where the Wall tour and as Rob says, even if you're here for just a day, you'll get straight to the heart of contemporary culture in Bristol and enjoy some great street art from Banksy and many, many more.
Where the Wall Street Art Tours cost £9.20 and there are 3 tours – The Bristol Street Art Tours, The Banksy and Harbourside walking tour and the Bedminster Street Art Tour.

Website – Wherethewall.com Twitter – @Wherethewall | Facebook | Instagram | YouTube
Thanks to Where the Wall for providing me with a free tour as part of a Bristol Bloggers and Influencers Event.
More Art in Bristol
Inspired by Bristol Artists at the Affordable Art Fair
Stokes Croft – a hidden gem of Street-Art Cool in Bristol
Is Bristol the Street-art capital of the World?
What the other bloggers said
Travel to Recovery – Bristol Street Art Tour
New Mum Online – The Street Art Where the Wall Tour and Colour that Inspired Aeron
Natacha the Franglais – And if we talked about Street Art
Looking for somewhere to stay in Bristol?
Here are some of the Hotels in Bristol that we recommend, which are close to the neighbourhoods that have street-art.
Budget Accommodation in Bristol: YHA
In the harbourside area, the YHA is in an old waterfront grain warehouse with 133 beds in a range of dorm and private rooms, some of which are en suite.
Boutique Guest House in Bristol: Brooks Guest House
Tucked away in a courtyard in the heart of the old city, with 23 stylish and compact bedrooms and retro rocket caravans on the roof which you can stay in.
Luxury Hotel in Bristol: Hotel du Vin
Set in an 18th century sugar warehouse with exposed brickwork and 40 loft style bedrooms, leather sofas in the sugar bar and a French Bistro style restaurant.
Pin It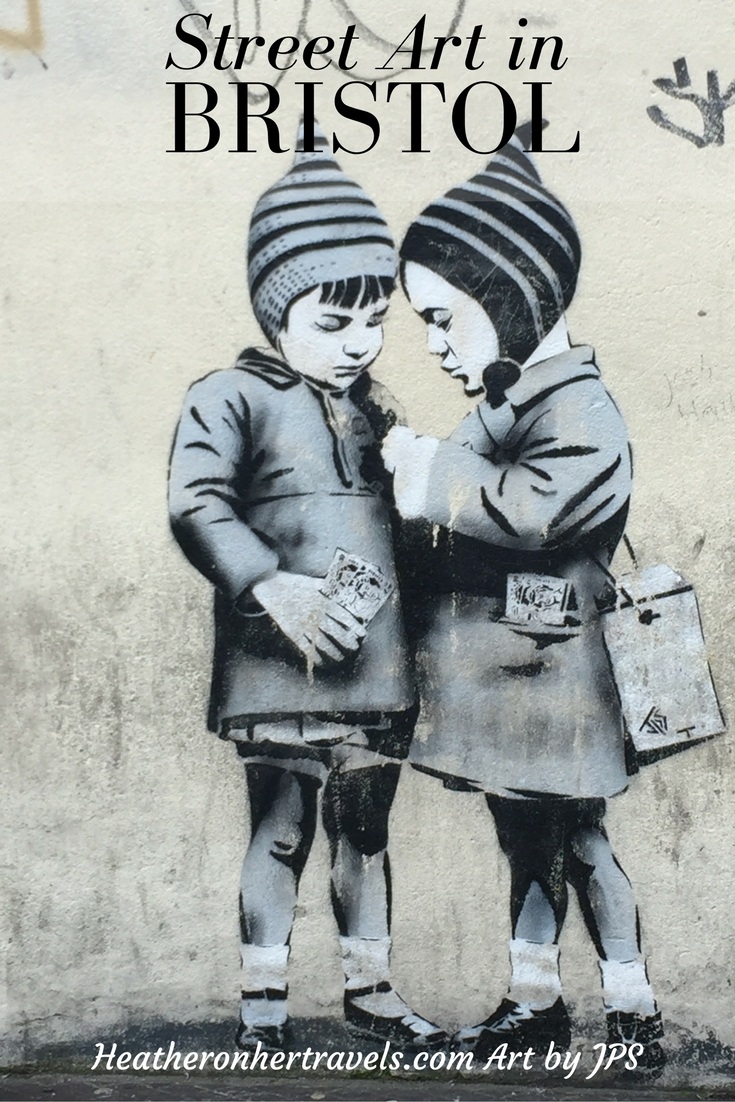 This article is originally published at Heatheronhertravels.com – Read the original article here
You'll also find our sister blog with tips on how to build a successful travel blog at My Blogging Journey
Stokes Croft is a bit of a rough diamond in Bristol, a neighbourhood full of street-art, that leads up from the shopping heart of Bristol and has shabby edges but a creative heart. This part of Bristol was my choice when I was asked to suggest a 'Hidden Gem' by LookInsuranceService for their Hidden Gems Map. Stokes Croft is one of the best street-art heartlands of Bristol (and the others aren't far away) where you can still see a Banksy mural above the Canteen cafe. With live music every night there are plenty of cafes to hang out at and be sure to stop at the PRSC (People's Republic of Stokes Croft Gallery) where they can tell you about all the street art happenings in the area.
Walk up from the bottom (perhaps you'll also have time to explore the Bearpit where there are also plenty of murals) and you won't have to look far to find great street art around every corner, up every side street and decorating many of the shop-fronts. The area has fought hard to keep its independent character and you'll see the murals protesting against the local Tesco store, seen as a sign of the creeping, faceless commercialism which the locals want to avoid. You'll be spoiled here for inexpensive places to eat, hang out and make use of the free wifi. Don't be put off by some of the locals who look a bit down and out – I walk up and down here to work every day and I've never had any problem.
If you make it up as far as Jamaica Street, take a look down the side street at the painted hoardings which change all the time and pop into the PRSC gallery where they sell artworks, postcards and other locally made souvenirs, some from the Jamaica Street Studios next door – look out for their Open Studios event in June if you like an ecclectic mix of art.
If you want to learn more about the street art culture of Stokes Croft and Bristol, it's worth taking a walking tour with Where the Wall every Saturday, who will tell you all the tales from the neighbourhood. Not far off is Nelson Street which for the last two years has been repainted by international street-artists in the See No Evil festival and there's also the Upfest Urban Art Festival on North Street in Bedminster, south of the river.
Where to eat on Stokes Croft
You won't be going hungry on Stokes Croft with many inexpensive cafes, and more springing up all the time. Here are my recommendations;
The Canteen takes up the ground floor of an old office building, Hamilton House that's now an arts and business centre. This cafe is always crowded, with live music every night and food that's cheap and wholesome (a free mug of soup with every meal!)
Pieminster – The premier pie company of Bristol with a lunchtime stall in St Nicholas market too – love the Chicken of Aragon (Chicken, bacon and tarragon) but the more traditional among you might go for the Kate and Sidney (Steak, kidney and ale).
Cafe Kino – A spacious, airy cafe where you can sit in the window and watch the world go by. The food is vegan, local and organic and they hold musical and arts events downstairs.
Poco – On the corner of Jamaica street, they specialise in tapas style dishes with an inspired mix of world flavours. Being Stokes Croft of course it's locally sourced, organic and sustainable with a target of zero waste.
Patisserie Leila – This patisserie and coffee shop makes an elegant change and I always drool over the cakes in the window and sometimes treat myself to a few macarons on the way home.
If you'd like to find some other hidden gems around the UK, take a look at the Guide to Britain's Hidden Gems from Look Insurance Services and add a hidden gem from around your neighbourhood.
More Street Art in Bristol
Is Bristol the Street Art Capital of the world?
The Banksy Exhibition in Bristol
Graffiti Tourism in Bristol
This article by Heather Cowper is originally published at Heatheronhertravels.com – Read the original article here
You'll also find our sister blog with tips on how to build a successful travel blog at My Blogging Journey
Bristol is my home town so forgive me if I'm biased, but if you're a connoisseur of street-art, you'll find rich pickings in Bristol. Bombed in the war, Bristol has its fair share of gritty urban architecture, some unremarkable grey office blocks just waiting to be brightened up and some down at heel neighbourhoods that are happy hunting grounds for street art. I walk around these places every day on my way to work so let me take you on a personal tour of the street-art of Bristol.
Bristol's Banksy Heritage
It's practically impossible to mention street art in Bristol without Banksy coming up in conversation. It's a good few years since Banksy and his Bristol street art contemporaries were out and about in Bristol putting up murals which the Bristol City Council was just as quick to clean up and paint over . These days a council lucky enough to find a Banksy popping up on its streets is more likely to cover it over with Plexiglass to avoid anyone vandalising it. In 2009 Bristol's favourite street artist held a free Banksy art exhibition in the Bristol City Museum and the queues to get in snaked around the block, as fans flew in from all over the world, to take the rare opportunity of seeing fresh work from Banksy. These days there aren't too many Banksy murals left in Bristol, so take the opportunity while you can to see an early Banksy – The Mild Mild West above The Canteen in Hamilton House on Stokes Croft (always crowded for the affordable food and live music). There's also the naked man hanging from the window towards the bottom of Park Street, but the Police Marksman on Park Row has unfortunately been painted over with a mural of the Queen.
The Nelson Street project – See No evil
Once you've sought out the naked man on Park Street, then it's a short walk from there down the hill to Nelson Street where the latest street-art project has been intent on brightening a dull back street in the Bristol city centre, filled with 1960s concrete buildings. In August 2011 top street artists from around the world converged on Nelson Street and over a weekend it was transformed into a colourful outdoor art gallery. I highly recommend a walk along Nelson Street with your camera, taking the time to look up and down, climb steps and walkways to see the artwork in all directions. Watch the See no Evil video here.
The See No Evil project will continue in August 2012 when a similar weekend event of street art and music is planned – for more information, visit the See No Evil website. It says a lot about how far Bristol Street Art has come that the project now has funding from the Art's Council.
Stokes Croft – Bristol's street art heartland
Stokes Croft is the neighbourhood that I walk through on my way to work everyday and is the heartland of Bristol's street-art scene. If you walk up from the roundabout near Cabot Circus and Debenhams, keep your eyes peeled to look down side streets and up above the shop fronts to see street art that is often themed for the shop or music venue it is decorating. This is an area that is somewhat down at heel and you may see the residents of various nearby homeless projects congregating in doorways with a can of Special Brew in hand although they're all pretty harmless. In the last year or two the community has been at odds with the Bristol City Council in their efforts to keep the area full of individual artists and businesses rather than being homogenised with mainstream shops and offices. It seems to have worked and there are a number of great, inexpensive cafes on Stokes Croft as well as a few design shops springing up.
The art on Stokes Croft is ever changing depending on what builder's hoardings are up but I recommend that you walk up at least as far as Jamaica Street where you'll see ahead of you the Jamaica Street Artist's Collective, which has an open day each summer that is well worth visiting. Turn left here and you'll find a small shop gallery of the PRSC or People's Republic of Stokes Croft. This group co-ordinates much of the street-art and other cultural events on Stokes Croft and you can find art, postcards and souvenirs on sale in the shop, and perhaps have a chat about latest street-art projects in the area.
The Bear-Pit – Bristol's latest street-art project
At the city end of Stokes Croft under that big roundabout is an underpass called the Bearpit that is also being targeted for a bit of street-art regeneration. Previously a grey tarmac area, where you might pass through but not want to linger, the area is now being brightened up with street art and food vendors are moving in to make it a more social space in the city centre. Walk through and you'll see murals in all the passageways as well as a shop near the bus station selling all the supplies that a budding street-artist could need.
Now the tide has turned and street-art in Bristol seems to be part of the regeneration agenda for the city, look out for more street-art happenings here, and come visit Bristol yourself to take a look at some of the best street-art in the world.
More things to see in Bristol
Jamaica Street Studios in Bristol
Graffiti Tourism in Bristol – Stokes Croft
Free and Fun in Bristol – 20 things that won't cost you a penny
This article is originally published at Heatheronhertravels.com – Read more travel articles at Travel Blog Home
You'll also find our sister blog with tips on how to build a successful travel blog at My Blogging Journey
Don't miss out – subscribe to Heather on her travels