Bristol is my home town so forgive me if I'm biased, but if you're a connoisseur of street-art, you'll find rich pickings in Bristol. Bombed in the war, Bristol has its fair share of gritty urban architecture, some unremarkable grey office blocks just waiting to be brightened up and some down at heel neighbourhoods that are happy hunting grounds for street art. I walk around these places every day on my way to work so let me take you on a personal tour of the street-art of Bristol.
Bristol's Banksy Heritage
It's practically impossible to mention street art in Bristol without Banksy coming up in conversation. It's a good few years since Banksy and his Bristol street art contemporaries were out and about in Bristol putting up murals which the Bristol City Council was just as quick to clean up and paint over . These days a council lucky enough to find a Banksy popping up on its streets is more likely to cover it over with Plexiglass to avoid anyone vandalising it. In 2009 Bristol's favourite street artist held a free Banksy art exhibition in the Bristol City Museum and the queues to get in snaked around the block, as fans flew in from all over the world, to take the rare opportunity of seeing fresh work from Banksy. These days there aren't too many Banksy murals left in Bristol, so take the opportunity while you can to see an early Banksy – The Mild Mild West above The Canteen in Hamilton House on Stokes Croft (always crowded for the affordable food and live music). There's also the naked man hanging from the window towards the bottom of Park Street, but the Police Marksman on Park Row has unfortunately been painted over with a mural of the Queen.
The Nelson Street project – See No evil
Once you've sought out the naked man on Park Street, then it's a short walk from there down the hill to Nelson Street where the latest street-art project has been intent on brightening a dull back street in the Bristol city centre, filled with 1960s concrete buildings. In August 2011 top street artists from around the world converged on Nelson Street and over a weekend it was transformed into a colourful outdoor art gallery. I highly recommend a walk along Nelson Street with your camera, taking the time to look up and down, climb steps and walkways to see the artwork in all directions. Watch the See no Evil video here.
The See No Evil project will continue in August 2012 when a similar weekend event of street art and music is planned – for more information, visit the See No Evil website. It says a lot about how far Bristol Street Art has come that the project now has funding from the Art's Council.
Stokes Croft – Bristol's street art heartland
Stokes Croft is the neighbourhood that I walk through on my way to work everyday and is the heartland of Bristol's street-art scene. If you walk up from the roundabout near Cabot Circus and Debenhams, keep your eyes peeled to look down side streets and up above the shop fronts to see street art that is often themed for the shop or music venue it is decorating. This is an area that is somewhat down at heel and you may see the residents of various nearby homeless projects congregating in doorways with a can of Special Brew in hand although they're all pretty harmless. In the last year or two the community has been at odds with the Bristol City Council in their efforts to keep the area full of individual artists and businesses rather than being homogenised with mainstream shops and offices. It seems to have worked and there are a number of great, inexpensive cafes on Stokes Croft as well as a few design shops springing up.
The art on Stokes Croft is ever changing depending on what builder's hoardings are up but I recommend that you walk up at least as far as Jamaica Street where you'll see ahead of you the Jamaica Street Artist's Collective, which has an open day each summer that is well worth visiting. Turn left here and you'll find a small shop gallery of the PRSC or People's Republic of Stokes Croft. This group co-ordinates much of the street-art and other cultural events on Stokes Croft and you can find art, postcards and souvenirs on sale in the shop, and perhaps have a chat about latest street-art projects in the area.
The Bear-Pit – Bristol's latest street-art project
At the city end of Stokes Croft under that big roundabout is an underpass called the Bearpit that is also being targeted for a bit of street-art regeneration. Previously a grey tarmac area, where you might pass through but not want to linger, the area is now being brightened up with street art and food vendors are moving in to make it a more social space in the city centre. Walk through and you'll see murals in all the passageways as well as a shop near the bus station selling all the supplies that a budding street-artist could need.
Now the tide has turned and street-art in Bristol seems to be part of the regeneration agenda for the city, look out for more street-art happenings here, and come visit Bristol yourself to take a look at some of the best street-art in the world.
More things to see in Bristol
Jamaica Street Studios in Bristol
Graffiti Tourism in Bristol – Stokes Croft
Free and Fun in Bristol – 20 things that won't cost you a penny
This article is originally published at Heatheronhertravels.com – Read more travel articles at Travel Blog Home
You'll also find our sister blog with tips on how to build a successful travel blog at My Blogging Journey
Don't miss out – subscribe to Heather on her travels
Brighton has long been the haunt of Londoners who are in need of respite from the Big Smoke. Graham Greene wrote about it in his famous novel Brighton Rock– an interesting insight into what it was like in a time when people went down in their Sunday best clothes and strolled along the promenade in a quintessentially English way.
It has always had an eccentric air about it. Just a look at the Brighton Pavilion attests to this. The Pavilion was built for Prince Regent between 1787 and 1823 so that he could entertain his mistress there. It was designed in a skewed Indian architectural style, the British having liked the architecture in India and attempted to copy it themselves. The result is almost comic, particularly in a classic British seaside resort.
For sometime Brighton has been known as Britain's gay capital too. There's a good gay bar scene. Near to the station, behind (perhaps appropriately) a PVC cover, there's Banksy's portrait of two male policemen kissing, quite a nice nod to the community.
Brighton has what you want from a British seaside resort mixed with good pubs, restaurants and shopping. Along the seafront, there are a few fish and chip places including one that serves crab soup, which you will smell long before you see it.  However, the places along the seafront are more expensive than great well-known locations such as Bardsley's on Baker Street.
The old Brighton pier – West Pier – stands, a charcoal husk just out to sea. It was opened in 1866. Maintenance costs led to degradation, which in turn resulted in the pier being cut off from the shore for safety. Storms after that led to parts of it falling into the sea and a couple of fires after that left it as what you see it today.
There are a couple of decorative iron pieces from the old pier in the Brighton Fishing Museum on the seafront. The pier visitors go to today is to the left of the old one. It has amusement arcades with slot machines and toy grabbing games, a helter skelter, ghost train and a couple of other rides as well as a tarot reader who works from a gypsy caravan on the pier.
The city of Brighton and Hove is known for its cultural and arts scene and there are some cute galleries on the seafront as well as inland. There are also a few market stalls dotted about when the weather suits.
There is (contrary to popular belief) a great train service between London and Brighton. So while cheap car hire would be one way to get there if coming from London, you don't really need it unless you're sticking around for a while. Buses here are expensive enough that you might as well.
If travelling in from another part of the UK, trains are still recommended – as long as you book far enough in advance. The UK has the cheapest advance train fares in Europe but the last minute fares are among the most expensive.
This post was brought to you by CarHireMarket.com  and written by Liz Vega who writes mostly about Britain and loves the seaside.
More things to do around England
Ships and Shopping at Portsmouth Historic Dockyard
A walk around the harbourside in Bristol – Video
Hunting the Ash-black slug on Dartmoor – in Devon
Photo Credits: Brighton Pavilion by Fenners1984, Banksy's kissing policemen by simonbooth, Seaside resort food by drchrispinnock,  and Brighton pier by EEPaul.
This article is originally published at Heatheronhertravels.com – Read more travel articles at Travel Blog Home
You'll also find our sister blog with tips on how to build a successful travel blog at My Blogging Journey
Don't miss out – subscribe to Heather on her travels
I wrote this week about the Banksy exhibition that was held in Bristol over the summer with fans coming from far and wide to see the work of the illusive Bristol-born street artist who's made the big time.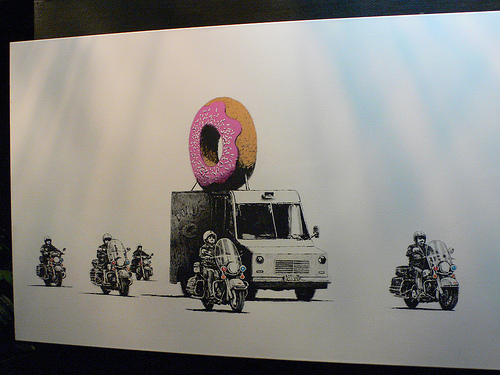 This photo is one of the pictures from the exhibition that stuck in my mind although I thought it was just a kitchy bit of fun. But today I had one of those Eureka moments and got the joke (at least I think I did but maybe it's about something completely different!)
If I say 'Ich bin ein Berliner' would you get it too? Or perhaps you got it immediately. Or perhaps you think it's about something completely different. What do you think?
Check for the best hotel prices in Bristol and book here.
This photo is posted as part of Photo Friday hosted at Delicious Baby - head over to see all the other Friday Photos

Read more travel articles at Travel Blog Home
Don't miss out – subscribe to Heather on her travels