September 15, 2014 by Guest Author
Filed under World, Accommodation, Leisure, Misc, featured, Cambodia, Guest post, Nature, Photography, Sightseeing, Walking
In this article our guest writers, Illia and Nastia share their tips for visiting Anghor in Cambodia – while it's a one of those must-see sites with a huge amount to cover in a day or two, we find out whether the heat and high prices were worth it.
Angkor, a UNESCO heritage site, is considered to be a photo paradise. Unbelievable sun rises, ancient ruins and wild rainforest combine to make this place unbearably attractive for any photographer. Of course, we weren't that lucky: while we enjoyed ancient ruins, it was raining, cloudy and gloomy. The temperature was either extremely high (in the middle of the day) or extremely low (early in the morning), so it was pretty hard to choose what to wear. Nevertheless, we managed to take a few of pictures and now want to share them with you.
When you depart early in the morning from Siam Reap, the nearest Cambodian town, it is 6 o'clock in the morning and the only thing you can think about is how much you want to sleep. The wind blows through an open tuk-tuk and it's freezing cold. The price of the entrance tickets – $40! – quickly wakes you up and here you are, awaken and ready to explore ancient Hindu-Buddhist temple complex. Ancient? Hmm, not really. In fact the majority of temples were constructed in the 12th-15th centuries. However, if Lara Croft considered it to be old enough to die for its treasures, we can assume that it's old enough to pay $40 entrance fee.
The Angkorian period began in AD 802, when self-confident Khmer monarch Jayavarman II decided that he was a "god-king" and "universal monarch" and lasted until the late 14th century, when Ayutthaya conquered "god's territories". Khmers didn't like it and organized a rebellion which resulted not in freedom, but in migration of population to Longvek.
The complex includes so many temples that it is physically impossible to visit all of them. Scientists believe that some of them are still hidden in jungles and are impossible to reach both for tourists and explorers. Many temples are built on moors, so it's hard to understand how Khmers managed to access them at all. We took a traditional two-circle tour (small + big circles) and were completely satisfied with the amount of ruins we saw.
Interestingly enough, these ruins were never used for living or praying in them, but were rather considered to be home for gods, accessible only for priests. The great-grandchildren of the architects and constructors believed that the temples were erected by gods. In 1850 Angkor was found by a French priest, owing to whom it became a popular destination for European tourists and researchers.
Nowadays there are so many tourists in Angkor that sometimes it's impossible to take a picture. The situation is worsened by numerous local sellers, trying to persuade you to buy totally unnecessary stuff. In addition to the crowds of tourists there are lots of orphans hanging around in Angkor. At first, it looks strange, but in fact there is nothing surprising about that: there are several orphanages in the temples' neighborhood. Orphans either beg for food and water, or collect plastic bottles, thrown away by tourists, to sell them to recycling companies. Even though the life style of these children is miserable, they don't look unhappy: we saw lots of them playing in the jungles and riding the vines.
To cut a long story short, the visit to Angkor can be described as follows:
Day 1 – Wow! Ancient ruins!!! I must see ALL of them!
Day 2 – Hm, that is interesting collection of stones, I think it differs a little bit from the previous temple.
Day 3 – I am fed up with heat and rocks! I want ice-cream and rest.
That's why we conclude that two days are enough.
In general, visit to Angkor was unusual and quite inspiring experience we highly recommend to everyone visiting South East Asia.
Practical information for visiting Angkor
How to get there: from Cambodian town Siam Reap you can take a tuk-tuk ($7) per day or a bike ($4). Take into consideration that Angkor is pretty big; walking might take too much time.
Cost: $40 for three days
Where to stay: Only in Siam Reap – our budget (but totally fine) hotel cost $6 per night for double room.
Where to eat: Only in Siam Reap. When going to Angkor, take food with you, since it is quite expensive to eat there.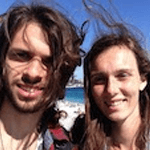 Many thanks for this article to Illia and Nastia who are passionate about each other, traveling around the world and sharing their experiences at crazzzytravel.com, a blog where you can find plenty of budget travel tips as well as practical information about numerous destinations. They have already been to 33 countries on 4 continents and ain't no stopping. Visit their Facebook or Google+ pages and follow them on Twitter.
For more things to see in Southeast Asia:
The highlights of Phnom Penh – Cambodia
Take your hobby on holiday – follow your interests in Vietnam
The Best Places to Snorkel in Thailand
Photo Credit: All photos by crazzzytravel.com
This article is originally published at Heatheronhertravels.com – Read the original article here
You'll also find our sister blog with tips on how to build a successful travel blog at My Blogging Journey
Far from the gleaming skyscrapers of modern Southeast Asian capitals such as Bangkok or Kuala Lumpur, Cambodia's capital Phnom Penh is a dusty and edgy yet somewhat enchanting city of crumbling colonial architecture, wide boulevards and chaotic markets.
It is gradually modernising, with a few contemporary skyscrapers appearing on the skyline and the popular riverside promenade (Sisowath Quay) now lined with lively cafés, juice bars, hostels, hotels and restaurants – many of them filled with backpackers and other travellers. Despite that, however, Phnom Penh still has an edge and atmosphere found in few other Southeast Asian capitals. Some elements of the city are quite charming, such as the ramshackle market stalls and historic temples, while others can prove to be quite the opposite: tiny children gathering recycling from bins to make a few Riel for their family, and amputee beggars vying for tourists' pockets.
While most visits to the city are trouble-free, always watch your pockets and bags as there is a great deal of poverty in Phnom Penh that gives rise to opportunist theft. At the same time, look after your health by following the usual travel health tips such as avoiding ice in drinks (unless it's from a trusted source) and always using a good mosquito repellent , particularly from dusk onwards, to protect yourself against malaria and dengue fever.
The main tourist sights of Phnom Penh
Dominating the city centre's sightseeing attractions is the 19th century Royal Palace, including the fabulous Palace Grounds, Silver Pagoda and Temple of the Emerald Buddha. It's open from 8am, and this is the best time to visit to avoid the heat. You'll need to wear something decent to cover legs and shoulders, or you can hire a sarong and large t-shirt for a small fee at the entrance.
Another central sight is the National Museum of Cambodia, which features an interesting collection of art from Cambodia's 'Golden Age' of Angkor, alongside statues of Hindu Gods, ancient inscribed tablets and prehistoric burial artefacts. At its centre there is a lovely courtyard with a statue of Yama, the Hindu god of death (or the 'Leper King') taken from the Terrace of the Leper King in Angkor Archaeological Park.
A must-see sight for anyone who wants to better understand Cambodia's horrific past during the Khmer Rouge's  four-year campaign of terror is the Tuol Sleng Genocide Museum. This school, which was converted into the country's most notorious prison ('S21') in 1975, housed more than 14,000 people who were tortured and then killed and buried at the Killing Fields just outside of the city. Only eight prisoners made it out of the prison alive.
You can hire a taxi or tuk-tuk for the 17km trip out of town to the tranquil yet moving Killing Fields of Choeung Ek. A glass-sided Buddhist stupa containing thousands of human skulls lies at the heart of the mass graves that were discovered in 1979.
Perhaps one of the city's most bizarre attractions, which commission-earning tuk-tuk drivers will be quick to tell you about and encourage you to visit, is the Thunder Ranch Shooting Range. Situated near the Killing Fields, it is said to be run by a unit of the Royal Cambodian Army, and for a relatively high fee you can try shooting pistols or machine guns at paper targets. Many tuk-tuk drivers will try to include it in a 'package' with the Killing Fields, but if you don't want to go there just make it clear that you're not interested.
And relax…
After a hard day's sightseeing, treat your aching limbs to a massage – there are plenty of spa places around the main tourist areas, prices are cheap, and the massage is generally very relaxing.
This post is brought to you by  Gap Year Travel Store – where you can find equipment for backpackers and independent travellers
Photo credits: Phnom Penh riverside by judithbluepool, Silver Pagoda by Kirk Siang, National Museum Garden by mookE, Tuol Sleng Genocide Museum by timmarec.
This article is originally published at Heatheronhertravels.com – Read more travel articles at Travel Blog Home
You'll also find our sister blog with tips on how to build a successful travel blog at My Blogging Journey
 Don't miss out – subscribe to Heather on her travels
The Passports with purpose travel blogger's fund-raiser completed just before Christmas raising a fantastic $26,000, which was double the original target.  The money will be going to build a school in rural Cambodia through the charity American Assistance for Cambodia and should be built by this summer. Not only has enough money been raised to fund the school building, but the additional funds raised will mean that your donations have also provided water filters, a kitchen garden, books for the library and a school nurse.
So now it's time to say some big thankyous to all those who contributed to this amazing effort, not least all of you out there who pledged donations in the Passports with purpose raffles for some amazing prizes, from camera equipment to holidays to hotel stays.
I'd like to thanks my sponsor, Flip UK who donated the Flip Ultra Video camera that I was able to offer as a prize. The Flip Video Camera was won by Rebecca Self of Xpat Adventures – hope you have fun making some cool videos Rebecca!
Thanks also to the sponsors of Passports with Purpose, supporting travellers with their services
Last but not least, thanks to Debbie Dubrow, Pam Mandel, Michelle Duffy and Beth Whitman, the bloggers behind Delicious Baby, Nerd's Eye View, WanderMom, and Wanderlust and Lipstick who worked so hard behind the scenes to organise Passports with Purpose.
Read more travel articles at Travel Blog Home
Don't miss out – subscribe to Heather on her travels