If you're visiting Bangalore (now known as Bengaluru), the chances are you're just passing through on business or flying into the city before moving on. This was exactly my purpose when I visited Bangalore in January on my way to visit a charity project that I support – you can read about it here. Despite the snatched half day of sightseeing and shopping at the beginning and end of my trip, I found quite a few places to visit in Bangalore if you only have one day to spend there.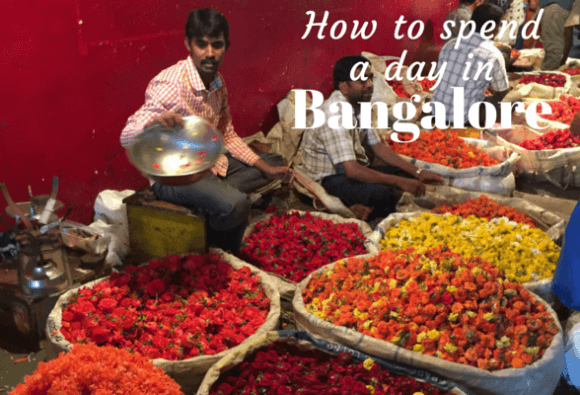 Hotels in Bangalore – Escape Hotel & Spa
For the first and last night of my stay in India I searched for a boutique style hotel that was moderately priced (it feels wrong to pay European prices in India), and everything pointed to Escape Hotel & Spa in the Indira Nagar district. Without realising it I managed to choose one of the most trendy neighbourhoods in Bengaluru with restaurants and bars that wouldn't be out of place in any major European city. This is a popular area for expats to live and where the young and affluent of Bengalore come to play after a hard day at the call centre or office.
My room on the 3rd floor of Escape Hotel was very spacious with stark modern decor of black, white and grey with a couple of red painted chairs for a spot of colour. Full marks for the oh-so-British set-up of a  kettle to make your morning cuppa and a safe that would actually fit my laptop.  My only complaint was the angular wooden base of the bed, which seems to be a feature of these designer hotels, but only served as a place to bang my shins.
Since garden space is at a premium in the city, the roof terrace of the hotel was a welcome feature, with indoor and outdoor seating for drinks, and the Bricklane Grill restaurant overlooking the narrow rooftop swimming pool. The restaurant style is continental European, vaguely French with distressed painted white-wood furniture and pretty daisies on the table. The food was a mixture of European and Anglo-Indian and was well-cooked and pleasant although nothing extraordinary.
The relaxed atmosphere was only slightly marred by the thumping club music from the DJ that they have every Friday and Saturday evening until late. I'd certainly recommend Escape Hotel as a great place to stay in Bangalore if you're looking for designer style at a resonable price. After a week in somewhat basic accommodation, I was thrilled to get back to it for a second night at the end of our time in India. For more ideas for hotels in Bangalore visit my hotel booking page where you can check for best prices and availability.
A night stroll around Indira Nagar
After dinner we took a stroll down some of the side streets around the hotel with interesting kiosk shops selling streetf ood. At one we watched rice flour dosas being made and sold wrapped in newspaper with dipping sauces in small plastic bags. Another kiosk sold Chinese style dumplings with a chilli dipping sauce, so we determined to go back the next day for lunch.
Just one block back from the main road, the atmosphere became much more local and residential with people chatting on the balconies or hanging around by the roadside. Although we didn't see any other western tourists, no-one looked at us curiously, since Bangalore is such a cosmopolitan city. The lack of tourists had another advantage in that there was not much hastle, hussle and begging in the areas we visited.
Some cool places to eat in Bangalore
Although a little research brought up plenty of trendy restaurants in Bangalore we decided to stay close to the hotel and had lunch at the Black Rabbit on the ground floor of the Escape Hotel. This was a younger version of the Bricklane Grill with great burgers, small plates and cocktails and a DJ installed in the evening. I enjoyed my papaya noodle salad and fresh pressed mango juice and we sat in the outdoor area which was enclosed from the street.
In the evening we tried a pan-Asian restaurant called The Fatty Bao which was close to the hotel and on the floors above Monkey Bar. Initially we were shown to the 4th floor which was fully enclosed and air conditioned but we wanted to feel the warmth of the night air so asked to be seated on the 5th floor terrace which is partly open, so you can eat almost al fresco.
At the Fatty Bao they serve small plates of Asian fusion food amidst greenery, fairy lights and slightly kitch surroundings. My plate of pork belly pieces was meltingly slow-cooked but crispy on top and the mango and papaya salad was like a coleslaw with fruity dressing. Our deserts like the ginger and fig cake with a dot of garnish were OK but didn't quite match up in deliciousness. We really enjoyed the ambiance and as usual the drinks bumped up the otherwise moderate bill to around 3500 rs (around £35) for two.
Shopping around Indira Nagar
We had planned to spend the first morning looking around the city but got sidetracked with shopping in the neighbourhood of Indira Nagar around the hotel. Close by was the Soma shop (100 Feet Rd) which sold hand printed textiles and I went a bit mad on buying sarongs, tablecloths and napkins for all my family. By the time I'd finished, a year's worth of birthday presents was taken care of.
We moved on to the FabIndia store (522 CMH Rd) which also sold many different Indian handicrafts – definitely the place to buy clothes and household goods. By the time got back to the hotel our morning was gone, so we had to save the sightseeing for the end of our trip.
Tipu Sultan Palace in Bangalore
Because we'd spent most of our first morning shopping we were determined to get back to the sightseeing in Bangalore. The Tipu Sultan palace is small but interesting enough and from our hotel we took a tuk tuk which cost around 130 rupees (£1.30). While on the topic of tuk tuks it's best to check with your hotel roughly how much a journey is likely to cost. There is a meter, but the driver will inevitably ignore you when you ask him to put it on, so it's a good idea to check the going rate in advance. The Indians are outraged at being cheated a rupee more than they have to, but of course we soft Europeans would rather not have the haggle over a few rupees that might make quite a difference to the driver's day.
Once we arrived at the Tipu Sultan palace we paid 100 rupees (£1) to get in and little extra for a camera licence. There were a few information signs but we decided to use the guide who approached us inside (it's a pay what you think it's worth system). By the end of his very detailed tour, we knew practically every fact and every date in the history of the place.
Upstairs we wandered through the faded grandeur of rooms painted in Mughal patterns and had our photos taken on the two different balconies. One faced the gardens from which the sultan hear pleas from his advisors, and on the other side he would conduct private business. A few of the ground floor rooms are open and have been made into a museum with information in English about Tipu Sultan. It was only at the end when I saw the small model of the famous mechanical tiger eating a soldier, that I made the connection with the life-size one in the V and A in London which growls and groans in turn.
Visiting the City Market in Bengaluru
We had been told that the City market was right opposite the Tipu Sultan Palace but 'right opposite' was clearly a relative term in India. We set off in what we hoped was the right direction and as clueless British tourists were immediately approached by a tuk tuk driver who offered to take us around and act as a guide. Although we really didn't want any more guiding, in the end the driver's persistence wore us down and we accepted. In this case it was a good thing since he took us directly to the market and walked us right through the main areas that we might not have found.
The market was big and bustling with cows wandering around grazing on rubbish and vegetable stalls on the outside. In the inner area was the flower market where rose heads were piled high in baskets of bright red, orange and yellow. The flower industry here is not about decorating your home but for garlands which are used on all special occasions to greet honoured guests.
During our week in India we'd got quite used to being garlanded at every place we visited. In the market men sat crossed legged threading the roses and marigolds to make thick ropes of flowers, then winding them with silver thread for a bit of extra glitter.
The market was a photographer's dream and everyone was quite good humoured although we heard that the market gets very busy and crowded especially at weekends. If you are a lady with long hair I recommend buying a jasmine string for your hair so you can walk around in a cloud of delicious floral perfume. This will help to overcome the less appealing exterior of the market where cows were rooting around in the rubbish and men urinating on the piles of rotting vegetable.
The Botanic Garden in Bengaluru
Last stop was the Lalbagh Botanical Gardens which was around 20 minutes from the market by tuk tuk costing 10 rs (10p) to enter and 50 rs (50p) per camera licence. The large gardens are a good place to escape the noise and traffic of the city, although this being India everything was very dusty. We walked up the earth paths lined with different trees and botanical specimens to reach a floral clock which was ornamented by figures of the seven dwarfs and seemed to have a Snow White theme. By the clock was a man with a whistle who was not afraid to aim a short blast at anyone committing some misdemeanor, although what these might be we couldn't tell.
The gardens seemed a popular place for young couples to walk under the trees and groups of friends to sit and have a picnic. We were disappointed to find that many of the water features were empty of water which made them rather unattractive and the rose garden although pretty was fully enclosed. We had to peer at the roses from a distance, although I suspect that otherwise all the flowers might be picked for a home-made garland or flower ornament.
We skirted around the edge of the park and found the Victorian glasshouse which was a bit like those at Kew Gardens. The design was more of an open sided canopy and the glasshouse appeared to be more ornamental than anything else. Returning to the main entrance, since the park was now closing, we found our tuk tuk driver and returned to the hotel in nose to tail traffic and clouds of traffic fumes.
In this busy, vibrant city there are plenty of things to do in Bangalore for a day or two, if you're there on business or passing through. It's more of a place to hang out than to tick off the tourist sites, although there are places worth seeing while you're there. If I went back I would try and connect with some of the locals to see beyond the traffic fumes and dust since there's clearly a thriving entrepreneurial spirit going on here with all the trendy bars and restaurants and people with money to support them.
More stories about India
13 stories from my charity visit to India – going off the tourist trail
Flying Première class to India on Jet airways – is it worth it?
Meeting my Indian Sponsor Child
Planning a trip to India?
Thanks to Jet Airways for providing Heather's flight to Bangalore/ Bengaluru. Jet Airways is the second largest airline in India, operating over 300 flights daily to 73 destinations worldwide and fly to Bengaluru via Mumbai and Dehli twice daily from London Heathrow. For more information: Jet Airways website | Twitter @jetairways | Facebook | Pinterest | YouTube | Flickr |
Need Airport Parking?
Heather used the Meet and Greet Parking Service booked through APH Parking and Hotels. APH is a multi-award winning company for airport parking & airport hotels, offering airport parking at a range of airports across the UK. APH also offer airport travel extras such as Meet and Greet parking, airport lounge booking and airport hotel stays so you can start enjoying a stress-free holiday before you even take off. Thanks to APH who provided Heather's airport parking on a complimentary basis. For more information: APH website | APH Blog | Twitter @APHParking | Facebook | Google+ | YouTube |
Pin It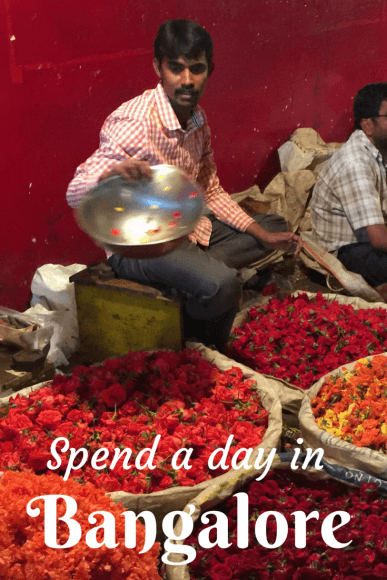 You'll also find our sister blog with tips on how to build a successful travel blog at My Blogging Journey
I've been to India three times now but not once have I had my photo taken in front of the Taj Mahal. I haven't visited the pink city of Jaipur or floated on the backwaters of Kerala. It isn't that I wouldn't love to do any of these things, just that my trips to India have been for a different purpose.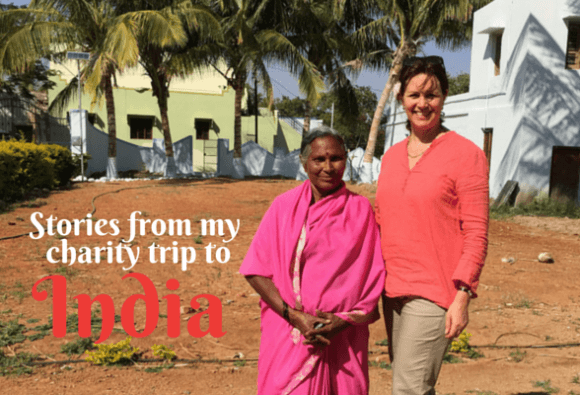 In February I was in India to visit and support a small charity I founded through my church, to see how the money we sent had been spent to help the lives of the poor in the central state of Andhra Pradesh, a part of India where tourists rarely go. Although we met many people who have very little, who live off a daily wage of £1 a day, this was a visit filled with joy and I'd like to share with you some of the stories from my visit.
1. A feast day dinner at the Don Bosco house
Barely had we arrived in the small town of Ananthapur and checked into our hotel, than we were taken to an evening event for the feast day celebrations at the local Don Bosco house. This congregation of priests and nuns from the Salesian order work with young people, especially street children. Ours was the last of many cars parked in the drive, since nuns and priests from the whole area had been invited.
We stepped over beautiful coloured chalk designs on the ground outside the house and arrived just as mass was ending. In true Indian style the altar at the end of the room was garlanded with tinsel left over from Christmas, coloured fairy lights and bright flower arrangement.
After the lengthy vote of thanks the chairs were rearranged and pans of rice and food laid out on a long table so that all the nuns and priests and other guests could queue to get their dinner. As we western guests couldn't possibly be expected to eat with our fingers, a table was brought and a selection of the dishes laid out in front of us with knives, forks and spoons.
We tucked into pilau rice, a fish curry, curds and chapatis, although I noticed that a dish of plain mashed potato, green beans and carrots had thoughtfully been added just in case the spicy food was too much for our sensitive palates.  We shook hands and chatted with many of the nuns and priests who all welcomed us and wished us Happy Feast day.
2. A memorial mass in Ananthapur
On Sunday we were up at 6am to attend the 7.30am mass with our host, Father Pratap, at Our Lady of Mount Carmel Church. We had timed our stay to include a Sunday since we wanted to have a special mass in memory of two special friends. My friend and neighbour Marilyn had been with us on a similar charity visit 2 years ago but had died suddenly a few months later, and the son of one of the charity sponsors, Christian, had also died suddenly at a young age, so we had brought photos of them to put at the front of the church.
Robert, my fellow trustee and Marilyn's husband had joined me on this trip, and we were ushered to sit on plastic chairs in the middle of the church. Behind us were wooden benches where the nuns and older people sat, while in front of us and on the right, ladies sat on the floor in their colourful Sunday-best saris, with younger men and boys sitting to the left. At the front, the choir performed using a keyboard and microphones, with plenty of music throughout the service although no hymn books were in evidence, since everyone seemed to know the words.
After a beautiful commemoration service, Robert and I stood outside the church and gave bags of sugary sweets and snacks in plastic wrapper to the congregation as they came out of church. Later during breakfast in the parish house, we talked about Robert's late wife, Marilyn and Father Pratap told us how sad the people at Nandikotkur had been when they heard of her death. They had remembered her friendliness and spirit from our previous visit and had held a memorial mass at the same time that we were having the funeral in Bristol.
3. Opening the water purification plant
One of the projects we had come to see was a water purification plant that had been constructed with funds raised by friends of Marilyn at the local leisure centre. The water is pumped up from bore wells deep in the ground but it needs to be filtered and purified before it is good to drink. The alternative for local families is to either buy filtered water or to rely on the piped town supply which is not always clean for drinking. Now with the filtered water, the 3000 children on the school campus could be provided with clean, filtered drinking water, which would be distributed to points around the school for children to use.
During a short ceremony with much laughter and photographs, we cut the ribbon to open the filtration unit and then pulled back the curtain over the plaque. We cracked small, young coconuts on the step in front of the water unit, an Indian tradition since the coconuts are a symbol of purity and good luck. The unit was officially open and after the engineer had made a few final adjustments, the tap was ceremoniously turned on and water flowed into the plastic bucket.
4. Schoolgirls dance for us and we try a few Bollywood moves
From our previous visit we'd learned that whenever you visit a school campus some entertainment is laid on to entertain the honoured guests. Garlands of flowers are put around your neck and votes of thanks are given by your hosts. If you visit India on this kind of trip we'd learned that you need to be prepared to be handed the microphone and make an impromtu speech to a whole school at the drop of a hat!
After opening the water purification plant we were entertained with dances by the 40 schoolgirls who stay in the school hostel on campus, since their villages are too far to come each day. Part of money raised through our charity goes to support these hostels which ensure that even children from remote villages don't miss out on their education.
We were treated to Bollywood style dances, local village dances in which some of the girls were dressed as men with painted on moustaches, and a graceful rainbow dance. Of course we weren't to be let off as mere spectators and were dragged up onto the dance floor to much hilarity as we tried to imitate the dance moves and generally made fools of ourselves.
On another occasion we visited the campus of St Anne's school on the outskirts of Ananthapur to find 300 girls seated in a square in the school playground to give us a school performance. Among the dances was one by girls dressed in white, orange and green, the colours of the Indian flag who danced to a patriotic song about making a better India of the future.
Once again the microphone was handed to me and seeing so many eager, bright girls before me, I gave an off the cuff speech on the importance of education for girls and commended them to work hard for their own future and that of their country. The School Principal followed with a speech in the local Telugu language, translating some of my points about the importance of education for girls.
Afterwards we had an interesting discussion with the School Principal about the future of these school girls to understand why many get married so soon after leaving school. The Catholic schools which are run by nuns are highly valued by parents who want a protective and safe environment in which their daughters can learn. Most girls like to stay close to their families who are concerned about their safety and security, so they favour local colleges for further education and rarely go out of the state. The government is discouraging the dowry system and it is now illegal to insist on a dowry but of course most parents want to give their daughter a good start in life and this can be expensive, leading to loans and debt.
5. I meet my sponsor child
On my previous visit 2 years ago I had met the children that I sponsor, Nileema and her brother Pavan, and once again they had travelled by bus some distance to meet us with their father – you can read about our last meeting here. They really did not look any older than last time I had seen them, and we sat in the parish house and chatted with the help of Father Pratap to translate.
I showed them photos of my family and leafed through a book with photos of Bristol. There's a limit to what you can say when you don't speak each other's language but my experience is that smiles and pictures go a long way. I presented Nileema with some earings that I bought at the local jewellery store and the next morning when we saw her again she was proudly wearing them. It was one of the highlights of the trip to meet the children whose education I help with and feel a personal connection between our families.
6. Lunch and tea with the nuns
Whichever school or campus we visited there was always a house of nuns who would have lunch or tea waiting for us. Everything was prepared with great care, with treats of fried chicken or Indian sweets to tempt us and we were always welcomed with great kindness. Normally each house would have a community of around 6 nuns with the younger ones cheerfully running around and organising the meal. In return we would take them gifts of scented soaps or sweets that we'd brought from England (thankyou M&S!).
In India the nuns hold positions of respect and responsibility; they are nurses, teachers and school principals. Unlike the European countries where few young people are coming forward to serve as nuns and priests, in India there is no shortage. Because the nuns and priests can work in different regions of India, with different regional languages, they all learn English and use it as their lingua franca. I think if I were a girl from a poor background who didn't fancy an arranged marriage, it would be quite an attractive career choice seeing the responsibility that these communities of nuns hold and the great work they do.
7. Meeting sponsor children
When I first met Father Pratap through my church in Bristol, he was appealing for people to come forward and make regular donations to sponsor the education of children from poor families in his parish. We decided to sponsor a child as did other families and after a while we decided to register a charity to formalise the donations and reclaim tax on them through the government gift-aid scheme.
The Catholic run schools in India are highly regarded and sought after by parents due to their high standards of teaching and dicipline, but they receive little government funding and so parents have to pay a small fee for their children to attend. The sponsoship money that is sent through our charity helps to cover this fee for the poorest families and some of it is also used to fund books and uniforms for all the children.
One of the most enjoyable parts of our trip was meeting these sponsor children and it was very exciting for them also. Before I left Bristol I had a shopping extravaganza buying or getting donated small items of stationary, soaps, toothpaste (thanks to my dentist), pencils and coloured postcards of Bristol so we could show them where we came from. We would put them together so each child we met would have a small package of gifts to take away and they were all thrilled and excited to meet us.
Most touching was when they would give us something back in return and the girls you see in the photo gave me a rose clip for my hair which you can see me wearing. Luckily Father Pratap was there to translate for us, or the delights of the Clifton suspension bridge and the Bristol cathedral, which we showed them pictures of would probably have been lost on them.
8. Drilling bore wells for irrigation
Father Pratap's jeep took us down narrow roads, surrounded by fields, when we were met by a couple of motorbikes that had come to meet us. They were driven by the farmers who had benefited from two different bore wells that had been sponsored, and the farmers led us on to the fields where they were located.
Father Pratap explained to us how difficult it can be to drill a bore well, since despite employing a water diviner to advise on the best location, there is no guarantee that you will hit water or how deep you will need to drill. Luckily both these wells had hit water but both were currently capped off awaiting an electricity supply which in return required a licence from the local municipality with all the paperwork and bureaucracy involved in India.
When we had visited the villages 2 years before, they were only receiving power for part of the day, which was sometimes cut without warning. Recently things seemed to have improved and the villages were currently getting 24 hours of electricity to their houses, but the agricultural supply was limited to around 3- 4 hours in the day and night time. This meant that the water could only be pumped during those hours, limiting the area of land that could be irrigated. This was a big lesson for me in the politics of infrastructure. Here were we raising money to fund these wells, but perhaps if the government could provide a more consistent electricity supply, they could be used to irrigate twice as much land and feed two families instead of one.
Next to our currently dry wells, we saw another that was gushing water which flowed along channels into the field of groundnuts. We hoped that our sponsored wells would also look like this once they get a power supply. The main crops in this arid area are groundnuts, maize and sunflowers, while if there is a constant water supply more high priced commercial crops such as cotton and chilies can be grown that will fetch a higher price. One well can really transform the fortunes of the family it supports and Father Pratap told us that when these farmers struck water, the celebrations were going on well into the night.
9. The wedding cake church and a mango plantation
The first time I visited Father Pratap in his parish at P. Yaleru, he had recently completed the construction of a new church to replace the old one that was crumbling. Due to the tiered design, we jokingly called it the wedding cake church, and it stood up above the village houses and could be seen from miles away when you approached the village.
On this visit we visited P. Yaleru again and passed by the Little Flower primary school which was run by a nun and two teachers. This was originally a government run primary school but all the teachers had retired and the government no longer supported it, so had been taken over by the church to provide education for the local children.
We walked past the school to the field where a mango plantation had been planted several years ago, with sponsorship from the charity. Father Pratap had told us proudly then how the plantation produced many lorry loads of mangos which were sold to provide income for education and community projects. On our visit two years ago, the plantation had been thriving but since then there had been no rain and the bore well that was being used to irrigate the trees had run dry.
Luckily the trees were by now well established and looked healthy enough, although Father Pratap told us there were fewer flowers than normal. Plans were underway to drill the well deeper after the summer rains and restore the water supply, so that the future of the mango plantation could be assured.
10. The ladies' tailoring project
In the community hall at Father Pratap's old parish on Nandikotkur we found a large group of ladies in their brightly coloured festival saris and jewellery awaiting us, seated on the floor. These ladies had been studying 6 days a week for 6 months how to be tailors, and we were shown a sample book with doll-sized examples of the clothes that they had made as part of their training.
This was the third group of 15-18 ladies that had been trained and Father Pratap hoped to continue the project with further groups and also bring the project to his new parish if further sponsors could be found. The ladies entertained us with much dancing and singing, together with a skit about women who were running a tea stall but exhorted by their friends to come to join the tailoring project so they could earn a better living.
It was heartening to see the women singing songs of empowerment and know that they would now have the opportunity to earn money to support their families. The tailoring teacher sat on the floor since she did not have the use of her legs due to polio and Father Pratap had sent her for training for a year so she could learn to be a tailoring instructor.
At the end of the entertainment, we presented each of the ladies with a sewing machine that they could take home so that they could take on tailoring work in their neighbourhood. This was their graduation ceremony and we were glad to be there to celebrate their achievement.
11. Visiting Fatima at home
While we were at the parish house, Father Pratap introduced us to Fatima, a Muslim lady who worked for him and her young son who was one of our sponsor children. Later that day, we visited her at home so we could get a feel for how many of Father Pratap's parishioners live.
We stepped inside the one room house where Fatima lives with her husband and son, where everything was neat and clean. There was just space for a bed and a TV with all the pots and utensils on high shelves around the walls. In fact this house is rented and Fatima and her husband do have their own house that her husband built on a small plot that they were given in another part of town.
The problem is that they had to take out a loan to fund the house at a high rate of interest from a private moneylender, since no bank would lend them the money. When they fell behind with the loan the lenders agreed to waive the interest on the loan in return for living in the house themselves. Until Fatima and her husband's situation improves, they won't be able to recover the use of the house they built and the lenders are happily living there with no inclination to move.
12. Visiting the Vincente Ferrer foundation campus
We visited the pleasant campus of the Vincente Ferrer foundation, a Spanish charitable foundation that runs schools for mentally disabled, sight and hearing impaired children and runs a handicraft workshop for disabled women, most of whom had no use of their legs.
We found the ladies making brightly painted Papier Mache toys and animals, plaiting and coiling coloured rushes to make table mats and forming tough leaves into disposable plates that would be used at wedding buffet. We longed to buy some of the colourful moneyboxes and later went to the official shop where they are sold in another part of town.
The mentally handicapped children were so sweet and excited when we went into their classroom, jumping and dancing around for us. The four nuns that we visited on the campus oversee the running of these schools as part of the foundation, although this is not a Catholic institution and in fact takes pains to treat all religions equally, giving help on the basis of poverty rather than religion following the principle of the founder, a former Jesuit priest.
13. At the English medium Holy Spirit secondary school
On our previous visit we had been impressed by the large Holy Spirit English Medium secondary school which is run by the nuns and has around 700 children. In India there are both Telugu Medium schools that teach in the local language and English Medium schools that teach in English. Unsurprisingly, parents favour the English medium schools since their children will learn English and will have better job prospects and opportunities to work in other parts of India.
We toured many of the classrooms and noticed the discipline of the children and their focus on learning. I looked over their shoulder in one classroom and saw that they were doing computer studies, learning in English the theory of things that seemed quite complex to me, which would be followed up with a practical lesson in their computer room.
Although all the children were smartly dressed in their uniforms, I remembered that on our previous visit they had all been wearing their own clothes. The School Principal had explained that during the week they have a day to wear their own clothes which gives them an opportunity to wash their uniform, since most families could only afford one or two sets of school uniform.
As it was lunchtime all the children filed out quietly into the dusty playground and sat under the trees eating their lunch, although as we also sat down to eat ours with the nuns we could hear the noise levels rising as they finished lunch and become more exuberant in their playtime.
If you made it this far in this long article, I thank you for joining me on this journey – what was your favourite story from my trip? The truth is that in this kind of work there is no difference between giving and receiving; they are two sides of the same coin and I have come away from my visits to India far richer than I went.
If you want to help in any small way, I have a paypal account that's just for this UK Registered charity Families Initiative For India (F.I.F.I) – Charity No 1093565 which you can find  here or donate directly via Paypal [email protected] or through the Donate button below.
More India Inspiration
Flying Premiere Class with Jet Airways to India – is it worth it? 
Podcast – my Charity visit to India
Meeting my Indian sponsor child
Planning a trip to India?
Thanks to Jet Airways for providing Heather's flight to Bangalore/ Bengaluru, which made this trip possible. Jet Airways is the second largest airline in India, operating over 300 flights daily to 73 destinations worldwide and fly to Bengaluru via Mumbai and Dehli twice daily from London Heathrow. For more information: Jet Airways website | Twitter @jetairways | Facebook | Pinterest | YouTube | Flickr | Read the review of my Jet Airways flight
Need Airport Parking?
Heather used the Meet and Greet Parking Service at Heathrow airport, booked through APH Parking and Hotels. APH is a multi-award winning company for airport parking & airport hotels, offering airport parking at a range of airports across the UK. APH also offer airport travel extras such as Meet and Greet parking, airport lounge booking and airport hotel stays so you can start enjoying a stress-free holiday before you even take off. Thanks to APH who provided Heather's airport parking on a complimentary basis. For more information: APH website | APH Blog | Twitter @APHParking | Facebook | Google+ | YouTube |
Pin it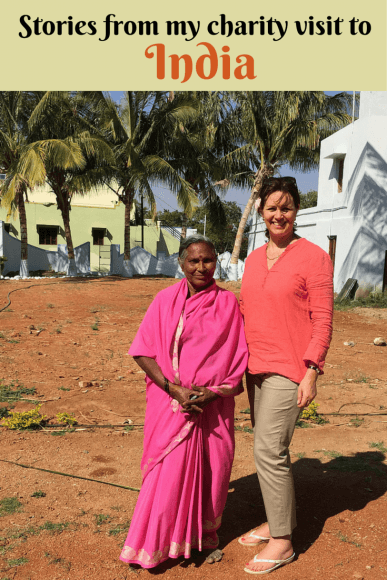 You'll also find our sister blog with tips on how to build a successful travel blog at My Blogging Journey
Is it worth flying Première class with Jet Airways to India if you get the chance? Of course that's a silly question. Who wouldn't want to be pampered with individual service, plenty of legroom, restaurant quality food and a glass of champagne?
But if we assume that your flight is not being paid for by the company and you're deliberating on whether to treat yourself to Première Class to start the holiday in style, then it's worth looking at what you'll get for the extra cost. On my recent trip to India flying with Jet Airways I flew economy class on the way out and Première Class on the return to London so was able to make a comparison of the two.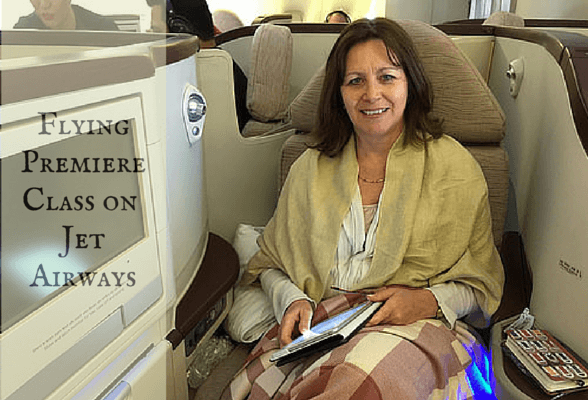 Economy Class on the way out
So I'm off to India on Jet Airways. I'm pleased to be flying with the second largest Indian airline on the way out since I start to feel the vibe of India as soon as I board the plane, through the flight attendants, the food, the movies and my fellow passengers. My Jet Airways flight to Mumbai is full of cheerful Indian families, looking forward to visiting friends and family. Beside me is a chatty 3 year old with Mum doing her best to contain his energy. I remember being that parent myself with little ones, praying that they wouldn't annoy the other passengers too much and would sleep on the way.
I've spent a lot of time recently travelling in Europe and am out of the habit of these long haul flights so the plane feels enormous to me. My seat is right by the loos which means there's a constant ebb and flow of people queuing by me and pushing past each other.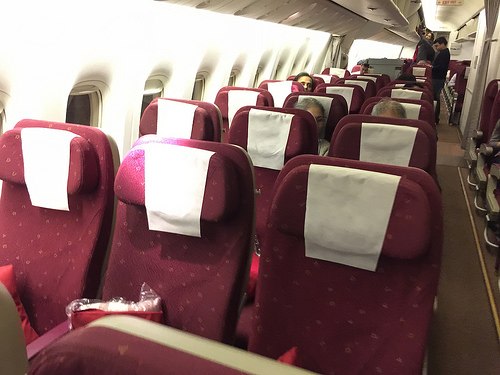 I turn my attention to the screen in front of me to check through the in flight movies. I remember from my last flight to India how I loved watching those East-Meets-West Indian movies, in this case it's The Hundred-Foot Journey in which Helen Mirren runs a Michelin star restaurant in rural France in competition with the Indian family across the road who arrive to start their own Curry Cafe. As in other Indian movies there's a film formula of family ties and loyalties matched against the forces of the ambition and progress in the modern world, plus every opportunity for a bit of song and dance Bollywood style.
Dinner at midnight
The flight moves on and dinner is served at nearly midnight, but in this flight bubble if feels as if time and routine is suspended, it's just about passing the hours. After watching the lovely liquid-eyes Indian chef Hassan in the movie, throwing a pinch of chilli here and some cardoman there, the chicken with spinach and noodles was not quite the Indian flavours I was hoping for, but I enjoy the cous cous salad with parsley and raisins and the creamy coconut rice pudding desert.
The lights are dimmed and we settle down to snatch some sleep under the brown checked blanket. Somewhere on the plane there is a Waaah, Waaah of an inconsolable baby but while feeling sorry for the parents I'm happy that it's not right next to me. By the time the breakfast tray comes round my bottom has fallen asleep and my legs are compressed, but I tuck into the sweet muffin and fruit salad to pass the time before stretching my legs on a wander up the aisle.
All change at Mumbai
At Mumbai we navigate the process of clearing customs, collecting our suitcases and then find the transfer bus outside the terminal that drive us the 15 minutes to the separate domenstic terminal. It's a relatively short hop before we touch down at Bengaluru into another smart, international terminal. The new airport was built around 7 years ago and is an hour's drive from the city centre. From our taxi we admire the beautifully landscaped gardens bordering the airport road but soon the real, less manicured, more chaotic India emerges with streets bordered by rubble, half completed building projects and everything covered with a layer of dust.
Première Class on the way home
On the return flight, with an hour before I board at Bangalore I make use of the Plaza Premium lounge which would normally cost 1000 INR (around £10.50) and welcome the complimentary breakfast since my early start meant I missed eating anything at the hotel. I deliberate between the two hot stations with chefs making freshly cooked dhosa and omelettes as well as the stations of fresh fruit, cakes, pastries, cereals and a machine for coffee. There's endless space in the lounge with large comfortable chairs to spread out and hardly anyone else there.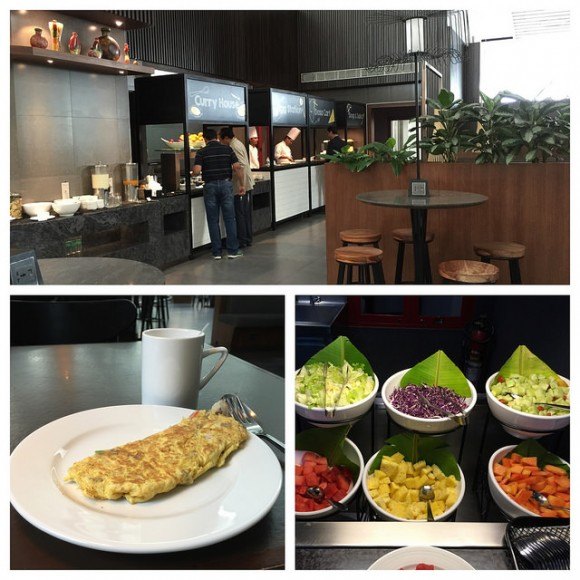 Seeing the Jet Airways flight called I go downstairs and wonder why no-one seems to be boarding yet, then realise that I've made a mistake with the gate and that they're actually giving the final call. Phew, thank goodness for my blogger's tendancy to wonder around and take photos or I wouldn't have spotted my mistake.
The flight from Bengaluru to Mumbai
I settle into my large Première Class seat at the front of the aircraft – with two seats abreast where there would normally be three there is plenty of room to relax. The charming steward Namesh comes forward, shakes my hand to introduce himself – he'll be taking care of me on this flight. I am offered a glass of coconut water or lassi and review the menu card to choose my breakfast, a mushroom omlette which of course I barely have room for due to the breakfast I've already had in the business lounge.
The flight is just a short hop from Bengaluru into Mumbai domestic terminal but the centre of attention is a well known actor or music star (of course I've no idea who he is!) who is travelling on the same flight. After having his photo taken with all the flight crew he is whisked away in a private car. Perhaps I was mixing with a big Bollywood star! Again there's a slightly chaotic wait in a queue for the connecting coach to take us to the international terminal.
The opulent business class lounge at Mumbai
Through security and I head for the third floor GVK Lounge which is included in my Jet Airways Première Class ticket (3,000 INR or around £30 for 4 hours). I feel I'm walking into the lobby of a fabulous 5 star hotel, awash with tasteful opulence, burnished gold partitions, expensive velvet and silk fabrics and plenty of opportunity for a large glass of chilled white wine from the bar or a meal from the buffet area. With more time I might even have tried a spa treatment at the far end of the lounge. While many are on their laptops, making use of the free wifi, I take one of the window seats and watched the planes taking off and landing – a most therapeutic passtime.
My reclineable Premiere Class seat
On boarding the flight from Mumbai to London, I settle into my Première Class seat with an  individual reclinable seat that has armrests and tables built in. Since each seat is set at an angle there is room to stretch right out and I wish my husband was here to enjoy it since he's over 6 foot tall and suffers on long flights with his long legs. I am able to have a play with the buttons to stretch out the padded footrest and recline the back almost flat for a very comfortable sleeping position. The large table slides out beside the seat and swings over, and the large screen swings round in front of me.
Dinner from a Michelin Star chef
As before I get the very personal service and dinner is served on a white cloth with china plates. From the dinner menu I choose an apple, cheese and tomato salad to start followed by a Goan fish curry  served with side dishes of lentils and Indian style vegetables. The menu tells me that on the London to India route some of the dishes are created by Michelin star chef Yves Mattagne who runs the restaurant The Sea Grill in Brussels. Although it's served on a different route, I love the sound of some of his dishes like the salad of golden and red beetroot with blue cheese or the pistachio tartlet with banana mousse. I'd normally jump at the chance of a glass of Bollinger champagne but decide to avoid any alcohol on the flight to preserve my energy on the long flight.
My Jet Airways flight from Mumbai to London passes quickly between meals, a little sleep and getting a bit of writing done and of course this is how I'd love to travel all the time, especially if I'm on my own. The benefits of flying Première class are many but these are the ones that I notice;
You get your own super comfy reclining seat in an individual compartment with loads of legroom.
The reclining seat makes it much easier to get some sleep on a long flight or to get some work done.
There's no waiting behind 10 other people in the queue for the bathroom and no need to disturb your neighbour when you need to leave your seat.

You are unlikely to be disturbed by boisterous children and crying babies.

You get personal and attentive service.

You eat restaurant quality meals served on white linen with proper plates and cutlery , some of the dishes created by Michelin star chef Yves Mattagne.

You enjoy complimentary wine, champagne and other drinks whenever you want them.
You get to use the business lounges in each airport where you can get free food and drinks, free wifi and a calm and relaxing exclusive space to work or relax.
You might get to travel with a film star!
On the downside if there is one
If travelling with your partner you might prefer to sit together rather than in an individual compartment.
The experience is a little sterile and remote from the real world if you are the kind of person that likes to be sociable.
Obviously the cost of flying Première Class is not one that everyone can afford – the cost is over three times as much as an economy fare.
If you gave me the option of flying Première Class on my next Jet Airways flight to India of course I'd jump at the chance – it turns the experience of flying long haul from something to be endured to a pleasurable and luxurious experience. Thanks to Jet Airways who provided Heather with complimentary return flight to Bengaluru and the opportunity to try out Première on the way back.
Planning a trip to India?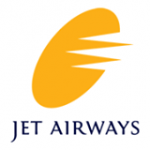 Jet Airways is India's premier airline, flying daily from London Heathrow to Delhi and twice daily to Mumbai, from there on to other Indian cities such as Bengaluru. Flights are also available from Manchester and Birmingham via Brussels. Jet Airways has the largest domestic network and flies to 74 destinations across India and beyond. For more information and to book: Jet Airways website | Twitter @jetairways | Facebook | Pinterest | YouTube | Flickr |
Need Airport Parking?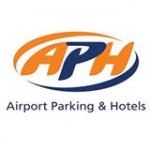 Heather used the Meet and Greet Parking Service booked through APH Parking and Hotels. APH is a multi-award winning company for airport parking & airport hotels, offering airport parking at a range of airports across the UK. APH also offer airport travel extras such as Meet and Greet parking, airport lounge booking and airport hotel stays so you can start enjoying a stress-free holiday before you even take off. Thanks to APH who provided Heather's airport parking on a complimentary basis. For more information: APH website | APH Blog | Twitter @APHParking | Facebook | Google+ | YouTube |
More India Inspiration
My charity visit to India – Podcast
Shopping and Sightseeing in Hyderabad
Meeting my Indian Sponsor Child
 Pin It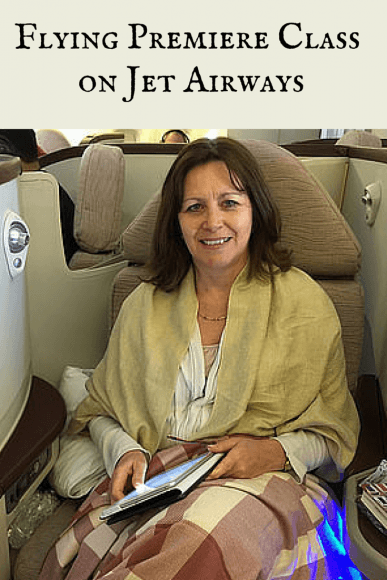 Click to subscribe to our monthly newsletter, news and reader offers
You'll also find our sister blog with tips on how to build a successful travel blog at My Blogging Journey