Is it worth flying Première class with Jet Airways to India if you get the chance? Of course that's a silly question. Who wouldn't want to be pampered with individual service, plenty of legroom, restaurant quality food and a glass of champagne?
But if we assume that your flight is not being paid for by the company and you're deliberating on whether to treat yourself to Première Class to start the holiday in style, then it's worth looking at what you'll get for the extra cost. On my recent trip to India flying with Jet Airways I flew economy class on the way out and Première Class on the return to London so was able to make a comparison of the two.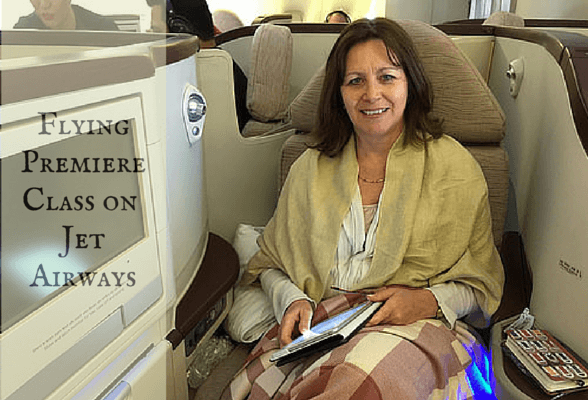 Economy Class on the way out
So I'm off to India on Jet Airways. I'm pleased to be flying with the second largest Indian airline on the way out since I start to feel the vibe of India as soon as I board the plane, through the flight attendants, the food, the movies and my fellow passengers. My Jet Airways flight to Mumbai is full of cheerful Indian families, looking forward to visiting friends and family. Beside me is a chatty 3 year old with Mum doing her best to contain his energy. I remember being that parent myself with little ones, praying that they wouldn't annoy the other passengers too much and would sleep on the way.
I've spent a lot of time recently travelling in Europe and am out of the habit of these long haul flights so the plane feels enormous to me. My seat is right by the loos which means there's a constant ebb and flow of people queuing by me and pushing past each other.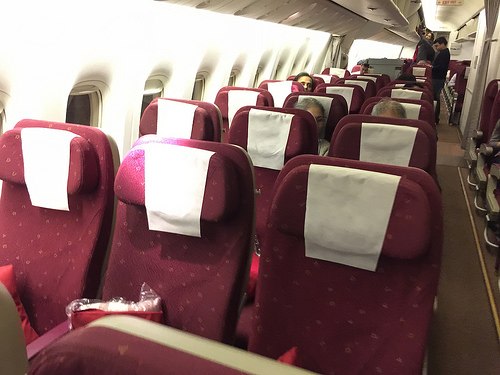 I turn my attention to the screen in front of me to check through the in flight movies. I remember from my last flight to India how I loved watching those East-Meets-West Indian movies, in this case it's The Hundred-Foot Journey in which Helen Mirren runs a Michelin star restaurant in rural France in competition with the Indian family across the road who arrive to start their own Curry Cafe. As in other Indian movies there's a film formula of family ties and loyalties matched against the forces of the ambition and progress in the modern world, plus every opportunity for a bit of song and dance Bollywood style.
Dinner at midnight
The flight moves on and dinner is served at nearly midnight, but in this flight bubble if feels as if time and routine is suspended, it's just about passing the hours. After watching the lovely liquid-eyes Indian chef Hassan in the movie, throwing a pinch of chilli here and some cardoman there, the chicken with spinach and noodles was not quite the Indian flavours I was hoping for, but I enjoy the cous cous salad with parsley and raisins and the creamy coconut rice pudding desert.
The lights are dimmed and we settle down to snatch some sleep under the brown checked blanket. Somewhere on the plane there is a Waaah, Waaah of an inconsolable baby but while feeling sorry for the parents I'm happy that it's not right next to me. By the time the breakfast tray comes round my bottom has fallen asleep and my legs are compressed, but I tuck into the sweet muffin and fruit salad to pass the time before stretching my legs on a wander up the aisle.
All change at Mumbai
At Mumbai we navigate the process of clearing customs, collecting our suitcases and then find the transfer bus outside the terminal that drive us the 15 minutes to the separate domenstic terminal. It's a relatively short hop before we touch down at Bengaluru into another smart, international terminal. The new airport was built around 7 years ago and is an hour's drive from the city centre. From our taxi we admire the beautifully landscaped gardens bordering the airport road but soon the real, less manicured, more chaotic India emerges with streets bordered by rubble, half completed building projects and everything covered with a layer of dust.
Première Class on the way home
On the return flight, with an hour before I board at Bangalore I make use of the Plaza Premium lounge which would normally cost 1000 INR (around £10.50) and welcome the complimentary breakfast since my early start meant I missed eating anything at the hotel. I deliberate between the two hot stations with chefs making freshly cooked dhosa and omelettes as well as the stations of fresh fruit, cakes, pastries, cereals and a machine for coffee. There's endless space in the lounge with large comfortable chairs to spread out and hardly anyone else there.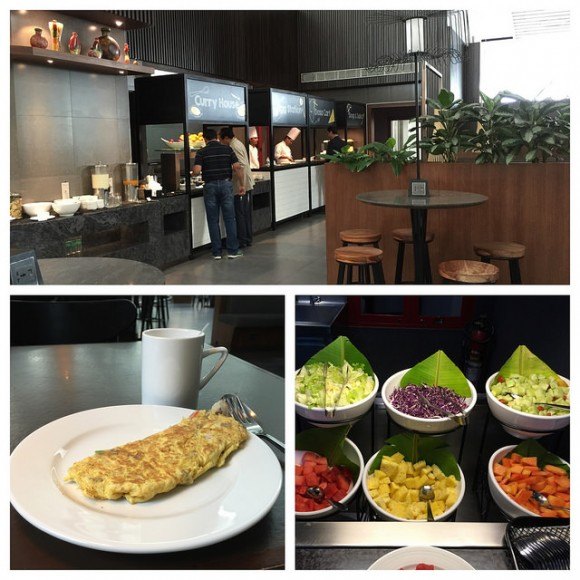 Seeing the Jet Airways flight called I go downstairs and wonder why no-one seems to be boarding yet, then realise that I've made a mistake with the gate and that they're actually giving the final call. Phew, thank goodness for my blogger's tendancy to wonder around and take photos or I wouldn't have spotted my mistake.
The flight from Bengaluru to Mumbai
I settle into my large Première Class seat at the front of the aircraft – with two seats abreast where there would normally be three there is plenty of room to relax. The charming steward Namesh comes forward, shakes my hand to introduce himself – he'll be taking care of me on this flight. I am offered a glass of coconut water or lassi and review the menu card to choose my breakfast, a mushroom omlette which of course I barely have room for due to the breakfast I've already had in the business lounge.
The flight is just a short hop from Bengaluru into Mumbai domestic terminal but the centre of attention is a well known actor or music star (of course I've no idea who he is!) who is travelling on the same flight. After having his photo taken with all the flight crew he is whisked away in a private car. Perhaps I was mixing with a big Bollywood star! Again there's a slightly chaotic wait in a queue for the connecting coach to take us to the international terminal.
The opulent business class lounge at Mumbai
Through security and I head for the third floor GVK Lounge which is included in my Jet Airways Première Class ticket (3,000 INR or around £30 for 4 hours). I feel I'm walking into the lobby of a fabulous 5 star hotel, awash with tasteful opulence, burnished gold partitions, expensive velvet and silk fabrics and plenty of opportunity for a large glass of chilled white wine from the bar or a meal from the buffet area. With more time I might even have tried a spa treatment at the far end of the lounge. While many are on their laptops, making use of the free wifi, I take one of the window seats and watched the planes taking off and landing – a most therapeutic passtime.
My reclineable Premiere Class seat
On boarding the flight from Mumbai to London, I settle into my Première Class seat with an  individual reclinable seat that has armrests and tables built in. Since each seat is set at an angle there is room to stretch right out and I wish my husband was here to enjoy it since he's over 6 foot tall and suffers on long flights with his long legs. I am able to have a play with the buttons to stretch out the padded footrest and recline the back almost flat for a very comfortable sleeping position. The large table slides out beside the seat and swings over, and the large screen swings round in front of me.
Dinner from a Michelin Star chef
As before I get the very personal service and dinner is served on a white cloth with china plates. From the dinner menu I choose an apple, cheese and tomato salad to start followed by a Goan fish curry  served with side dishes of lentils and Indian style vegetables. The menu tells me that on the London to India route some of the dishes are created by Michelin star chef Yves Mattagne who runs the restaurant The Sea Grill in Brussels. Although it's served on a different route, I love the sound of some of his dishes like the salad of golden and red beetroot with blue cheese or the pistachio tartlet with banana mousse. I'd normally jump at the chance of a glass of Bollinger champagne but decide to avoid any alcohol on the flight to preserve my energy on the long flight.
My Jet Airways flight from Mumbai to London passes quickly between meals, a little sleep and getting a bit of writing done and of course this is how I'd love to travel all the time, especially if I'm on my own. The benefits of flying Première class are many but these are the ones that I notice;
You get your own super comfy reclining seat in an individual compartment with loads of legroom.
The reclining seat makes it much easier to get some sleep on a long flight or to get some work done.
There's no waiting behind 10 other people in the queue for the bathroom and no need to disturb your neighbour when you need to leave your seat.

You are unlikely to be disturbed by boisterous children and crying babies.

You get personal and attentive service.

You eat restaurant quality meals served on white linen with proper plates and cutlery , some of the dishes created by Michelin star chef Yves Mattagne.

You enjoy complimentary wine, champagne and other drinks whenever you want them.
You get to use the business lounges in each airport where you can get free food and drinks, free wifi and a calm and relaxing exclusive space to work or relax.
You might get to travel with a film star!
On the downside if there is one
If travelling with your partner you might prefer to sit together rather than in an individual compartment.
The experience is a little sterile and remote from the real world if you are the kind of person that likes to be sociable.
Obviously the cost of flying Première Class is not one that everyone can afford – the cost is over three times as much as an economy fare.
If you gave me the option of flying Première Class on my next Jet Airways flight to India of course I'd jump at the chance – it turns the experience of flying long haul from something to be endured to a pleasurable and luxurious experience. Thanks to Jet Airways who provided Heather with complimentary return flight to Bengaluru and the opportunity to try out Première on the way back.
Planning a trip to India?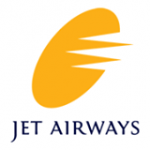 Jet Airways is India's premier airline, flying daily from London Heathrow to Delhi and twice daily to Mumbai, from there on to other Indian cities such as Bengaluru. Flights are also available from Manchester and Birmingham via Brussels. Jet Airways has the largest domestic network and flies to 74 destinations across India and beyond. For more information and to book: Jet Airways website | Twitter @jetairways | Facebook | Pinterest | YouTube | Flickr |
Need Airport Parking?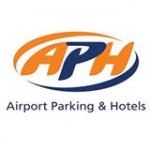 Heather used the Meet and Greet Parking Service booked through APH Parking and Hotels. APH is a multi-award winning company for airport parking & airport hotels, offering airport parking at a range of airports across the UK. APH also offer airport travel extras such as Meet and Greet parking, airport lounge booking and airport hotel stays so you can start enjoying a stress-free holiday before you even take off. Thanks to APH who provided Heather's airport parking on a complimentary basis. For more information: APH website | APH Blog | Twitter @APHParking | Facebook | Google+ | YouTube |
More India Inspiration
My charity visit to India – Podcast
Shopping and Sightseeing in Hyderabad
Meeting my Indian Sponsor Child
 Pin It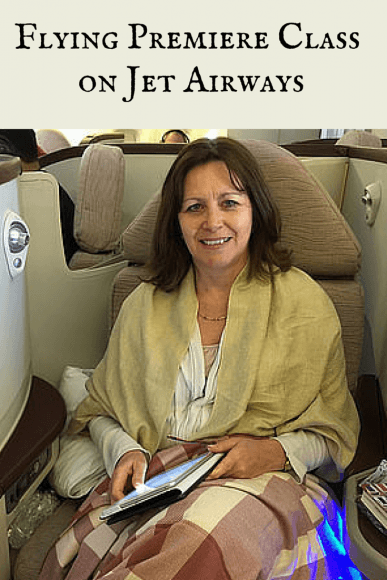 Click to subscribe to our monthly newsletter, news and reader offers
You'll also find our sister blog with tips on how to build a successful travel blog at My Blogging Journey
In this article, our guest writer Rohit Agarwal explores some of the bizarre Hindu temples to be found in India, where rats are made welcome, Chinese food is offered and a motorbike is on show.
India is land of different cultures, accumulated through its history and characterized by their distinctive customs. Many of these customs can come across as bizarre to the people who are not native to these rituals. Hinduism is the most widespread of all the religions in India and it is a home to some of the most magnificent of the temples or shrines found anywhere in the world. But being a land of strange customs many temples in India are enshrined with mysticism and are often associated with a lot of bizarre myths, legends and customs. Here are some of the most bizarre temples in India;
1. Brahma Temple, Pushkar
Considered to be the only Brahma temple in the world by many, this temple however, is the most famous of the few Brahma Temples that really exist in other parts of the country. It is situated in the holy town of Pushkar in the State of Rajasthan. Pushkar contains over 500 temples most of which were destroyed under the reign of the Mughal Ruler Aurangzeb. The Brahma temple structure as we see today dates back to the 14th century but the temple site is said to be over 2000 years old. The town of Pushkar is said to have been created by the falling petals from the Lotus held by Lord Brahma and due to his wife Savitri's curse, he was only worshipped in this place. However the effects of the curse were nullified by Gayatri (a Gurjar girl who Brahma married and was endowed with the powers of the Yajna or fire sacrifice performed by Lord Brahma). This temple boasts of its marvelous architecture and is built with stone and marble slabs.
2. Karni Mata Temple, Deshnoke
Deshnoke is a small town located near Bikaner in the State of Rajasthan. While it is a rural town, Deshnoke is famous for its prime attraction, The Karni Mata Temple. This temple is dedicated to Karni Mata the incarnation of Goddess Durga and is the ancestral deity of the royal families of Jodhpur and Bikaner. The temple is known for its distinctively bizarre population of approximately 20,000 black rats. The rats are said to be the children of Karni Mata who drowned in a lake while drinking from it and upon Karni Mata's implorations were allowed to be reborn as rats by Lord Yama, the Hindu deity of Death. Various versions of this story exist however, including the one where the rats are considered to be the 20,000 soldiers who deserted a battle and upon realizing the sin they have committed, took shelter in the temple and were turned to rats by Karni Mata and vowed to serve her for atonement. The visitors are not bothered by the rats and usually offer sweets and milk as an offering. The sight of any white rat is also considered a very auspicious moment. This is one bizarre temple indeed.
3. Chinese Kali Temple
This temple is located in a small town called Tangra near Kolkata in the State of West Bengal. Tangra serves as the Chinatown and is populated by the Chinese inhabitants in India. The temple is dedicated to the Hindu Goddess Kali that is surprisingly worshipped by the Chinese inhabitants. Although, the Temple's architecture is not that special or noteworthy, the surprise lies in the offerings that are made. The Chinese people that live here offer rice, noodles, chopsuey and other vegetable dishes. This aspect alone makes the temple famous in the country as many people visit the temple to worship the Goddess and receive noodles, chopsuey and the other Chinese cooked vegetables as the 'Prasad'. Another great aspect of this temple is that the Chinese who live in this area are Christians or Buddhists but they still worship the Goddess Kali devotedly. This place totally exemplifies the cultural bond between India and China.
4. Om Banna Temple, Pali
Yet another strange temple located in Rajasthan, 'The Om Banna Temple' or the 'Bullet Baba' shrine is located in Pali district near Jodhpur. The temple is characterized by a strange deity that is represented in the form of a 350 CC Royal Enfield Motorcycle or 'Bullet Baba' that is worshipped by people for a safe journey especially when bearing liquor. The legend of the temple goes back to 1988, when a rider named Om Singh Rathore was travelling from Pali to Chotila and met with an accident that resulted in him falling into a ditch where he died. The Motorcycle was recovered by the Police who kept it in the nearby police station. However, the next morning the motorcycle was miraculously found at the accident spot again and even though the police tried defueling and locking or chaining the vehicle, it would be found again near the accident spot. This was seen as a miracle and the motorcycle was placed in a shrine built near the accident spot which serves as a temple and a memorial for Om Banna. The place is revered by hundreds of riders and travelers who visit the place to pray to the Motorcycle Deity for a safe journey.
5. Mehandipur Balaji Temple, Dausa
The Temple is dedicated to the Hindu deity, Lord Hanuman and is located in the Dausa district near the "Pink City" – Jaipur in the State of Rajasthan. The deity, Lord Hanuman is usually worshipped by the Hindus as the Monkey God is said to quell the powers of evil and exorcise the influence of any evil spirit. Owing to this, the Mehandipur Balaji Temple is nicknamed the 'Witch Temple' of India. The place can be one of the most thrilling and spine chilling experiences you would come across in India. The temple is frequented by hundreds of people who seek the head priest of the temple to get their painful experiences nullified which are said to be caused by the influence of evil spirits. One can witness various people who have been prescribed therapies like being shackled in chains or placing heavy stones on various parts of the body to ease the pain. Many people who visit the place for the first time might find these customs as strange, inhumane or anachronistic but there are many who claim to have been cured by these bizarre therapies.
On a trip to India, one might often encounter such strange and bizarre customs and traditions. Many tourists often find such rituals as revolting and outrageous but in order to derive the true cultural depth, experiencing these is a must. The temples mentioned not only define the strong sense of religion that the country possesses but also how religion in general influences the people in this mystical and magical country.
Photo Credits: Bramha Temple in Pushkar by Lukas Larsson , Le temple de Karni Mata (Deshnoke) by Jean-Pierre Dalbéra , karni mata rats by Koen, Chinese Kali Mandir in Kolkata, India by Flippy Whale, Om Banna Temple by Studio Matino Reserved (with permission), Mehandipur Balaji by amitk227
Author Bio:
Rohit Agarwal is an Architect by profession and a travel blogger. Having travelled to various places in the country and the world is often intrigued by the various cultures and traditions in different parts of India and the world. Rohit is a blogger at Trans India Travels that provides an insight on the various attractions in India.
This article is originally published at Heatheronhertravels.com – Read the original article here
Novica is a source of jewellery, clothing, gifts and objects for your home, created by artizans around the world; bringing all the interesting things you might find on your travels into one website where you can buy and find out more about the person who makes them. Read on for our guest review by Nancy Judevine, of the Novica service and our giveaway of a Novica gift certificate worth $75
When I was a child we did a little bit of traveling as a family. We took typical American vacations – Florida, Wisconsin, Washington DC. And, because we had relatives in Canada we visited there also. Of course, kids always like souvenirs, and my sisters and I were no different. But instead of the usual trinkets and postcards, we three girls clamored for charms for our charm bracelets. As little girls, mom started each of us with a bracelet of silver links, and by the time we were teenagers my sisters and I had filled them chock full of charms.
As an adult I still like to have remembrances of my travels and I've realized that I'm still attracted to jewelry and accessories. When in Ecuador I purchased a chunky Tagua nut bracelet and from Lanai, Hawaii I brought home a hand-woven scarf. Unfortunately nowadays I don't get a chance to travel as much as I'd like, so I was delighted to learn about Novica, a website that, in association with National Geographic, offers a selection of hand-crafted merchandise from artisans around the globe.
Browsing beautiful hand-crafted items
It was so interesting to browse through the many lovely items. Novica had at that time designated Thailand as their featured country and I easily found a selection of beautiful Thai jewelry. I decided to narrow the merchandise using qualifiers such price range, style and material, although as each item had a couple attractive photos and a detailed description, I was still having a hard time making a choice. Then, as I hovered over each photo I noticed the Novica curation service, which was a convenient way to designate favorites to add to my own personal bulletin-board style collection.
Since I am also fond of fashion scarves I turned my attention to India. There were so many to choose from, but when I read about Kamini, an artisan from Punjab, who as a child cut up a curtain to make a shirt for herself, my decision was made. I added couple of her batik print designs to my curated wish list.
Then it was time to make my final selections. I reluctantly pared down my curated gallery to a labradorite and quartz bead bracelet from Thailand and a maroon and gray batik scarf from India.
Purchase with confidence
The checkout process could not have been easier. Novica accepts major credit cards as well as PayPal and Amazon. After I placed my order I immediately received a confirmation email with the details of my order and a link that allowed me to check my order status. Novica kept me updated on the progress of my order with emails containing tracking numbers and delivery dates.
The items were delivered to my door within two weeks of purchase, very timely considering the distance they traveled, and each was well packaged. I opened the box from Thailand to find the bracelet was exactly as pictured on the website, and encased in a lovely drawstring bag. I was delighted to see a note from the artisan thanking me for my purchase, written in both English and Thai. The scarf arrived folded into a beautiful bag with gold tassel, and also included a handwritten card.
My experience with Novica was completely positive and I was entirely pleased with both items. I would not hesitate to present either as a gift, but that will have to wait for another time. For now I'll enjoy my accessories and dream of future visits to Thailand and India.
For more information visit the Novica website. Novica generously provided me with a code good for $75 toward my purchases, but all opinions are strictly my own.
Nancy chose a Labradorite and Quartz wrap 'Fresh Lily' bracelet made in Thailand by artizan Siriporn Product ID 186020 $57.95 and a Silk and cotton scarf 'Autumn Mystique' made in India by artizan Kamini Product ID 181766 $34.95. Shipping is an additional charge which can be calculated on the item page, but bear in mind that shipping charges are cheapest for the US and may be quite a bit higher for UK and Europe.
Our Novica Giveaway
We are giving away a Novica gift voucher worth $75 to one of our readers, to spend on whatever you like from the Novica website. The giveaway is open to anyone, wherever you live, however please bear in mind that shipping charges may be higher for the UK and Europe than they are for the US – so check when you make your selection. The giveaway will run for 2 weeks and will end at 12am on Monday 17 June 2013
To enter this giveaway please use the Rafflecopter widget below with 4 chances to win;
1. Please visit the Novica website and then let us know in the comments at the bottom of this article which item you would love to purchase with your $75 gift voucher and why.
To gain additional chances to win you can;
2. Tweet about this giveaway mentioning @Heathercowper and @Novica in your tweet, for example;
I'd love to choose an artizan gift with the $75 voucher #giveaway @Heathercowper from @Novica
3. Like the Heather on her travels Facebook page at https://www.facebook.com/Heatheronhertravels
4. Like the Novica Facebook page at http://www.facebook.com/novica
Other T & C; The winner will be chosen at random once the giveaway has ended. The winner will be notified by e-mail but if they do not accept the prize within 1 week it will be offered to another entrant.
About the author: Nancy Judevine is an American suburbanite who loves to travel vicariously by reading the blogs of some of her favorite travel writers.
This article is originally published at Heatheronhertravels.com – Read more travel articles at Travel Blog Home. We've mentioned this giveaway on ThePrizeFinder – UK Competitions , Doubleprizes.com , Blog Giveaway Directory
You'll also find our sister blog with tips on how to build a successful travel blog at My Blogging Journey
 Don't miss out – subscribe to Heather on her travels