I won't pretend that every family holiday we've had has been perfect. There were the times when the crowds and burning heat of Sardinia in August became too much, the days of camping in the rain in Asturias in Northern Spain when we realised how the region earned it's nickname of 'Green Spain'. I've learned that no matter how carefully you select the accommodation or research the location, you'll never please everyone.
Now my children are teenagers our needs have changed from those of a family with young children and gradually, by trial and error, I'm finding the best formula to suit them. By the time I've got it just right, they'll be off travelling on their own, but hopefully with a love of travel and a thirst for adventure instilled on these family holidays. Fly the nest, my little birds, but not too soon!
Here are my tips for planning a happy holiday with teenagers;
No early starts
Most teenagers will stay up late and sleep until lunch-time given half a chance. And I don't mind catching up on my sleep on holiday after getting up for work every day at home. Now I pass on any activities with a 9 o'clock start. A leisurely breakfast from 10am and then starting the day's activities after 11am is about right for us.
Give them some space
The days of us being packed into a single family room are now over – I always book separate bedrooms, preferrably with own bathroom. Teenagers want their independence from their parents and being increasingly body conscious like some privacy to shower and change. If they have their own room they can make make a lovely mess with clothes all over the floor and you won't have to see it – it'll soon be packed up soon enough when you move on.
Packing light
This is a rule that holds good for all travellers but is sometimes difficult to enforce with teenage girls who like to have an outfit for every eventuality. We manage to travel light as a family by giving everyone their own small suitcase that meets the size requirements for carry on luggage. Each member of the family has to fit what they bring into their own case, pack and unpack it and carry it themself. If we are going for more than a few days, I'll add a larger family case that gets checked in for bulky items and overflow, but generally we try and go hand luggage only.
Bring a friend
On thing that teenagers hate is being parted from their friends. Even if all their friends are also on holiday, they're convinced there's a party happening back home that they're missing out on. On shorter trips we often plan to include their friends – teenage bliss is to bring all your friends on holiday with you.
Choose accommodation where they'll feel at home
If you can't always bring their friends along, you can choose accommodation where you'll be more likely to find other like-minded travellers to connect with. If I'm choosing an appartment, I'll look for one that's part of a complex, with communal pools and perhaps a bar or cafe where other teenagers are hanging out. We often stay in family friendly hostels, mingling with back-packers, although we look for an en suite private room rather than a dorm. For hotels I'll look for smaller, boutique hotels that have a young and friendly feel.
Stay connected on the Internet
Staying in touch with friends is really important for teenagers and ours are the internet native generation. An hour a day on Facebook will make them a lot happier, so I always look for accommodation with free internet access, which tends to steer us to the places that younger travellers will be staying. On everything but the shortest trips I'll bring my lap-top along and use the free wifi but there's usually a computer terminal in the places we stay that my teens can use from time to time.
Activities rather than sightseeing
I love nothing better than looking around a beautiful church or and interesting museum, but my children will roll their eyes with boredom at the thought, so we have to compromise. Activities such as swimming or cycling are always good and I look for accommodation with a pool or access to other swimming by the coast or a lake. Castles are better than baroque palaces and museums can be acceptable if they're small, quirky and capture our childrens' interests. Activities such as hanging out in a park, watching the world go by in a street cafe, riding the old trams or wandering through a flea market are fun things to do in cities.
A relaxed pace with plenty of stops
As with all family holidays, it's no good keeping up a punishing pace to tick off all those must-see sights. We focus on one thing to see in the day and then go with the flow for the rest of the time. We leave late after a leisurely breakfast and come back early to relax, read or swim and in between have lots of breaks to sit in a park, have an ice cream and try the local street food. Although I'd like to look around those landmark sites, I sometimes have to be content with admiring them from the cafe across the road.
If you travel with teenagers, I'd love to hear your tips for a happy holiday….
Teenage friendly places we loved staying
Valencia – Home Rooms Deluxe Hostel – a boutique hostel where all the en suite rooms are individually designed by different artists, with apartments to rent in the same building.
Budapest – Mandragora Boutique Hostel – Friendly, Indian style hostel in an old apartment building that's well placed for a city break
Budapest – Art'Otel – Modern, stylish 4 star hotel filled with artworks to treat yourself with a view of the Danube and a stroll up to the castle district.
Hungary, Lake Balaton – Hullam Hostel – Relaxed and family friendly hostel close to the lake with a few private rooms, occasional live music and Hungarian stew cooked over the open fire.
Cornwall, England – Treyarnon Hostel -The perfect seaside hostel with beaches, cliff walks and surfing on the doorstep and some en-suite and family rooms.
Berlin – Circus Hotel – A budget boutique hotel in the trendy Mitte district with rooms and apartments and wonderful staff. Their sister Circus Hostel is just across the road.
Croatia – Hotel Laguna Molindrio in Plava Laguna – a stylish, modern 4 star resort hotel with 2 pools, rocky coastal swimming and endless sports possibilities nearby
More family travel articles to enjoy
Travelling with the teens – in Valencia
A cycle in the Turia gardens – in Valencia
01 Family Travel with Hospitality Club – Podcast Episode 1
This article is originally published at Heatheronhertravels.com – Read more travel articles at Travel Blog Home
Don't miss out – subscribe to Heather on her travels
January 8, 2010 by Heather Cowper
Filed under Europe, World, Berlin, Croatia, France, Germany, Greece, Istria, Lebanon, Lisbon, Munich, Portugal, Zakynthos
2010 is well and truly here, and with snow on the ground in Bristol, I've been reliving the memories of some of the sunnier places I visited last year – here's the round up the places I travelled and enjoyed in 2009.
By the way, if you enjoy my blog, please do nominate me for best travel blog at the Bloggies before 12 January 2010.
Berlin for a girly break in April
April saw me on a 4 day break to Berlin in Germany with my teenage daughter and her friends. We were blessed with sunny spring weather and loved our stay at the fabulous budget boutique Circus Hotel, where the girls had their own apartment and the Mums were banished to their room at the other side of the courtyard. We saw the sights on foot, bus, s-bahn and rickshaw and generally soaked up the arty and trendy vibe of Berlin, an ideal city to please the most picky teenager. For more Berlin stories read;
Checkpint Charlie and other Berlin Wall stories
Blue Glass reflections at the Kaiser Wilhelm Memorial Church
Our 36 Hours in Berlin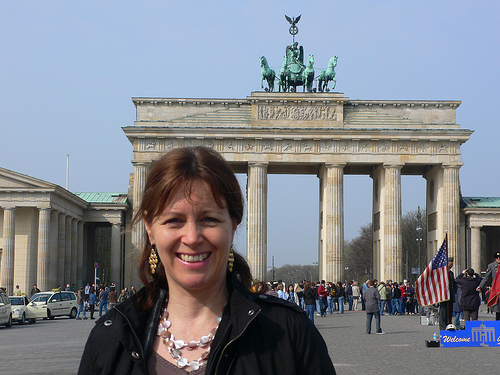 Val Cenis, France for a family ski-break in April
Hardly had we returned from Berlin when we were off again to join the boys on a family ski-ing break in Val Cenis in France, not too far from the Italian border. This was a last minute bargain break at the end of the ski season, in which we squeezed ourselves into a modest self-catering apartment. My kids are mad-keen snowboarders, while I'm a rather more sedate skier who likes to break up a few easy runs with long chocolat chaud stops in between. Meanwhile my children whizz past me showing no fear, only pausing to blague the price of an expensive plate of pommes frites or a crepe. For tales from Val Cenis read;
The Good Friday service in the ski resort of Val Cenis in France
Keeping my ski helmet on in Val Cenis, France
Savoyard food specialities to enjoy from the French Alps
Lebanon for a girl's road trip
My week in Lebanon, touring the country with a friend who works there was a real highlight. I didn't know what to expect of Lebanon but was blown away by the variety and accessibility of what was on offer for those who want a taste of the Arab World at it's most cosmopolitan and sophisticated. We didn't spend too long in the glitzy building site that is Beirut, but got out of the capital to walk the mountain trails, eat mezze in the souks of Sidon, see some amazing archaeological and historic sites and taste our way through some world class wines. For stories from Lebanon read;
St Anthony's Monastery of Qozhaya in Lebanon – video
The Cedars of Lebanon – Tannourine Cedars Reserve – Video
Mezze Memories in Lebanon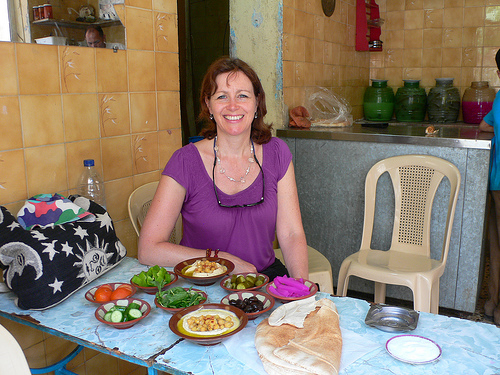 Zakynthos in July for our family beach holiday
July took us back to the Greek island of Zakynthos, where my sister lives with her Greek husband Denis and juggles family life with running two hotels. Although we've been going for the last 20 years, there are always surprises when you get away from the main resorts and we enjoyed meeting some locals, like Yannis Vardakastanis who founded the Earth Sea and Sky Wildlife centre at the beautiful Gerakas Turtle beach, Timotheos and Christina-Maria the stylish wine-makers at Oenpoli winery, and our photographer friend and bar owner, Rob Wallace and his wife Ritsa at Freddie's Beach Bar at Tsilivi. I hope I've convinced you that there's more to this island than its package holiday image might suggest. For tales from Zakynthos read;
How to make delicious Greek stuffed tomatoes
How to find a real Greek Taverna on Zakynthos
My top three beaches on Zakynthos
Istria, Croatia for a family resort break
In August I took a 4 day break with my family as a guest of the Istrian Tourism board, who invited a number of bloggers to this beautiful province of northern Croatia. The kids were smitten with our modern resort hotel Laguna Molindrio with it's two pools and view of the sea and we swam and cycled through the pine woods that fringe the shore. There was plenty to interest the culture lover in me in the old Venetian ports of Porec and Rovinj nearby as well as fresh seafood, local truffles and the picturesque hill towns that reminded me of Tuscany. For more Istrian travel stories read;
Visiting the hill towns of Grozjnan and Motovan in Istria
My Istria Travel diary – podcast and slide show
Cycling by the sea in Istria
Brittany in August to go fishing for crabs
Another short break took me with my daughter to visit an old friend in Vannes in Brittany, in an effort to improve both our language skills. My friend lives in a beautiful spot overlooking the marina at Conleau on the Gulf of Morhiban and we took a day trip to the island of Houat where we swam, sunbathed and had fun fishing for crabs. Unfortunately our catch was rather insignificant, so we had to pay a visit to the fishmonger on the way home to get some more respectable specimens to eat for dinner. For a few fishing tales from Brittany read;
How to prepare a crab a la Francaise in Brittany – video
Gone fishing for crabs on Ile de Houat in Brittany
A postcard from Conleau near Vannes in Brittany
Lisbon in November for a romantic weekend a deux
At the end of November, I visited Lisbon for a 3 day weekend break with my husband, leaving the kids behind. We loved our welcoming boutique hotel which was ideally placed for sightseeing and wandering the back streets. We visited the Monastery of Jeronimus and the Castelo de Sao Jorge, getting around on the modern metro, old fashioned trams and elevador funiculars that climb hills of the city, saving the legs of the weary traveller. We ate our way through as many local specialities as we could including the port, salt cod and seafood and the custard tarts Pasteis de Nata that are the sweet symbol of Lisbon. For more Lisbon stories read;
An autumn weekend in Lisbon – Podcast
An authentic Portuguese meal at Casa do Alentejo in Lisbon
A rainy day at the monastery of Jeronimus
Munich in December with my parents to see the Christmas markets
To round off the year I took a 3 day weekend break with my parents to visit the Christmas markets and get into the holiday spirit. I loved the feeling of Christmas in the air, especially in the atmospheric market we found in the courtyard of the Residenz with local choirs and Alpine horns playing, the smell of gingerbread, sizzling sausages and mulled wine and the dusting of snow on the rooftops. I loved the cosy feel of sitting in a condotorei, having our kafee and kuchen, but I did feel the cold when the temperature dropped below freezing. For more Munich stories read;
Visiting the Munich Christmas Markets – podcast
Empty splendour at the Resindenz in Munich
Bavarian pork knuckle at Haxnbauer in Munich
So that was 2009 and where will 2010 take me? The only thing booked is a visit to the Passion play at Oberammergau in July, which happens only every 10 years, so it's really a once in a lifetime thing. Other than that the plans are fluid for the spring – I'm waiting to see where the cheap flights, friends around the world and any other offers may tempt me. What are your travel plans for 2010 – I'd love to hear them. And if they bring you to Bristol in 2010, I'd love to show you my city.
Read more travel articles at Travel Blog Home
Don't miss out – subscribe to Heather on her travels
If you're a coinesseur of the historic monuments and beautiful churches of Croatia, you'll enjoy the Unesco World Heritage site of the Basilica of Euphrasius that we visited this summer while staying near Poreč in the province of Istria in Croatia.
You'll find the Basilica set in the pedestrianised narrow streets of the old town, which is not so large that you'll have any difficulty finding it. The old town of Poreč is surrounded on three sides by water and is a great place to wander around for a few hours, soaking up the atmosphers, taking a seat in any small squares or bars you come across and stocking up on gelato and souvenirs.
The main claim to fame of the Basilica of Euphrasius in Poreč, Croatia is the beautifully decorated dome at the back of the church, covered with golden mosaics of Christ surrounded by his apostles and saints as well as Bishop Euphrasius who built the church in the 6th century (well if you went to all that trouble, you'd want to make sure you were remembered, wouldn't you?) As well as the mosaics, I loved the beautifully carved stone arches, running down each side of the church, each with a slightly different motif. There are classical concerts held at the Basilica on summer evenings and while we were visiting in the afternoon, we were lucky enough to hear a concert pianist rehearsing for the evening performance. You can hear the music on my Podcast about our visit to Istria.
There are other courtyards to visit within the Basilica complex and a bell-tower to climb, although I wasn't able to stay long enough to see them, as my kids were more interested in an ice cream and getting back to the hotel pool than checking out an old church. But I did take a look at the remains of the original mosaic floor close to the entrance. Although the walls of the Basilica of Euphrsius are now quite plain, I believe they must have originally been covered by frescos, of which you can see fragments here and there.
When you've looked around the Basilica, take a stroll around the perimeter of the old town of Poreč and the back streets and lanes. As is typical on much of the coast of Croatia, one minute you'll find a rocky place with locals swimming, the next you'll be staring at a swish hotel and glossy, expensive yachts in the marina. There are plenty of places selling boat trips from the harbour, including the clear water of the Limski Kanal, an inlet that's famous for farming oysters where we had a great seafood meal. On Sundays there's a flea market under the trees by the bus station as well as lots of souvenir stands around the harbour. We loved our few days in Istria, there seems to be something for everything, whether you like a bit of history like me, or you'd rather be eating gelato and swimming like my kids!
Check for the best hotel prices in Porec and book here.
Other Posts to enjoy from Istria in Croatia
A room with a view – staying at Plava Laguna Resort in Istria, Croatia Cycling by the sea in Istria, Croatia Visiting the hill towns of Grožnjan and Motovun in Istria
Read more travel articles at Travel Blog Home
Don't miss out – subscribe to Heather on her travels