Lisbon is divided into districts and each one of them is special on its own way. Some of them are more traditional, others are more modern. Some of them are fancier, others are more adventurous. And together they transform Lisbon into what it is. In this guest article, Lisbon expert Julia Vilaça recommends five different neighbourhoods which will give you a complete overview of Lisbon and its special character.
1. Alfama
Alfama is one of the most famous neighborhoods in Lisbon because of its traditions and it's considered the "Fado's Birthplace". It's an area with narrow labyrinth streets, that transform the neighborhood into one of the most fascinating. For a genuine visit to Lisbon with a pretty cool lookout at the end, visit Alfama, listen to some fado and enjoy the viewpoints. "Portas do Sol" is one of the most fantastic viewpoints and if you want a place to stay, you can choose Hotel Memmo Alfama. In Alfama you can also visit the National Pantheon and Casa dos Bicos – the José Saramago foundation house.
2. Alcântara/Belém
The Discoveries Monument, Belém Tower, Jerónimos Monastery, National Coach Museum, Electricity Museum and many other monuments are located in Alcântara/Belém – it's great for walking around (especially when the sun comes out) and to discover Portuguese history, since most of the monuments related to the discoveries are located here. In Belém, you'll find something for everyone. And you should definitely try the Portuguese pastries – Pastéis de Belém. Enjoy the sunset at Espelho D'Água and stay at Altis Belém Hotel.
3. Chiado
If you like to shop, this is the perfect place. Chiado brings together lots of stores, restaurants, cafés and little shops – you should definitely try the chocolate cake from Landeau and have a cup of coffee with the famous Portuguese writer Fernando Pessoa in A Brasileira. Are you looking for traditional souvenirs? Or maybe a cool trendy piece for your closet? You're going to find it in Chiado because modern brands cohabit with centenary premises (here you can find, for example, A Vida Portuguesa and Luvaria Ulisses). Lisboa Carmo Hotel is a great option if you want to stay in the heart of the city. And if you want to go to the theatre or see some street artists, Chiado is also the place!
4. Bairro Alto
Some people just call it "Bairro" and it's one of Lisbon's alternative areas. In Bairro Alto you'll find art galleries, bars like PARK (for a great sunset), local stores… It's a very traditional area during the day and, at night, it transforms itself into a trendy neighborhood –there's music, drinks and fashion all over the place. It's one of Lisbon's most diverse districts and although it's not super quiet at night, it's also great if you want to go out and enjoy the hours after the sun goes down. During the day, travel up the 7th hill by hopping on one of Lisbon's famous elevators: Bica or Glória.
5. Parque das Nações
The most modern part of the city, with a business side. Thanks to Expo '98, it was fully renovated (some people call it "the Expo area") but in Parque das Nações you can enjoy a different perspective of the city. MEO Arena, the Pavilion of Knowledge and the Lisbon Oceanarium are located here, so it's a great area to take the kids. For an even cooler experience, take a ride on the cable cars!
Author Bio: Thanks for this article to Julia Vilaça who writes at Lisboa Cool and is an avid collector of happy moments. Her dream is to help people discover the coolest places when they travel.
If you're looking to book a Hotel in Lisbon, compare prices and book on my Hotel Booking page powered by HotelsCombined – I get a small commission at no extra cost to you. Thanks for your support!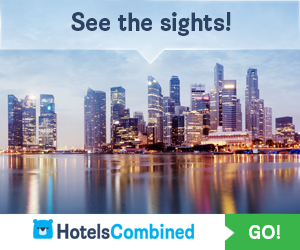 Pin It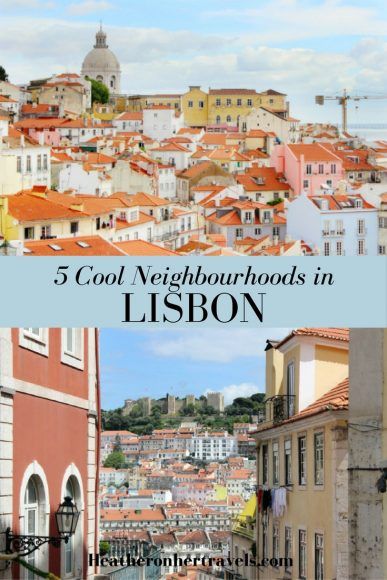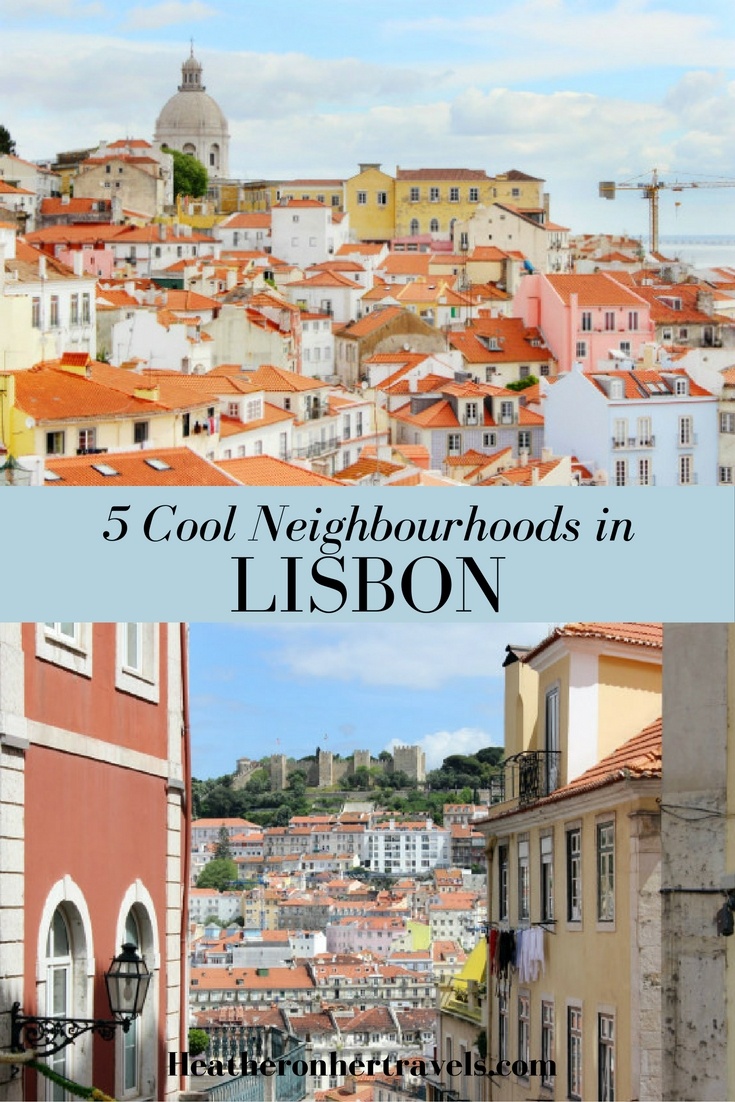 This article is originally published at Heatheronhertravels.com – Read the original article here
You'll also find our sister blog with tips on how to build a successful travel blog at My Blogging Journey
When I travel it's the food that often creates the lasting memories that I bring home. For Greece it's the home-made stuffed tomatoes that I associate with sitting under a leafy pergola with a view of the sea, from Texas it's the fish tacos that remind me of the food trailers of Austin and from Portugal it's the Pasteis de Nata custard tarts that bring back mouthwatering memories of a weekend in Lisbon.
With Christmas approaching it's always good to have a few alternatives to the mince pies that can be whisked up at short notice so it was great timing that I was asked by Expedia to come up with my favourite world-on-a-plate recipe with a Portuguese theme. If you've not visited Lisbon, you may not know what you are missing in these creamy, vanilla perfumed custard tarts enclosed in a crisp, flaky pastry that are sold in every bakery and at every hotel breakfast buffet.
While there are plenty of Pastelarias or cake shops around Lisbon where you can buy the tarts, locals and tourists alike swear by the ones that are sold close to the Monastery of Jerónimos at the Antiga Confeitaria de Belém where the cakes are simply known as the Pastéis de Belém. To get there you take the tram from downtown Lisbon to Belém, getting off at the stop before the monastery and look for the queue of people snaking out the door waiting to buy them warm from the oven.
I made some of the tarts this weekend as a try out for Christmas week when we will have plenty of family staying with us, so that I can serve them either as a teatime treat or as a desert with ice cream. I had to practically fight off the family from eating them all before I photographed them, so you could see what the result was.
This is the recipe I used for the Pasteis de Nata which is a hybrid of various recipes I found online and makes up to 24 small tarts or 12+ bigger ones.
Ingredients
1 pack of ready made puff/ flaky pastry
500ml milk/ single cream – I used 300ml milk + 200ml cream
6 egg yolks
300g caster sugar
50g flour/ cornflour
A cinnamon stick or 1/4 tsp of powdered cinnamon
2 strips lemon peel
½ tsp vanilla extract or 1 vanilla pod
First make the easy custard
1. Put the flour in a pan off the heat and slowly whisk in enough of the milk/cream mixture to make a thin paste with no lumps
2. Gradually whisk in the sugar, then the egg yolks and then the rest of the milk/cream mixture.
3. Add the vanilla essence or pod, the stick of cinnamon or powdered cinnamon and the stips of lemon peel
4. Heat slowly over a low heat whisking constantly as the custard heats through. If the heat is too high or the stirring not constant the mixture may turn into a horrible lumpy, scrampled mixture although it will probably still taste good.
5. Once the mixture turns into a thick custard, take off the heat and allow to cool.
6. Remove by hand the sticks of cinnamon, vanilla pod and lemon peel before using the custard
Bake the Pasteis de Nata
1. Roll out the flaky/ puff pastry as thinly as possible
2. Take a round pastry cutter or glass to cut rounds of pastry that will fit neatly into your individual tart tins which you have already greased
3. Bake at 180 degrees celcius for around 25 minutes but check after 20 minutes. The pastry should be golden and the custard nicely browned.
Serve while warm from the oven or as a desert with vanilla ice cream – they won't last long!
When we were in Lisbon a few years ago we stopped at the bakery like the rest of the visitors on their way to visit the monastery and because it was raining we ventured past the queue at the front of the shop into the rabbit-warren of cafe rooms behind. They stretched quite a long way back, so by going from room to room we eventually found a table that was free and ordered our Pasteis de Belém with a coffee.
The story goes that in the early 19th century the monks of the nearby monastery sold the ancient recipe to the bakery and the tarts have been made there since 1837, with the recipe remaining a secret, only known by three of the chefs at the bakery. If you visit Lisbon around Christmas time, look out for the Bolo Rei or King cake, a ringed cake topped with colourful crystalised fruits. The cake is eaten up to the epiphany on 6 January and it sometimes has a little token buried in it for one lucky person to find, just as we might put a sixpence in a christmas pudding.
It you'd like to visit Portugal and Lisbon to try out the Pasteis de Nata for yourself, check out the holidays to Portugal that you can find at Expedia and look out for other interesting foods in their world-on-a-plate series.
This article was brought to you in partnership with Expedia as part of their world-on-a-plate series. Read the round-up of the other mouthwatering recipes from Portugal on the Expedia blog here.
More things to see in Lisbon
Having my Pastéis and eating it in Lisbon – Portugal
Podcast – an autumn weekend in Lisbon
Modern luxe at Hotel Heritage Av.Liberdade in Lisbon
This article is originally published at Heatheronhertravels.com – Read the original article here
You'll also find our sister blog with tips on how to build a successful travel blog at My Blogging Journey
April 18, 2014 by Heather Cowper
Filed under United Kingdom, Europe, Leisure, featured, Dublin, France, Ireland, Italy, Lisbon, Midlands, Paris, Portugal, Rome, Sightseeing
When spring arrives with sunshine and daffodils, it always puts me in the mood for planning my next getaway, a mini-break to throw off the chill of winter and tide me over until the summer holidays. If you're in the mood for a weekend away in Europe or the UK, take a look at the fun web app from SuperBreak to fuel your holiday inspiration. Whether you're planning a relaxing half term break with the family, a weekend of eating and entertainment with your friends, or a cultural city-break with your partner, here are some of the destinations that you might want to consider;
If you're a couple looking for a weekend of food, drink and entertainment you might look at….
Dublin
What Superbreak have to say; Just a quick jump across the water and you can enjoy traditional Bars, comedy clubs, delicious local food and the ever-so-friendly Irish welcome! Guinness at the ready!
What I enjoyed about Dublin;
Here's what I wrote about Dublin: The best of TBEX, the best of Dublin
But if you and your partner are looking for a weekend of culture in Europe, why not try…
Rome
What Superbreak have to say; With a wealth of history, culture and plenty of Italian charisma, you can't help but feel the love on a weekend break in Rome with someone special.
What I enjoyed about Rome;
Here's one of my stories about Rome: The view from the dome of St Peter's in Rome
If you are a couple who fancy a weekend of culture in the UK take a look at …
Stratford-upon-Avon
What Superbreak have to say; Discover the quaint city of Stratford upon Avon on a romantic weekend break. Step back in time in this historic city and see the spots where Shakespeare's most famous plays were created.
What I love to do in Stratford-upon-Avon;
Here's what I wrote about Stratford-upon-Avon: The Tower and other Transformations at the Royal Shakespeare Theatre in Stratford-upon-Avon
But if you are a group who'd like a weekend of culture in Europe why not try …
Paris
What Superbreak have to say; With history, landmarks and iconic French architecture around every corner, Paris offers everything a group would need for a cultural break. Don't forget your camera!
What I enjoyed about Paris;
Here's what I wrote about Paris: Our winter weekend in Paris, the food, the sights, the video
And if and your friends are looking for a weekend of culture in Europe, why not try…
Lisbon
What Superbreak have to say; A weekend break in Lisbon, Portugal's capital offers an eclectic mix of fascinating Portuguese history and contemporary art and culture.
What I loved about Lisbon;
Here's one of my stories about Lisbon: An autumn weekend in Lisbon – Podcast
There are plenty more inspirational short break destinations to discover with the SuperBreak app so why not give it a try and see where your inspiration leads you.
About the Superbreak Holiday Inspirator:  To celebrate their 30th anniversary, Yorkshire based holiday company  Superbreak.com have created a fun app to help you choose the perfect UK or European city break based on who you're travelling with and what you enjoy. Check out the Superbreak Holiday Inspirator Webapp or follow the coversation on the Superbreak Facebook Page or on Twitter @Superbreak using hashtag #SuperBreakinspo
This article is brought to you in partnership with Superbreak.com
Photo Credits: Dublin at night by LenDog64 Other photos by Heatheronhertravels.com
This article by Heather Cowper is originally published at Heatheronhertravels.com – Read the original article here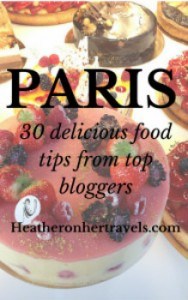 You'll also be subscribed to our free monthly newsletter for great travel resources, news and offers, but you can unsubscribe at any time and we'll never share your e-mail.
You'll also find our sister blog with tips on how to build a successful travel blog at My Blogging Journey