If you're a coinesseur of the historic monuments and beautiful churches of Croatia, you'll enjoy the Unesco World Heritage site of the Basilica of Euphrasius that we visited this summer while staying near Poreč in the province of Istria in Croatia.
You'll find the Basilica set in the pedestrianised narrow streets of the old town, which is not so large that you'll have any difficulty finding it. The old town of Poreč is surrounded on three sides by water and is a great place to wander around for a few hours, soaking up the atmosphers, taking a seat in any small squares or bars you come across and stocking up on gelato and souvenirs.
The main claim to fame of the Basilica of Euphrasius in Poreč, Croatia is the beautifully decorated dome at the back of the church, covered with golden mosaics of Christ surrounded by his apostles and saints as well as Bishop Euphrasius who built the church in the 6th century (well if you went to all that trouble, you'd want to make sure you were remembered, wouldn't you?) As well as the mosaics, I loved the beautifully carved stone arches, running down each side of the church, each with a slightly different motif. There are classical concerts held at the Basilica on summer evenings and while we were visiting in the afternoon, we were lucky enough to hear a concert pianist rehearsing for the evening performance. You can hear the music on my Podcast about our visit to Istria.
There are other courtyards to visit within the Basilica complex and a bell-tower to climb, although I wasn't able to stay long enough to see them, as my kids were more interested in an ice cream and getting back to the hotel pool than checking out an old church. But I did take a look at the remains of the original mosaic floor close to the entrance. Although the walls of the Basilica of Euphrsius are now quite plain, I believe they must have originally been covered by frescos, of which you can see fragments here and there.
When you've looked around the Basilica, take a stroll around the perimeter of the old town of Poreč and the back streets and lanes. As is typical on much of the coast of Croatia, one minute you'll find a rocky place with locals swimming, the next you'll be staring at a swish hotel and glossy, expensive yachts in the marina. There are plenty of places selling boat trips from the harbour, including the clear water of the Limski Kanal, an inlet that's famous for farming oysters where we had a great seafood meal. On Sundays there's a flea market under the trees by the bus station as well as lots of souvenir stands around the harbour. We loved our few days in Istria, there seems to be something for everything, whether you like a bit of history like me, or you'd rather be eating gelato and swimming like my kids!
Check for the best hotel prices in Porec and book here.
Other Posts to enjoy from Istria in Croatia
A room with a view – staying at Plava Laguna Resort in Istria, Croatia Cycling by the sea in Istria, Croatia Visiting the hill towns of Grožnjan and Motovun in Istria
Read more travel articles at Travel Blog Home
Don't miss out – subscribe to Heather on her travels
October 25, 2009 by Heather Cowper
Filed under Europe, Accommodation, Leisure, video, Podcasts, Art and design, Beaches and swimming, Croatia, Cycling, Eating and drinking, Hotels, Istria, Nature, Sightseeing
In my Podcast Edisode 2 in my travel podcast series, I'm taking you to Istria in Croatia with an audio diary of the four days I spent there with my family. You'll hear about the Plava Laguna resort where we stayed, the cycling, swimming and sailing that's available in this area as well as the fortified medieval hill towns and old coastal towns of Porec and Rovinj which we explored and the local specialities such as truffles and seafood.
[powerpress: http://traffic.libsyn.com/heatheronhertravels/Istria-travel-diary.mp3 ]
To download Istria Travel Diary podcast, right click here 19 min [mp3]
To subscribe to all my podcasts in ITunes click here
If you enjoyed this podcast, check out all my other Travel Podcasts in my Podcast Archive
If you enjoy this podcast, do take a look at my other articles, photos and videos for more detail of the things we saw. There's so much to enjoy in Istria and as a self-contained region it seems to have something for everything, whether it's swimming, sport, relaxation, heritage or the gourmet experience. I hope you also enjoy the slide show below that's designed to accompany the podcast and covers the places I talk about in the podcast.

Show notes
Istria Tourism website
Istria Gourmet website
Istria Bike website
All my photos of Istria on Flickr
Read all my Istria articles
Video of Plava Laguna Resort
To subscribe to all my podcasts in ITunes click here
If you enjoyed this travel podcast please check out my other podcasts in my Travel Podcast Archive
– Music on this podcast was Venus as a girl by Andy Mckee on Music Alley
– I was hosted on this 4 day trip by the Istrian Tourist board to blog about the things I saw in Istria
Check for the best hotel prices in Porec and book here.
Other articles about Istria
Cycling by the sea in Istria
On the hunt for the Istrian truffle in Croatia
A room with a view – staying at Plava Laguna Resort in Istria
Read more travel articles at Travel Blog Home
Don't miss out – subscribe to Heather on her travels
On our recent visit to Istria, the northernmost province of Croatia we tore ourselves away from the sunlounger to explore the coastline at Limski Kanal (also known as Lim Fjord or Limski Channel). This deep sea channel cuts inland with steeply sloping wooded sides and caves cutting into the limestone cliffs.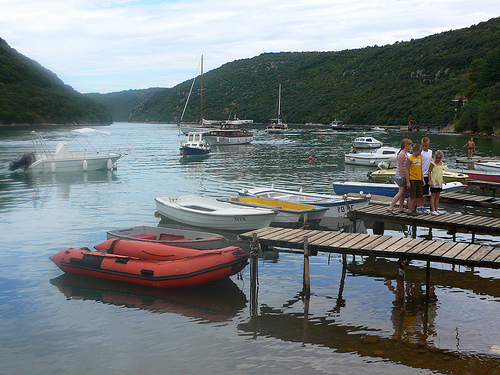 Due to the purity of the water here, the channel has been designated a Marine Reserve and is known for the mussels and oysters that are farmed here. There's a little hut where you can buy the fresh shellfish and naturally a couple of restaurants that specialise in seafood.
We had visited the town of Rovinj that morning, passed many restaurants along the roadside specialising in spit roast pork which looked tempting, but I was determined that this was the place to enjoy some seafood of the region. As the day was thundery and the rain broke just as we drove down to the channel, it seemed quite appropriate to retire for a couple of hours to the restaurant and enjoy our seafood until the showers passed over.
Of the two restaurants we could see I headed for the one called Viking, a little set back from the water, as I had noticed it recommended on a food website. The restaurant, though unassuming from the outside was a 'proper' restaurant, by which I mean that it was packed with local and visiting families and not at all the sort of place where the waiter sizes you up as a tourist and treats you accordingly.
We found a table and watched piles of shellfish and platters of grilled fish passing by, all being enjoyed by large family groups and couples alike. This was obviously the place to taste ultra fresh oysters since they literally had metres to come from the channel and I just ordered three for a little taster. The first time I tasted oysters was as an impressionable exchange student eating out with my French host family at a restaurant in Arcachon, near Bordeaux where platters of seafood were brought out as a Sunday treat. This must be proof that travel broadens the taste buds as well as the mind. I don't think I'd eaten them again since.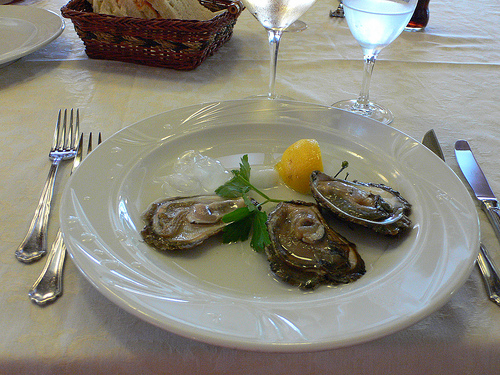 Those oysters slipped down with a salty taste of the sea with a twist of lemon. My husband had some mussels cooked in a wine sauce which he mopped up with bread and my daughter adventurously tried the octopus which was familiar from our Greek holidays. Unfortunately my son couldn't be persuaded and stuck to the lasagne. Then we shared a plate of mixed grilled fish which was also delicious, all washed down with some chilled white Istrian wine – the wine in this region is excellent.
When the meal was over we strolled along a little by the channel where there are some jetties and a small beach for swimming. Although the rain had stopped, it was still overcast so we didn't swim, although it looked inviting. Perhaps the best way to see the channel is on a boat trip, either from one of the towns further up the coast, such as Porec, where you spend half a day in the channel, swimming off the boat, or alternatively you can take a boat trip from near the car park, souvenir stalls and restaurants, to go out and see the panorama of the channel from the water. I think the latter option is better if you want to also have time to enjoy a seafood meal like we did.

Although on this part of our holiday in Croatia we spent more time eating than seeing the channel, it was a really beautiful place to get out and enjoy a few hours.
This was posted as part of the Wanderlust and Lipstick Wanderfood Wednesday – head over to see some Watermelon and popcorn as well as all the other delicious foodie posts at Wanderfood Wednesday
Check for the best hotel prices in Rovinj and book here.
You may also enjoy
A Room with a view – staying at Plava Laguna Resort in Istria
On the hunt for the Istrian truffle in Croatia

Read more travel articles at Travel Blog Home
Don't miss out – subscribe to Heather on her travels