In my travel podcast series, I have a podcast interview about the rainforests of Ecuador you'll hear how to enjoy how to enjoy your rainforest experience, as well as the many other diverse areas of of the country, the Avenue of the Volcanoes, the Indian markets, and the beaches of Manabi province where you can see migrating whales.
[powerpress:http://traffic.libsyn.com/heatheronhertravels/3.Ecuador-and-the-rainforest.mp3 ]
To download Ecuador and the rainforest podcast, right click here 30 min [mp3]
To subscribe to all my podcasts in ITunes click here
If you enjoyed this podcast, check out all my other Travel Podcasts in my Podcast Archive
While I was at the World Travel Market recently, I met up with my friend from Ecuador, Luis Hernandez who was part of the Ecuador country stand, promoting his travel business and Cuyabeno Lodge. When I visited Ecuador with two friends two years ago, we spent an amazing week travelling by canoe down the Rio Bobonaza and stopping at the Rainforest Community at Sarayaku for a few days, all of which was organised by Luis and he also accompanied us.
Luckily Luis had made the journey before, so he knew the local communities and also had military connections which smoothed our journey through the lower river military zone near Peru considerably. Luis had also been elected as a member of the Ecuadorian Congress, just before our trip and so he was the man the rainforest communities wanted to meet, to put across their point of view and speak in the schools to their students.
I thought Luis with both his military jungle experience and knowledge as a tour operator and guide would be a great person to talk to about the best of Ecuador. I hope you enjoy the interview.
Show notes
In this interview with Luis Hernandez we discussed;
The Cuyabeno Lodge in Ecuador; where it is, how you get there, the type of accommodation and what you would do while you are there
The steps the Cuyabeno lodge take to be eco-friendly, such as using solar energy, using biodegradable products and recycling waste, as well as employing local people or transport by canoe and guides.
The variety of Flora and Fauna you can find at Cuyabeno Reserve and lagoon, such as birds, plants, flowers, river turtles, cayman and even pink dolphins
How to deal with a snake, cayman or anaconda if you should meet one in the forest
The equipment that you might need in order to be comfortable in the jungle, such as wellington boots, hat, suncream, insect repellant, torch and what health advice Luis gives to his visitors.
The problems in Ecuador with oil exploration and logging and how supporting tourism in the rainforest areas will put money into the local economy and prevent the destruction of the rainforest.
Other areas of Ecuador to visit, such as the mountainous Andean area of the Avenue of the Volcanoes where you can hike and walk on the volcanoes of Cotopaxi and Chimborazo staying in old haciendas.
The Indian markets of Otavalo on Saturdays and Saquisili on Thursdays
On the coastal area, Luiz recommends the south of Manabi province which has the Machalilla national park and the beach of  Canoa in the north and Isla de las Plata where you can see migrating whales in July and August.
The political situation in Ecuador which is generally calm and stable – although the factions within the government may dispute among themselves, the situation for tourists is calm. The government is also creating a good network of roads and infrastructure, which makes it easy for visitors to get around.
The music on the podcast was Venus as a Girl by Andy McGee on Musicalley.com
Resources
Cuyabeno Lodge and Neotropic Turis – Travel company in Ecuador the organises tours throughout Ecuador as well as to Cuyabeno Lodge
Sarayaku Rainforest Community that we visited on my trip to Ecuador
Ecuador Tourism website
See all my Ecuador Photos on Flickr
Read all my Ecuador articles
To subscribe to all my podcasts in ITunes click here
Read Related Posts
A Politician in the Rainforest
Internet in the Rainforest in Sarayaku in Ecuador
A Wika tatoo in Ecuador
If you enjoyed this travel podcast please check out my other podcasts in my Travel Podcast Archive
Read more travel articles at Travel Blog Home
Don't miss out – subscribe to Heather on her travels
When you go for the rainforest you may as well leave your vanity behind. The constant downpours and lack of a hairdryer will make your bouncy locks go limp and forget any perfume or scented toiletries or the mosquitos will soon come buzzing around.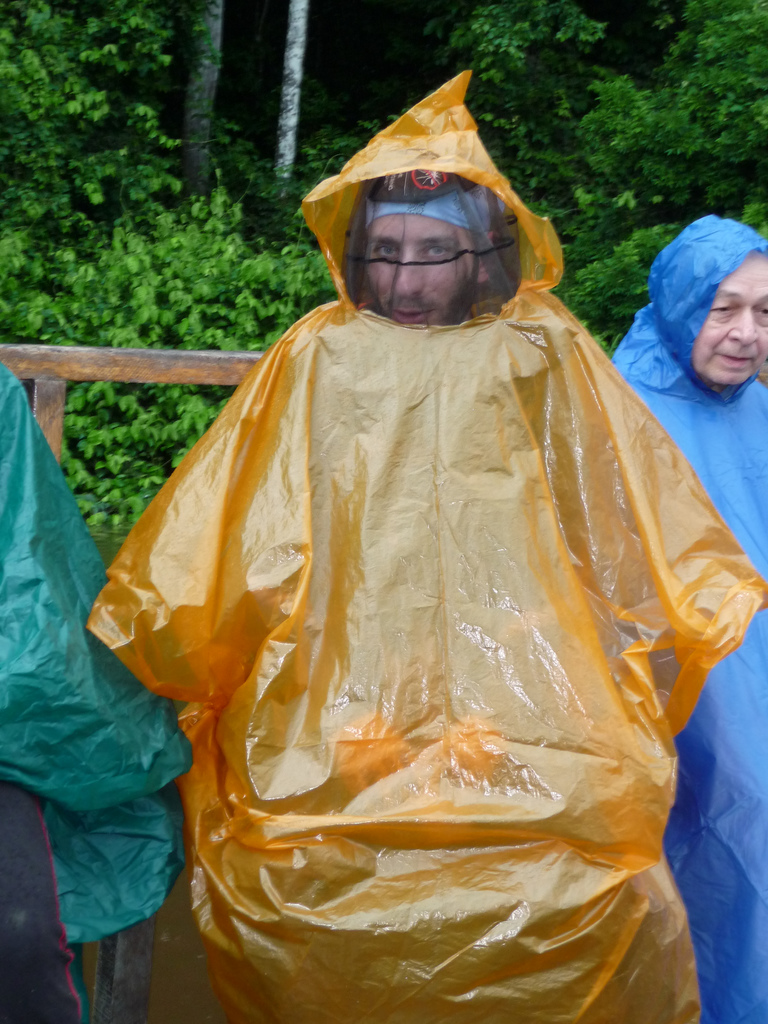 However, one piece of fashion wear is de rigeur for every self respecting eco-tourist and that is a brightly coloured poncho. You can buy it for a couple of dollars at the local riverside store before you jump on your motorised canoe, as my friend Joanne did on her trip to her Peruvian eco-lodge. You can see her Canadian friend Sean modelling it above, completing the look with his mosquito net headgear.
There were some rash individuals who thought that their waterproof jackets would be enough, but little did they know! In the downpours that followed (doh, I guess that's why it's called the rain-forest), theirs were the legs and backpacks that got soaked, while those with a poncho were much better protected by the all-encompassing caress of luminous plastic.
So don't get wet, pick up a Poncho!
Photo Friday is hosted over at Delicious baby – head over and see all the other Friday photos here.
You might also enjoy
Relaxing at the Tambopata ecolodge in Peru
Loading the dug-out canoe in Ecuador
Catfish and anaconda on the Rio Bobonaza in Ecuador
See all Joanne's Peru photos on Flickr

Read more travel articles at Travel Blog Home
Don't miss out – get all my articles through your reader
After treking and sightseeing in Peru, a stay at an eco-lodge is one of the top ways to relax and experience the rainforest in the Amazon basin. After her trip to Machu Picchu that's just what my friend Joanne had in mind and discovered that it's called the 'rain' forest for a good reason.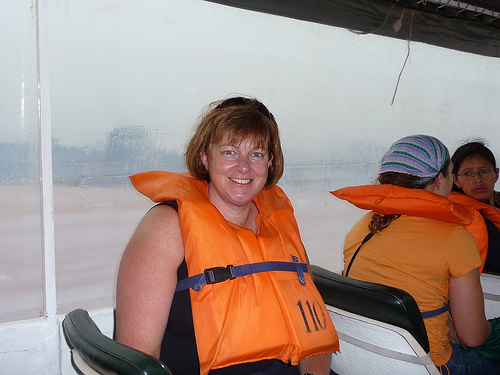 Joanne flew from Cusco to a small airstrip and then took a bus to the river stop-off point from where a motorised canoe took her group the 3 hr journey to the Tambopata ecolodge. After half an hour, you guessed it, it started to pour and despite the canopy they were under, they all got drenched. Luckily, the rain stopped for the last part of the boat trip and they were able to spot some howler monkeys, weaver birds, eagles and parrots, all pointed out by their eagle-eyed guide, Wilma.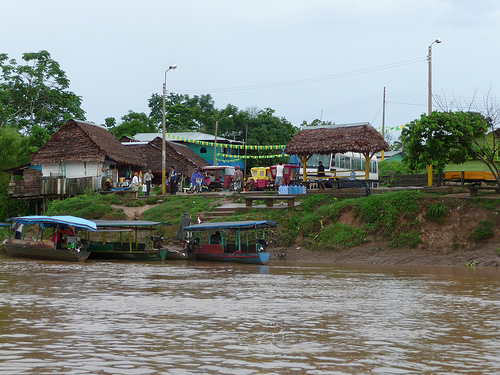 Once they had arrived and settled in, they were taken on a night walk, with the sounds of the rainforest all around them. The next day, they were taken by boat to visit a nearby ox-bow lake with some Pihrana spotting thrown in, and guess what – it poured again.  After returning to the lodge to dry off, Joanne was chilling in her hammock when she spotted a wildlife drama unfolding before her. A large capibara, a native rodant had hidden under a bush and was catching and eating the little birds that landed nearby, causing plenty of squawking and commotion. Read about it here in my previous article – the Capibara gets the bird.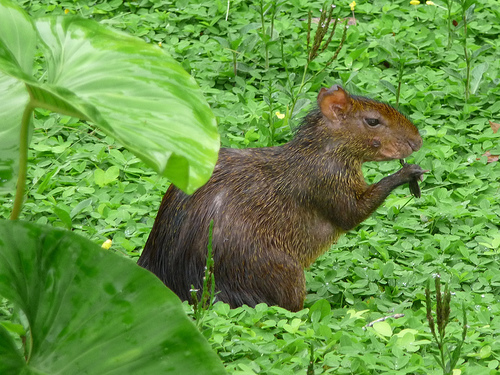 There were around 50 guests in the lodge staying in thatched cabins and they all ate together in the evenings – a bit like school dinners but Joanne enjoyed the meals of chicken, rice and beans. In the evening it was off again for some Cayman spotting by torchlight – with their local guide Elvis whose practiced eye picked out the eyes of the Caymen in the dark. In only an hour they were able to spot eight or nine small caymen around two feet long, lurking in the darkness.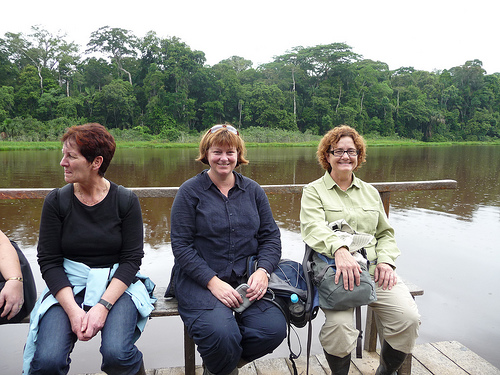 On the final morning, the group were given allowed the big treat of a cooling swim in the river  lake behind the lodge, although Joanne didn't fancy the murky water or the thought of what might be squelching between her toes in the mud at the bottom, so she gave it a miss. Then it was back on the canoe the way they'd come and a flight back to Lima for the end of the holiday.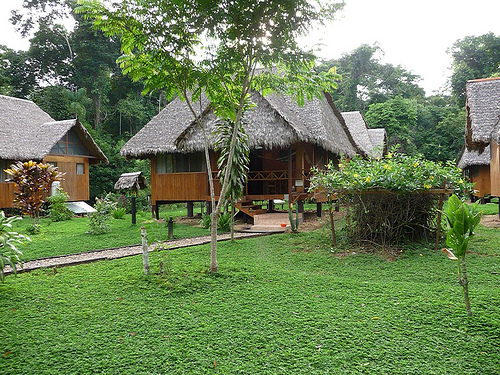 Joanne enjoyed her time at the Tambopata ecolodge and found it very relaxing, although she did find that there was a lot of travelling involved for a relatively short stay. But certainly a great place to unwind and enjoy the rainforest.
Tambopata Ecolodge is the Puerto Maldonado region of Southern Peru.
Website: www.tambopatalodge.com
You may also enjoy:
Defending the rainforest in Ecuador
Kapawi Ecolodge at the World Travel Market
A grown-up backpacker at Machu Picchu
See all Joanne's Peru photos on Flickr

Don't miss out – get all my articles through your reader