The Texas Hill Country is that area between San Antonio and Austin where the flat plains give way to rolling hills with small towns that were founded in the 19th century by settlers from Sweden and Germany. We toured around this area last year, finding things that seemed strange and unusual to our European eyes, even though we share a common language (well nearly). Here are some of the things that we enjoyed on our drive around the Texas Hill Country;
Texas Barbecue and a slice of pie
In England a barbecue would probably mean sausages and burgers cooked over smoky charcoal, but we found that in Texas it means something quite different. At Black's BBQ in the town of Lockhart, they've been serving real Texan BBQ since the 1940s, using only the finest beef brisket marinaded and cooked slowly over oak chippings for 12 hours until it is meltingly tender and delicious. We queued up for our salads and sides then piled the plates with slices of brisket which was sold by weight and settled down at the red checked tables to enjoy, surrounded by hunting trophies and sporting photos. Afterwards we got a behind-the-scenes kitchen tour to feel the heat of the ovens and learn more about how the brisket is carefully trimmed and cooked for that authentic BBQ taste.
Driving back to the Interstate 35 we stopped for something sweet at the Texas Pie Company in Kyle which we easily recognised from the huge slice of cherry pie on the roof. Their slogan is "Life's short, eat more pie" and with delicious flavours like fudge pecan, lemon chess and strawberry peach to choose from we didn't need any encouragement. On the wall was a picture of chief pie-maker, Julie Albertson, who uses her grandmother's recipes to create 18 different pie flavours, with individual sizes as well as the classic 10 inch size. You'll find home-made pies like these in many local bakeries and diners – it's a taste of Texan home cooking.
Tubing and Blue Bell ice Cream in Gruene
We passed through the German settler town of New Braunfels and stopped on the outskirts at the smaller historic district of Gruene. A popular local pastime, especially in the sweltering heat of the Texas summer, is to go rafting or tubing on the Guadalupe river that flows through the area. Although it was a little early in the season we hired our tubes at Rockin'R, right by the river and opted for the tubing as we were advised that there wasn't really enough water in the river for rafting. The company owns a number of camp grounds along the river so you can drift downstream and then they will arrive in the van to give you and your tube a lift back to the starting point. It took an hour and a half drifting along to reach the pick-up point and we took a good look at all the fabulous houses along the banks as well as the river turtles sunning themselves on logs in the river. There was the occasional small set of rapids to get the heart pumping, but nothing too challenging, just enough for a few whoops of delight.
After we dried off and returned our tubes, we took a look around Gruene Historic District which has plenty of cafes, antique and souvenir shops and a nice old fashioned drug store serving Blue Bell ice cream, as well as a famous Honky Tonk Dance Hall. We stopped for a bite to eat at Cantina Del Rio, a colourful Mexican cafe with a deck overlooking the river where we enjoyed some excellent tacos and fajitas.
The Cowboy life at the Silver spur ranch
Further west, we headed for Bandera, another small town with big ambitions that proclaims itself to be the "Cowboy Capital of the World". Our mission was to get into the Cowboy spirit with a trail ride at the Silver Spur Ranch, one of the many Guest and Dude ranches in the area. While the ranch accommodated guests who would stay up to a week and get to try other cowboy stuff like sitting around the camp fire, learning lasso skills, or even a rodeo, we just went for an hour's ride into the Hill Country State Natural Area. It wasn't nearly long enough, even though my city legs were aching afterwards, but we enjoyed our time on the horses who were very gentle with novice riders like us.
Huntin' Shootin' Fishin' at Cabela's
While staying in San Antonio, we had spent a day on Picosa Ranch and were recommended to stop at Cabela's, on our drive north to Austin. This enormous warehouse store has everything that the enthusiastic hunter or lover of the great outdoor might need, with a camping section upstairs, but it was a real eye opener for us on the Texas gun culture. First thing was the big sign asking you to check your gun in at the door and then the entire wall of the warehouse given to guns of all shapes and sizes. My 19 year old son was absolutely thrilled that there was a stand where he could just pick up and try the feel of a real gun and there was almost a theme park feel to some parts of the store, such as the central display of stuffed animals with details of where they were shot and by whom. In another side room there were displays of more stuffed animals with a model of a hunter who would start talking to you when the button was pressed. For a family from the city who would never go hunting this was definitely one of those "only in America" moments.
The Alamo and a cycle to the Spanish Missions in San Antonio
The city of San Antonio is the southern border of the Texas Hill country and the home of The Alamo, one of the unmissable attractions in Texas. The Alamo is what remains of the chapel and the buildings of the old Spanish Mission, one of several in the area, and has a huge significance in the struggle for Texan Independence from Mexico. This is where, in 1836, a couple of hundred volunteers made a last stand against the Mexican Army led by General Santa Anna and although they were all killed, the episode became a turning point in the war of Texan Independence with the rallying cry of "Remember the Alamo". The monument is not as large as you might expect considering its fame, but the attraction is free and the chapel and the long barracks contain plenty of information about the history with several courtyards and pleasant gardens.
After visiting the Alamo we hired bikes from the shop behind the Visitor Centre and cycled along the river bank, through the historic King William district overlooked by old mansions and greenery. Gradually the river widened to become Mission Reach, with a cycle path that takes you all the way to the other Spanish Missions that lie just outside San Antonio. Eventually the path took us to Mission San Jose, known as the "Queen of Missions" for its size and beauty, with a church with a carved stone facade that was under restoration and a working water mill where there was a demonstration on grinding grain. On the way back, we stopped at the Blue Star Brewing company where you can see the big steel brewing containers behind the bar although I ordered a refreshing glass of iced tea.
The Texas Hill Country has plenty more to offer in vineyards, interesting small towns and beautiful wild flowers and is ideal to tour by car for a few days, stopping at anywhere that looks interesting. You can also combine it, as we did, with stops in the cities of Houston, San Antonio and Austin for a holiday that takes in the best that Texas has to offer.
This post is brought to you by www.esta.co, a premium application checking service for the United States Visa Waiver Program.  If you are travelling to the United States for a period of up to 90 days, you must apply for travel authorization through the ESTA scheme
More places to enjoy in the Texas
9 Cool things we did in Austin, Texas
Tequila tasting and a perfect Margarita Texas style – video
Our Texas Road Trip – tips for Europeans driving in the USA
This article by Heather Cowper is originally published at Heatheronhertravels.com – Read more travel articles at Travel Blog Home
You'll also find our sister blog with tips on how to build a successful travel blog at My Blogging Journey
 Don't miss out – subscribe to Heather on her travels
December 29, 2012 by Heather Cowper
Filed under United Kingdom, Europe, World, featured, Devon and Cornwall, Gothenburg, Greece, Guernsey, Namibia, Spain, Sweden, Switzerland, Texas, Tour de Mont Blanc, Tour de Mont Blanc, USA, Wales, Zakynthos
At this time of year it's nice to reminisce a little and let the pleasant memories of the year wash over us to create that rosy seasonal glow. Then we can all brace ourselves mentally to look forward to new plans, new places, things we want to do more of, things we want to do differently. I'll be sharing my plans for Spring 2013 very soon, but in the meantime, here are some of my travel memories from the last year, which perhaps will provide some travel inspiration for your plans in 2013.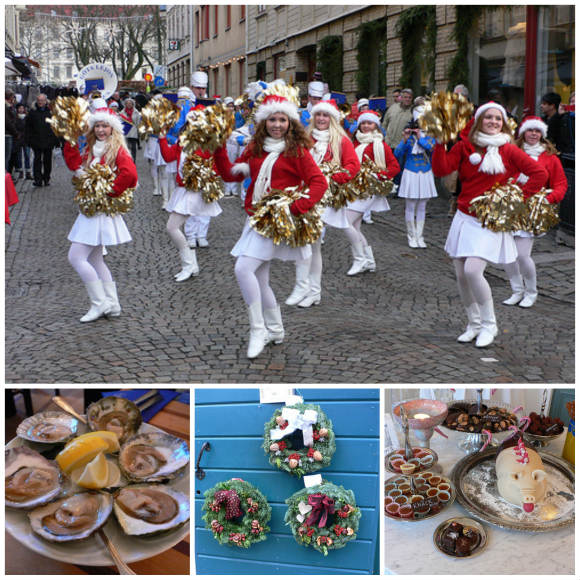 December 2011 – Gothenburg, West Sweden for a pre-Christmas break with my husband
I'm cheating a bit here when I include our trip to Gothenburg from the end of 2011, but then it's my blog, so I'm allowed a little cheating and we did have a great time despite the snowy and windy weather.
Why Gothenburg? I've always liked Scandinavia; so clean, so together and everyone speaks perfect English, and I wanted a pre-Christmas gettaway with my husband when we could eat great food and get into a Christmas mood, with just the two of us.
Happy memories? Fantastic seafood and a chat with the oyster-opening champion Johan Malm at Restaurant Gabriel, our memorable Michelin star tasting menu at Basement with head chef Camilla Parkner, sheltering in Cafe Kanold from the wind over a cup of hot chocolate with chilli, the Christmas market on the cobbled streets of Haga with the music of the marching band, the workman's graffiti in the back of the statue of Mother Svea just outside our window at Hotel Elite Plaza, the millions of sparkling Christmas lights at Liseberg.
Where did we stay? The beautiful, 5 star Hotel Elite Plaza, once the headquarters of the Swedish Fire and Life Insurance company and full of grand marble staircases and chandeliers.
Want to read more?
Our Winter Break in Gothenburg, Sweden – Podcast
8 Swedish Foods to try in Gothenburg, Sweden – Video
Exploring the Christmas Markets of Gothenburg

February – a winter weekend on the Gower in South Wales
Why the Gower? My son is at university at Swansea nearby and I wanted to get the whole family together, including my parents, to spend some time together near the sea.
Happy Memories? Long, blustery walks along the cliffs, the wide open beaches of Langland and Caswell, sitting with the papers and a cappuccino at Langland Bay Brasserie watching the rain beat on the windows, pretty painted beach huts and exotic spiky palms on Langland beach, watching the surfers bobbing in the water from the clifftop.
Where did we stay? Maryland, a spacious 4 bedroom holiday home which we booked through Gower Cottages, perfect for extended family gatherings and only a few minutes walk from the cliff path.
Want to read more?
Our winter weekend on the Gower in Wales – Langland and Caswell – Video

April – Texas, USA for a family road trip
Why Texas? My husband had visited Texas on a military exchange a few years before and kept raving about it, plus we wanted to find somewhere we could enjoy as a family with good weather at Easter and flights that were not too expensive.
Happy Memories? Experiencing a Blast-off at Space Center Houston, the finger-licking BBQ at Black's in Lockhart, cycling along Mission Reach to the Spanish Missions in San Antonio, an afternoon wobble shooting at Picosa Ranch (I actually shot something!), tubing down the river at Gruene followed by Bluebell ice cream at the old fashioned drug store, tequila tasting at the Cibolo Moon at the JW Marriott San Antonio Hill Country, eating trailer food, trying on cowboy boots and shopping for vintage in SoCo, Austin.
Where did we stay? The comfortable Park Inn Houston North, conveniently close to the airport, The Mediterranean style Hotel Valencia Riverwalk in San Antonio with views over the Riverwalk, The luxurious JW Marriott San Antonio Hill Country Resort complete with its own waterpark, our Holiday Rental in the Barton Hills area of Austin booked through HomeAway and the gorgeous boutique style Hotel Sorella in the vibrant City Centre neighbourhood of West Houston
Want to read more?
Our Texas Road Trip Part 1 – Podcast – Houston, San Antonio, Picosa Ranch
The best of Texas – finger-licking BBQ and a slice of pie
Picosa Ranch – a luxury Ranch with a slice of Texas history – video

May – a girl's weekend in Winchester
Why Winchester? I wanted a weekend gettaway with my sister and Winchester was easy for both of us to get to, as well as having loads of things to see and do in the city and the beautiful Hampshire countryside nearby for some walking on the South Downs Way.
Happy Memories? The Anthony Gormley statue standing ankle-deep in water in the crypt of the Cathedral, seeing the small wooden table in the house at Chawton where Jane Austen wrote her greatest novels, eating lardy cakes bought from the farmer's market with a view of the sulphur yellow fields on the South Downs Way, watching the mesmerising water wheel grinding the grain into flour at the Winchester City Mill, spotting the artistic bollards outside The Old Vine where we had a delicious supper.
Where did we stay? The Winchester Hotel, a stylish, modern hotel that is an easy walk from all the historic sights.
Want to read more?
10 ways to spend a wonderful weekend in Winchester – video
Yellow fields with lacy edges – walking the South Downs Way near Winchester
On the trail of Jane Austen in Winchester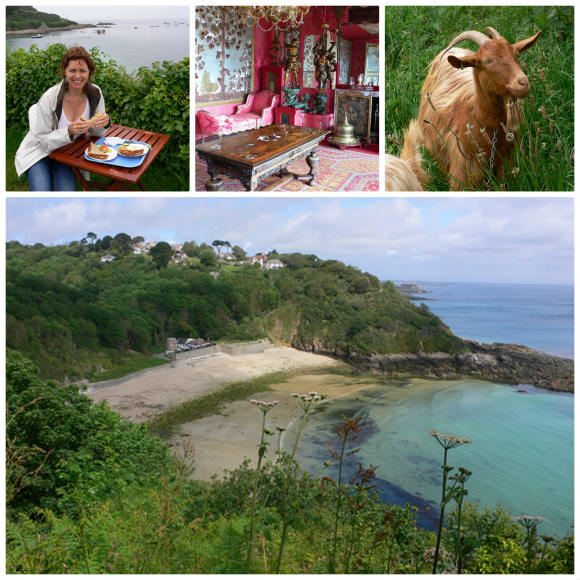 June – Guernsey and Sark in the Channel Islands
Why Guernsey? It's just a short flight from Bristol and has a fascinating history as well as a beautiful coastline, plus we were all intrigued at the thought of visiting Isle of Sark where there are no cars
Happy Memories? Walking along the coast from Fermain Bay to Jerbourg point through the pine trees, the exotic treasure trove of Hauteville House, home of Victor Hugo, eating crab sandwiches from a beach kiosk with a view of the sea, cycling around the island of Sark and eating fresh lobster in the garden of the Sablonnerie Hotel, hearing the stories of the German Occupation from Guernsey tour guide, Gill Girard.
Where did we stay? Self catering Albany apartments in St Peter Port that are perfect for a family holiday and the St Pierre Park Hotel with lovely gardens and golf course
Want to read more?
Guernsey, the German Occupation and Potato Peel Pie
Our spring break on Guernsey and Sark – Podcast
10 delicious foods to try on Guerney – video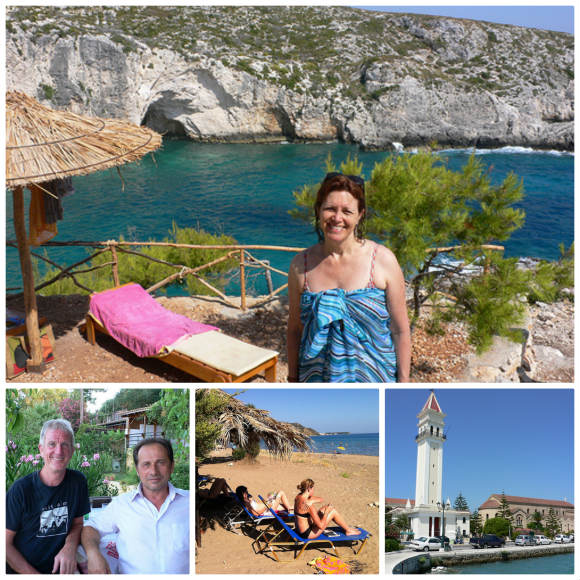 July – Zakynthos, Greece for a family holiday
Why Zakynthos? My sister lives on the island where she runs two hotels with her Greek husband, Denis so we like to visit her every year and explore some new corners of the island.
Happy Memories? Discovering Porto Limnionas, a rocky cove in the north of the island with turquoise water and a great taverna, sitting with a drink on the terrace of Harbour House restaurant at Agios Sostis with new friend Derek Linley hearing stories from his years coming to the island, our boat trip from Agios Sostis to spot the Caretta Caretta turtles in Laganas bay and swim in the sea caves at Keri, the Greek dancing night at Windmill Hotel which never fails to entertain us.
Where did we stay? My sister's hotel, the Windmill Studios in Argassi with a view over the sea from the geranium filled terrace. She also runs the Windmill Bay Hotel just down the road.
Want to read more?
10 gorgeous beaches and places to swim on Zakynthos
Get in your car and drive! the bits of Zakynthos that you won't see from your sunbed
Swimming the turquiose Blue at Porto Limnionas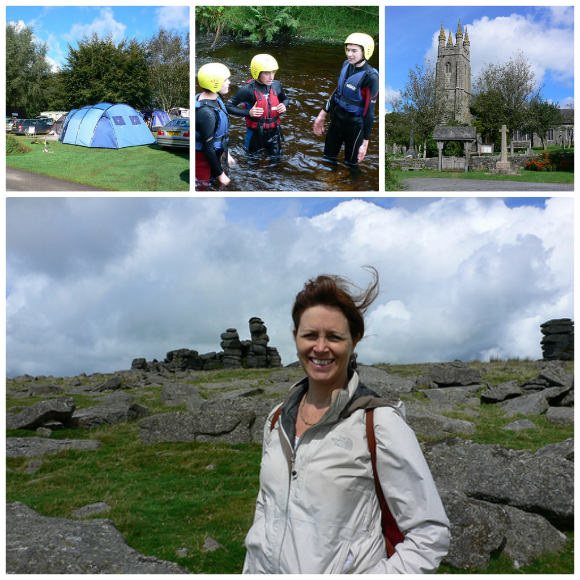 August – an adventurous weekend on Dartmoor with the teenagers
Why Dartmoor? My husband knows the moor well from his army days and we all love the wild scenery and endless opportunities for outdoor adventure that kept my teenage son and his friends busy
Happy Memories? Having lunch at the Okehampton station buffet imagining that I was Celia Johnson in the film Brief Encounter, watching my son and his friends splash around in the river on their gorge scrambling adventure, our walk on the moor with friends above Peter Tavy followed by a hearty lunch at the Peter Tavy Inn, climbing up to the Great Staple Tor and finding a letterbox to stamp our hands, the blissfully warmth of the heat cabin at Woodovis Park and a swim with the family in the pool.
Where did we stay? Woodovis Park in a comfortable mobile home. It's an immaculate, 5 star, family run camping and caravan site which is a great base to enjoy all that Dartmoor has to offer.
Want to read more?
Wild and Wet adventures on Dartmoor – staying at Woodovis Park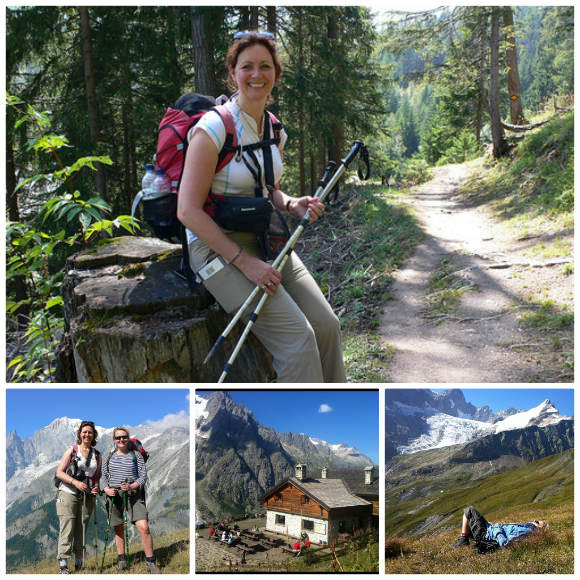 September – walking on the Tour de Mont Blanc in Switzerland and Italy
Why the Tour de Mont Blanc? I've been walking the TMB which is a long-distance mountain trail, in stages with my friend Julia and this was our third year on the trail. We both love the wild mountain scenery, the feeling of escaping our busy lives and the physical challenge of the walk.
Happy Memories? Watching the scenery change on the train journey from Geneva alongside Lake Lausanne and on the St Bernard Express, feeling on top of the world on the Grand Col Ferret at the border between Switzerland and Italy, staying at the fantastic Rifugio Walter Bonnati, undoubtedly the nicest refuge we've stayed in so far, having a picnic on the mountain overlooking Courmayeur and surveying the route we had just walked, the excitement at the start of the Tour des Geants in Courmayeur.
Where did we stay? A number of small hotels and mountain refuges; Gite Bon Abri in Champex Lac, Hotel Col de Fenetre  in Ferret, Rifugio Elena, Rifugio Walter Bonatti , Hotel Bouton d'Or in Courmayeur
If you plan to go
Click here to get my FREE Tour de Mont Blanc Packing guide
Want to read more?
The Tour de Mont Blanc Diaries Day 1 – Champex Lac to Ferret and a walk in the woods
The Tour de Mont Blanc Diaries Day 2 – Ferret to Rifugio Elena and over the pass into Italy

September – Girona, Spain for TBEX
Why Girona? I attended the TBEX Travel Bloggers' Conference being held in Girona where it was great to meet some of my  blogging friends in person and hear the speakers on different aspects of blogging.
Happy Memories? Staying in an apartment with Barbara Weibel, Isabel Romano and Laurel Robbins and just a floor down from Janice Waugh, Simon Falvo and Sarah and Terry Lee made for some great late night chats and bonding, eating pretty Pinxchos in a side street cafe with new blogging friends, wandering along the river with the tall pastel houses and criss-crossing bridges, the historic food by El Celler de Can Roca at the TBEX opening night party, the day out at Vall de Nuria in the Pyrenees after the conference
Where did we stay? A comfortable apartment in the old town of Girona booked through Wimdu
Want to read more?
Staying in the heart of Old Town Girona with Wimdu – video
A Sunday Stroll in the Pyrenees – Vall de Nuria
Case study – Costa Brava Marketing campaign – podcast interview with Jaume Marin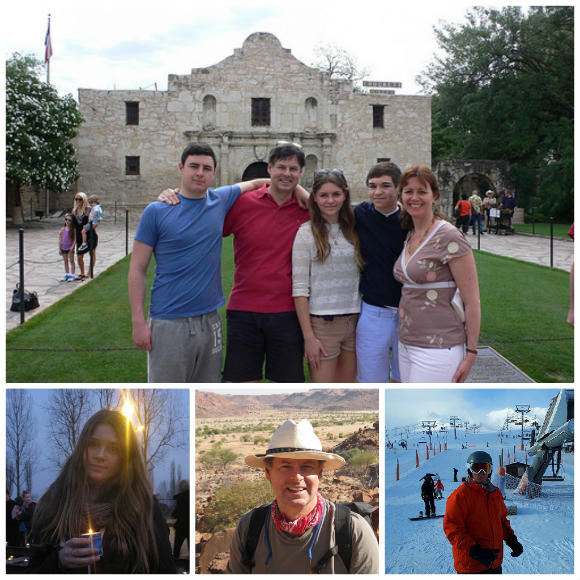 And what about the family?
Of course for many of these trips I was with various members of my family, but they also did some travelling on their own that they wrote about for me on the blog;
My husband Guy spent much of August on a school trip in Namibia looking after a large group of teenage girls, where they did some community work in a local school, went trekking and had close encounters with the desert elephants and other African wildlife.
Read more about Guy's Namibia Trip
Not that old zebra crossing joke again!
An encounter with the desert elephants of Namibia
My oldest son, William had a fun snowboarding trip in Andorra with a group of friends from university, which was spent mostly snowboarding, drinking and doing what students do on holiday. Read William's article on Snowboarding in Pas de la Casa – a student's guide
My daughter, Sophie-Anne wrote about her moving visit to Auschwitz with the Lessons from Auschwitz educational programme, designed to ensure that young people understand what happened and don't let history repeat itself in the future. Read Sophie-Anne's article on What every schoolgirl should know about Auschwitz – video
I hope you enjoyed my travels in 2012 and that you may feel inspired to visit some of these places yourself. I'll be sharing my exciting travel plans for the spring of 2013 with you very soon.
This article by Heather Cowper is originally published at Heatheronhertravels.com – Read more travel articles at Travel Blog Home
You'll also find our sister blog with tips on how to build a successful travel blog at My Blogging Journey
 Don't miss out – subscribe to Heather on her travels
December 28, 2012 by Heather Cowper
Filed under World, Accommodation, Leisure, featured, Eating and drinking, Museums, Self-catering, Shopping, Sightseeing, Texas, USA, Walking
Earlier this year I took the family to Austin, Texas which has to be one of the coolest places (in my admittedly limited experience) in the USA. Here are some of the things we enjoyed most when we were in Austin.
1. Swim in Barton Springs Pool
Just down the road from our holiday rental house through HomeAway was Barton Springs Pool, a stretch of river fed by natural springs, that had been dammed to make a fresh-water open-air swimming pool where you can swim all year round.  At one end there are some shallows and in places it's a bit weedy around the edge, but you can't complain because that's where the rare salamander live. There are changing rooms and grassy banks on both sides where you can sit and sunbathe. The kids loved jumping in with a squeal off the bouncy diving board and I enjoyed a few languorous lengths which took a rather long time since the lake is quite big, followed by a few chapters of a good book sitting on the grassy banks.  At the end you can peer over the dam wall to the shallow river areas where families have paddled their kayaks up from the main river and are stopping for a picnic.
2. Shopped for Vintage and Cowboy boots on South Congress
We stopped off on South Congress Avenue in the SoCo neighbourhood for trendy and vintage shopping, where you may even find the odd bargain in between designer gear and $500 embroidered cowboy boots.  My husband took the boys to nose around the second hand book shops while my daughter and I looked around the outdoor market and bought some colourful Mexican stone bead necklaces to give as presents. There place is awash with Vintage shops, the best known and most stylish of which is Uncommon Objects, and we also enjoyed looking at the colourful Mexican home-ware and jewellery in Tesoros Trading Company and tried on a few pairs of $500 embroidered cowboy boots at Allens Boots. South Congress Avenue is a place to park your car and wander, as it has much more of a European shopping feel than many places in the US, with some equally cool and trendy eateries to hang out.
3. Dinosaurs and roses at Zilker Botanical Gardens
After church on Easter Sunday we drove into Zilker Park, passing groups of families and friends setting out their picnic tables for a BBQ lunch. We parked at the Zilker Botanical Garden and walked down through the gardens past the wooden settler village where you could peer into the windows of the old forge and schoolhouse to learn a bit about the first German and Swedish settlers to populate this part of Texas. Lower down the rose garden was blooming and there was a pretty summerhouse, leading through to the Japanese garden with small bridges and stepping stones in the stream that children would enjoy hopping over. The prehistoric garden at the bottom of the hill was filled with lush ferns, pools and waterfalls with a dinosaur figure on the look-out in the centre of the pool.
4. Listened to Live music in the Live Music Capital of the World
There's a good reason why Austin is known as the "Live music capital of the world" and every bar, cafe, restaurant and coffee house seems to have something musical going on, not to mention the aspiring country music stars busking on the sidewalk. We found a few places to try with the teenagers in tow and caught the end of the live music set while we had our dinner at Threadgills, although we realised that we should have arrived earlier than 9pm as the kitchen was just about closing, unlike in Europe where the party would just be starting.
At Flipnotics, in the treehouse-like bar built into the side of the hill on Barton Springs Road, we noticed that one of our favourite performers, Devon Sproule was playing, so we went to hear her perform that evening. We first saw Devon perform at our local church hall in Bristol, which doubles as a country music club and discovered when we chatted to her afterwards that she and her husband, Paul Curreri, had just moved to Austin.
Our only disappointment was when we turned up at The Broken Spoke Dance Hall, which was a short walk from our rental house, and found that is was closed on Mondays. This Honky Tonk Dance Hall has a big reputation and we were looking forward to a little shuffle around the floor, even if we didn't have any cowboy boots or hats to look the part.
5. Waited for the South Congress Bridge bats who never came
We spent the evening under South Congress Bridge hoping to see something of the bat colony that live on the underside of the bridge as they are known to fly out in a great swirling crowd at dusk when they go to feed. We joined the hundreds of expectant visitors, seated on the grass with cameras poised, some in kayaks and tour boats on the river. Sadly it got darker and darker but the bats didn't oblige with any major display and we could only see a few flitting in and out of their nests on the underside of the bridge. The event was something of an anti-climax and the kids delighted in pointing out that their crazy Mum had dragged them along to see a few black bats in the dark! Read more about the Austin bats in my husband's article.
6. Shot an AK47 in a Texas Gun range
The highlight of the trip for my 19 year old son was to be able to shoot an AK47 Kalashnikov rifle, in one of those "Only in America" moments.We did a quick Google search and located Reds Indoor Range on the outskirts of Austin, on a shopping mall beside a busy main road. My husband and the boys filled out a form, gave in their photo ID, bought some ammo and hired the gun of their choice to try out on the gun range. Although it was all done quickly and easily, we were impressed by the staff's strict safety drills and professionalism.
There was a range warden on duty behind the firing point, but as he was primarily there for safety rather than instruction, you would need to be experienced and confident in the handling of guns, or alternatively book some time with an instructor. My daughter and I retired to eat tacos in a nearby Mexican diner and my youngest son found it all a bit ear-splitting, but for dad and eldest son it was definitely one for a bit of bragging on Facebook. Read more about our Texas Gun Range experience
7. Lived like locals in the Barton Hills neighbourhood
The best things about staying in our HomeAway Vacation Rental was that we relaxed into the laid back Austin vibe, living in the neighbourhood like a local. We could drive down the road to pick up groceries at Sprouts Farmer's Market store and chill out with a local beer on the deck, while the steaks were sizzling on the barbecue, the wind-chimes tinkling and the dog was barking next door.
The kids loved having plenty of space to spread out and Jay, the owner of our three bedroom Westrock House, arrived on our first day to give us lots of local recommendations as well as bag of local beer and nibbles.
We also had a walk through the wooded trails in the green-belt area near our house that's upstream from the Barton Springs Pool, finding the kind of secret swimming spots that only a local would normally know about, so long as you don't mind a bit of clambering over rocks and undergrowth.
I definitely recommend renting a house in Austin rather than staying in a hotel – the city has a chilled out feel where the cool things are going on in the local neighbourhoods and you can be part of it.
8. Visited the Texas Capitol Building
In the Downtown area, the Texas Capitol Building is one of the key things to see in Austin and has a convenient car park beside it. First we looked around the Visitor's centre that has video presentations and interactive media, before we went into the State Capitol itself and took the free guided tour to learn all about the history of government in the state of Texas. Unfortunately the children disappeared to the cafe for breakfast, while I was hearing all about legislative practices in the Senate Chamber and gazing up at the enormous dome. Outside there are nicely landscaped garden areas with statues commemorating different aspects of Texan history.
9. Got a taste for Tacos and other Trailer Park food
Austin is also known for its food trailers that have become a big trend in the city. In between shopping on South Congress Avenue we stopped for lunch at the food trailer park just across the road, where we could choose between Pitta or Tex-Mex or Bratwurst finished off with a slice of pie or a cup-cake while being serenaded by the Country & Western street performers. We enjoyed the food experience so much that we stopped the next day at  similar food trailer park on South 1st Street and became addicted to cake balls and tacos.
Visitor Information for Austin, Texas
This article by Heather Cowper is originally published at Heatheronhertravels.com – Read more travel articles at Travel Blog Home
You'll also find our sister blog with tips on how to build a successful travel blog at My Blogging Journey
 Don't miss out – subscribe to Heather on her travels