December 12, 2010 by Heather Cowper
Filed under United Kingdom, Europe, World, Leisure, Misc, Caribbean, India, Lisbon, Northern Ireland, Passports with Purpose, Portugal, St Lucia, Travel products, World Issues
I'm a supporter of Passports with Purpose, the Travel Blogger's annual fundraiser and I've just made my personal choices from the fabulous array of prizes, in the nick of time. The chance to win prizes closes tomorrow although you can continue to donate to help build the village in India through this year's chosen charity, Friends of LAFTI. Here's what I've personally put my bids in for – if you read this in time, head over quick to Passports with Purpose before tomorrow and put in yours.
The prizes I'm hoping to win are;
Apple iPad 16 GB Wi-Fi + 3G
from Andy Murdock at seekingb.blogspot.com
Why?
Well, any shiny new Apple toy is obviously extremely desirable and I also think it's good sport of Andy to give up the prize that he won in a competition for this good cause. Also the Winnie the Pooh ebook must be a big bonus although removing the Tie me Kangaroo down sport MP3 is a bit hasty – not everyone is bored with kangaroos and I'm sure it would give my kids endless amusement. If I win this I'll probably take it on shorter trips when I need to have internet access rather than taking the laptop.
8 GB iPod Nano
from Anil Polat at Foxnomad.com
Why?
Again the shiny new Apple toy rule applies and as a lover of podcasts this little baby will be just the thing for listening to all my faves such as Amateur Traveler, This week in travel, Betty in the sky and Raising Miro. If you happen to win it instead of me, do download some of my Heather on her travels podcasts to enjoy, such as my latest interview with Beth Whitman about Papua New Guinea.
3G Wi-Fi Amazon Kindle
from Lisa and Tim Bergren at theworldiscalling.com
Why?
If I don't get the ipad then I'll settle for a Kindle to play with. If my husband is really nice to me and doesn't nag me about the  amount of time I spend on my laptop, he might even find it in his Christmas stocking.Or perhaps I'll be that girl in the deckchair relaxing on the beach with a Kindle in my hand one of these days that I give up the blogging.
$100 gift card to spend on a Mr & Mrs Smith Hotels
from Mr & Mrs Smith blog
Why?
Because I love staying in Mr & Mrs Smith hotels and have even been known to write the odd review or guest post for them myself. I know that any boutique hotel that they recommend will be just the sort of stylish, welcoming place that you always hope to find and that I'll always get the best available price at the time if I book through them. If you don't believe me, read what I said about these lovelies in their portfolio; The cosy Avenue Hotel in Copenhagen, the country house chic of Fawsley Hall in Northamptonshire or the modern luxe of Avenue Liberdade in Lisbon.
$800 to spend on a HomeAway Holiday Rental property
from HomeAway and Lara Dunston at Grantourismo
Why?
Because I love the flexibility of this prize, to book a holiday stay anywhere I like to enjoy with my family, and I love the idea of finding a home from home somewhere where I can soak up the local colour and feel part of the neighbourhood. I met up with  Lara and Terry at the start of their year long Grantourismo project to travel the world, staying in HomeAway properties and writing about their experiences and you can listen to my podcast interview with Lara Dunston here.
Three Night Stay at Luxury Hotel Tiara Park Atlantic Lisbon
from Matt Long at Landlopers.com
Why?
Because I fell in love with Lisbon when I visited with my husband in November 2009 and the 2 days we spent there just weren't enough. I can jump on a plane from Bristol and be settling into the rather sleek Tiara Park Atlantic that is part of Kiwi collection, another hotel site that I trust to find me impeccably luxurious hotels such as the Mandarin Oriental, Hyde Park in London that I reviewed for them.
A Four-Night City and Country Getaway in Ireland
from Corey Taratuta at Irishfireside.com
Why?
Because I've only once been to Ireland and I remember the unspoilt countryside and windswept charm and because we have friends there that are overdue a visit and because I can easily get there from Bristol courtesy of the charming Mr O'Leary, a man who does not lack the gift of the gab.
A 3 night luxury spa break for two at LeSPORT hotel in St Lucia though the Explorateur
from Jool Stone of Trainsonthebrain.com
Why?
Because my parents have been spending their last few Januaries in St Lucia and love the island, and as I've never been to the Caribbean the island is firmly on my wish list. As I find the grey days of January and February rather dreary, I could do with a bit of sunshine with my husband
If none of these tempt you, get over to Passports with Passport in the next 24 hrs and see what other goodies are on offer – if you're too late, there's always next year….
Read more Indian stories
Exploring the 'Abode of snow' in the Indian Himalayas
Friday photo – my Indian sponsor child
This article is originally published at Heatheronhertravels.com – Read more travel articles at Travel Blog Home
You'll also find our sister blog with tips on how to build a successful travel blog at My Blogging Journey
Don't miss out – subscribe to Heather on her travels
If you're a British travel blogger or travel writer who fancies being paid to go on holiday, then you'll be interested in a search being launched by Lowcostholidays.com.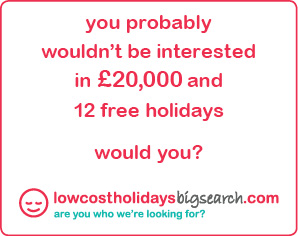 The online travel company is looking for a Brit who's up for going on an all expenses paid holiday every month for a year and earning a salary of £20K in return for being the company's holiday reviewer and the face of their national advertising campaign. They'll have to write about their experiences in an honest and straight-talking way on the Low Cost Holidays Blog as well being proficient in social networking and promotion – oh and you should enjoy good food, appreciate the finer things in life, be able to swim and demonstrate a love for travel and a willingness to explore. If you're chosen, you'll be keeping a video diary , writing blog posts and promoting through social networks like Facebook and Twitter. Your face will also be seen on billboards and in the TV campaign. Shouldn't be too much of a problem for most of you reading this I'm sure!
If you're tempted to apply (and I certainly am), you'll need to go to the company website here and complete a questionnaire about your travel experience and style of travel, and also upload a video with a review of something – I see that someone was doing a review of their stapler, although I suspect you'll be more convincing if you make a video that's travel related.
Get your application in by 16th April and the winner will be announced in June.
I'm certainly tempted to apply myself but I'm also intrigued that so many travel companies are now opting to use on-line and social media to promote their brand, in this case in an integrated campaign with TV and mainstream advertising. You'll remember that I recently recorded a podcast interview with travel writer Lara Dunston about a similar project that she and her husband Terry Carter are undertaking, sponsored by Home-Away Holiday Rentals, called Grantourismo. So I asked Lowcostholidays.com what was behind their campaign and they told me;
Recent research shows that 75% of consumers search online blogs and reviews ahead of a holiday as they consider other consumer's views more important than anything else so we are hoping to find that ordinary, every day person who will provide the general public with compelling and informative reviews and information on a variety of popular and up and coming holiday destinations.
It seems that more and more travel companies will start capitalising on the power of online media to promote their offering to the general public – good news for us travel bloggers I hope. And if you're crying because you're not a Brit and are therefore unable to apply for this job, never fear, I'm sure there will be plenty more opportunities out there once more travel companies join this particular bandwaggon.
Read more travel articles at Travel Blog Home
Don't miss out – subscribe to Heather on her travels