Last weekend I escaped the snowy weather in Bristol for the blue skies and energising sea air of Cornwall. This was our second visit to Treyarnon on the north Cornish coast – you can read more about our previous stay at the youth hostel and visit to Padstow here.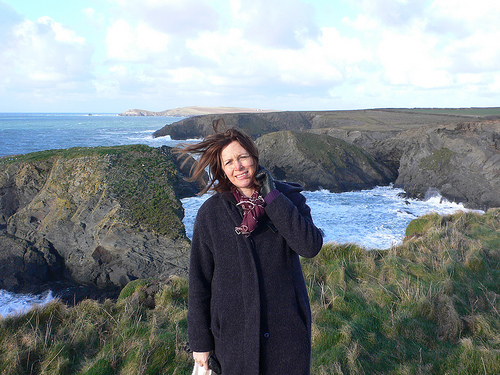 On Saturday we went for a walk along the coastal path, with the sea crashing up against the cliffs sending up mountains of white spray, then sweeping back again. As I stood on the grassy cliff edge, with nothing between me and the sea and rocks below, I was glad to have no young children with me who might unknowingly rush towards the edge.
The sea whipped up  patches of creamy foam like bubble bath then threw it onto the rocks and the wind carried up little chunks of foam into the sky. I love this coastline of Cornwall with it's wild beauty and big skies – It gives me a great sense of freedom after the closed in city-scapes of Bristol. Perhaps it would have the same effect on you.
Book hostels in Cornwall through Hostelbookers
Read related posts
Bright skies and blue seas at Treyarnon in Cornwall
A visit to Padstow and a walk through the dunes to St Enodoc
Take a look at my Cornwall photos on Flickr
See all the other Friday photos at Delicious Baby here.
Read more travel articles at Travel Blog Home

Don't miss out – subscribe to Heather on her travels
January 1, 2009 by Heather Cowper
Filed under Europe, Leisure, Devon and Cornwall, Greece, Italy, Rome, Sardinia, Sightseeing, Spain, Valencia, Zakynthos
The New Year is here and one of the pleasures of the holiday time is dreaming of all the places I might visit in 2009. There's a world of possibilities out there. But before I tell you about my plans, I'd like to pause and look back over the last year's adventures. I don't think there's anywhere that I wouldn't love to go back to again and explore more fully.
Centre parcs
We kicked off the New Year with a family get-together at Centre parcs at Longleat, staying in cabins in the woods and relying on our bikes to get around the holiday park. Our teenage crew tried out some different sports and hung out in the indoor pool complex with wave machine and lazy river. It's an ideal place for a family get together but on the downside the cost of cabins in high and almost all the activities cost extra. You can read about it in this article;
New Year in the Forest at Longleat Center Parcs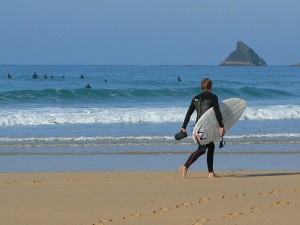 Cornwall
At the start of the year I had a great weekend in Cornwall with friends at Treyarnon Youth Hostel. Despite it being February, the air was clear and the skies were blue and we blew away the cobwebs with walks along the cliff and the beach. The surfers were out too, bobbing like seals in the water. We visited the fishing village of Padstow and took the ferry across the estuary to discover a half buried chapel in the sand dunes. Cornwall is a couple of hours drive from my house, so it's a favourite weekend destination for us, and I'd recommend it for beautiful beaches, great surfing and wild seascapes. Read about my weekend in these articles;
Bright skies and blue seas at Treyarnon in Cornwall
A visit to Padstow and a walk through the dunes to St Enodoc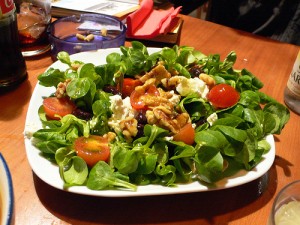 Valencia
At the beginning of April I spent a few days with my family in Valencia, the third largest city in Spain. It's similar in feel to Barcelona which is a little further along the coast, but with a more traditional, Spanish feel. This was one of my favourite trips of the year, partly because the city had a great combination of relaxation and sightseeing, and partly because we made a new local friend who recommended some things that we wouldn't have found on our own. Read about some of the things I enjoyed most in Valencia;
The City of Arts and Sciences in Valencia
An evening out at La Utielana with Angel in Valencia
A cycle in the Turia Gardens in Valencia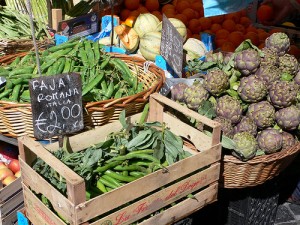 Rome
Late April saw the generations coming together for a long weekend to Rome with my son and my parents. We stayed in a religious guest house near the Vatican and managed to cover most of the must-see sights such as St Peter's Basilica, the Collisseum, Spanish steps and Trevi Fountain. I had mixed feelings about Rome as most places were very crowded and I felt in danger of being ripped off at every turn. I'd like to go back and enjoy some of the less touristy spots at a more relaxed pace, rather than ticking off a list of the obvious sites, but how can you go to Rome and not see the Colisseum? Here are some of my favourite articles from the trip;
The Market at Campo de'Fiori in Rome
The view from the dome of St Peter's in Rome
The turtle fountain in Rome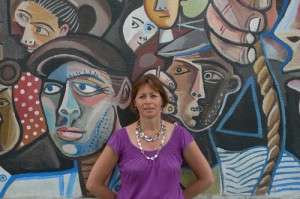 Sardinia
Due to our trip to Ethiopia being postponed, I planned our August holiday in Sardinia at short notice, attracted by a combination of cheap flights, warm weather and the beautiful coastline. We stayed in a campsite bungalow in the resort of Cala Gonone then moved inland into the mountains for a few days at the end of the holiday. We enjoyed the swimming, snorkling and boat trips but after a while the children got bored, as it was too hot for many of the other activities such as bouldering or mountain-biking. I'd love to explore Sardnina more fully and would go in the spring or autumn with a hire car to tour and see all the different areas. Here are some of my favourite articles from the trip;
Sea caves and a boat trip in Sardinia
Swimming in rock pools near Gola Gorrupa in Sardinia
Bandits and Murals at Orgosolo in Sardinia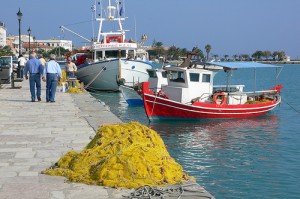 Greece
In October, we enjoyed some late-season sunshine on the Greek island of Zakynthos. As my sister has lived there for 20 years, I've been many times before, but this time I was able to write about the island on my blog. We always stay for a week, and hire a car for part of the time, so we can get around to some of the beautiful beaches and other sites. I made some new discoveries this year and although we experienced warm sunshine, the cyclamen and pruning of the olive trees signalled that autumn was on the way. Here are some of my favourite articles from the trip;
My top three beaches on Zakynthos
Sunday morning coffee and glika on Zakynthos
A tour of Romas Mansion on Zakynthos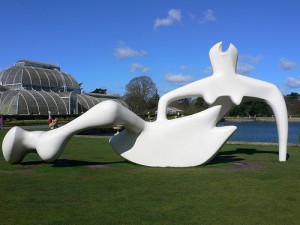 In between the organised holidays, I've been out and about in my home patch of Bristol, in Richmond and London where my parents live and down to Devon to see friends. Here are some of my favourite articles from last year that bring back the things I saw on my days out;
A garden party at Buckingham palace
The View from Richmond Hill
Henry Moore at Kew Gardens
Castles and Cream teas at Dunster in Devon
Hunting the Ash-black slug on Dartmoor in Devon
The one that got away
My big disappointment was that we didn't get to Ethiopia, where we have friends working for the next year or two. Unfortunately the dates just didn't work out and at short notice I organised our summer holiday in Sardinia instead. I have high hopes that we'll be able to get to Ethiopia this year instead, as our friends are now settled and keen to take us camping by the southern lakes (stay away from the hippos) and searching for the rare Abyssynian wolf. Read about my plans in this article;
When I tell people I write a travel blog, their next question is often 'so do you travel a lot then?'. Having reviewed a year's travel I'd have to say the answer appears to be yes (for someone who's working with a family). And yet most of my family and friends travel just as much as I do, so I'm certainly not an exception. I've concluded that travel is a state of mind and my blog is a way of sharing and experiencing that travel to the full. So here's to a Happy New Year of travelling and blogging in 2009 – I'll be sharing my travel plans with you very soon.
More Sardinia articles to enjoy
A tour of the best beaches in Sardinia
Camping at Cala Gonone – in Sardinia
The Museum of Costume in Nuoro
Read more travel articles at Travel Blog Home
Don't miss out – subscribe to Heather on her travels
Didn't I say the skies are brighter and the sea is bluer in Cornwall? And how right I was – I've just returned from break at Treyarnon Bay Hostel in Cornwall that was both energising (breathe in that sea air) and relaxing (stoke up that log fire).
Like a flock of noisy seagulls, we descended with six other families, on Treyarnon Youth Hostel in Cornwall for a long weekend. The hostel occupies the most enviable position on the cliff above Treyarnon beach, which is only one in a string of near perfect beaches, with sand to build castles, rock pools to dabble in, and rolling surf. Seven bays for seven days is the local saying, and you could try out a different beach for each day of the week.
The youth hostel is open all year round and as hostels go is pretty top of the range (and I've tried a few!) In fact it's so popular that there's not a bed left for August this year and they're taking bookings already for summer 2009. But better to try an out of season break before the crowds hit Cornwall and you can have the place to yourself.
They have a cafe here for evening meals, a bar where you can sample Cornish real ales, or cook up your own seafood feast in the self-catering kitchen. Big efforts have been made to jazz up the sitting and dining areas with trendy burnt orange and sea blue walls, surf boards hanging from every surface and the work of local artists and photographers decorating the walls. With an open fire in the evening, this was the place to cosy up with a board game or a good book.
The rooms at Treyarnon Hostel sleep from 3 to 6 people and are all kitted out with pine bunk beds, primrose walls and cheerful curtains – the best of 1980's design. It's perfectly suited to families and out-door types although romantic couples or style gurus might be disappointed. Some of the rooms even have en-suite bathrooms, although on the functional side – think school dorm rather than Travel Lodge. Oh yes, the days of communal potato peeling are long gone as the YHA re-invents itself, to serve a new generation of happy hostellers.
The cliff path runs in both directions from outside the hostel. We wandered along round to the next beach at Constantine bay, passing stone benches set up in memory to those who must have also enjoyed these views. Who were the Captain and the purple lady? I wondered as I sat on their bench and mentally toasted them with their motto; the sun is always over the yard arm. Or Nick, who lived from 1973 to 2000, and whose beautiful stone bench and table, gazing seaward, was engraved with a motor-bike and adorned with a bunch of fresh flowers.
At low tide there are rock pools enough to keep children happy for hours – there's even one that's big enough to swim in, known as the Treyarnon swimming pool, which the children dipped a toe in. This area is a mecca for surfers – there's a surf school just round the bay and we saw plenty braving the freezing water, bobbing like seals in their wetsuits. We strolled along the broad sandy beach of Constantine bay, backed by dunes, past the more rocky Booby's beach which only reveals itself at low tide, and on to the lighthouse at Trevose head. Then back to the hostel to enjoy that cosy bar and roaring fire.
There's plenty more to keep you busy here and I'll be posting soon about our visit to the fishing village of Padstow and a stroll through the sand dunes to find a half buried church and the final resting place of the Poet Laureate, John Betjeman.
Book Treyarnon Hostel with Hostelbookers.com
This article is originally published at Heatheronhertravels.com – Read more travel articles at Travel Blog Home
You'll also find our sister blog with tips on how to build a successful travel blog at My Blogging Journey
Don't miss out – subscribe to Heather on her travels