June 24, 2014 by Guest Author
Filed under Art and design, Beaches and swimming, Devon and Cornwall, featured, Guest post, Leisure, Misc, Museums, Sightseeing, United Kingdom
Most people have childhood memories of going to a beach, building sandcastles and eating ice-creams and fish and chips by the sea. If you fancy re-igniting your memories and starting some new ones for your family then head to the beautiful beaches of St Ives in Cornwall.
Beautiful beaches abound
There are a number of coastal resorts in Cornwall but St Ives is one of the most popular, being voted the "Seaside town of the Year" by Guardian readers. St Ives is nestled on the northern Cornish coast that keeps its traditional fishing roots but blends them seamlessly with modernity. It is somewhere that will be able to entertain the whole family whether you want relaxation or adventure.
One of a major attraction with any coastal resort is the beach. St Ives has various beautiful sand beaches all of which are close to the town centre. St Ives Harbour beach is sheltered due to its proximity to the harbour and has sand even at high tide. Its central location is ideal if you want to combine being at the beach to being close to shops and eateries. If sitting watching the boats come into or leave the harbour isn't enough you could always embark on a boat tour.
Water sports from passive to active
Porthemor beach is also very popular. If you fancy taking your four legged friend on holiday then Porthemor is ideal as it is dog friendly for part of the year and allows plenty of opportunities for long walks. If you fancy venturing beyond the sand and into the surf then there are life guards on hand throughout the summer. Perhaps a little paddle isn't enough and you fancy doing some water sports? Surfing, kayaking, paddle boarding and coasteering are all on offer at St Ives.
Cornwall is renowned for its surfing and with lessons ranging from a beginner's taster session to advanced classes you will have every opportunity to catch a wave. Sea Kayaking is a fun alternative to surfing and you're likely to spot local wildlife such as seals, dolphins and sea birds. Some companies may even take snorkels so you can explore the clear waters fully. Paddle boarding is increasing in popularity thanks to celebrities such as Pierce Brosnan and Rihanna who have been snapped completing the activity. Coasteering will appeal to adrenaline junkies everywhere as it combines climbing rocks, jumping into the sea and swimming into and exploring caves and gullies.
Culture from theatre to art galleries
If you can drag yourself away from the beach and all the fantastic water sports on offer, there are a variety of activities in St Ives town itself. If you fancy an evening activity (whatever the weather) there is a quaint little cinema or alternatively see what plays are showing at St Ives Theatre. If the weather is good you could visit The Minack Theatre which is one of the most famous outdoor theatres in the UK and well worth a visit.
If museums or art galleries are where your interests lie then you may be surprised to learn that there is a Tate Gallery at St Ives. As well as showcasing a variety of modern art it also houses the Barbara Hepworth Museum and Sculpture Gardens. Due to its popularity the gallery is being extended in 2014 so even more works of art can be brought to visitors. The St Ives museum will help you better understand the local area with exhibitions on local subjects such as mining and boat building. The museum has excellent reviews so is worth a visit if you want to better understand the local culture.
People watching and cafe life
To complete your relaxation you could enjoy a relaxing drink in one of the various cafes or book a table at one of the beachfront restaurants like the Porthmeor Beach cafe and watch the stunning sunsets that the area is famous for.
St Ives truly does cater for everyone as all these options are available without even getting in your car. If you want a relaxed beach holiday with the perfect blend of activities and culture then you really need look no further. St Ives will provide a memorable holiday for everyone involved and give memories to cherish in years to come.
This article was brought to you by Aspects Holidays who provide self-catering accommodation throughout Cornwall and have a large selection of stunning properties in St Ives ranging from traditional cottages to modern beach front apartments.
Photo Credits: St Ives harbour by RStacker, St Ives beach by UncleBucko, Sea kayaking by www.stivessurfschool.co.uk , The Minack Theatre by Martin Hartland, Barbara Hepworth Museum by Matt Brown, Porthmeor Beach Cafe by David Bleasdale 
More things to see in Devon and Cornwall
Primroses and Daffodils – a spring weekend in North Devon with Premier Cottages – video
Is this the perfect sea view? Our luxury weekend at St Mawes in Cornwall – video
Take an Autumn break in Cornwall – Coastal walks, surfing and you might see a basking shark
This article is originally published at Heatheronhertravels.com – Read the original article here
You'll also find our sister blog with tips on how to build a successful travel blog at My Blogging Journey
June 9, 2014 by Guest Author
Filed under Art and design, Eating and drinking, featured, Gardens, Guest post, London and around, Misc, Museums, Shopping, Sightseeing, United Kingdom, Walking
Covent Garden always appears on the "must visit" list of tourists to London and is also popular with the locals who are drawn there by its great variety of leisure activities. There are so many things to do in the area that we have compiled a list of the top things to do within the vicinity of Covent Garden.
The Covent Garden Markets
Covent Garden is possibly most famous for its market which has reputedly been in existence since around since 1654. The original fruit and vegetable market (New Covent Garden Market) has now moved out of the area and relocated to an area called Nine Elms but it has been replaced with the Covent Garden market we have today. Apple Market is housed in a stunning nineteenth century, colonnaded piazza and stocks a wide variety of items from jewellery and toys to stationary and ties. Many of the items will provide something a little different to what you can get on the high street so you are bound to find a quirky gift to take home.
Jubilee Market in the South Piazza sells items that fall more into the antique category. If antiques are your thing then head there on a Monday for the antiques market. Saturdays and Sundays sees around 200 stalls open which are generally aimed at arts and crafts. The Real Food Market occurs every Thursday where you can get your hands on treats such as homemade cakes and macaroons, fresh olives and specialty breads.
Shopping in Covent Garden
Covent Garden is also famous for its shops. Although there are high street brands there they are generally higher end suppliers and fit with the hip image that surrounds the area. For fans of designer ware you will be spoilt for choice. Brands such as Chanel, Paul Smith, Mulberry and Burberry sit alongside more regular high street favourites such as Reiss and Jigsaw. For the more adventurous out there you can peruse outdoor shops such as Cotswold Outdoor and Field & Trek. If you fancy a mid-afternoon snack then you could treat yourself to some macaroons from Laudrée. You could get a box to take away but why not sit in and take advantage of their champagne or savoury snacks.
Museums near Covent Garden
The British Museum is one of the top museum attractions and it is only a short walk from Covent Garden. In a world dominated by money you might be pleased to hear that it is free to get in and there are free tours and talks during the day. This makes it an ideal choice if you are travelling with a large family as individual entrance prices quickly add up. The museum houses a variety of artefacts from a range of locations and eras and often has exhibitions on which you may be required to pay extra for. Recent exhibitions include the Vikings and some beautiful Egyptian mummies. Due to the popularity of some exhibitions it might be worth pre-booking tickets rather than being disappointed on the day. If you are visiting with children they will often put free events on such as object handling, art tasks and museum trails. This is bound to spark the interest of any little explorer!!! If transport is more your thing then head to the London Transport Museum which has buses, trams and railway carriages on display.
See a show in the Theatres near Covent Garden
Covent Garden is bursting at the seams with theatres so it is hard to choose which one to go to. The Theatre Royal is one of the largest theatres in Covent Garden and has hosted some of the most famous shows. Charlie and the Chocolate Factory or Matilda might appeal to children (and adults!) or perhaps a tear jerker such as The Bodyguard or War Horse would be preferable. No matter what you choose to see you will be amazed and with two Royal boxes you never know who you might see there! The Aldwych Theatre is worth visiting just to see its stunning façade and was home to The Royal Shakespeare Company for a number of years. If there is a certain show that you would like to see then it is probably best to research the show and find out which theatre it will be on at as there are so many theatres in the area that it would be a shame to miss out on your favourite show.
Your theatre visit might keep you up late so what could be better than staying in your own luxury apartment in the vicinity of Covent Garden so you don't need to worry about getting a bus or the underground. Rather than stressing about heading "home" you could enjoy a few post theatre drinks or even head to a club completing your weekend.
If you fancy a trip to London be sure not to miss out on the delights of Covent Garden just be prepared for a positive assault on all your senses!
This article was brought to you by London Serviced Apartments who provide luxury serviced apartments in a variety of prestigious locations across London, including Covent Garden.
Photo Credits: Apple Market by Neil Howard, Shopping by Alison Sanfacon, Piazza Covent Garden by SPakhrin, London Transport Museum by Snapshooter46, War Horse by Andy Roberts
More London Attractions
High in the Treetops at Kew Gardens
Three great ways to spend a day in London
Fine dining favourites at the top London Hotels
This article is originally published at Heatheronhertravels.com – Read the original article here
You'll also find our sister blog with tips on how to build a successful travel blog at My Blogging Journey
April 27, 2014 by Heather Cowper
Filed under Accommodation, Devon and Cornwall, featured, Leisure, Nature, Self-catering, Sightseeing, United Kingdom, video, Walking
Beautiful, wild, green North Devon. This corner of the south-west epitomises unspoiled rural England, with narrow lanes and high hedgerows, country walks and a rugged coastline dotted with fishing villages. This was where I was headed with friends, for a relaxing weekend with fresh air, woodland walks and a sight of the sea.
Our home for the weekend was Beech Tree Cottage available through Premier Cottages, set in the leafy grounds of an old Rectory, where the six estate cottages of Penhaven Country Cottages had been renovated to make holiday homes. Our cottage overlooked farmland on one side and gardens on the other and we learned that the Rectory had formerly been a country house hotel but was now awaiting planning permission for further renovatation of the main building and other holiday cottages. The small village of Parkham where the cottage was located had an impressive church, a farm shop open on weekdays and the 13th century Bell Inn just a short walk up the lane. The setting was the best of rural Devon, with banks of primroses and daffodils outside our bedroom window and plenty of muddy woodland walks from the front door.
I hope you enjoy the video below about our cottage stay in North Devon with Premier Cottages
If you can't see the video above about our cottage stay with premier Cottages view it on my blog here or on YouTube here
Download the Penhaven Cottages Weekend Video
Subscribe to all my videos in I-tunes
If you enjoyed this video, check out the others in my Video archive
Settling into Beech Cottage
Arriving after work on a Friday night, we left our coats and walking boots in the tiled lobby area inside the front door and unloaded the bags of food and belongings onto the practical oak floor of the hall. It didn't take long to settle in to our cottage which was well equipped with everything that you could need for a country break. The good sized sitting room had comfy sofas and a brown shaggy rug in front of the stone fireplace that was just meant to have a wood-burning stove to complete the country feel. There was a purple colour theme going on with a velvet easy chair and purple lightshades, an oak coffee table and sideboard and a flat screen TV in one corner.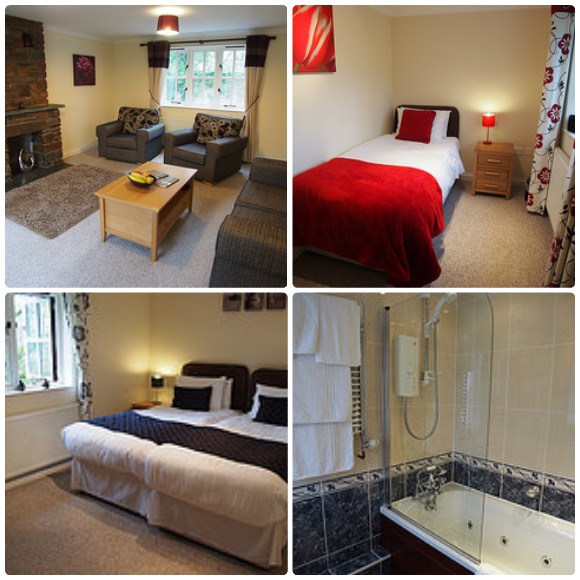 We loved the large kitchen with cream painted cupboards, cheerful multi-coloured tiles, a terracotta tiled floor and a large wooden table with plenty of space for cooking and dining. The cupboards contained the usual sets of cutlery and crockery, all the saucepans and oven dishes you might need and there was a dishwasher, microwave, fridge and freezer – in short all the conveniences you'd expect at home. Gone are the days when cottage owners leave behind their second best household belongings and as Premier Cottages specialises in 4 and 5 star independently owned cottages, we knew that everything would be of a reliably high standard.
Upstairs Guy and I bagged the master bedroom, which had its own en suite shower room and was furnished in a primrose yellow and leaf green colour scheme that echoed the spring flowers and woodland outside the window. Our friends settled into the second bedroom with twin beds that could be pushed together to make a double with a grey and cream colour scheme while the third single bed room had a warm red scheme with red velour throw and patterned curtains. Throughout the bedrooms the furniture was solid oak wardrobes and chests of drawers and the second bathroom upstairs had a jacuzzi feature as well as a shower above the bath. 
Saturday morning – a visit to Clovelly
On Saturday morning we awoke to birdsong and while the others were surfacing with strong coffee, I had a wander around the Rectory gardens where spring was in full flower with bushes of camelias and wild rhododendrons. Taking up one of the recommendations in the book of useful information left in the cottage, we made a plan to head for the nearby village of Clovelly with the hope of a nice long walk along the cliff tops and a pub lunch.
Clovelly is one of those timeless fishing villages you find in many parts of Devon and Cornwall, where the old whitewashed cottages tumble down the steep hillside to the harbour at the bottom. The village is privately owned by the Clovelly Estate and is now run as a tourist attraction, so you leave your car in the car park at the top of the hill and enter through the visitor centre, paying an admission fee of £6.75 to visit the village, which is partly a living museum, partly a thriving village community. It was raining lightly as we arrived and the narrow cobbled lane leading down to the harbour was slippery and steep, so we walked down gingerly, admiring the pretty cottages and flowers around every doorway and window. The street is too steep for any vehicles, so donkeys have traditionally been used to transport the necessities of life into the village, although plastic sledges are more commonly used these days and we saw some at the top of the hill waiting to be put to use by the residents.
Down to the harbour at Clovelly
Reaching the small harbour and pebble beach at the bottom of the hill, we could see lobster pots and a few fishing boats in what was once a thriving fishing port, where the fleets of boats would go out to fish for herring and mackerel. The small harbour was sheltered by the protective arm of a thick stone sea wall that we walked along and then stood for a while sheltering from the rain under the eves of the Red Lion Inn, on the quayside.
Walking halfway back up the hill on the single street known as "Up-Along, Down-Along" we found The Fisherman's Cottage which is open to the public as a fascinating reminder of how families in Clovelly lived in the past. We looked into the tiny parlour where a family would crowd around the fire and squeezed into the small bedrooms where the bed took up most of the space, while the young men working for the family would sleep up in the attic with the fishing nets. On the walls of the cottage were old photographs and reminders of how dangerous an occupation it was to be a fisherman, with newspaper cuttings from 1821 telling the story of a terrible storm when 40 fishing boats and 31 souls were lost, all from Clovelly.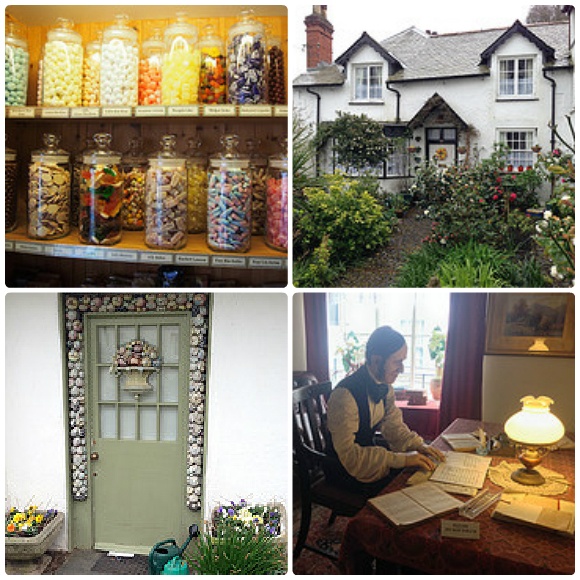 The Fisherman's Cottage at Clovelly
The Fisherman's Cottage led into another small museum in the house of Victorian writer Charles Kingsley, who lived in Clovelly as a child and later returned as an adult, writing the novel Westward Ho! in the village. In his study, you can see a model of the author, working at his desk and hear a recording of one of his famous poems, recited by actor and local resident Joss Ackland, about the dangerous lives of the fishermen who sailed from Clovelly harbour. The poem was later set to music as a folk ballard and you can hear a recording of Joan Baez singing The Three Fishers here.
Three fishers went sailing out into the West,
Out into the West as the sun went down;
Each thought on the woman who lov'd him the best;
And the children stood watching them out of the town;
For men must work, and women must weep,
And there's little to earn, and many to keep,
Though the harbor bar be moaning.
A walk along the cliff from Clovelly
We took lunch at the New Inn and then decided that our long cliff walk was overdue, so we started along the footpath at the top of the village towards Mouthmill Cove. The path lead us through fields and then skirted the cliff edge, guarded by twisted shrubs and trees clothed with ivy with only the acid yellow gorse adding a flash of colour. We passed the intricately carved Angels Wings shelter with a bench underneath and the faces of angels and angels wings carved into the roof. We learned that it had been built in 1826 by Sir James Hamlyn Williams so he could look across the bay to where his daughter lived at Youlston although now the view was somewhat masked by the trees and brambles.
We followed the muddy woodland path, beside ivy and holy trees covered with bright green lichen, an indicator of both the purity of the air and the moistness of the climate. At the look-out point above Mouthmill Cove we stood on the balcony of the beautiful wooden summerhouse overlooking the beach with large grey boulders and stones and gazed over the rugged cliffs and wild sea views. On the return walk the sky was grey and misty, although a little sun was peeping through. The trees on this stretch of open heathland were strangely bare and twisted as if it was all they could do to stay standing against the harsh winds and storms coming off the sea.
Spring flowers blooming at Clovelly Court
Finally we followed the path back up to Clovelly Court, where the church was surrounded by swathes of daffodils and the wild quince was in bloom trained on the wall of the kitchen garden. We took a look around the beautiful old parish church of All Saints, and then walked back up the road to the carpark and drove the short distance back to the cottage in time for tea. On the recommendation of our friend who had stayed in the area before, we had booked a table at The Hoops Inn for dinner that evening, where we had an excellent pub meal with friendly service.

A Sunday morning walk in the woods
On Sunday morning, I was keen to explore the woods that are owned by the Penhaven Estate, as the cottage information book told us that we were welcome to walk there. We set off from the cottages along the Rectory drive, through some gates marked Private and skirted along a steep wooded area with a road at the bottom and field at the top. The air was damp with a sprinkling of drizzle and you could see why there was so much moss on the tree trunks clothed with ivy. We passed large wild rhodedendron bushes and the floor of the woods were covered with bluebell leaves which would be making a sea of blue in just a couple of weeks, although my friend Julia corrected me that these were harebells, smaller and more delicate. On our return, we had planned a Sunday lunch at the Bell Inn in the village but finding that it was already fully booked we stopped on the way home at the Merry Harriers Garden Centre for their excellent carvery, with all the roast meat you could eat.
It was a relaxing break but all too short to really explore this wild and unspoilt part of Devon. Next time I'll walk along some of the other coastal beaches such as Peppercombe beach, take a boat across the the island of Lundy to see the wildlife, or visit the villages of Lynton and Lynmouth connected by a cliff railway. Until next time…
Penhaven Country Cottages is ideal for…
Those who want a relaxing break in beautiful Devon countryside with the coastline and beaches in easy reach.
Families and groups of friends, who want to rent cottages close together but still have their own space.
Children who can run around safely on the quiet lanes and in the Rectory grounds
But you should be aware that….
You will need your car to get around, as the location is very rural and the nearest shop is a short drive away.
The mobile phone signal is poor in and around the cottages and when we were there the wifi was very weak, although the owner told us there had been a problem with it which had now been sorted out.
Heather and friends stayed at Penhaven Cottages in North Devon through Premier Cottages who specialise in self-catering luxury holidays and short breaks throughout the UK and Ireland. Premier Cottages brings together a collection of independently owned holiday cottages which have all been awarded 4 or 5 star status, and their quality cottages have won numerous tourism awards for excellence. We stayed at Beech Tree Cottage, one of the six cottages sleeping 2-5 people available through Penhaven Country Cottages, in the village of Parkham, near Bideford in North Devon. Many thanks to Premier Cottages and Penhaven Country Cottages for hosting our weekend stay.
More things to do in Devon
Lynton and Lynmouth – English Villages on a Mountain railway
Free and Family Friendly holidays in Devon
Hunting the Ash-Black slug on Dartmoor in Devon 
This article by Heather Cowper is originally published at Heatheronhertravels.com – Read the original article here
You'll also find our sister blog with tips on how to build a successful travel blog at My Blogging Journey