Southampton is your gateway to the best food of the South of England; the chalk streams and vineyards of Hampshire, salads from the Isle of Wight and the artisan food producers of the New Forest. Here are some places to eat fresh and local in Southampton and the foods to look out for, especially if you're visiting on a cruise. You may also like to read my article on Top 10 things to do in Southampton.
1 Mettricks: for coffee and brunch
Mettricks is a locally owned café, close to the cruise terminal, that's on a mission to bring great coffee to Southampton. The decor is homely, with scrubbed pine tables and mismatched chairs and they work with many local suppliers for the best quality meat and bakery products.
If you're on the hunt for free wifi, this is the place to settle down for an egg and crispy bacon sandwich or tea-time treat of home-made cake and coffee. We especially like the original cafe at 117 High Street, which stays open in the evening for cocktails, wine and real ales with light bites and bar snacks until 10pm.
Mettricks: Branches at 117 High Street, 2 East Bargate and opening soon at 1 Guildhall Place.
2 The Pig in the Wall: a stylish place to try local produce
The Pig in the Wall is a boutique hotel, set into the old city walls of Southampton, with a deli bar serving light dishes, homemade flatbreads and cakes from mid-morning to 10pm. As the name suggests, they specialize in charcuterie, with a fine selection of 'piggy bits' such as pork crackling and apple sauce or Honey Mustard Chipolatas. The decor is shabby chic with exposed brickwork, easy leather chairs and a touch of the potting shed. All the produce is all locally sourced with New Forest pork, Hampshire cheeses and Isle of Wight tomatoes on the menu. Their sister hotel, The Pig at Brockenhurst, is well known locally as a foodie stop and well worth the 30 min taxi ride, but best to book in advance.
The Pig in the Wall, West Esplanade, Southampton.
3 The Dancing Man: for real ale and pies
This micro-brewery, bar and restaurant is housed in The Wool House, an atmospheric medieval stone building that once stored wool on Southampton's quayside. Behind the bar is the micro-brewery where around 20 different beers are brewed in rotation with seven on tap at any one time.
Look out for the Pilgrim's pale Ale and The Last Waltz, named after the song playing on the Titanic as it went down, as well as guest beers from other local breweries. The menu is deliciously British, with pies a specialty (served with buttery mash and greens) and a popular Sunday roast.
The Dancing Man, Town Quay, Southampton
4 The Grand Café: for an elegant afternoon tea
Around Southampton and the historic towns you may visit on your cruise excursions, you'll find plenty of tea-rooms serving tea and cakes. If you want to take the oh-so-English ritual of afternoon tea up a notch, head for The Grand Café, originally the historic South Western Hotel, used by first class passengers on the Titanic. Afternoon tea is served from 2.30-5pm (book in advance) and you'll be served at a table with an array of delicate sandwiches, scones with cream and jam and a selection of cakes. It's a meal in itself, so you'd better miss out lunch to do it justice. If you're visiting Beaulieu, another elegant afternoon tea stop is the luxurious Montagu Arms, for tea in the lounge or courtyard garden.
The Grand Café, Southwestern House, SO14 AHS, Afternoon tea £17.50
5 Oxford Street: Southampton's Restaurant Quarter
If you want to find a selection of great restaurants all in one place, head for Southampton's lively restaurant quarter in Oxford Street, just a 10 minute walk from the cruise terminal. At weekends and in the evening, the pedestrianized street has a buzzy atmosphere and you'll also find good value lunch menus from many of the restaurants. We especially like the lively Oxford Brasserie serving a cosmopolitan menu using local produce, Olive Tree offering classic French bistro food, and the White Star Tavern, specializing in modern British cooking using local Hampshire produce.
Head for: Oxford Street, Southampton, SO14 3DA
You may also like to read my article on Top 10 things to do in Southampton for cruise visitors.
6 The Duke of Wellington: a traditional pub in the Old Town
If you're looking for a cosy, traditional pub for some real ales and hearty home cooked food, try the Duke of Wellington, opposite The Tudor House in the heart of the Old Town. The timbered building dates back to the 13th century and has been a public house since 1494 when this was just a stone's throw from the bustling town quay. They serve a wide selection of draught and real ales and on the menu you'll find pub favorites such as fish and chips, steak and ploughman's with ham or cheese, as well as options from the specials board and sandwiches at lunchtime. This is a good choice if you want to dip into traditional English pub culture.
The Duke of Wellington, 36 Bugle Street, Southampton
While you're exploring Southampton and other parts of Hampshire and the New Forest, look out for the following local specialties.
7 Vineyards that produce Hampshire's answer to Champagne
The chalk soil that characterizes much of Hampshire is ideal for wine growing and close to Southampton you'll find some of England's best-known wineries. The still and sparkling white and rosé wines feature on many restaurant menus, especially such as those made by Nyetimber and Hambledon that aim to rival the best champagne. Near Southampton you can visit the Three Choirs vineyard at Wickham (30 min taxi ride) where they have regular tours, daily tastings in the shop and you can also have lunch in their elegant restaurant.
8 Watercress: the crop of Hampshire's rivers
One of the seasonal foods that Hampshire is renowned for is the peppery, green watercress, and a Watercress festival is held in the market town of Alresford every May. The watercress grows in beds that span the Itchen and Meon valleys, thriving in the clear water flowing over chalk beds. There's even a steam train that runs from Alresford past the watercress farms, known as The Watercress Line, that was used in the 19th century to transport watercress to the markets in London. The watercress is available all year round, but look out for it on restaurant menus in the spring and summer when it's at it's best.
9 Isle of Wight tomatoes
With a mild climate and hours of sunshine, the Isle of Wight is known for its fresh produce such as asparagus, cherries, apricots and especially tomatoes. The island is just a short ferry ride from Southampton and can be visited in a day, but look out for the tomatoes and other produce on restaurant menus in Southampton. The glass houses and tomato growers like The Tomato Stall sell the sweet and flavorsome tomatoes through supermarkets, local delis and farm shops.
10 Ice Cream from the New Forest
Well you wouldn't be on holiday, if you didn't have an ice cream, would you? The local New Forest ice cream produced at Lymington is widely available in shops and cafés around Southampton. A few other artisan ice cream producers are worth looking out for while visiting attractions near Southampton; there's a delicious selection at Sundae's Child, who have an ice cream parlour in Romsey, and at Beaulieu chocolate studio in Beaulieu village.
You may also like to read my article on Top 10 things to do in Southampton for cruise visitors.
More information to plan your visit to Southampton
More information for visitors is available from the Discover Southampton Website and the Visit Hampshire website.
Note: I originally wrote this article for a cruise website but it was never published so I am republishing it here, hoping that it will give some useful tips and advice for cruise visitors to Southampton.
Pin It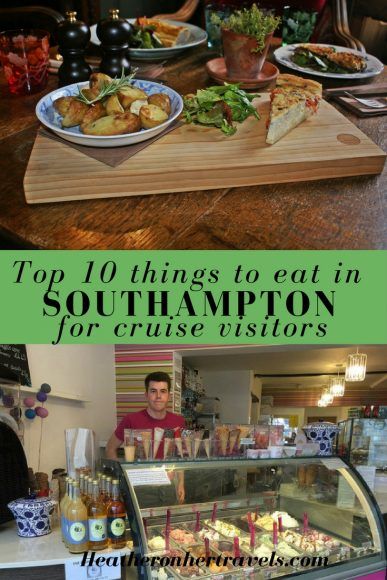 This article is originally published at Heatheronhertravels.com – Read the original article here
February 1, 2017 by Heather Cowper
Filed under United Kingdom, Leisure, featured, Art and design, Cruise, Museums, Shopping, Sightseeing, South of England, Walking
Southampton is one of those cities on England's South Coast that's easy to overlook. Heavily bombed in the war, it's not the most picturesque of places, but as one of Europe's major cruise ports, millions of cruise visitors pass through every year. Dig a little deeper and you'll discover that Southampton offers museums and cultural attractions as well as an interesting old town with medieval walls and houses.
The port is gateway to the beautiful Hampshire countryside and the New Forest with many places of interest that can easily be visited in a day. So if you are visiting Southampton on a cruise, here are some of the things I'd recommend you visit in and around the city. You may also like to read my article on Top 10 places and things to eat in Southampton.
1 Walk Southampton's old city walls
Just a short distance from the port you can walk the medieval city walls of Southampton that encircle the old town and were built to preserve the town from attack from the sea. You can still see the arcades that formed the entrance to warehouses where wine barrels were stored and walk along the top of the walls that would have overlooked the beach, a fashionable spot for sea bathing in the 18th century. At weekends there are guided tours of the wall starting at Bargate or pick up a self-guided walk leaflet from The Tudor House.
2 Step back in time at The Tudor House
In the old quarter of Southampton, a short walk from the cruise port is the recently restored Tudor House, dating back to the 15th century. An audio guide takes you through the rooms to uncover the history of Southampton over the centuries.
There's a pretty Tudor knot garden, views over the city walls, a kitchen laid out with food that the Tudors would have enjoyed and a glass-sided cafe overlooking the garden. For another dive into the history of Southampton, visit the nearby Merchant's House that is furnished and preserved, as it would have been in the Middle Ages.
Getting there: Walking 10 min from cruise terminal. Adults £4.75 Children £3.75, Family ticket £13.50
3 Shop till you drop
If you enjoy shopping for international brands you'll find them all in one place in the West Quay shopping mall in the center of Southampton. The major stores are John Lewis and Marks and Spencer with a wide range of fashion, lifestyle and technology stores as well as plenty of cafes and restaurants. If you're looking for designer names at bargain prices you'll find them in at Gunwharf Quays outlet shopping center near Portsmouth Harbour, which can be reached by train from Southampton, close to the other attractions of Portsmouth.
4 Nautical connections at SeaCity Museum
The SeaCity Museum explores Southampton's connection with the sea over the centuries, with travellers from all over the world passing through the port. In 1912 the Titanic set sail from Southampton with most of its crew coming from the city. A poignant street map on the floor marks each person lost with a red dot, over 500 people from the city alone.
There are many interactive exhibits such as the Disaster room where the 1930s enquiry into the Titanic's loss is replayed. An exhibition of Port Out Southampton Home (until June 2017) evokes the romance of the golden age of cruising from the 1920s to the 1950s.
Getting there: Walking 20 mins, Taxi 10 mins from the cruise terminal. Free shuttle bus from the terminal to SeaCity museum running 1 per hour. Adults £8.50 Family £25 Open daily 10am-5pm
5 The Southampton City Art Gallery
Next to the SeaCity museum is the Southampton City Art Gallery in the light and airy space above the public library. Under the high arched ceiling of the main gallery you'll find everything from contemporary and twentieth century art to old masters and impressionists such as Monet.
The side galleries hold regularly changing exhibitions and look out for the wood panelled gallery with a series of Pre-Raphaelite paintings by Sir Edward Burne-Jones showing the Perseus story from classical mythology.
Getting there: Walking 20 mins, Taxi 10 mins from the cruise terminal. Free shuttle bus from the terminal to SeaCity museum running 1 per hour. Free entrance although a donation is appreciated. Closed Sundays.
Read my article on Top 10 places and things to eat in Southampton for cruise visitors
6 Beaulieu Motor Museum, Palace House and Abbey
Put together a national motor museum, 13th century Cistercian abbey and stately home of the Montagu family set beside a lake, and you have the ingredients for a fun packed day out for all ages and interests. The Beaulieu motor museum is the big draw, housing over 250 vehicles from motoring history but the house is also beautiful with a lived in feel and interesting displays in the Victorian kitchens.
Wander through the orchards and gardens, or get around on the high-level monorail or the open top vintage bus. If you have time, drive 10 minutes further to Buckler's Hard, an 18th century village where ships for Nelson's navy were built.
Getting There from Southampton: Taxi 30 mins, or Beaulieu can be booked as a cruise excursion. Entrance Adults £24, children age 5-17 £12, family ticket £64 with discounts if you book in advance.
7 The Historic Dockyard at Portsmouth
At Portsmouth Historic Dockyard you can visit some of Britain's most historic ships including Lord Nelson's flagship HMS Victory and the Tudor warship Mary Rose. Around the waterfront are plenty of pubs and cafes for a bite to eat. The harbor scene is dominated by the 170 metre tall Emirates Spinnaker Tower, for views over the harbor from the skywalk and cafe in the clouds. A short walk away is the designer shopping outlet at Gunwharf Quays and one stop further on the train you'll find the trendy area of Southsea with boutique stores and independent eateries.
Getting There from Southampton: taxi 30 mins, train 1 hr with 2 per hour.
8 A taste of rural Hampshire in Romsey
For a flavour of rural Hampshire life visit the pretty market town of Romsey, gateway to the Test valley. Behind the tourist office is the medieval King John's House which brings to life 750 years of history in Romsey, with a pretty garden and tea shop. Nearby is the imposing medieval Romsey Abbey containing beautiful religious art and treasures. You can join the long distance walking path, the Test Way following the River Test, past nature reserves and Broadlands, the home of the late Lord Mountbatten. Finish your day with an ice cream at Sundae's Child or a traditional afternoon tea in one of the many cafes.
Getting There from Southampton: Bus 30 mins, 2 per hour. Taxi 25 mins. Train 30 mins, 2-3 per hour.
9 England's ancient capital of Winchester
Once King Alfred's capital, the small cathedral city of Winchester is a quintessentially English place to visit. At its heart is the ancient Winchester cathedral where Jane Austen is buried and farmer's markets are held at weekends. Stroll along the river to see a working water mill at Winchester City Mill and the ruins of Winchester Palace, home of the Bishops of Winchester. Further up the hill is the Great Hall with a replica of King Arthur's round table and the 18th century Peninsula Barracks with several military museums. With plenty of pubs and cafes, Winchester is a great day out for all ages.
Getting There from Southampton: Taxi 30 mins, Bus 1 hour with 2-3 per hour. Train 20 mins with 2-3 per hr.
10 Salisbury and Stonehenge
Stonehenge is one of the best-known pre-historic monuments in Europe, featuring in many a selfie moment. The stone circle is a masterpiece of Neolithic engineering built from stones transported long distances using only simple tools, yet no-one knows for sure why it was built. Start at the new visitor center with exhibitions and Neolithic style houses, and then walk around the stone circle (but not inside it). Your visit is easily combined with a visit to the cathedral city of Salisbury, with elegant houses inside the cathedral close such as Arundells, the home of British Prime Minister, Edward Heath. Read about my visit to Stonehenge.
Getting There from Southampton: Train Southampton to Salisbury 30 mins, 2-3 times an hour, then bus from Salisbury station to Stonehenge 30 mins, 2 per hour. Salisbury and Stonehenge are typically offered together as a cruise excursion.
You may also like to read my article on Top 10 places and things to eat in Southampton for cruise visitors
Guide Prices if you want to arrange your own cruise excursions
Taxis are available at the Southampton cruise port terminal and prices are agreed with each driver but typically a 2-3 hour return trip to attractions within 30 mins drive is £80-100. Train fares for a return ticket to places mentioned are from £5-12 return depending on distance and time of day. Bus tickets are generally a little cheaper than train but may take longer.
More information to plan your visit to Southampton
More information for visitors is available from the Discover Southampton Website and the Visit Hampshire website.
Note: I originally wrote this article for a cruise website but it was never published and has since closed so I am republishing it here, hoping that it will give some useful tips and advice for cruise visitors to Southampton.
More locations in the South of England:
A Weekend in Eastbourne – with cliff walks & fresh air
A summer day cycling in Dorset on the Jurassic Coast
Sunrise at Stonehenge – inside the stone circle
Pin It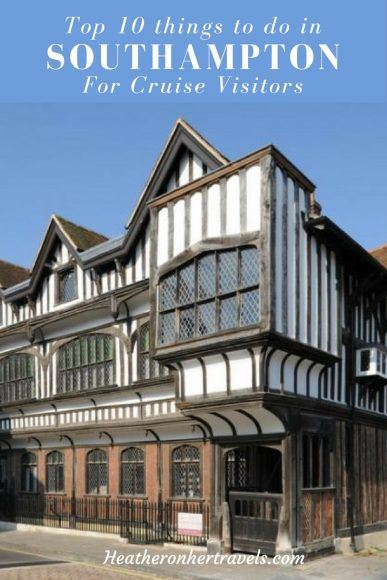 This article is originally published at Heatheronhertravels.com – Read the original article here
A collection of 500 year old thatched cottages, set around a cobbled farmyard, Red Doors Farm in Devon has all the chocolate box charm that you'd wish for in a holiday cottage. However, we've learned from past experience that a centuries-old thatched cottage, picturesque though it may be, does not always mean warmth and comfort. Thank goodness the owners Gill and Adrian seem to have that cracked, with Byre Cottage where we stayed being kept at a cosy constant temperature by the biomass wood-pellet fired boiler.
Our stay was arranged through Premier Cottages who specialise in luxury holidays cottages and this one certainly lived up to expectations. Having arrived in darkness on a Friday night from Bristol, we wake up to glorious views of the Blackdown Hills and spot the red doors of all the cottages that seem to epitomise the cheerful spirit of the place.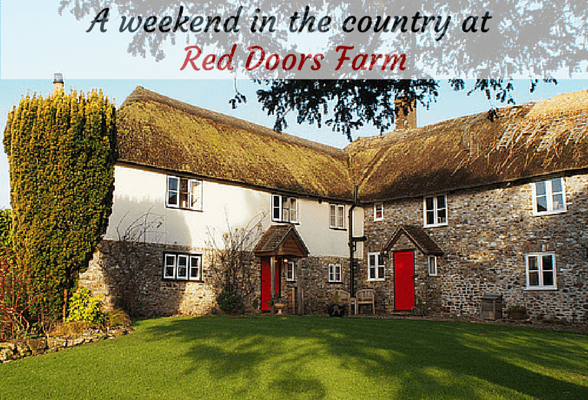 In the morning while the boys are cooking the bacon and eggs, Gill offers to show me around and tells me their story. She and Adrian gave up busy jobs in London to follow their dream of a calmer life in the country and took over the holiday cottage business of Red Doors Farm three years ago. "If we'd realised how much work it would be, we probably wouldn't have taken it on!" Gill told me, since they have gradually worked through all of the six cottages, renovating them one by one.
I hope you enjoy my video below of our weekend at Red Doors Farm
If you can't see the video above of our stay at Red Doors Farm, see it on my blog here or Youtube here and please do subscribe using the button above
Click here for direct download of video
Subscribe to all my videos in I-tunes
If you enjoyed this video, check out the others in my Video archive
Our cosy cottage at Red Doors Farm
Furnishings have been upgraded, bathrooms modernised and now all the cottages meet Visit England's exacting 5 star Gold Standard. Although Red Doors Farm is very popular with young families, it seems there's a cottage for everyone down on the farm. The Swallows Loft is a one bedroom apartment on two floors with stylish mezzanine kitchen, luxurious modern bathroom and a four poster bed with an "Out of Africa" look, which suits professional couples looking for a relaxing country break. Meanwhile Holly Cottage is popular with older couples, or couples with a baby, since it's all on one level with a terrace overlooking the croquet lawn, perfect to sit with your sundowner admiring the views of the Blackdown Hills.
We're staying in Byre which is a 3 bedroom cottage, sleeping 6 people in comfort, a spacious master bedroom for me and Guy and two twin bedrooms for my teenage son and two friends to spread out. No queues for the bathrooms either, since there's a family bathroom upstairs and a shower room downstairs. We really can't fault the cosy furnishings, well equipped farmhouse style kitchen and best of all the log burning stove in the sitting room. Since all men seem to love stoking up a real fire, and Guy is no exception, this is something we always love to see in a country cottage and we make the most of it with a fire in the evenings.
Feeding the goats at Red Doors Farm
Saturday morning is crisp but sunny with winter-blue skies and views over farmland to the valley beyond. Across the lawn is the swimming pool in a separate building for those (relatively) early morning swims which quickly become a favourite with our teenage boys. After breakfast and the swim we've arranged to meet Adrian and Gill for the 10.30 morning ritual of feeding the animals.
For younger guests the farm keeps guinea pigs and rabbits in the covered play area but our teenagers are more interested in the goats, Charlie and Dora. "These are the most spoiled goats in Devon", Gill tells me, since they have their own heated shed, decking walkways so their feet don't get wet on the grass and a climbing frame which comes into its own at feeding time.
Once Charlie and Dora have enjoyed their breakfast it's time for the Muscovy ducks to have theirs in the next field. The ducks all have names beginning with D; there's Dick, the alpha male of the group and Daisy, although we joke that Dyson might be a better name based on the speed at which they vacuum up the grain we hold out to feed them.
Hunting for ammonites at Lyme Regis
Feeding time over, we decide to make the most of the glorious winter sunshine and drive the 25 minutes to Lyme Regis, the heart of the Jurassic Coast. Last time I was here with my blogging friend Barbara Weibel who is a rock hound and fossil lover if ever there was one and am determined to show the boys the ammonite pavement that we visited together.
Lyme Regis is a holiday town that I am continually drawn back to, having just the right balance of Jane Austen charm and fish'n'chips holiday fun, as well as being one of the top places on the Jurassic coast to find fossils. From the harbour, locally known as The Cobb, we walk along the rocky beach, with cliffs looming above us. The cliff face reveals the layers of sedimentary rock that were built up in pre-historic times containing the fossils, especially ammonites for which the beach is famous. "Don't get to close" I call to the others, since there are frequent and dangerous rockfalls from the cliffs, especially after storms, revealing new fossils that have been trapped in the rock.
We clamber awkwardly over the boulders and squish through the black mud until we reach the ammonite pavement, a flat plate of rock where millions of years ago a shoal of ammonites settled on the bottom and were pressed down for eternity. Now at low tide you can see numerous little coils in the bare rock and spot them pressed into larger rocks along the beach. The local fossil hunters are to be seen tapping at the rocks with small hammers, splitting them open to reveal the ammonites trapped inside. As I walk, my eyes scan the pebbles that crunch under my feet and then suddenly I spot it, an ammonite on a smooth round pebble just lying there!
A walk on the Cobb at Lyme Regis
We walk back to The Cobb where a broad wall casts a protective arm around the harbour and the colourful fishing boats are lying on their sides at low tide. It's fun to walk along the broad top of The Cobb wall although the stone pavement slopes like a tipsy sailor towards the sea to catch out the unwary. It's a steep drop on both sides and our friend tells us that their dog once fell off and rolled down the wall but luckily survived with nothing broken.
The stormchasers might emulate Meryl Streep with swirling cloak in the film The French Lieutenant's woman, standing on the end of The Cobb looking out to sea, although it's not advisable or even allowed. Walking along to the end of the wall there are store houses for the fishing boats and we get the feel that this is still a thriving fishing community with plenty of notices advertising fishing trips and the blue and green nets piled up along the quayside. The notice above the door promises that 'The Gods do not subtract from the allotted span of mens lives the hours spent in fishing".
Back on the quay, we check out the local fishmonger's where I can't resist buying some fresh squid while the boys browse in the second hand bookshop next door. Later that evening I fry it up in butter to eat with some of the orange, pepper and chilli chutney that we found in our welcome pack, although the boys turn their noses up at it. Guy has already drunk the bottles of Otter Bitter and Norcott's Somerset cider without giving me a look-in but we all enjoy the local chocolate fudge and award winning ice cream that we bought from the freezer in the games room, made just across the valley. The fire is stoked up and the boys have a noisy monopoly game in progress, just as it should be.
A climb to Dumpdon Hill Fort
Sunday morning and we take a last chance to explore some of the countryside around Red Doors Farm. Armed with instruction found in the Games Room, we walk up the lane towards the Dumpdon Hill Fort, an iron age fort which takes us on a steep and muddy climb up from the road. From the flat area of the top we can survey the many shades of green making a patchwork quilt of fields, then we turn back towards the farm and with rosy cheeks and lungs full of fresh air ready for our drive back to Bristol.
What we liked about Red Doors Farm;
The high quality furnishings and amenities with attention to detail and everything you need on the farm (even ice cream and meals in the freezer!)

The cheerful and helpful approach of Gill and Adrian who live on site.

Feeding the goats and ducks was a fun experience, even for our teens!

Lovely to have an indoor swimming pool on site and we made full use of it.

The beautiful Devon countryside and short drive to the coast at Lyme Regis or Sidmouth.
What you need to know;
The setting is quite rural so you do need a car and we didn't find any shops within walking distance.
The free wifi is provided through a mobile in each cottage and you'll need to give your credit card details as a deposit.
Booking at Red Doors Farm

Red Doors Farm have six luxury holiday cottages which sleep between 2 and 8 people, in the Blackdown Hills of Devon, set in beautiful countryside and only 30 minutes drive from Lyme Regis and the Jurassic Coast. A week's stay in Byre Cottage at Red Doors Farm for up to six people starts from £775 and a short break starts from £540. Book Red Doors Farm through Premier Cottages here

Premier Cottages' collection features almost 1,000 four and five-star self-catering cottages across the UK. Properties range from small, romantic boltholes to large family-friendly country estates. The collection includes pet-friendly accommodation. It also offers the widest range of accessible properties in the UK and many properties have  onsite facilities like swimming pools, gyms, spas, indoor games rooms and children's play areas.

Follow Premier Cottages and Red Doors on their Social Media channels below;
Premier Cottages: Website | Twitter @premiercottages | Facebook | Google+ | Pinterest | YouTube
Red Door Farm: Website | Twitter @reddoorsfarm | Facebook
Heather and family stayed as a guest of Premier Cottages and Red Doors Farm in Byre Cottage.
This article is originally published at Heatheronhertravels.com – Read the original article here
Click to subscribe to our monthly newsletter, news and reader offers
You'll also find our sister blog with tips on how to build a successful travel blog at My Blogging Journey