January 8, 2010 by Heather Cowper
Filed under Europe, World, Berlin, Croatia, France, Germany, Greece, Istria, Lebanon, Lisbon, Munich, Portugal, Zakynthos
2010 is well and truly here, and with snow on the ground in Bristol, I've been reliving the memories of some of the sunnier places I visited last year – here's the round up the places I travelled and enjoyed in 2009.
By the way, if you enjoy my blog, please do nominate me for best travel blog at the Bloggies before 12 January 2010.
Berlin for a girly break in April
April saw me on a 4 day break to Berlin in Germany with my teenage daughter and her friends. We were blessed with sunny spring weather and loved our stay at the fabulous budget boutique Circus Hotel, where the girls had their own apartment and the Mums were banished to their room at the other side of the courtyard. We saw the sights on foot, bus, s-bahn and rickshaw and generally soaked up the arty and trendy vibe of Berlin, an ideal city to please the most picky teenager. For more Berlin stories read;
Checkpint Charlie and other Berlin Wall stories
Blue Glass reflections at the Kaiser Wilhelm Memorial Church
Our 36 Hours in Berlin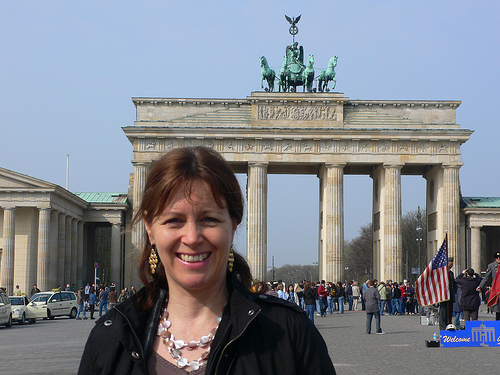 Val Cenis, France for a family ski-break in April
Hardly had we returned from Berlin when we were off again to join the boys on a family ski-ing break in Val Cenis in France, not too far from the Italian border. This was a last minute bargain break at the end of the ski season, in which we squeezed ourselves into a modest self-catering apartment. My kids are mad-keen snowboarders, while I'm a rather more sedate skier who likes to break up a few easy runs with long chocolat chaud stops in between. Meanwhile my children whizz past me showing no fear, only pausing to blague the price of an expensive plate of pommes frites or a crepe. For tales from Val Cenis read;
The Good Friday service in the ski resort of Val Cenis in France
Keeping my ski helmet on in Val Cenis, France
Savoyard food specialities to enjoy from the French Alps
Lebanon for a girl's road trip
My week in Lebanon, touring the country with a friend who works there was a real highlight. I didn't know what to expect of Lebanon but was blown away by the variety and accessibility of what was on offer for those who want a taste of the Arab World at it's most cosmopolitan and sophisticated. We didn't spend too long in the glitzy building site that is Beirut, but got out of the capital to walk the mountain trails, eat mezze in the souks of Sidon, see some amazing archaeological and historic sites and taste our way through some world class wines. For stories from Lebanon read;
St Anthony's Monastery of Qozhaya in Lebanon – video
The Cedars of Lebanon – Tannourine Cedars Reserve – Video
Mezze Memories in Lebanon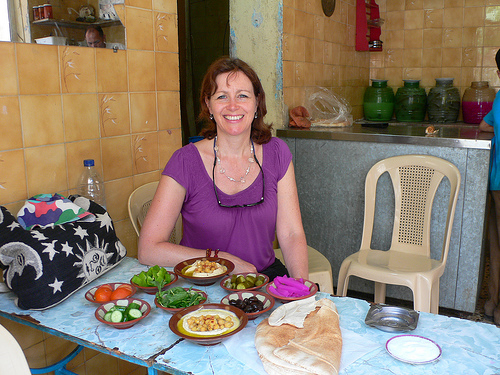 Zakynthos in July for our family beach holiday
July took us back to the Greek island of Zakynthos, where my sister lives with her Greek husband Denis and juggles family life with running two hotels. Although we've been going for the last 20 years, there are always surprises when you get away from the main resorts and we enjoyed meeting some locals, like Yannis Vardakastanis who founded the Earth Sea and Sky Wildlife centre at the beautiful Gerakas Turtle beach, Timotheos and Christina-Maria the stylish wine-makers at Oenpoli winery, and our photographer friend and bar owner, Rob Wallace and his wife Ritsa at Freddie's Beach Bar at Tsilivi. I hope I've convinced you that there's more to this island than its package holiday image might suggest. For tales from Zakynthos read;
How to make delicious Greek stuffed tomatoes
How to find a real Greek Taverna on Zakynthos
My top three beaches on Zakynthos
Istria, Croatia for a family resort break
In August I took a 4 day break with my family as a guest of the Istrian Tourism board, who invited a number of bloggers to this beautiful province of northern Croatia. The kids were smitten with our modern resort hotel Laguna Molindrio with it's two pools and view of the sea and we swam and cycled through the pine woods that fringe the shore. There was plenty to interest the culture lover in me in the old Venetian ports of Porec and Rovinj nearby as well as fresh seafood, local truffles and the picturesque hill towns that reminded me of Tuscany. For more Istrian travel stories read;
Visiting the hill towns of Grozjnan and Motovan in Istria
My Istria Travel diary – podcast and slide show
Cycling by the sea in Istria
Brittany in August to go fishing for crabs
Another short break took me with my daughter to visit an old friend in Vannes in Brittany, in an effort to improve both our language skills. My friend lives in a beautiful spot overlooking the marina at Conleau on the Gulf of Morhiban and we took a day trip to the island of Houat where we swam, sunbathed and had fun fishing for crabs. Unfortunately our catch was rather insignificant, so we had to pay a visit to the fishmonger on the way home to get some more respectable specimens to eat for dinner. For a few fishing tales from Brittany read;
How to prepare a crab a la Francaise in Brittany – video
Gone fishing for crabs on Ile de Houat in Brittany
A postcard from Conleau near Vannes in Brittany
Lisbon in November for a romantic weekend a deux
At the end of November, I visited Lisbon for a 3 day weekend break with my husband, leaving the kids behind. We loved our welcoming boutique hotel which was ideally placed for sightseeing and wandering the back streets. We visited the Monastery of Jeronimus and the Castelo de Sao Jorge, getting around on the modern metro, old fashioned trams and elevador funiculars that climb hills of the city, saving the legs of the weary traveller. We ate our way through as many local specialities as we could including the port, salt cod and seafood and the custard tarts Pasteis de Nata that are the sweet symbol of Lisbon. For more Lisbon stories read;
An autumn weekend in Lisbon – Podcast
An authentic Portuguese meal at Casa do Alentejo in Lisbon
A rainy day at the monastery of Jeronimus
Munich in December with my parents to see the Christmas markets
To round off the year I took a 3 day weekend break with my parents to visit the Christmas markets and get into the holiday spirit. I loved the feeling of Christmas in the air, especially in the atmospheric market we found in the courtyard of the Residenz with local choirs and Alpine horns playing, the smell of gingerbread, sizzling sausages and mulled wine and the dusting of snow on the rooftops. I loved the cosy feel of sitting in a condotorei, having our kafee and kuchen, but I did feel the cold when the temperature dropped below freezing. For more Munich stories read;
Visiting the Munich Christmas Markets – podcast
Empty splendour at the Resindenz in Munich
Bavarian pork knuckle at Haxnbauer in Munich
So that was 2009 and where will 2010 take me? The only thing booked is a visit to the Passion play at Oberammergau in July, which happens only every 10 years, so it's really a once in a lifetime thing. Other than that the plans are fluid for the spring – I'm waiting to see where the cheap flights, friends around the world and any other offers may tempt me. What are your travel plans for 2010 – I'd love to hear them. And if they bring you to Bristol in 2010, I'd love to show you my city.
Read more travel articles at Travel Blog Home
Don't miss out – subscribe to Heather on her travels
At Easter I spent a few days ski-ing with the family in the French Alpine resort of Val Cenis. As I'm not that great a ski-ier I spent some time wandering around the older part of the traditional mountain village, away from the ski-slopes.
As I passed by, I noticed that the old church at the heart of the village was open and being a fan of old churches, popped in to have a look around. It had a beautiful interior with lovely painted plasterwork and gilding. As I sat there quietly reflecting I realised that more and more people were coming to attend the Stations of the Cross service for Good Friday. I was greeted warmly and given a service sheet, so I hardly felt I could leave at that moment. Although I'm a good Catholic girl, in the ski holiday mindset, I'd completely forgotten that it was Good Friday.
Most of the parishoners were older locals but there was one young family with three beautifully turned out children. During the service the congregation walked around the church, stopping at each of the stations of the cross and reading the story from the gospels of what had happened to Jesus at that point on his journey to his crucifiction. It was touching to see the older lady leading the service bringing the children to the front and taking great care to explain to them the story. The small village school was right next to the church and I expect that as in many rural parts of France, families with children are welcomed to keep the village alive.
It was a glimpse of the alternative life of the village that continues when the ski-ers have gone home.
This post is part of Photo Friday – head over to Delicious Baby to see all the other Friday Photos.
You may also enjoy
Keeping my ski helmet on in Val Cenis
Savoyard Food specialities to enjoy from the French Alps
See my Photos of Val Cenis on Flickr
Read more travel articles at Travel Blog Home
Don't miss out – subscribe to Heather on her travels
After hearing about the tragic death of actress, Natasha Richardson in March, I was taking no chances and rented a ski-helmet on my family ski-ing holiday in Val Cenis. Natasha Richardson died after a fall on the nursery slopes while taking a ski-ing lesson – it seems that the most apparently risk-free situations can go wrong if you're unlucky.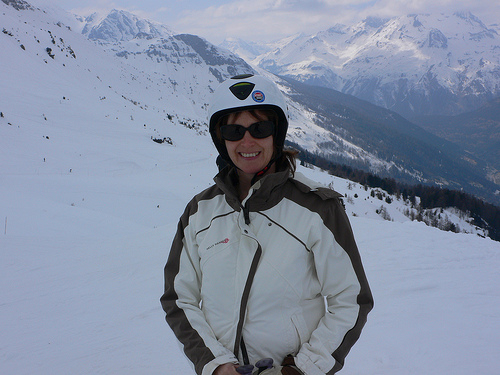 Despite having spent 3 months in my 20s as an au-pair in the French ski resort of Meribel, I can't say I'm an expert ski-er, having spent more time in the resort's night-clubs than the ski-slopes. I prefer to go cautiously down the red and blue slopes while my snow-board addict sons zoom past me impatiently, only stopping long enough to blague some euros for a hot chocolate and crepe in the mountain cafe.
The week after we returned I was shocked to read that an avalanche had swept the piste at Val Cenis, only days after we were there, but luckily being at lunchtime and at the end of the season, the slopes were deserted and no-one was hurt.
Which goes to show that you just can't be too careful…
This is posted as part of Photo Friday – see all the other Friday photos over at Delicious Baby.
You may also enjoy
Savoyard Food specialities from the French Alps
See all my photos from Val Cenis on Flickr
Read more travel articles at Travel Blog Home
Don't miss out – subscribe to Heather on her travels