If you had to choose just 7 Wonders of the World to visit what would they be? For travel lovers there's no set answer, as everyone has their dream holiday of a lifetime, but at Exodus Travels you can discover a world of must-see destinations and must-try experiences.
I tried to create my own list of 7 World Wonders and found myself homing in on destinations that are rich in culture or have stunning scenery for hiking and walking. But I'm also happy to do go cycling (especially when food and wine is waiting at the top of the hill) and to explore the natural world and wildlife. Perhaps your picks would be quite different.
Are you a Culture Lover who loves to be surrounded by the artistic richness of Florence, wonder at the mysterious Moai stone heads on Easter Island or walk among the ancient ruins of Ephesus?
Do you love Walking and Trekking, hiking on the high mountain passes in the French Alps, heading to Iceland to catch the Northern Lights dancing in the sky or sitting in wonder at the edge of the Grand Canyon?
Or perhaps Cycling is your thing and you'd love to cycle through the vineyards in the Loire Valley, stopping for a wine tasting at a chateau or cycling to Angkor Wat on a Cambodia cycling adventure?
If you are a lover of Wildlife, perhaps your dream trip would be to see grizzly bears in the Canadian wilderness, go whale watching in Hawaii or to spot pink dolphins swimming in the lagoon in Ecuador.
I like a bit of everything, and my seven picks were based on places I've previously visited and some new places that I'd love to see.
1. The French Alps and the Tour de Mont Blanc
I hiked the Tour de Mont Blanc over four years with a friend, each year walking a different section of the high mountain passes. This circular trekking route normally takes at least 12-14 days and can be arduous, especially if you carry all your gear. But the views are unbeatable and the feeling of being away from everything in the middle of the mountains is exhilarating and addictive. Read about one of my Tour de Mont Blanc experiences.
The Exodus Travel Mont Blanc highlights is ideal for those who only have a week and want to be based in one place, so that you can hike some of the highlight trails, while still getting that experience of being on top of the world.
Read about the Mont Blanc Highlights trip from Exodus Travels
2. The Acropolis in Greece
The Acropolis in Athens is an amazing site, a rocky hill topped by the Parthenon temple dedicated to the Goddess Athena. I visited in the early spring when the weather was sunny and the crowds not too overwhelming, and I'd recommend a visit in spring or autumn as the heat or July and August would be impossible.
Don't miss the Acropolis Museum where many of the statues and artifacts of the museum are on display and have a coffee or lunch on their rooftop cafe terrace with a view of the Acropolis on the hill above you. Read my tips for visiting the Acropolis in Athens.
Read about the Highlights of Ancient Greece trip from Exodus Travels
3. The Amazon Rainforest in Ecuador
A trip to the Amazon Rainforest in Ecuador was the inspiration that started this blog eleven years ago and I'd love to go back to relive the experience. On that trip 11 years ago we travelled by dug-out canoe, slept on sandbanks by the river, listened to tales of anacondas and jaguars and spent time in rainforest communities.
The Exodus trip includes similar rainforest experiences as well as visits to the colourful Otovalo Indian Market and a visit to the ruins of Ingapirca.
4. The Rocky Mountains in Canada
I've visited Canada a three times in as many years and am always awed by the the scale of the place, the wide open spaces in the national parks and the mountain scenery. I climbed a Via Ferrata in Mount Tremblant National Park, went kayaking in Algonquin Park and hiking above the fjords on Vancouver Island, so I'd love to visit the Rockies which is a part of Canada I haven't yet visited.
The Canadian Wildlife and Vancouver Island Exodus trip takes in rugged peaks, sparkling glaciers and a chance to see grizzly bears, deer, moose and other animals in the wild.
Read about the Canadian Wildlife and Vancouver Island trip with Exodus Travels
5. Cycling in the Loire Valley
I have so many happy memories of cycling, since my honeymoon cycling around central France, lazing under trees with a lunch of baguette and Camembert, chatting to farmers in blue overalls. Since then I've discovered e-bikes, which are definitely my choice unless the terrain is super-flat, since they take all the effort out of hills while still leaving you with that pleasant feeling of healthy exertion.
These days I love to combine cycling with great food and wine, so cycling through the vineyards with a promise of wine tasting and a good lunch at the end is definitely my style. I think that cycling in the Loire Valley would be the perfect combination of exercise, great food and wine and the pretty chateaus and lakes of this region.
Find out more about Gastronomic cycling in the Loire Valley with Exodus Travels
6. Mount Fuji in Japan
Japan is a place I've never visited but is definitely on my wish list for next year. I'm fascinated by a place that is so different in language and culture to Europe and I love the idea of a trip that combines classic Japanese sites with hiking and mountain walks.
The Exodus trip takes in futuristic Tokyo, Japan's ancient capital of Kyoto and a chance to hike to the iconic peaks of Mt Fuji and Mt Yarigatake.
Find out about the Exodus Travels trip to Mt Fuji and the Japanese Alps
7. Tigers and Taj in Northern India
Although I've visited India a few times to support a charity I've never visited the major sites so where better to start than Northern India, with the stunning sites of Rajasthan and the tigers of Ranthambore National Park?
The Exodus trip includes all the must-see cultural highlights like the Pink City of Jaipur, Agra and the serene Taj Mahal, as well as an early morning boat ride through the mist along the ghats of Varanasi. Seeing some of these places in India is definitely on my list for next year.
About the Competition with Exodus Travel
Update: This competition is now closed
Exodus Travel offers the chance to choose your own 7 World Wonders. To discover your own Seven World Wonders, you can choose your own travel style and as I like a bit of everything, my seven picks were
The French Alps
The Acropolis in Greece
The Amazon Rainforest in Ecuador
The Rocky Mountains in Canada
Cycling in the Loire Valley
Mount Fuji in Japan
Tigers and Taj in Northern India
You can drag the choices to rearrange them or change your mind and choose somewhere else to go.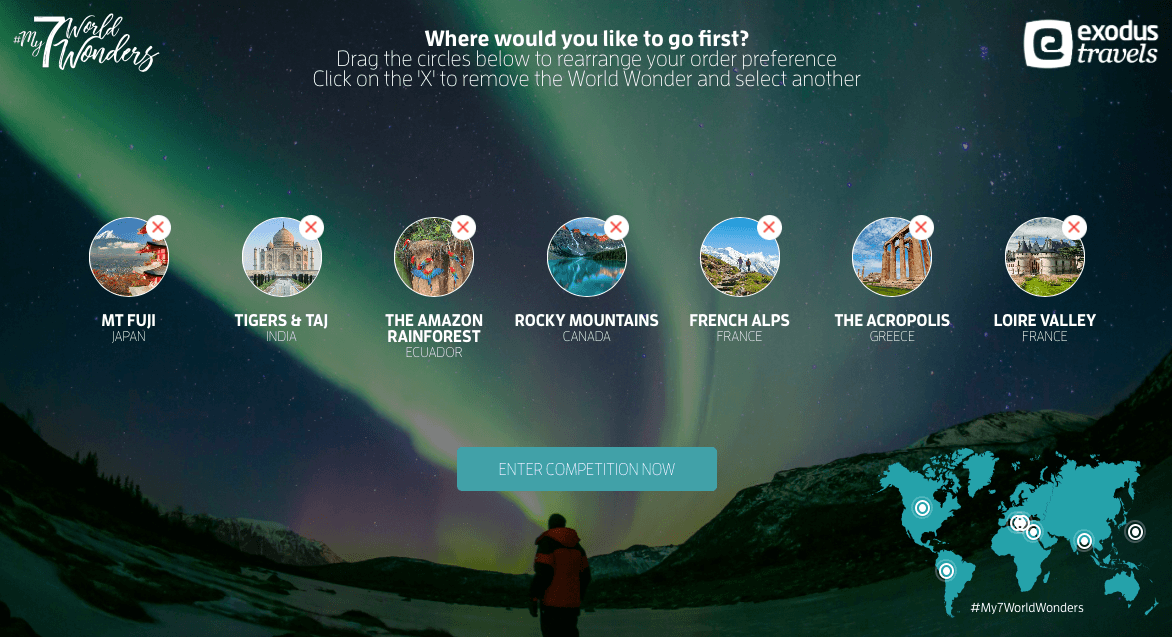 Once you are finished, enter the competition and watch the personalised video that brings your 7 World Wonders to life – you can watch mine here. If you share your personalised video with friends and family you'll get an extra chance to win if they enter the competition through your link.
Exodus Travel have been creating award winning tours to over 100 countries for 40 years so if you are looking for adventure you've come to the right place. Discover a world of adventure on the Exodus Travels website.
Pin It
Update: This competition has now closed
This article is created by Heather Cowper and sponsored by Exodus Travels.
Photo credit: Some photos are from Exodus Travels, others by Heather Cowper
This article is originally published at Heatheronhertravels.com – Read the original article here