What do you do if you don't fancy going skiing with your teenage son and husband at Christmas? Well if you're my friend Joanne, it's obvious, you go to Machu Picchu!
Deciding that she'd had enough of the family ski-ing holiday and with her daughter also away travelling, Joanne decided to strike out on her own and travel solo to Peru, planning to spend Christmas at Machu Picchu. Here are the questions I had for Joanne on her return – and if that's not enough to inspire you, I've a few more posts planned on the things Joanne got up to while in Peru.
Joanne, what made you want to do this trip to Peru on your own?
With teenage children, it was many years since I'd been away without the family, so there was an element of wanting to do something for myself and discovering myself again. Machu Picchu has been somewhere I wanted to go since I was a child – I even wrote about it in a school Geography project. It's definitely been on my 'bucket list' of things I wanted to see before I die, but it wasn't somewhere my husband was particularly interested in going. It's just as well I didn't realise before I set off, just how much travelling was involved to get there!
Tell us about what you covered in the trip?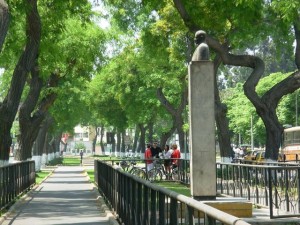 I had four days in Lima when I enjoyed sightseeing on my own, exploring the churches, parks and cathedrals. One of those days I spent on a cycle tour of Lima which helped me see more of the sites.
Then I met up with the group from Gap Adventures and flew to Cusco. Our flight was delayed by a day due to bad weather, so I only had one night in Cusco rather than the two I'd planned. I spent Christmas day in Cusco, exploring the town and then in the afternoon we were driven by minibus and then by train to Aguas Calientes, the town at the foot of Machu Picchu.
On Boxing day, we set off at 5.30 am for Machu Picchu and spent most of the day there, then in the afternoon, we drove back to Cusco. From there I took a short flight and then was taken by motorised canoe to the eco-lodge in the rainforest, where I spent two days. Then it was back again to Cusco, a flight back to Lima and home to England again.
How did you find travelling solo?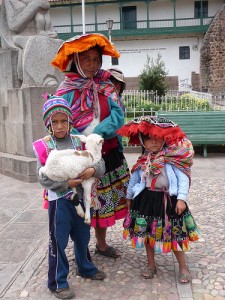 When I booked the trip I was quite calm about the idea of going on my own, but a couple of days before I left the realisation hit me and I spent two days crying. I was nearly hysterical by the time I got to the airport and my husband had to push me through the departure gate. The air hostesses kept reassuring me on the plane, as they thought I was in such a state because I was afraid of flying.
However, once I got to Lima, where I spent a few days on my own, I felt a bit more in control. I loved exploring Lima on my own in the daytime and I normally managed to find other women travellers who I would go out with in the evening for dinner. The hotel receptionist also took me under her wing and invited me for dinner one evening with her family.
The later part of the trip to Machu Picchu was as part of a group, so I didn't feel lonely. The only time when I felt a bit threatened was when I wandered into the wrong area of town in Cusco, and then a friendly policeman helped me to find my way back.
What were the highlights?
The first was the cathedral in Cusco which was so beautiful and such a contrast to the poverty you could see outside. There was a floor to ceiling gold altar , another one covered with mirrors and another for the Patron saint of women who wanted to find a husband, which was covered with notes from women describing the kind of husband they'd like.
The other highlight obviously had to be Machu Picchu – it was a very emotional experience being there. I'd some problems getting there, with my flight being cancelled so I was there on Boxing day rather than Christmas day as I'd planned. When we arrived early in the morning it was shrouded in mist and it felt a bit of an anticlimax. Then the mist started to lift and everyone started to applaud. I couldn't really believe that I'd finally made it there and I spent most of the day exploring the different areas. We were lucky that there were not so many people there, as it gets very crowded in summer.
What were the things that didn't work so well?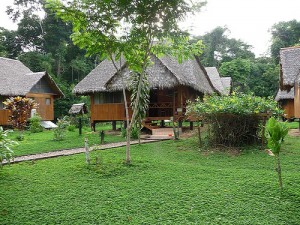 There were some things that were out of my control, like the flight from Lima to Cusco being delayed by a day due to bad weather. On the flight back there were also delays with the flight, so I was very tired by the time I got back to Lima. Also, there was a lot of time spent travelling to get to the places I visited like Machu Picchu and the eco-lodge. In retrospect I might have spent less time in Lima and longer in those places.
Any tips on things to take or equipment?
I had a great rucksack, which zipped right open and I bought removable Eagle Creek compartments of different sizes, which made it easy to keep my things organised. I used a Pocketcomms picture communicator, which helped me buy bits of equipment in local shops, like a bath plug. A forgot to take any family photos which was a shame. So for my daughter, who's recently gone to India, I made a mini photo-album with pictures of all the family and postcards with messages from her family and friends. I did take Christmas cards from all my family in which they'd all written personal messages. It meant a lot to me to open them on Christmas day.
So where next?
I'd love to spend some time in India, where my daughter is travelling at the moment. The Taj Mahal is on my list of things to see, and I'd love to be able try some volunteering, to give something back to the country I visit. I'll probably go away again next Christmas and perhaps travel with my daughter.
There'll be more posts coming up about Joanne's trip to Peru – stay tuned.
Read related posts
Meeting Margariette in Lima
My Indian Sponsor Child
Defending the rainforest in Ecuador
See Joanne's photos of her trip to Peru on Flickr
This article is originally published at Heatheronhertravels.com
This article may contain affiliate links that provide commission on purchases you make at no extra cost to you. As an Amazon Associate I earn from qualifying purchases.