We arrived at Backwell House at the golden hour, with the late afternoon sun lighting up the honey stone of this elegant Georgian boutique hotel. Stepping into the hall, it was as if we'd been invited to stay at a stylish friend's country house, with flowers gathered from the garden and comfy chairs pulled up around the fireplace. The hotel near Bristol was previously a family home and after a year's renovation has re-opened as a nine bedroom boutique hotel and restaurant, with countryside views and a charming walled garden.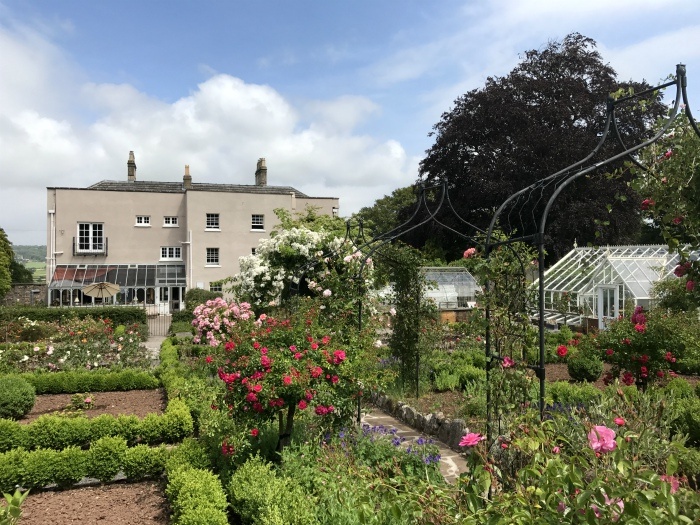 So what's the story?
The creative force behind this gorgeous Georgian hideaway is General Manager Guy Williams. With a background in surveying and property development, Guy was looking for a new project, when he met the owners of Backwell House. For some years it had been the family home of the local Hobbs family, standing empty for a few years while they decided what to do with it. The idea of a country house hotel was born, with Guy living on site with his building team for a year to renovate the property, before opening in September 2016 as a boutique hotel.
You may also enjoy: Warner Leisure Hotels Cricket St Thomas – Leisure breaks for the 50+ traveller
Guy told me how he had been collecting antiques at auctions for years and now found the perfect setting for them. The furnishings are a harmonious mix of comfortable old furniture, industrial style lamps and vintage finds. Old floorboards have been re-used as headboards, parquet flooring for the restaurant tables and the bar was a labour of love with a wooden mosaic made from kitchen joists. The overall look is relaxed, stylish and cosy. As Guy says "&I want guests to come in, kick their shoes off and put their feet up in front of the fire."
You may also enjoy: Bristol Harbour Hotel and Spa – a stylish boutique hotel in Bristol Old City
My room at Backwell House
Backwell House has just 9 rooms, although eventually some of the garden buildings will be converted to take the number up to 25. Ascending the Georgian stone staircase, with a glass baubles hanging from the elegant plasterwork lantern above, we fumbled around with a large key in an old fashioned lock, to open the door to our room, called Toogood. In keeping with the family feel of the hotel, all the rooms are named after the families who lived and worked here in the past. The Toogoods are part of the extended Hobbs family and there are also connections with cricketer W.G.Grace and the grandson of naturalist Charles Darwin who visited for family cricket matches and have rooms named after them.
We loved the soft green bedroom with delicate Toile de Jouy bedspread, industrial style lamps and vintage touches like the Bakelite telephone. While the headboard was made of original floorboards and the bedframe from old pallets, there was no skimping on the highest quality white corded bedlinen, comfy mattress and down pillows. Best of all were the views, looking in one corner across rolling fields and in the other over the rose garden in full bloom. Guy was right when he hold me "You don't need to ask for a room with a view here – all the rooms have views!"
The bathroom was the stuff that dreams are made of. Who wouldn't love to luxuriate in a free standing slipper bath with a breeze wafting through the French windows and a view over the rose garden? But just in case you are more practical in your bathing habits, there was also a walk in shower with an array of gorgeous Bramley toiletries, and a his-and-hers pair of stone sinks – so no squabbling in the morning!
At Backwell House they take pride in using local suppliers too, so I was happy to see a range of my favourite Pukka herbal teas (a Bristol company). The ground coffee on the tray was from Three Cliffs Bay, on the Gower in Wales, where we've had many a happy camping trip when the kids were little. The Bramley toiletries come from just down the road too and are made with natural ingredients inspired by the plants of the English countryside. The only things that seemed missing was a wardrobe, and our clothes lived on hangers and hooks on the doors instead, although Guy told me he would be adding a hanging rail soon.
Pimms in the garden at Backwell House
Now we've checked in, let's backtrack a bit to earlier in the evening when we were welcomed with Pimms on the lawn as we gathered at the front entrance for evening drinks. Honestly, Backwell House looks as if it has come straight out of a Jane Austen novel, so very English!
You may also enjoy: Cadbury House near Bristol – A countryside getaway close to the city
10 Things to do in South Kensington and Central London
From the front door we could look out over what appeared to be rolling acres, that might have been part of the estate. In fact there's a lovely lawn where you can sit out, then a haha to separate from the field beyond and then the main road from Bristol to Weston-super-Mare is tucked out of sight, leaving you with an uninterrupted view of green countryside. You really could believe you are in the middle of nowhere, even though Bristol is just a 20 minute drive away and the bus from Bristol stops right outside.
Dinner at Backwell House
I had a fantastic dinner with a group of Bristol bloggers to celebrate the recent opening of the restaurant at Backwell House. To continue with the story of how this hotel was created, once Backwell House had opened in September 2016, the next step was clearly to open a restaurant, so that the hotel could be enjoyed by locals as well as overnight guests. Chef Ross Hunter joined the team and has embraced the hotel's ethos of using local ingredients and suppliers – even the pigs and cows in the field at the back are destined to feature in your Sunday lunch. Ross loves to take well loved dishes and add his own twist – thus an Eton mess becomes a delightful plate of meringue, Cheddar strawberries and a strawberry canelloni made with fruity jelly and cream.
After some delicious canapés we were seated in the dining room, which had been set up just for our group, although by breakfast time it had been transformed into separate tables again. The joy of the hotel is that there are three adjoining dining rooms, one of which is the conservatory, so there's lots of flexibility if you want to come in a larger group for a celebration meal.
The menu offers three or four choices for every course and everything was beautifully presented and delicious. The food leans towards fine dining, but in a totally unstuffy and relaxed way. The restaurant is open Wednesday to Sunday lunchtime for lunch, dinner and Sunday lunch. Soon Ross and the kitchen team will be introducing a lighter lunch menu and a more adventurous tasting menu on Fridays and Saturdays. There's a delicious option for every occasion, including afternoon tea which can be served in the conservatory, drawing room or on the terrace overlooking the garden.
For my starter I chose heritage tomatoes with creamy goats curd, gazpacho and basil topped with a salty wafer of toasted cheese. Other options that evening were Brixham crab,with a pink beetroot sauce, apple and a black nori seaweed wafer, or pressed Backwell pork with new season peas, pancetta and tarragon emulsion.
For my main I went with the Cornish cod with a Brixham crab cake in a sauce of crab bisque with seared Pak Choi. The other options were 60 day old Hereford sirloin with ox cheek, alliums and king oyster mushrooms or Wooley Park Chicken with asparagus and girolles, or Potato gnocchi with asparagus, onions and hazelnuts.
My desert was the prettiest I've seen in a long time, local strawberries with piped soft meringue, crisp meringue pieces and a cannelloni roll made of fruit flavoured jelly rolled around whipped cream. The perfect summer desert! Other options were a Mango parfait with pineapple salsa or chocolate delice with tuille and raspberries. I can honestly report that every part of my meal was delicious.
For Sunday lunch the main course options are similar with accompaniments of roast potatoes, carrots, cauliflower cheese and yorkshire pudding. The afternoon tea includes a range of three different sandwiches, freshly baked scones with clotted cream and jam and a selection of home baked cakes and biscuits.
If you go:

Dinner menu: 2 courses £29 |3 courses £35
Sunday Lunch: Starters £7-8 | Mains £12-18 | Deserts £8
Afternoon tea: £17.50 per person served 3-5pm Wednesday to Sunday

For dining reservations call 0117 325 1110 or email enquiries@backwellhouse.co.uk
Breakfast at Backwell House
After a few drinks in the bar it was time for bed, but the next morning we certainly weren't rushing off. By breakfast time the dining room had been rearranged into separate tables and we helped ourselves to pastries, bread, fresh fruit and yoghurt, with cereals and juices from the antique cart by the window.
Never one to miss a cooked breakfast when I stay away from home I ordered the smoked salmon which arrived with some perfectly poached eggs and toast – the eggs runny just as I love them. My husband Guy ordered the Backwell breakfast with sausage, bacon, eggs, tomatoes and beans – a Full English to you or me.
The garden at Backwell House
Behind the Georgian house is the old walled garden, laid out in that oh-so-English style with box hedges and climbing roses. There's even an old fashioned greenhouse with vines climbing up to the roof which they are already using to grow tomatoes and other sun-loving vegetables. Now, I'm coming up to 30 years of happy marriage but seeing all these gracious, rose covered arbours I can't help but think this would be the perfect place for a summer wedding. Indeed the hotel is already proving popular for weddings this summer and next year they will be offering them with sole use of the hotel and spacious tipis on the lawn.
The garden is not much different to when Mrs Hobbs lived here and there's even an enclosure with some chickens and doves as you walk through the garden. There are plans to restore the old swimming pool ready for next summer's heatwave and eventually perhaps make a covered pool and spa building beyond the garden.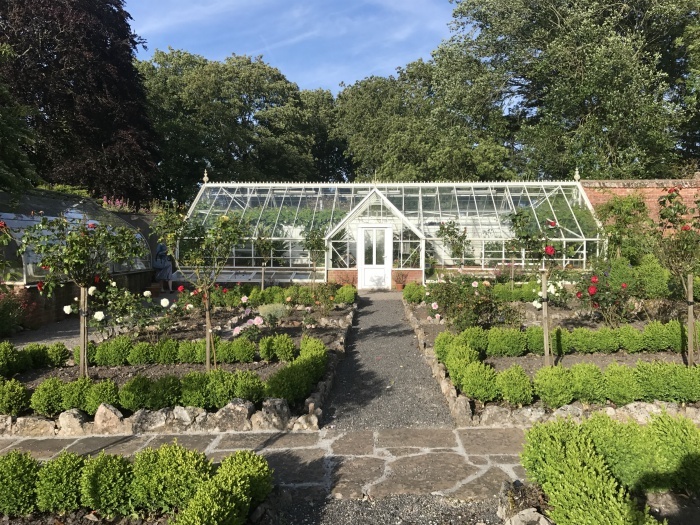 There's also a veg darden that's already providing herbs and salad for the restaurant and should soon be in full production, with vegetables to accompany that home reared pork and beef in a truly local menu.
What's next for Backwell House?
Although the hotel and restaurant are less than a year old, they are already busy with word-of-mouth recommendations, as Bristol locals discover this gem on their doorstep. There are also plans to add a guests-only ski-lodge theme bar downstairs, a private cinema with comfy day beds and a room for guests who'd like to have spa treatments. Soon you'll be able to book a Sunday film night, with a cinema showing, dinner and overnight stay – sounds like the perfect staycation for busy couples who want a relaxing treat. Eventually there will be 25 bedrooms, once the buildings adjoining the walled garden are converted. Oh, and the swimming pool for lazy summer afternoons which should be ready next year.
Who will love staying at Backwell House?
I have to admit that I fell in love with Backwell House and I think you will too. Set in beautiful surroundings, stuffed with vintage finds and quirky details, with warm and personal service, this is my idea of a perfect boutique hotel. The hotel excels as a grown-up escape for couples, groups of friends and celebration events. They are not really set up for little ones to stay over – but well worth booking a babysitter so you can come and enjoy some quality couple time without the distractions of your nippers. Foodies will love the fresh and local flavours, garden lovers should go now to enjoy the perfume of the roses, although I'm sure it's beautiful at any time of year. The hotel is just a 10 minute drive from Bristol airport so many guests book a stay before or after their flight to extend their holiday a little longer. Best of all it's only a 20 minute drive from Bristol – so you can have the best of our vibrant, creative city and enjoy a countryside break all in one.
Backwell House website | Address: Farleigh Road, Backwell, Bristol, BS48 3QA | Tel +44 (0)117 325 1110 | enquiries@backwellhouse.co.uk | 9 bedrooms, from £95-£245 | By bus the X1 from Bristol centre to West-super-mare runs throughout the day and stops right outside
Read more about Bristol
25 fun things to do in Bristol with your friends
3 fab foodies experiences in Bristol (that would make the perfect gift)
Bristol Street Art – so much more than Banksy
Pin It
This article is originally published at Heatheronhertravels.com
This article may contain affiliate links that provide commission on purchases you make at no extra cost to you. As an Amazon Associate I earn from qualifying purchases.