As you may have gathered I visit my sister every year on the Greek island of Zakynthos, where she runs two Windmill hotels together with her Greek husband Denis. Here's a picture of Denis wearing a kilt that some of his regular customers from Scotland had brought him as a gift.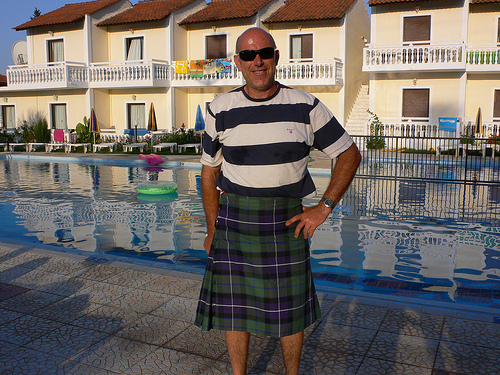 Windmill Studios and Windmill Bay Hotel in the resort of Argassi were built by my sister and her husband over a number of years on land that Denis inherited from his family. They spent many winters building them section by section and many long summers working hard to look after their customers – the life of a hotel owner is not quite the same as being on holiday!
They now have many loyal guests who return year after year, and the teenagers who came with their parents are starting to bring their own children. If you're in Argassi on the island of Zakynthos, do drop in and say hello, although I can't guarantee that Denis will be wearing his new kilt every day!
Windmill Studios and Windmill Bay Hotel, Argassi, Greece
Watch my video about Windmill Bay Hotel here
You may also enjoy
How to make delicious Greek stuffed tomatoes
Teenage thrills at the Waterpark on Zakynthos
Saving the Caretta Caretta Turtles on Zakynthos
This post is part of Photo Friday hosted at Delicious Baby – see all the other Friday photos here

Read more travel articles at Travel Blog Home
Don't miss out – subscribe to Heather on her travels