It's become an annual ritual for my friend Julia and I to take off for a few days in early September for some hiking in the mountains. Over four years we walked the Tour de Mont Blanc and revelled in the high mountain passes and physical challenge. Last year our walk in the Serra de Tramuntana of Mallorca was beautiful but just a little tame. Perhaps a few days hiking with Headwater Holidays in the Tirol region of Austria would give us the chance to test ourselves in the mountains while returning to a comfortable hotel each night and not a bunk bed in sight.
For our first day's walk we decided on the Gaistal Valley since it could be easily reached direct from the hotel and promised some great views without too many extremes of altitude. As we left Hotel Xander the sun was already warm, the path meandering through the traditional houses in the hamlet of Kirchplatzl. We felt the order of this Tyrolean community in the well-kept houses, each with a painted name and vibrant flowering window boxes bursting with the energy of the mountain air and copious amounts of plant feed.
The gravel track wound gradually upwards through forest with occasional gaps in the trees where we could see a field of horses or piles of freshly mown clover that would be dried for winter fodder. With a forecast of several days of sunshine ahead of us, the farmers were literally making hay while the sun shines.
As the track curved upwards we could hear the sound of rushing water and found a bench to overlook the Klammbach Gorge where the mountain river was tumbling over the rocks below us. We left the gravel track on a much steeper climb, picking our way over the forest roots on the path. The sunlight was dappled through the pines with lush grass speckled with blue cornflowers and baby pines trees pushing up to make the next generation of forest.
Finally at the top of the forest trail we reached the Wettersteinhutte, a mountain hut with a terrace overlooking the valley below. Red geraniums and hanging baskets were blooming in every corner and cheerful red sun umbrellas completed the inviting scene. We took a seat by the balcony and ordered a couple of the beers from the crates that were cooling in the water trough.
The Gaistal Valley is well known for the many huts that serve the thirsty walker, serving wholesome and hearty fare using local cheese, sausages and other mountain produce. We were hoping to continue up the valley to discover some other huts that we had been recommended for lunch, especially the Tillfussalm hut that we heard made cheese and dairy produce that they served in their cafe.
Unfortunately we never made it to any other huts, since it was soon after we left the Wettersteinhutte that I took a tumble. Julia was well ahead of me due to my habit of stopping every few minutes to take photos. The path was flat but narrow and open to one side with a steep grassy slope below. Somehow I missed my footing on the side of the path, over balanced and rolled down the slope a few times until I managed to stop myself. I sat for a while in shock, trying to assess the damage and realised that my right ankle had been twisted quite badly, although thankfully nothing seemed to be broken.
For a while I shouted constantly, calling Julia's name, but she was too far down the path and couldn't hear me. No other walkers came along the path above me. Cautiously I inched my bottom up the slope and little by little made it back up to the path. Thankfully I could walk on my ankle and hobbled along for another 10 minutes until I found Julia waiting for me. We assessed the situation and I took some of the painkillers I had in my small medical kit while Julia found a stout stick from the forest to help me walk. As we followed the path back down to the valley I reflected on the lessons I should learn from this tumble;
I normally use walking poles on these mountain walks but had left them in the hotel, a mistake I won't make again since I feel sure I wouldn't have lost my footing with them.
My husband always keeps a small whistle attached to his walking rucksack for attracting attention in an emergency – just the kind of emergency that there would been had my ankle been broken rather than just twisted.
After the tumble Julia and I decided to make a rule that we should stay within sight or at least shouting distance of one another.
Luckily there was no major harm done and we were passed by an elderly German couple who seeing the wooden staff told me "These poles are much better for your knees and legs!" Yes, I think I had learned that lesson now!
Our plans for visiting the huts further down the valley that we'd been told were great for lunch had to be abandoned, since it was now a case of getting down the mountain and assessing the damage. Already I knew we'd have to move from the more advanced '2 boot' walks to the more gentle '1 boot' walks in the Headwater Holidays walking guides.
Arriving at the Salzbach car park, we followed the flat path that is also used by cyclists along the valley floor. The river was low, exposing the grey boulders with places where you could swim in the milky blue water. We crossed a bridge and looking up could see a small cave high up in the rock face with a crucifix and life sized religious figures, with a shrine to St Joseph on the road below it.
As the valley widened out we reached the first village of Klamm and crossed the bridge to look for the farm shop that had been recommended to us. Gut Leutasch, we were told, was the place to buy cured sausages and pâté which were supplied to many of the restaurants in the area as well as local honey and fruit flavoured kirsch. Had it been lunchtime we could have sat at the table with a cup of coffee and a fresh bread roll filled with some of the cold meats or sausages of our choice.
The path now took us across the meadows backed by the mountain slopes rising behind. This was truly the Alpine scene that is the image of rural Austria, with the fields of clover uncut in some places, in others with hay drying in neat rows and in places the fat, white plastic-covered bales of hay neatly stacked at the side of the field.
As we passed the neat houses with playful scarecrows sitting next to a clump of sunflowers, I thought what a wonderful place it was to bring up a family in the mountains with so much open space and fresh air. Isn't one of the fun things about being on holiday to imagine what it would be like to live somewhere else? Another half an hour and we were back at Hotel Xander, where I could rest my leg and we could plan a walking adventure for the next day that my ankle could manage.
More of our walking holiday in Austria
Day 2 – Hiking in Austria – the views from the cross at Seefelder Spitze in which we took the cable car from Seefeld up the ridge of Seefelder Spitze for 360 degree views over Seefeld and the surrounding valleys.
Day 3 – Hiking in Austria – a Rifleman's Parade and Mental Power Walk at Seefeld</a in which we joined a traditional parade with local regiments in colourful uniforms, then walked back to our hotel along a forest walking trail with relaxation stations on the theme of mental wellbeing.
Day 4 – Hiking in Austria – the wild Leutasch Gorge and picturesque Mittenwald in which we explored the wild, rocky landscapes of the Leutasch Gorge and the picturesque painted houses of Mittenwald, before a final lakeside walk through glorious mountain scenery.
Want to go walking in Austria's Leutasch Valley?
Heather's walking holiday in Austria's Leutasch Valley was provided by Headwater Holidays – this 7 night walking holiday is based in Kirchplaztl at the 4 star Sporthotel Xander with over 450km of walking trails accessible direct from the hotel or via local bus, taxi and lifts. The holiday includes a full programme of self-guided day walks of 1 boot or 2 boot levels, depending on whether you prefer the gentle valley walks or the more challenging high altitude trails which are sometimes accessed via chair lifts and cable cars. The holiday includes detailed walking guides and maps, breakfast and dinner at the hotel, a packed lunch on walking days and flights/ transfers via Innsbruck. Prices from £669 per person.
Headwater Holidays are a leading UK specialist in self-guided walking, cycling and relaxed activity holidays that allow you to travel at your own pace and get closer to the places you visit. For more information check their Website | Facebook | Twitter | Youtube | Pinterest | Instagram
More things to do in the Tirol region of Austria
For more information on things to do in the Tirol region of Austria visit the Tirol tourism website and follow their social media channels: Blog | Twitter | Facebook | Instagram | Pinterest. More information about things to do in Austria on the Visit Austria Website and information on the Seefeld Region on the Seefeld Olympia Region Website.
How to get to Leutasch Valley, Austria
Heather flew from Bristol to Munich with BMI Regional who fly 12 times each week on this route, so you often have a choice of 2 flights per day. The ticket includes 20kg checked baggage and full at-seat in-flight bar and snack service at no extra charge.
Transfers from Innsbruck airport are less than 1 hour's drive to Leutasch and included in your Headwater Holidays package. If, like us you fly into Munich Airport, the transfer to Leutasch Valley takes around 2 hours and can be arranged through your hotel or holiday provider.
Stay at Sporthotel Xander in Leutasch
Heather stayed at Sporthotel Xander in Leutasch as part of the walking holiday booked through Headwater Holidays. The hotel is a very comfortable 4 star hotel offering rooms, suites and apartments that are ideal for summer walkers or winter cross-country skiers. The other guests when we stayed at the end of August were mainly couples and a few families enjoying a late summer walking break. The hotel is used by several walking companies including Headwater Holidays.
We stayed on a full board basis, with breakfast, packed lunch and evening meal and found the food to be of a very high standard with a 4 course meal every night and a 5 course gala meal on one of the nights we were there. The hotel has an indoor pool and spa although we did not use them since we were out all day walking and making the most of the fine weather. The hamlet of Kirchplatzl where the hotel is situated is mainly residential and the nearest shops are a 15 minute walk away in Weidach. The bus to Seefeld which runs several times a day stops right by the hotel.
We think Hotel Xander is a comfortable, traditional hotel that will suit keen walkers who want a quiet and relaxing atmosphere. If you are looking for a lively atmosphere, shopping or evening entertainment then you might be better to stay in Seefeld. Check more hotel options in Seefeld here.
Read more articles about how to prepare for a hiking trip here:
How to choose the perfect waterproof jacket for your hiking holiday
10 Things to Pack for a Walking Holiday
Pin It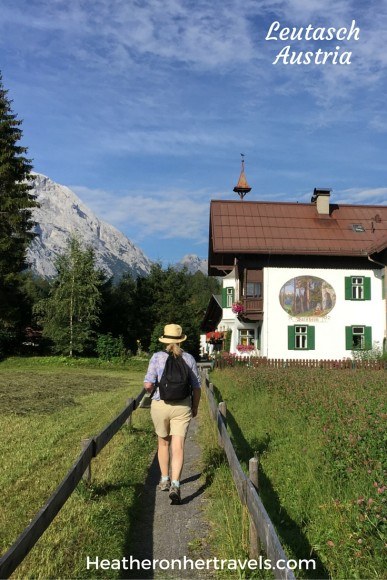 Thanks to Headwater Holidays who hosted* Heather's walking holiday, to the Seefeld Tourism board who provided some of the experiences mentioned and to BMI regional who provided Heather's flight to Munich.
* More info on my policies page
This article is originally published at Heatheronhertravels.com – Read the original article here
This article may contain affiliate links that provide commission on purchases you make at no extra cost to you. As an Amazon Associate I earn from qualifying purchases.