These days anyone who owns a smartphone has the ability to make videos to share with family and friends when they travel. The days are over when you needed to buy an expensive camera to make a professional looking video.
I was recently invited by MSC Cruises to have a tour of their ship MSC Splendida and speak at an event for their cruise agents on how to make quick and easy videos that they could show to clients considering booking a cruise. The same tips apply to anyone taking a cruise who wants to make short videos when they travel, so I thought I would share them with you.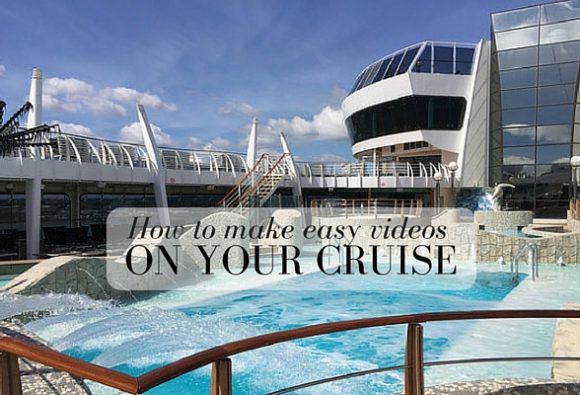 This wasn't the first time that I'd been on board MSC Splendida, as a couple of years ago I took a lovely week's Mediterranean cruise from Barcelona, visiting ports like Marseilles, Genoa, Naples and Messina. The ship holds over 3000 guests, with plenty to do and a lively atmosphere that's well suited to groups of friends, families and guests of all ages.
As a cruise line MSC Cruises has a very cosmopolitan feel, although of course the mix of nationalities will vary depending on the destinations you're visiting. On our Mediterranean cruise it was a range of French, Italian, Spanish, English and Irish, with all the entertainment tailored for this international crowd and the staff switching languages with impressive ease. Read my review of what to expect on an MSC Cruise.
Because I was going to be teaching a session about how to make videos on your cruise, I visited the ship before the conference day to make sure I could shoot some good video footage that I could use to demonstrate some of the techniques. The ship was just as glamourous and colourful as I remembered it, with staterooms in rich jewel shades of emerald and gold and iridescent mosaics in the large indoor pool area.
In order to show some different possibilities for making a short video of your stateroom I made this video, demonstrating the different styles you can try. My videos were shot and edited entirely on my iPhone in order to show how this can give you excellent results.
If you can't see the video above you can download directly here or see it on my blog here or YouTube here and please do subscribe using the button above
Using your smartphone, you can walk around the room to make a video to post on social media, or shoot a few different clips of the room to edit together, or even use still photographs by adding a bit of movement using the 'Ken Burns' effect. Almost all the social media channels such as Twitter, Instagram and Facebook also allow you to post short videos from your smartphone and you can use an app like Vine to make short videos to share with family and friends.
On this occasion I was also able to see the Yacht Club area which is the 'ship within a ship' that offers a more exclusive experience, with separate dining room and pool area as well a personalised butler service. The Yacht Club staterooms were elegant and luxurious with an outdoor pool and relaxation area which would be a haven on sea days when we found the main pool areas were very busy.
So back to my talk about how to make short videos for your cruise. My talk was aimed at cruise agents who need to make videos to show their clients what MSC Cruises can offer. However, the same principles would apply if you are a cruise guest and want to make a short video to show your friends and family or post on social media. Here's another little video that I made to illustrate my tips to help you improve the quality of your videos.
If you can't see the video above you can download directly here or see it on my blog here or YouTube here and please do subscribe using the button above
The do's and don'ts of making a short video
The rule of thirds – a well known principle of composition in photography. It means that if you were to create a grid across your shot dividing it into 9 squares, you should place people or horizon lines on the grid lines and a major item within the shot on an intersection of the lines, to give the most pleasing composition.
Consider the audio – In noisy areas of the ship such as a swimming pool, restaurant or windy deck, you should be very aware of background noise. You may consider using a small microphone if you are speaking in the shot to cut out some of the background noise.
Keep your camera steady – a shaky shot will make your video look unprofessional. You can use a small tripod such as a gorilla pod or just take care to brace yourself and keep very still when taking a video shot.
Use pan and zoom in moderation – make any pan or zoom shots smooth and use them in moderation, perhaps one shot in three, or you will make the viewer feel seasick.
Instead look for movement in the frame – find shots where you keep the camera still but film shots that already have some movement, such as a glass of wine being poured, or a person walking down a staircase.
Mix up different shots – such as a placement shot (that shows where you are, perhaps with a sign or logo), long shot, medium shot, closeup.
Some tips on timing and video length
The first 5 seconds are the most important – this is where you need to capture the viewer's attention with a personal introduction or indication of what's to come, so that they won't click away.
50% of your audience are gone after 60 seconds – attention spans are getting shorter and shorter so make sure your key points are made in the first minute of the video.
Video shot length 1-3 seconds – I will typically edit each shot to around 1 second, perhaps up to 3 seconds if a pan or zoom is involved. This will mean that your video ends up being quite concise and snappy.
Optimum video length 1-2 minutes, maximum 3 minutes – if you keep each shot length short you will normally end up with a video of this length. If you are going over 2-3 minutes, consider whether it would be better to break up the video, for instance make one video on your cabin, another about the food and another about each port of call.
Rules are made to be broken – having said all of the above there may be good creative reasons why you need to break these rules, so feel free to experiment and have fun.
A few tips on branding
In my slides you'll see some examples of ways you can make sure the viewer remembers your company or blog name. You can add a link to your website in the text overlay or clickable links within the video on YouTube, as well as in the video description. It's also good to give the viewer a 'call to action' telling them what you want them to do next, perhaps to subscribe to your channel or watch your next video.
What equipment do you need?
If you haven't made any short videos before, you may be concerned that you need special or expensive camera equipment. However, these days the quality of video that you can make with your smartphone can be very good, so I recommend starting there and then investing in more advanced equipment if you feel the need later.
You may also consider a few optional extras such as a small microphone to plug into your phone or camera, a selfie stick, or gorillapod that can be used easily in many different situations.
There are plenty of video editing apps that you can download onto your mobile. I use iMovie but depending on your mobile brand there are other options that are either free or just cost a few pounds – check my presentation below for some more options.
I hope that my videos, tips and presentation below have given you a few ideas if you'd like to try making a video on your next cruise, either to share with family and friends or to use for your blog or business. Thanks to MSC Cruises for inviting me on board to speak at their conference.
For more information, visit the MSC Cruises website or follow them on Twitter @MSC_Cruises_UK or on the MSC Facebook page
Check out the slides from my presentation for more information
If you can't see the slide show above, view it on Slideshare here.
Read about the places we visited on our last Mediterranean cruise with MSC Cruises
Join me on a week's Mediterranean cruise with MSC cruises
All aboard at Barcelona – Day 1 of my MSC Mediterranean Cruise
Bonjour Marseille – Day 2 of my MSC Mediterranean Cruise
Palazzo and Gelato in Genoa – Day 3 of my MSC Mediterranean Cruise
Naples and an excursion to Pompeii – Day 4 of my MSC Mediterranean Cruise
Messina and an excursion to Taormina – Day 5 of my MSC Mediterranean Cruise
Tunis and Carthage – Day 6 of my MSC Mediterranean Cruise
A day at sea and back to Barcelona – Day 7 of my MSC Mediterranean Cruise
What to wear on your Mediterranean cruise – my 6 top tips
Pin It
This article is originally published at Heatheronhertravels.com
This article may contain affiliate links that provide commission on purchases you make at no extra cost to you. As an Amazon Associate I earn from qualifying purchases.