Paris is any sweet tooth's paradise. Famous for its superb patisseries, rich chocolate and super chic cupcakes, before you head to the city of light, make sure you know where to find the sweetest spots in the city!
Chocolate delight
Forget diamonds, in my opinion chocolate is every girl's best friend. If you're craving chocolate in Paris you can bet a chocolate shop will never be too far away. One of my favourite Parisian chocolate shops is Michel Chaudun, which can be found in the 7th arrondissement. The New York Times actually described the Michel (the chocolatier who runs the shop) as a chocolate sculptor, and it's easy to see why. Once inside his store you'll be delighted with the magnificent display of chocolate figurines shaped in everything from cats to the Statue of Liberty!
Michel Chaudun is at 149, rue de l'Université, 75007 Paris
Mad for Macarons
When in France it'd be a crime not to indulge in these bright little sweet treats. Although not a personal favourite of mine, my friend dragged me along one morning to a world renowned patisserie called Laudrée, claiming she would do my washing up for a month if I didn't enjoy the macarons from here. I then found out Laudrée were actually responsible for the creation of the macaron, so unwillingly I agreed, secretly gleeful, thinking I'd have one less chore to do for the month… Turns out they really were the best of the best. Not too sweet or overpoweringly sickly like I'd experienced before. I've even been back since and stood in a queue just to try them again! Definitely the best macarons I came across in Paris.
Ladurée  is at 16 -18 rue Royale Paris VIII, 21 rue Bonaparte Paris VI  and in Le Printemps department store,
64 Boulevard Haussmann Paris IX
Cupcakes galore
If you're up to date with what's 'très chic' in the world of sweet treats, you'll be sure to know that cupcakes (or as the French say, 'le CupCake') are the new slice of cake. Cupcakes & co is a very cute cupcake shop and café in the heart of Paris. You can chose from a few different cake flavours and each cake is more gorgeously decorated than the next.
Cupcakes & Co are at 16 rue des Tournelles 75004 Paris
The Classic Crêpe
Last, but by no means least, is the all time classic French food… the crêpe. I don't even want to try and count how many crêpes I bought and made whilst I was in Paris last year (especially as right around the corner from my Paris apartment there was a street vendor selling the most delicious crêpes). Around the city you'll see (and smell) hundreds of street stalls and cafés selling these French pancakes. The range of toppings varies from place to place, but you can pretty much guarantee that they'll always offer the classics, lemon and sugar, Nutella, or better yet, Nutella and banana! Mmmm…
My thanks for this article to All-Paris-Apartments.com for apartments and short-term accommodation in Paris.
Photo credits: Macaron I by Louis Beche, Cupcake by Cupcake & Co and Crepes Chocolate Banana by snowpea&bokchoi.
More to discover in Paris
Catacombs and Space invaders – Paris beyond the Eiffel tower
The Eiffel Tower – Icon of Paris or tourist trap?
Our supercalifragilistic day at the Magical kingdom of Disneyland Paris
This article is originally published at Heatheronhertravels.com – Read more travel articles at Travel Blog Home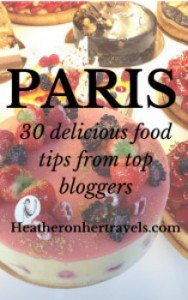 You'll also be subscribed to our free monthly newsletter for great travel resources, news and offers, but you can unsubscribe at any time and we'll never share your e-mail.
You'll also find our sister blog with tips on how to build a successful travel blog at My Blogging Journey