On Valentine's day, let me take you by the hand and lead you to the Park of Love in Lima. On the clifftops of the Miraflores district, overlooking the ocean, the Parque del Amor is the place to bring your lover , stroll hand in hand and pledge your undying love, perhaps even the place for a proposal.
The park features the sculpture of an oversize couple, locked in a passionate embrace, called El Beso, by the Peruvian sculptor Victor Delfin. The curvy mosaic covered benches are like the ones at Parque Guell in Barcelona, and if you look closely you'll find the love messages writen in the mosaic and scribbled in tiny letters by the couples who visit the park.
According to my friend Joanne, who visited the Park in December 08, there was definitely a 'respectable' side to the bench, and the hidden sea facing side, where things were going on that were definitely not for public eyes!
Joanne watched the paragliders taking off from the cliff-top and she was very tempted but had too much baggage with her at the time. When she came back, hoping to make a flight, the wind was in the wrong direction and she missed her chance. A lesson to us all to seize the moment in the Park of Love.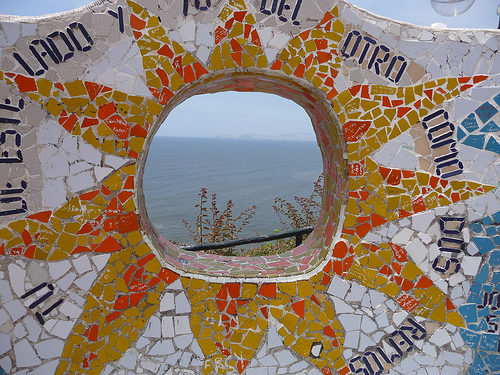 What's the most romantic place you've come across on your travels?
Happy Valentine's day!
Don't miss out – get all my articles through your reader
Read Related Posts
Joanne's cycle tour of Lima
Meeting Margariette in Lima
A grown-up backpacker at Machu Picchu
See all Joanne's Peru photos on Flickr


Read more travel articles at Travel Blog Home
Don't miss out – subscribe to Heather on her travels