On the edge of the Ria Formosa Nature Reserve, just a short drive from Faro, is the holiday resort of Quinta do Lago, in the Algarve region of Portugal. I spent a few days at Quinta do Lago Country Club, a luxury apartment complex that's a few minutes walk from the beach, with views over the lake and Ria Formosa Nature Reserve that is a haven for birds and wildlife. Golf is a big deal here in the Algarve, but as I discovered there are many other things to do in and around Quinta do Lago, with the charming walled town of Faro, gorgeous beaches and coastal walks.
About Quinta Do Lago in the Algarve
Quinta do Lago literally means The farmhouse by the lake and the area was developed from farmland in the 1970s. The original farmhouse that gave the resort its name now Casa Vehla, a fine dining restaurant, which is situated immediately behind the Quinta do Lago Country Club. The area was developed in phases and was conceived as an upmarket resort with villas, hotels and apartments set on large plots of land among the native pine trees, in keeping with the natural feel of the adjoining Ria Formosa Nature Reserve. At its heart Quinta do Lago has a world class reputation for golf, leisure and sporting facilities and guests come here to enjoy the healthy outdoor lifestyle and the natural surroundings.
You may also enjoy: Getting around in Lisbon
Quinta do Lago Country Club has one of the best locations within the resort, being close to the lake and a short walk from the nature reserve and bridge across the marshlands to the sand dunes and Quinta do Lago beach. The nature walks of the Ria Formosa which make this area so special, start just a few minutes walk from the Country Club. Quinta do Lago Country Club was built in the 1970s and developed as a 4 star timeshare apartment complex, with most of the luxury apartments being in shared ownership by the members, who have the rights to use them for a week or two each year.
Since not all the apartments are in use at any time, many are available for other guests to rent and enjoy, with a minimum stay of 2 nights in low season. The Country Club is a hybrid between hotel style service and facilities and self catering apartments, so you have the flexibility to be self contained while having use of the swimming pools, gym and beautifully landscaped gardens. I was invited to spend a few days at Quinta do Lago Country Club with Kathryn of Travel with Kat, to discover the area and explore nearby things to do in the Algarve.
About Quinta do Lago Country Club – First impressions
Although we arrived at Quinta do Lago Country Club after dark, we were able to have a proper look around the next morning, to find out what the Country Club has to offer. The 36 apartments range from one to three bedrooms in size and are all in one long building which is cleverly built on a gentle slope, giving each apartment a view both towards the lake and to the landscaped gardens at the back. The entrance is up some steps through a lofty atrium, with a lower entrance with ramp and lift access making it easy for those who need to wheel cases, use buggies or wheelchairs.
There are comfortable sofas within the atrium and in front of the reception desk which is continually manned, giving you the service and security of a hotel and flexibility of an apartment complex – the best of both worlds. On the lower floor, accessible by lift or stairs is a cosy library seating area with a selection of books to borrow. All of these public areas had recently been renovated in a fresh, contemporary style that is gradually being rolled out to the apartments over the next couple of years.
We were welcomed on arrival by the reception team, who showed us our apartment and were able to provide concierge services, with advice on what to see in the area and restaurant or tour bookings. The clientele at Quinta do Lago Country Club seemed to be a large proportion of English guests, with other European and Portuguese guests as well. English was widely spoken by all the staff we met and English speaking guests will feel very much at home here. Because of the membership part-ownership, most of the guests return year after year and are well known by the staff, so there's a friendly and almost family atmosphere which is enhanced by the weekly cocktail party and weekly summer barbecue.
Our apartment at Quinta do Lago Country Club
As we awoke the day after our arrival, we took a better look around our two bedroom apartment in daylight (Apartment 303). It was decorated in typical Mediterranean style with marble flooring to stay cool in hot weather and pale colours to reflect the light. The style was classic with dark wooden furniture, white cotton bedspreads and high quality bedlinen. Ours was a two bedroom apartment but the Country Club offers a range of one, two and three bedroom apartments. Each bedroom had its own adjoining bathroom and a large built in wardrobe with sliding doors, making this a great place for both couples and families who want to be together but have their own space and bathroom.
The Country Club is a long, low building, built into the gentle slope of a hill, which means that each apartment is on different levels at the front and back. As an example, the door of our apartment 303 was on the reception level, but we climbed some stairs to reach the apartment. Our bedrooms had a first floor balcony looking out towards the lake, which meant that we could enjoy the sunrise, but from the living room area we had a terrace that gave directly onto the garden.
The living and dining room area was extremely spacious with elegant white cotton and pale blue theme, limed oak style furniture and marble table and kitchen units. The kitchen was contained by a breakfast bar and was well equipped with two fridges and plenty of kitchen equipment, so that it really became a home from home. Even so, the Quinta do Lago Country Club offers all the services of a hotel, with a reception and daily cleaning service as well as leisure facilities such as a swimming pool and breakfast cafe.
You may also enjoy: An authentic Portuguese meal at Casa do Alentejo in Lisbon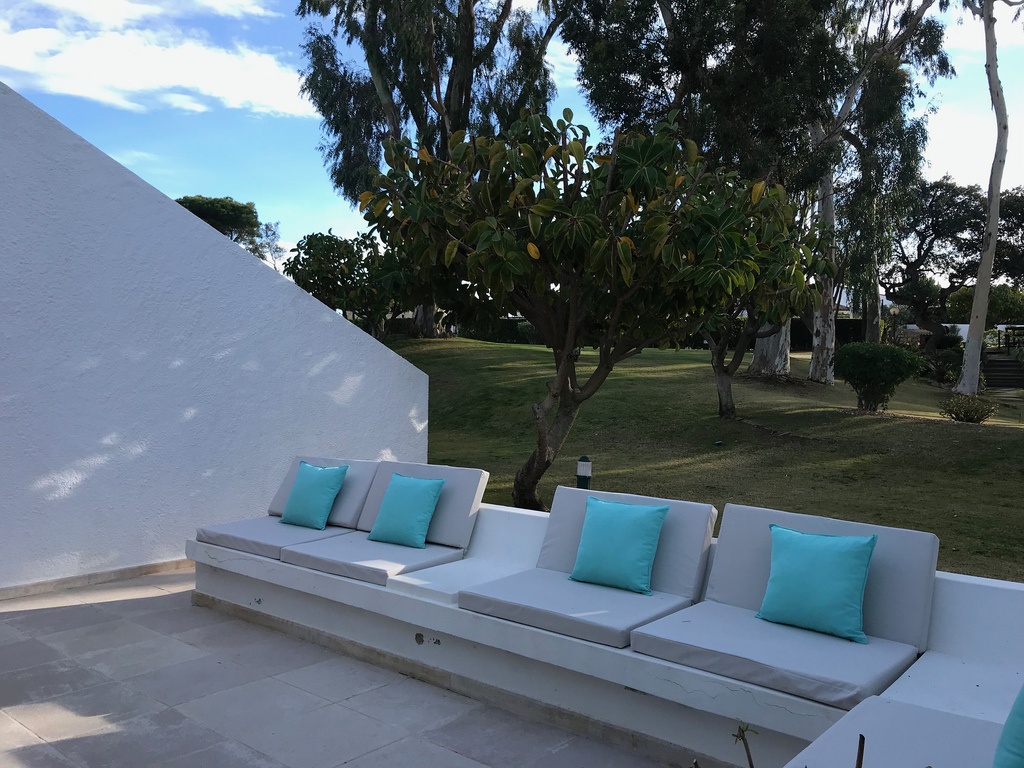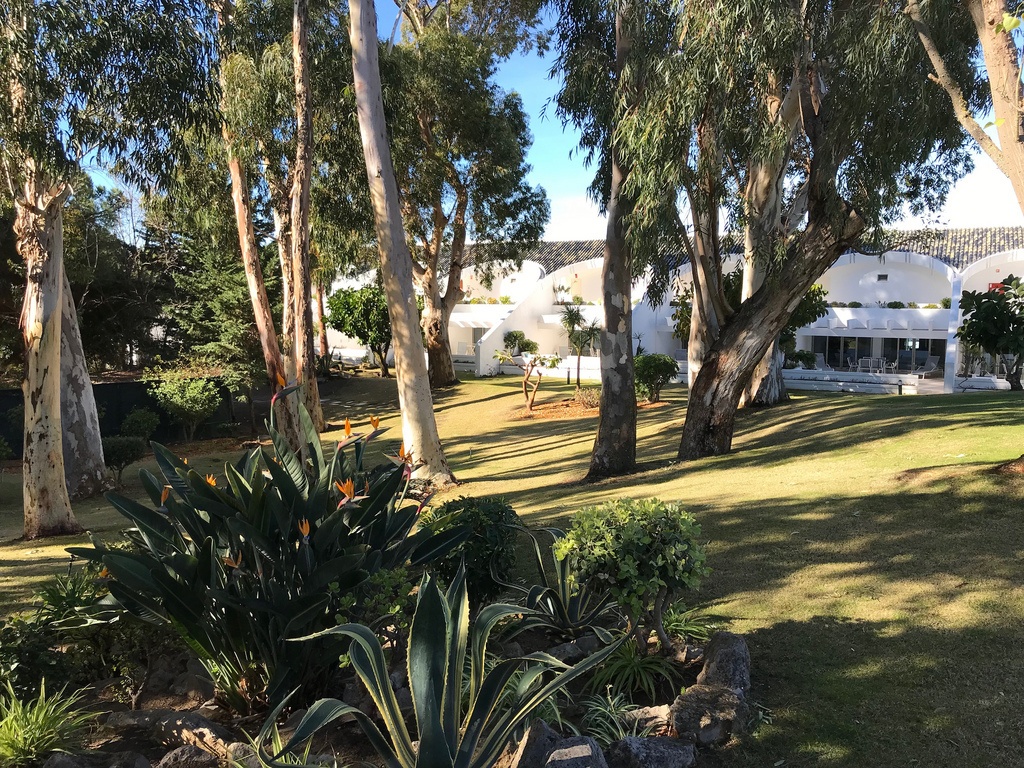 New style apartments at Quinta do Lago Country Club
During our stay at Quinta do Lago Country Club we had the opportunity to look around some of the apartments which have recently been renovated in a fresh new style. The Country Club is going through a two year programme of refurbishment and all the public areas had been updated to the new style, with work ongoing on the apartments. Four of the total 36 apartments have already been updated, a further 14 are planned for refurbishment in November 2019 when the Country Club will close for a month in the low season and the remaining apartments will be refurbished in 2020.
We loved the new design which brings the decor bang up to date with fresh white walls, soft neutrals in the furnishings and accents of colour with blue and sea green in the cushions and artwork. Depending on when you are considering booking it's worth asking about availability of the new apartments, however the style of the existing apartments is still very nice so you should not be disappointed if the new ones are not yet available.
Breakfast at Quinta do Lago Country Club
Although our apartment had everything required for us to make our own breakfast, there is the option to take breakfast in the Quinta Lounge just like a hotel. When you book your apartment, there may be an inclusive package that covers the breakfast or you can pay €10 per person for the continental breakfast. There was a nice spread of pastries, rolls, cheese and ham, fresh fruit, cereals and creamy yoghurt with granola. Coffee, hot chocolate and hot milk were self-service from a machine, with hot water available for a selection of teas. We especially enjoyed the delicious Pasteis de Nata and other cakes baked by expert pastry chef Alex, who was very friendly and good humoured.
Everything was beautifully presented and the staff extremely friendly and helpful. There is also the option to order cooked items such as Eggs Benedict or full English breakfast with an additional charge. Although we stayed inside the lounge, there is an outside terrace where you can also take your breakfast al fresco when the weather gets warmer. There is no restaurant at the Quinta do Lago Country Club, although when the weather is fine the outside pool bar is open for snacks in the daytime and there are plenty of restaurant options nearby, or of course you can self cater in your apartment.
You may also enjoy: Having my pasteis and eating it in Lisbon Portugal
Indoor Pool at Quinta do Lago Country Club
There's a lovely indoor pool at Quinta do Lago Country Club, which makes it a great accommodation option all year round, especially since the climate of the Algarve is warm and sunny for most of the year. Adjoining the pool were steam and shower rooms, with a sauna in the changing room area. Guests are provided with towelling robes in the apartment, so that you can easily use the pool and other leisure facilities from your bedroom. At one end of the pool is a jacuzzi and there's also a small gym for use of guests.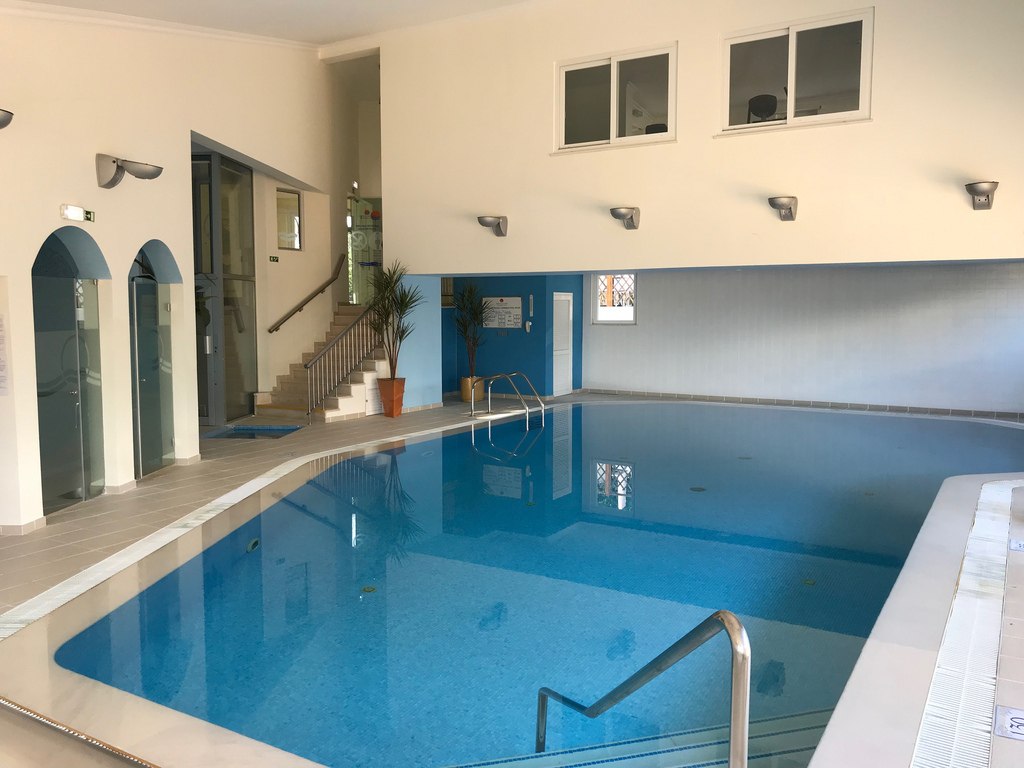 I was struck by how Quinta do Lago is an ideal destination for those who are looking for health, fitness and wellbeing, as we saw lots of people walking or jogging around the resort, not to mention those who love their golf. There's a fitness and leisure centre called The Campus within the Quinta do Lago resort which is just a short drive from the Country Club, offering tennis, gym, cycling and fitness classes.
Outdoor Pool and Pool Bar at Quinta do Lago Country Club
Set within the gardens there's also a shallow outdoor pool with a central fountain that sprays water and would be very refreshing in the heat of the summer. There's a pool bar that wasn't open when we were there as it was too early in the season, but it serves salads, pasta and sandwiches at lunchtime as well as a weekly barbecue. A small round pool adjoining the main pool would be ideal for children to have a splash and in summer this is a great spot for sunbathing with sun loungers available.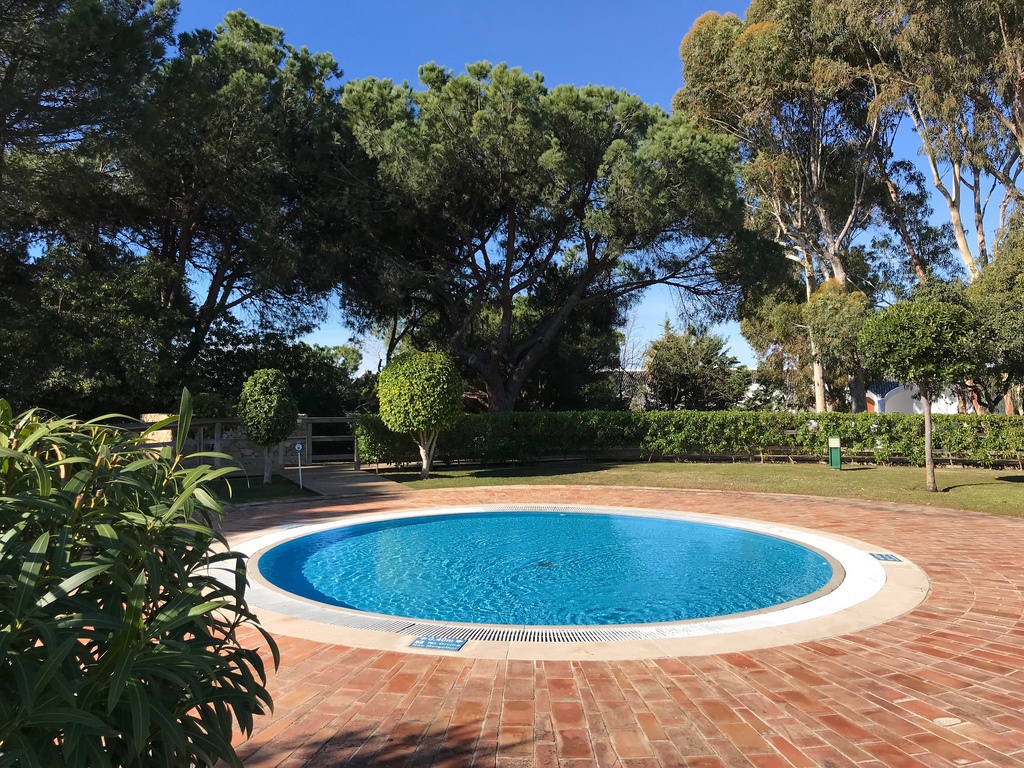 The Quinta do Lago beach and Ria Formosa Nature Reserve
One of the best things about the Quinta do Lago Country Club is its location overlooking a lake and a short stroll from the beach. For those who love to walk or jog and enjoy nature without having to get in the car, this is the ideal spot in Quinta do Lago. There are two man-made lakes close to the Country Club which have villas built around them and paths that lead around the lake shore, allowing you to walk and enjoy the scenery. In summer water-sports classes for children are also available at the lake.
The path for the lake is just a 5 minute walk from Quinta do Lago Country Club at the end of the access road and from here the path continued alongside the marshland and river bed which is exposed at low tide. The Ria Formosa Nature Reserve is a haven for birds and also we saw locals collecting razor clams in the mud. The path leads along a boardwalk to the parking area for the beach Praia da Quinta do Lago and then a wooden bridge takes you across the river bed to reach the sand dunes and beach beyond. It was magical in the early morning, watching the reflections of the water and the birds from the bridge, or pausing in the sand dunes to enjoy the sound of the ocean and the waves breaking on the beach.
Golf in Quinta do Lago
Golf is one of the big reasons that people come to Quinta do Lago, with four 18 hole golf courses in the resort alone and many more accessible in the wider Algarve region. For beginners like Kathryn and myself there was plenty of fun to be had when you book a golf lesson at the Paul McGinley Golf Academy, which takes place at the Quinta do Lago driving range. We had booked an hour's lesson, and our patient instructor Nuno took us through the basic techniques of the golf swing and the putting green. It was fun to try our hand at driving off with a big pile of golf balls, knowing that we didn't have to pick them up, as they have a special machine that does it for you.
Nuno took a video of my swing, to illustrate how I could improve and ensure the ball ended up in generally the right direction. It was clear to me that it might take a lifetime of practice to get really good, but I also found out that golf is a great sport for flexibility, core strength and general wellbeing.
More info: Paul McGinley Golf Academy | 50 minute Golf lessons for 2 people are €55 per person | a package of 3 x 50 minute lessons taken over a week are €150 per person based on 2 people sharing
Dress code for golfers
As a beginner I hadn't quite realised that there can be quite a strict dress code for golfers although this is relaxed for those who are just coming for a lesson on the driving range. However here are a few guidelines to be aware of;
Jeans are not allowed but beginners can wear loose cotton trousers, shorts or a sports skirt that allow for some movement.
Beginners can wear trainers or lightweight flat shoes on the driving range but you'll need proper golf shoes if playing on the main course.
A  t-shirt with a collar is required for the main course although any t-short is fine for beginners on the driving range.
Playing Golf at Quinta do Lago
There are three main golf courses to choose from in Quinta do Lago; the North, South and Laranjal golf courses. The Algarve has been voted the best golf destination in the world numerous times and even if you are not a golfer, the healthy outdoor lifestyle is a big draw of Quinta do Lago. If you are a golfer you will need to make a booking well in advance to use one of the golf courses, which are reserved for more experienced golfers as you need to have a handicap certificate to demonstrate your level. If you are a beginner golfer, you can also rent clubs and book a practice slot at the driving range, where there's also a small golf shop, children's playground and Koko cafe.
More information on Golf at Quinta do Lago
Mini Golf at Quinta do Lago
For families and those who just want to have a bit of fun, there's a mini golf course just across the road from the driving range. The Mini golf has miniature versions of some of the world's most famous holes, and the cost is €9 per adult for a 9 hole round on the mini-golf course.
More info: Mini Golf at Quinta do Lago
Restaurants near Quinta do Lago Country Club
Although there isn't a restaurant at Quinta do Lago Country Club, there are no shortage of options to eat in the area. After our golf lesson, we had lunch at Koko which is popular daytime cafe right by the driving range. The menu is bistro style with pizza, pasta and salad dishes and there's a large outdoor terrace that overlooks the driving range, so it's a good place to relax if you are accompanying someone who is having a lesson. The cafe is also popular with families, since there is an enclosed play area right beside the outdoor terrace, where you can have a drink while keeping an eye on the children.
More info: Koko Website | Open Daily 8-5pm
Pure in Quinta do Lago
Around 10 minutes drive from Quinta do Lago Country Club, we also stopped in at Pure, which is popular with those who want to eat healthy as well as delicious. This is the place to find fresh pressed juices, smoothies, salads and wraps as well as enticing cakes and treats. The cafe has a clean, fresh feel and there's an outdoor terrace too.
More info: Pure Website | Open Daily 8am – 5pm
Il Vero in Quinta do Lago
We really enjoyed dinner on our first night at Quinta do Lago at Il Vero, which is a short drive away from the Country Club. The restaurant is modern Italian style, with contemporary decor and an outdoor terrace overlooking the golf course. There's a pizza oven and lots of pasta dishes on the menu, with an extensive wine list. I chose a delicious seafood stew with croutons and aioli with a nice selection of fresh breads and tapenade.
More info: Il Vero Website | Open 4pm until late
Although we didn't have time to try them, there are a couple of smart restaurants that are situated just behind Quinta da Lago Country Club, so you can literally walk out of the back garden gate to reach them.
Casa Velha – this is the original Farmhouse on the Lake that gives the resort its name, and offers a Michelin recommended, French inspired fine dining experience.
Bovino Steakhouse – offers an upscale steakhouse experience, with striking decor and tender steaks using dry aged beef from the region.
Maria's at Vale do Lobo
We stopped by the beach at Vale do Lobo, the resort that adjoins Quinta do Lago, part of the area of three resorts including Almancil known as the Golden triangle. This is a beautiful stretch of golden sand with beach bars and restaurants like Maria's which we spotted set back from the sea shore. We returned there later for dinner in the sea themed restaurant, that keeps the ocean theme going with bleached wood tables, wicker chairs and soft turquoise blue furnishings. The menu is upscale bistro, with lots of seafood and I enjoyed my trio of fish, served with new potatoes and a Mediterranean sauce.
More info: Maria's Website | Open from lunchtime to late
Who will enjoy Quinta do Lago Country Club?
Quinta do Lago is a stylish and upscale resort that will appeal to those who are looking for a healthy lifestyle and access to world class golf facilities. In spring and autumn the resort will appeal to couples and small groups who enjoy the mild climate and warm sunshine when the weather may be cooling down in the UK. In the summer months of July and August the area is popular with families who want to enjoy easy access to the beautiful sandy beaches and the natural environment.
The resort is all about a healthy outdoor lifestyle and nature, rather than offering nightlife or a party atmosphere. At Quinta do Lago Country Club, most of the other guests during our low season break were aged 50+ and looked as if they were enjoying the golf and outdoor lifestyle. The Country Club is ideal for those who want the security and facilities of a hotel, combined with the flexibility and privacy of self-catering accommodation. Because of the spacious accommodation and different apartment sizes, it would also be ideal for groups of friends or family who are holidaying together but want to have their own living space.
Getting to Quinta do Lago Country Club
We picked up a hire car at Faro airport and found it an easy drive to reach Quinta do Lago Country Club. The distance is around 18 km and it takes 20-30 minutes to drive depending on the traffic. Part of the journey is on the N125 dual carriageway and then you turn off and make the rest of the journey on country roads. Since Quinta do Lago is a relatively modern resort, it's very easy to get around with wide roads and lots of roundabouts, that are well signposted to find your accommodation. If you don't have a car, it would be best to get a taxi from the airport, as I did not see any information about public transport to get to the resort.
Good to know about Quinta do Lago Country Club
In Quinta do Lago we found that you do need a hire car to get around the resort and to explore the Algarve. Although we could walk to the beach, most shops and restaurants were a short drive from the accommodation, in commercial centres where several businesses are located together. There are no food stores within a short walk of Quinta do Lago Country Club, but there was a small supermarket within a 10 minute drive.
There is also an apartment complex under construction on the adjoining land to Quinta do Lago Country Club which is due for completion in 2019 or 2020. Although you drive past the part-completed complex to arrive at Quinta do Lago Country Club, the new building was not easily visible from most of the apartments and we did not experience any noise or disturbance while we were there.
Climate in the Algarve at Quinta do Lago
I visited in the first week of February and was amazed at the sunny weather and mild temperatures. This is definitely a great destination to find early spring sunshine with temperatures for February averaging 17 degrees Celcius and rising to a very pleasant average 23 degrees Celcius in May. Temperatures have a similar range in October to December, but there is more rainfall in the autumn than in the spring. In the summer months of July and August temperatures average 29 degrees C with hardly any rain, however the fabulous beaches of the Algarve make it an extremely popular holiday destination, so you are likely to find everywhere a lot more crowded. My vote definitely goes for a springtime break in the Algarve, when you can find warm, sunny days and hardly any crowds.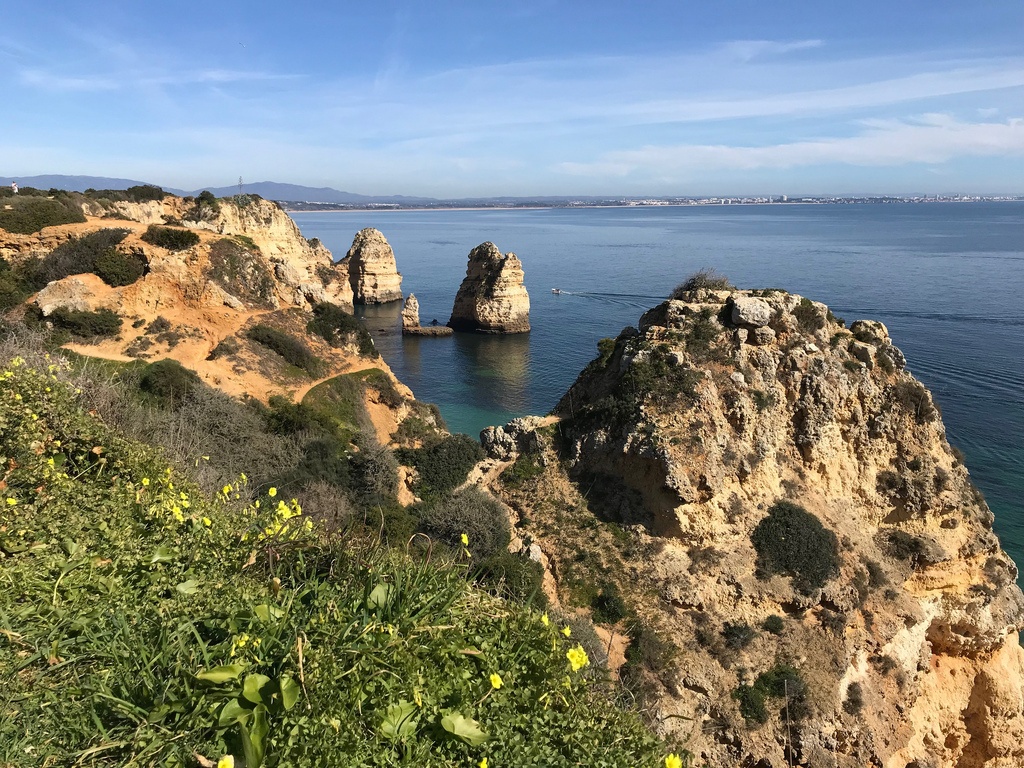 To book Quinta do Lago Country Club
Reservations for Quinta do Lago Country Club may be made directly through the website, or the English speaking reception staff will be happy to help you with your booking requirements.
Quinta do Lago Country Club Website | Facebook | Twitter | Instagram | Reviews on Tripadvisor
Address: Quinta do Lago Country Club, Rua das Palmeiras s/n Quinta do Lago, Almancil, 8135-024,
Phone: +351 289 352 352
Pin it
My trip was sponsored* by Quinta do Lago Country Club who provided the accommodation stay, some meals and experiences mentioned.
* More info on my policies page
This article is originally published at Heatheronhertravels.com – Read the original article here