Scandinavia has so much for travellers to enjoy; the northern lights, mountains, breathtaking landscapes, delicious local cuisine, tons of snow and much more that attracts thousands of visitors every year. It's hard to decide which of the Scandinavian countries to visit first; Finland, Sweden, Norway or Denmark. In this guest article from Baltic Tours the specialists in Scandinavian tours, we'll help you decide where to begin your adventures, with activities and tours to experience in each country.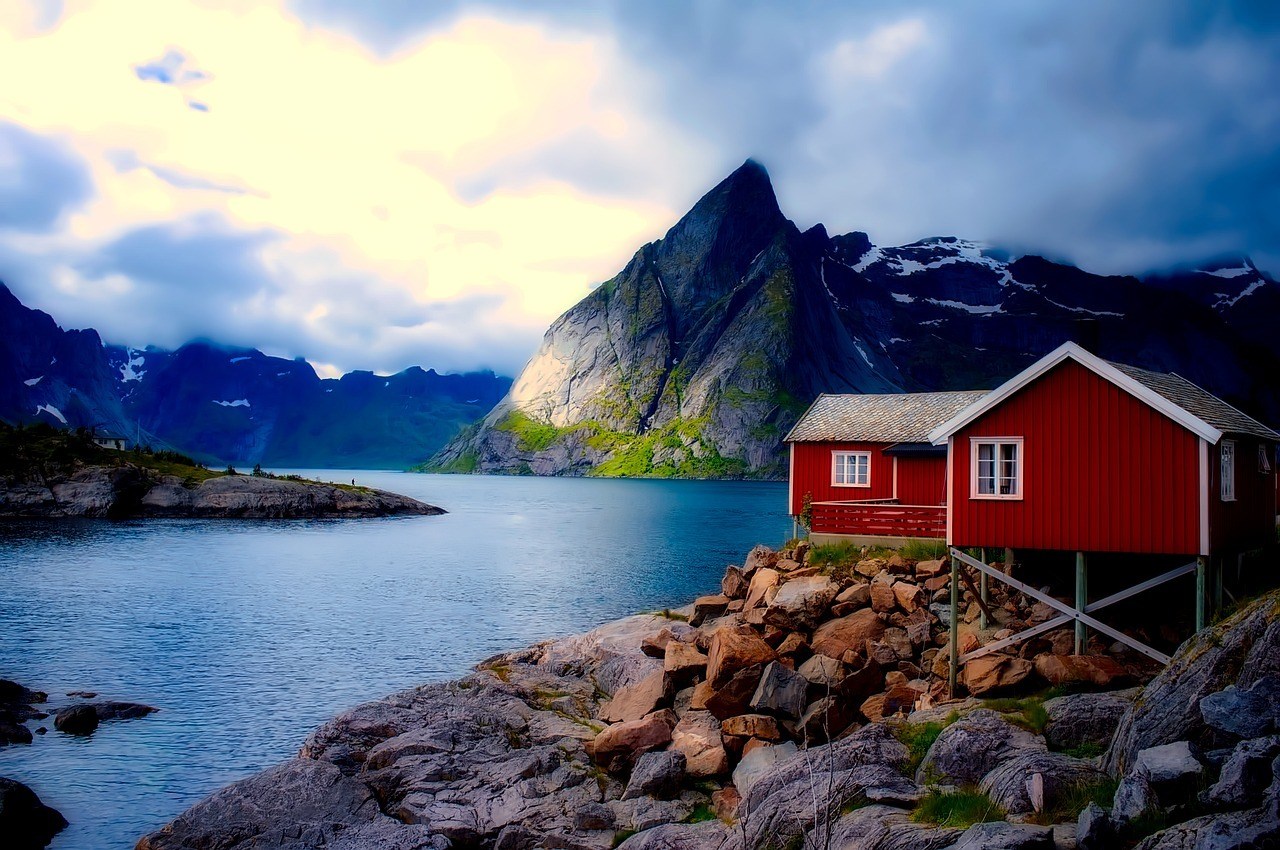 Tours in Finland
Did you know that Finland is known for its unusual types of World Championships? Who can sit in the sauna the longest? Who can go the farthest carrying his own wife? Whatever comes to your mind, they probably have a competition for it! And there's plenty more to surprise you in Finland.
Finland's Winter Wonderland
In winter Finland turns into a white and frosty winter wonderland and there's a good reason that ice skates are a Finnish invention. Finland has over 30 National Parks and the biggest ski resorts in Europe, so be prepared for exceptional outdoor activities. Ice swimming, hiking in the national parks, snow walking, skiing, chasing the Aurora Borealis should be on your list of things to do!
When you can no longer feel the tips of your toes or fingers, it's time to experience the Finnish sauna, a truly local experience where important life decisions and even businesses deals are made in Finland.
Visit Santa Claus town in Finland
If you are travelling with children (or somewhere deep inside you are still a child yourself) visit magical Santa Claus town. It is the Official Hometown of Santa, located in Rovaniemi where Christmas lasts all the year round. While enjoying different attractions like Snowman World, Elf School and sliding on the longest slide in the world, you can stay in Santa Claus holiday village to experience the Christmas spirit.
Visit the castles of Finland
Through the ages, Finland had to struggle with attacks of the conquerors and built many fortresses across the whole country which have survived till these days. Olavinlinna Castle was built in 1475 and Suomenlinna fortress in 1748, to protect Finnish territory from attack. Those who love history will have a great chance to experience it for real and there are no shortage of picturesque sights to share on your Instagram feed.
You may also enjoy: The unforgettable sights of a Scandinavian cruise
Tours in Sweden
There's something to see in every region of Sweden, but before heading to the biggest cities we recommend you get to some of the smaller towns and villages. Check out Visby, a city from the Middle Ages, or Kalmar with its Renaissance Castle or Sweden's folk music capital called Rättvik, where every year fans come to Musik vid Siljan Festival. For a night on ice, visit the town of Kiruna and stay in the Ice Hotel, a masterpiece of glacial sculptures, created by sculptors from all over the world.
What to see in Malmo, Gothenburg and Stockholm
In each of the three biggest cities in Sweden, Malmo, Gothenburg, and Stockholm, you will be able to see the different sides of Sweden. A day trip to Malmo can be a relaxing getaway together with a taste of modernism, simplicity and amazing view of Copenhagen from the Ribersborg beach.
The second largest city in Sweden is Gothenburg, which can be explored in many ways; on foot, by bike or by tram. Take the opportunity to try out the island-hopping by ferry and visit Gothenburg's archipelago. Save some time for Scandinavia's biggest amusement park Liseberg with over 40 rides and attractions and check out famous fish market Feskekòrka.
You may also enjoy: A winter break in Gothenburg, Sweden
Last but not least, head to Stockholm to visit the famous sights of Old Town, Vasa museum and Royal Castle of Kungliga Slottet. Stockholm has the artistic side too and the best proof of it is subway art. Go on the Stockholm subway art tour around 90 subway stations and explore the world's longest art gallery!
Tours in Norway
Norway offers natural beauty with hiking routes, scenic roads and everything you need to have great wildlife adventures! If you can see yourself walking 20 km per day, wearing hiking shoes 24/7 and sleeping in the middle of nowhere, Norway is the destination for you. The best Norwegian hikes offer a combination of fjords and mountains that you will not be able to experience anywhere else.
The most spectacular walks in Norway like Preikestolen (the Pulpit Rock), Trolltunga, Skåla or Romsdalseggen are a pleasing challenge for everyone determined to conquer the mountains. Learn the main Norwegian phrases like "Goddag" (Hello) or "Takk" (Thank you) because local travelers love to chat.
For another adventure in the wildlife go to spectacular Flam which will take your breath away because of its scenic landscapes and fun kayaking experience. One of the most popular tours is Old Kings Path tour, which is accessible to people of all ages and does not require any previous kayaking knowledge. Due to its mountainous terrain, Norway is not the best place for cycling, although it has several cycling routes such as Kystruta, Kanalruta and Numedalsruta.
Visiting Bergen in Norway
After experiencing the natural beauty of Norway, it's time to get into city life with a visit to UNESCO World Heritage City Bergen. You need to be a lucky not to experience rain while visiting Bergen, but bad weather will not prevent you from visiting Mount Fløyen for panoramic views, checking out fish market and wandering around pretty Bryggen harbor.
Visiting Oslo in Norway
At first sight, Oslo can seem to be a quite small city, but it has a great range of various fun things to do. Oslo Opera house and Astrup Fearnley Museum of Modern Art are architectural wonders and reflect the essence of the Scandinavian design. National Gallery has a cardboard version of the famous painting "The Scream", but you will definitely scream when you will see the view from the top of the Holmenkollen ski-jump located in Oslo's famous ski-jump arena!
Tours in Denmark
While Denmark is a small country, there are plenty of beautiful places to visit, and travellers often describe Copenhagen as the most beautiful and relaxed city in Europe. If you are short of time, rent a bike and have a quick bike tour around the city. Bikes are the essential part of everyday life of the locals and there is even a joke that you can recognize the tourists because they are the only people walking.
Things to do in Copenhagen
If you are visiting Copenhagen, why not start from the famous Little Mermaid statue and continue forward along the waterfront to Amalienborg Palace, the home of the Danish royal family to see the changing of the Royal Guard. Across the river you'll find the Christiania quarter, a unique Copenhagen neighborhood, which came into being as a form of the protest to the Danish government.
You may also enjoy: 10 summertime cool things to do in Copenhagen
In winter you can stay cosy in a local coffee shop (there are plenty of them) and get to experience at least a small part of what Danish call Hygge. The list of unique places in Copenhagen is large, but there are other locations outside the city which need to be mentioned too!
Visiting Aarhus in Denmark
Aarhus is the smaller version of Copenhagen and is a great city to visit in the summertime. If the sun is shining and the temperature is enjoyable, take everything you need for a picnic and go to the Marcelisborg park, where the queen's summer house is located.
Visiting the Faroe Islands
Denmark also owns archipelago of the Faroe Islands which is a great escape from the traditional tourist fare. This is a paradise for hikers with unpredictable weather and endless amount of waterfalls. The Faroe Islands requires at least three-days separate trip, but it is undoubtedly worth it because the landscapes compete with ones of Iceland.
The Vikings were lucky to live in such a fascinating territory and this brief portrait of each country will inspire you to visit the Nordic countries yourself. If you still can't decide where to begin, visit Baltic Tours website where you will find the best offers of Scandinavian tours
Pin It
This article is brought to you in partnership with Baltic Tours
This article is originally published at Heatheronhertravels.com – Read the original article here
Image credits: Reindeer rides in Rovaniemi via santaclausvillage.info, Visby by Dion Hinchcliffe