Designed-to-impress Schloss Friedenstein sits overlooking the town of Gotha in the region of Thuringia that's already packed with castles and palaces, known as the Cultural Heart of Germany. I was visiting during the bicentenary year of the birth of Queen Victoria and Prince Albert of Saxe-Coburg and Gotha, with special exhibitions to celebrate the connections between Friedenstein Palace and the English Royal family.
If you've watched the TV series about Victoria and Albert, you may know that they were first cousins, both born in 1819 and they not only held their German relatives at Gotha in great affection, but sent frequent gifts to reinforce the family ties.
History of the Schloss Friedenstein in Gotha
The palace was completed in 1683 by Duke Ernest the Pious to replace the ruins of the fortress Grimmenstein and following the Thirty Year War it was given the hopeful name of Friedenstein, meaning "Rock of Peace". Where previous castles had been for warfare, this was to be a new residence that was fitting for the rulers of Gotha in peacetime, with interiors modelled in the fashionable Baroque style of the time.
The state of Thuringia and adjoining Saxony have so many castles and palaces that they are known as the Cultural Heart of Germany and it's worth a quick history lesson to understand why. At that time the German speaking lands did not exist as one country, but were divided into numerous self governing states. Through the generations states were divided, their lands becoming smaller and smaller, yet each ruling house needed a palace such as Friedenstein as a symbol of their power and authority.
You may also enjoy: A weekend in Coburg, Germany – castles and royal connections
It seems surprising that these small and sometimes impoverished German states had such strong connections with the English crown. However being Protestant, they offered suitable matches for the English royal family who were limited by religion in who they could marry, a benefit that rulers like Duke Ernest the Pious and his wife Elizabeth Sophie were keen to exploit.
Through advantageous marriages they became known as "The Grandparents of Europe" and the marriage connections continued to one of the best known matches, of Queen Victoria of England with her first cousin, Albert of Saxe-Coburg and Gotha, who spent much of his early life at Friedenstein Palace.
Other advantageous royal marriages included Princess Augusta of Saxe-Gotha who in 1736 had married Frederick, the English Prince of Wales, her son later becoming King George III. Augusta welcomed her nephew Ernest of Saxe-Gotha to visit her in London, and having visited Kew Gardens and other royal estates he later created the gardens behind the Friedenstein Museum in the romantic English landscape style.
Prince Leopold, the uncle of both Victoria and Albert had married Princess Charlotte of Wales, but after her death he returned to Coburg and continued the matchmaking that brought Victoria and Albert together. Princess Victoria's own mother was of the house of Saxe-Coburg and was sister to Prince Leopold and Albert's father Ernest I of Saxe-Coburg and Gotha. So the marriage of Victoria and Albert was part of a web of family connections that linked the house of Saxe-Coburg and Gotha with the English Royal family over many generations.
You may also enjoy: 15 fun things to do in Dresden – in just one day!
There was plenty to enjoy in the state apartments at Schloss Friedenstein, was we swooshed along wearing special slippers, to protect the original parquet wood floors of the palace. Rooms like the state reception room were designed to impress, with their ornate decoration, sparkling chandeliers and portraits of the relatives and ancestors of the Dukes of Saxe-Gotha, to demonstrate their powerful family connections.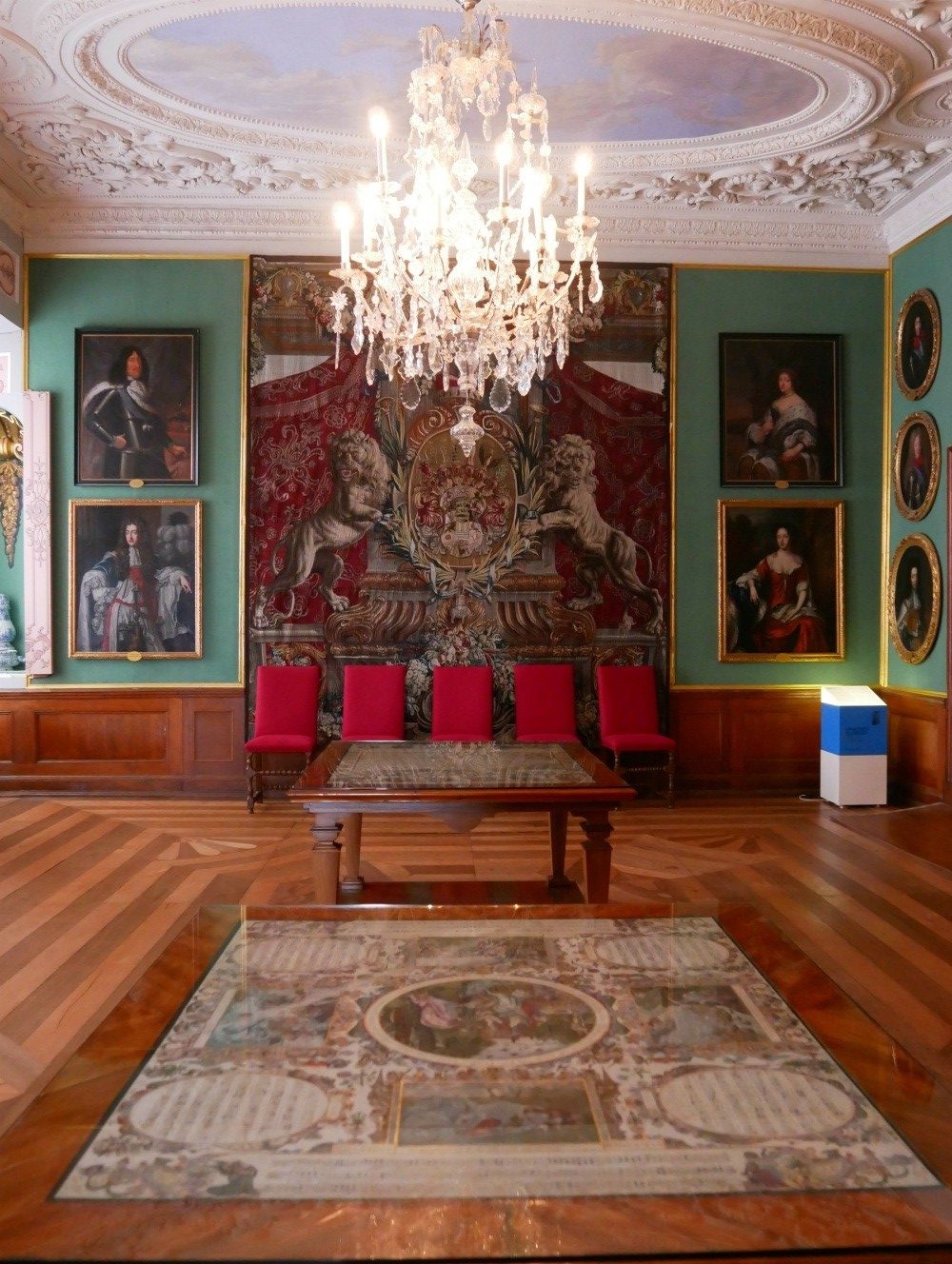 Through the windows we looked down on the town of Gotha, a reassuring sight for the Dukes who could know that they ruled everything as far as the eye could see.
The Baroque style of Friedenstein Palace
Nowhere is the Baroque style of Schloss Friedenstein more apparent than in the ballroom which was used for grand receptions and parties. The Baroque style, with its ornate plasterwork, gilding and general exuberance of colour and decoration was at the height of fashion between 1680 and 1750, when the rulers of central Europe competed with each other to build the most magnificent palaces. If you enjoy the joyful, over-the-top style of Baroque, you'll find plenty of other examples in Thuringia and Saxony, such as the Zwinger Palace and Museum in Dresden.
To see the passion for Baroque brought to life, you might want to time your visit with August, when opulent 18th century costumes and powdered wigs are being worn at the Baroque Fest that takes place in the palace courtyards.
The Dukes and Duchesses of Saxe-Gotha-Altenburg step out from their portraits and are brought to life to preside over events and welcome their guests during the festival. Food and local crafts are on sale, with carriage rides through the palace grounds and musical events and fireworks at the weekends. The next Baroque Fest takes place 29-30 August 2020.
You may also enjoy: Christmas in Coburg: discovering the seasonal magic in Germany
The Friedenstein Palace Ekhof Theatre
Continuing the Baroque theme at Friedenstein Palace, be sure to visit the Ekhof Theatre which was completed in 1687 and still uses the original 17th century scenery and stage machinery. This jewel box of a theatre is used for the Ekhof Festival, taking place in July and August each year, with performances of Baroque music and plays in their authentic setting.
In the adjoining rooms there's a small exhibition space with some of the theatrical costumes and other objects of interest from the theatre. More information: Ekhof Festival website
The Victoria and Albert connection with Friedenstein
One of the things I enjoyed most on our visit was the connections of Friedenstein Palace with Queen Victoria and Prince Albert, who can be seen in the many portraits and other keepsakes in the palace collections. Friedenstein was one of the residences used by Prince Albert parents, his father Duke Ernest I of Saxe-Coburg-Saalfeld and mother Luise of Saxe-Gotha-Altenburg. The marriage of Ernest I and Luise was itself an advantageous match, since Luise was the heiress to Gotha and on her marriage the estates and title were combined with those of Saxe-Coburg.
I couldn't help feeling sorry for Luise who was only 17 when she married a husband twice her age. Just a teenager, she had a romantic vision of Ernest as her knight in shining armour and their two children Ernest and Albert were quickly born a year apart. Sadly, the marriage ended in much unhappiness when a scandal was triggered by Ernest I's infidelities and probably thinking how she could punish her husband, Luise was also suspected of taking a lover.
You may also enjoy: A guide to Wartburg Castle and Eisenach – on the Martin Luther Trail in Germany
There's a charming portrait of Luise with her two sons, Albert and Ernest that was completed in 1824, but shortly afterwards the scandal broke that caused their separation. Ernest banned Luise from the court of Coburg and she was not allowed to see her children again, dying of cancer when she was only 30 years old. In those days the power was all on the man's side and Ernest retained the lands and title of Gotha, even though Luise was forbidden to even see her sons.
With no contact with his mother, Prince Albert became fond of his step-grandmother the Dowager Duchess Karoline Amalie who lived at Friedenstein Palace and he often visited her there. Prince Albert's marriage to his cousin Queen Victoria meant that he had to give up his homeland, but he was very homesick. As he set off for England in 1839 he wrote to his brother Ernest, "Yesterday we left Coburg, you possibly cannot imagine how the last real farewell cuts my heart. The youth lies behind me".
Albert's final stop was Schloss Friedenstein, where he celebrated New Years Eve, was invested with the English Order of the Garter and had his portrait painted, so that an engraving could be made for the British people to see their Queen's future husband.
Realising Albert's longing for his former home, Queen Victoria later commissioned the German painter Friedrich Rothbarth to make a series of watercolours of the princely apartments at Friedenstein Palace that would have been so familiar to Albert from his childhood days.
As birthday and Christmas gifts, Queen Victoria would commission paintings and watercolours of family members to send to her extended family in Germany, much as we might send photos today. Family portraits were often copied several times with versions sent to hang proudly in all the palaces of their relations.
You may also enjoy: Delicious food in Heidelberg – where and what to eat in Heidelberg, Germany
In the rooms of Friedenstein, some of these family portraits can still be seen, such as the Landseer portraits of Victoria and the charming picture of their oldest children Princess Victoria and Albert Edward as toddlers, playing with their dog.
Prince Albert and Queen Victoria also visited Friedenstein several times and the queen thought of her visits to Thuringia with much affection, as a place where she could be herself, away from the spotlight of the English Court.
The dynasty of Saxe-Coburg and Gotha continued through the marriages of Victoria and Albert's own children, with connections that spanned Europe with the royal houses of Belgium, Bulgaria, Germany, England, France, Portugal, Russia, Sweden and Hungary.
Many of the gifts of portraits, sculptures and even keepsakes like a lock of hair are on display in the collections at Friedenstein and there's a special exhibition – Marriage as a model for Success – German-English Royal Marriages which runs until end November 2019.
The Ducal Museum at Friedenstein
From the palace you can look across the gardens to the Ducal Museum which was built between 1864 and 1879 by Prince Albert's brother Ernest. The museum had been jointly conceived by the brothers as a place that the collections and treasures of the Dukes of Saxe-Coburg and Gotha could be properly displayed and shown to a wider public. Both brothers loved collecting, a habit formed on their childhood walks through the Thuringian forest when they would pick up objects from nature or observe geological formations.
Over the centuries it was fashionable for the wealthy to collect an eclectic mix of objects, not only art and sculpture but exotic objects from around the world. In the days before internet this was the way of sharing information about what was to be found in distant and mysterious lands, far beyond the boundary of Saxe-Coburg or even Europe. Just as Prince Albert had sponsored the great public museums of Science, Natural History and the Arts in South Kensington, London, so Gotha would now have its own equivalent to showcase their own collections.
Sadly Prince Albert died in 1861 before the museum was started, but the project was completed by Ernest as a tribute to his brother. The museum contains many beautiful artworks, treasures from around the world and a collection of fans. There are often special exhibitions here including the one that was running through the summer of our visit, about Gotha and the English Throne.
For this exhibition, many of the royal portraits in the collection of Schloss Friedenstein had been gathered together, to tell the story of the connections with the English Royal family that stretched back to the 18th century and the marriage of Princess Augusta of Saxe-Gotha to the English Prince of Wales as well as the match between Queen Victoria and Prince Albert.
The Gardens of the Ducal Museum
After visiting the museum, we had a quick walk around the English Gardens which indeed looked much like the Royal parks of London that it imitated. Here are lakes, specimen trees and naturalistic plantings, with a Roman Temple to the god Mercury completing the view across the lake.
The gardens were influenced by the visits that Ernest II of Saxe-Gotha-Altenburg made to his Aunt Augusta and the English Royal Court in 1768, when he visited Kew Gardens and other parks in London.
Visit Schloss Friedenstein in Gotha, Germany
More information on the Schloss Friedenstein Website | Palace open daily except Mondays 10am – 4pm Nov – March and 10am – 5pm April – Oct | Ducal Museum open daily 10am – 4pm Nov – March and 10am – 5pm April – Oct | Ticket €10 covers palace, museums, theatre | Audio Guides in English available €2.50

Visitor Information for your trip to Thuringia, Germany
You'll find more information to plan your trip on The Cultural Heart of Germany Website and the Visit Thuringia website and the Gotha tourism website
The closest airport to Gotha with a wide range of international flights is Frankfurt, although there are smaller airports at Erfurt, Leipzig and Dresden. We recommend Skyscanner to plan flight routes and find the best prices.
We flew into Frankfurt then took the train to nearby Eisenach, where we picked up a hire car from Europcar close to the station. There is a train station at Gotha and the German rail network is very efficient, so this would be a good way to reach Gotha from other airports or regions of Germany, as an alternative to a hire car, which we used.
If you are looking for a guidebook for your visit to Thuringia and Germany, we recommend The Lonely Planet Guide to Germany or the DK Eyewitness Travel Guide to Germany.
Looking for a hotel? Check out the options and prices for Hotels in Gotha.
Where to stay in Thuringia
We stayed in nearby Erfurt at Hotel Am Kaisersaal, an excellent modern hotel that's one of a small group of Bachmann Hotels. In addition to the 85 bedrooms they offer 2 bedroom apartments for a minimum 2 night stay, which would be ideal if you want a little longer to explore the area.
Behind the traditional looking front building, the hotel has further modern accommodation wings, built around a pleasant grassy courtyard, with a convenient underground car park. The atmosphere was calm and friendly, with the usual excellent breakfast spread you find in Germany. Our bedroom was contemporary and well designed with a pleasant outlook over the internal courtyard.
If you'd like to stay in Gotha itself when you visit Schloss Friedenstein, check out the options and prices for Hotels in Gotha.
Where is Gotha and Thuringia?
Gotha is in the German state of Thuringia, which is in the centre of the country and was formerly part of the East German GDR. Thuringia is bounded by the better known Bavaria to the south and Saxony to the east. The rolling rural countryside, green belt of Thuringia forest and pretty medieval towns, castles and palaces make this an ideal road trip destination. You can see all the places we visited on the map below.
Pin it for later!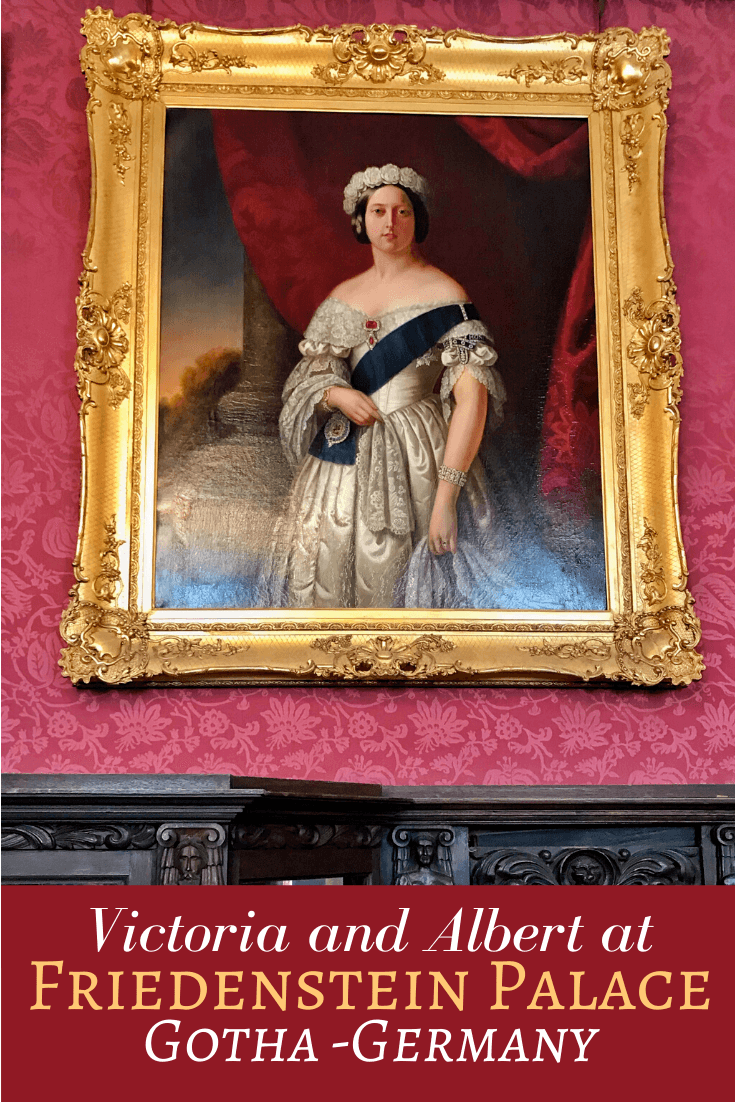 This article was sponsored* by The Cultural Heart of Germany, Thuringia Tourism and Visit Saxony who provided the 4 day trip and experiences mentioned.
* More info on my policies page
This article is originally published at Heatheronhertravels.com – Read the original article here