As we turned into the drive with its avenue of mature trees, the Warner Leisure Hotel at Cricket St Thomas came into sight, with historic Cricket House set in acres of rolling parkland and sheep grazing on the hillside. It seemed to us a perfect view of an English country house hotel, but in this case with a bit of a difference. With more hotel buildings hidden in the trees and beautifully landscaped gardens, this is a hotel that's relaxing yet bursting with activity and ideal for a short break for the 50+ traveller.
An Introduction to Warner Holidays at Cricket St Thomas
Warner Leisure Hotels are a bit different from the sort of accommodation where you'd just book a one night stay. What's on offer is a short break in Somerset, offering a range of activities within beautiful hotel grounds and gardens. There are 13 Warner Leisure Hotel locations around the UK, with some like Warners Cricket St Thomas hotel in Somerset, which is set around a historic property and others that are coastal resorts or holiday villages.
The Warner Leisure hotel breaks are aimed at the 50+ traveller and are for grown-ups only, so you won't find families with young children staying at at a Warner Leisure Hotel. Most guests book a 3 night stay over the weekend, a 4 night mid-week break or stay for the whole week and occasionally longer.
Another popular feature of the hotels is that they all have entertainment in the evening, which might be a music and dance show, a tribute band or a singer. The leisure breaks are on a half board basis, covering breakfast and evening meal, while some packages also include extras such as wine or afternoon tea. You can of course purchase lunch, snacks or drinks around the hotel and settle your account at the end of your stay.
For more information and to book, check out: Warner Leisure Hotels at Cricket St Thomas  Use discount code HEATHERWLH for a £20 discount per person per break for Heatheronhertravels readers until 31 Dec 2018
I hope that my video below about Warner Hotel Cricket St Thomas will give you a flavour of our stay at this lovely country hotel in Somerset
If you can't see the video above about the Warner Hotel Cricket St Thomas, you can download directly here, see it on my blog here or Youtube here and please do subscribe to my videos on YouTube.
First impressions of the Warner Hotel Cricket St Thomas
As we drove through the gates of Cricket House and down the long avenue of trees, we could see the hotel set in rolling acres of parkland at the bottom of the hill. It felt as if we were stepping back in time and arriving somewhere a bit special.
The estate was named after the De Cricket family who owned it in the 14th century, but the house and gardens as they look today date back to the 1820s when the estate was owned by Samual Hood, the 2nd Lord Bridport. He was married to Admiral Lord Nelson's niece, and the house was visited several times by Lord Nelson and Lady Hamilton. It was during this time that the park was landscaped and the rivers below the house were dammed to create pleasing view and the series of lakes you can walk beside today.
You may also enjoy: Review: Cadbury House Hotel near Bristol: A countryside getaway that's close to the city
In the 1960s, the house was bought by the Taylor Family who developed the Cricket St Thomas brand of ice cream and ran the estate as a Wildlife Park. In 1998 the house and part of the estate were sold to Warner Holidays, who developed the hotel, keeping the historic Cricket House at its centre and building modern wings set in the garden which now house most of the 220 bedrooms and leisure centre.
Within Cricket House there are a handful of historic bedrooms which are in great demand, and if you are staying in one of these you can park right in front of the house on the gravel drive. In front of Cricket House we admired the blowsy old English roses in full bloom, wafting their fragrance amongst the overflowing borders, with sheep grazing in the fields beyond. It really felt as if we'd stepped into an English country idyll.
For more information and to book, check out: Warner Leisure Hotels at Cricket St Thomas Use discount code HEATHERWLH for a £20 discount per person per break for Heatheronhertravels readers until 31 Dec 2018
The hotel accommodation at Warner Leisure Hotels in Cricket St Thomas
Other than the historic rooms in Cricket House, most of the hotel bedrooms and facilities are in the modern wings of the hotel that stretch out from the old house. They are cleverly hidden by the treeline and set into the landscaped gardens, so that as you come down the hill they are invisible and the house looks as if it stands alone.
The bedrooms in the modern parts of the hotel are over three floors and those on the ground floor often have a small outside sitting area, enclosed by shrubs and planting. Apart from the break in the buildings in front of the small church of St Thomas, you can walk from one end of the hotel to the other and all the walkways have ramps to make it easy for anyone who is less mobile.
You may also enjoy: Backwell House: A relaxed Boutique Hotel near Bristol
Our Bedroom at Warner Leisure Hotels at Cricket St Thomas
We were in one of the Signature bedrooms on the ground floor (Room 403), close to the leisure centre, and although the hotel is quite large, it was easy to find parking that was close to our bedroom. We loved the stylish and modern decor of the room, with a colour scheme of beige and teal green that felt contemporary and restful.
As part of our Signature experience, there were fresh cookies waiting for us, plus a bottle of wine and some snacks in our room, which we could enjoy on the terrace before dinner. Our fridge was stocked with fresh milk to make tea and coffee, together with still and sparkling water bottles. We had a great night's sleep in the comfortable bed, with a choice of firm or soft pillows; I love a soft pillow myself but everyone has their own preference.
You may also enjoy: How to spend a perfect weekend in Petworth Sussex
Our bathroom was also fresh and modern with a great selection of Temple Spa toiletries and a walk in shower with thoughtful touches like a handrail and non-slip mat for less mobile traveller.
For more information and to book, check out: Warner Leisure Hotels at Cricket St Thomas Use discount code HEATHERWLH for a £20 discount per person per break for Heatheronhertravels readers until 31 Dec 2018
Lunch in the Hamilton Restaurant
Having settled into our room, we wanted to have a look around beautiful Cricket House, which is used as a daytime restaurant to order light lunches, afternoon tea and other refreshments. The ground floor rooms that form the Hamilton Restaurant are named after Lady Hamilton who visited here and I felt as if I had stepped into a National Trust property.
Each with a different colour scheme, the rooms have original mouldings and marble fireplaces, with views out to the gardens and a range of comfortable seating and restaurant tables. The French windows allow guests to sit on the terrace, overlooking the formal garden in front of the house where you can also order coffee or lunches.
We ordered a late lunch from the menu that included some hot dishes such as steak and fries, or paninis, as well as salads, sandwiches, cakes and drinks. I enjoyed my big bowl of Salmon Nicoise salad (£7.95) while Guy ordered a plate of coronation chicken sandwiches (£5.95) which were beautifully presented with a garnish of salad.
A traditional English afternoon tea was also on the menu and this was clearly a popular choice with many guests. The beautiful rooms made the perfect setting for traditional afternoon tea of sandwiches, cakes and scones (£28 for two people) or cream tea (£10.95 for two). Considering the elegant suroundings I thought that the prices were very reasonable and it was tempting to stay there all afternoon, reading the Sunday papers in the Hamilton restaurant.
Read more from Lavender and Lovage: A Restorative weekend at Bodelwyddan Castle Hotel with Warner Leisure Hotels
Cricket House is also known as the setting for the popular TV series To the Manor Born that ran from 1979-1982 and stood in for the fictional Grantleigh Manor, with leading characters played by Penelope Keith and Peter Bowles. It makes the perfect setting for the romantic comedy about an upper class widow who can't afford to keep up the grand house following the death of her husband.
She moves into the estate's lodge and sells it to a rich supermarket millionaire, but love blossoms and by the final episode the unlikely couple are married. As a reminder of the series, there are framed photos of the cast from the TV series around the downstairs rooms, laid out like family photographs, as if we were visiting a friend's house rather than a hotel.
For more information and to book, check out: Warner Leisure Hotels at Cricket St Thomas
The gardens around Cricket House
The gardens around Cricket House are beautifully kept, with herbaceous borders leading from the ground floor terraces of the Hamilton Restaurant towards the orangery. Inside you can sit among the orange trees in pots that make a beautiful fragrance when in flower. In front of the orangery is the bowling green, which seemed to be getting lots of use when we were there.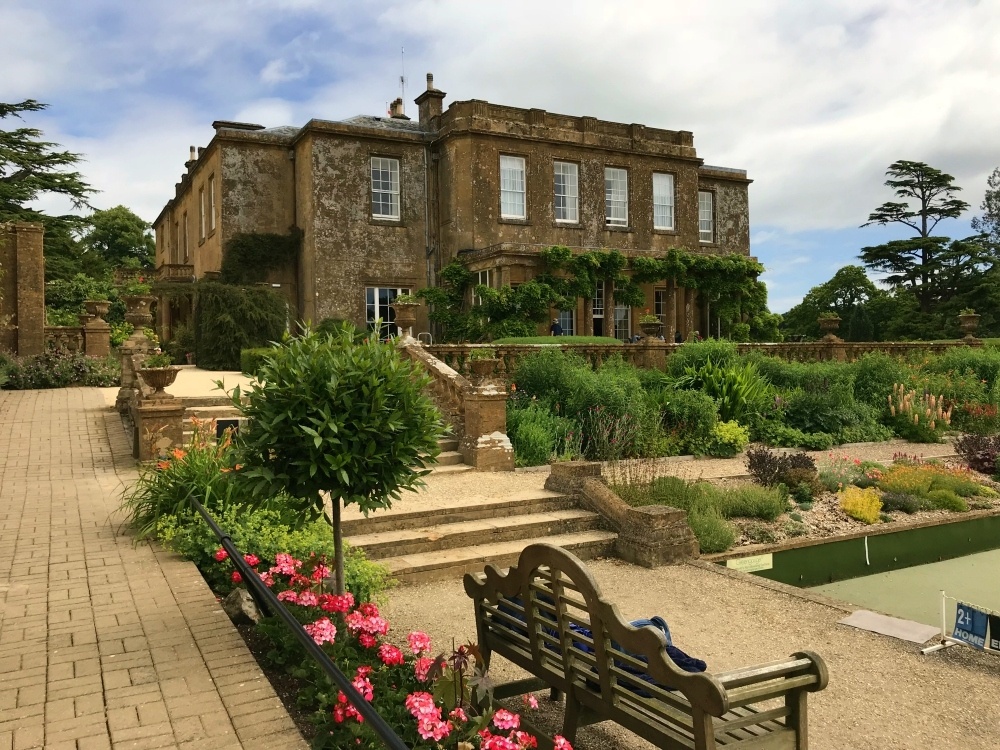 There were several signposted walks around the grounds of various lengths and difficulty and garden tours twice a week on Wednesdays and Saturdays. The grounds and garden play host to many of the activities that are on offer daily, such as archery, bowls, rifle shooting and Nordic walking, and the activity programme is included in the cost of your stay. Of course if you prefer, you can just walk around the gardens and enjoy the flowers and rolling lawns that lead down to the river.
You may also enjoy: A weekend break at the Moorland Garden Hotel in Devon
A walk down to the river at Cricket St Thomas
The formal gardens around the house give way to rolling lawns that were planted with specimen trees in the 18th and 19th centuries. From here the path winds down to the river fringed with wild meadow where there's a public footpath.
It was Samuel Hood, the 2nd Lord Bridport, who had the river dammed in places to make a series of cascades and small lakes and moved some of the cottages by the river that were spoiling his view. There is a long circular walk around the lake, but we just went as far as the bridge, where we could watch the swans gliding and a flock of ducklings darting in and out of the rushes by the bank.
Around the garden are many sculptures and we especially loved the mirrored sculpture called Cricket Portal, created by David Harber with a polished steel disc reflecting the gardens and creating a circular window framing the view of the bridge.
You may also enjoy: Country House Comforts at the Prince Hall Hotel in Dartmoor
Sculptures in the Gardens at Cricket St Thomas
We also noticed several playful sculptures of children around the gardens, by sculptor John Robinson and read that these had originally been part of an art exhibition. The Taylor family liked them so much that they kept some and even commissioned the additional family memorial that sits in the churchyard.
The Church of St Thomas at Cricket St Thomas
The parish church of St Thomas is within the hotel grounds and has stood on this site since the 12th century, but the current church is thought to have been rebuilt by the 2nd Lord Bridport after a fire around 1820. The church is normally open for guests to visit or attend the services and is the epitomy of a picturesque English country church.
The Leisure Centre at Cricket St Thomas
After we'd wandered around the gardens, we decided to try out some of the leisure facilities before dinner and took a swim in the hotel pool. There was a lifeguard on duty and the pool also had a steam room and sauna at one end, with a separate sauna with coloured lights and gentle music at the other.
We saw the gym being well used too, and the leisure centre is also open as a member's club to non-residents. There was plenty of information about the different indoor leisure activities on offer to hotel guests each day, such as Pilates, Aerobics, Yoga, Aqua Fit and more.
Although it's quite tempting to stay and relax in the hotel's beautiful grounds, there are also a couple of excursions available for guests each week that are arranged by the hotel. As an example, there was a trip on the West Somerset Steam train from Minehead to Taunton (£29 per person) and also a coach trip to Lyme Regis and Sidmouth (£18 per person). While most guests arrive at the hotel by car, these day trips trips take the stress out of seeing the area, as there is no hassle with traffic or parking. Many guests will also explore independently and Forde Abbey House and Gardens is very close to the hotel.
Dinner at Warner Leisure Hotels Cricket St Thomas
All the stays at Warner Leisure Hotels are on a half board basis and so dinner is included in your package in one of the two restaurants within the Cricket St Thomas Hotel. Typically you will be allocated one or other of the restaurants at the beginning of the stay, either on the basis of where your room is located within the hotel or because you have made a special request.
While exploring the hotel I'd noticed the Granary restaurant, in a restored barn on one side of an open courtyard and thought how nice it looked. The food and furnishings are largely the same in both restaurants, but I loved the sense of heritage and the lofty ceilings. We'd been allocated the larger Treetops restaurant which was also nice, but if I went again I'd love to try the Granary restaurant, which seemed to have more atmosphere.
The larger Treetops restaurant was located just off the main reception and had several different sections, some with window tables overlooking the gardens. The decor was classic and more contemporary in some sections but a little more dated in others. The tables and chairs in the Treetops restaurant were dark wood, with comfortable padded chairs and attentive table service.
For more information and to book, check out: Warner Leisure Hotels at Cricket St Thomas Use discount code HEATHERWLH for a £20 discount per person per break for Heatheronhertravels readers until 31 Dec 2018
The menu was not huge but had something for all tastes, and it changes daily, so that if you are staying for a week, you will always get a wide choice of dishes. For both starters and main courses there was a choice of menu dishes which would be served at the table or a buffet selection to choose from. I decided to have a starter from the colourful salad buffet, but there were other starter choices such as fishcakes with dill mayonnaise, strawberry, watermelon and roquette salad, or soup of the day.
For his main course Guy decided to choose from the carvery where there was roast beef or herb roast chicken available with a range of vegetables. I decided to order from the Classics section of the menu which are served to the table, including butternut squash risotto, vegetarian sausage and mash, and I ordered medallions of pork with bubble and squeak and cider apple jus.
For desert we shared a slice of pecan tart with toffee sauce and rum & raisin ice cream, which we really enjoyed. Overall I'd say that the quality of the food was good, but not gourmet and there was plenty of choice and variety to find something you'd enjoy.
For more information and to book, check out: Warner Leisure Hotels at Cricket St Thomas Use discount code HEATHERWLH for a £20 discount per person per break for Heatheronhertravels readers until 31 Dec 2018
After dinner entertainment at Cricket St Thomas
After dinner we watched the show in the hotel's theatre where there were comfortable chairs and small tables, so we could take in our drinks. Warner Leisure Hotels are well known for their evening entertainment, which often features West End style shows performed by the hotel's entertainment team of singers and dancers, as well as tribute bands; I saw Tina Turner and George Michael on the programme.
You can pre-reserve your favourite table in the theatre, so that you don't need to rush through dinner worrying about whether you'll get a seat. The entertainment was good fun, and we enjoyed the 1920s themed show Gatz, with Great Gatsby numbers from the Roaring 20s. The style of entertainment and in fact the whole hotel package reminded me of some of the cruises we've been on. If you enjoy cruising as we do, you'll probably enjoy this style of leisure break.
After our most enjoyable evening, we slept soundly and were back to the Treetops restaurant to enjoy our hearty breakfast in the morning. It was a mixture of buffet breakfast items of fresh fruit, cereals,yoghurt, granola, pastries, but with hot toast, tea and coffee brought to the table. In addition there was a self-service hot breakfast buffet with all the usual English breakfast items, such as bacon, eggs, sausages, baked beans, tomatoes, mushrooms and hash browns.
I was pleased to see that there were also classic items that were cooked to order, as this is always my preference if I'm having a cooked breakfast. I try to stick to fruits and muesli at hotel breakfasts these days, but I could have ordered Eggs Royal, smoked salmon and scrambled eggs, omelette or grilled kippers for table service.
I was really impressed with the staff throughout the hotel, as they were warm, friendly and cheerful and seemed to genuinely enjoy chatting to guests and doing all they could to help.
A last look around the gardens at Cricket St Thomas
Most guests at the Warner Leisure Hotels Cricket St Thomas would stay at least 3 nights and have plenty of time to enjoy the gardens and try a few of the activities, although we only had time for a 1 night stay.
There was just time to have a last look around the gardens and breathe in the scent of roses in the Rose Garden and listen to the birdsong in the Grotto garden, before we headed back to Bristol.
We very much enjoyed our night's stay at Warner Leisure Hotels Cricket St Thomas and of course only had time to scratch the surface of all the activities on offer. If you're looking for a break in the beautiful countryside, with as much or as little activity as you care for, Warner Leisure Hotels offer a great option for a short break or holiday in the UK.
For more information and to book, check out: Warner Leisure Hotels at Cricket St Thomas Use discount code HEATHERWLH for a £20 discount per person per break for Heatheronhertravels readers until 31 Dec 2018
Who will enjoy  Warner Leisure Hotels?
The Warner Leisure hotels such as Cricket St Thomas offer grownup holidays for the 50+ traveller and I think they really serve this age group well. Because there are no children around, the atmosphere is calm and relaxed, but there's plenty to keep you busy if you like to stay active. Most of the other guests were couples or groups of friends aged 60+, with a few accompanied by younger family members. Some of the guests had limited mobility, which the hotel caters for well.

The hotels would be a good option if some of your party like to be very active and others prefer to just relax. If you don't want to fly or go abroad for your holidays, the hotels are an excellent alternative in the UK to a resort style holiday. Warner Leisure Hotels would also be an excellent choice if you want to take a break with older family members and I could imagine visiting with my parents and sisters for a family get together. If you enjoy historic houses and gardens, the historic hotel properties such as Cricket St Thomas are perfect for you, providing character and charm combined with modern facilities.
To Book at Warner Leisure Hotels
For more information and to book, check out:
Warner Leisure Hotels at Cricket St Thomas | Address: Cricket St Thomas, near Chard
Somerset, TA20 4DD | Tel 01460 30111 | Twitter @Warnerhotels | Facebook | Instagram
Use discount code HEATHERWLH for a £20 discount per person per break for Heatheronhertravels readers until 31 Dec 2018
Directions to Warner Leisure Hotels Cricket St Thomas
The hotel is in Somerset, in the South West of England, close to Chard and Ilminster. The hotel is easily reached by car from the M5 Junction 25 or the M3 Junction 8. If arriving by bus, the closest bus service runs to Taunton, which is then a 25-30 minute taxi ride. If arriving by train, the closest station is at Crewkerne or Axminster and you would need to book a taxi connection from there which can be arranged through the hotel. Because the hotel is set in extensive parkland, you would need a car if you want to see much outside the hotel, however there are plenty of activities within the hotel as well as excursions arranged by the hotel. The closest international airports are Bristol or Exeter.
Pin It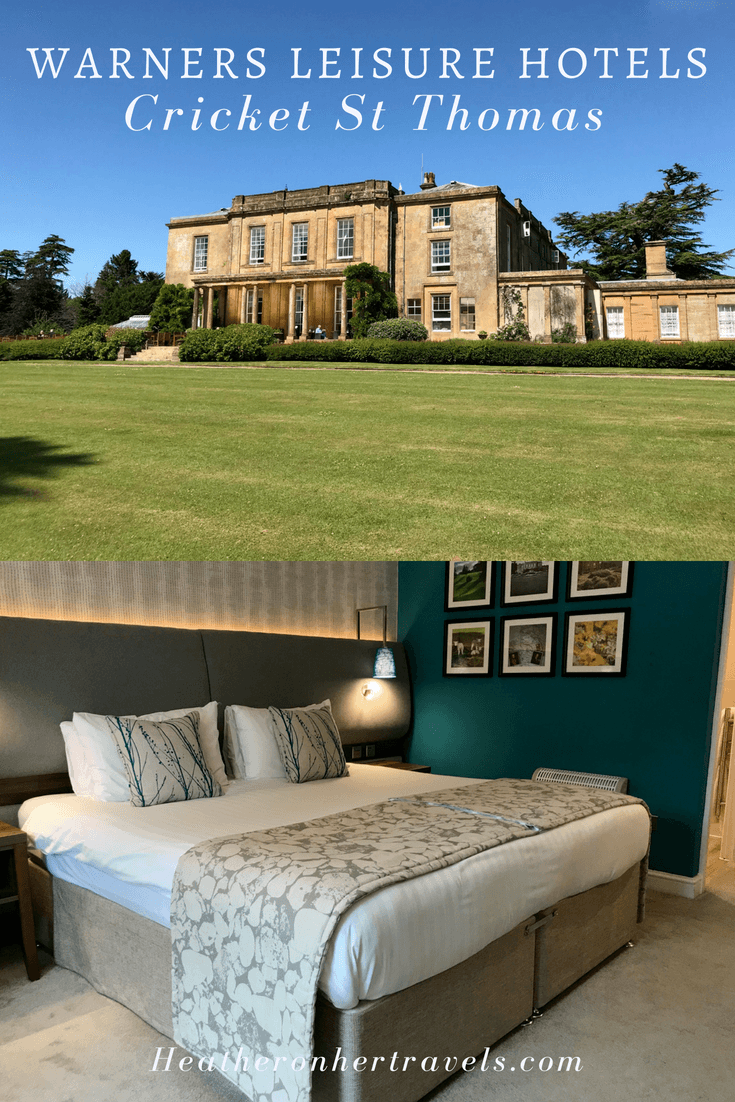 This article was sponsored by Warner Leisure Hotels who hosted our 1 night stay at Cricket St Thomas.
This article is originally published at Heatheronhertravels.com – Read the original article here