August 26, 2015 by Heather Cowper
Filed under Art and design, Eating and drinking, Europe, featured, Italy, Leisure, Museums, Sightseeing, Venice, Walking
There's a saying that if you eat badly in Italy you must be in Venice. Being something of a foodie myself, on my long weekend in Venice, I was determined to search out the best of Venetian food. I'm afraid to report, however, that my food experiences ranged from the average to the mediocre. Since Venice is such a tourist hotspot, and so many of the visitors are there for such a short time, it is all too easy for many businesses not to try too hard. Still with a little research and planning I think that you can find the best that Venice has to offer, so here are my tips to ensure that you don't eat too badly in Venice.
Get well away from San Marco
The San Marco district and especially the area around St Mark's Square is the tourist hub of Venice and is always packed with visitors. Many come for the day from a cruise ship or coach tour and just have time for the tick list sights of the Doge's palace, San Marco Cathedral, climb the campenile and then a quick gondola tour or foray to the Rialto Bridge. I'm not saying it's not possible to find a good restaurant in this area, but you are just as likely to stumble into one with a multi-lingual menu designed to service tourists only.
Better to venture into the less touristy districts such as Cannaregio, Arsenale or Dorsoduro where you will find more authentic wine bars and restaurants. The area around the Rialto market is good and has a number of good bacari (wine bars) plus it's a feast for the eyes. Arrive in the morning when the fish is on sale to see the market in full flow; by lunchtime the market is winding down and stalls are packing up, although the fruit and veg stalls will be there for a little longer.
What to eat in Venice
If you're not sure what to order we found that it was difficult to go wrong with a seafood pasta or pizza. It's not terribly adventurous but tends to be the least expensive things on the menu if you're on a budget. Local specialities to look out for are linguine alle vongole, the hot antipasti of mussels and clams and a risotto with black squid ink. The meat dishes that we eat at home such as lasagne and ravioli we found were disappointing.
If you are offered fresh fish, it may be priced by weight and you should take care to establish the cost in advance or you may find yourself landed with an unexpectedly large bill. This is a bit of a scam in the San Marco tourist restaurants where a big show is made of a whole fish cooked in salt which you discover later has a hefty price tag.
Other things to check are the cover charge which may add a few euros per person and a service charge which may be added on to the bill. Of course if you'd like to have that coffee at Florian in St Mark's Square while listening to the musicians, you should do so knowing that it has a tourist price tag (the prices are clearly shown on the menu outside). Venice is a great place to try local Italian wines by the glass in a side-street wine bar and in the early evening you can join the locals in a bright orange Aperol Spritz, a Bellini or a glass of Prosecco.
Eat standing up
A custom that takes us Brits by surprise, but is quite the done thing, is to stand up or perch on a bar stool while having a drink and a snack with friends. Don't be put off in the wine bars if there are only a few small tables and you have to rest your drink on a shelf along the wall. This is where you can order cicchetti, or small bar snacks which range from miniature sandwiches to dishes of salad and cold seafood. The ideas is to order a glass of wine and point at whatever dish looks tempting, then stay for another or move on to the next bar.
The stand up principle also applies to gelateria. Look for those that are artizan, which indicates the gelato is made on the premises, where you will often find a few small tables or stool to sit inside. The same stand-up approach can also apply at the Pasticceria where you can grab a coffee at the bar with a sweet pastry or cake. Generally eating or drinking standing up means that the price is cheaper since table service is not required.
Eat Venice food app
Before I visited Venice I downloaded the Eat Venice app onto my phone in the hope that I could find some more authentic places to eat. The app is by Elizabeth Minchelli whose blog about Italian food is also a great source of information about eating in Venice. I loved reading about all the great places to eat on this app but found that once we were there we invariably couldn't find them or were too hungry to hunt around.
It's certainly worth using the app to find out good food places in your neighbourhood, but don't get too worried if you don't find them, it's better to use your eyes to judge whether a place looks authentic. If it's busy, packed, full of Italians chatting with their friends, then it's worth waiting for a table.
Self catering in Venice
While there are plenty of apartments in Venice and indeed we stayed in one of them, although it seems to be a bit sad to always be eating in when you are in the midst of a living postcard. There are a few supermarkets in Venice but not really the convenience stores that you find in other cities. The culture is to eat out in a bar or restaurant and picnics are discouraged, in fact there seems to be a rule that they are not allowed. Still an apartment does mean you have the flexibility to make yourself the breakfast or lunch that you want, while perhaps eating out in the evening.
Food Tours in Venice
Another great way to get the feel of the local food culture is to take a food tour like the Rialto Market and Cicchetti wine bar tour with Walks of Italy. This tour takes you around the Rialto fish market and into the artizan food shops with a stop at three different local bars to taste the cicchetti as well as restaurant recommendations from the local guide. I wish that we had been able to take this tour as I feel sure that our food experience in Venice would have been improved had we been armed with some insider knowledge.
Some more Venice recommendations
The Go with Oh apartment we stayed in was one that I won through Murissa's blog at The Wanderful Traveller in the Passports with Purpose fundraiser. Murissa knows Venice well and kindly made me some recommendations of where to eat in Venice;
Hilton Molino Stucky Venice
If you don't mind your kids drinking a bit of prossecco and toasting to what an amazing city you've all traveled to then head up to the top of this hotel. There is a bar that has a picturesque pool and overlooks the entire city of Venice. Take the Zattere water bus stop over to Stucky.
Osteria Enoteca ai Artisti
You'll find this recommendation in your Eat Venice app. Delicious and not too pricey food in a quaint location not far from where we stayed. http://www.enotecaartisti.com
Al Mercà (Rialto market area)
One of my favourite cicchetti bars – cheap and amazing sandwiches (the prosciutto is my favourite!), delicious prossecco, and a view of the hustle of the market/canal. Standing room only.
All'Arco (Rialto market area)
Family run cicchetti bar where you can eat local foods for very cheap. Cicchetti are Venetian snacks for cheap and have been served for hundreds of years. I personally love the deep fried mozzarella with fresh sardines but stuffed zucchinni flowers are divine as well. Good for lunch – mostly standing room only when you visit cicchetti bars.
Do Spade (Rialto Market area)
Where Casanova frequented in the mid 1700s. Delicious cicchetti, wine and beer. Locals and tourists alike. Just go up to the counter order and find a spot. Not far from the Rialto Bridge/Market.
Book a tour of Venice
We highly recommend Walks of Italy who offer a number of different tours in  Venice and other parts of Italy, which are ideal if you are only visiting for a short time. You'll have an expert local guide to show you around and can often skip the queues at key sites. We took the 2 hour Venice Boat Tour which took us down the Grand Canal and many of the smaller canals with views of the key sites of Venice including a visit to the island of San Giorgio Maggiore where we climbed the bell tower with amazing views of Venice. Read my review of the Walks of Italy Boat Tour here.
Where to stay in Venice
For our 3 day stay in Venice I rented an apartment with Go with Oh and was able to use the €250 voucher that I won with Passports with Purpose blogger fundraiser. We chose this apartment in the San Marco district since it was so well located for all the main sites.
Thanks to Murissa from The Wonderful Traveller who hosted this prize contributed by Go with Oh and and for her tips on what to see in Venice. Passports with Purpose is a really worthwhile organisation which supports a different cause each year and you can win some really fabulous prizes so it's definitely participating.
This article is originally published at Heatheronhertravels.com – Read the original article here
You'll also find our sister blog with tips on how to build a successful travel blog at My Blogging Journey
After our cruise through the Greek Islands, the Azamara Journey arrived in Kusadasi, a popular holiday resort for the Turks and gateway port for the archaeological site of Ephesus. While most of the guests would undoubtedly be taking a tour of Ephesus, I had visited a few years ago and feared that the heat would be blistering. For something different we opted for one of the Insider Access excursions, which promised a relaxing day learning about Turkish food and culture.
On the way our guide, Elif, reminisced about the Kusadasi that she remembered as a child when she would stay in her grandmother's summer house by the sea. In those days it was a quiet fishing town, famous for its peach trees and olive groves which have long since disappeared to make way for holiday apartments.
In winter, she told us, the summer visitors all leave and Kusadasi becomes a quiet place, but in summer the seafront is overflowing with Turkish families and the marina boasts expensive yachts and the shops and restaurants that go with them.
Our land discovery (as Azamara call their cruise excursions) was A Taste of Turkish Country Life and we arrived by coach to be greeted at a family house set in gardens by Asli, our Turkish host who ran these tours with her mother who had been a tour guide. We were welcomed with a glass of hot Turkish tea in a glass, "curved like a belly dancer" which is the custom wherever you go in Turkey. "If you stay longer than 5 minutes, in a shop or a home, you will be offered a glass of tea", Asli told us. We observed how the tea was served from a double level teapot, with strong tea in the top which was topped up with hot water from the second pot below. The Turks drink tea several times a day and it should always be served piping hot, or your guests will ask you for a fresh cup.
While we sipped our hot, sweet tea, we were able to watch the cook sitting in the floor making gozleme, a popular Turkish snack, which you will often see being made in cafes and street stalls. The Gozleme is like a Turkish savoury crepe, with a ball of dough being flattened and stretched then cooked on a hot-plate. There are many different fillings, but the traditional one that we tried is with soft cheese and herbs which are wrapped into the dough as it cooks – a delicious snack.
We were invited into the family home which was a modern house, designed for summer living and as a showcase of the most beautiful Turkish arts and crafts. Here Asli's mother had brought together the best of Turkish crafts, in the carved stone fireplaces, the coloured marbles used in the bathrooms, the ornate wooden ceilings and the antique furniture and embroidered Suzani rugs and throws.
In the living rooms we could see the carved wooden chairs from Southern Turkey that had been used in a monastery and the stained glass windows that had been part of a mosque in Konya. Since Asil's mother had been a tour guide, she had visited many parts of Turkey and admired these things, which had subsequently been given to her as a gift when no longer required. Even though the family had been furnishing the house for the last 12 years, it was still not finished, since the craftsmen who had the traditional skills were dying out and they had to wait their turn for things to be made for them.
As we sat outside, we were given a lesson in tying and wearing headscarfs like a Turkish women, since in each region of Turkey they would be tied in a different style. Although Turkey is a secular country, headscarfs are still widely worn, especially in the country, to protect the hair when working, cooking or to shield from the heat of the sun. A bride would have numerous colourful scarfs which she embroiders with a fine crochet edging in different designs.
Asil explained, that since a young married women would live in the same house as her mother in law, and it would be considered rude to speak out if she was unhappy with anything, there would be a scarf to express every mood. If you wear the colours of spring and summer, everything is happy in the house, but if you wear an edging of little peppers the message in your scarf is "Mother-in-law, you upset me today!"
We moved into the kitchen to learn how to make some typical Turkish dishes such as stuffed peppers, creamy lentil soup and a cooked carrot and yoghurt dip and even had a folder of the recipes to take home with us.
In Turkish when they saute garlic or carrots they talk about 'killing' the carrots and when they say '"is it dead?" that means it's soft and perfectly cooked. We learned the Turkish grandmother's secrets for making perfect Pilau rice that will keep your husband happy – cover the rice in hot water for 5 minutes to let the starch come out and then rinse it 7 times more. This is the trick for rice where every grain is perfectly separate and not sticky.
After watching how some of the dishes were made, we moved outside and learned how to stuff the small peppers with the rice mixture and how to roll the vine leaves and filo pastry to make small dolmes, the length of a finger.  By now we were getting hungry and soon an array of dishes was laid out for us to try at lunch, all previously prepared by the cook to high Turkish standards. "I'm tired from doing all this cooking" joked one of the guests as we left off stuffing peppers and sat down to eat, " We worked so hard!"
After lunch we moved into the shady seating area where we had started with glasses of tea, this time to try some sweet, black Turkish coffee which is supposed to help your digestion. We also had a fun 'fortune-telling' session from reading the coffee grounds, which is a skill passed down to women from their grandmothers. Elif, our guide turned each cup upside down and interpreted the patterns and shapes she could see in the coffee grounds, "don't worry, we don't tell you the bad stuff", she joked. Of course I can't reveal all except to say that I am a patient person and everything good will come to me if I wait and don't lose heart!
After our enjoyable morning, learning all about Turkish food and customs, it was time to head back to the ship to relax before the next highlight of the day, our evening visit to Ephesus. Another reason I decided not to do the Ephesus tour in the heat of the day was because I knew that we were to be there for the AzAmazing evening that was included as part of the cruise. On every Azamara cruise, there is a special event like this for all the guests, designed to be a unique and memorable occasion that guests will be talking about long afterwards.
Ephesus is one of the highlights of coming to Kusadasi, and as guests of the cruise we arrived after closing time and had the place to ourselves. Our special concert wes held in the stone amphitheatre of the Odean, sitting on the ancient stones although luckily cushions were provided.
Ephesus was built in the 10th century BC and was a thriving commercial city in ancient times, where St John the Evangelist and St Paul preached and where Mary, the mother of Jesus lived at the end of her life. Although we could not walk around the whole site, we could see the two storey library down below us as the sun set behind the hill.
With cocktails in hand we settled down to listen to the Camera Izmir Orchestra with a guest harpist performing Handel's harp concerto, then well known pieces by Bach and Mozart finishing with an entertaining Brahms Hungarian Dance that reminded me of those gypsy violinists I had seen in Budapest.
Listening to the music in the warm night air in such a special setting was truly magical and we felt that the promise of an AzAmazing evening had been fulfilled. As we returned to the ship, we could see families strolling along the seafront promenade and enjoying dinners in the restaurants around the marina. Soon Azamara Journey was sailing away and the coloured lights of Kusadasi were left behind as we headed for Istanbul.
About Azamara Club Cruises
Azamara Club Cruises is a small luxury cruise line with two ships; Azamara Journey that Heather and Guy sailed on and Azamara Quest, each with a capacity of 686 guests. The smaller ship size means you often visit destinations that larger ships can't get into and the ships can dock in more central locations. The emphasis is on destination immersion; enjoying the destination to the full, arriving early and sailing late so that guests can enjoy nights and cool places ashore, with insider access programmes and a unique AzAmazing evening included in each cruise. No itinerary is the repeated and each year the ships visit different destinations around the world. Azamara is part of Royal Caribbean Cruise group. Visit the Azamara Club Cruises website more information about a Mediterranean luxury cruise like the one Heather and Guy enjoyed.
You can also connect with Azamara Club Cruises on Social Media via:
Azamara blog | Twitter | Facebook | Instagram | Google+ | Pinterest | YouTube | Flickr
Joining your Azamara Club Cruise
Heather and Guy flew from London Heathrow to Athens and back from Istanbul using British Airways, although obviously each cruise is different in the best way to get there.
Heather used the Meet and Greet Parking Service booked through Airport Parking and Hotels (APH) who offer airport parking at a range of airports across the UK as well as travel extras such as airport lounge booking and airport hotel stays.
Both flights and transfers from the airport to your cruise ship can be arranged through Azamara Cruises
Thanks to Azamara Club Cruises who hosted Heather and Guy for their 7 day Greek Island Cruise and to Airport Parking and Hotels (APH) who provided their airport parking at Heathrow.
Read More about our Azamara Greece and Turkey Cruise
Sailing into Santorini – Day 1 of our Azamara Greek Island Cruise
Windy Mykonos – Day 2 of our Azamara Greek Island Cruise
Charming Patmos – Day 3 of our Azamara Greek Island Cruise
Istanbul the golden – final stop on our Azamara Greece and Turkey Cruise
Pin It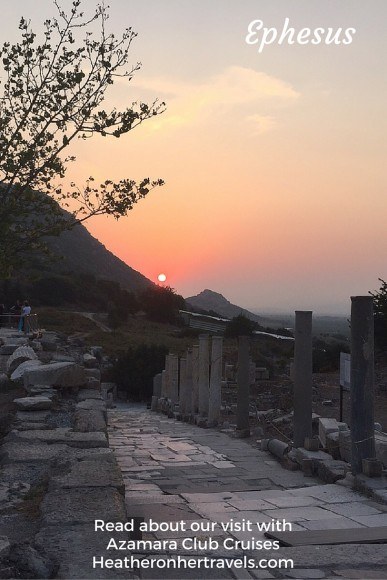 This article is originally published at Heatheronhertravels.com – Read the original article here
You'll also find our sister blog with tips on how to build a successful travel blog at My Blogging Journey
"We all have a little monkey in us from way back", jokes Hervé Chayrou, the owner and our instructor at Hornpark, a treetop adventure playground with 8 aerial courses and 14 zip wires over a lake. We're gathered at a social get together on the first evening of Alpine Sports Week in the Wilder Kaiser valley of Austria, hearing about all the outdoor activities on offer including high wire climbing, mountain-biking and canyoning.
But I'm not quite sure whether I will re-discover my "Little Monkey" on the Hornpark high wire course. I've heard of similar treetop courses like Go Ape in the UK where my kids might go for an adventurous birthday party. Normally my happy place is an Alpine hiking trail, preferably with blue skies and brilliant sunshine and a mountain hut where I can order a cold beer and admire the view. I may have walked the Tour de Mont Blanc and tried a Via Ferrata, but the high wire course is definitely stretching my climbing abilities.
I hope you enjoy my video below about the Alpine Sports in Wilder Kaiser, Austria
If you can't see the video above of the Alpine Sports in Wilder Kaiser, Austria, see it on my blog here or Youtube here and please do subscribe using the button above
Click here for direct download of video
Subscribe to all my videos in I-tunes
In the cosy hut we are fitted out with helmets and climbing harnesses and the instructor checks that they are tightly fitted. Not the most flattering or comfortable of rigouts with the loops tight around your thighs and the waistband cutting in above your hips.
Next comes the most important part – the safety training. Since we are going to be high up in the treetops performing daring climbing manoevres, it's good to know that the cables, ropes and carabiners are there to save you if you fall. But at the end of the day it's also down to how well you follow the safety procedures and golden rules of climbing.
Rule number 1 – there are always 2 separate carabiners (metal clips) and they clip to the safety wire in opposite directions so you can never accidentally unclip them both at once.
Rule number 2 – as you clip and unclip the carabiner, you always keep one hand on the safety wire.
Rule number 3 – the carabiners are colour coded red-to-red and green-to-green and match the place where you clip them, either onto a safety wire or onto the metal slider you use when on the flying fox.
With these and a few other golden safety rules swimming around my head we practice on the ground with the instructor to get the hang of what we will soon be trying high in the treetops.
We move on to the beginner course which doesn't seem too tough. The gaps from tree to tree are quite short and the platforms not far off the ground. There are a few wobbly moments, but confidence is high. Then I realise that this course is just so the instructors can check we are doing it correctly. Just a warmup really!
Moving onto the green beginner level rope course feels a bit different. Suddenly I have to reach a little further, bend and twist my knees awkwardly and use tummy muscles I didn't know I had. Just to get up to the first platform I have to scale a climbing wall which only reveals how my weak my arm muscles really are.
Crossing the tightrope wires isn't too stressful so long as I focus on every step. In between I inch carefully around the small wooden platfrorm, carefully clipping and unclipping the carabiners as I've been taught. The most tricky bit is crossing the wooden poles that swing from chains. My knees shake as I attempt to step from one unstable pole to the next. Where I have two choices, I decide against the skateboard which zips across the gap and step gingerly across some wooden blocks instead.
After the first green course I move onto the intermediate blue course and this time it all feels a lot more dodgy. The climbing wall at the beginning reminds me that I should really get back to the gym and build up my upper body strength which is frankly pathetic. I try the zipwire and manage to end up lower than the platform with my legs waving like a spider. After a few minutes dangling there, I in-elegantly maneouvre my legs up onto the platform and haul myself up like a sack of potatoes.
Once back on the ground I watch another member of the group who has dared to try the much harder red course. I can barely watch as he eventually makes it across the wooden poles swinging in a zig zag pattern and finally gets down sweating with fear and exertion.
The best bit of the day is at the end when we try the longer 'flying fox' zip-wires that criss-cross the lake, having built up our confidence and trust in the equipment. Earlier I watched, as one girl dangled just short of the platform and had to be winched down by an instructor. Thankfully I fly across the lake and just make it onto the wooden platform although there is still a bit of hauling up to be done on the rope. I find that each zipwire is actually a series of zipwires which takes you in stages, gradually down to ground level.
The final zip-wire starts high just by the cable car station and ends in the treetops the other side. By now I feel like an old hand – this could get addictive! I'm tempted to have just one more go on the zip wire but realise I should know my limits.
How do I sum up the day on the high wire? Scary but exhilarating and if here's a little monkey in all of us, I think I found mine today!
Read about my day of Mountain-biking in Wilder Kaiser
Read more articles about Alpine Sports in Wilder Kaiser
Bemused Backpacker – Experiencing the Wilder Kaiser Alpine Sports Week in Austria
Scarlett London – Wilder Kaiser region in Austria
Daniellicacy – Wilder Kaiser, Austria
Emtalks – Exploring Austria – the Wilder Kaiser Region, Tirol
Borders of Adventure – Climbing in Austria – alternative views in Tirol of the Kitzbuheler Alps
Want to try Alpine Sports Week yourself?
Heather tried out her outdoor activities as part of Alpine Sports Week in Wilder Kaiser. This special week long event allows you to try out 6 different mountain sports over 6 days under the guidance of expert instructors at a special price of €99 (normally €358). In addition to the high rope course and mountain-biking that Heather tried you can go canyoning, trail running and do a Via Ferrata. Sign up here for more information.
All of these activities are also available throughout the summer to try as you like. In addition the region is a paradise for hikers with many day walks as well as multi-day hut-to-hut walks of 3 to 5 days in length.
You can spend a day on the high wire like the one Heather tried at Hornpark in St Johann in Tirol, Austria for €29 per day (adults) including lift pass and all equipment and safety instruction – check their website and Facebook page.
For more information on things to do in Wilder Kaiser visit the Wilder Kaiser tourism website and their social media channels on their Blog | Twitter | Facebook | Instagram | Google+. More information about things to do in the Tirol region of Austria on the Tirol tourism website.
How to get to Wilder Kaiser
Heather flew from Bristol to Munich with BMI Regional who fly 12 times each week on this route, so you often have a choice of 2 flights per day. The ticket includes 20kg checked baggage and full at-seat in-flight bar and snack service at no extra charge.
Transfers from Munich to Wilder Kaiser take around 1.5 hours and can be arranged through Four Seasons Travel who have a desk at the airport. Alternatively Innsbruck airport is around 1 hour drive from Wilder Kaiser.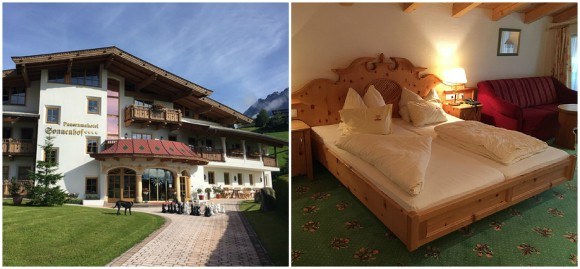 Where to stay in Wilder Kaiser
Heather stayed at the comfortable, family run Vitel and Panorama Hotel Sonnenhof in Going. This four star hotel is furnished traditionally with plenty of Tyrolean wood and has a spa and indoor swimming pool. I enjoyed the hearty breakfast spread with a full selection of muesli, fruit, nutty German breads and freshly cooked omlettes as well as fresh juices, honeycomb and anything else you would wish for. Check prices and book your stay here.
Pin It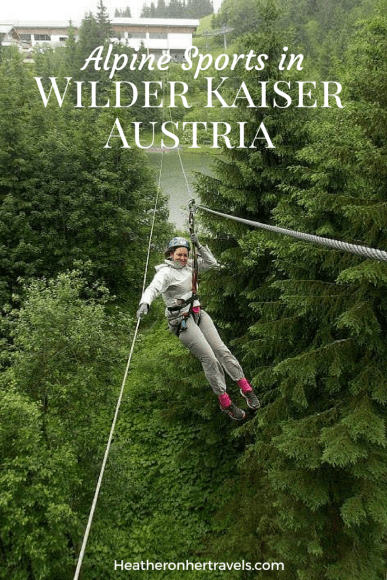 Thanks to Wilder Kaiser Tourist Board who hosted Heather's stay and provided the experiences mentioned and to BMI regional who provided Heather's flight to Munich.
You'll also find our sister blog with tips on how to build a successful travel blog at My Blogging Journey