I'd always enjoyed my holidays in Austria, but on my Danube river cruise with Avalon Waterways, I think I fell in love with Vienna most of all. I was seduced by the rich architecture and culture of Austria's capital, for centuries the heart of the Habsburg empire. I lingered in the elegant Viennese coffee shops and browsed the vibrant markets selling everything from flowers to found-in-the-attic antiques.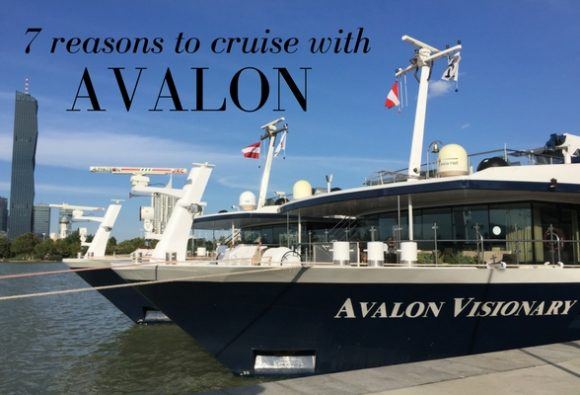 Our river cruise continued on the Danube with stops at the pretty villages of Durnstein and Grein with its 18th century theatre and castle on the hill. At Melk we visited the magnificent baroque abbey, before ending our mini-cruise at Linz, Austria's former European city of culture. There was plenty to discover in the scenery and places we visited, but the experience of being on board Avalon Visionary was also most enjoyable.
Since many different river cruise companies offer a similar Danube itinerary, here are some of the reasons you might consider booking your Danube Cruise with Avalon Waterways.
1. Spacious staterooms with river views
I enjoyed staying in a comfortable Panorama Suite with floor to ceiling windows which slid right back to create an open air balcony with my own private river view. Sometimes at more popular destinations there would be another boat moored side by side which meant the view was into someone else's cabin, in which case you needed to remember to shut your curtains before changing for dinner!
I loved the early morning views most, when the boat had been travelling overnight and I would wake to see the sun burning off the river mist and pretty houses passing by, before we arrived and moored up in time for breakfast. The mattress was super comfortable and was arranged so that you could lie in bed looking out of the window, or sit on the small sofa with a drink on the table to watch the world drift by.
My stateroom was decorated in a burned orange scheme with dark wood furniture and plenty of mirrors over the desk and inside the wardrobe. The decor was quite masculine and although burned orange is not my favourite colour I thought the overall effect was modern and sophisticated. I loved my bathroom with a mottled brown marble surface and large bottles of all my favourite l'Occitane toiletries. The shower enclosure was spacious, with a powerful shower that was a pleasure to use. There were thoughtful touches such as different coloured towels so that you would not get them mixed up with your partner and everything was kept beautifully clean by the cheerful housekeeping staff.
2. Eat local on your cruise
One thing that makes my heart sink, is seeing a menu that is so international that you wouldn't know which country you are in. Not so on an Avalon cruise where they take a lot of care to design menus that reflect the local cuisine, although of course there are a choice of dishes to suit all tastes. Being in Austria we could have a Weiner Schnitzel and Spätzle at lunch and I tried a desert of Kaiserschmarrn which was made of sweet pancakes with a compote of local plums. In the wine choices at dinner there were also local wines and I chose a delicious white Grüner Veltliner Domäne Wachau, from the Wachau Valley that we were passing through.
Avalon are taking the concept of 'Eat Local' a step further, as they introduce their Avalon Fresh concept with an emphasis on healthy cuisine that both reflects and gives back to the local communities. The company sources from local food suppliers where possible, to ensure the freshest of ingredients. To develop the healthy options on the menu, Avalon have been working with Austrian chefs Leo and Karl Wrenkh, whose cookery school we visited, to develop a choice of vegetarian dishes.
At the cookery school we had great fun cooking a range of simple but delicious dishes with head chef Leo Wrenkh including fish and meat dishes, although the Wenkh brothers are known for their inventive vegetarian cuisine. We chopped the veggies, sizzled the steak, pan fried the fish and lemon slices, sprinkled the herbs, stirred the risotto tirelessly and were finally rewarded as we sat down to lunch with all the different dishes to share. The food was so tasty and we were all happy to take the credit for our our efforts, albeit with Leo's expert guiding hand.
3. Getting Active, Feeling healthy
These days many travellers are looking to maintain a healthy lifestyle balance while on holiday, rather than ending their cruise feeling like a stuffed turkey. On my Danube cruise I was able to try some of the new Active Discovery excursions such as canoeing and cycling which were great fun and a good way to bond with other guests. Cycling in a group, we took the path by the river which curved through pretty villages and vineyards, until the impressive monastery at Melk came into view. After cycling the 30km from Durnstein to Melk I was really looking forward to my dinner that evening and felt I deserved every mouthful!
I also tried a canoe excursion from Durnstein where we were taken up river and then could canoe back to the ship, taking in the beautiful river views of the castle on the cliff and the picturesque village. Any fears of getting wet in an unstable canoe were dispelled as the two canoes were put together with boards, to create a stable arrangement that could take six people, so we could all chat and have fun together.
Our canoe guide accompanied us on a paddleboard and took us to a viewpoint opposite Durnstein to enjoy the views from the opposite bank. There is a small gym on board the ship but personally I prefer to incorporate my exercise into the trip through activities such as walking and cycling, that allow me to see more of the place I'm visiting.
4. Experiences that give a sense of place
One of the joys of river cruising is that you get so much opportunity to see new places and discover their stories. Unlike sea cruises where there is plenty of entertainment to keep you busy on board, on a river cruise the entertainment is found in the places you visit.
Travel experiences that allow you to meet the locals and uncover their customs and traditions are very popular and Avalon is increasingly offering excursions that go beyond the typical walking tour. One of my favourites was a bread making class in which we became bakers for the morning, mixing the dough, allowing it to rest (time for a cup of coffee!), then plaiting and pinching into the traditional Viennese rolls sprinkled with poppy and pumpkin seeds.
The rolls were baked and we proudly bore them back to the ship where they were served to fellow guests for lunch. Other guests on my cruise came back having tried their hand at conducting an orchestra (move over Vienna Philharmonic) and even learned to waltz in the lovely Eschenbach Palace in Vienna where we later enjoyed a concert with opera, ballet and the music of Strauss and Mozart.
5. A relaxed and friendly atmosphere on board
There was a lovely atmosphere on board which started with the helpful and good humoured attitude of the staff. Among the guests there was also a happy holiday mood with plenty of opportunity to make new friends and chat to other guests about the day's activities. As on other river cruises, the dress code is relaxed and although most guests dressed up a little for dinner, there's no need to pack your evening gown or tuxedo.
In the dining room there was a free seating arrangement which meant that you could sit at a table with whoever you wished at each meal. At different meals you might sit with your own friends or with other guests who soon became your new best friends. The excursions were also a good way of meeting people as we bonded over the dough kneading in a bread making class or shared a canoe to paddle down the Danube.
6. More is included in the price
When booking any cruise, one thing you need to check is what's included in the price you pay, since the extras can really add up. That's fine if you know in advance and have budgeted for it, but not so great when you find yourself stung for unexpected costs.
With Avalon you get a lot included in the price and could probably get away with paying hardly anything above the holiday price if you wanted to. Here's what's included;
Some excursions, such as a guided tour of the places you visit which will be tailored to your activity level with an active group and a gentle walker's group. Some more active excursions may also be included.
Excellent quality wines, beers and soft drinks at dinner and soft drinks at lunch. I was pleased to find that from 2017 wine and beer will also be complimentary at lunch as I think for many guests a glass of wine with their lunch is part of the enjoyment of being on holiday.
Return flights and airport transfers to take you to and from the ship
A privately chauffeured transfer service to take you to and from the airport within a 100 mile radius.
Wifi, which as a blogger was most welcome and I found was pretty fast. Even if you're not travelling with a laptop like me, many travellers these days use tablets and mobiles to browse the internet and keep in touch with loved ones when they travel.
On board gratuities. I personally prefer this approach as we British can get a bit anxious about when and how much to tip and find it more relaxing knowing that it's been taken care of and is included in the price.
So what extras will you need to budget for?
Some specialist excursions, for instance a cookery class or cycling excursion.
Drinks from the bar before or after dinner.
Laundry services if required as there are no self-service laundry or ironing facilities on board.
There was a hairdresser on board where you can also have a manicure.
That's not a huge amount of extras and depending on how you like to spend your cruise, you could get away without spending much above the holiday price. The item that would probably add most to your bill are the special excursions and to give you an idea of the cost, on my cruise these ranged from around €50-60 per person for a half day or around €70 for a full day excursion.
7. A door to door service
As part of the Avalon Service you get picked up from home (within a 100 mile radius) and transported to and from the airport, which really means the holiday starts when you step out of your front door. As my return flight from Salzburg arrived in the evening it was a real treat to know that I would be met at the airport and taken back to Bristol, so that I could get back the same evening, rather than worrying about public transport or staying somewhere overnight. For me this meant I could also be at my desk the following day as normal and not lose a working day. The service is individual to you, so you won't have to share with other passengers or be delayed while they are dropped off.
So as you see there are plenty of things to recommend an Avalon river cruise and the Danube cruise is a great choice if you are new to river cruising, since there are so many beautiful places to visit along the river. Most of the guests on board my Danube cruise were couples and groups of friends aged 50+ with quite a few around their 70s and the cruise caters well for the active mature traveller. An Avalon river cruise will appeal to those who want to travel in comfort and luxury, enjoying a rich cultural experience with plenty of opportunities to stay active on their holiday.
Read about more River cruise experiences
12 Culinary highlights on our Burgundy and Provence Cruise
All aboard the Amadeus Princess – what to expect on your river cruise
Tasting the wines of Burgundy on a Uniworld Cruise
Information to plan your cruise
The Avalon Waterways 9 day 'Active Discovery on the Danube' cruise from Linz to Budapest (and reverse itinerary) is priced from £2483 per person to include a selection of activities (based on 16 October 2017 departure). Cruise highlights include Linz, Grein, Durnstein, Krems, Vienna, Bratislava, Visegard and Budapest. Discover more on the Avalon Waterways website.
If you require a hotel in Austria at the start or end of your cruise check out my Hotel Booking Page powered by Hotels Combined. If you require any airport parking services, I recommend APH Airport Parking and Hotels, a leading UK provider of airport parking, hotels and airport lounges.
For more information to plan a holiday in Austria, visit the Austria Tourism website
Thanks to Avalon Waterways who hosted Heather for a 4 day taste of the Danube cruise from Austria to Linz.
Note: Some of the links above may be affiliate links, enabling me to earn a small commission at no extra cost to you – thanks for your support!
Pin It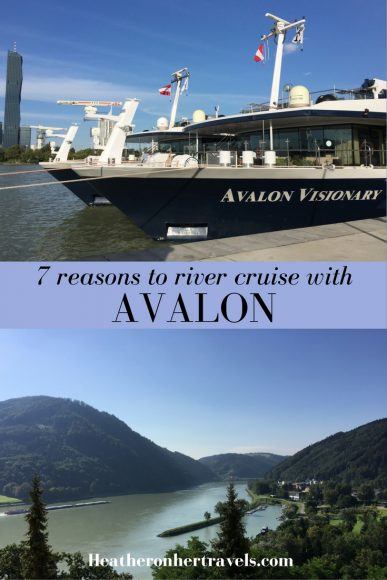 This article is originally published at Heatheronhertravels.com – Read the original article here
August 11, 2016 by Heather Cowper
Filed under Art and design, Bristol and Bath, Eating and drinking, featured, Leisure, Museums, Sightseeing, Street art, United Kingdom, Walking
On a sunny afternoon in Bristol the harbourside is buzzing. Locals with an after-work pint in their hand spill out onto cafe terraces or soak up the sunshine with their legs dangling over the harbour wall. At the weekend families gravitate to the harbour, dipping into the free museums and galleries or watching the boats on the water, while the creative types hang out over brunch in one of the numerous cool cafes.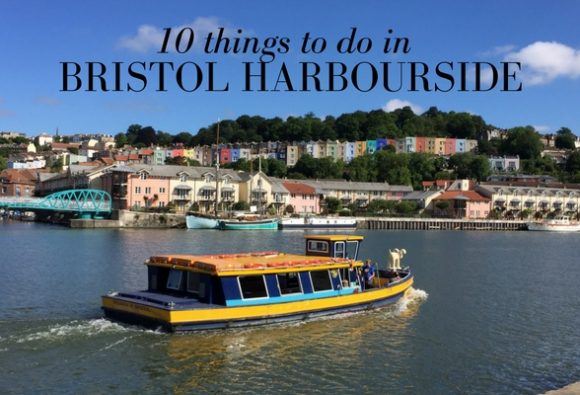 Once the heart of Bristol's industry and commerce, the harbour has been reinvented as the city's playground. As a local of Bristol for over 20 years I'm here to take you on a walk around the Bristol's harbourside to share some of the cool places that I enjoy. So let's start at….
1. Millennium Square
Built in 2000 to celebrate the turn of the century, Millennium Square is a place to hang out, bring the kids for a picnic, watch sporting events on the big screen or move on to one of the many bars nearby for a drink with friends. The veg beds run by Edible Bristol are full of lavender, herbs, yellow sunflowers and a few miniature apple trees. Take a seat next to statues of Bristol's literary figures like Thomas Chatterton and William Tyndall, not to mention Archibald Leach a.k.a the suave Hollywood star, Cary Grant who was born here.
Mobile getting a bit low? No problem! The energy tree has small solar panels at the end of its branches and there are USB points where you can plug in and recharge. On the other side of the square is a water fountain for you can fill up your bottle – all part of the initiatives that went into making Bristol a European Green Capital. Possibly the best loved spots in Millennium Square are the water features – shallow pools where children splash, pillars with water rippling down them and pools where it spills over the rim. On a sunny day they provide hours of good clean fun that won't cost you a penny.
Where to Stay? For a modern base in the city with 24 hr reception check out Ibis Bristol Centre which is right on the square or for classic luxury, the Bristol Marriott Royal Hotel is just a few minutes walk away on College Green.
And if you're in Millennium Square with the family, why not pop into…
2. At Bristol Science Centre
This hands-on science centre is great for kids and teenagers, with handles to turn, buttons to press, things to build and something to see, smell, touch wherever you turn. On the ground floor it's all about us and our bodies – test how high you can jump or fit your body's organs into the body like a jigsaw puzzle. On the other side of the room you can turn the Heath-Robinson style water wheel or make a miniature parachute fly. There's a whole area devoted to food and where it comes from – you can compare what a sumo wrestler and a farmer in the Andes eat for breakfast.
Upstairs a big section is all about animation, based on the Wallace and Gromit films created in the city by Aardman Animations. You can also blow giant bubbles and find out how astronauts wash in space, which leads us neatly into the shows in the Planetarium – that's the big silver ball that you see outside in the square. Check out the At Bristol Website
From Millennium Square we'll cross Pero's bridge, with horn like weights that balance the bridge when it occasionally opens to let the large ships pass through. It's named after the Pero, the slave servant of 18th century Bristol merchant John Pinney, who built a home just off Park Street that's now open as the Georgian House.
Just before the bridge there's a covered arcade of bars and restaurants where you'll find the tourist information centre. Next door the Watershed Arts centre has an upstairs cafe that overlooks the water and is popular with creative entrepreneurs who hold informal meetings across their open Macbooks.
On the other side of Pero's Bridge is a favourite place to catch the evening sun, sitting on the harbour wall with a drink in your hand. Bring your own or buy your drinks from The Grain House run by the YHA or the Arnolfini bar.
Where to Stay: The Bristol started life as a motel and is actually a listed building for the 1960s concrete facade but inside the rooms are stylish and welcoming with fab harbour views. Those on a budget should check out the YHA Bristol with shared dorms and private rooms – you can't get a better location for the price.
Once on this side of the harbour it's worth a stop at…
3. Arnolfini Arts Centre
The Arnolfini is one of my favourite contemporary art centres, housed in one of the old stone warehouses and because it's free I always like to pop in and see what's going on. Once I saw a group of dancers twisting silently with only those wearing headphones hearing the music they were dancing to. Another time I hopped from one upturned log to another around a room filled with just a few inches of water. The ever changing exhibitions always provoke and question, but don't expect to find pretty pictures in here. I often pop up to the second floor just for the pleasure of looking back down across the whole harbour at the window by the loos.
Out on the quayside sits John Cabot or Giovanni Caboto, a Genoese explorer who has given his name to a number of parks, towers and shopping centres across the city. In 1497 he sailed from Bristol in The Matthew, a surprisingly small ship to cross the Atlantic all the way to Newfoundland. The replica of the original ship now sits on the other side of the harbour – more of that later.
If you're inclined you could turn left after the footbridge for a quick detour to Bathhurst Basin where there's a small marina. It's mainly a residential area but The Ostrich Inn, once a haunt of sailors and slave merchants, is a fine place to sit outside with a drink on a sunny day. The Michelin star restaurant Casamia recently moved here with the same team opening Pi shop next door serving gourmet pizza overlooking the water.
Where to Stay: The Mercure Holland House is a convenient 5 minute walk from this end of the harbour close to St Mary Redcliffe church, with modern rooms, an indoor pool and is well placed for Bristol Temple Mead.
Retracing your steps, our next recommended stop is the free museum at …
4. M-Shed
I have memories of when this old warehouse in Bristol's docks was the Industrial Museum and once attended an amazing play about the life and times of the harbour where the doors onto the quayside revealed a banana boat which formed part of the performance.
Now M-shed is a fantastic free museum that shows off the varied, vibrant and multicultural life of Bristol through exhibits on the ground and first floor and special exhibitions on the second floor. The ground floor covers life in Bristol, our diverse neighbourhoods, transport and a taste of Bristol during the blitz. The vintage double decker bus is always popular with families climbing on board and if everyone seems to be gazing at the floor it's because they are trying to find their own house on the street map of Bristol.
Upstairs on the first floor it's all about the people of Bristol and the commerce of the city. See the metal tables or 'nails' where merchants did their business, leading the expression 'Pay on the Nail' and learn about Bristol's slave trade on which the wealth of the city was built.
One of my favourite views is from the second floor balcony where you look out across the harbour and get a birds eye view of the cranes that are part of the museum's industrial heritage. Sometimes you'll hear them speak out and tell their story.
A little further along the quayside, you'll find another part of Bristol's history in …
5. The Matthew
I mentioned earlier about John Cabot, who Bristolians like to claim as their own but who was actually from Genoa and sailed to Newfoundland in his ship The Matthew. Sadly the original Matthew is no longer around, but a replica was made in 1997 to sail across to Newfoundland and mark the 500th anniversary of the original voyage. The ship is now based in Bristol harbour and if you see her moored close to M-Shed you can generally go on board and have a look around.
It's difficult to believe that a ship this small would have made it across the Atlantic – the life of a sailor in those days was certainly a pretty perilous and uncomfortable existence!  It's free to go on board for a look around and they also run regular 1 hr sailings around the harbour as well as special fish & chips or afternoon tea trips. Check the Matthew website for upcoming events.
By now you may be ready for a stop at one of the many …
6. Cool coffee shops
Bristol Harbour abounds with places to stop for a coffee, snack, after work drink or delicious meal and there are plenty of independents that you won't find on every high street. I've made a bit of a list below of all my favourites so that you can find a great place to stop wherever you are in your walk around the harbour. In the spirit of full disclosure I haven't necessarily eaten at all of these but have selected those I would happily try based on their style, menu and reputation.
Around Millenium Square
The area immediately around the square is mostly the province of chain restaurants which are popular with the after work crowd for a beer and bite to eat. These are larger establishments and you'll often find happy hour or other offers, so best to walk around and see what catches your fancy. I also like the upstairs cafe at The Watershed for lunchtime or early evening meetings as they serve tasty, healthy food and you won't feel self-consious getting out your laptop, plus there's a great view over the water.
Around Anolfini and M-shed
Arnolfini Cafe – The cafe for the free contemporary art gallery that I already mentioned serves coffee, cakes and sandwiches, salads and charcuterie platters. They have a section of tables by the water if you want to eat outside or grab an after work drink. Open 10am – 8pm
Mud Dock Cafe – I haven't been here for a while but it's best known for the cycle shop on the ground floor and roof terrace above that overlooks the harbour. It's always packed on a sunny day, serving coffee, brunch, tapas from 10am-6pm then dinner until 10pm.
The Ostrich Inn – A taste of the old Bristol of sailors and pirates who frequented the inn in the 18th Century. Inside it's traditionally atmospheric although the seating space isn't huge, but comes into its own in the summer where there is loads of outdoor seating overlooking the water.
Pi Shop – The Michelin star Casamia restaurant recently moved to the new General development beside The Ostrich Inn, and they've also opened Pi Shop next door. Run by the same team it serves sourdough pizza made in a wood fired oven and home-made ice cream with a casual 'Napoli meets Bristol' feel and some outdoor tables overlooking the water.
From M-Shed to SS Great Britain
Just behind M-Shed is Wapping Wharf, which as I write is nearing completion with many of the restaurants now open. Once it's all complete there will be even more food vendors operating out of shipping containers in the Cargo complex, but to tell you about what's there already…
Pizzarova * – serving take-away pizza freshly made in their wood-fired oven in the shipping crate which you can eat on the tables outside or on the wooden benches just opposite beside M-Shed. I tried one of their pizzas which was good value, tasty and I liked their easy going approach of letting your choose whatever combination of toppings and the price is the same.
Wild Beer – If you're looking for an after work or any time beer, the freshly opened Wild Beer offers around 20 draught beers from their own Somerset brewery among others, together with a connoisseur's version of fish and chips.
Mokoko Bakery and Cafe * – serving an delicious selection of cakes and pastries with a few quiches to order with colourful salads. You can eat them inside, on the outdoor tables or buy to take away with an excellent coffee.
Better Food – It's local, organic and ethical at Better Food which is half an enticing grocery store and half a cafe selling organic lunches, fresh juices and teas and coffees. In this and their other Bristol stores they stock local producers and artisans, to support a 'shop local' philosophy.
Brunel's Buttery – a short walk along from Wapping Wharf is Brunel's Buttery, the die-hard Bristolian's favourite, serving steaming mugs of tea, bacon butties and cones of chips from a small brick kiosk halfway between M-Shed and SS Great Britain. All the seating is outside and the seagulls will swoop down for anything you don't finish.
Around Underfall Yard
The Cottage Inn – a local's favourite on Baltic Wharf, this Victorian stone pub has an outdoor terrace by the water for a pint of local ale on a sunny evening accompanied by some classic pub grub.
Pickle Cafe at Underfall Yard * – One of my 'new' discoveries this small cafe is inside the Underfall Yard visitor centre and offers stylish breakfast specials and sandwiches, with a tempting selection of cakes and excellent coffee. There are a few tables inside but it's mainly one to sit outside on a sunny day right beside the harbour.
Between Underfall Yard to Millennium Square
Spoke & Stringer *- Right opposite SS Great Britain (you can get the ferry across) this is possibly my favourite harbourside cafe. It's connected to the shop next door selling lifestyle surf and bike gear, with a couple of Harley Davidson's parked outside and a thriving Instagram account to hammer home the style credentials. The food (brunch dishes by day, pintxos by night) is both delicious and beautiful and it's fun to be inside or outside – but outside is a real suntrap and you get the view of the SS Great Britain and harbour.
* The ones marked with a star are my personal tried and tested favourites
Now you're fully refreshed, we'll walk along the harbour to reach Bristol award winning harbourside attraction…
7. SS Great Britain
I love the stories behind the SS Great Britain. Launched in 1843 as the first iron steam ship it was designed by the great Victorian engineer Isambard Kingdom Brunel, the man behind the Clifton Suspension Bridge and Temple Mead Station. The ship ended its days as a rusty hull in the Faulkland Islands and was brought back to Bristol in 1970 to start a lengthy restoration process on the journey to becoming the splendid visitor attraction, with all flags flying, that you see today.
If you start your tour below the water covered glass that surrounds the ship you can see the hull below the waterline and pass through the museum with plenty of interactive exhibits explaining the maritime history surrounding the ship. Once on board you'll find out what life was like for the different classes of passengers who sailed in her. While the first class passengers enjoyed elegant dining, you'll also see the cramped bunks in steerage that would have reeked of stale ale and sweaty laundry. The sights, sounds and even smells of life on board have been recreated, right down to the rats running around (luckily enclosed) and the cow on deck to provide fresh milk.
For the daring there's the chance to Go Aloft in the ship's latest activity where you climb up the rigging to the crow's nest and then inch your way along the yard-arm – rather you than me! For more information check the SS Great Britain Website.
From here you can easily take a detour to Spike Island creative hub which provides a work and exhibition space for artists and small creative businesses. They often have exhibitions and the Spike Cafe serves organic dishes and drinks.
And there's a Banksy too! It's not so easy to find if you didn't know it was there, but if you find your way to the streets at the back of SS Great Britain, you'll find it off Hanover Place close to The Orchard Inn, painted on the back of the Dockside Studios. It's actually marked on Google Maps. Search for Banksy's 'The Girl with the Pierced Eardrum'.
From here walk along the harbour-side path until you reach the end of the harbour and …
8. Underfall yard
The pumping station for the Bristol floating harbour is another authentic part of the city's industrial heritage that has recently been restored to make a fascinating visitor attraction. It's a working shipyard where beautiful wooden boats are brought to be work on – take a peep into the door of the big shed to see the hull of a ship taking shape.
The new visitor centre which is staffed with enthusiastic volunteers has a room sized map table of the harbour and hands on activities that show the engineering that went into keeping the harbour free of silt, so ships could enter and Bristol's trade continue uninterrupted. Ask to have a demonstration of the Human Accumulator where you and your friends are lifted slowly up to provide enough force to turn the sluice paddle. The visitor centre also houses the highly recommended Pickle Cafe for coffee, cakes and sexy sandwiches with names like Hot Chick and Killer Courgette. More information on the Underfall Yard website.
You've made it to this far to the end of the floating harbour, so you may like to walk a little further to the Create Centre which is mainly open on weekdays. The centre features events and exhibitions related to the environment including a purpose built eco home to give practical ideas for greener living.
If you don't fancy walking all the way back to Millennium Square you could take …
9. A Boat trip around Bristol Harbour
There are a few different options to get to around the harbour by water – it's the original and best way after all. Bristol Ferry Boats provides a regular service throughout the day around once an hour, taking visitors and commuters from City steps at one end of the harbour (just beyond Pero's bridge) to the Pump House at the other (by Underfall Yard). If you've just shlepped all the way along the route I've described and can't face the walk back then getting the ferry by Underfall Yard (Nova Scotia stop) will save your legs.
They also run public trips around the Avon Gorge or along the River Avon that will give you an enjoyable few hours on the water spotting wildlife or seeing the harbour's iron bridges and architectural features. Bristol Packet Boat trips run similar regular tours around the harbour and have a kiosk just beside SS Great Britain where you can see what's on and buy tickets for their next trip.
For a short ferry ride that crosses the harbour at a convenient point, hop on the 7 Boats ferry by SS Great Britain which takes you to the landing stage near Spoke and Stringer on the opposite side for 90p one way. No timetable – it just goes constantly back and forth so you'll never wait long for the next one.
If you've taken the short cut by ferry from SS Great Britain to the other side, it's not too far to walk back to Millennium Square, past a lovely reed bed which makes a habitat for ducks and other wildlife.
But if all this walking seemed a bit tame to you, perhaps you'd like to try…
10. An adventure out on the water
Stand up paddle boarding is the latest craze to reach Bristol harbour and you'll often see a few people paddling around the harbour. SUP Bristol run regular weekeday evening and Saturday sessions where you'll be shown how to paddle safely and spend a few hours having fun on the water.
If you'd rather try a canoe, The Adventurous Company offer guided trips around the harbour in an open Canadian style canoe that takes 2-3 people. Finally Cycle the City offer daily guided cycle tours around the harbour on a comfortable and stylish Pashley bicycle and also hire bikes (need to book in advance) from No 1 Harbourside which is by the Watershed and Tourist Information Centre.
So now we've made a circle around the harbour and are back where we started at Millennium Square. Of course it would be rash to suggest that you can do justice to all the places I've mentioned in one day. Instead I'd enjoy the walk and just stop at one or two that catch your imagination, fortifying yourself with a few coffee and lunch stops along the way. If you'd like to make a weekend of it and combine your day in the harbour with some of Bristol's other fine neighbourhoods, my recommendations for places to stay are below.
Where to stay around Bristol's Harbourside
I've mentioned all of these hotels in the article, but here they are again ranged from budget to luxury.
YHA Bristol – for budget travellers with shared dorms and private rooms – you can't get a better location for the price.
Ibis Bristol Centre – a modern base in the city with 24 hr reception check right on Millenium Square.
The Bristol – started life as a motel and is actually a listed building for the 1960s concrete facade but inside the rooms are stylish and welcoming with fab harbour views.
Mercure Holland House – close to St Mary Redcliffe church, with modern rooms, an indoor pool and well placed for Bristol Temple Mead station.
Bristol Marriott Royal Hotel – classic luxury, a few minutes from the harbour on College Green.
Visitor Information for Bristol
For more information on what to do in Bristol and what's on when you visit, check the Visit Bristol website
Pin It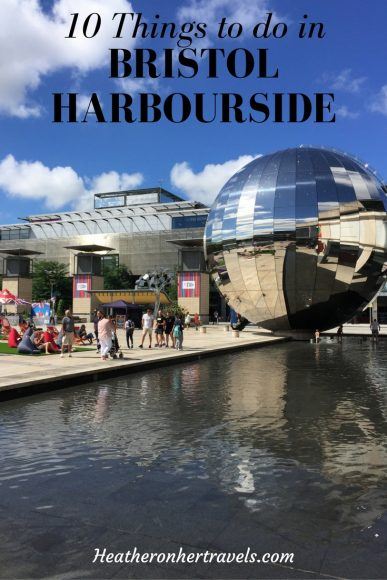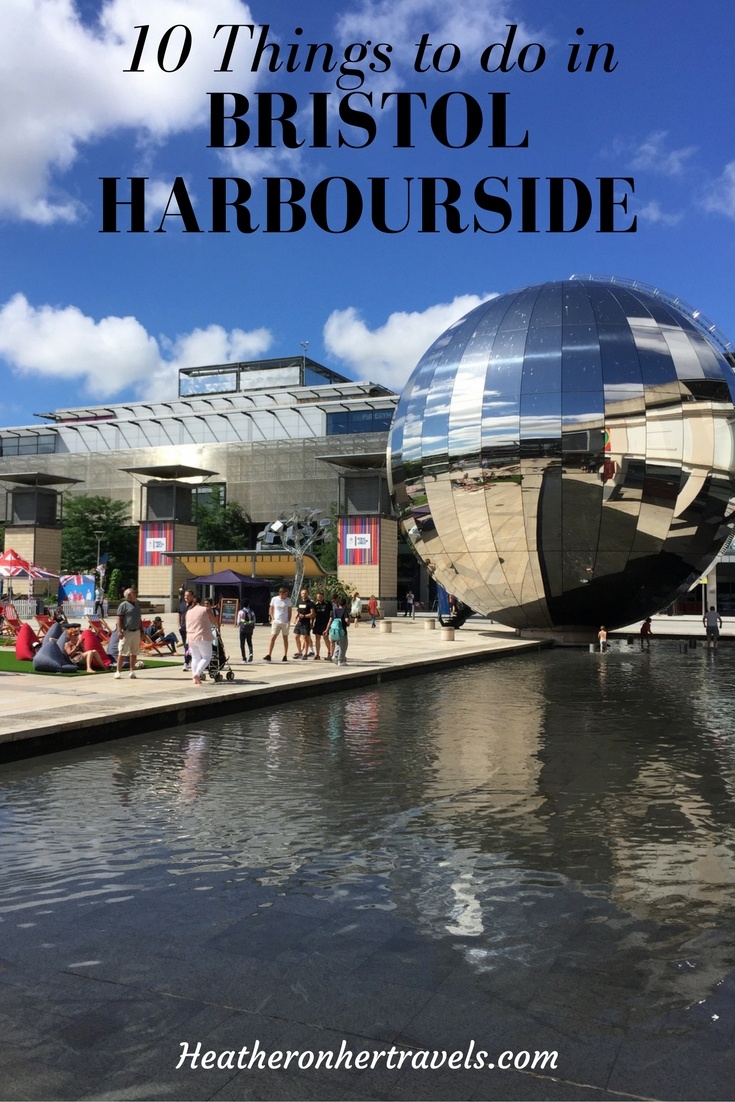 This article is originally published at Heatheronhertravels.com – Read the original article here
If you're planning a holiday in Canada that involves camping or staying in an RV, in one of Canada's scenic national parks, you might want some tips on what clothing will work best for your holiday. I don't know about you, but when I'm dressing for outdoor activities such as cycling, hiking and canoeing, I like to choose clothes that are comfortable and functional while keeping a sense of style.
I recently spent two weeks with my husband Guy touring the provinces of Ontario and Quebec in Canada, staying mainly on campgrounds and in nationals parks with our cosy RV from Cruise Canada – our home from home on the road. For the trip I teamed up with Columbia Sportswear who specialise in outdoor clothing, to try out some items from their range. Based on my experience of this trip, here's what you need to pack for a camping trip to Canada.
(For the Brits an RV is a Recreational Vehicle or large camper-van)
Quick drying trousers for evenings around the campfire
For hiking or evenings around the camp fire I recommend quick drying walking trousers like these Columbia Women's Silver Ridge Convertible Trousers. They feel like a lightweight cotton but are in fact made from a 100% nylon technical fabric that wicks away sweat, protects against UV rays and is quick drying when you get caught in a downpour. For outdoor activities like hiking or cycling it's better to avoid jeans or heavier cotton trousers that weigh you down and soak up moisture at the first sign of rain. Look for trousers that have a neat leg pocket to tuck in your guidebook, map or phone. I also like styles like this that have zip off legs, to make shorts, for maximum versatility. I know I'll get a lot of use from these walking trousers on future hiking trips.
Check out the Columbia range of walking trousers here
Sporty quick drying t-shirts
For outdoor activities I tried out this t-shirt from the Columbia range made of 100% Polyester fabric, designed to wick away sweat and keep me cool. Check out the Women's Zero Rules Short Sleeve shirt here. I found that this fabric was silky, comfortable and not at all sweaty – ideal for hiking and other activities around the Canadian national parks. As an added bonus this t-shirt was easy to wash by hand or machine, quick to dry and hardly creased at all. Just as well, since irons didn't seem to exist on the Canadian campgrounds!
I also packed a range of other short sleeve and sleeveless tops in fabrics that were less likely to crease. Although it's great in sunny weather to wear sleeveless vest tops to stay cool and get a nice tan, being Mrs Sensible I like to alternate them with tops that cover my shoulders to avoid sunburn. I'm looking forward to using this t-shirt on future hiking trips and for jogging at home.
Check out the Columbia range of short sleeve tops here
Sports shorts – go as short as you dare!
In the warm Canadian summer shorts are worn by all and from what I saw the Canadians like their shorts to be on the short side. In the bars and restaurants the waitress uniform seemed to be the skimpiest of shorts and even ladies of, ahem, a certain age and size seemed to favour very short shorts. No need here for modesty then and you can save your longer bermuda shorts for city sightseeing.
I was able to double up with my quick dry walking trousers from Columbia which had a zip off leg, allowing me to convert long trousers into shorts depending on the weather. The quick dry fabric made them cool and easily washable so ideal for activities like cycling or hiking. If you are a lover of short shorts don't forget your sun screen even if you want to get a golden tan on your holiday in Canada.
Check out the range of Columbia trousers and shorts here
Trail shoes for hiking in the Canadian parks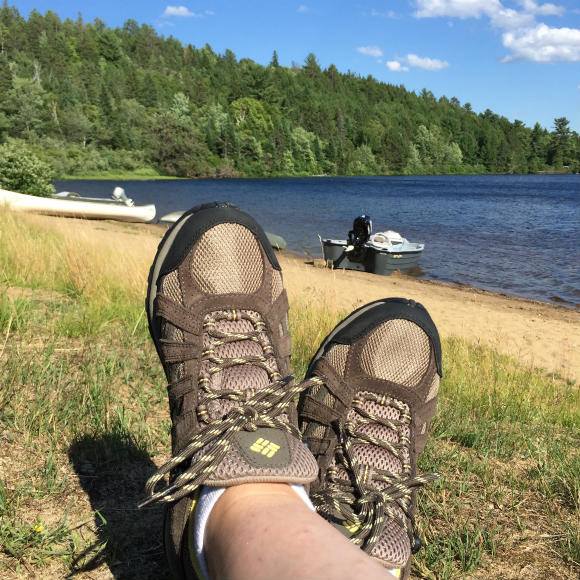 Although I have some excellent hiking boots (read my article here), for this trip I was looking for a hybrid trail shoe which is a cross between a trainer and a boot. My reasoning was that I wanted to have a supportive shoe for hiking in Canada's national parks but that I wasn't planning to do any hardcore hiking for hours and days on end. I needed shoes that were suitable for general outdoor activities, to wear around the campground, that wouldn't be too hot to wear on warm summer days.
These Women's Grand Canyon Outdry Hiking Shoes were just what I was looking for, with a low ankle so that they weren't too hot and a waterproof but breathable construction so they would keep my feet dry when walking in the wet. Although these trail shoes didn't have the support of a high ankle, the construction is very solid, so they would be ideal for summer hiking on rough and rocky trails. For serious long distance hiking I'll probably stick to boots with ankle support, but these trail shoes are ideal for a situation like our camping trip where you want a hardwearing shoe that is suitable for a range of outdoor activities.
Check out the Columbia range of walking boots and shoes here
Waterproof Jacket – yes it does rain in the Canadian summer
Although the weather on our July trip to Canada was warm and sunny, we did experience a few showers so my lightweight waterproof jacket came in handy (Read my article on what to look for in when buying a waterproof jacket). For summer wear in Canada I'd recommend a lightweight jacket that can roll up small to keep in your day sack but if you're visiting in spring, early summer or autumn you might prefer a jacket that's more substantial or has a removeable fleece lining, as we found that mornings and evenings could be cool.
I wore my waterproof jacket when we were canoeing in Algonquin park as the day was overcast and rain was forecast. Luckily the showers held off until we had finished our canoe trip but the jacket was also ideal for keeping off the midges and flies that you tend to get hovering over the water. Cloudy days can be a bonus in Canada as our guide told us that we were more likely to see wildlife such as moose when the day was overcast, since they come down to the water's edge to feed, while on hot sunny days they prefer to stay in the shade under the trees.
Check out the range of Columbia waterproof jackets here
Three-quarter length leggings – versatile for outdoor activities
I found it was useful to have some sporty three-quarter length trousers for activities such as cycling and climbing where I wanted a bit more protection. My sports leggings made from quick dry fabric got a lot of use on our Canada trip and I also wore them for canoeing where they would dry quickly if I got wet wading into the water or splashed from the paddles. The three-quarter length and close fit were also ideal for cycling if you don't want sunburned thighs or trousers that flap around the ankle.
Check out the Columbia range of casual trousers here
Flip flops for hanging out by the lake
If you are a happy camper you'll know to pack a pair of flip-flops or waterproof sandals that are easy to slip on and off. They are always handy for those early morning trips to the shower block (although luckily we had our own shower and loo in the RV) and for hanging out by the lakes that seem to be a feature of most Canadian camp grounds.
You'll want something made of plastic so you can easily rinse off the sand or pine needles and they won't look grubby. No harm in having a pedicure and pretty nail polish before your holiday – we like to keep up standards even when camping!
Check out the range of Columbia sandals and flip flops here
A  cosy fleece for cool mornings
I was pleased that I'd packed a fleece for our Canada trip as despite the warm sunny days, we found the mornings were often quite cool. For the first hour or so each day we often needed an extra layer and then the temperature would warm up and it would be short sleeves all day and into the evening. It was never really too cold on our July trip so I'd suggest a mid-weight fleece if you are visiting in the summer but perhaps something more substantial for the spring and autumn. Due to the limited laundry facilities on the Canadian campgrounds I'd avoid smarter woollen knitwear in favour of anything that is quick drying and doesn't crease, unless you have an element of your holiday that requires you to dress more smartly.
Check out the Columbia range of fleeces here
Other things to consider
Those pesky flies and mosquitos can be pretty persistent when you get into a camp ground or one of Canada's national parks. If you are trying any activities such as hiking, cycling or canoeing, a liberal spray of deet based insect repellant is recommended and in the evening it's best to change into a long sleeved top and long trousers with socks and shoes to cover your feet. I neglected my own advice on a few occasions and regretted it as I was scratching nasty bites for days afterwards.
Most but not all of the camp grounds we visited had washing machines and dryers but none seemed to have any ironing facilities. I'd recommend packing clothes made of quick drying technical fabric that are less likely to crumple in order to look your best, leaving your linen suit at home.
A sunhat is advisable if you're out on long hikes or canoe trips in the full sun and to fit in with the locals I'd choose a cotton cap – you can buy them everywhere in Canada.
My Canada Camping clothing check list
A lightweight waterproof jacket for the occasional shower or cool evenings
Long quick dry trousers for hiking and to keep off the insects in the evening
Quick dry shorts for sunny days and sporty outdoor activities
Three-quarter leggings or joggers for sporty outdoor activities and cool mornings
Quick dry sports t-shirts
Trail shoes for hiking and climbing
Flip flops or waterproof sandals for wearing around the campground and the lakes
A mid-weight fleece for cool mornings and evenings
A light, long sleeve t-shirt to wear in the evening when the mozzies come out to bite
A cotton cap or sunhat to protect you from sunburn or sunstroke on sunny days.
Plus of course pack some other casual clothes and footwear for when you are out sightseeing
Thanks to Columbia Clothing who provided me with some of the items mentioned in the article to try out on my Canada trip.
Visitor information for Canada
To plan your trip to Canada check out the Explore Canada tourism website as well as the websites of the states and national parks you plan to visit, in our case Ontario Tourism and Quebec Tourism. Our RV was provided by Cruise Canada.
More Canada articles
Where to watch wildlife in British Columbia, Canada
How to enjoy a great day in Victoria BC
Vancouver Island – a nature lover's paradise
Pin It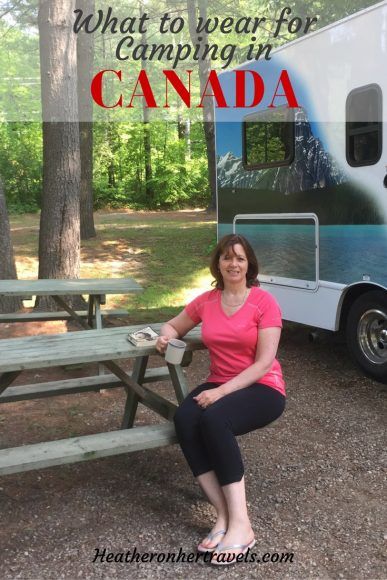 This article is originally published at Heatheronhertravels.com – Read the original article here

You'll also be subscribed to our free monthly newsletter for great travel resources, news and offers, but you can unsubscribe at any time and we'll never share your e-mail.
You'll also find our sister blog with tips on how to build a successful travel blog at My Blogging Journey