I loved the relaxed and authentic Caribbean charm of St Kitts, one half of the twin island nation of St Kitts and Nevis. There's something for everyone as you discover the island's history, take a rainforest walk, get active on the water or lime like a local on one of the island's beaches. Here are my top 10 things to do on St Kitts, especially if you're visiting on a cruise.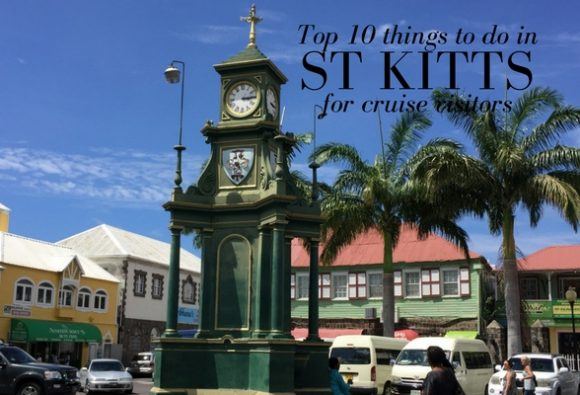 1 A relaxed walk around Basseterre
Start your island visit with a stroll around St Kitt's relaxed island capital of Basseterre. From Port Zante pass through the archway of the Old Treasury to the Circus roundabout (St Kitts has no traffic lights!) and spot the green Berkeley Memorial clock, a well-known St Kitts landmark. On Fort Street and Bank Street, you'll pass market stalls and food vendors selling anything from fruit smoothies, to local lunchtime dishes.
Nearby is the shady Independence square which was once the island's slave market. The small doors at the base of nearby colonial houses lead to basements where the slaves slept before they were sold. On the square is the delightful Gallery Café, where you can see the work of local artists and take refreshment in the small café and courtyard garden.
2 The Old Treasury and National Museum in Basseterre
The Old Treasury, on the edge of Port Zante, is an impressive 19th century building built of black volcanic stone. The central archway is known as 'The Gateway to Basseterre', since visitors would pass through it from the port and upstairs you'll find the small National Museum.
While the displays are charmingly old fashioned, there are plenty of fascinating insights into the history and culture of St Kitts, with colorful carnival costumes and national dress on display.
3 Sugar history at The Wingfield Estate
The stone chimneys and windmills of a once thriving sugar industry can be found all over St Kitts and at Wingfield Estate you can visit the ruins of an old sugar mill for an insight into the sugar industry. The aquaduct once brought water from the slopes of Mount Liamuiga to power the mill wheel and the old rum distillery has been uncovered, with plans to start making rum again in the future. The estate is included on most island tours but there are information signs if you visit independently by taxi and entry is free.
4 Romney Manor and Caribelle Batik
Adjoining the Wingfield Estate is Romney Manor, the estate's Great House named after the Earls of Romney who owned it for 200 years. Surrounded by botanical gardens with green lawns and flowering shrubs, the sounds of birds and glimpse of butterflies makes this a peaceful setting where the gardens blend into the rainforest. Wonder at the stories that the majestic 400 year old Saman tree could tell and visit the Caribelle Batik workshop where you can buy a colourful batik handicrafts and clothing. (there's a small entrance charge)
If you're looking for a hotel on St Kitts check prices and book on HotelsCombined.com
5 Step back in time at Fairview Great House
At Fairview Great House you'll glimpse the lifestyle of a wealthy plantation owner in the 18th century. There are elegant porches and balconies, a dining room laid with antique silver and upstairs the bedroom where Prince Charles stayed when the house was a hotel.
Some tours also include a rum tasting or cookery demonstration and after your visit you can enjoy the well-kept gardens. The house is close to other historic sites such as Wingfield Estate and Brimstone Fort so best reached by taxi as part of an island tour. (there's a small entrance charge)
6 The canons and views at Brimstone Fort
A winding road brings you up through narrow stone gatehouses to Brimstone Hill Fortress, a UNESCO World Heritage site that was built by the British colonial powers in the 17th and 18th Centuries. Known as 'The Gibraltar of the West Indies' the fortress supported the ambitions of the English to dominate the sugar rich islands of the Caribbean.
There's a visitor center close to the car park and the most spectacular views are from the top of the stone citadel with an impressive array of canons pointing in all directions. The fort can be reached by taxi and is included on most island tours. Entrance $10US
7 A Rainforest walk
The mountains that form the backbone of St Kitts are covered with natural rainforest, teeming with birds and home to the Vervet monkeys. The most demanding walk is to the top of Mount Liamuiga, best done with a local guide and requires a good level of fitness. For a gentle self-guided walk, follow the trails on the Wingfield Estate under the Sky Safari zipwire where the cries of people zipping over your head mingle with the sounds of nature. A stream trickles beside the trail and aerial roots and vines tangle in the tree canopy. To learn about the forest trees and medicinal plants in the rainforest, we recommend hiring a knowledgeable guide such as O'Neil Mulraine for your rainforest walk.
If you're looking for a hotel on St Kitts compare prices and book on HotelsCombined.com
8 The St Kitts Scenic Railway
This narrow gauge railway was built in the 1920s to deliver sugar cane from the plantations around the island to the processing factory in Basseterre. While sugar production has ceased, visitors can still board the double-decker St Kitts Scenic Railway passing over the steel bridges with views over the fields on the slopes of Mount Liamuiga. Rum punch is served while the guide gives an entertaining account sugar industry on St Kitts and at the end you'll return by bus or by catamaran. The 3-4 hour round trip is best booked as a cruise excursion since the timetable varies depending on the ships in port.
9 Get active on the water
There are plenty of watersports options on St Kitts, from glass-bottomed kayaks to exhilarating flyboarding, using water jets that shoot you high in the air. While most beaches will have kayaks, snorkels or paddleboards to rent, the best range of watersports can be found at St Kitts Watersports on Cockleshell beach. Ask about their jet-ski safari where you'll be taken to the best snorkeling spots nearby. A half-day catamaran trip will give you an ocean side perspective of St Kitts and normally includes lunch with a stop for snorkeling. Book as a cruise excursion or through the websites of Bluewater Safaris or Leeward Islands Charters.
Ask about their jet-ski safari where you'll be taken to the best snorkeling spots nearby. A half-day catamaran trip will give you an ocean side perspective of St Kitts and normally includes lunch with a stop for snorkeling. Book as a cruise excursion or through the websites of Bluewater Safaris or Leeward Islands Charters.
10 Chill on the beach
If all this activity sounds too much and you just want to lime like a local, we recommend a taxi ride to the beaches on the South East peninsula. Cockleshell Bay is one of the most popular beaches on St Kitts, with a wide range of beach bars and sunbeds to rent, although it can get crowded if there are a few ships in port. For a quieter option, try South Friar's Bay where you can rent a sun lounger at the Carambola Beach club or bag a hammock at the more rustic Shipwreck Beach Bar at the other end of the beach.
More articles about St Kitts:
The Stylish Traveller's Guide to St Kitts
10 views of St Kitts that would make the perfect postcard
Where to stay on St Kitts
Visiting St Kitts on a cruise is a great way to get a taste of the island, but one day is never enough! So if you like what you see why not return for a longer stay? If you do here are some great hotels that we recommend;
Ocean Terrace Inn – with colourful contemporary style, this is a great mid-range choice if you want to stay within walking distance of St Kitts, with great views over the harbour. There's a beautiful landscaped pool area to relax and it's easy to access all the other attractions of St Kitts by taxi. Read my review here and you can check prices and book through HotelsCombined.com
Ottley's Plantation Inn – for classic Caribbean luxury, this old style plantation house hotel has it all. You'll stay among beautifully kept gardens, either in the Great House or in private bungalows in the grounds. This hotel is a short drive from Basseterre so you'll need to hire a car or take taxi excursions to see the island. Read my review here and you can check prices and book through HotelsCombined.com
Rockhaven B&B – This colourful bed and breakfast is a private home with just two rooms, offering fabulous views towards the ocean from the terrace. The rooms sing with colour and incorporate local antique furniture and traditional caribbean touches, while breakfast is home cooked and delicious. Read my review here and you can check prices and book through HotelsCombined.com
If you're looking for luxury accommodation, we suggest Kittitian Hill or Marriott's Resort. Although I didn't stay at these hotels I did visit them and they would be my choice for a luxurious stay on St Kitts.
Pin It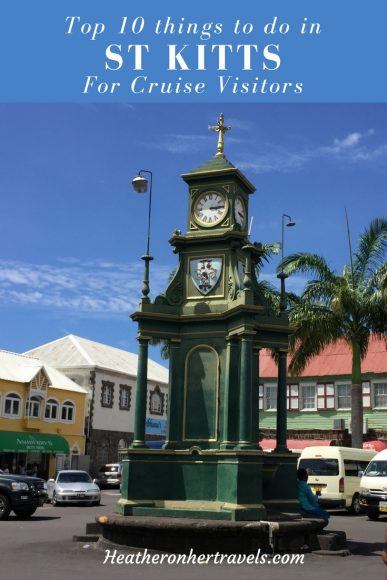 This article is originally published at Heatheronhertravels.com – Read the original article here
It's become a tradition for my friend Julia and I to spend a few days walking each year, and last September we were testing ourself in the Rosengarten range, part of the Dolomites of South Tyrol. I've already written about Day 1 in which we scaled the gentler slopes and Day 2 in which we scrambled over a high pass to walk through a rocky lunar landscape. Now you'll hear about Day 3 and 4 of our walk to the final mountain refuge along a grassy plateau and our precipitous descent to the valley again for a welcome return to the lovely Hotel Cyprianerhof, where we had started our walk.
We set off from Rifugio Bergamo
After breakfast at Rifugio Bergamo (also known as Grasleitenhütte) we were packed and ready to leave, just as the sun was creeping up to the terrace. We had very much enjoyed our stay at this wood panelled mountain lodge, which had been originally built as a base for mountaineers and was full of nostalgic books and old photographs. We took some departure photos with the owner Hans, a strongly built and bearded man of the mountains, who showed us photos of the festival he runs at the hut when everyone dresses up for that bygone era when the hut was built.
Descending the hill we looked back at the rifugio still in shade, perched in a cleft between two rockfaces. It was amazing to consider how it could be built in such a remote spot. All we could hear was the rushing of the mountain river that cascaded down behind the rifugio and looking up could see the white streaks of airplane jets making criss-cross patterns in the sky.
The sun warmed us as we skirted the mountain side on a balcony path, with views of the valleys ahead and pine forests below. The path descended to cross another mountain river where we hopped over boulders and then continued upwards on the other side of the gully.
A difficult climb to Rifugio Alpe di Tires
After crossing a few more pebble filled mountain streams the path became steeper and steeper, winding up through the rocky landscape. Now we were scrambling and climbing rather than hiking, with metal cables and ropes to help us in the most exposed places. With rocks sliding under my feet and no karabiner to clip me on safely, I must admit I was quite scared at this point. After my fall in Austria the year before, I knew how easy it would be to slip on the gravel surfaces, with a heavy rucksack to drag me down. I slowed down the pace and breathed deeply to calm myself, leaning into the rock and taking it one step at a time until we reached the top of the slope.
Thankfully, the path at the top of the slope was much easier, winding through a flower-filled meadow and we decided to take a detour to Rifugio Alpe di Tires which we could see up on our right. The beautiful modern refuge with its bright red roof, sat on a grassy plateau, on the saddle between two valleys with fantastic views in both directions. The terrace  and cafe were full of walkers and climbers and the stylish interior would not have been out of place as a hip city hangout. As grey clouds gathered, the 10 minute stop we'd planned turned into an hour, with a rain shower bringing mountain bikers and hikers running inside. Still it was no hardship to stay a little longer, sipping our raspberry lemonade.
Read about our our first day's hike – Hiking in the Dolomites – a tour of the Rosengarten

Read about our second day's hike – Over the pass in the Dolomites – hiking in South Tyrol
Leaving Rifugio Alpe di Tires
As blue skies re-appeared, we set off on the path that skirted the mountain, until Rifugio Alpe di Tires was just a tiny toy house in the distance, easy to spot because of the red roof. As the path climbed ever higher, I was worried that we might be in for a repeat of the vertical rock climb, but was reassured that the path must be quite manageable when we passed walkers accompanied by their dogs.
Now we were practically level with the tops of the grey rocky crags across the valley and reached a grassy plateau where blue flowers like larkspur were blooming in the meadow. The fence with a gate, told us that there must be cows up here, munching their way through the grass, surrounded by stunning mountain scenery.
The final walk to Rifugio Bolzano
Beside the path was a large cairn of rocks and from here we could see Rifugio Bolzano where we'd be spending the night. Although it seemed to be just a short walk across the grass plateau, we knew that distances in the mountain are not easily judged by the eye and that it would be nearly two hours before we arrived there.
After our climb, it was time for a break and a rest, so we shrugged off the rucksacks and took 20 minutes for a snack and a drink. I took the opportunity to take a few photos, while my friend Julia lay on the grass for some quiet time, contemplating the views.
Just as we left our rest spot, the sky darkened and the rain started to come down, turning the gravel path into sticky mud. With waterproofs on, we trudged along the path across the plateau, marked by a series of white cairns and nearly two hours later arrived drenched at Rifugio Bolzano.
Read about our our first day's hike – Hiking in the Dolomites – a tour of the Rosengarten

Read about our second day's hike – Over the pass in the Dolomites – hiking in South Tyrol
A cosy stay at Rifugio Bolzano
What a relief it was to take off our muddy boots and wet waterproofs, to hang up our poles and enter the cosy, wood panelled dining area. We found the place was already full of families, with children playing games and relaxing before dinner time. Rifugio Bolzano was built over 100 years ago and with 47 beds is one of the larger refuges in the area – we soon settled into our private room with wooden beds and threw open the window for a view of the mountain.
We were slightly taken aback to find that there were no showers at the refuge, only communal washrooms where we had to take our chance for a bit of privacy. Still the atmosphere was friendly and convivial as we settled in with a drink and then ordered a dinner of hearty mountain fare, with the filling kaiserschmarrn pancakes for desert.
By the morning, the showers had passed and the rain seemed to have washed the air clean, revealing sunny views of the jagged rocky teeth that make the distinctive landscape of the Dolomites.
Our final day hiking back to Cyprianerhof
From Rifugio Bolzano we walked gently downhill across green pasture dotted with white standing stones, feeling a little bit like Hansel and Gretel following the trail. At the end of the plateau we could see down into the valley, although it was difficult to identify on the map which of the villages might be below us. Somewhere behind the ridges before us lay the luxurious Hotel Cyprianerhof, which we were very much looking forward to reaching that evening.
From the plateau the path became a narrow ribbon, zig-zagging steeply downwards, taking us towards the valley. Despite going downhill, the descent was by no means easy and as we got closer to the tree line, there were more steep steps with tree roots and the gravel was slippery from rain showers. After a couple of hours we reached a cross where there was a lovely picnic table for us to take a break and eat some of our snacks. The worst of the descent was now over although we had our waterproofs on and off with frequent showers, and there was still a good 3 hours to walk before we would reach the hotel.
Read about our our first day's hike – Hiking in the Dolomites – a tour of the Rosengarten

Read about our second day's hike – Over the pass in the Dolomites – hiking in South Tyrol
A walk through the forest in South Tyrol
We now skirted along the side of the slope through forest, the smell of cow dung mixed with the scent of pine needles. The air was cool and damp in the shade of the forest canopy and moss gathered around the tree roots. Along the trail were a few wooden sculptures, carved from trees and logs that must have fallen there; an overhanging giant mushroom and a fierce eagle's head jutting into the path.
At times the path crossed tricking streams that had been channeled into wooden troughs where you could stop for a drink or fill up a water bottle. Through gaps between the trees we could look down into the valley and from down below the sound of Sunday church bells and a brass band practicing in the church wafted up to greet us. The gentle walk gave me time to absorb the details of the forest, the tiny pine cones crunching underfoot and the orange mushrooms the size of a coin set into the bright green clumps of moss.
The final descent to Cyprianerhof
Now we were on the downward slope, on a wide track that would take us down to St Cyprian in the green valley, with the distinctive jagged peaks of the Dolomites rising in the distance – the ones that we had climbed over just a few days before. We have a tradition on our hikes of taking a 'Before' and 'After' photo and so on arriving at Cyprianerhof, we grabbed a passing walker to take a picture of us –  tired but thrilled at the prospect of the luxury that awaited us. Take a look the picture below – I think you can guess which is the 'Before' and which the 'After' ?
After four days and three nights in the mountains, staying in simple accommodation with limited shower facilities, you can imagine what a treat it was to enter our room at Cyprianerhof. It was all as lovely as we remembered; the luxurious natural fabrics and cosy faux fur throw, the huge bathroom with polished stone sinks and the apple on the bed to remind us to stay healthy in the mountains.
A well deserved Aperitif after our walk
Soon the wild women of the mountain were transformed into chic and sleek creatures, with freshly washed hair and make-up, changed into the clean clothes that we had left at the hotel – what bliss! It was time for a well deserved aperitif at the drinks party offered for hotel guests on the lawn outside; a Hugo for me and an Aperol Spritz for Julia.
With the view of the peaks that we'd climbed on our first day, we toasted our success and endurance in scaling those rock-faces, climbing over the passes, and surviving the lack of showers with only hearty mountain dishes and the odd beer to sustain us. Now we deserved the delicious meal and elegant surroundings that awaited us at Cyprianerhof – we'd certainly earned it!
Read about our our first day's hike – Hiking in the Dolomites – a tour of the Rosengarten

Read about our second day's hike – Over the pass in the Dolomites – hiking in South Tyrol
Where we stayed in South Tyrol
To compare prices and book Hotels in South Tyrol on HotelsCombined.
Night 1 – Hotel Cyprianerhof
Website: Cyprianerhof.com A luxurious 4 star hotel in St Cyprian with extensive facilities for wellness and activity excursions. The hotel's philosophy is to offer guests the full experience of the Dolomites, allowing them to recharge and clear their minds through hiking in the mountains, combined with relaxation in the spa and sauna facilities.
In summer there is a programme of hiking as well as climbing and Via Ferrata, while in winter guests can try snow-shoe, ice climbing and cross-country ski. The hotel is affiliated to the Wanderhotels group of hiking hotels with hiking and snow-shoe excursions included as part of the half board package that includes breakfast, afternoon tea and evening meal. The food here was excellent using local and seasonal produce. Half board package including activities from €156 per person per night. You can check prices and book for all hotels in South Tyrol on HotelsCombined.
Night 2 – KolnerHütte / Rifugio Fronza alle Coronelle Website: Rifugiofronza.com
Cost: from €52 per person for half board (evening meal and breakfast)
The Refuge has both 2 bed rooms and dorm rooms, with 60 beds in total. Blankets are provided but you need to bring your own sheet sleeping bag. There is 1 hot shower which costs €3 to use. The Refuge can also be reached from St Cyprian by a bus to the foot of the Laurino chairlift, then take the chairlift up to KolnerHütte. Many people use the chairlift to reach KolnerHütte quickly and then walk the higher mountain routes from there.
Night 3 – Grasleitenhütte / Rifugio Bergamo Website: Grassleitenhuette.com
Cost: from €52 per person for half board (evening meal and breakfast)
We received a warm welcome at this family run Rifugio that was built in the last century as a base for wealthy mountain climbers and still has an authentic Tyrolian atmosphere with wood panelling, old pictures and maps. The Refuge has both 2 bed rooms and dorm rooms with duvets provided but you need to bring your own sheet sleeping bag. There are 2 hot showers which cost €3 to use. The refuge has a charming traditional feel and is family run with friendly owners and excellent cuisine and wine.
Night 4 – Schlernhaus / Rifugio Bolzano Website: Schlernhaus.it
Cost: from €39 per person for 2 bed room including breakfast. Meals can be ordered from the modestly priced menu and half board is available for groups of 8+ people.
The Refuge has both 2 bed rooms and dorm rooms, with 120 beds in total. Duvets are provided but you need to bring your own sheet sleeping bag. There are no showers, only a washroom. The refuge is large with a traditional wood pannelled dining room and panoramic views of the mountains as well as friendly staff. The Refuge seemed to be a favourite with families and several people had dogs with them.
Night 5 – Return to Hotel Cyprianerhof (see above)
Read about our our first day's hike – Hiking in the Dolomites – a tour of the Rosengarten

Read about our second day's hike – Over the pass in the Dolomites – hiking in South Tyrol
Getting to South Tyrol
South Tyrol is the north-east corner of Italy, bordering Austria to the north and Switzerland to the west. We flew to Venice Marco Polo Airport and hired a car to drive to the nearest village of St Cyprian, which took around 3 hours. Alternative airports would be Milan Bergamo (2 hrs 50 mins), Innsbruck (1 hr 50 mins), Verona (2 hrs), Venice Treviso (3 hrs). For those using public transport, trains and buses are available from most airports to Bozen/Bolzano and there is a bus (number 185) running from Bolzano to St Cyprian which stops ouside Hotel Cyprianerhof, running around once an hour (journey time 50 mins). The taxi from Bolzano to St Cyprian would take around 30 mins. To compare prices and book Hotels in South Tyrol check out HotelsCombined.
Speaking the language of South Tyrol
In South Tyrol both German and Italian are widely spoken, since the province was part of the Austro-Hungarian empire until 1948, then became part of Italy after WWI.  In the Dolomites we found that German was more commonly used although most locals will easily switch between Italian and German. English is less widely spoken although you will not have a problem in larger hotels and in mountain huts there is generally someone with a little English. Because of the dual languages all towns, villages and mountain huts have two names – both German and Italian. For simplicity in this article I may use just one of the names.
Plan your hiking routes in the Dolomites
A good resource for planning your hiking routes in the Dolomites is the Sentres.com website and the South Tyrol Tourism website also has plenty of information to plan your holiday in South Tyrol.
You will find timings for walking routes on the Sentres website. However, be aware that these are times for fit walkers without any stops for rests or photographs. In our experience we found that for each 2-3 hours of the 'official' time, we needed to add 30 mins to allow for being less fit and 30 mins for a drink stop in a refuge. So overall we would add 1-2 hours to the times given per day.
We used the Tappeiner 1:25.000 Map No 29 Schlern – Rosengarten – Sciliar – Catinaccio – Latemar – you can order it on Amazon and a similar map was for sale at Cyprianerhof for €9 and probably other places locally. We could not find an English guidebook to the routes we were walking but we found we could navigate fine with just a map as the paths were well marked.
Here are the routes and timings we took
Day 1 – Cyprianerhof to KolnerHütte
Official time: 4 hours
Actual time without stops: 4 hrs 30 mins
Actual time with stops: 6 hours
Our route was: Cyprianerhof – Nigerhütte 2 hrs / Nigerhütte – Messnerjoch hütte 1 hr / Messnerjoch hütte – KolnerHütte 1 hr 30 mins
Read about our Day 1 hike – Hiking in the Dolomites – a tour of the Rosengarten
Day 2 – KolnerHütte to Grasleitenhütte
Official time: 5 hrs 30 mins
Actual time without stops: 6 hrs
Actual time with stops: 7 hrs 30 mins
Our route was: KolnerHütte – top of Coronelle Pass 1 hr / top of Coronelle Pass – Rif. Vaiolet 1 hr 45 mins / Rif. Vaiolet – Grasleitenpasse 1 hr 30 mins / Grasleitenpasse – Grasseleitenhutte 1 hr 30 mins Warning: very steep climbing with cables over Coronelle Pass
Read about our Day 2 hike – Over the pass in the Dolomites – hiking in South Tyrol
Day 3 – Grasleitenhütte to Schlernhaus
Official time: 4 hrs
Actual time without stops: 5 hrs
Actual time with stops: 7 hrs 30 mins ( we made a 40 min detour to Rif. Alpe di Tires)
Our route was: Grasleitenhütte – Rif. Alpe di Tires 3 hrs 25 mins / Rif. Alpe di Tires to cairn at start of plateau 1 hr 20 mins / Cairn at start of plateau to Schlernhaus 1 hr 30 mins. Warning: very steep climbing with cables on final part of route 3 up to Rif. Alpe di Tires
Day 4 – Schlernhaus to Cyprianerhof
Official time: 4 hrs 30 mins
Actual time without stops: 6 hrs
Actual time with stops: 8 hrs
Our route was: Schlernhaus – Junction of route 3 & 7 1 hr 50 mins / Junction of route 3 & 7 – Turning to route 7B 1 hr / Turning to route 7B – Tschafonhutte 1 hr / Tschafonhutte – Cyprianerhof 2 hr
You've just finished reading about Day 3 & 4 of our hike
Thanks to the South Tyrol Tourism board who hosted my walking tour of the Dolomites.
Pin It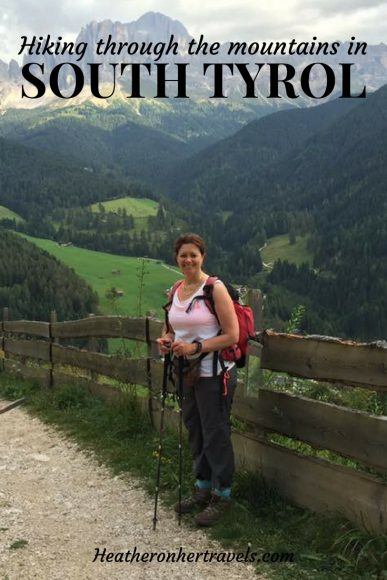 This article is originally published at Heatheronhertravels.com – Read the original article here
You'll also find our sister blog with tips on how to build a successful travel blog at My Blogging Journey
Southampton is your gateway to the best food of the South of England; the chalk streams and vineyards of Hampshire, salads from the Isle of Wight and the artisan food producers of the New Forest. Here are some places to eat fresh and local in Southampton and the foods to look out for, especially if you're visiting on a cruise. You may also like to read my article on Top 10 things to do in Southampton.
1 Mettricks: for coffee and brunch
Mettricks is a locally owned café, close to the cruise terminal, that's on a mission to bring great coffee to Southampton. The decor is homely, with scrubbed pine tables and mismatched chairs and they work with many local suppliers for the best quality meat and bakery products.
If you're on the hunt for free wifi, this is the place to settle down for an egg and crispy bacon sandwich or tea-time treat of home-made cake and coffee. We especially like the original cafe at 117 High Street, which stays open in the evening for cocktails, wine and real ales with light bites and bar snacks until 10pm.
Mettricks: Branches at 117 High Street, 2 East Bargate and opening soon at 1 Guildhall Place.
2 The Pig in the Wall: a stylish place to try local produce
The Pig in the Wall is a boutique hotel, set into the old city walls of Southampton, with a deli bar serving light dishes, homemade flatbreads and cakes from mid-morning to 10pm. As the name suggests, they specialize in charcuterie, with a fine selection of 'piggy bits' such as pork crackling and apple sauce or Honey Mustard Chipolatas. The decor is shabby chic with exposed brickwork, easy leather chairs and a touch of the potting shed. All the produce is all locally sourced with New Forest pork, Hampshire cheeses and Isle of Wight tomatoes on the menu. Their sister hotel, The Pig at Brockenhurst, is well known locally as a foodie stop and well worth the 30 min taxi ride, but best to book in advance.
The Pig in the Wall, West Esplanade, Southampton.
3 The Dancing Man: for real ale and pies
This micro-brewery, bar and restaurant is housed in The Wool House, an atmospheric medieval stone building that once stored wool on Southampton's quayside. Behind the bar is the micro-brewery where around 20 different beers are brewed in rotation with seven on tap at any one time.
Look out for the Pilgrim's pale Ale and The Last Waltz, named after the song playing on the Titanic as it went down, as well as guest beers from other local breweries. The menu is deliciously British, with pies a specialty (served with buttery mash and greens) and a popular Sunday roast.
The Dancing Man, Town Quay, Southampton
4 The Grand Café: for an elegant afternoon tea
Around Southampton and the historic towns you may visit on your cruise excursions, you'll find plenty of tea-rooms serving tea and cakes. If you want to take the oh-so-English ritual of afternoon tea up a notch, head for The Grand Café, originally the historic South Western Hotel, used by first class passengers on the Titanic. Afternoon tea is served from 2.30-5pm (book in advance) and you'll be served at a table with an array of delicate sandwiches, scones with cream and jam and a selection of cakes. It's a meal in itself, so you'd better miss out lunch to do it justice. If you're visiting Beaulieu, another elegant afternoon tea stop is the luxurious Montagu Arms, for tea in the lounge or courtyard garden.
The Grand Café, Southwestern House, SO14 AHS, Afternoon tea £17.50
5 Oxford Street: Southampton's Restaurant Quarter
If you want to find a selection of great restaurants all in one place, head for Southampton's lively restaurant quarter in Oxford Street, just a 10 minute walk from the cruise terminal. At weekends and in the evening, the pedestrianized street has a buzzy atmosphere and you'll also find good value lunch menus from many of the restaurants. We especially like the lively Oxford Brasserie serving a cosmopolitan menu using local produce, Olive Tree offering classic French bistro food, and the White Star Tavern, specializing in modern British cooking using local Hampshire produce.
Head for: Oxford Street, Southampton, SO14 3DA
You may also like to read my article on Top 10 things to do in Southampton for cruise visitors.
6 The Duke of Wellington: a traditional pub in the Old Town
If you're looking for a cosy, traditional pub for some real ales and hearty home cooked food, try the Duke of Wellington, opposite The Tudor House in the heart of the Old Town. The timbered building dates back to the 13th century and has been a public house since 1494 when this was just a stone's throw from the bustling town quay. They serve a wide selection of draught and real ales and on the menu you'll find pub favorites such as fish and chips, steak and ploughman's with ham or cheese, as well as options from the specials board and sandwiches at lunchtime. This is a good choice if you want to dip into traditional English pub culture.
The Duke of Wellington, 36 Bugle Street, Southampton
While you're exploring Southampton and other parts of Hampshire and the New Forest, look out for the following local specialties.
7 Vineyards that produce Hampshire's answer to Champagne
The chalk soil that characterizes much of Hampshire is ideal for wine growing and close to Southampton you'll find some of England's best-known wineries. The still and sparkling white and rosé wines feature on many restaurant menus, especially such as those made by Nyetimber and Hambledon that aim to rival the best champagne. Near Southampton you can visit the Three Choirs vineyard at Wickham (30 min taxi ride) where they have regular tours, daily tastings in the shop and you can also have lunch in their elegant restaurant.
8 Watercress: the crop of Hampshire's rivers
One of the seasonal foods that Hampshire is renowned for is the peppery, green watercress, and a Watercress festival is held in the market town of Alresford every May. The watercress grows in beds that span the Itchen and Meon valleys, thriving in the clear water flowing over chalk beds. There's even a steam train that runs from Alresford past the watercress farms, known as The Watercress Line, that was used in the 19th century to transport watercress to the markets in London. The watercress is available all year round, but look out for it on restaurant menus in the spring and summer when it's at it's best.
9 Isle of Wight tomatoes
With a mild climate and hours of sunshine, the Isle of Wight is known for its fresh produce such as asparagus, cherries, apricots and especially tomatoes. The island is just a short ferry ride from Southampton and can be visited in a day, but look out for the tomatoes and other produce on restaurant menus in Southampton. The glass houses and tomato growers like The Tomato Stall sell the sweet and flavorsome tomatoes through supermarkets, local delis and farm shops.
10 Ice Cream from the New Forest
Well you wouldn't be on holiday, if you didn't have an ice cream, would you? The local New Forest ice cream produced at Lymington is widely available in shops and cafés around Southampton. A few other artisan ice cream producers are worth looking out for while visiting attractions near Southampton; there's a delicious selection at Sundae's Child, who have an ice cream parlour in Romsey, and at Beaulieu chocolate studio in Beaulieu village.
You may also like to read my article on Top 10 things to do in Southampton for cruise visitors.
More information to plan your visit to Southampton
More information for visitors is available from the Discover Southampton Website and the Visit Hampshire website.
Note: I originally wrote this article for a cruise website but it was never published so I am republishing it here, hoping that it will give some useful tips and advice for cruise visitors to Southampton.
Pin It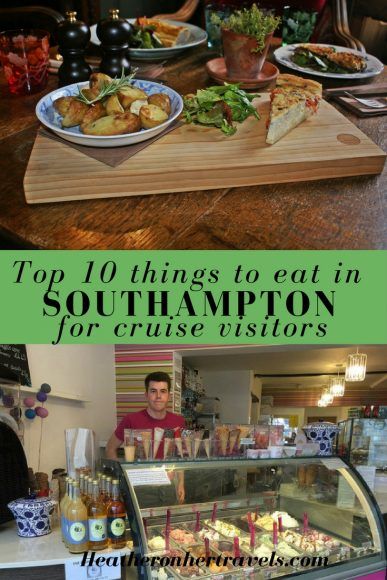 This article is originally published at Heatheronhertravels.com – Read the original article here