The air was chill but the rising sun surprisingly bright as we reached Stonehenge at a much-too-early hour when any sensible person would have still been in bed. Everything around us was still; no coaches, no crowds, not even an open gift shop. This was Stonehenge as you imagine it to be, standing alone in the Wiltshire landscape as if the builders had abandoned the stone circle for us alone to find.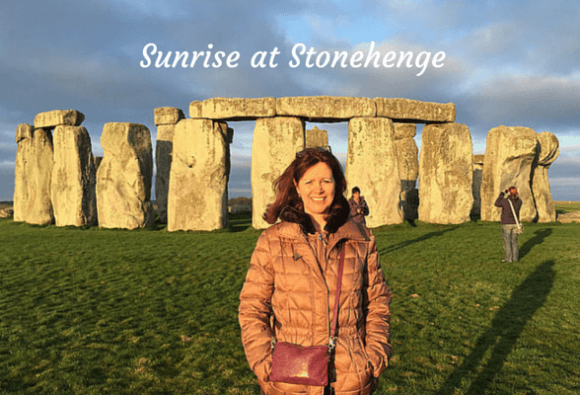 But sadly the Stonehenge experience isn't always like this. A couple of years ago I had visited with my blogging friend Barbara – she wrote about our day here. Although we were lucky enough to be first in the queue as Stonehenge opened and had the monument to ourself for a brief 5 minutes, it wasn't long before the perimeter of the circle was flooded with other visitors. This is one of the major tourist ticklist sites and a convenient coach tour destination for day trips from London, so by the time we left, the experience was far from magical.
On a typical visit to Stonehenge you can skirt around the stones and photograph them from a distance, but without walking among them. This time our early morning tour allowed us to walk into the circle and hear our excellent guide Pat Shelley of Stonehenge-Tours.com tell us all about the stones and the stories and myths that surround them. But first a warning; don't touch the stones, don't kiss the stones, don't hug the stones, don't lick the stones! Those of us who visited Stonehenge as children will remember that this was once an open monument where you could walk among, sit upon and even picnic by these stones, but these days they are now treated with almost religious care for their preservation.
The stone circle was a masteriece of engineering with the sarsens weighing up to 50 tons being brought on rollers from the Marlborough downs and the smaller blue stones used in the inner circle being brought by river from the Preseli Hills 150 miles away in Wales. The lintels that sit balanced on the top of the larger stones are held in place with interlocking joints and were slightly curved to make the circle – you can see the bulge on top of some of the stones and the hole on others that have fallen. While it is clear that Stonehenge was built to be aligned with the sun and is part of a wider landscape of other stone circles and burial barrows, no-one really knows why it was built or exactly how it was used.  Our guide Pat confided that Stonehenge is believed to have been built for ceremonial and ritual purpose which is archaeological code for 'we've absolutely no idea!'
If you'd like to visit on a special sunrise or sunset tour of Stonehenge that will enable you to have that magical experience without the crowds, you need to plan well ahead. The early morning visit including access to the stone circle can be requested in advance at a cost of £30 per person via the Stonehenge website (this does not include a guided tour or even an audioguide) but guides like Pat Shelley also offer the special tour including transport from Salisbury and a guide for £98 per person. Twice a year you can walk within the stone circle during the winter and summer solstice but you will still be sharing the experience with thousands of other visitors. The normal entry price is £14.50 and is bookable in advance, by timed entry. A free audio-tour is available for download on iTunes here.
While you're in the area there is plenty more to visit, so I would make a weekend or few days to stay in Salisbury while you explore the surrounding area – more information on the Visit Wiltshire Website.
Silbury Hill
On the road from Stonehenge to Avebury you will pass Silbury Hill, which at 40m high is the largest man-made chalk mound of its kind in Europe. The flat topped cone shape is too regular to be natural, yet no-one knows why it was constructed and no burial chambers have been discovered. There's no public access to the base or top of the hill but on the opposite side of the road you can walk up the hill to West Kennet Barrow. This Neolithic long barrow or burial mound has a stone chamber at one end that you can enter and you are free to walk along the top of the barrow, with the wind blowing in your hair.
 A more personal experience of the stones at Avebury
If you were disappointed at having to share Stonehenge with crowds of other visitors, I recommend that you drive 40 minutes north to Avebury, a larger site of standing stones that is also managed by English Heritage. Visiting Avebury is a much more personal experience and while the individual stones are not as impressive as Stonehenge, you can wander among them, touch them and hug them at will. The stones are well spaced out, making large stone circles across the landscape and a village has grown up in the midst of them, making for a pleasant visit, since you can wander freely around the stones, banks and ditches and then finish off with an excellent pub lunch at the Red Lion.
Salisbury Cathedral
The beautiful cathedral is as much a living place of worship and community as a tourist attraction, and the spire can be seen for miles around as you approach the city from any direction. If you are spiritually inclined I'd recommend attending evensong or the Sunday morning service to hear the beautiful music and choral singing. The cathedral has undergone a major repair programme over recent years and you can read the cathedral blog to find out what's been going on behind the scenes. You won't find a crypt or hear a peal of bells here, since the cathedral is built on shallow foundations due to the high water table and too much vibration could make it unstable.
A perfect photography spot can be found from the footpath that runs in between the water meadows, leading to the Mill House Hotel at Harnham a pub and restaurant where we had supper, in a 15th century building with a garden, with views of the river and mill pond.
 800 years of Magna Carta
In the chapter house of Salisbury cathedral you can see the best preserved of the four original copies of Magna Carta, sealed in 1215 by King John in an agreement to preserve the constitutional rights of his nobility. The 'Great Charter' guarantees certain rights, including the right to a free trial and copies were sent around the kindom after King John made peace with his barons at Runnymead, to ensure he didn't change his mind (which of course he did).
The interactive exhibition has been created within the Chapter House to commemorate the 800 year celebrations with films and displays about the charter's history and volunteer guides on hand to explain everything. Within a darkened enclosure, you can see the actual Magna Carta, written on vellum and with the mark where the seal would once have been, which signified the king's approval.
 Salisbury Cathedral Close
The cathedral is enclosed in a grassy close of 80 acres, surrounded by the houses that were constructed in the middle ages to house the clergy but have since been enlarged and beautified with grand Georgian facades. The houses, walls and gatehouses form a barrier that was designed to separate town from gown in troubled times – normally when the church was charging to local people too much in taxes. There's plenty to see within the close including Mompesson House, an elegant Queen Anne style town house that is open through the National Trust, The Rifles (Berkshire & Wiltshire) Museum that tells the story of the County infantry regiments and the Salisbury Museum that houses local archaeological collections found in the area.
Visit Arundells, home of Sir Edward Heath
While you're in the Salisbury Cathedral Close, be sure to visit Arundells, the former home of British Prime Minister, Sir Edward Heath who lived here from 1985 until his death in 2005. The Grade 1 listed house has all those ingredients that make a perfect country gentleman's residence; the gravelled courtyard with wrought iron gates, the honey stone Georgian frontage and the gardens leading down to the river. Inside the house is preserved as it was when Sir Edward lived there and reflects the passions of his later years. In the hall you'll see models of his yacht, Morning Cloud and he described the rich man's sport of ocean racing as " like standing under a cold shower tearing up £5 notes."
In the sitting room is a grand piano which visitors are invited to play, covered with silver framed photos of the great and the good, while the terracotta formal dining room, filled with Chinese artworks, saw many a Sunday lunch with everyone from pop stars to royalty. As you walk up the stairs you'll admire the  hand painted wallpaper depicting Chinese fables and stand behind Sir Edward's desk in the study looking along the length of the garden towards the river. This is certainly a house that oozes the personality of its owner.
Stay within the cathedral close at Sarum College
I stayed at Sarum College while attending the Social Travel Britain conference and highly recommend it if you are looking for tranquil and comfortable accommodation right opposite the cathedral. Parts of the college date back to the 18th century and it is now used as a Christian study and conference centre, but anyone is welcome to book one of their 40 rooms. This is the only place that you can stay within the cathedral close, so you can drink in that cathedral view in the early morning, before other visitors are allowed in. The en-suite bedrooms are fresh and simply furnished and there is a refectory that serves excellent home cooked meals using local ingredients. Should you wish to venture out of the cathedral close to eat at one of the nearby restaurants, you can borrow a key to get back in after the gates are locked at 10.30. Probably not the place for party animals though.
More places to visit in the South of England
10 ways to spend a wonderful weekend in Winchester
Dorset days of summer at the Acorn Inn
Sir Frances Drake and the Rembrandt selfie – at Buckland Abbey in Devon
Pin it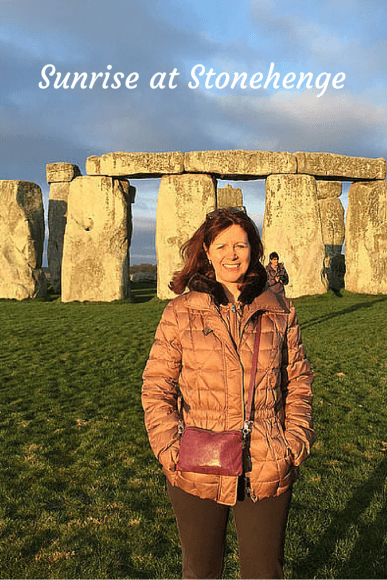 I visited Salisbury and Stonehenge as part of the Social Travel Britain conference and some of the experiences mentioned were provided by English Heritage and Visit Wiltshire.
This article is originally published at Heatheronhertravels.com – Read the original article here
You'll also find our sister blog with tips on how to build a successful travel blog at My Blogging Journey
I've been to India three times now but not once have I had my photo taken in front of the Taj Mahal. I haven't visited the pink city of Jaipur or floated on the backwaters of Kerala. It isn't that I wouldn't love to do any of these things, just that my trips to India have been for a different purpose.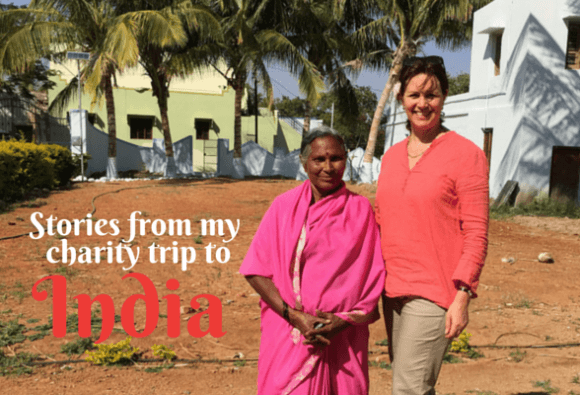 In February I was in India to visit and support a small charity I founded through my church, to see how the money we sent had been spent to help the lives of the poor in the central state of Andhra Pradesh, a part of India where tourists rarely go. Although we met many people who have very little, who live off a daily wage of £1 a day, this was a visit filled with joy and I'd like to share with you some of the stories from my visit.
1. A feast day dinner at the Don Bosco house
Barely had we arrived in the small town of Ananthapur and checked into our hotel, than we were taken to an evening event for the feast day celebrations at the local Don Bosco house. This congregation of priests and nuns from the Salesian order work with young people, especially street children. Ours was the last of many cars parked in the drive, since nuns and priests from the whole area had been invited.
We stepped over beautiful coloured chalk designs on the ground outside the house and arrived just as mass was ending. In true Indian style the altar at the end of the room was garlanded with tinsel left over from Christmas, coloured fairy lights and bright flower arrangement.
After the lengthy vote of thanks the chairs were rearranged and pans of rice and food laid out on a long table so that all the nuns and priests and other guests could queue to get their dinner. As we western guests couldn't possibly be expected to eat with our fingers, a table was brought and a selection of the dishes laid out in front of us with knives, forks and spoons.
We tucked into pilau rice, a fish curry, curds and chapatis, although I noticed that a dish of plain mashed potato, green beans and carrots had thoughtfully been added just in case the spicy food was too much for our sensitive palates.  We shook hands and chatted with many of the nuns and priests who all welcomed us and wished us Happy Feast day.
2. A memorial mass in Ananthapur
On Sunday we were up at 6am to attend the 7.30am mass with our host, Father Pratap, at Our Lady of Mount Carmel Church. We had timed our stay to include a Sunday since we wanted to have a special mass in memory of two special friends. My friend and neighbour Marilyn had been with us on a similar charity visit 2 years ago but had died suddenly a few months later, and the son of one of the charity sponsors, Christian, had also died suddenly at a young age, so we had brought photos of them to put at the front of the church.
Robert, my fellow trustee and Marilyn's husband had joined me on this trip, and we were ushered to sit on plastic chairs in the middle of the church. Behind us were wooden benches where the nuns and older people sat, while in front of us and on the right, ladies sat on the floor in their colourful Sunday-best saris, with younger men and boys sitting to the left. At the front, the choir performed using a keyboard and microphones, with plenty of music throughout the service although no hymn books were in evidence, since everyone seemed to know the words.
After a beautiful commemoration service, Robert and I stood outside the church and gave bags of sugary sweets and snacks in plastic wrapper to the congregation as they came out of church. Later during breakfast in the parish house, we talked about Robert's late wife, Marilyn and Father Pratap told us how sad the people at Nandikotkur had been when they heard of her death. They had remembered her friendliness and spirit from our previous visit and had held a memorial mass at the same time that we were having the funeral in Bristol.
3. Opening the water purification plant
One of the projects we had come to see was a water purification plant that had been constructed with funds raised by friends of Marilyn at the local leisure centre. The water is pumped up from bore wells deep in the ground but it needs to be filtered and purified before it is good to drink. The alternative for local families is to either buy filtered water or to rely on the piped town supply which is not always clean for drinking. Now with the filtered water, the 3000 children on the school campus could be provided with clean, filtered drinking water, which would be distributed to points around the school for children to use.
During a short ceremony with much laughter and photographs, we cut the ribbon to open the filtration unit and then pulled back the curtain over the plaque. We cracked small, young coconuts on the step in front of the water unit, an Indian tradition since the coconuts are a symbol of purity and good luck. The unit was officially open and after the engineer had made a few final adjustments, the tap was ceremoniously turned on and water flowed into the plastic bucket.
4. Schoolgirls dance for us and we try a few Bollywood moves
From our previous visit we'd learned that whenever you visit a school campus some entertainment is laid on to entertain the honoured guests. Garlands of flowers are put around your neck and votes of thanks are given by your hosts. If you visit India on this kind of trip we'd learned that you need to be prepared to be handed the microphone and make an impromtu speech to a whole school at the drop of a hat!
After opening the water purification plant we were entertained with dances by the 40 schoolgirls who stay in the school hostel on campus, since their villages are too far to come each day. Part of money raised through our charity goes to support these hostels which ensure that even children from remote villages don't miss out on their education.
We were treated to Bollywood style dances, local village dances in which some of the girls were dressed as men with painted on moustaches, and a graceful rainbow dance. Of course we weren't to be let off as mere spectators and were dragged up onto the dance floor to much hilarity as we tried to imitate the dance moves and generally made fools of ourselves.
On another occasion we visited the campus of St Anne's school on the outskirts of Ananthapur to find 300 girls seated in a square in the school playground to give us a school performance. Among the dances was one by girls dressed in white, orange and green, the colours of the Indian flag who danced to a patriotic song about making a better India of the future.
Once again the microphone was handed to me and seeing so many eager, bright girls before me, I gave an off the cuff speech on the importance of education for girls and commended them to work hard for their own future and that of their country. The School Principal followed with a speech in the local Telugu language, translating some of my points about the importance of education for girls.
Afterwards we had an interesting discussion with the School Principal about the future of these school girls to understand why many get married so soon after leaving school. The Catholic schools which are run by nuns are highly valued by parents who want a protective and safe environment in which their daughters can learn. Most girls like to stay close to their families who are concerned about their safety and security, so they favour local colleges for further education and rarely go out of the state. The government is discouraging the dowry system and it is now illegal to insist on a dowry but of course most parents want to give their daughter a good start in life and this can be expensive, leading to loans and debt.
5. I meet my sponsor child
On my previous visit 2 years ago I had met the children that I sponsor, Nileema and her brother Pavan, and once again they had travelled by bus some distance to meet us with their father – you can read about our last meeting here. They really did not look any older than last time I had seen them, and we sat in the parish house and chatted with the help of Father Pratap to translate.
I showed them photos of my family and leafed through a book with photos of Bristol. There's a limit to what you can say when you don't speak each other's language but my experience is that smiles and pictures go a long way. I presented Nileema with some earings that I bought at the local jewellery store and the next morning when we saw her again she was proudly wearing them. It was one of the highlights of the trip to meet the children whose education I help with and feel a personal connection between our families.
6. Lunch and tea with the nuns
Whichever school or campus we visited there was always a house of nuns who would have lunch or tea waiting for us. Everything was prepared with great care, with treats of fried chicken or Indian sweets to tempt us and we were always welcomed with great kindness. Normally each house would have a community of around 6 nuns with the younger ones cheerfully running around and organising the meal. In return we would take them gifts of scented soaps or sweets that we'd brought from England (thankyou M&S!).
In India the nuns hold positions of respect and responsibility; they are nurses, teachers and school principals. Unlike the European countries where few young people are coming forward to serve as nuns and priests, in India there is no shortage. Because the nuns and priests can work in different regions of India, with different regional languages, they all learn English and use it as their lingua franca. I think if I were a girl from a poor background who didn't fancy an arranged marriage, it would be quite an attractive career choice seeing the responsibility that these communities of nuns hold and the great work they do.
7. Meeting sponsor children
When I first met Father Pratap through my church in Bristol, he was appealing for people to come forward and make regular donations to sponsor the education of children from poor families in his parish. We decided to sponsor a child as did other families and after a while we decided to register a charity to formalise the donations and reclaim tax on them through the government gift-aid scheme.
The Catholic run schools in India are highly regarded and sought after by parents due to their high standards of teaching and dicipline, but they receive little government funding and so parents have to pay a small fee for their children to attend. The sponsoship money that is sent through our charity helps to cover this fee for the poorest families and some of it is also used to fund books and uniforms for all the children.
One of the most enjoyable parts of our trip was meeting these sponsor children and it was very exciting for them also. Before I left Bristol I had a shopping extravaganza buying or getting donated small items of stationary, soaps, toothpaste (thanks to my dentist), pencils and coloured postcards of Bristol so we could show them where we came from. We would put them together so each child we met would have a small package of gifts to take away and they were all thrilled and excited to meet us.
Most touching was when they would give us something back in return and the girls you see in the photo gave me a rose clip for my hair which you can see me wearing. Luckily Father Pratap was there to translate for us, or the delights of the Clifton suspension bridge and the Bristol cathedral, which we showed them pictures of would probably have been lost on them.
8. Drilling bore wells for irrigation
Father Pratap's jeep took us down narrow roads, surrounded by fields, when we were met by a couple of motorbikes that had come to meet us. They were driven by the farmers who had benefited from two different bore wells that had been sponsored, and the farmers led us on to the fields where they were located.
Father Pratap explained to us how difficult it can be to drill a bore well, since despite employing a water diviner to advise on the best location, there is no guarantee that you will hit water or how deep you will need to drill. Luckily both these wells had hit water but both were currently capped off awaiting an electricity supply which in return required a licence from the local municipality with all the paperwork and bureaucracy involved in India.
When we had visited the villages 2 years before, they were only receiving power for part of the day, which was sometimes cut without warning. Recently things seemed to have improved and the villages were currently getting 24 hours of electricity to their houses, but the agricultural supply was limited to around 3- 4 hours in the day and night time. This meant that the water could only be pumped during those hours, limiting the area of land that could be irrigated. This was a big lesson for me in the politics of infrastructure. Here were we raising money to fund these wells, but perhaps if the government could provide a more consistent electricity supply, they could be used to irrigate twice as much land and feed two families instead of one.
Next to our currently dry wells, we saw another that was gushing water which flowed along channels into the field of groundnuts. We hoped that our sponsored wells would also look like this once they get a power supply. The main crops in this arid area are groundnuts, maize and sunflowers, while if there is a constant water supply more high priced commercial crops such as cotton and chilies can be grown that will fetch a higher price. One well can really transform the fortunes of the family it supports and Father Pratap told us that when these farmers struck water, the celebrations were going on well into the night.
9. The wedding cake church and a mango plantation
The first time I visited Father Pratap in his parish at P. Yaleru, he had recently completed the construction of a new church to replace the old one that was crumbling. Due to the tiered design, we jokingly called it the wedding cake church, and it stood up above the village houses and could be seen from miles away when you approached the village.
On this visit we visited P. Yaleru again and passed by the Little Flower primary school which was run by a nun and two teachers. This was originally a government run primary school but all the teachers had retired and the government no longer supported it, so had been taken over by the church to provide education for the local children.
We walked past the school to the field where a mango plantation had been planted several years ago, with sponsorship from the charity. Father Pratap had told us proudly then how the plantation produced many lorry loads of mangos which were sold to provide income for education and community projects. On our visit two years ago, the plantation had been thriving but since then there had been no rain and the bore well that was being used to irrigate the trees had run dry.
Luckily the trees were by now well established and looked healthy enough, although Father Pratap told us there were fewer flowers than normal. Plans were underway to drill the well deeper after the summer rains and restore the water supply, so that the future of the mango plantation could be assured.
10. The ladies' tailoring project
In the community hall at Father Pratap's old parish on Nandikotkur we found a large group of ladies in their brightly coloured festival saris and jewellery awaiting us, seated on the floor. These ladies had been studying 6 days a week for 6 months how to be tailors, and we were shown a sample book with doll-sized examples of the clothes that they had made as part of their training.
This was the third group of 15-18 ladies that had been trained and Father Pratap hoped to continue the project with further groups and also bring the project to his new parish if further sponsors could be found. The ladies entertained us with much dancing and singing, together with a skit about women who were running a tea stall but exhorted by their friends to come to join the tailoring project so they could earn a better living.
It was heartening to see the women singing songs of empowerment and know that they would now have the opportunity to earn money to support their families. The tailoring teacher sat on the floor since she did not have the use of her legs due to polio and Father Pratap had sent her for training for a year so she could learn to be a tailoring instructor.
At the end of the entertainment, we presented each of the ladies with a sewing machine that they could take home so that they could take on tailoring work in their neighbourhood. This was their graduation ceremony and we were glad to be there to celebrate their achievement.
11. Visiting Fatima at home
While we were at the parish house, Father Pratap introduced us to Fatima, a Muslim lady who worked for him and her young son who was one of our sponsor children. Later that day, we visited her at home so we could get a feel for how many of Father Pratap's parishioners live.
We stepped inside the one room house where Fatima lives with her husband and son, where everything was neat and clean. There was just space for a bed and a TV with all the pots and utensils on high shelves around the walls. In fact this house is rented and Fatima and her husband do have their own house that her husband built on a small plot that they were given in another part of town.
The problem is that they had to take out a loan to fund the house at a high rate of interest from a private moneylender, since no bank would lend them the money. When they fell behind with the loan the lenders agreed to waive the interest on the loan in return for living in the house themselves. Until Fatima and her husband's situation improves, they won't be able to recover the use of the house they built and the lenders are happily living there with no inclination to move.
12. Visiting the Vincente Ferrer foundation campus
We visited the pleasant campus of the Vincente Ferrer foundation, a Spanish charitable foundation that runs schools for mentally disabled, sight and hearing impaired children and runs a handicraft workshop for disabled women, most of whom had no use of their legs.
We found the ladies making brightly painted Papier Mache toys and animals, plaiting and coiling coloured rushes to make table mats and forming tough leaves into disposable plates that would be used at wedding buffet. We longed to buy some of the colourful moneyboxes and later went to the official shop where they are sold in another part of town.
The mentally handicapped children were so sweet and excited when we went into their classroom, jumping and dancing around for us. The four nuns that we visited on the campus oversee the running of these schools as part of the foundation, although this is not a Catholic institution and in fact takes pains to treat all religions equally, giving help on the basis of poverty rather than religion following the principle of the founder, a former Jesuit priest.
13. At the English medium Holy Spirit secondary school
On our previous visit we had been impressed by the large Holy Spirit English Medium secondary school which is run by the nuns and has around 700 children. In India there are both Telugu Medium schools that teach in the local language and English Medium schools that teach in English. Unsurprisingly, parents favour the English medium schools since their children will learn English and will have better job prospects and opportunities to work in other parts of India.
We toured many of the classrooms and noticed the discipline of the children and their focus on learning. I looked over their shoulder in one classroom and saw that they were doing computer studies, learning in English the theory of things that seemed quite complex to me, which would be followed up with a practical lesson in their computer room.
Although all the children were smartly dressed in their uniforms, I remembered that on our previous visit they had all been wearing their own clothes. The School Principal had explained that during the week they have a day to wear their own clothes which gives them an opportunity to wash their uniform, since most families could only afford one or two sets of school uniform.
As it was lunchtime all the children filed out quietly into the dusty playground and sat under the trees eating their lunch, although as we also sat down to eat ours with the nuns we could hear the noise levels rising as they finished lunch and become more exuberant in their playtime.
If you made it this far in this long article, I thank you for joining me on this journey – what was your favourite story from my trip? The truth is that in this kind of work there is no difference between giving and receiving; they are two sides of the same coin and I have come away from my visits to India far richer than I went.
If you want to help in any small way, I have a paypal account that's just for this UK Registered charity Families Initiative For India (F.I.F.I) – Charity No 1093565 which you can find  here or donate directly via Paypal [email protected] or through the Donate button below.
More India Inspiration
Flying Premiere Class with Jet Airways to India – is it worth it? 
Podcast – my Charity visit to India
Meeting my Indian sponsor child
Planning a trip to India?
Thanks to Jet Airways for providing Heather's flight to Bangalore/ Bengaluru, which made this trip possible. Jet Airways is the second largest airline in India, operating over 300 flights daily to 73 destinations worldwide and fly to Bengaluru via Mumbai and Dehli twice daily from London Heathrow. For more information: Jet Airways website | Twitter @jetairways | Facebook | Pinterest | YouTube | Flickr | Read the review of my Jet Airways flight
Need Airport Parking?
Heather used the Meet and Greet Parking Service at Heathrow airport, booked through APH Parking and Hotels. APH is a multi-award winning company for airport parking & airport hotels, offering airport parking at a range of airports across the UK. APH also offer airport travel extras such as Meet and Greet parking, airport lounge booking and airport hotel stays so you can start enjoying a stress-free holiday before you even take off. Thanks to APH who provided Heather's airport parking on a complimentary basis. For more information: APH website | APH Blog | Twitter @APHParking | Facebook | Google+ | YouTube |
Pin it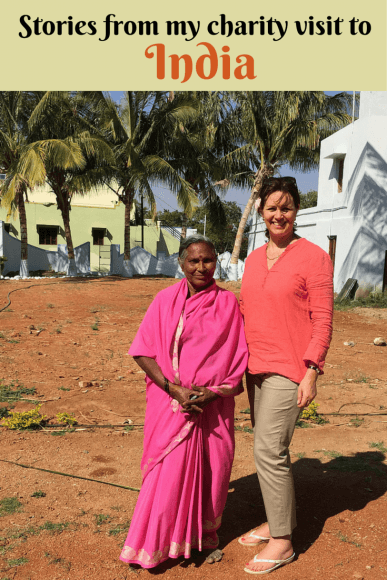 You'll also find our sister blog with tips on how to build a successful travel blog at My Blogging Journey
There's something magical about waking up in Cornwall in springtime with a view of the Fal estuary from your bedroom window. "Tide's in" says Guy as we open the curtains and lie in bed watching a tanker chug past St Anthony's lighthouse and the St Mawes ferry heading for Falmouth.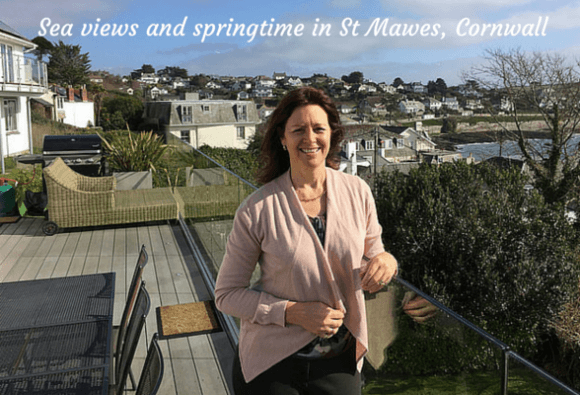 From our luxury holiday house, the aptly named Dreamcatchers booked through St Mawes Retreats, we have a view of the sea over the slate rooftops of the cottages, where people are waking up this fine morning. I can walk out from the living room, through the French windows, onto the deck with a cup of coffee in hand and bask in the spring sunshine, just drinking in the view.
In spring the sea has a wild and mesmerising charm, as little ruffles of white speed across the grey-blue water and subside again. I've stayed here before of course, at Stargazers, another St Mawes Retreats property and have been hearing the call of the sea and Cornwall ever since – read about our last visit here.
I hope you enjoy the video below from our spring weekend break at Dreamcatchers in Cornwall with St Mawes Retreats
If you can't see the video above of our stay with St Mawes Retreats, see it on my blog here or Youtube here and please do subscribe using the button above
Click here for direct download of video
Subscribe to all my videos in I-tunes
If you enjoyed this video, check out the others in my Video archive
Dreamcatchers is one of five luxurious holiday houses in the St Mawes Retreats portfolio, four of which are in St Mawes itself, the fifth in nearby Fowey and all have spectacular views of the sea. The house is beautifully furnished with oversized Designers Guild florals, white walls and a sprinkling of sparkle and glamour. It's light and airy yet warm and cosy and with those fabulous sea views, you really want to just curl up on the sofa or sit on the deck with a glass of wine and never leave. The houses are perfect for groups of friends like us who want to get away from our city lives for a relaxing short break by the sea.
Luxury and the Wow! factor
While we're staying at Dreamcatchers for the weekend I reflect on how 'luxury' means different things to different people. For the girls in our party it's the fabulous decor, the huge baths and walk-in showers within the bedrooms that have the Wow! factor. "I want to go back home and paint everything white!" declares my sister-in-law Clare as she dreams of recreating that 'by the sea' feeling. "I love all the colour" sighs my friend Penny and reminisces about wet camping weekends in Cornwall of the past that didn't quite have the Dreamcatchers magic.
As for the men, the house brings out the cave man spirit as Guy's eyes light up at the wood burning stove, with logs set by ready for him to stoke it up. Meanwhile, my brother-in-law Andrew spots the enormous gas fired BBQ on the deck, and immediately starts planning our dinner around it, since he's been known to cook the Christmas turkey on the BBQ before. My teenage son and friends fiddle with the sound system that defeats the rest of us and are duly impressed by the flat screen TVs in every room – there's even the one above the bath in their own en suite bathroom.
Dreamcatchers is beautifully liveable as a holiday house to relax with friends and family. The house seems to swallow us all effortlessly, with a second sitting room that the teenagers can make their den.  We lounge around on the squashy leather sofas, play cards, drink wine, admire the twinkly lights in the oak staircase, gaze out to sea and generally catch up on everyone's news.
When it comes to mealtimes, the kitchen has so many cupboards that we spend ages opening them all just to find a coffee cup or a plate. With two large fridges, a wine chiller, a super duper coffee machine to bring out your inner barista and pretty mother-of-pearl mosaic tiles this kitchen is made for a party.
Along the seafront
On Saturday morning, we wander down to the harbour at St Mawes that we had surveyed from the deck of Dreamcatchers. The narrow seafront road is lined with whitewashed cottages with blue shutters and daffodil window boxes and further on towards the Tresanton Hotel we pass pretty pastel villas with fanciful sea-faring names. I can't resist stopping in the Waterside Gallery, filled with lovely glassware, paintings and sculptures from Cornish artists where I give the wooden seagull sculpture that hangs from the ceiling a pull to make it sway hypnotically up and down.
St Mawes Harbour
Around the harbour at St Mawes there are plenty of pubs, cafes and gift shops, although in March everywhere is quiet since the main holiday season starts at Easter. I imagine that in August the village is packed out but I quite like visiting places like this out of season before the crowds arrive. A racing gig comes onto the beach since the all-female crew have been out training and we watch them heave the boat out of the water.
In the past these pilot gigs were working boats, used to take a pilot out to a ship coming into the estuary and the race was to see who could get to the ship first to win the business. Now the pilot gigs are raced for sport along the Cornish coast and you'll spot the Rosaland Gig club in the centre of St Mawes by the vintage petrol pumps standing outside.
The St Mawes Ferry
Last time we visited St Mawes, I'd seen the blue ferry passing by, but there were so many other places to explore that we didn't have time to try it out. The ferry has the appearance of an old fashioned wooden toy boat, only life size, and it runs every day of the year but Christmas (more information here). On boarding the ferry we sat in the sunshine on the open top deck, enjoying the wind on our face and the fantastic views of St Mawes Castle and the boats in the estuary as we made the 15 minute journey across to Falmouth.
Reaching Falmouth Harbour
Falmouth is a town that faces a deep natural harbour with a history that has for centuries been linked to the sea. As we approached on the St Mawes Ferry, we could see the marina with industrial cranes where they build Pendennis superyachts and the castle on the headland that mirrors the one on the other side at St Mawes to protect the estuary. The tide was out with seagulls making a constant shriek and shrill as they picked over the seaweed while the water lapped against the quayside.
From the ferry pier we turned left and passed a range of unremarkable high street shops, but further on these gave way to smaller art galleries and cafes, with plenty of places to buy your Cornish pasty or fish and chips. We thought Falmouth seemed like a great place to live, a proper town with plenty of charm without being too touristy or bijoux. We wandered past the Georgian shop buildings painted in shades of pale grey, lemon and sky blue with bunting strung between them fluttering  jauntily in the wind. From the main street we could follow small alleyways, leading up the hill or down to the sea, giving a tantalising glimpse of blue between the buildings.
A Cornish pasty and a pint
This being the heartland of the Cornish pasty we were planning to try one for lunch, preferrably combined with a jug of Cornish Ale and a view of the sea. Down on Custom House Quay we spotted a sign in the pasty shop that said we could eat them in the pub opposite called "The Front bar on the quay" and entered the old style pub with a bar lined with Cornish ales and ciders that made Guy's eyes light up. To get the view of the sea we had to sit on a bench outside, with a fine harbour view, only slightly marred by the constant stream of cars coming down the lane to park.
Having eaten our pasties, I went to explore the interesting Watermen's Gallery with my sister-in-law, Clare and got chatting to the artist in residence, Sophi Beharrell who was working on a half finished painting of a cliff scene in Cornwall. There were many lovely Cornish seascapes on the wall, and other artistic gifts, but we made do with buying a few greeting cards of the paintings.
St Mawes Castle
Returning to St Mawes on the ferry, we decide to extend our walk to St Mawes Castle, following the lane of well kept Edwardian villas, pastel pink or bright white with freshly painted blue windows. It's rather sad that almost all seemed to be holiday homes, with not a light on and no-one at home. I wondered what it's like to be a local around here, seeing these houses go empty for much of the year.
Further on, we reached St Mawes Castle, a petite fortress built by Henry VIII to guard the strategic Fal estuary from invasion, matched by its twin of Pendennis castle on the other side above Falmouth. The castle is now run by English Heritage, although it was just closing as we arrived, so we didn't go in but continued up the muddly lane with the sea on our left. Here we passed more smart houses, with gardens full of rosemary, hydrangeas and camelias that would withstand the sea air, but again found all the houses in darkness. The path would have taken us to St Just in Rosaland but the fields were muddy and dusk was falling so we returned to Dreamcatchers for the scones and clotted cream tea that had been left for us by St Mawes Retreats.
Cream tea – Jam first or cream first?
If you ever meet a Cornishman be aware that the innocent cream tea has become a hot topic over how it should best be eaten. In Devon it seems that the scone is always spread with cream first then the jam on top while in Cornwall it's jam first and cream on the top and there's heated debate over which way is best. I remained impartial, tried both and found it delicious either way.
To the Lighthouse
On Sunday the blue skies and spring sunshine had turned to grey cloud and light drizzle but we pressed on with our visit to St Anthony's Lighthouse which I'd visited on previous trips to St Mawes. In summer you can get a 10 minute ferry ride straight across from St Mawes, but we had to drive the 20 minutes around the headland and parked in the National Trust carpark at the end of the road.
St Anthony Head is the site of many Second World War fortifications, concrete bunkers and observation posts with a fine view over the estuary. We walked down through the sheltered pines to the path to St Anthony's lighthouse, which featured as the lighthouse in the TV puppet show, Fraggle Rock. You can't get close up to the lighthouse which is still in use although there is a holiday cottage there that can be rented. We retraced our steps and walked along the sheltered path to the beach of Great Molunan, walking past the first cove and scrambling down to the next with the help of a rope. The tide was out with only us and a couple of kayakers on the beach and a view back to St Anthony's lighthouse.
After our blustery walk we drove back to St Mawes, diverting for lunch at Portscatho at the Plume of Feathers pub in the heart of the village.We installed ourself in a cosy side room and ordered some hearty pub fare – both the fish and chips and the roast Sunday lunch were excellent and ticked all the boxes for a proper Cornish lunch.
Back at Dreamcatchers it was time to pack our bags again and take a  final look out at the window at those sea views, wishing we could stay a few more days. There's something therapeutic about being within sight of the sea, the constant motion of the waves breaking on the rocks, the wind blowing away the mental cobwebs, and the rhythm of life on the water with the boats passing by. Our life in Bristol required us back but I know that it's won't be long before I feel the call of Cornwall, St Mawes and the sea again.
More information for your short break with St Mawes Retreats
St Mawes Retreats offers luxury holiday accommodation in Cornwall, with 4 properties in St Mawes and 1 in Fowey, sleeping between 4 and 12 guests. The larger houses are ideal for groups of family and friends to share and the St Mawes properties are all close to each other so are ideal for extended family stays and celebration events. The houses are available for short breaks and weekend stays in spring and autumn at surprisingly affordable rates, with special low occupancy rates for smaller groups in the winter, and the cost per person is well below that of a similar standard boutique hotel.
Dreamcatchers where we stayed has 5 en suite bedrooms, 2 sitting rooms, breathtaking sea views from the living rooms and master bedrooms, a south facing garden and is a short walk from St Mawes village on the beautiful Rosalind Peninsula. Dreamcatchers can be booked for short breaks from £952 in spring and autumn with low occupancy discounts in winter.
To book visit the St Mawes Retreats website or ring owner Amanda Selby on 0800 0886622 to discuss your requirements, as there are many concierge services available such as a private chef, beauty treatments, shopping services, childcare and help with organising your celebration event. For news and special offers follow St Mawes Retreats on Facebook | Twitter | Instagram | Pinterest |
Thanks to St Mawes Retreats for hosting Heather and friends for their weekend stay in Dreamcatchers.
More Cornish adventures
Is this the perfect sea view? Our luxury weekend at St Mawes in Cornwall
Cliff walks and country houses in Cornwall
Just me and the boys down on the farm in Cornwall
 Pin It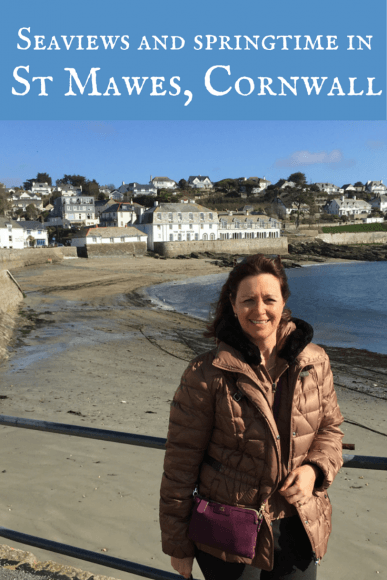 This article is originally published at Heatheronhertravels.com – Read the original article here
You'll also find our sister blog with tips on how to build a successful travel blog at My Blogging Journey