Before today I thought that a Via Ferrata was a hiking trail with some sections of ladders and cables to keep you safe on the tricky bits. Now I'm in South Tyrol, in the heart of the Dolomites, I quickly realise that a Via Ferrata is not a hiking trail, but a rock climb and since I've never climbed in my life it's a somewhat scary prospect. On my previous hikes in the Alps on the Tour de Mont Blanc I'd come across the odd cable or ladder, but always managed to find an easier alternative route. Today there's no escape.
I meet my guide Veronika at the Catores Mountain Guide offices in Ortisei where she fits me out with the helmet and harness I'll need, as well as the two karabinas and the rope that she'll secure to my harness. The back story here is that these climbing routes, literally "iron roads" were originally built with ladders and cables to enable soldiers in the First World war to move around the Dolomites safely. Italian and Austrian solders, just as young and fit as the climbers I'll meet on the mountain today, fought to dominate this area, building trenches and trying to blow each other up on the mountain.
I hope you enjoy my video below of climbing the Via Ferrata in South Tyrol
If you can't see the video above of climbing the Via Ferrata in South Tyrol, see it on my blog here or Youtube here and please do subscribe using the button above
Subscribe to all my videos in I-tunes
If you enjoyed this video, check out the others in my Video archive
Despite the Austrians having won the battle, the Italians won the war because they were on the side of the Allies and in the post-war division of spoils were given the province of South Tyrol to add to their territory. These days the Via Ferrata have been restored to allow climbers to enjoy the Dolomites, beginners like me in the company of a guide, while more experienced climbers can use them on their own so long as they have the right equipment.
The cable car takes us up the mountain to the start of our climb, although by now the cloud is swirling around us and hiding the peaks opposite from view. The path climbs steadily above the mountain restaurant, getting progressively more steep, while I get progressively more breathless. As I walk up mundane thoughts swim and swirl around in my head. Will my nails, newly manicured and polished for this trip stand up to the battering? What are the kids doing back home? How can I capture the experience (for your benefit dear readers) without my iPhone slipping from my hand and plunging down to the valley below?
I scrabble for handholds to steady myself on the dusty rocks, wishing that I'd worn my fingerless cycling gloves that Veronika said I didn't really need for such a short climb. At the top of the approach Veronika suggests that I take off all my rings as they could get caught or damaged on the rocks and I very carefully zip them into my pocket, terrified that I'll drop my wedding ring and it will roll all the way down the mountain.
"Where are all the ladders and cables?" I ask. Veronika points up the mountain and tells me "this is just the start". I look up at what seems like a sheer wall of rock with a cable running up it. Fear takes hold. I'm no climber. How on earth will I get up there?
At the start of the cable, Veronika shows me how I should clip on both my karabinas and slide them along with one hand while the other hand finds a hold on the rock. At the places where the cable is secured to the rock I unclip one karabina and clip it back on the other side of the metal bar, then do the same with the other karabina, always secured to the cable in case I fall.
Veronika points out an edelweiss, an increasingly rare sight on the mountain. I once posted a photo of what I thought was edelweiss when I was walking the Tour de Mont Blanc, quickly to be corrected on Twitter that it was a thistle! This is the real thing – looking like a felt flower that you might tuck in your hat. Set into the side of the raw rock nearby, I spot a little shrine with a statue of the Madonna. "She keeps us safe on the mountain," Veronika tells me.
A group is climbing up below us and I start to panic slightly – will I need to speed up or will I be holding up the entire mountain? They all look like they know what they are doing with wrap around sunglasses and tanned muscular arms. Veronika is endlessly patient as she waits for me to take my time and progress slowly upwards. In the meantime she takes out her camera and takes photos of me grinning up at her. I AM enjoying this, I tell myself.
Now I start climbing in earnest and everything is focused on this moment. Everything becomes very small. One step up. I look up to find the next handhold. Now the next foot. Will I really be able to balance my weight on such a tiny ledge? Don't look down. It's just about the next handhold. It's just about the next foothold.
Now I understand how climbing can be a kind of meditation to clear your mind of the jumble of thoughts and crumbs of everyday life. As I climb it's not about admiring the views or the wonder of the Dolomites. It's about this moment of concentration, the next foothold, the next handhold. Like a mathematical problem to be solved, there's a sequence of moves that will get me up the rock face. If my hand goes here, then my foot can go there and my next hand here and my next foot there.
"Small steps", says Veronika encouragingly "small steps". But there are places where only a big step up will do, as I hoist myself up inelegantly, praying that the tiny ledge I've chosen as a foothold won't give way. My upper body strength is pathetic and I'm feeling every old twist or sprain in my arms and wrists. I can see why climbers are so lean and strong and why they seem so calm and confident. Up here on the mountain is no place to get excited, you can't take your frustration out on the mountain because the mountain will win.
It's a relief when we arrive on a flatter path with sheer drops on either side and take the opportunity to pose for a few photos. Now I have the chance to look around at the view. The cable car station is a toy town building down in the valley with the access track snaking up to it and the cloud hanging over the plug of rock that is Sasso Lungo.
Veronika is agile as she trips lightly up the steep slope, surefooted as a mountain goat. I scrabble behind her on all fours in undignified fashion trying to find handholds on the slope ahead of me, more of a spider than goat. A short climb later and we're suddenly at the top, sharing a tiny peak of rock with two other ladies of my age who are chatting away as if this were  a social gathering (which it probably is for them). Once I am settled with my bottom on that peak they head down and now we have the whole of the Dolomites to ourselves. Without moving my bottom an inch I gingerly get out my camera and twist my body round to take in the panorama of jagged peaks around me.
Veronika takes more photos of me sitting there, clambering surefooted up to the next bit of rock and leaning so far out to get the perfect shot that I feel sure she will fall.  I savour the moment of my success in getting up here but then the realisation dawns that I'm going to have to get down again. "Don't worry" says Veronika "the way down is much easier". I'm relieved that I won't have to climb back down that vertical rock face, but first we have to rappel the short distance down off this peak to where we pick up the cable again.
Veronika instructs me how to lean away from the rock face, letting the harness take my bodyweight. "Two hands on the rope" she calls to me but I'm too scared and my hand reaches out for the cable, half scrambling, half abseiling down. Just below the peak we pick up a different path, easier than the sheer rock face as Veronika has promised but still not a walk in the park.
We are still clipped to the cable but the dusty shale and rubble slides underfoot and my muscles are now rebelling against the contortions they've been put through. I've scraped my knee and my thighs keep going into spasms. After my brief success it's time to focus again, we're not down yet. The cable snakes down a rocky couloir and again I scrabble as Veronika follows surefooted behind. At some point we abandon the cable but she still has me on the rope. Finally she expertly winds up the rope and we're walking over the dusty rock on a path that's barely there. Down to where the rock ends and the grass starts, down again to the cable car station and down again to the valley to pick up the car and drive back to Ortisei.
Back in Bolzano that afternoon I meet a local lady and tell her of my daring exploits climbing in the Val Gardena. "Oh yes" she smiles, "that's where we love to take the kids climbing on a Sunday". My bubble bursts as I realise that for the locals a family climb in the Dolomites really is a bit like a walk in the park. But even though it's not quite Everest, I still feel secretly thrilled at the achievement of climbing MY first Via Ferrata.
If you'd like to try a Via Ferrata in South Tyrol
The Piccola Cir Via Ferrata took around 4 hours door to door from the Catores office and around 2.5 hrs from the top of the Dantercepies cable-car station (1.5 hours climbing up & 1 hour down). All safety equipment (harness and helmet) was provided as part of the climb.
Thanks to my guide Veronika Schrott who can be contacted via the Catores Alpine School in Ortisei, Val Gardena e-mail: info@catores.com. The main office of the mountain guides is at Via Rezia 5 in Ortisei where you can arrange guided climbs, hikes and ski safaris in South Tyrol with routes suitable for families and beginners as well as advanced climbers from €95 per person as part of a group. Four people is the maximum each guide can cover.
For more technical details of the Piccola Cir Via Ferrata visit the Sentres website
Information, articles and resources for South Tyrol
For more information to plan your own visit, find accommodation and discover all the things to do in South Tyrol, visit the South Tyrol Tourism website and watch videos about the region on their YouTube channel. For updates on things to do in South Tyrol follow the South Tyrol Twitter, Facebook, Google+ and Instagram pages
My thanks to the South Tyrol Tourism Board for their support in this trip in collaboration with Travelator Media
This article by Heather Cowper is originally published at Heatheronhertravels.com – Read the original article here
You'll also find our sister blog with tips on how to build a successful travel blog at My Blogging Journey
In this article our guest writer, Francesco Visconti, takes us to Verona for the weekend to find the true Italian heart of the city beyond the story of Rome and Juliet.
Everybody in the world knows Verona as the set for Shakespeare's romance Romeo & Juliet and lovers go there as pilgrims just to see the famous Juliet's balcony. But for an Italian who loves to travel and tries to discover the real soul of place, like me, it's easy to perceive that this city is much more and that its romantic atmosphere came before Juliet's balcony. A few weeks ago I spent a weekend in Verona, with my girlfriend, of course. I had already been here when I was 12 with my family, but only this time I could understand the specialty of Verona, if compared to many other Italian destinations, that foreigners visiting the town for just one day may not see.
We arrived at the train station on Friday afternoon just after lunch. The beginning of the autumn is the perfect time to visit Verona, with less tourists but still good weather and gorgeous colours all around. At this time of the day, when nobody's in the streets, you can really enjoy the peaceful atmosphere on Corso Porta Nuova, the big boulevard that goes from the monumental door of the 16th century Porta Nuova to the centre. At the end of the boulevard we passed under the two arches that give access to Piazza Brà and it was like a jump in history. We left at our back the modern town to get in the old Roman town of Verona, whose symbol is the Arena, the second most known amphitheatre of the Roman age after the Coliseum. The Arena is less tall but larger than its brother in Rome, perfectly preserved and with an incredible acoustic that makes it perfect for concerts and music festivals!
Until 10 years ago the Arena was home of the most popular music festival in Italy, the Festivalbar and the first time I visited Verona it was just during the days of the event. So I couldn't visit it and now I was just too excited to see it from the inside, to walk on the sand and climb the steps until the top to have a look at the rooftops of the surrounding square. In the Coliseum you can hardly touch anything, while in the Arena you are free to go all around the amphitheatre and, instead of thousands tourists struggling for taking a good picture, here we were almost alone and could make fly our imagination to the era of gladiators.
As you can suppose, we spent a good part of the afternoon in Piazza Brà and when we came out of the Arena it was already "Spritz time". The Spritz is a typical drink from Verona and the Veneto region in general that people drink more or less at the same time when English drink tea.
In search of a nice bar, we passed from the Roman to the medieval era, walking through the pedestrian streets inside the walls of the old town. What really hit me is that almost all the area is pedestrian, something that I haven't seen in any other Italian city and that really made me enjoy the walk. We finally found streets full of people going for shopping, for an ice-cream or chilling at the bars with their Spritz.
After our random tour of Friday night, we planned our Saturday to visit the rest of the city. Our first stop was Juliet's house and balcony. We tried to go relatively early in the morning, but no matter what's the time, half of the tourists in town are always pointing to that hypnotic balcony or to the statue of naked Juliet below it. We contributed to the ceremony for a while and then followed the tour into the more enjoyable Piazza delle Erbe. This place has always been the heart of Verona: it is the oldest square of the town and lies upon the ruins of the Forum of the Roman town, it's been setting for the market and today is the heart of nightlife, full of bars and restaurants.
And it's also an incredible collection of monuments and buildings of different eras: the house of the municipality, the Lamberti tower, the painted Mazzanti houses, the fountain with the statue of the holy Mary, the "Tribuna" and the column with the Lyon of St. Mark, symbol of the power of the old Republic of Venice, which ruled upon Verona in the 15th century. All these attractions are amazingly put together, without clashing each other, like in a colourful painting and at first sight, attracted by its elegance, you don't even realize its wealth in culture and history.
We took a while to breathe and continued the tour. We just had to make 20 meters at the back of the House of Municipality to get to another amazing square: Piazza dei Signori, with at its centre the statue of Dante Alighieri. The imposing statue made the Veronese people give the square the name of Piazza Dante. It's another square built in medieval times and surrounded by monumental buildings. The very curious thing is that each of them is linked to the next through arches. In a corner of the square there's maybe the most particular monument of Verona: the "Arche Scaligere", monumental tombs in the open air topped by arches in gothic style. They were considered the most honourable burial for the illustrious lords of the Scaligeri family, who ruled the city in the 14th century.
After a quick glance at the cathedral and the basilica of St Zeno, in the late afternoon, a bit outside the centre, we visited Castelvecchio, literally the old castle. We went there at this time to enjoy then a walk at sunset through the charming Scaligeri bridge, that crosses the river from the castle and then continuing along the river Adige until the Pietra bridge, the only bridge built in Roman times remaining nowadays. If you want to do something romantic in Verona, visit this side of the town under the night-lights!
We dedicated the Sunday to shopping and to try typical food from Veneto region. A foreigner wouldn't appreciate the difference and everything that sounds like Italian food would taste delicious. But for an Italian that eats pasta everyday it was necessary to find a "trattoria" with typical Veronese cuisine!
Many thanks for this article to Francesco Visconti, a 26 years old Italian travel blogger and startupper, author of GaddersBlog and creator of the travel platform Gadders that helps foreign travellers discover the best places in Italy. He's a full-time traveller, having been living abroad in different countries for 4 years, now living in Spain. He loves to know in depth a place and a country and, when home begins getting boring, starts looking for new destinations that stimulate his senses. Follow his Twitter feed and Pinterest or visit him on Google+.
Photo Credits: Photos by Francesco Visconti except Juliet's Balcony by Jeroen Van Luin
For more Italian adventures
Cycling with Wine and apples – on the Wine Road in South Tyrol
Messina and an excursion to Taormina – Day 5 of my MSC Mediterranean Cruise
Three nights to fall in love with the city of Verona
This article is originally published at Heatheronhertravels.com – Read the original article here
You'll also find our sister blog with tips on how to build a successful travel blog at My Blogging Journey
In this article our guest author, Lee McIntyre, shares some of the foods of South Tyrol she came to love while living in Bozen/Bolzano, Italy and invites us to experience the Törggellen festival, a mouth-watering celebration of autumn.
Bozen/Bolzano is a beautiful medieval town nestled at the foot of the Dolomite mountains, a town with a subtle blend of Italian style and Tyrolean tradition. But the thousands of visitors who use the town as a base to explore the surrounding natural wonders of the South Tyrol also know that there are a number of Tyrolean food specialties that shouldn't be missed!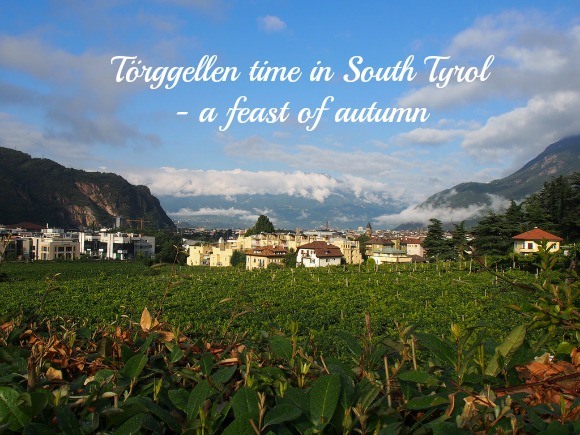 One way to taste many of those foods all at once is to head to the South Tyrol in the autumn to have a traditional Tyrolean Törggellen feast. I think of the Törggellen meals as sort of "harvest" celebrations, although I'm not sure that's really quite an accurate description. Unlike the Thanksgiving holidays in North America and elsewhere, where everyone celebrates the harvest on the same day, there is no one day for a Törggellen. Rather, restaurants offer these meals throughout the autumn months.
A Törggellen meal begins with a typical Tyrolean first course of a starchy item: for example, you might start with Schlutzkrapfen/mezzelune, little squares of pasta that look like very thin ravioli, often filled with "something green" (a mix of spinach, onion and herbs, traditionally), pumpkin, or squash. This dish is topped with melted butter and Parmesan cheese.
Or you might choose instead some Knödel/canederli, which are big bread-based dumplings. These are made with bits of bread-for-stuffing (like you'd use to stuff a goose or turkey), which is then mixed with pieces of cheese, small chunks of Tyrolean cured bacon (Speck), and/or bits of spinach. This bread mixture is then shaped into balls or ovals and boiled in water. Like the Schlutzkrapfen, Knödel are often served in a melted butter sauce and topped with Parmesan cheese (my favorite!), although another typical presentation is serving them in a soup.
After the first course, the Törggellen feast becomes all about the meat. Specifically all about pork. I once had a hard time identifying all the kinds of pork products that were presented on a Törggellen platter, there were so many different varieties presented, including ham, roast pork, and many varieties of pork sausages. Pork dishes in the South Tyrol always appear alongside a bowl of some of the tastiest horseradish I've ever eaten, anywhere. It's not sour and adds just a bit of a kick when combined with a bit of roast pork, or a slice of salami.
But the most different for me of all the pork offerings is the dark red Blutwurst sausage. In English, the literal translation of that is "blood sausage", which doesn't sound that appetizing, and it's not something I ever ran across in the U.S. At a Törggellen it is served whole and hot on the central pork platter; you slice off a bit of it to transfer to your plate. It's not as solid as the other sausages and it sort of falls apart and spills out of the casing when you cut into it. Lots of spices, including cloves, gives it a really distinctive taste. Very flavorful, very different … and very good, but definitely an acquired taste at first.
There are usually no vegetable side dishes offered at a Törgellen, apart from the piping hot sauerkraut, which has little pieces of pork mixed in, in keeping with the overall pork-theme of the meal. At the Törgellen feasts I went to, the bowl of sauerkraut on the table was constantly replenished – an all-you-can eat offering at the meal.
Of course, in some ways, even all of that food serves as merely a preamble to autumn-specific food that comes at the end of the meal: a huge pile of roasted chestnuts accompanied by glasses of the "new wine" that has just been bottled. Your fingers become quite sooty as you peel the still-warm blackened chestnuts, revealing the plump, cooked nut in side. It's the perfect counterpoint to the slightly sweet and every-so-slightly fizzy new wine.
Although the chestnuts accompanied by new wine are available only in autumn, all of the other standard Törggellen specialties can all be found in restaurants year-round. So any time of year is perfect for a visit to sample the sumptuous flavors of the South Tyrol.
Read more about the food and wine of South Tyrol
Cycling with wine and apples – on the wine road in South Tyrol
Traditional South Tyrol food and wine with a gastronomic twist
To plan your visit to South Tyrol
For more information to plan your own visit, find accommodation and discover all the things to do in South Tyrol, visit the South Tyrol Tourism website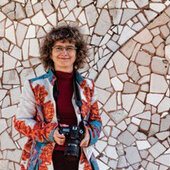 About our guest writer: Lee McIntyre is an American photographer, teacher and author who has lived, traveled and taken photos all over the world. Prior to moving to Tübingen, Germany in 2011, she spent three years in Bozen/Bolzano, Italy trying to master the ins and outs of life in a new language in the South Tyrol. Lee chronicles some of her adventures in her lighthearted memoir, "Life on a Gelato Diet: Everyday Expeditions with an American in Bolzano", available for Kindle and in paperback from Amazon worldwide, and for all eBook readers from LeanPub. Lee has also created a line of tote bags featuring some of her most popular photos from Bolzano. Available in a variety of sizes and designs from shop.clfoto.net, these bags are perfect for everyone's everyday expeditions, anywhere in the world. Find out more about Lee's current projects on her website at www.clfoto.net.
Photos: copyright Lee McIntyre except first photo by Heather Cowper
This article by Heather Cowper is originally published at Heatheronhertravels.com – Read the original article here
You'll also find our sister blog with tips on how to build a successful travel blog at My Blogging Journey
In this article our guest writer Angelina Van Kemenade shares with us some of the places in Rome that her kids love to visit from a vintage chocolate factory to gladiator training at the Colisseum.
Rome is definitely one of my family's favorite holiday destinations, offering a wide selection of sightseeing spots and activities that are surely captivating to both adults and kids.
Spending a holiday with the whole family is one of our favorite bonding activities. Just like me and my husband Patrick, our kids love Rome, not only because of the famous Gladiator movie and the Hercules cartoon television show but also because of the unique splendor and the joy that the city offers. With this article I am going to share with you some of the highlights of Rome that I considered among my kids' favorites. I am pretty sure that your kids and even you as parents will love these marvelous places in Rome.
Said Vintage Chocolate Factory
Because my kids are huge fans of chocolate, they love touring one of the most famous old chocolate factories in the world. Most people, regardless of their age and gender, love chocolate, so I am quite sure that both you and your kids will enjoy visiting the Said Vintage Chocolate Factory. This very interesting place in Rome was founded by Aldo De Mauro around 1923 and was once one of the factories in Rome that produced high quality and world-class chocolate.
The factory's popularity boomed until it was damaged by extensive bombing during the Second World War. These days, Said Vintage Chocolate Factory no longer functions like a typical factory, but rather an impressive chocolate museum. The museum still houses the vintage machinery used in producing chocolate in the past, some of which is still magnificently functioning. Even though the company has ceased its normal chocolate production operation, you can still buy an authentic chocolate recipe or savor that scrumptious old-fashioned chocolate taste from the gift shop at the old factory. Watch the video here.
Rainbow Magic Land
The Rainbow Magic Land is one of the most loved family theme parks in Rome, covering an area of about 16 thousand square meters. What we like most about this theme park is that it is very accessible and can easily be reached from Rome through taking the train and then the shuttle bus. It is located in Valmontone just about 49 kilometers away from the historic center of Rome.
We have visited Rainbow Magic Land more than once but we still feel excited at the thought of visiting the theme park again. With the 35 main attractions and the 10 various shows that the park offers, you will surely look forward for another wonderful experience at the Rainbow Magic Land. Among the most popular shows at the park are stunt shows, the interactive Bombo show, aquatic ballet, various theatre performances and the Winx fairies show. The colorful and ever spectacular firework display also adds to the reasons we love visiting this family centered theme park.
 Giardino Zoologico di Roma
The Giardino Zoologico di Roma, also popularly known for the title Bioparco, is one among the kid-pleaser zoological gardens that you can find in Rome. The animals are trained to interact and be used to humans and are provided with a particular space in the garden where they are given the freedom to live and to move around. More to that, Bioparco also provides a safe shelter for various kinds of endangered species and also a nonviolent home for animals that were once victims of abuse and trafficking.
The Gladiator School and the Colosseum
What is a holiday trip to Rome with kids without a visit to the famous landmark of the Colosseum, known as the most gigantic ancient structure that was ever built during the Roman Empire era. This amphitheater was capable of accommodating up to 50,000 spectators at a time during ancient times. It was a famous site for entertainment and political gatherings in Rome and was also once used as the stage for gladiator fights.
Speaking of gladiator fights, my kids love participating in a simulation gladiator activity and because of this, we do not skip visiting the Gladiator School every time we come to visit. In the Gladiator School, both adults and kids are given the opportunity to play as a real gladiator and activity usually commences with one to two hours of basic training. In the training participants are taught about the basic and pro swordsmanship and fighting techniques that the ancient gladiators had to learn. After the short training is over, there is an activity where participants are given the chance to fight as a real gladiator, to wear an authentic Roman fighter suit and to use a blunted sword.

Many thanks for this article to Angelina Van Kemenade, a 29 year old mother of two, and the owner of romesightseeing.net, a website that shares ideas and valuable information about the famous sightseeing sites and main attractions in Rome. Angelina loves to travel together with her husband Patrick and their kids to their favorite holiday destinations of Rome and Paris.
For more things to see in Rome:
The Rome of childhood memories
The Pantheon – in Rome
Street entertainment in Piazza Navona – in Rome
Photos by Angelina except Said Chocolate Factory by Nancy White, Rainbow Magic Land by Wikimedia Commons, helping out with the animals by Bioparco.it
This article by is originally published at Heatheronhertravels.com – Read the original article here
You'll also find our sister blog with tips on how to build a successful travel blog at My Blogging Journey
If Knomo were your best friend, she'd be one of those cool, stylish people who lives life to the full – always on the move, trying out the latest gadgets, working on some interesting, creative project or other. Perhaps she'd be a photographer, designer or even a blogger, moving effortlessly from an informal business meeting to drinks with friends. Knomo is a girl who doesn't really care about logos and labels, she just loves things that are beautifully designed and work for her lifestyle. Understated elegance is her trademark, she's the sort of girl that always looks polished and put together, even though you can't quite place what brand she's wearing. Perhaps Knomo is a girl just like you or me, or perhaps with the perfect piece of luggage we can live her lifestyle too.
Of course I'm just having a bit of fun imagining the Knomo lifestyle, since Knomo is not a real person but a purveyor of luxury luggage, handbags and other finery that might just work in your lifestyle. If you're looking for a classy bag with room for your tablet, laptop and mobile, that won't shout "technology geek", look no further. Or perhaps a case for that iPhone 6 that's already on your Christmas list? Or even the perfect soft leather messenger bag that will keep the man in your life organised and looking good (Knomo's not just for girls you know).
I made a short video below so you can see how I got on with my Knomo Bolsover case on my cruise
If you can't see the video above, view it on my blog here or on YouTube here and please do subscribe using the button above
Download the Video of my Knomo Bolsover case
Subscribe to all my videos in I-tunes
If you enjoyed this video, check out the others in my Video archive
To test out whether Knomo could cope with my aspirations for effortless style as well as accommodating all the technology that goes with a blogger's lifestyle, I took the Bolsover trolley bag along as hand luggage on my MSC Mediterrranean Cruise. On the flight out to Barcelona to meet the ship we had one suitcase between us as well as a small carry-on case which was the perfect scenario for my Bolsover. In Placa Catalunya we stopped for a photo opportunity, enjoying the sunshine and the life in the square that is Barcelona's beating heart.
Isn't she pretty?
I must say that this gorgeous bag made me feel quite the jet setting girl about town. The luxurious red carry-on is piped in leather-effect trim and covered with a soft waterproof fabric that's quilted in a diamond pattern. I love that rich, red colour, the shade of tomato ketchup or should I say a glass of good claret? It feels luxurious, elegant and expensive (but of course no more than I deserve!) There's a sturdy metal telescopic handle that allows you to pull the case along easily in the aiport but slots down and zips away neatly when you want to use the bag as a weekender to drop into the back of the car, as well as a tactile but robust carrying handle at the top of the bag. I'm instantly impressed by the amount of shiny chrome zips and endless pockets – a girl can never have too many pockets in my opinion.
Lets take a look inside
Zipping open the main compartment of the case reveals four little side pockets to tuck way your underwear, jewellery or other small items with some straps to keep everything firmly in place. In the lid are two more larger pockets to pack your shoes and a half depth zip pocket to keep a book or kindle. Already I've counted seven pockets but that's before I discover the extra zipped compartment that becomes your office storage area built into the lid.
You can tuck a 17 inch laptop in here, with some more sleeves and pockets for all those pens, chargers and other odds and ends, with a zip pocket for your tablet. That's another six pockets and there's more! On the outside lid there's another full width zip pocket where I'd put a magazine to read on the flight and a cute little zip pocket set into the leather trim that's the perfect size for your mobile. Two more pockets, what more could I ask for ?
Perhaps a way of finding my Knomo case again if I ever lose it? They've thought of that too. Inside the top compartment you'll find a unique ID which you can register on the Knomo website. Now if you and your case are ever parted and it's found by some honest citizen, Knomo will return your bag to you free of charge.
Who is the Bolsover case ideal for?
With all these compartments and zipped sections, this case is ideal for the elegant business traveller who's away for a few days, or a leisure traveller like myself who always travels with a laptop and other techological paraphernalia. I have to find space in my luggage for a laptop, mini-ipad that I use for novels and online travel guides, a video camera, normal camera and all the associated batteries, cables and chargers (that's where all those pockets come in handy). The Bolsover is a great weekend bag for those who like to pack in an organised way with a place for everything. This really is a case that you could hand to the porter at the smartest luxury hotel with pride and pretend that it's packed with your designer wardrobe (Silly me! Who's pretending? I know you only buy the best!)
What's not to like?
If there is anything to watch out for with the Bolsover I'd say that if you are a truly minimalist and lightweight traveller, this may not be the case for you. The height of the case is slightly shorter than the maximum allowance for most airlines, which could be a waste of potential extra packing space if you are trying to maximise your allowance without paying for checked luggage. At nearly 3.4kg the case isn't the lightest around and if you are packing all your technology it will end up being on the heavy side and an effort to get into the overhead locker on the plane, not to mention being a bit too heavy for those airlines that have a carry-on bag weight allowance.
Here's what I love
I love the way that the Knomo bags are all so stylish and elegant, yet they are also perfectly designed to fit your tablet, mobile, laptop of any other technology that you need to take with you for business or leisure. It may look like an elegant clutch but there's room for your mobile, keys, credit cards and notebook. It may look like a sporty cross body bag for the girl on the go but you can still find room for your tablet and camera. I like the fact that you can keep all these things with you without revealing to the world that there's an expensive laptop or camera inside. Smart but not shouty.
Check out the other items I love that match my Bolsover case
The Vital Statistics
Heather tried the Bolsover carry-on wheeled trolley in scarlet from Knomo. The bag has a zipped compartment that fits a 17 inch laptop at the front of the bag and is made with a quilted nylon exterior and leather style trim. The bag measures 45cm H x 29cm D x 19.5cm D and weighs 3.42kg. The Bolsover wheeled trolley costs £249 and can be ordered from the Knomo Website. Other matching items in the Fitzrovia Collection include the Maple cross-body bag £79, The Huntley weekend bag £149 and the Great Portland Shoulder Tote £119.
Thanks to Knomo who provided Heather with her Bolsover carry-on for this review.
This article by Heather Cowper is originally published at Heatheronhertravels.com – Read the original article here
You'll also find our sister blog with tips on how to build a successful travel blog at My Blogging Journey