It's become a tradition for my friend Julia and I to spend a few days walking each year, and last September we were testing ourself in the Rosengarten range, part of the Dolomites of South Tyrol. I've already written about Day 1 in which we scaled the gentler slopes and Day 2 in which we scrambled over a high pass to walk through a rocky lunar landscape. Now you'll hear about Day 3 and 4 of our walk to the final mountain refuge along a grassy plateau and our precipitous descent to the valley again for a welcome return to the lovely Hotel Cyprianerhof, where we had started our walk.
We set off from Rifugio Bergamo
After breakfast at Rifugio Bergamo (also known as Grasleitenhütte) we were packed and ready to leave, just as the sun was creeping up to the terrace. We had very much enjoyed our stay at this wood panelled mountain lodge, which had been originally built as a base for mountaineers and was full of nostalgic books and old photographs. We took some departure photos with the owner Hans, a strongly built and bearded man of the mountains, who showed us photos of the festival he runs at the hut when everyone dresses up for that bygone era when the hut was built.
Descending the hill we looked back at the rifugio still in shade, perched in a cleft between two rockfaces. It was amazing to consider how it could be built in such a remote spot. All we could hear was the rushing of the mountain river that cascaded down behind the rifugio and looking up could see the white streaks of airplane jets making criss-cross patterns in the sky.
The sun warmed us as we skirted the mountain side on a balcony path, with views of the valleys ahead and pine forests below. The path descended to cross another mountain river where we hopped over boulders and then continued upwards on the other side of the gully.
A difficult climb to Rifugio Alpe di Tires
After crossing a few more pebble filled mountain streams the path became steeper and steeper, winding up through the rocky landscape. Now we were scrambling and climbing rather than hiking, with metal cables and ropes to help us in the most exposed places. With rocks sliding under my feet and no karabiner to clip me on safely, I must admit I was quite scared at this point. After my fall in Austria the year before, I knew how easy it would be to slip on the gravel surfaces, with a heavy rucksack to drag me down. I slowed down the pace and breathed deeply to calm myself, leaning into the rock and taking it one step at a time until we reached the top of the slope.
Thankfully, the path at the top of the slope was much easier, winding through a flower-filled meadow and we decided to take a detour to Rifugio Alpe di Tires which we could see up on our right. The beautiful modern refuge with its bright red roof, sat on a grassy plateau, on the saddle between two valleys with fantastic views in both directions. The terrace  and cafe were full of walkers and climbers and the stylish interior would not have been out of place as a hip city hangout. As grey clouds gathered, the 10 minute stop we'd planned turned into an hour, with a rain shower bringing mountain bikers and hikers running inside. Still it was no hardship to stay a little longer, sipping our raspberry lemonade.
Read about our our first day's hike – Hiking in the Dolomites – a tour of the Rosengarten

Read about our second day's hike – Over the pass in the Dolomites – hiking in South Tyrol
Leaving Rifugio Alpe di Tires
As blue skies re-appeared, we set off on the path that skirted the mountain, until Rifugio Alpe di Tires was just a tiny toy house in the distance, easy to spot because of the red roof. As the path climbed ever higher, I was worried that we might be in for a repeat of the vertical rock climb, but was reassured that the path must be quite manageable when we passed walkers accompanied by their dogs.
Now we were practically level with the tops of the grey rocky crags across the valley and reached a grassy plateau where blue flowers like larkspur were blooming in the meadow. The fence with a gate, told us that there must be cows up here, munching their way through the grass, surrounded by stunning mountain scenery.
The final walk to Rifugio Bolzano
Beside the path was a large cairn of rocks and from here we could see Rifugio Bolzano where we'd be spending the night. Although it seemed to be just a short walk across the grass plateau, we knew that distances in the mountain are not easily judged by the eye and that it would be nearly two hours before we arrived there.
After our climb, it was time for a break and a rest, so we shrugged off the rucksacks and took 20 minutes for a snack and a drink. I took the opportunity to take a few photos, while my friend Julia lay on the grass for some quiet time, contemplating the views.
Just as we left our rest spot, the sky darkened and the rain started to come down, turning the gravel path into sticky mud. With waterproofs on, we trudged along the path across the plateau, marked by a series of white cairns and nearly two hours later arrived drenched at Rifugio Bolzano.
Read about our our first day's hike – Hiking in the Dolomites – a tour of the Rosengarten

Read about our second day's hike – Over the pass in the Dolomites – hiking in South Tyrol
A cosy stay at Rifugio Bolzano
What a relief it was to take off our muddy boots and wet waterproofs, to hang up our poles and enter the cosy, wood panelled dining area. We found the place was already full of families, with children playing games and relaxing before dinner time. Rifugio Bolzano was built over 100 years ago and with 47 beds is one of the larger refuges in the area – we soon settled into our private room with wooden beds and threw open the window for a view of the mountain.
We were slightly taken aback to find that there were no showers at the refuge, only communal washrooms where we had to take our chance for a bit of privacy. Still the atmosphere was friendly and convivial as we settled in with a drink and then ordered a dinner of hearty mountain fare, with the filling kaiserschmarrn pancakes for desert.
By the morning, the showers had passed and the rain seemed to have washed the air clean, revealing sunny views of the jagged rocky teeth that make the distinctive landscape of the Dolomites.
Our final day hiking back to Cyprianerhof
From Rifugio Bolzano we walked gently downhill across green pasture dotted with white standing stones, feeling a little bit like Hansel and Gretel following the trail. At the end of the plateau we could see down into the valley, although it was difficult to identify on the map which of the villages might be below us. Somewhere behind the ridges before us lay the luxurious Hotel Cyprianerhof, which we were very much looking forward to reaching that evening.
From the plateau the path became a narrow ribbon, zig-zagging steeply downwards, taking us towards the valley. Despite going downhill, the descent was by no means easy and as we got closer to the tree line, there were more steep steps with tree roots and the gravel was slippery from rain showers. After a couple of hours we reached a cross where there was a lovely picnic table for us to take a break and eat some of our snacks. The worst of the descent was now over although we had our waterproofs on and off with frequent showers, and there was still a good 3 hours to walk before we would reach the hotel.
Read about our our first day's hike – Hiking in the Dolomites – a tour of the Rosengarten

Read about our second day's hike – Over the pass in the Dolomites – hiking in South Tyrol
A walk through the forest in South Tyrol
We now skirted along the side of the slope through forest, the smell of cow dung mixed with the scent of pine needles. The air was cool and damp in the shade of the forest canopy and moss gathered around the tree roots. Along the trail were a few wooden sculptures, carved from trees and logs that must have fallen there; an overhanging giant mushroom and a fierce eagle's head jutting into the path.
At times the path crossed tricking streams that had been channeled into wooden troughs where you could stop for a drink or fill up a water bottle. Through gaps between the trees we could look down into the valley and from down below the sound of Sunday church bells and a brass band practicing in the church wafted up to greet us. The gentle walk gave me time to absorb the details of the forest, the tiny pine cones crunching underfoot and the orange mushrooms the size of a coin set into the bright green clumps of moss.
The final descent to Cyprianerhof
Now we were on the downward slope, on a wide track that would take us down to St Cyprian in the green valley, with the distinctive jagged peaks of the Dolomites rising in the distance – the ones that we had climbed over just a few days before. We have a tradition on our hikes of taking a 'Before' and 'After' photo and so on arriving at Cyprianerhof, we grabbed a passing walker to take a picture of us –  tired but thrilled at the prospect of the luxury that awaited us. Take a look the picture below – I think you can guess which is the 'Before' and which the 'After' ?
After four days and three nights in the mountains, staying in simple accommodation with limited shower facilities, you can imagine what a treat it was to enter our room at Cyprianerhof. It was all as lovely as we remembered; the luxurious natural fabrics and cosy faux fur throw, the huge bathroom with polished stone sinks and the apple on the bed to remind us to stay healthy in the mountains.
A well deserved Aperitif after our walk
Soon the wild women of the mountain were transformed into chic and sleek creatures, with freshly washed hair and make-up, changed into the clean clothes that we had left at the hotel – what bliss! It was time for a well deserved aperitif at the drinks party offered for hotel guests on the lawn outside; a Hugo for me and an Aperol Spritz for Julia.
With the view of the peaks that we'd climbed on our first day, we toasted our success and endurance in scaling those rock-faces, climbing over the passes, and surviving the lack of showers with only hearty mountain dishes and the odd beer to sustain us. Now we deserved the delicious meal and elegant surroundings that awaited us at Cyprianerhof – we'd certainly earned it!
Read about our our first day's hike – Hiking in the Dolomites – a tour of the Rosengarten

Read about our second day's hike – Over the pass in the Dolomites – hiking in South Tyrol
Where we stayed in South Tyrol
To compare prices and book Hotels in South Tyrol on HotelsCombined.
Night 1 – Hotel Cyprianerhof
Website: Cyprianerhof.com A luxurious 4 star hotel in St Cyprian with extensive facilities for wellness and activity excursions. The hotel's philosophy is to offer guests the full experience of the Dolomites, allowing them to recharge and clear their minds through hiking in the mountains, combined with relaxation in the spa and sauna facilities.
In summer there is a programme of hiking as well as climbing and Via Ferrata, while in winter guests can try snow-shoe, ice climbing and cross-country ski. The hotel is affiliated to the Wanderhotels group of hiking hotels with hiking and snow-shoe excursions included as part of the half board package that includes breakfast, afternoon tea and evening meal. The food here was excellent using local and seasonal produce. Half board package including activities from €156 per person per night. You can check prices and book for all hotels in South Tyrol on HotelsCombined.
Night 2 – KolnerHütte / Rifugio Fronza alle Coronelle Website: Rifugiofronza.com
Cost: from €52 per person for half board (evening meal and breakfast)
The Refuge has both 2 bed rooms and dorm rooms, with 60 beds in total. Blankets are provided but you need to bring your own sheet sleeping bag. There is 1 hot shower which costs €3 to use. The Refuge can also be reached from St Cyprian by a bus to the foot of the Laurino chairlift, then take the chairlift up to KolnerHütte. Many people use the chairlift to reach KolnerHütte quickly and then walk the higher mountain routes from there.
Night 3 – Grasleitenhütte / Rifugio Bergamo Website: Grassleitenhuette.com
Cost: from €52 per person for half board (evening meal and breakfast)
We received a warm welcome at this family run Rifugio that was built in the last century as a base for wealthy mountain climbers and still has an authentic Tyrolian atmosphere with wood panelling, old pictures and maps. The Refuge has both 2 bed rooms and dorm rooms with duvets provided but you need to bring your own sheet sleeping bag. There are 2 hot showers which cost €3 to use. The refuge has a charming traditional feel and is family run with friendly owners and excellent cuisine and wine.
Night 4 – Schlernhaus / Rifugio Bolzano Website: Schlernhaus.it
Cost: from €39 per person for 2 bed room including breakfast. Meals can be ordered from the modestly priced menu and half board is available for groups of 8+ people.
The Refuge has both 2 bed rooms and dorm rooms, with 120 beds in total. Duvets are provided but you need to bring your own sheet sleeping bag. There are no showers, only a washroom. The refuge is large with a traditional wood pannelled dining room and panoramic views of the mountains as well as friendly staff. The Refuge seemed to be a favourite with families and several people had dogs with them.
Night 5 – Return to Hotel Cyprianerhof (see above)
Read about our our first day's hike – Hiking in the Dolomites – a tour of the Rosengarten

Read about our second day's hike – Over the pass in the Dolomites – hiking in South Tyrol
Getting to South Tyrol
South Tyrol is the north-east corner of Italy, bordering Austria to the north and Switzerland to the west. We flew to Venice Marco Polo Airport and hired a car to drive to the nearest village of St Cyprian, which took around 3 hours. Alternative airports would be Milan Bergamo (2 hrs 50 mins), Innsbruck (1 hr 50 mins), Verona (2 hrs), Venice Treviso (3 hrs). For those using public transport, trains and buses are available from most airports to Bozen/Bolzano and there is a bus (number 185) running from Bolzano to St Cyprian which stops ouside Hotel Cyprianerhof, running around once an hour (journey time 50 mins). The taxi from Bolzano to St Cyprian would take around 30 mins. To compare prices and book Hotels in South Tyrol check out HotelsCombined.
Speaking the language of South Tyrol
In South Tyrol both German and Italian are widely spoken, since the province was part of the Austro-Hungarian empire until 1948, then became part of Italy after WWI.  In the Dolomites we found that German was more commonly used although most locals will easily switch between Italian and German. English is less widely spoken although you will not have a problem in larger hotels and in mountain huts there is generally someone with a little English. Because of the dual languages all towns, villages and mountain huts have two names – both German and Italian. For simplicity in this article I may use just one of the names.
Plan your hiking routes in the Dolomites
A good resource for planning your hiking routes in the Dolomites is the Sentres.com website and the South Tyrol Tourism website also has plenty of information to plan your holiday in South Tyrol.
You will find timings for walking routes on the Sentres website. However, be aware that these are times for fit walkers without any stops for rests or photographs. In our experience we found that for each 2-3 hours of the 'official' time, we needed to add 30 mins to allow for being less fit and 30 mins for a drink stop in a refuge. So overall we would add 1-2 hours to the times given per day.
We used the Tappeiner 1:25.000 Map No 29 Schlern – Rosengarten – Sciliar – Catinaccio – Latemar – you can order it on Amazon and a similar map was for sale at Cyprianerhof for €9 and probably other places locally. We could not find an English guidebook to the routes we were walking but we found we could navigate fine with just a map as the paths were well marked.
Here are the routes and timings we took
Day 1 – Cyprianerhof to KolnerHütte
Official time: 4 hours
Actual time without stops: 4 hrs 30 mins
Actual time with stops: 6 hours
Our route was: Cyprianerhof – Nigerhütte 2 hrs / Nigerhütte – Messnerjoch hütte 1 hr / Messnerjoch hütte – KolnerHütte 1 hr 30 mins
Read about our Day 1 hike – Hiking in the Dolomites – a tour of the Rosengarten
Day 2 – KolnerHütte to Grasleitenhütte
Official time: 5 hrs 30 mins
Actual time without stops: 6 hrs
Actual time with stops: 7 hrs 30 mins
Our route was: KolnerHütte – top of Coronelle Pass 1 hr / top of Coronelle Pass – Rif. Vaiolet 1 hr 45 mins / Rif. Vaiolet – Grasleitenpasse 1 hr 30 mins / Grasleitenpasse – Grasseleitenhutte 1 hr 30 mins Warning: very steep climbing with cables over Coronelle Pass
Read about our Day 2 hike – Over the pass in the Dolomites – hiking in South Tyrol
Day 3 – Grasleitenhütte to Schlernhaus
Official time: 4 hrs
Actual time without stops: 5 hrs
Actual time with stops: 7 hrs 30 mins ( we made a 40 min detour to Rif. Alpe di Tires)
Our route was: Grasleitenhütte – Rif. Alpe di Tires 3 hrs 25 mins / Rif. Alpe di Tires to cairn at start of plateau 1 hr 20 mins / Cairn at start of plateau to Schlernhaus 1 hr 30 mins. Warning: very steep climbing with cables on final part of route 3 up to Rif. Alpe di Tires
Day 4 – Schlernhaus to Cyprianerhof
Official time: 4 hrs 30 mins
Actual time without stops: 6 hrs
Actual time with stops: 8 hrs
Our route was: Schlernhaus – Junction of route 3 & 7 1 hr 50 mins / Junction of route 3 & 7 – Turning to route 7B 1 hr / Turning to route 7B – Tschafonhutte 1 hr / Tschafonhutte – Cyprianerhof 2 hr
You've just finished reading about Day 3 & 4 of our hike
Thanks to the South Tyrol Tourism board who hosted my walking tour of the Dolomites.
Pin It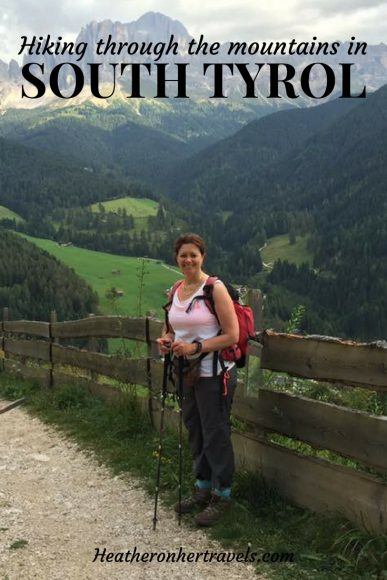 This article is originally published at Heatheronhertravels.com – Read the original article here
You'll also find our sister blog with tips on how to build a successful travel blog at My Blogging Journey
Southampton is your gateway to the best food of the South of England; the chalk streams and vineyards of Hampshire, salads from the Isle of Wight and the artisan food producers of the New Forest. Here are some places to eat fresh and local in Southampton and the foods to look out for, especially if you're visiting on a cruise. You may also like to read my article on Top 10 things to do in Southampton.
1 Mettricks: for coffee and brunch
Mettricks is a locally owned café, close to the cruise terminal, that's on a mission to bring great coffee to Southampton. The decor is homely, with scrubbed pine tables and mismatched chairs and they work with many local suppliers for the best quality meat and bakery products.
If you're on the hunt for free wifi, this is the place to settle down for an egg and crispy bacon sandwich or tea-time treat of home-made cake and coffee. We especially like the original cafe at 117 High Street, which stays open in the evening for cocktails, wine and real ales with light bites and bar snacks until 10pm.
Mettricks: Branches at 117 High Street, 2 East Bargate and opening soon at 1 Guildhall Place.
2 The Pig in the Wall: a stylish place to try local produce
The Pig in the Wall is a boutique hotel, set into the old city walls of Southampton, with a deli bar serving light dishes, homemade flatbreads and cakes from mid-morning to 10pm. As the name suggests, they specialize in charcuterie, with a fine selection of 'piggy bits' such as pork crackling and apple sauce or Honey Mustard Chipolatas. The decor is shabby chic with exposed brickwork, easy leather chairs and a touch of the potting shed. All the produce is all locally sourced with New Forest pork, Hampshire cheeses and Isle of Wight tomatoes on the menu. Their sister hotel, The Pig at Brockenhurst, is well known locally as a foodie stop and well worth the 30 min taxi ride, but best to book in advance.
The Pig in the Wall, West Esplanade, Southampton.
3 The Dancing Man: for real ale and pies
This micro-brewery, bar and restaurant is housed in The Wool House, an atmospheric medieval stone building that once stored wool on Southampton's quayside. Behind the bar is the micro-brewery where around 20 different beers are brewed in rotation with seven on tap at any one time.
Look out for the Pilgrim's pale Ale and The Last Waltz, named after the song playing on the Titanic as it went down, as well as guest beers from other local breweries. The menu is deliciously British, with pies a specialty (served with buttery mash and greens) and a popular Sunday roast.
The Dancing Man, Town Quay, Southampton
4 The Grand Café: for an elegant afternoon tea
Around Southampton and the historic towns you may visit on your cruise excursions, you'll find plenty of tea-rooms serving tea and cakes. If you want to take the oh-so-English ritual of afternoon tea up a notch, head for The Grand Café, originally the historic South Western Hotel, used by first class passengers on the Titanic. Afternoon tea is served from 2.30-5pm (book in advance) and you'll be served at a table with an array of delicate sandwiches, scones with cream and jam and a selection of cakes. It's a meal in itself, so you'd better miss out lunch to do it justice. If you're visiting Beaulieu, another elegant afternoon tea stop is the luxurious Montagu Arms, for tea in the lounge or courtyard garden.
The Grand Café, Southwestern House, SO14 AHS, Afternoon tea £17.50
5 Oxford Street: Southampton's Restaurant Quarter
If you want to find a selection of great restaurants all in one place, head for Southampton's lively restaurant quarter in Oxford Street, just a 10 minute walk from the cruise terminal. At weekends and in the evening, the pedestrianized street has a buzzy atmosphere and you'll also find good value lunch menus from many of the restaurants. We especially like the lively Oxford Brasserie serving a cosmopolitan menu using local produce, Olive Tree offering classic French bistro food, and the White Star Tavern, specializing in modern British cooking using local Hampshire produce.
Head for: Oxford Street, Southampton, SO14 3DA
You may also like to read my article on Top 10 things to do in Southampton for cruise visitors.
6 The Duke of Wellington: a traditional pub in the Old Town
If you're looking for a cosy, traditional pub for some real ales and hearty home cooked food, try the Duke of Wellington, opposite The Tudor House in the heart of the Old Town. The timbered building dates back to the 13th century and has been a public house since 1494 when this was just a stone's throw from the bustling town quay. They serve a wide selection of draught and real ales and on the menu you'll find pub favorites such as fish and chips, steak and ploughman's with ham or cheese, as well as options from the specials board and sandwiches at lunchtime. This is a good choice if you want to dip into traditional English pub culture.
The Duke of Wellington, 36 Bugle Street, Southampton
While you're exploring Southampton and other parts of Hampshire and the New Forest, look out for the following local specialties.
7 Vineyards that produce Hampshire's answer to Champagne
The chalk soil that characterizes much of Hampshire is ideal for wine growing and close to Southampton you'll find some of England's best-known wineries. The still and sparkling white and rosé wines feature on many restaurant menus, especially such as those made by Nyetimber and Hambledon that aim to rival the best champagne. Near Southampton you can visit the Three Choirs vineyard at Wickham (30 min taxi ride) where they have regular tours, daily tastings in the shop and you can also have lunch in their elegant restaurant.
8 Watercress: the crop of Hampshire's rivers
One of the seasonal foods that Hampshire is renowned for is the peppery, green watercress, and a Watercress festival is held in the market town of Alresford every May. The watercress grows in beds that span the Itchen and Meon valleys, thriving in the clear water flowing over chalk beds. There's even a steam train that runs from Alresford past the watercress farms, known as The Watercress Line, that was used in the 19th century to transport watercress to the markets in London. The watercress is available all year round, but look out for it on restaurant menus in the spring and summer when it's at it's best.
9 Isle of Wight tomatoes
With a mild climate and hours of sunshine, the Isle of Wight is known for its fresh produce such as asparagus, cherries, apricots and especially tomatoes. The island is just a short ferry ride from Southampton and can be visited in a day, but look out for the tomatoes and other produce on restaurant menus in Southampton. The glass houses and tomato growers like The Tomato Stall sell the sweet and flavorsome tomatoes through supermarkets, local delis and farm shops.
10 Ice Cream from the New Forest
Well you wouldn't be on holiday, if you didn't have an ice cream, would you? The local New Forest ice cream produced at Lymington is widely available in shops and cafés around Southampton. A few other artisan ice cream producers are worth looking out for while visiting attractions near Southampton; there's a delicious selection at Sundae's Child, who have an ice cream parlour in Romsey, and at Beaulieu chocolate studio in Beaulieu village.
You may also like to read my article on Top 10 things to do in Southampton for cruise visitors.
More information to plan your visit to Southampton
More information for visitors is available from the Discover Southampton Website and the Visit Hampshire website.
Note: I originally wrote this article for a cruise website but it was never published so I am republishing it here, hoping that it will give some useful tips and advice for cruise visitors to Southampton.
Pin It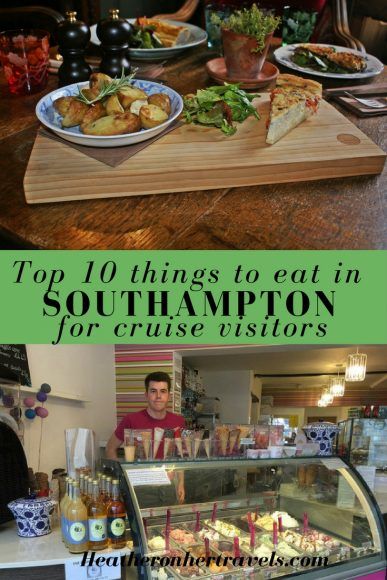 This article is originally published at Heatheronhertravels.com – Read the original article here
At 8am the heat was already rising, as my taxi dropped me at the Arikok Park Visitor Centre at the northern end of Aruba. Think of the Caribbean and perhaps you'll imagine relaxing on white sandy beaches with a rum punch in your hand. I'd had my fair share of that on Aruba, but today I was about to experience a different side of the island; a hike along sandy paths weaving between spiky cactus, past cave paintings and giant boulders.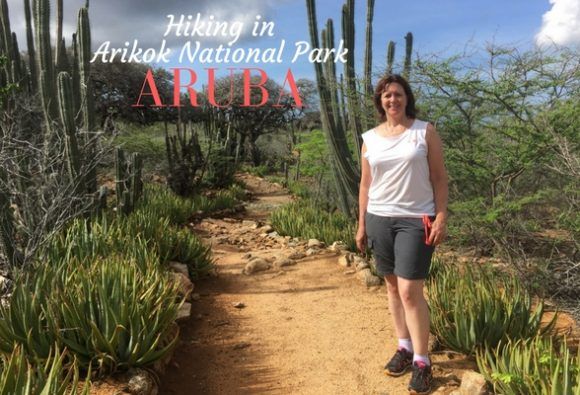 My guide Stanson met me in the Visitor Centre, an impressive hardwood and glass building that had been constructed in 2008, offering visitors information about the flora and fauna as well as much needed air-conditioning. The visitor centre is the starting point for many of the hikes in the park and is easy to get to, although the speed bumps on the park roads mean it's easier to get around inside the park with a four-wheel drive vehicle. Stanson explained that he was student volunteering as a park ranger in between his studies, and his enthusiasm was as infectious as his encyclopedic knowledge was impressive.
We set off along the Canucu Arikok, an easy hiking trail that is ideal for first time visitors to the park. The trail provides a circular route from the visitor centre, which takes around 2 hours to complete. Unusually, the ground was a little damp from overnight rain showers, the first decent rain they'd had for 3 years. The hot and arid climate of Aruba creates the distinctive landscape of the island, covered with prickly trees and cactus, which have adapted to survive the lack of water.
Within the park are a few hills which provide viewpoints over the island and our path took us past Sero Arikok at 185M, where there's an air traffic control beacon and a trail that leads to the well known Conchi or Natural Pool on the coast, one of the popular things to do on Aruba. When the park was created, there were already trails used by locals to ride their horse or donkey to the Miralamar gold mines, which were cleared and bounded by stones to make the hiking trails. The Cunucu Arikok was an easy, level walk on sandy paths and although I love a challenging hike in the Alps, I was quite grateful that in the rising heat we had a more gentle stroll and chance to take in the natural landscape.
Without Stanson's warning, I could easily have brushed up against the Bringamosa plant, which he described as 'like poison ivy on steroids', as it will make your skin burn and itch for several days. The best antidote is to either pour alcohol over your skin or to rub it with another plant that grows nearby, the Seida – the only problem being that the two plants look rather alike!
A rather more pleasing find was the Turk's cap cactus, a spiky ball topped with a felt like cap within which were buried bright pink berries. This was a sweeter treat, as the fruit can be pulled carefully from their furry enclosure to pop in your mouth. They're otherwise known as Bushi or Bush fruit and look like tiny pink peppers with little black seeds inside.
As we continued along the trail, we stood aside for a group of mountain-bikers to pass us, bumping fearlessly down a set of stone steps. There are a few challenging trails in the park, with a new one opening a couple of years ago, built by the Trails for Life project. As part of their 'Good for the Neighbourhood' community scheme, high school children constructed a new hiking and biking trail that reaches all the way out to the Natural Pool.
Along the trail we reached a part where the path narrowed, hemmed in by huge boulders that looked as if they might have been dropped by a playful giant. Here, painted on the sides of a small cave, we could see the paintings left by the Caquetío Indians. Traced in red and white pigment I could make out an iguana and a bird with wings outspread, that has been used in the logo of the Arikok National Park. There are more paintings in the Quadirikiri and Fontein caves on the other side of the park, where the much larger caves contain stalactites and stalagmites, as well as a colony of bats. The bats are an important contributor to the ecosystem on Aruba as they act as polinators for plants and flowers, doing a job that would normally be performed by insects or birds.
All along the trail, my guide Stanson pointed out curiosities of the flora and fauna, such as the Wayaka tree, also known as Evergreen as you'll never see it with a brown leaf. Because the tree survives from reservoirs of water deep undergound, it grows very slowly, perhaps an inch each year. Don't be fooled by the diminuitive size, as a tree that's 2-3 metres tall may be around 300 years old.
The cactus in the Arikok park come in all shapes and sizes, grouped together in tangled thickets as well the elegant lone cactus framed against the sky. "Just as tourism is an economic pillar on Aruba, the Cacti are the ecological pillar" Stanson told me. The cacti provide a prickly pear fruit, which is the main source of food for many birds on the island and to conserve water they have shared root systems, which spread underground over a wide area. Eventually a cactus may get too heavy and topple over, but as they dry out their wood can be used to construct the frames of the old style adobe houses.
Every so often we spotted a flash of a bird in the trees, looking for fruit or nectar from the flowers that appear after any rains. Stanson reeled off the names; the Bananaquit which as its name suggests has a bright yellow breast, the blue-tailed Emerald hummingbird and Ruby-topaz hummingbird, which provide a flash of jewel colour if you can spot them. The Burrowing Owl, locally known as Schopo, is also found here and is the national bird of Aruba. The owl buries its eggs deep in the ground, but as soon as the chicks are old enough to venture out, they dart around to catch insects and small lizards.
At the end of the trail, we reached the old Adobe house, enclosed by its trankera or fence made of cactus plants and tranchi stone wall. Because the cacti are stem plant, you can cut a piece off and plant it in the ground where it grows more roots. This was the traditional form of enclosure on Aruba, providing security, fruit and a haven for wildlife. The house is a replica of an older building that was destroyed in a huricane and has been restored to show how a traditional homestead would have looked on Aruba.
It's constructed by making a frame out of cactus wood which is smeared with a mixture of mud, sand, clay and saltwater, known as Torto. Once one layer of the Torto mixture was dry, another would be applied until the walls were thick enough. We walked inside the empty shell of the house, where a couple of bats flitted overhead as we examined the kitchen area with cooking platform and a stone mortar for grinding meal.
Our circular route took us back in the direction of the Visitor Centre again, passing a tree that looked bare and lifeless – but not so, Stanson told me. In the arid landscape of Aruba, every plant has its own tricks to survive, but after rain the trees such as this will quickly flower and then fruit with a cherry that will attract all the iguanas from miles around to a feast under its branches.
Beside the path we also saw plenty of Aloe plants that were another economic driving force on the island, before oil refining and mining. The plant is well known for the cooling and healing properties of its gel-like sap, but some species also provide a sugary syrup as well as fibre from the dead leaves which was used to make rope.
By now we'd come full circle on the Cunucu Arikok trail and arrived back at the visitor centre, just as the heat was become a bit too much for any more walking that day. I was grateful of the cool air conditioning of the cafe to refresh myself with a drink from the chill cabinet, before heading back to my hotel with its pool and views over Eagle beach. My morning in Arikok National Park had provided a fascinating insight into the landscapes and natural world on Aruba, far removed from the tourist beaches and bars. I'm so glad that I went for that hike and discovered a very different kind of day on Aruba.
Visiting Arikok National Park on Aruba
The island of Aruba is small, so it's easy to get to the Arikok National Park visitor centre, either by hire car or by taxi. The taxi ride was around 30 minutes from my hotel at Eagle beach and would be closer from Oranjestad or San Nicholas.
The park is open daily from 8am to 4pm and I'd recommend arriving as early as possible to avoid hiking in the heat. Be sure to wear a sunhat and take plenty of water with you. You can hike on the easier trails in trainers and shorts, but on the more advanced trails, boots and long trousers are advisable.
The Park entrance is $11 per person which is used to support the maintenance of the roads, trails and park infrastructure. You can book one of the Park Rangers to act as your guide on the hiking trails and this service is free, although you need to book at least a day in advance. Park Rangers are also available at the visitor centre and around the park for advice and information.
I highly recommend booking a Park Ranger as their knowledge of the flora and fauna will certainly enhance your experience, although the Canucu Arikok trail was easy to follow and did not require any special guidance. There are, however, more demanding trails in the park, some of which require basic climbing skills and use of ropes, so these would be best taken with a guide.
For more information about Arikok Nationa Park, visit their website at www.arubanationalpark.org
More articles from the Caribbean
My 10 favourite things on Aruba
Street-art on Aruba: the unexpected Caribbean
Where and What to eat and drink in Aruba (Travel with Kat)
Where to Stay on Aruba
During my week in Aruba, I stayed at the Amsterdam Manor Beach Resort, a delightful hotel that's just across the road from Eagle Beach. The hotel is family owned and was built 25 years ago in traditional style with Dutch gables, painted in the warm yellow that you see everywhere on Aruban buildings. I was extremely comfortable, sharing a suite with two bedrooms and a first floor balcony looking towards the sea, furnished in traditional Caribbean style with dark wood furniture, brightly coloured walls and citrus shades of lime, lemon and tangerine.
The outside areas of the hotel were beautifully maintained with paved areas, trees and immaculate planting, with a welcoming pool area and the shady Mango restaurant, where we had breakfast. The hotel is ideal for couples who want to relax by the pool or on the beach, while having a well located base for exploring Oranjestad and all the other sights of Aruba.
The staff could not have been more friendly and helpful and they even have a dedicated Romance Co-ordinator to help you organise your beach wedding or celebration event. The Fofoti trees opposite the hotel are a favourite for wedding photos and the Passions on the Beach restaurant where we ate one evening is an incredibly romantic setting to have a cocktail and dinner as the sun sets over the ocean.
For more information, visit the Amsterdam Manor Beach resort website or follow them on Facebook, Twitter, Pinterest. Address: J.E. Irausquin Blvd. 252, P.O. Box 1302, Oranjestad, Aruba.
To compare prices and book for hotels on Aruba check out Hotels Combined where you can see the best deals from all the booking websites for hotels including Amsterdam Manor Beach Resort.
See more photos from this trip

Visitor Information for Aruba
For more information to plan your holiday in Aruba, visit the Aruba Tourism Website or follow them on Facebook, Twitter, YouTube or Pinterest
Thanks to Aruba Tourism for hosting my week's stay in Aruba to discover the island.
Pin It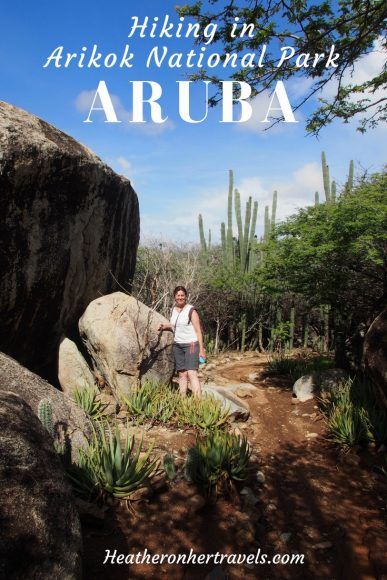 This article is originally published at Heatheronhertravels.com – Read the original article here
You'll also find our sister blog with tips on how to build a successful travel blog at My Blogging Journey
While I've done my fair share of downhill ski over the years, I was always a fair-weather skier. The lure of a sunny café terrace, sipping hot chocolate, always seemed more persuasive than hours pounding the black runs. My preference these days is to enjoy the mountains and fresh air of a resort like Seefeld in Austria, mixing in a range of activities such as cross-country ski and winter hiking, that leave you feeling fit and healthy, but with less danger of injury.
This year we chose Seefeld for our winter snow holiday, because of the variety of cross-country ski and winter hiking trails, as well as the excellent downhill pistes that are used for training by the Austrian ski team. We booked through Crystal Ski and also tried the cross-country trails that are offered by Headwater Holidays, which I'd seen a couple of years before, on my summer hiking trip. Over our week's holiday we tried a variety of different snow-sports – here's my guide to some of the activities we enjoyed in Seefeld.
Winter Hiking in Seefeld
For our first day in Seefeld, we wanted to have an easy start because … well we are on holiday! Our choice was winter hiking, so we didn't have to worry about ski hire or lessons. We headed to Wildmoos, a plateau above Seefeld, as I'd been there two years before in summer with Headwater Holidays and remembered the great walking trails.
From Seefeld bus station we took the bus and were dropped off just by Wildmoos Alm restaurant, where we got chatting to a friendly Austrian lady about the different walking trails we might try.
She told us about a trail, leading within the hour to the luxurious InterAlpen Hotel, where we could stop for refreshments. With the promise of hot chocolate at the end of our walk, we didn't need much persuasion! It was a pleasure to walk along broad trails, with separate cross-country ski pistes to one side and the occasional horse drawn carriage passing us with jingling bells like Father Christmas.
Although the hiking was flat and easy, the packed snow was slippery in places. We noticed that some walkers had studs attached to their boots and we later purchased some rubber soles with studs that we could stretch over our own boots, which really helped to steady us on later walks. We reached the InterAlpen Hotel which looked like a large apartment complex, and on entering found a luxurious lounge, where we relaxed over a coffee covered with whipped cream.
On my previous summer walking with Headwater Holidays I'd tried a 'Mental Power' walking trail and this time we came across another themed walk with information boards about the Olympic Nordic Ski championships that been held in Seefeld. Each of the cleverly displayed skis had a photo of their owner, with a top half that hinged back to show information about their competition event and winning time.  We were enjoying our walk so much that we decided not to take the bus on the return journey but walked a different path that brought us back into the centre of Seefeld.
If you go: Buses to Wildmoosalm from Seefeld bus station run every 30 mins and cost €2.60 one way. This bus is not covered by the Seefeld Guest Pass which includes most of the other town buses. Check out Headwater Holidays who offer both summer and winter hiking holidays in Seefeld.
Cross-country ski in Seefeld
At 9am the following day, I was rather regretting booking our cross-country ski lesson so early. Our lean and fit instructor Marcel took us through a series of exercises, designed to get us used to the narrow skis and develop our balance. After an hour, the beginner piste in front of the Seekirschl church was filling up for the 10am lessons, but we had mastered the basics and Marcel deemed us ready to try the cross-country trails on our own.
Keeping our skis in the pre-made tracks, our weight forward and knees bent as we'd been taught, we set off on the trail that continued beyond the church and looped around, making a 40 minute circuit. Our legs shushed forward, with our arms keeping a marching rhythm, reaching in front as if to pick apples from an imaginary tree. Soon we got the hang of it and reached the end of the loop where we could have easily continued towards the village of Mosern, with many more trails.
Not wanting to be quite so ambitious on our first day, we decided to stay near the beginner piste and do a few more loops of the trail to refine our technique. "Bob! Bob!" Guy shouted at me, reminding me of the up and down motion that helps to push you along, with toe attached to the ski and heel free to lift as you move along. After a few circuits, the balls of my feet were hurting and my waist and thigh muscles aching. Cross-country ski is certainly not as effortless as it looks, but as Guy kept telling me, "Langläufer leben langer" or "cross-country skiers live longer", because of the all-over body work-out you get.
By the afternoon we felt we'd had our exercise for the day and retreated to the cosy bar of Woods overlooking the beginner piste, to have a warming coffee and watch those still struggling to master their cross-country technique.
What it cost: Cross-country ski hire €15 for 1 day, 2 hr individual lesson €86 (shared between 3 people). Use of cross country pistes and ski buses for the week €15 on your hotel guest card. Check out Crystal Ski for similar holidays in Seefeld.
Mountain views for non-skiers at Seefeld Joch
If you wake up in Seefeld to clear blue skies and fresh powdery snow, as we did on Tuesday, that's the day to take the cable car up to Rossehutte. There are plenty of advanced runs down from the top of the mountain, but we were there as non-skiers, just to enjoy the views over Seefeld. Joining the queue of skiers we took the Rossehutten express halfway up the mountain, then continued in the red cable car to the very top at Seefelder Joch.
From the panorama point, we felt on top of the world with the toy-town of Seefeld in the valley below us and mountain views in all directions. I'd hiked along the ridge to the cross at Seefelder Spitz two years before on a trip with Headwater Holidays, but now it looked too precarious to attempt, although a lone tour skier was heading that way. We stayed for a while on the plateau, breathing in the clear cold air, with strands of cloud drifting below us at the level of the mountain tops.
Taking the cable car down again, we reached the halfway station and bottom of the piste, where there was a large café and terrace. Skiers and non-skiers alike were taking a break, lying in deckchairs to soak up the sunshine and the views, with free chairs and blankets provided.
We sat on the terrace for lunch, with blackbirds swooped in on the left-over chips – amusing us at first until they dropped a poo in front of us on the table. A group of teenagers were joking around, climbing and playing in the snow, throwing snowballs. We decided that this was the very best way to enjoy the mountains – all the sunshine and views but no aching legs!
For a final mountain adventure, we took the second cable car across the piste to the Harmelekopf station, where there were hardly any people trying the steep ski-run back down to Seefeld. We passed over the sunbathers in their deckchairs and arrived at the station where the windsock was blowing, to guide the hang-gliders who take off from here in summer.
After a few photos we returned by the cable car, below us the tracks in the snow of snow-boarders and adventure skiers who had made it down the off-piste couloir that crossed the valley slopes.
What it cost: 1 day lift pass to Rosse Hutte, Seefelder Joch and Harmelekopf €26.50. Check Crystal Ski for similar holidays to Seefeld.
Winter hiking by the cross-country pistes
Back down in Seefeld we spent the rest of the afternoon hiking on a trail that took us past the Gschwandtkopf ski lifts and cross-country ski loop. We could see some of the Nordic-ski pros in training, using the graceful 'skating' style of cross-country ski, which uses different skis and technique from the 'classic' style we had tried. We passed two impressive ski-jumps, used in the Nordic ski-championships held in Seefeld and also for filming of the 2015 'Eddie the Eagle' film.
Our walk took us through corrugated iron tunnels under the road, framing the silhouettes of pine trees and mountains. Crossing the piste, we returned to Seefeld along a path through the forest, just as the sun was setting and the last skiers returning to leave the piste empty.
As dusk fell the town looked very pretty with the trees and buildings garlanded with fairy lights. We settled into the Park Café, a yurt that was run by the luxurious Hotel Klosterbrau nearby. Soon we were warmed by the sheepskin throws and hot orange punch, getting a little merry to a soundtrack of 1980s Austrian pop, before returning to our hotel for dinner.
We finally try the downhill ski
We could have easily spent our week in Seefeld on hiking and cross-country ski, but since this is where the Austrian ski champions come to train, we thought we'd better give the downhill ski a go. It was a few years since I'd last skied, so we started with the easy slopes that were just a 5 minute walk from our hotel. Once we'd hired all the gear, including helmet (why risk it?) I gingerly put on the skis and tested my ski legs on the bottom of a slope.
Using the drag lift on the baby slope, I tried a few runs down the piste so that my legs could remember how to ski again. I was hoping that it would be like riding a bike – once learned never forgotten? Soon I graduated from safe snowploughs to parallel ski, making long, cautious traverses across the slope. Once I'd remembered how to turn and stop, we ventured over the top into the Birkenlift area, where there were a few more easy runs.
This was a bigger piste which allowed me to swish down, practising my turns and avoiding the lines of little children snow ploughing their way down. Although Guy and I were skiing together we inevitably lost each other, so I had a few more runs hoping to find him. Finally at the bottom of the piste I caught sight of Guy's distinctive blue and red striped jacket, halfway up the drag lift and finally caught him at the bottom of the piste again.
Meanwhile our friend Robert, who was a complete novice, had a ski lesson, but after a while decided it was not for him so had some fun on a toboggan instead, with both traditional sledges and colourful tubes for hire. We shared a few cartons of chips and a hot chocolate for lunch before making a few more runs, but by mid-afternoon we'd run out of energy and handed back our skis.  We had booked a snow shoe adventure in the evening but it was cancelled, so we headed to the deli in the centre for delicious Austrian wine and cheese from Plangger Deli and wine bar.
What it cost: Ski hire for 1 day incl helmet €32 1 day lift pass for 20 points (1 lift is 1-3 points) €32.50. Check out Crystal Ski for similar holidays in Seefeld.
Cross-country pistes at Leutasch
With more blue skies forecasts, our final day took us by bus to Leutasch, one of the villages close to Seefeld, where I had stayed two years before in Hotel Xander with Headwater Holidays. Now I could see the hotel in both summer and winter and the field of freshly mown hay I had seen on my last visit was covered in a soft blanket of snow.
Beside the hotel stood the church of Mary Magdalene, with its pretty onion dome and beyond it the cross-country ski trails. We had hired skis in Seefeld and remembering what our instructor had taught us, we clipped in our boots and set off in the grooves outside the church. The trails took us across the road into an area with plenty of different cross-country trails, although at points the trail sloped uphill. In the end I took off my skis and carried them up the slope rather than risk sliding backwards down the hill.
Skiing down the other side of the rise was equally nerve wracking, with a choice of either staying in the tracks and whizzing downhill, or trying to snow plough on skis that were very slippery with no bite to the edges. Finally we reached a piste that was ideal for beginners, making a long loop for both classic and skating skiers. It was joyous to swish along, stopping every so often for a photo, while remembering to step out of the tracks to let others pass. After a long loop we had lunch at a café and sat outside in the sun, eating a hearty bowl of gullesuppe. Call me a fair weather skier – I don't care!
On the return to the bus stop we went slightly off piste in home-made tracks and instantly regretted it, as we struggled in the rough and slushy grooves. We had a little time to spare before our bus home, so sat outside in the sun on the cafe terrace of Hotel Xander until the bus arrived for the 20 minute ride back to Seefeld.
What it cost: Cross-country ski hire €15 per day. Use of cross-country pistes and ski buses for 1 week €15 on hotel guest card. Check out Headwater Holidays who offer similar holidays in Leutasch.
Our week in Seefeld seemed to have flown by and we even managed to fit in a day in Innsbruck, which I'll be writing about separately. This Austrian ski resort was a pleasure to visit, both attractive and well organised with a wealth of activities to suit everyone, even the non-skier or half hearted skier like me. Visit Seefeld in Austria for gorgeous mountain scenery, great food and wine and fun in the snow, with activities that leave you feeling healthy and fit even if you decide the black runs aren't for you.
Read about my summer trip to Seefeld
Hiking in Austria: the views from Seefelder Spitz
A high mountain walk and a tumble in the Gaistal valley
A rifleman's parade and walk on the Mental Power trail
The Leutasch Gorge and picturesque Mittenwald
Plan your holiday in Seefeld
You can visit Seefeld with a number of companies such as Headwater Holidays and Crystal Ski. On this trip we booked at our own expense with Crystal Ski. The closest airport is Innsbruck, which is 30 minutes drive away and also accessible by train, so you can easily reach Seefeld if you choose to make your travel plans independently.
Crystal Ski, who we travelled with on this trip, offer a wide range of ski holidays to Austria including Seefeld where there are a variety of hotels to choose from according to your taste and budget. The ski package generally includes flights, transfer and half board hotel stay as well as the support of Crystal reps in resort. Ski hire, lessons and other extras can be booked through Crystal Ski or independently in resort. We found the Crystal Ski service to be excellent and would certainly use them in the future for ski packages. Book holidays with Crystal Ski Here.
If you are looking mainly for cross-country skiing or winter hiking, take a look at Headwater Holidays who offer holidays based at Hotel Xander in Leutasch, a welcoming 4 star hotel that's in the heart of the Leutasch cross-country trails and a 20 minute bus ride from Seefeld town. I was in Leutasch a couple of years ago for a hiking holiday with Headwater and they provide excellent self-guided walking holidays in Austria and throughout Europe. Book holidays with Headwater Holidays here.
Hotels: If booking with Crystal Ski take a look at Hotel Veronica, a 4 star hotel where our friends had booked the year before and which they highly recommended. Hotel Xander is used by Headwater Holidays and is a comfortable and friendly 4 star hotel in the Leutasch area just outside Seefeld. Check more hotel options in Seefeld here.
You will find plenty more information to plan your visit to Seefeld on the Seefeld Tourism website and for more holidays in Austria visit the Austria Tourism Website.
Note: Some links in this article are affiliate links which will provide me with a small commission should you choose to book through them.
Would you like to see more photos from this trip?

Pin It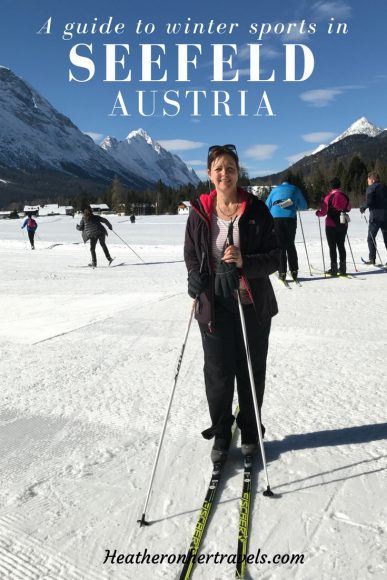 This article is originally published at Heatheronhertravels.com – Read the original article here
Florence is so packed with delicious art and architecture that it would take a lifetime to see it all. Of course there are some unmissable highlights, but it's just as much fun to watch the world go by from a cafe terrace or escape the crowds in the Boboli gardens. On my weekend with Citalia I had just 48 hours and not wanting to miss anything I certainly packed in the sightseeing!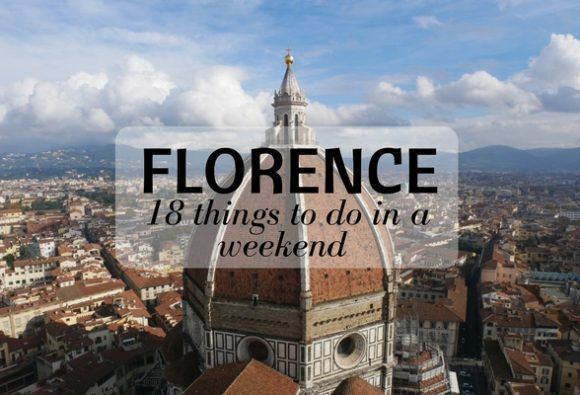 Here's my video that covers the key things to see in Florence and some fun things that I enjoyed while I was there. You don't have to see it all, just take your time and have a few stops for a slice of pizza or a gelato as you discover this historic city.
If you can't see the video above about my weekend in Florence, see it on my blog here or Youtube here and please do subscribe using the button above
Subscribe to all my videos in I-tunes
Here are some of the things I enjoyed during my weekend in Florence with Citalia – you can also read more in my other articles from the weekend;
How to spend a perfect long weekend in Florence
10 delicious things to eat in Florence
1. The Duomo
Most visitors to Florence will visit its star attraction, the Duomo or Cathedral of Santa Maria del Fiore, which is free to enter. The west facade, covered with intricate pastel coloured marble looks old, but in fact dates only to the 19th century. Most famous of all is the terracotta-tiled dome, designed by Filippo Brunellesci who studied the Roman Pantheon to come up with the double layer egg shaped design which you can still climb inside today. Buy a €15 ticket from the office opposite the Baptistry entrance to visit the Baptistry, Campanile, Museum and to climb the cathedral dome, including optional timed entry to enable you to skip the lines.
2. The Baptistry
Right in front of the cathedral is the octagonal Baptistry of St John, the exterior clothed with patterns of white, pink and green marble. Inside, the small arched windows illuminate the magnificent gold mosaics on the roof depicting scenes of the Last Judgement. The north doors of Ghilberti's 'Gates of Paradise' are a magnet for the tourists, showing Old Testament scenes in intricate relief, although these are bronze copies of the originals in gold, which now reside in the Duomo museum.
3. Climb the Campanile
Rather than climb the dome itself, I decided to try the 85 metre high Campanile, for views over the old city and also a bird's eye view the dome itself. The lines were long, but with my timed ticket I had a much shorter wait to start my climb up the 415 steps to the top. There were three different stages to take a break and admire the view before I arrived at the very top, looking down onto the Dome. Although the views were fantastic, be warned that it's not for the fainthearted, as it can be quite claustrophobic trying to pass the long stream of people on the narrow stone stairs.
4. Stroke the nose of Il Porcellino
At the covered loggia known as the New Market or straw market, you'll find Il Porcellino, the famous bronze statue of a wild boar. This 'little pig" is a copy of an earlier marble version and is a popular lucky charm for visitors to Florence. Put a small coin in his mouth and watch it fall through the grill below, then stroke his nose, and your dreams are sure to come true!
5. Feast your eyes in the Mercato Centrale
The morning is the best time to admire the fresh produce in the Mercato Centrale, since this part of the market winds down after lunch. It was a pleasure to wander around and admire the traders at work, butchers expertly cutting up meat, fishmongers fileting fish, the fruit and veg being arranged in attractive polished pile. The deli counters sold everything from cheeses to dried mushrooms to bottles of limoncello to take home as a souvenir. I also enjoyed a tasting at the stall piled with cantucci, a twice baked almond biscuit that's perfect to dunk in your morning coffee.
6. Try some Tripe – the Florentine speciality
While we might feel a little squeamish at eating tripe, in Florence it's considered a local specialty, so consider giving it a try. In the market you'll see the white, spongy cow's stomach on sale at the butcher's counter and on the menu of many traditional Trattorias, a hearty home-cooked dish with a rich tomato or wine sauce. In the Mercato Centrale, the crowds were flocking around Da Nerbone, the stall on the ground floor of the market that serves tripe as a lunchtime snack in a bread roll.
7. Stay at Hotel Balestri with Citalia
My hotel was the four star Hotel Balestri, booked through Citalia, which was perfectly located for a city break, just a 5 minute stroll from the Ponte Vecchio. My window overlooked the river and despite being so central it was a quiet location, set apart from the busy tourist areas. The decor was clean and modern with a glamorous Art Deco feel, plenty of marble and mirrors. There was no restaurant, but a sitting area and bar where I tried the Negroni cocktail, a favourite aperitivo with the Florentines since it was invented here.
8. Window shop on the Ponte Vecchio
My walk took me across another of Florence's must-see attractions, the Ponte Vecchio, a medieval bridge with an arcade of jewellery shops that seem to hang precariously over the river. The shops were originally populated by butchers and leather tanners, until in 1593 the Medicis decided that the smell was unbearable and ordered the shops to be let to goldsmiths instead. The shop windows dripping with gold jewellery are still there today, and it's a popular place to hang out with a view of the Uffizi and the river.
9. Time for Gelato
One of the pleasures of Italy is the frequent stop for a gelato tasting, to cool and revive before moving on for more sightseeing. Look out for gelato artiginale, where the gelato is made on the premises from fresh ingredients, without the lurid artificial colourings you'll find in some gelaterias. My favourite was La Strega Nocciola (Via de' Bardi, 51) close to the Ponte Vecchio on the south side of the river, with a stylish, modern feel and delicious flavours. I also enjoyed the gelato at Vivoli close to Santa Croce (Via dell'Isola delle Stinche, 7) and Neri (Via dei Neri, 9/11) which had a neighbourhood feel and was packed with families choosing their afternoon treat.
10. Palazzo Vecchio
In Piazza della Signorina is the Palazzo Vecchio, where Cosimo I, the Grand Duke of Tuscany lived with his wife Elenora, until she sensibly moved with their eleven children to the Pitti Palace across the river. There's a statue of Cosimo on horseback in the square and the imposing statue of Neptune in the fountain also has his likeness. At the door of the Palazzo stands a copy of the David by Michelangelo which stood here until 1873, when it was moved to the Galleria dell'Academia and now lives under its glass dome. Even if you don't have time to visit the Palazzo apartments be sure to pass into the first courtyard to see the beautiful frescoes on the roof and walls of the loggia.
11. The statues in the Loggia dei Lanzi
To one side of Palazzo Vecchio is the Loggia dei Lanzi which forms an outdoor sculpture gallery, sheltered from the weather by the roof terrace of the Uffizi. The sculptures display scenes of struggle and violence, with the twisting Rape of the Sabines by Giambologna and the bronze Perseus by Benvenuto Cellini triumphantly lifting up the gory severed head of Medusa.
12. A hot chocolate at Café Rivoire
On Piazza della Signoria I couldn't resist stopping at Café Rivoire for a hot chocolate and cannoli filled with whipped cream and candied orange peel. You pay a premium for waiter service at a table, but if you're short on time copy the locals and order directly from the bar, which is much cheaper. It's a great place to watch the crowds swirling through the Piazza della Signoria which is one of the busiest spots in Florence.
13. The Old Masters in the Uffizi
The Uffizi is the main art gallery of Florence with all the masterpieces of the Renaissance and it's a good idea to book a tour like the one offered through Citalia, or to reserve a timed ticket online. You could easily spend a whole day in the gallery, but a two hour tour will cover the most famous highlights, such as Botticelli's Venus and Primavera and Filippo Lippi's enchanting Madonna with two angels ( a portrait of the nun who became his lover and their children).
14. L'Accademia – Michaelangelo's David
Another popular visit is Galeria dell' Academia where most people come to see Michaelangelo's sculpture of the shepherd boy David who slew the giant Goliath. The figure was carved from a block of marble that had been rejected by other sculptors and was originally intended to sit on top of the cathedral. Once complete it proved too heavy so was placed outside the Palazzo Vecchio, but later moved to l'Academia under a beautifully lit dome. After admiring the David, take a look at the 'Prisoners' , a series of unfinished sculptures by Michaelangelo that seem to be struggling to be released from their blocks of marble.
15. The Pitti Palace Costume Museum
Walk across the river at the Ponte Vecchio and you'll stroll through the Oltrarno district to the Pitti Palace, the residence that was purchased by Eleanora de'Medici, wife of Cosimo I who decided too move her large family away from the bustle of the city. I particularly enjoyed the Costume Museum, displaying the couture collections of notable Italian women, as well as a startling exhibit of the funeral clothes removed from the tombs of Eleanora de'Medici, her husband Cosima I and their son Don Garzia.
16. The Boboli Gardens
After visiting the Pitti Palace I wandered around the Boboli gardens, walking up through the parterres and formal gardens to the small lake with fountain at the top of the hill. The garden was commissioned by Cosimo I and is one of the Florentine's favourite places to come and relax. On my way out I came across a spot where the view of the Duomo was framed by olive trees, the roof tiles of Florence glowing in the evening sun.
17. Dinner upstairs in the Mercato Centrale
The Mercato di San Lorenzo or Mercato Centrale was one of my favourite places to eat in Florence. Upstairs the open, industrial style space had different food stands around the walls each serving a different speciality, with bar staff who come around to take your drinks order. I admired the oozing balls of mozzarella, deliberated over the wood-fired pizza ovens, the matured beef and the fresh fish laid out on ice, finally stopping at the stall selling truffles for a plate of their antipasti covered with a generous layer of truffle shavings – heaven!
18. Designer shopping at Via d'Tornabuoni
Most of the top designer stores are to be found on Via d'Tornabuoni where I spotted Prada, Pucci, Gucci and Tiffany, to name but a few. At the end of the street, by Ponte Santa Trinita I popped into the Museo Salvatore Ferragamo, a must for shoe collectors and fashion lovers. Salvatore Ferragamo learned his trade in Italy, but emigrated to California in the 1920s where he made his name selling shoes to film stars and celebrities, before returning to Florence.
Read more from my weekend in Florence
How to spend a perfect long weekend in Florence
10 delicious things to eat in Florence
Planning your weekend in Florence
My weekend in Florence was arranged through Citalia who are a leading specialist in Italian holidays, winning the title of 'Best Tour Operator to the Italian Peninsula' for seven years in a row. They have more than 85 years experience in putting together flexible itineraries to suit your needs, using Italy's finest handpicked hotels. The Citalia team are expert and knowledgeable in all things Italian and even have local concierges in each destination for personal recommendations, advice and help with day trips, car hire, or restaurant bookings. For more information visit the Citalia Florence page
Pin It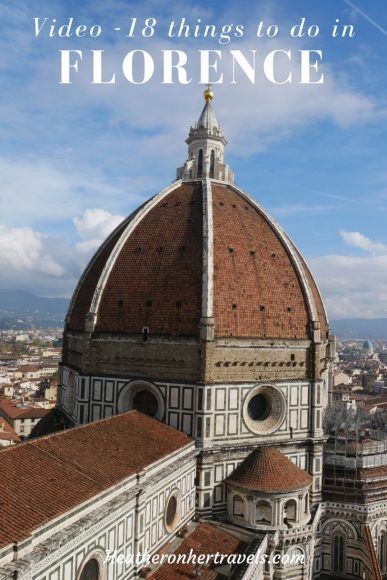 Thanks to Citalia who hosted Heather's stay in Florence. This trip was part of a project between Citalia and Travelator Media.
This article is originally published at Heatheronhertravels.com – Read the original article here