As I cycled past beautifully tended rows of vines and fruit trees heavy with plums in Austria's Wachau Valley, I was struck by how activities such as hiking, cycling and canoeing can give you a whole new perspective when on a river cruise. These days many guests enjoy staying active on their holiday, not only for health, but perhaps because you can give yourself permission to try all that delicious food and wine from the region! On my recent Avalon Danube cruise I was able to enjoy one of Austria's prettiest regions while trying out a more active approach to sightseeing.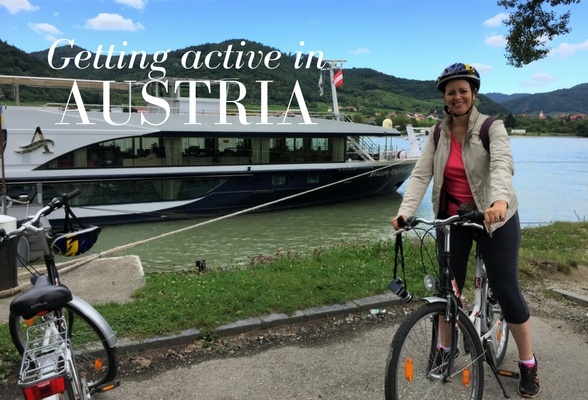 Canoeing in the Wachau Valley
One of our cruise stops was at Durnstein, a town made rich by the tolls of medieval merchants passing through and best known for the castle where Richard the Lionheart was held to ransom for a winter in 1192. Along the river, vineyards clothe the hillside, and the orchards of apricots are used to make the apricot jam, liquer and schnapps that you'll see on sale in the shops.
From Durnstein I tried one of Avalon's Active Discovery canoe excursions, with our group being taken up river to a spot where our canoes and guide awaited us. With canoes set two abreast and a board between them, this was canoeing the easy way, since the arrangement made a pretty unsinkable raft. I did notice that a couple of Canadian guests, who were natural born canoeists, took the option of individual kayaks instead, perhaps finding the rafts a little tame.
Under the watchful eye of our guide on a paddle board, we paddled our canoes down the Danube. We were passing through the classic romantic landscape, beloved by artists, with castles poised on rocky outcrops overlooking the river and vineyards clothing the hillside in neat rows. Every local we met had told us proudly, "You must try our wine" and on such steep slopes, tended by hand, the wine has to be high quality to justify the work involved.
Since our two canoes took six people, I sat on the middle board and designated myself group photographer, so I'm afraid I didn't do too much paddling! Even if we hadn't paddled at all, I feel sure that we would have drifted back to the ship eventually.
When the canoeing became too relaxed, we would veer towards the bank and have to paddle frantically to get back on track. The guides seemed to know when a river boat was likely to come up the river and guided us to one side of the river to keep out of their way.
Every so often we would have a friendly bit of competition with the other group, as if we were doing a leisurely Dragon Boat race. Mostly though, we chatted, took lots of photos and watched the scenery drift by.
We stopped for a while on the bank opposite Durnstein to look back at the town and see a ship passing by, then it was time to paddle a little further downstream beyond the ship. Arriving at a shallow inlet at the side of the river, we brought the canoes in and jumped ashore, then walked along the river path to reach the Avalon Visionary again.
Cycling down the Danube
After our morning canoe trip we had the chance to try another active excursion, this time a three hour cycle ride along the river to Melk, with a stop for a picnic lunch. On the quayside by the ship, our bikes awaited us and we set off with a guide at both front and back to ensure that no-one got lost.
The road took us along the river, then curved a little higher on the northern bank through pretty villages, where we could admire the houses and wine terraces set on the hillside. I found myself most often at the back, because I wanted to take lots of photos of the scenery. At least that's what I told myself as I watched guests who were older but a lot fitter than me whizz by!
The scenery was impossibly pretty and I could understand why the Wachau Valley has been designated a UNESCO World Heritage Site for its cultural landscape. Our guide pointed out the sculpture on the hillside that imitated the so called Venus of Willendorf, a small female figure dating back to prehistoric times, that's said to be a fertility symbol and is now in the museum in Vienna.
Further along we cycled along the broad path beside the river, past the ferry stations and could see the river defences, that protect the riverside towns and villages in case of flood. For lunch we stopped at Susi's Donaustueberl, a cafe overlooking the river, where we ate our packed lunch provided by the ship. While we were there, the Avalon Visionary passed by and we ran down to the shore waving frantically, although I'm not sure that the guests on board knew who those crazy people were on the bank!
After lunch the scenery became less picturesque, the path flatter and after an hour Melk Abbey came into sight set high above the river. I was glad to get back on board the Avalon Visionary, somewhat sweaty after the three hour cycle ride, for a quick change before visiting Melk Abbey which was a short walk away from the ship.
Visiting Melk Abbey in Austria
Melk Abbey is one of the treasures of this part of Austria, dating back to the 11th century when the ruling Babenberg Dynasty gave their fortress to the Benedictine order to found a monastery. There is so much to see here that to do it justice you need at least half a day, to enjoy the abbey and the pretty town that sits in its shadow.
By the early 18th century the monastery church was falling into disrepair and plans were made to rebuild it in the ornate baroque style that we see today. The abbot however had even more ambitious plans, proposing the rebuilding of the entire abbey which was done between 1700 and 1740, to create the baroque masterpiece we see today. Our guided tour took us through the main areas of the abbey, starting with the rooms bathed in coloured light that house some of the abbey's treasures; golden chalices, holy relics and vestments used in the church, to tell the story of the Abbey's history.
The display rooms led us into the magnificent Marble Hall with a ceiling fresco depicting Hercules and Athena, the gods of strength and wisdom, representing the rulers of Austria. In the centre of the room is a metal grill, which is the best spot to look up at the ceiling and see it in the correct perspective. Although the ceiling looks domed, this is due to the trompe l'oeil effect of the fresco, since it is actually almost flat.
From the Marble Hall we walked across the rooftop balcony with views over the town of Melk to the river below, and into the monastery library. Unfortunately photos were not allowed in the library, but the ceilings and gilding were quite magnificent, with an ornate spiral staircase leading up to more of the twelve library rooms, housing books that date back to the 9th century.
The final part of the visit took us through the monastery church that was decorated in similarly ornate baroque style, with more gilding and ceiling frescos to dazzle us. After all this over-the-top magnificence it was a relaxing change to visit the monastery gardens where the tea room was housed in a beautiful classical pavilion. My favourite spot was the peaceful herb garden with medicinal plants and flowers and a view over the abbey buildings and courtyards. More information on the Melk Abbey Website.
It had been a day of contrasts, a peaceful start as we drifted down the river by canoe, a 3 hour cycle ride to get us moving and the cultural highlight of Melk Abbey to stimulate our senses. Perhaps most guests wouldn't try to pack in quite as much into one day (I haven't even mentioned the evening wine tasting!) but I love to have a healthy balance of activities for the body and mind when on holiday. If you think the combination of activity and relaxation sounds right up your street, check out the Avalon Active Discovery options on your next river cruise.
Read about more River cruise experiences
7 reasons to take a river cruise with Avalon Waterways
All aboard the Amadeus Princess – what to expect on your river cruise
Tasting the wines of Burgundy on a Uniworld Cruise
Information to plan your cruise
The Avalon Waterways 9 day 'Active Discovery on the Danube' cruise from Linz to Budapest (and reverse itinerary) is priced from £2483 per person to include a selection of activities (based on 16 October 2017 departure). Cruise highlights include Linz, Grein, Durnstein, Krems, Vienna, Bratislava, Visegard and Budapest. Discover more on the Avalon Waterways website.
If you require a hotel in Austria at the start or end of your cruise check out HotelsCombined to compare prices. If you require any airport parking services, I recommend APH Airport Parking and Hotels, a leading UK provider of airport parking, hotels and airport lounges.
For more information to plan a holiday in Austria, visit the Austria Tourism website
If you'd like to try canoeing or paddle boarding in the Wachau Valley as an independent traveller check out Kanu Wachau who provide canoe excursions.
Thanks to Avalon Waterways who hosted Heather for a 4 day taste of the Danube cruise from Austria to Linz.
Note: Some of the links above are affiliate links, enabling me to earn a small commission at no extra cost to you.
Pin It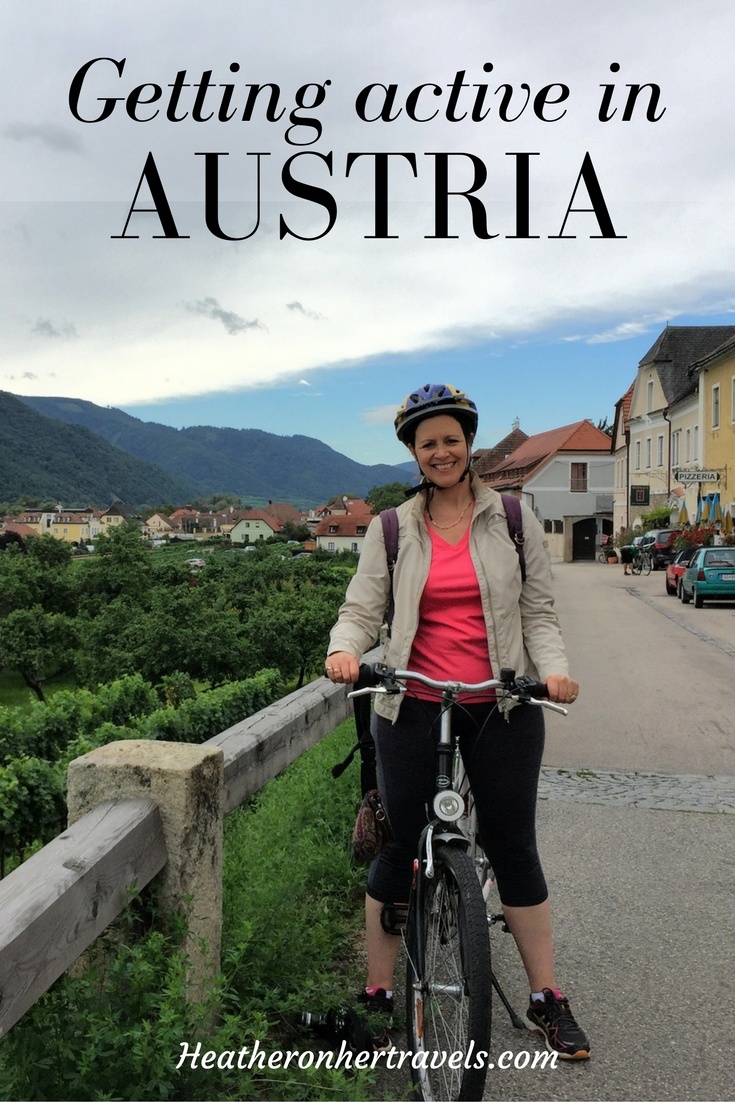 This article is originally published at Heatheronhertravels.com – Read the original article here
I'd always enjoyed my holidays in Austria, but on my Danube river cruise with Avalon Waterways, I think I fell in love with Vienna most of all. I was seduced by the rich architecture and culture of Austria's capital, for centuries the heart of the Habsburg empire. I lingered in the elegant Viennese coffee shops and browsed the vibrant markets selling everything from flowers to found-in-the-attic antiques.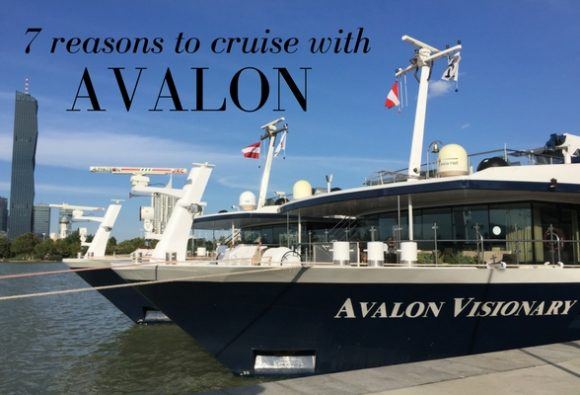 Our river cruise continued on the Danube with stops at the pretty villages of Durnstein and Grein with its 18th century theatre and castle on the hill. At Melk we visited the magnificent baroque abbey, before ending our mini-cruise at Linz, Austria's former European city of culture. There was plenty to discover in the scenery and places we visited, but the experience of being on board Avalon Visionary was also most enjoyable.
Since many different river cruise companies offer a similar Danube itinerary, here are some of the reasons you might consider booking your Danube Cruise with Avalon Waterways.
1. Spacious staterooms with river views
I enjoyed staying in a comfortable Panorama Suite with floor to ceiling windows which slid right back to create an open air balcony with my own private river view. Sometimes at more popular destinations there would be another boat moored side by side which meant the view was into someone else's cabin, in which case you needed to remember to shut your curtains before changing for dinner!
I loved the early morning views most, when the boat had been travelling overnight and I would wake to see the sun burning off the river mist and pretty houses passing by, before we arrived and moored up in time for breakfast. The mattress was super comfortable and was arranged so that you could lie in bed looking out of the window, or sit on the small sofa with a drink on the table to watch the world drift by.
My stateroom was decorated in a burned orange scheme with dark wood furniture and plenty of mirrors over the desk and inside the wardrobe. The decor was quite masculine and although burned orange is not my favourite colour I thought the overall effect was modern and sophisticated. I loved my bathroom with a mottled brown marble surface and large bottles of all my favourite l'Occitane toiletries. The shower enclosure was spacious, with a powerful shower that was a pleasure to use. There were thoughtful touches such as different coloured towels so that you would not get them mixed up with your partner and everything was kept beautifully clean by the cheerful housekeeping staff.
2. Eat local on your cruise
One thing that makes my heart sink, is seeing a menu that is so international that you wouldn't know which country you are in. Not so on an Avalon cruise where they take a lot of care to design menus that reflect the local cuisine, although of course there are a choice of dishes to suit all tastes. Being in Austria we could have a Weiner Schnitzel and Spätzle at lunch and I tried a desert of Kaiserschmarrn which was made of sweet pancakes with a compote of local plums. In the wine choices at dinner there were also local wines and I chose a delicious white Grüner Veltliner Domäne Wachau, from the Wachau Valley that we were passing through.
Avalon are taking the concept of 'Eat Local' a step further, as they introduce their Avalon Fresh concept with an emphasis on healthy cuisine that both reflects and gives back to the local communities. The company sources from local food suppliers where possible, to ensure the freshest of ingredients. To develop the healthy options on the menu, Avalon have been working with Austrian chefs Leo and Karl Wrenkh, whose cookery school we visited, to develop a choice of vegetarian dishes.
At the cookery school we had great fun cooking a range of simple but delicious dishes with head chef Leo Wrenkh including fish and meat dishes, although the Wenkh brothers are known for their inventive vegetarian cuisine. We chopped the veggies, sizzled the steak, pan fried the fish and lemon slices, sprinkled the herbs, stirred the risotto tirelessly and were finally rewarded as we sat down to lunch with all the different dishes to share. The food was so tasty and we were all happy to take the credit for our our efforts, albeit with Leo's expert guiding hand.
3. Getting Active, Feeling healthy
These days many travellers are looking to maintain a healthy lifestyle balance while on holiday, rather than ending their cruise feeling like a stuffed turkey. On my Danube cruise I was able to try some of the new Active Discovery excursions such as canoeing and cycling which were great fun and a good way to bond with other guests. Cycling in a group, we took the path by the river which curved through pretty villages and vineyards, until the impressive monastery at Melk came into view. After cycling the 30km from Durnstein to Melk I was really looking forward to my dinner that evening and felt I deserved every mouthful!
I also tried a canoe excursion from Durnstein where we were taken up river and then could canoe back to the ship, taking in the beautiful river views of the castle on the cliff and the picturesque village. Any fears of getting wet in an unstable canoe were dispelled as the two canoes were put together with boards, to create a stable arrangement that could take six people, so we could all chat and have fun together.
Our canoe guide accompanied us on a paddleboard and took us to a viewpoint opposite Durnstein to enjoy the views from the opposite bank. There is a small gym on board the ship but personally I prefer to incorporate my exercise into the trip through activities such as walking and cycling, that allow me to see more of the place I'm visiting.
4. Experiences that give a sense of place
One of the joys of river cruising is that you get so much opportunity to see new places and discover their stories. Unlike sea cruises where there is plenty of entertainment to keep you busy on board, on a river cruise the entertainment is found in the places you visit.
Travel experiences that allow you to meet the locals and uncover their customs and traditions are very popular and Avalon is increasingly offering excursions that go beyond the typical walking tour. One of my favourites was a bread making class in which we became bakers for the morning, mixing the dough, allowing it to rest (time for a cup of coffee!), then plaiting and pinching into the traditional Viennese rolls sprinkled with poppy and pumpkin seeds.
The rolls were baked and we proudly bore them back to the ship where they were served to fellow guests for lunch. Other guests on my cruise came back having tried their hand at conducting an orchestra (move over Vienna Philharmonic) and even learned to waltz in the lovely Eschenbach Palace in Vienna where we later enjoyed a concert with opera, ballet and the music of Strauss and Mozart.
5. A relaxed and friendly atmosphere on board
There was a lovely atmosphere on board which started with the helpful and good humoured attitude of the staff. Among the guests there was also a happy holiday mood with plenty of opportunity to make new friends and chat to other guests about the day's activities. As on other river cruises, the dress code is relaxed and although most guests dressed up a little for dinner, there's no need to pack your evening gown or tuxedo.
In the dining room there was a free seating arrangement which meant that you could sit at a table with whoever you wished at each meal. At different meals you might sit with your own friends or with other guests who soon became your new best friends. The excursions were also a good way of meeting people as we bonded over the dough kneading in a bread making class or shared a canoe to paddle down the Danube.
6. More is included in the price
When booking any cruise, one thing you need to check is what's included in the price you pay, since the extras can really add up. That's fine if you know in advance and have budgeted for it, but not so great when you find yourself stung for unexpected costs.
With Avalon you get a lot included in the price and could probably get away with paying hardly anything above the holiday price if you wanted to. Here's what's included;
Some excursions, such as a guided tour of the places you visit which will be tailored to your activity level with an active group and a gentle walker's group. Some more active excursions may also be included.
Excellent quality wines, beers and soft drinks at dinner and soft drinks at lunch. I was pleased to find that from 2017 wine and beer will also be complimentary at lunch as I think for many guests a glass of wine with their lunch is part of the enjoyment of being on holiday.
Return flights and airport transfers to take you to and from the ship
A privately chauffeured transfer service to take you to and from the airport within a 100 mile radius.
Wifi, which as a blogger was most welcome and I found was pretty fast. Even if you're not travelling with a laptop like me, many travellers these days use tablets and mobiles to browse the internet and keep in touch with loved ones when they travel.
On board gratuities. I personally prefer this approach as we British can get a bit anxious about when and how much to tip and find it more relaxing knowing that it's been taken care of and is included in the price.
So what extras will you need to budget for?
Some specialist excursions, for instance a cookery class or cycling excursion.
Drinks from the bar before or after dinner.
Laundry services if required as there are no self-service laundry or ironing facilities on board.
There was a hairdresser on board where you can also have a manicure.
That's not a huge amount of extras and depending on how you like to spend your cruise, you could get away without spending much above the holiday price. The item that would probably add most to your bill are the special excursions and to give you an idea of the cost, on my cruise these ranged from around €50-60 per person for a half day or around €70 for a full day excursion.
7. A door to door service
As part of the Avalon Service you get picked up from home (within a 100 mile radius) and transported to and from the airport, which really means the holiday starts when you step out of your front door. As my return flight from Salzburg arrived in the evening it was a real treat to know that I would be met at the airport and taken back to Bristol, so that I could get back the same evening, rather than worrying about public transport or staying somewhere overnight. For me this meant I could also be at my desk the following day as normal and not lose a working day. The service is individual to you, so you won't have to share with other passengers or be delayed while they are dropped off.
So as you see there are plenty of things to recommend an Avalon river cruise and the Danube cruise is a great choice if you are new to river cruising, since there are so many beautiful places to visit along the river. Most of the guests on board my Danube cruise were couples and groups of friends aged 50+ with quite a few around their 70s and the cruise caters well for the active mature traveller. An Avalon river cruise will appeal to those who want to travel in comfort and luxury, enjoying a rich cultural experience with plenty of opportunities to stay active on their holiday.
Read about more River cruise experiences
12 Culinary highlights on our Burgundy and Provence Cruise
All aboard the Amadeus Princess – what to expect on your river cruise
Tasting the wines of Burgundy on a Uniworld Cruise
Information to plan your cruise
The Avalon Waterways 9 day 'Active Discovery on the Danube' cruise from Linz to Budapest (and reverse itinerary) is priced from £2483 per person to include a selection of activities (based on 16 October 2017 departure). Cruise highlights include Linz, Grein, Durnstein, Krems, Vienna, Bratislava, Visegard and Budapest. Discover more on the Avalon Waterways website.
If you require a hotel in Austria at the start or end of your cruise check out my Hotel Booking Page powered by Hotels Combined. If you require any airport parking services, I recommend APH Airport Parking and Hotels, a leading UK provider of airport parking, hotels and airport lounges.
For more information to plan a holiday in Austria, visit the Austria Tourism website
Thanks to Avalon Waterways who hosted Heather for a 4 day taste of the Danube cruise from Austria to Linz.
Note: Some of the links above may be affiliate links, enabling me to earn a small commission at no extra cost to you – thanks for your support!
Pin It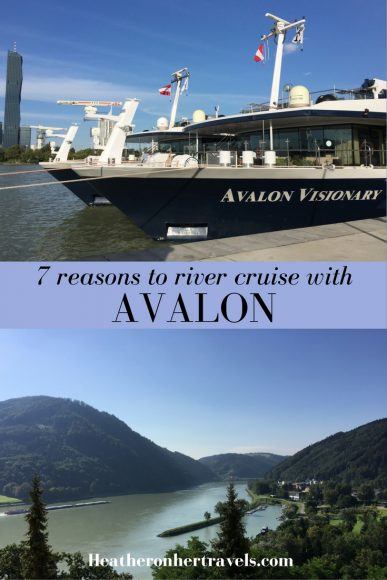 This article is originally published at Heatheronhertravels.com – Read the original article here
I remember the first time I went cycling with Headwater Holidays on my honeymoon. Basking in the September sunshine, we cycled through unspoiled rural France, meandering through gently rolling countryside, past farmyards and quiet villages.
We enjoyed it so much that the following year we booked again with Headwater Holidays, but this time chose the Jura, a rather more mountainous part of France. My memories of that holiday are of me at the bottom of the hill and Guy disappearing over the crest with barely a care for me, puffing and panting behind him. If only I'd known about e-bikes then, things might have been so different!
Fast forward 20 years to my trip to the South Tyrol in Italy and I found myself cycling through the vineyards that surround Lake Kaltern. This time I was offered a choice between a normal bike and an e-bike and although I'm pretty fit, I decided to try the e-bike. Perhaps it was the sight of my super-fit, lycra-clad guide, that made me think that perhaps I'd need a little extra pedal power to keep up.
To the untrained eye there was really little difference between the e-bike and any other. Only the small electric motor attached to the frame was the giveaway. However, I soon realised is that using an e-bike is not the same as a motor bike – the bike does not move on it's own and you still have to pedal. The controls are like an additional gear lever on the handle bars and when you're feeling the strain, you just click it on to give you some extra oomph on the hilly bits. Read about Cycling with wine and apples in South Tyrol
If you are reasonably fit like me, perhaps you think it would be cheating to hire an e-bike rather than sweat away up those hills? The leading walking and cycling company, Headwater Holidays recently surveyed its customers and found that 67% of those who responded had a positive experience with e-bikes. Among the reasons given were that they allowed different experience levels of cyclists to stay together, you could travel further and they were great for tackling steep hills.
That last issue of the steep hills was certainly a factor when I tried out e-bikes last year on a trip to Austria where I got the chance to do some mountain-biking in the Tyrol. Normally I wouldn't be first in the queue for mountain-biking, associating it with fit young men being splattered with mud and every chance of flying off over the handle bars.
On this occasion, however it was a much more pleasant experience, since I was able to put my e-bike on the side of the lift to the top of the mountain and then we gradually cycled down, stopping half way for a lunch with glorious mountain views.
You might think that being downhill all the way, I wouldn't have needed to use the electric motor at all, but in fact there were several places where we were going uphill and it was a relief to be able to click the lever and suddenly find that everything got a lot easier. As one enthusiastic Headwater Holidays customers said  "The way the e-bike sailed up the inclines was really quite amazing". Read about Heather goes e-mountain biking in Austria
If you'd like to try out an e-bike on your next cycling trip, check out the cycling holidays that Headwater Holidays offer with e-bikes. They are a great option if you;
Are less fit than you'd like but still enjoy cycling
Want to keep up with your partner who's fitter than you
Are cycling in a group of mixed abilities
Are debating whether you'll cope with steep hills and mountainous regions
Are more interested in enjoying the view than getting sweaty
Want to get some exercise but also have the option of taking it a bit easier if you need to
On most of Headwater's cycling holidays you can book an e-bike as an option – take a look at;
Hilltop Villages of Provence – the e-bike will make light work of cycling up to those medieval hilltop villages and you'll be rewarded with spectacular views across the Luberon.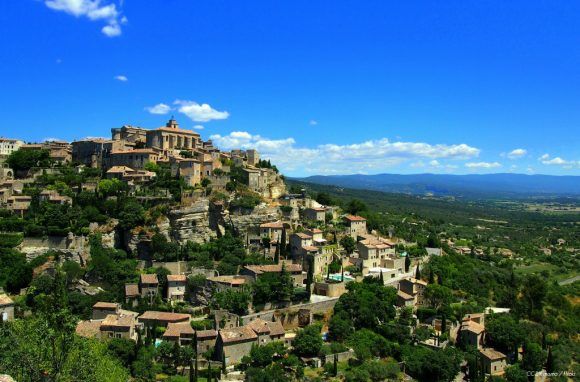 Classic Burgundy Cycling – You'll be pleased you chose an e-bike if you stop at any vineyards to taste the famous Burgundy wines and feel less inclined to pedal hard afterwards.
Coves and Harbours of Northern Spain – There are traditional fishing ports, farming hamlets but also the rugged Picos de Europa to explore.
Dorset and the Jurassic Coast – Lazy days visiting sheltered bays, with an e-bike to help you on those rolling hills.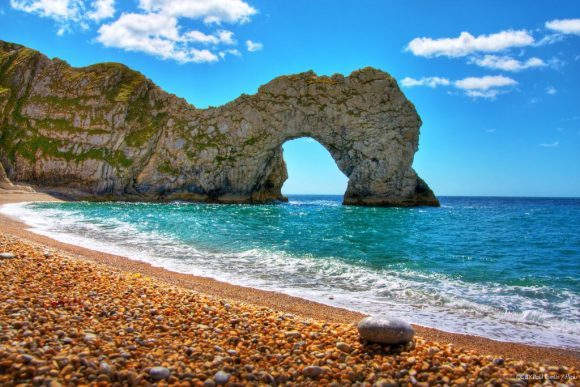 So when you're planning your next cycling holiday, do check out the options for cycling with e-bikes that Headwater Holidays can offer.
Check out my recent article for Headwater Holidays about 10 things to pack on your walking holiday
More articles from walking with Headwater Holidays in Austria
Hiking in Austria – the wild Leutasch Gorge and picturesque Mittenwald
Hiking in Austria – a Rifleman's Parade and Mental Power Walk at Seefeld
A high mountain walk (and a tumble) in the Gaistal Valley, Austria
Hiking in Austria – the views from the cross at Seefelder Spitze
Pin It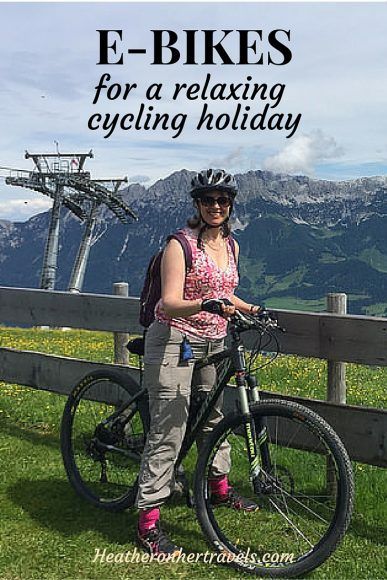 This article was brought to you in partnership with Headwater Holidays.
Dorset and the Jurassic coast photo credit: CC BY Paul Tomlin / flickr
This article is originally published at Heatheronhertravels.com – Read the original article here