During my previous hikes in the Alps I got to know those pesky mountain-bikers only too well. On the Tour de Mont Blanc I'd seen them whizz by, spraying gravel and mud or weaving between the pine trees in a flash of luminous lycra. Give me a nice, gentle cycle ride, I thought, through rolling vineyards with a glass of chilled white wine at the end of the trail. Mountain-biking seemed just too much like hard work.
But here I was in Wilder Kaiser, the eastern corner of the Tirol region of Austria, with plenty of gorgeous mountain scenery that just begged for some mountain-biking.
I hope you enjoy my video below about the Alpine Sports in Wilder Kaiser, Austria
If you can't see the video above of the Alpine Sports in Wilder Kaiser, Austria, see it on my blog here or Youtube here and please do subscribe using the button above
Click here for direct download of video
Subscribe to all my videos in I-tunes
If you enjoyed this video, check out the others in my Video archive
I'd come for the annual Alpine Sports Week that gives hikers like me a chance to try out some of the other outdoor activities on offer. Each day the group would try a different activity, from high rope climbing to canyoning, trail-running to Via Ferratta and of course mountain-biking. The best thing is that during Alpine Sports Week, the 5 days of activities are on offer for the knock-down price of €99.
For mountain-biking without tears I had a secret weapon, an e-bike which enables you to pedal up the steepest mountain with ease, prompting envious looks from those poor souls who have gone for the traditional bike option. My e-bike had a small motor attached to the frame which cut in whenever the going got tough. At the press of a button I could go into sports mode, touring mode or turbo mode to muster up some extra oomph on the hills. Suddenly mountain-biking seemed a much more attractive proposition; less sweat and more time to admire the view.
At Going Bike, we were kitted out with helmets, gloves and water bottles, then followed our leader Markus who runs mountain-bike tours in this valley. The path ran beside a stream, then we cycled up a bit of a hill and 20 minutes later reached the cable car station down the valley. Thank goodness that we could load the bikes into the cable car and reach the top of the mountain without even breaking into a sweat, taking in the views on the way. In no time at all we were at the upper cable car station, a surprisingly busy place, with a childrens' playground, cafe and trampoline.
Before we were let loose on the mountain, we had a talk on how to ride down safely. According to Markus the trick is to keep your feet parallel on the pedals and to lean back, with your 'aaarsh' at the back of the seat. We set off down the mountain with iron-man Markus leading the way, joking and laughing although you could tell that he was a hard-core sporty type and not taking any prisoners. I'd have loved to pause to take a few more photos and enjoy the Alpine views but there was no stopping Markus.
The tracks we followed downhill were broad and surprisingly manageable although you had to concentrate to avoid skidding on the gravel. For most of the time I was freewheeling downhill, growing in confidence all the time, taking in the views when I had the courage to glance up from the path. I'd love to have stopped in those Alpine meadows, with lush green grass sprinkled with purple clover, yellow buttercups and lacy white flowers, but Markus was insistent in his quest to get us down the mountain.
At the halfway point we stopped at a mountain restaurant and enjoyed a well-earned rest and some hearty dumpling soup for lunch. The sun was out and we all sat at one big table beside the cable car station where the cute red cable cars were strung up the mountain like beads on a necklace.
After filling up the water bottles, we were off again down the mountain, a line of bikes following down the winding trails. Only one lady skidded and fell at a sharp bend while I managed to topple over in a rather undignified fashion when I came to a halt but couldn't touch the ground.
By early afternoon we reached the bottom of the mountain and arrived again at the cycle shop. As Markus took my bike he patted me on the back, and told me; "You are a warrior woman, it was hard but you never gave up!" Pleased with my efforts, despite a stiff 'aarsh', aching thighs and wobbly knees I was happy to bask in his praise, although secretly I knew the e-bike had done most of the work.
Outdoor activities in Wilder Kaiser, Austria
Heather tried out her outdoor activities as part of Alpine Sports Week in Wilder Kaiser. This special week long event allows you to try out 6 different mountain sports over 6 days under the guidance of expert instructors at a special price of €99 (normally €358). Add your details to their mailing list here to get more details for next year. In addition to the high rope course and mountain-biking that Heather tried you can go canyoning, trail running and do a Via Ferrata.
All of these activities are also available throughout the summer to try as you like. In addition the region is a paradise for hikers with many day walks as well as multi-day hut-to-hut walks of 3 to 5 days in length. A similar mountain-bike tour to the one Heather enjoyed can be booked through Going Bike who rent e-bikes and other bikes from their shop in Going and run group tours.
For more information on things to do in Wilder Kaiser visit the Wilder Kaiser tourism website and their social media channels on Twitter | Facebook | Instagram | Google+ and keep up with latest news on the Wilder Kaiser blog.
Read more articles about Alpine Sports Week
Bemused Backpacker – Experiencing the Wilder Kaiser Alpine Sports Week in Austria
Scarlett London – Exploring Tirol by Bike
Daniellicacy – Wilder Kaiser, Austria – Mountain Biking
How to get to Wilder Kaiser
Heather flew from Bristol to Munich with BMI Regional who fly 12 times each week on this route, so you often have a choice of 2 flights per day. The ticket includes 20kg checked baggage and full at-seat in-flight bar and snack service at no extra charge.
Transfers from Munich to Wilder Kaiser take around 1.5 hours and can be arranged through Four Seasons Travel who have a desk at the airport. Alternatively Innsbruck airport is around 1 hour drive from Wilder Kaiser.
Where to stay in Wilder Kaiser
Heather stayed at the comfortable, family run Vitel and Panorama Hotel Sonnenhof in Going. This four star hotel is furnished traditionally with plenty of Tyrolean wood and has a spa and indoor swimming pool. I enjoyed the hearty breakfast spread with a full selection of muesli, fruit, nutty German breads and freshly cooked omlettes as well as fresh juices, honeycomb and anything else you would wish for. Check prices and book your stay here.
Pin It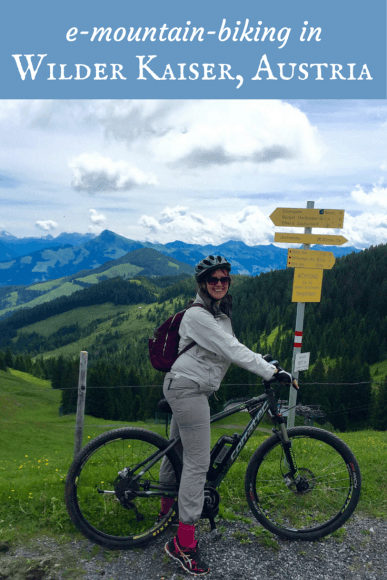 Thanks to Wilder Kaiser Tourist Board who hosted Heather's stay and provided the experiences mentioned and to BMI regional who provided Heather's flight to Munich.
You'll also find our sister blog with tips on how to build a successful travel blog at My Blogging Journey
March 21, 2015 by Heather Cowper
Filed under Austria, Copenhagen, Denmark, Eating and drinking, Europe, featured, Germany, Gothenburg, Greece, Leisure, Salzburg, Sweden, Zakynthos
Are you a coffee lover like me? It's the aroma of freshly ground coffee beans that hits your nose first and then you take a sip of hot, sweet coffee. Ahhh, the day starts to feel better already. But perhaps for you it's a tiny cup of strong, black expresso, ending the meal perfectly like a full stop at the end of a sentence. Or a frothy cappuccino to eat with a sweet pastry for breakfast like they do in Spain.
However you like it, a great cup of coffee is full of ritual as you watch a skilled barista operate those shiny machines that woosh and hiss, or the buzzy atmosphere of your favourite coffee shop where you meet your friends for a late morning weekend brunch or an afternoon coffee and cake.
Now I'm dreaming about all the coffees I've enjoyed on my travels, each coffee experience giving me a doorway into the culture of the place I visited. For more coffee inspiration, take a look at this Coffee infographic that will take you around the world in 31 coffees, but in the meantime let me share with you some of my favourite coffees around the world.
1. Copenhagen – the best coffee in the world?
If ever there was a place where they know how to elevate coffee to an art form it is Copenhagen and Coffee Collective sits among the best of the best.
I visited their original coffee shop in Nørrebro a few years ago, a tiny place with just a few wooden tables outside and a stool inside to perch while your coffee is being expertly made. Their coffee beans are sold all around Copenhagen and they operate on a Direct Trade model, working with farmers in Brazil, Guatamala, Kenya and Panama to pay the best prices for the best quality coffee. If you visit this place you'll probably be buying your coffee to take away (perhaps picking up a pastry from the Claus Meyer bakery across the road) but if you want to sit and enjoy your coffee in a foodie atmosphere, head for their stand in the Torvehallerne food market halls.
Torvehallerne is one of my favourite places in Copenhagen, where you can get a fabulous but reasonably priced lunch or sip your coffee with a cake just like your Danish grandmother might have baked. The third branch of Coffee Collective is in Frederiksberg, where the beans are roasted and they do monthly tours and coffee tastings where you can learn how to make a perfect coffee. Definitely a place of pilgrimage for the coffee connoisseur.
Read More: Eat the Neighbourhood in Norrebro, Copenhagen
2. Coffee time is Fika time in Sweden
If you've visited Sweden I'm sure you'll have come across the tradition of 'fika', or having a coffee break with friends. This is the occasion to settle down in a cosy cafe where the counters are laden with buns and pastries to relax over a good cup of coffee and a chat. When I visited Gothenburg I discovered that the picturesque old neighbourhood of Haga was the perfect fika spot, since its cobbled streets are lined with cafes, restaurants and artizan shops.
Cafe Husaren on the corner of the main street of Hada Nygatan is reputed to be the original source of the enormous cinamon buns which are a speciality of Gothenburg, although we squeezed into the pretty, traditional Cafe Kringlan with the gold bagel hanging outside. The local's choice for fika in Gothenburg seems to be Da Matteo and they have several shops including the largest in Magasingaten where they bake the bread and pastries on the premises, so you get the aroma of freshly baked bread thrown in with your coffee.
Read More: Favourite coffee spots in Gothenburg for your coffee fix
3. Salzburg – for coffee and cakes
Perhaps you've gathered by now that I have something of a sweet tooth, so heaven for me is a great cup of coffee served in the afternoon with a slice of the local cake. Of course Austria makes a speciality of this Kaffee und Kuchen ritual and where better than Salzburg, the glorious homeland of Mozart and the Sound of Music to enjoy it?
When it comes to cake to accompany your afternoon coffee, you'll likely be wavering between the Apfelstrudel (soft bites of apple wrapped in crisp layers of pastry) and the Sacher Torte (rich, dense chocolate cake laced with apricot jam). The traditional choice would probably be to head for Hotel Sacher which overlooks the river but we enjoyed our kaffee und kuchen on the rooftop terrace of the Hotel Stein with a fabulous view of the fortress, which is highly recommended in good weather. 
Read more: Bratwurst and Sacher Torte – or what we ate in Salzburg
4. A chilled frappe on the beach in Greece
Coffee can be a cool drink in more ways than one, as I discovered on my annual trips to Greece to visit my sister who lives on the Greek Island of Zakynthos. Traditionally the Greeks drink their coffee like the Turks, strong and sweet in a tiny cup together with those ultra-sweet pastries that drip with syrup. This is what you'd serve to friends who come visiting in the afternoon.
But the trendy thing to drink in summer is a chilled Frappé – where an expresso is poured over ice with creamy milk to make a coffee that's sipped through a straw from a long glass. When you're lying on your sunbed or sitting in a trendy Greek beach bar, be sure to order a "Freddo" coffee, which comes in different Italian styles such as a Freddo cappuccino, Freddo Expresso or a Freddoccino (iced mocha coffee with chocolate). 
Read More: Sunday morning Greek coffee and Glika in Zakynthos
5. Ruddesheimer coffee in Germany – coffee with a creamy kick
If you fancy your coffee with something a little stronger, we found the perfect alternative coffee on our Rhine River Cruise stop at the pretty town of Rudesheim. Wandering down the cobbled street of the Drosselgasse with its wine shops and taverns we stopped at Rudesheimer Schloss to try the local speciality of Rudesheimer coffee.
This coffee spiked with brandy is the German equivalent of Irish Coffee and started in the 1920s when the Alspach brandy company invented a brandy chocolate so that ladies could enjoy a secret tipple, at a time when it was considered unseemly for women to drink in public. One good thing lead to another and in the 1950s the Rudesheimer coffee was born, a warming mixture of sweet coffee with a good helping of Asbach brandy, topped with sweet, whipped vanilla cream and sprinkled with grated chocolate. These days the Rudesheimer coffee is served in all the local coffee shops and you can bring back small bottles of the Alspach brandy if you want to try it at home.
Read More: How to make a Rudesheimer coffee – video
6. A hot chocolate alternative to coffee in Gothenburg
If you're not a coffee drinker, you'll be pleased to know that in Gothenburg we found an excellent alternative at Cafe Kanold that specialises in velvety hot chocolate. Staying cosy from the chilly wind and weather, we sat on the cushioned banquette with pretty floral cushions and enjoyed a warming hot chocolate – served with chili flakes on top for an extra kick.
While there is also a counter of hand-made Kanold chocolates in the cafe, you'll want to visit the main Kanold chocolate shop close by on Södra Larmgatan at the end of Viktoriapassagen. It's a cross between an old fashioned candy store and a boutique chocolatier where you can buy the Kanold speciality, a soft chocolate truffle centre topped with sea salt, which has now become known as the "Gothenburg Truffle". Of course if you insist of coffee at Cafe Kanold, I'm sure they serve that too!
Read More: Chocolate with sea salt – a taste of West Sweden
Check out this Coffee Infographic
If you want to fuel your coffee fascination even more, take a look at this Coffee infographic from  Cheapflights that will take you around the world in 31 coffees. Here are a few cool coffee facts that I discovered;
In Italy you only drink milky coffee in the morning and NEVER after a meal – the cappuccino in the afternoon is only for tourists!
Breakfast in Spain normally consists of a cup of coffee with a sweet pastry or churros
In Senegal coffee is served with cloves and guinea pepper
In 2001 Brazil issued a coffee scented postage stamp
Seatle has 10 times more coffee store per head than the rest of the USA
Now, please excuse me as I'm off to find the perfect coffee to have with my weekend brunch in Bristol
Pin It
This article is originally published at Heatheronhertravels.com – Read the original article here
This article is written in association with Cheapflights
You'll also find our sister blog with tips on how to build a successful travel blog at My Blogging Journey
July 15, 2014 by Guest Author
Filed under Austria, Cycling, Eating and drinking, Europe, featured, Gardens, Guest post, Leisure, Misc, Nature, Sightseeing, Ski and Snowboard, Walking
In this article, guest author Claire Palmer shares with us her family's favourite holiday choice of Filzmoos, Austria, the perfect destination for summer walking or winter skiing, your choice for a gentle or full-on family activity holiday!
The traditional mountain village of Filzmoos has been a much-loved destination for my family in both winter and summer since we first discovered it when my 19 year old son was a 19 month old! Building and development is strictly controlled so it has retained its alpine chocolate-box charm with no high-rise buildings to mar the breath-taking views of the Bischofsmutze (Bishop's Mitre) peak and the Dachstein glacier range. There is no shortage of things to keep our two teenage boys occupied and the village has kept pace with their requirements as they have grown.
Uncrowded slopes meet the needs of any ski enthusiast
The whole family learnt to ski (snowboard in my younger son's case) in Filzmoos, including my father who learnt at the ripe old age of 74 and still holidays with us 19 years later, an inspiration to us all! All the instructors in the excellent ski schools speak very good English. Filzmoos is only known to one UK tour operator which means the slopes are uncrowded and the lift queues short, even in the school holidays. We love that the gentle nursery slopes are right in the middle of the village and the more challenging runs finish in the middle of the village so, if some of us have been on the "red" runs and others opted for a leisurely cruise on the wide, well-groomed "blue" pistes, we can all easily meet up in one of the many restaurants and cafes for a warming hot chocolate (Gluhwein for me, please).
Speaking of restaurants, the typical Austrian mountain food is delicious and filling. My sons never tire of the local specialty dessert – Germknodel – a yeast dumpling filled with plum jam and served with vanilla custard. When they were younger it was a whole meal in itself, now it follows a huge Tiroler Grostl, a sizzling cast iron pan of diced potatoes, bacon and eggs fried with herbs.
Activities abound in any season
At Christmas our "must-do" outing is a sleigh ride up to the Oberhofalm and Unterhofalm for the "Advent Idyll" walk around the frozen lake featuring fire pits, candle-lit decorative scenes and huts selling spiced Gluhwein. Watch out for the trick-playing Perchten, horned beasts from folklore dating back to pagan times.
On Christmas Eve Father Christmas arrives in the village square by sleigh and he and his angel-helpers give out sweets and sparklers to the children. Gluhwein is, as always, on offer for the adults!
Our favourite summer outing is also up to the Oberhofalm and Unterhofalm inns but this time by hiring electric-assisted mountain bikes to ride through the woods, arriving in time for lunch outside on the terrace under the sun umbrellas, gazing at eagles circling in the bright blue sky and the majestic snow-capped peak of the Bischofsmutze, now so much closer.
On the way up our refreshment stop is a trough with a spout that gushes pure mountain spring water straight from the ground at an amazing 5 degrees C. Bliss! These electric bikes are amazing machines! The fittest in the party can pedal just as on a normal bike and I can choose how much assistance to have from the battery power, enabling me to go up slopes I could only dream about otherwise!
Discover local flora and fauna
Once up at the mountain inns there are numerous marked walking paths across the high alpine pastures and around the small lake. In fact Filzmoos has 200km of marked walking trails and I love to see the wild mountain flowers in spring and summer. I've found gentian, carlina and many others that I can't identify but no edelweiss yet, sadly.
Another favourite walk of ours is the Marmot trail where we take the Wanderbus high up into the mountains where one can see marmots (although the only ones we've seen so far are on postcards!) then walk back down to the village, admiring the incredible alpine scenery and views at every turn.
Plenty to do for the adventure seeker
For something a little more adrenalin-fuelling for our teenagers, we take the Wanderbus to the neighbouring village of Ramsau where there is a summer toboggan run. Riding the toboggan down on spiralling metal rails that loop out on stilts over the valley is certainly exhilarating, as is going up the mountain on the chairlift and hiring a mountain scooter to ride back down. A completely new experience for all of us! Ramsau also has a bathing lake, archery, hang-gliding or a long cable car ride up to the Dachstein glacier for skiing or to visit the ice caves. A walk out on the Dachstein Sky Walk, a platform overhanging the valley 250 metres straight below, gives a spectacular panorama but I prefer to look out not down!
Despite only having 1,450 inhabitants, Filzmoos village has everything we have ever needed and so we relish not having to use a car and therefore not having to worry about how much of the refreshing "golden nectar" we have drunk!
As well as indoor and outdoor swimming pools, a bowling alley and tennis court, there is a well-stocked supermarket, butcher and delicatessen, a wonderful bakery with coffee shop, pharmacy, doctor's surgery, indoor and outdoor swimming pools, bowling alley and, most importantly, numerous restaurants and cafes serving scrumptious coffee and specialty cakes such as Viennese Sachertorte or apple strudel and cream. After 18 years of holidaying there we have still not run out of things to do and there are many excursions we have still not taken.
Two years ago we realised our dream of buying a one-bedroomed apartment in the village, within five minutes walk of ski slopes and restaurants. This sleeps up to 5 and is available for hire. Please email Claire Palmer at [email protected] for more information.

Author Bio: Many thanks for this article to Claire Palmer, who has loved to travel ever since she was a child touring Europe by caravan for the summer (her parents were teachers) and spending part of her childhood in New Zealand. Since having her own children she has travelled extensively as a family both in Europe and back to New Zealand. She loves Austria and, since realising a long-held dream of buying a property there, is taking German lessons in preparation for spending much more time there when her sons have left school.
For more Austrian adventures:
May Day at The White Horse Inn on Lake Wolfgang, Austria
Lost in the Hohensalzburg Fortress in Salzburg
Riding the steam train – on the Schafburgbahn at St Wolfgang
This article  is originally published at Heatheronhertravels.com – Read the original article here
You'll also find our sister blog with tips on how to build a successful travel blog at My Blogging Journey