March 22, 2016 by Heather Cowper
Filed under Europe, Accommodation, Leisure, video, featured, Art and design, Greece, Hotels, Museums, Sightseeing
If ever there is a must-see site that epitomises Ancient Greece it is the Acropolis. This rocky hill is topped by the Parthenon temple dedicated to Athena, goddess of wisdom and war who planted the first olive tree on this very spot to found the city of Athens. On a visit with my parents in late February, we experienced warm and sunny weather, making it an ideal time to visit the Acropolis before the scorching heat and crowds of summer descend on Athens.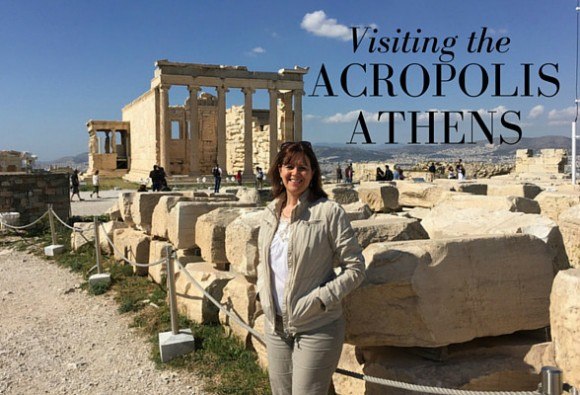 I had visited the Acropolis on a previous trip to Athens for TBEX blogger's conference – read about it here. On Saturday afternoon I walked up as I'd done before, hoping to photograph the ancient temples in the golden glow of the late afternoon sun, but was disappointed to find that the site closes early at 3pm in winter.
Undaunted, we returned the next day and climbed up the steep pathway winding up to the top, which my parents who are in their 70s had to navigate quite cautiously since the rock was worn and slippery in places. Although the site is flatter at the top there are many places where the ground is very rocky and uneven, so older visitors will need to take care.
I hope you enjoy the video below about the Acropolis, Athens
If you can't see the video above about the Acropolis Athens see it on my blog here or Youtube here and please do subscribe using the button above
Click here for direct download of video
Subscribe to all my videos in I-tunes
Passing through the gateway of the Propylaea at the top of the steps we had our first view of the Parthenon, the iconic temple dedicated to the goddess Athena, after whom the city of Athens was named. Within the temple originally stood a 12 metre high gold and ivory statue of Athena, although it was lost in the Byzantine era and only copies remain. Around the top of the temple runs a frieze of all the gods which now resides in the Acropolis Museum, since most of the original stone carvings have been replaced with copies.
A surprising aspect of the Parthenon is that much of it resembles a building site, dominated by scaffolding and cranes, with a restoration underway that will continue for some years. The temple seemed to have been partly dismantled, with blocks of stone and parts of ancient columns piled up ready to be hoisted into poition. In another area near the entrance, some of the carved stones that will replace the frieze could be seen close up, stacked as if in a timber yard.
Once we had walked around to the front of the Parthenon, we found a scaffolding free view of the temple. At the furthest point of the rock, a raised area provided plenty of selfie opportunities as well as a view of Athens, sprawling endlessly towards the mountains. While my parents established themselves to sit a while in the shade, I went to explore the other main monument, the Erechtheion that stands on the northern side of the Acropolis rock.
This temple was built on the sacred spot where the goddess Athena is said to have planted the olive tree, the symbol of Athens that brings peace and prosperity. The temple is best known for the Caryatids, the row of maidens in draped tunics that support the roof. The ones here are copies, since the originals are in the Acropolis Museum, with one in the British Museum (part of the 'Elgin Marbles' collection that Greece is campaigning to have returned).
Need to know for visiting the Acropolis
Around the site are information signs telling you about each temple and of course if you visit as part of a guided tour, you will get plenty more information. If visiting independently, you can hire a registered guide at the entrance if you wish, or use your guidebook to give you an overview of the site.
You can't get inside any of the ancient buildings so it's more about taking in the views of the temples and over the city of Athens and wondering at the huge scale of this iconic site.
There are toilets at the top of the Acropolis rock but nowhere to buy drinks or refreshments, so you should at least take some water with you. In the hotter months it will be baking up here with only a few places for shade.
The entry is €12 per adult, €6 for reduced tickets (aged 65+ from EU if you produce a passport) and this gives entry to a number of other sites for 7 days.
In winter (Nov-March) the site opens 8.30-3pm and in summer 8am-7pm. We were there in late February when it was not too crowded but in summer I imagine that the crowds are huge, so you may want to visit early or later in the day when the tour groups have gone home.
Visiting the Acropolis Museum
After the Acropolis, our next stop was the Acropolis Museum, a world-class setting for the treasures of the Acropolis hill that rises above it. Most of the statues and friezes on the Parthenon have been brought here to preserve them, being replaced by modern copies on the temple itself.
On the outside, the museum shows its clean, modern lines with walls of glass to shed plenty of natural light and give views towards the Acropolis rock. The museum is built over the remains of the ancient city and you can look down into the kitchens and latrines of Ancient Greece as you walk towards the entrance.
The open galleries on the first floor are supported by columns and many of the sculptures from different periods of the Acropolis are on display here. Originally many of these would have been painted in bright colours, very different from the serene white marble appearance of today. I was surprised to see how different the statues would have looked, with almost garish blues and reds and details picked out in gold.
On the third floor, the Parthenon Gallery is laid out to mimic the Parthenon itself, with steel columns in place of the marble pillars of the Parthenon, and the friezes that ran all around the sides of the temple and formed the pediment at the top.
Where parts of the frieze were missing, for instance the parts that are on display in the British Museum, a copy was shown in raw plaster next to aged ivory colour of the original carving.
Most famous are the Caryatids that you'll have seen at the Erechtheion on top of the Acropolis; this is where the real ones are kept to preserve them from the elements. They are also a favourite spot for visitors to have their photograph taken which is allowed in this part of the museum although not in all the galleries.
On the second floor we watched a video in English about the history of the Acropolis which made it quite clear where they stand on the Elgin collection, now kept in the British Museum. There is a long-standing campaign to have these artefacts from the Parthanon returned to the Acropolis museum which you can even vote on as you pass through Athens airport.
We finished a very enjoyable visit to the Acropolis Museum with a drink on the sunny terrace cafe looking up at the Acropolis Hill above.
Need to know for visiting the Acropolis Museum
The museum is set at the foot of the Acropolis Hill next to Acropolis Metro station.
Entrance charge is €5
Open normally 8am-8pm April-October, 9am-5pm Nov-March (check website for variations some days)
There is a great cafe with waiter service and views of the Acropolis from the terrace
On the top floor, watch the video in English about the history of the Acropolis.
Photography for personal use is allowed in some but not all of the galleries.
Around Athens there are plenty of other ancient sites and here are just a few that we enjoyed.
Sunset at Areopagus Hill
Walking along the path from the Acropolis Museum leading toward Monastiraki you'll see the Areopagus Hill, a rocky outcrop which has some wooden steps to allow you to climb to the top. From here you can get a great view of the Acropolis as well as over the whole city and it's a favourite place to come at sunset as the city turns golden below you.
The Odeion of Herodes Atticus
On the pedestrian route that leads past the museum up to the Acropolis you'll pass the Odeon of Herodes Atticus, with solid stone arches through which you can glimpse the ancient theatre  that was built in 161AD by a wealthy Athenian in memory of his wife. In summer the 5000 seat theatre is used for music, opera and concerts during the Athens festival that runs throughout the summer.
The Temple of Olympian Zeus
On one of our walks in the neighbourhood of our hotel we passed by the Temple of Olympian Zeus, set in a grassy park, although the gates were shut when we were there, so we had to content ourselves with a view through the railings. The temple was constructed over several centuries but fell out of use in the third century AD and the stones used for building elsewhere in the city. Today you can see a group of decorative Corinthian columns and the one that fell over in a storm, showing the round, carved sections like giant stone coins that made up the column.
Have you visited the Acropolis or the Acropolis Museum and if so, what was your favourite part?
More articles from Greece
Long Weekend guide to Athens – if you need a bit more information check out this comprehensive guide to spending a long weekend in Athens from Urban Travel Blog
Sailing into Santorini on our Greek Island Cruise
6 things the English Girls get SO wrong on the beach in Greece
More than Moussaka – delicious Greek dishes to try
Where to stay when visiting the Acropolis
I highly recommend the 5 star Electra Palace Hotel where I stayed with my parents and sister while in Athens. This elegant, luxury hotel is in the Plaka district of Athens, at the foot of the Acropolis, and is well situated to walk easily to most of the ancient sites. The hotel is classic in decor and is a haven of calm to return to at the end of your day's sightseeing.
Even when not sightseeing, you're never far from those prized Acropolis views, since there is a rooftop pool and bar to relax in the hotter months as well as a rooftop restaurant serving modern Greek cuisine where you can dine in the evening.
Electra Palace Hotel, 18 N. Nikodimou Str., 10557 Athens, Greece | Twitter | Facebook | Instagram
Read my full review and video of Electra Palace Hotel Athens here
Compare prices and book for hotels in Athens on my Hotel Booking Page powered by Hotels Combined
Pin It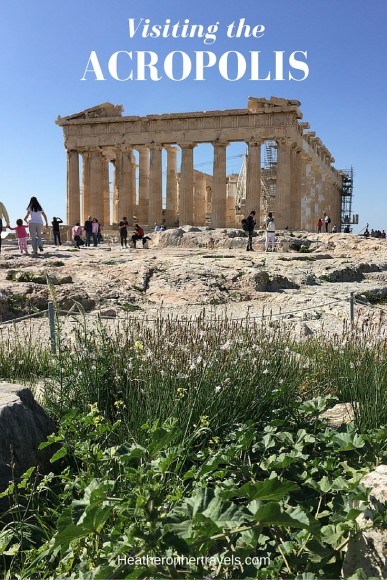 Thanks to the Electra Palace Hotel, Athens who hosted Heather's stay at the hotel.
This article is originally published at Heatheronhertravels.com – Read the original article here
Ah, the smell of Athens in springtime, the aroma of eucalyptus warmed by sunshine with a whiff of cigarette smoke curling through the air. The freshness of winter lingers, the dust and heat of summer is yet to come, the sun warm enough to relax in a pavement cafes of Plaka to watch the world go by.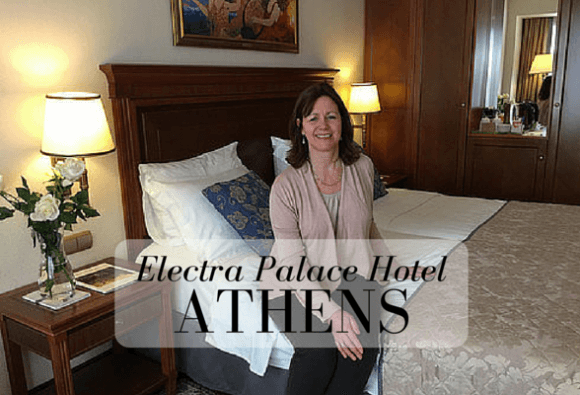 I was visiting Athens for a weekend break with my parents and sister who lives in Greece, staying at the 5 star Electra Palace Hotel, in the Plaka district at the foot of the Acropolis. It suited us perfectly for our weekend stay, since we could walk easily to most of the ancient sites and have a haven of calm and luxury to return to at the end of each day.
I hope you enjoy the video below about Electra Palace Hotel
If you can't see the video above Electra Palace Hotel Athens see it on my blog here or Youtube here and please do subscribe using the button above
Click here for direct download of video
Subscribe to all my videos in I-tunes
The Electra Palace Hotel is one of a family-owned group of five Electra Hotels celebrating 50 years since the first Electra Hotel opened in Athens. The group includes the Electra and Electra Palace in Athens, as well as hotels in Crete, Thessaloniki, Rhodes and the soon to be opened luxury lifestyle Electra Metropolis in Athens. We could feel the slick professionalism that you get with a major hotel chain but perhaps with a little more personal touch from being a smaller hotel group.
Our 5th Floor Bedroom
Our bedroom on the fifth floor was classic and elegant with Italian style wooden furniture and muted blue, gold and cream in the colour scheme with red woollen patterned rugs on the floor. The lighting fittings were of heavy brass with cream shades and a large gilt mirror on the wall above the desk.
Outside the French windows we found a balcony where we could sit on wicker chairs at the marble table separated from our neighbours by olive plants and admire the view of the Acropolis across the rooftops. We had all the conveniences: a kettle to make tea and coffee, a fridge and mini bar, a large safe with room for my laptop and towelling robes and slippers for lounging around after a bath.
The bathroom was in similar classical design, with pale blue marble edged with mosaic tiles and a bath with powerful shower above. In the recess of the ceiling was painted a blue sky with white fluffy clouds to remind us we were in a land where the sun always shines.
One of the delights of a luxury hotel is to be spoiled by the toiletries and Korres is one of my favourite Greek brands, known for its natural products. We tested out the citrus shower gel and body lotion as well as the handy shampoo and conditioner with aloe to smooth away the frizz.
Breakfast in the Motivo Restaurant
In the large Motivo restaurant on the ground floor we relaxed over breakfast, finding our favourite table by the window with a view of the garden. The decor was again classic with comfortable green upholstered chairs, wooden parquet floors and sparkling square chandeliers.
We tried a wide selection of breads including the Greek sesame rings that are found on every street corner, as well as a spread of cereals, yoghurt and fruit, cold meats, cheeses and hot dishes like scrambled egg, bacon, beans and mushrooms. There seemed to be something to suit every taste of the international guests, including a range of healthy choice yoghurts, cheeses and meats and even a machine where you could make your own waffles and douse them in maple syrup. Apparently the hotel is a popular choice for American guests.
Motivo Garden Terrace Restaurant
Leading off the reception and adjoining the ground floor restaurant was a courtyard garden that became my favourite place to sit in the sun with a coffee. The tables were laid at lunchtime and the flowering pots under the large palm tree made a welcome retreat from the narrow streets outside the hotel.
The Pool Terrace with a view of the Acropolis
Up on the 5th floor we got another perspective on Athens from the rooftop pool terrace. In summer the sun loungers are laid out and the pool bar is open so you can relax in the heart of the city with that Acropolis view that any self respecting hotel in Athens with a roof terrace aims to offer.
Dinner in the Electra Roof garden restaurant
Adjoining the pool terace was the Roof garden restaurant with a wall of windows to make the most of those Acropolis views. In summer they open all the windows and you can dine outside too, which would be perfect for a romantic dinner.
The food is a fusion of Mediterranean dishes that incorporate Greek produce and fresh flavours. Our dinner managed to strike just the right note, balancing elegant dining with familiar tastes so that everyone found something to enjoy. To start my father tried the ravioli which was stuffed with pumpkin, ricotta cheese and smoked ham drizzled with basil oil.
I ordered the veal fillet which was juicy and tender, served with polenta and a flavoursome tarragon sauce, while my sister had the lamb chop with gnocchi and wild mushrooms. Finally we tried a light but delicious desert of poached apple with halva mousse on a bed of crumbs made from dehydrated chocolate and milk.
I'd recommend this restaurant for a very enjoyable dining experience, with delicious food and friendly and professional service, especially once the weather makes it warm enough to eat outside.
Starters €10-18, Pasta €14-17, Main Course €19-26, Deserts €8-9. With a nice wine our bill was around €40 per head.
The Pool and Spa
After walking around the Acropolis all morning, I felt I deserved a relaxing afternoon and headed downstairs to try out the hotel spa. There's an attractive small pool with a jacuzzi at one end which is open to guests from 8am to 9pm and to children with their parents up to 3pm. There's a small gym and a spa which is best reserved in advance so the staff can prepare it for you, since there is room for three people.
After changing into my robe and slippers I was shown into the treatment room for my relaxing massage followed by a facial. The spa uses products by a Greek company called O.live which is based in Crete and uses organic products based on olive oil infused with essential oils of lavender, eucalyptus and mandarin. As my back was massaged I drifted away to the sounds of the sea washing on the pebble beach and the wind blowing through the pine trees, transporting me to Greek summer holidays past and future.
Next my face was cleansed using a gentle chamomile cleanser, with an exfoliation treatment and face mask with green argyle followed by a massage with calendula anti-aging cream. By the end my skin truly felt glowing and soft and I relaxed on the loungers outside the treatment room drinking green tea with honey and breathing in the steam of hot water with eucalyptus to revive me after the treatment.
If you'd like to try a spa treatment, all guests are offered a voucher for a complimentary 15 minute massage on arrival, or you may see the therapists as you come out of breakfast to arrange an appointment.
Massages are from €60 including the Ancient Greek massage with relaxing hot towels to remove tension and the Cretan massage that uses oil mixed with raki to sooth tired muscles. Facial massage starts at €25 with a full facial €65. I'd also recommend the lovely O.live products that are on sale in the spa using different fragrances such as lavender for calming, green tea to revitalise and mandarin to energise. If you're a fan of Jo Malone perfumes as I am you'll love the O.live mandarin, lime and basil that's just like the Jo Malone signature fragrance.
Are we being served?
All our party agreed that the Electra Palace Hotel had a lovely atmosphere of calm and professionalism combined with friendly and attentive service. The cool, spacious lobby with marble floors and chandeliers felt like an oasis as you stepped off the street after navigating the narrow streets of Plaka or the bustle of Syntagma square. The staff always greeted us with a warm smile, helped us with directions and restaurant reservations and were quick to offer help with bags and taxis, so we felt very well looked after, which was especially important for my parents who are in their 70s.
Are we in the digital age?
It's so nice to find an upscale hotel that offers good free wifi for all its guests and at Electra Palace Hotel I had no problems at all staying connected. The free standard service was pretty good and the passwords were easy to remember and only required logging in again every few hours. If you need faster internet access for business, this is available at an extra charge. You can follow the hotel news on their Twitter, Facebook and Instagram channels too.
Location Location
Location is a major reason for staying at Electra Palace Hotel as it is set in the heart of the old town Plaka district, with atmospheric bars and pavement cafes. You're just a 10 minute walk from the Acropolis museum in one direction and from Syntagma square in the other so it's an excellent base to see the sites on foot. All the nearby streets are full of bars, cafes and restaurants so it's easy to find places to eat and enjoy the evening nightlife.
 Who is Electra Palace Hotel best for?
Most of the other guests at Electra Palace Hotel were aged 40+ with a few families with school age children. We heard that many of the guests are from the USA, UK and Greece as well as a broad range of other nationalities and the hotel had a cosmopolitan, international feel. Because of the location close to all the sites, Electra Palace Hotel is an ideal base if you are visiting Athens for a short break and want to make the most of your stay. If you are looking for a luxurious hotel with classic and elegant decor and friendly service, this is the hotel for you. Double rooms for a weekend stay in spring for 2 people including breakfast are from £150 per night and in peak season from £200 per night.
Electra Palace Hotel, 18 N. Nikodimou Str., 10557 Athens, Greece | Twitter | Facebook | Instagram
Have you stayed in the Plaka district or at the Electra Palace Hotel? If so do let me know what you enjoyed in the comments.
Getting there
The taxi from Athens airport takes about 30 minutes outside the rush hour and costs €40-45. Alternatively you can get the metro from the airport to Acropolis station which again takes 30 minutes and costs around €8, then walk 10 minutes to the hotel.
Good to know
From summer 2016 there will be a new hotel in the Electra family, the Electra Metropolis. Located close by the Electra Palace Hotel the Metropolis will be a 5 star luxury lifestyle hotel, with modern design and style. With high speed internet everywhere, smart TVs and smartphone gadgetry, this will be the place for those who like to stay connected while travelling in style.
Pin It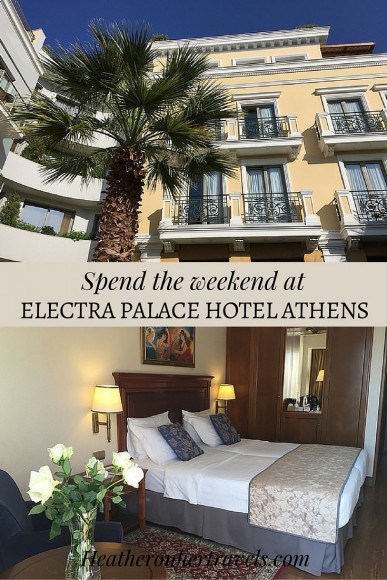 Thanks to Electra Palace Hotel who hosted Heather's hotel stay in Athens
This article is originally published at Heatheronhertravels.com – Read the original article here
February 1, 2016 by Heather Cowper
Filed under Europe, Leisure, video, featured, Cruise, Eating and drinking, Greece, Greece & Turkey Cruise, Sightseeing, Turkey
Are you someone that loves to travel, exploring new destinations, discovering the local food and culture but doing so in luxury and style? Perhaps you thought that cruising was not for you: too many people, too many restrictions, not enough time to explore what you want to see?
While I'm relatively new to cruising I've realised that there's definitely not "one size fits all". Just as you might choose to stay in a boutique hotel or a luxury resort, a homely bed and breakfast or a local's apartment, there is a cruise ship option to suit your travel style. If you are looking for small ship luxury and more time in the destinations you visit, as well as a chance to quiz Captain Johannes about that time he stopped the ship to go fishing, then Azamara Club Cruises could be the cruise line for you. Read on and watch my video for what to expect from an Azamara Club Cruise: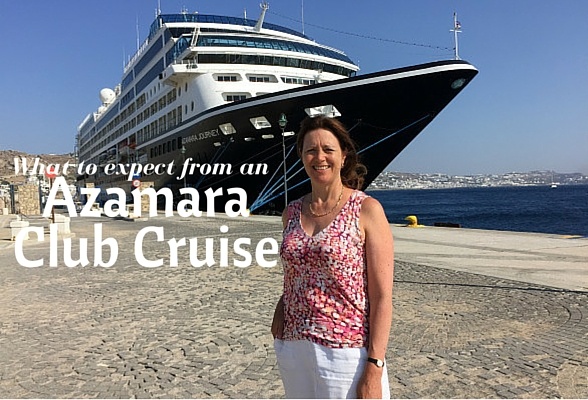 I hope you enjoy my video below – a ship's tour of Azamara Journey
If you can't see the video above about a tour of Azamara Journey see it on my blog here or Youtube here and please do subscribe using the button above
Click here for direct download of video
Subscribe to all my videos in I-tunes
Small Ship Cruising
When Guy and I sailed with Azamara Club Cruises last summer on their 7 night Greek Isles and Turkey cruise from Athens to Istanbul, I really felt the difference between travelling on a smaller ship with less than 700 guests, compared to the larger ships that take 3000+ passengers. While Azamara Club Cruises benefits from being part of the larger Royal Caribbean Cruise group, this niche luxury cruise line has just two ships. We sailed on Azamara Journey but Azamara Quest is practically identical and both have a capacity of 686 guests.
So how does being small affect for your cruise experience? It means that the atmosphere on board is friendly and intimate and it's very easy to make new friends. While there is everything on board you'd find on any cruise ship it's on a smaller scale; one swimming pool instead of three, for instance. More importantly it means that the ship has more flexibility to visit ports that some of the larger ships couldn't get into or to adapt the itinerary if bad weather is forecast.
You'll find that captain and senior crew are very visible around the ship, mingling with guests in the evening, and they have a lot more freedom to adapt the needs of the moment. If you bump into the charming Captain Johannes, be sure to ask him about the time he stopped to ship off the coast of Norway for a spot of fishing!
On Azamara Journey we were able to visit the Greek Island of Patmos which has a sleepy feel of the old Greece that Guy loved when he went island hopping as a student. Smaller ships also allow you to sail right into the heart of a city, within an easy walk of all you want to see, rather than have to be transported from the newer port where the larger ships will dock.
It's all about the destination
Azamara Club Cruises is much more about the places you visit rather than spending your days on board, a concept they call "Destination Immersion". Many of the excursions or "Land Discoveries" take you to places that are not normally open to the public or offer unusual, insider experiences that give you special insights to the local culture.
One of my favourites was the day we spent learning about Turkish cuisine and culture in a country house near Kusadasi. The house had been beautifully designed as a showcase for local crafts and artisans with Turkish rugs, carved marble fireplaces and Suzani cut-work throws on the bed. In the family's kitchen, we learned how to make Turkish dishes like stuffed peppers and sat under the shady pergola rolling vine leaves to make Dolma. We were shown how a Turkish woman would tie her headscarf depending on the region of Turkey she came from and how to wash your rice many times so that every grain of your pilaf would be separate.
The meal ended with tiny cups of strong Turkish coffee and when we'd finished the cups were upturned so that the ladies could have their fortunes told from the pattern of the coffee grounds, the art of fortune telling being passed from mother to daughter. It was a lovely and relaxing insight into Turkish culture and cuisine and of course all the ladies came away with a headscarf and recipe book to bring home. Read about our day of Turkish culture here.
Contemporary elegance
I'd describe the style of Azamara Journey, when we sailed last summer, as elegant, luxurious and classic. But if you're planning to cruise from spring 2016 you'll find a new contemporary look on board as both ships will go into dry dock to be refitted and come out "Re-imagined". The natural elements of earth, air, water and fire have inspired a paler, more muted colour scheme, using creams and earthy tones throughout the ship.
Already last summer we could see some of this new contemporary look being introduced in the sun loungers and deck furniture in some parts of the ship, while in staterooms the darker wood and furnishings will be replaced this spring by light, fresh tones while retaining the luxurious feel.
Other innovations will be part of the refurbishment, with new spa suites being created that not only have a sea view from the bathroom but allow special access to the spa amenities included in the price of these staterooms. There will also be new investment in technology since most guests these days travel with tablets and smartphones, so a new wifi system on board will provide faster internet connections and there will be interactive tabletops in public areas for social media surfing.
Fabulous food
We found the food on board Azamara to be excellent and unlike many cruise lines, the wines, beers, soft drinks and speciality coffees are included in the price of your cruise holiday. The small ship experience doesn't mean you miss out on choice and you can eat with full waiter service in the Discoveries Restaurant, or choose from the buffet selection while still receiving waiter service for drinks in the Pool Grill and Windows Café.
On larger cruise ships the buffet restaurant can feel like a seething mass of humanity, but on board Azamara Journey we found an altogether more elegant experience. Our favourite place to dine was in the outdoor seating area of the Windows Café at the back of the ship where it felt as if we were sitting in a seaside restaurant with a view of the waves.
There are two excellent speciality restaurants on board, for an additional charge of $25 per person per meal: Aqualina which specialises in contemporary Italian cuisine and Prime C which has a country club feel, serving excellent steak and meat dishes. We dined at Aqualina one evening and had the most delicious meal featuring light, fresh dishes and plenty of seafood.
Informal lifestyle
Guests who are new to cruising are often concerned about what they need to pack for their cruise. While there are shops on board, it's not as if you can easily pop out to find the outfit you need, nor do you want to spend your holiday worrying about whether you'll be caught out by a black tie dress code.
You can rest easy when you sail with Azamara Club Cruises since the dress code is elegant but informal. Most guests dressed up in the evening as you would if you were going to a smart restaurant, but it was more about a pretty dress and jewellery or a crisp shirt and jacket for gentlemen than about anything more formal. You won't need a tuxedo or a long sparkly dress on board and of course there is a free self-service laundry so you can travel light if you like, knowing that your outfits can multi-task, especially on longer voyages. The only thing you should remember to pack is something white – more of that later.
Arrive early, sail late
You may not realise this but it costs a lot for a ship to be in port; like being in a very expensive car park with the clock ticking. That's why on some cruises you'll find that you'll have to be back on the ship by mid-afternoon having rushed around trying to see everything. Not so when you sail with Azamara Club Cruises.
In most of the destinations you visit you'll have time for an unhurried look around the port of call and just when all the other cruise ship guests are heading back to the ship you can enjoy a relaxing afternoon with less crowds. There's plenty of time to see the sunset and have a leisurely dinner onshore at the places the locals like to eat once most cruise ships have sailed.
Arriving early also means that if you're an early bird you can enjoy the views from the ship and disembark to make the most of the day. Our magical moments on our Greece and Turkey cruise were seeing the sunrise from the caldera of Santorini with the mist rising off the shore, or sailing through the Golden Horn as we arrived in Istanbul past the Topkapi palace and the Blue Mosque. Read about our stop in Istanbul here.
A lot more's included
One of the big things to consider when choosing your cruise is what's included and what's not included in the cost of your holiday. Many cruises have a lower entry price but you'll also need to budget for drinks, gratuities, self service laundry and shuttle buses. All of these can add hundreds if not thousands of pounds to your bill, but they are included in the price you pay for your Azamara Club Cruise. I must say that I found it a lot more relaxing to know that I didn't have to think about the cost of that cappuccino or debate whether it was worth paying for the shuttle bus or taking public transport.
Another thing that is included in the price is an AzAmazing Evening on every cruise; a unique evening experience that you probably couldn't recreate yourself. While Azamara Club Cruises are priced in line with the luxurious small ship experience they offer, once you take into account everything that's included the overall cost may compare favourably with other cruise lines that appear to be cheaper but can't offer such a unique experience.
Enjoy your evenings onshore
A big benefit of later sailing times is that you can enjoy evenings onshore, dining in a local restaurant or having a drink as the sun goes down. Azamara make this very easy through their Cruise Global, Eat local programme where they introduce you to restaurants that are recommended for their authentic local dishes, or are included in a lunchtime stop in the land discovery that you book.
We had a delicious meze lunch on Patmos after looking around the sights of Chora, in a restaurant with a gorgeous sea view. Read about our stop in Patmos here.  On Santorini we dined on fava bean puree, Greek salad and roast lamb at Kalisti taverna in Prygos, which allowed us to see a different part of the island away from the crowds and heat of Oia.
Look out for Nights and Cool Places experiences that you can book, allowing you access to interesting places after dark, perhaps an art gallery or after hours museum visit, where you have a unique insider access.
A White Night party
One event that was not especially well publicised is the White Night Party that is the closest that the Azamara gets to a formal night; you just need to remember to pack some white clothes to wear. Depending on the weather, tables are set out on deck with a buffet selection and the Azamara singers and dancers perform a show to entertain you.
Our White Night Party was held in Patmos and the view of the sun setting over the island was magical as we sat on deck enjoying the warm night air. Captain Johannes thoughtfully delayed the sailing time until after dinner had finished, so that we would not be disturbed by any motion of the sea, although it was a pretty calm night.
An AzAmazing Evening
While the White Night Party was great fun, our AzAmazing evening at Ephesus was a truly magical event. On every cruise, Azamara offers a unique evening event that would be difficult to recreate on your own, and even better it's included in your cruise. For our AzAmazing evening, we took the short coach journey from Kusadasi to Ephesus where cocktails and wine had been set out just as the sun was setting.
While we didn't get the opportunity to walk through the entire site, we could stroll among the ancient pillars and see the sun setting behind the sillhouette of the Library of Celcus, built in 117 AD. After a glass of wine, we took our seats on the stone seats of the Odean amphitheatre where cushions had been thoughtfully provided.
As dusk fell, the Camera Izmir Orchestra entertained us with pieces by Bach and Mozart, a guest harpist performing Handel's harp concerto, and a rousing Hungarian Dance with gypsy violins that got an enthusiastic round of applause. Read about our evening at Ephesus here. Other AzAmazing evenings have included opera in Venice and an orchestral concert in Liverpool cathedral, but since the ship's itineraries change each year it will always be something unique and special.
By now you probably have a feel for whether this is the kind of cruise you'd enjoy and we certainly loved every moment of our Azamara Club Cruise. If you love to travel but are not sure if cruising is for you, I'd highly recommend Azamara for a first cruise since the experience is so personal and not at all overshelming in the way some of the bigger ships can be. It's also perfect for solo travellers and couples since it's easy to make friends on board. If you like to travel in style and luxury but still feel a connection to the places and cultures you visit be sure to look at Azamara Club Cruises for your cruise this year.
Have you sailed with Azamara Club Cruises? If so, do let me know in the comments how you found it and what you enjoyed.
Read More about our Azamara Greece Island Cruise
Sailing into Santorini – Day 1 of our Azamara Greek Island Cruise
Windy Mykonos – Day 2 of our Azamara Greek Island Cruise
Charming Patmos – day 3 of our Azamara Greek Island Cruise
Kusadasi and Ephesus – day 4 of our Azamara Greek Island Cruise
Istanbul – day 6 of our Azamara Greek Island Cruise
Pin It
About Azamara Club Cruises
Azamara Club Cruises is a small luxury cruise line with two ships; Azamara Journey that Heather and Guy sailed on and Azamara Quest, each with a capacity of 686 guests. The smaller ship size means you often visit destinations that larger ships can't get into and the ships can dock in more central locations. The emphasis is on destination immersion; enjoying the destination to the full, arriving early and sailing late so that guests can enjoy nights and cool places ashore, with insider access programmes and a unique AzAmazing evening included in each cruise. No itinerary is the repeated and each year the ships visit different destinations around the world. Azamara is part of Royal Caribbean Cruise group. Visit the Azamara Club Cruises website more information about a Mediterranean luxury cruise like the one Heather and Guy enjoyed.
You can also connect with Azamara Club Cruises on Social Media via:
Azamara blog | Twitter | Facebook | Instagram | Google+ | Pinterest | YouTube | Flickr
Joining your Azamara Club Cruise
Heather and Guy flew from London Heathrow to Athens and back from Istanbul using British Airways, although obviously each cruise is different in the best way to get there.
Heather used the Meet and Greet Parking Service booked through Airport Parking and Hotels (APH) who offer airport parking at a range of airports across the UK as well as travel extras such as airport lounge booking and airport hotel stays.
Both flights and transfers from the airport to your cruise ship can be arranged through Azamara Club Cruises.
Thanks to Azamara Club Cruises who hosted Heather and Guy for their 7 day Greek Island Cruise and to Airport Parking and Hotels (APH) who provided their airport parking at Heathrow.
This article is originally published at Heatheronhertravels.com – Read the original article here
You'll also find our sister blog with tips on how to build a successful travel blog at My Blogging Journey