July 5, 2016 by Heather Cowper
Filed under Europe, World, Leisure, featured, France, Galicia, Gardens, Northern France, Peru, South America, Spain, Texas, USA
At the RHS Hampton Court Flower show this week, destinations from Charleston to Galicia, Normandy to Peru, came alive in the gardens from around the world. Each was inspired by the plants and landscapes that make these little corners of a country unique and special. The show is on for a few more days, so do go along to see these and many other beautiful gardens to find some inspiration for your next holiday.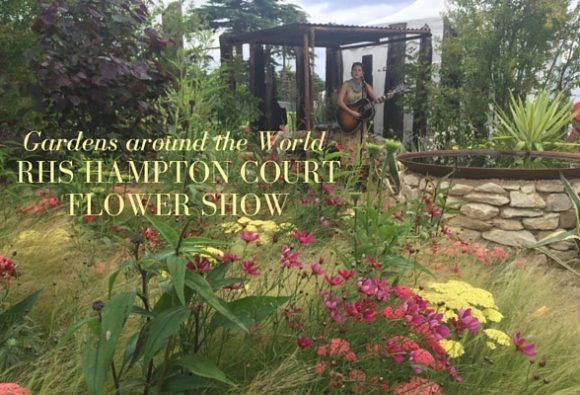 As I was visiting on the 4th July, celebrations were in full swing at the three USA gardens from Oregon, Charleston and Austin.
Landscapes of Austin
At the Austin garden, the strumming of singer songwriter Carson McHone took me straight back to our holiday in Texas a few years ago, remembering all the street performers playing in the bars and by the food trailers in Austin. The stone walling, beaten earth paths and and rusting metal bowl filled with water were just as I remembered, even in the smart hotel where we stayed on our trip to Texas.
I loved the soft swathes of grass that looked as if they were rustling in the breeze, mixed with the dusty reds and yellows of Echinacea and other wild flowers. The spiky Agave were there too, to remind us that Texas is tequila country and they mix a mean margarita in Austin.
Mountains and Vineyards of Oregon
In the Oregon garden it was all about the mountain landscape with rocky outcrops and mountain streams backed by pine forests (or as much of a forest as you can realistically transport and plant at a garden show). There were a few vines too to show that they are a wine growing region and at the front a naturalistic planting of daisies and grasses looking as if they might be growing in the border of some farmer's field. To represent the many cycling routes around the state, the edge of the borders were decorated with bicycle wheels.
Hidden gardens of Charleston
Quite different to the naturalistic feel of the other USA gardens was the Charleston garden, which exhuded elegance and old world charm. Box hedges surrounded the manicured lawn with wrought iron benches to linger a while. The pink and white planting gave a romantic feel mixed with a few more tropical shrubs. It was just the sort of place you'd like to take iced tea with your grandmother and hear her reminisce about her days as a southern belle.
 The Inca Garden with inspiration from Machu Picchu
The Inca civilisation of Peru that created awe-inspiring structures like Machu Picchu was the inspiration for a tropical garden sponsored by British Airways and Journey Latin America. From the outside we were met by a wall of native foliage with banana plants and sculptural leaves, but as we walked further into the garden, the carefully crafted dry stone terraces like those at Machu Picchu were revealed.
Water trickled down from the grassy terraces into pools that could be used for irrigation, with gardens of maize, potato and quinoa standing in well kept rows. The planting was spiky and exotic with variegated red and green planting mixed in with the yellow and orange astromeria. Perhaps if the explorer Hiram Bingham had been able to step back in time, this is what he would have seen of Machu Picchu when the Incas were at their full power, rather than the deserted remains of a lost civilisation that we think of today.
The Normandy 1066 Medieval Garden
To celebrate the 950th anniversary of the Battle of Hastings, the 'Le Clos d'Hastings' garden took on a medieval theme that reflected the garden plants and countryside from both sides of the channel in Normandy and the area around Hastings. The garden was divided diagonally into two parts with a woven hazel fence, the ends of the branches sprouting in places.
On one side of the fence was a field of crops waiting to be harvested; flax and wheat speckled with red popies and daisies. On the other side of the fence were garden plants in shades of white and purple, a rich mixture evoking the Bayeux tapestry. At the back of the plot, a green hedge was planted with saplings to represent the farming landscape of Normandy while at the front a couple of Norman soldiers were standing guard, quite happy to pose for photos!
From Galicia in Northern Spain – the Route of the Camelia garden
One of my favourites among the world gardens was the Route of the Camellia garden, sponsored by Turismo de Galicia. I visited northern Spain a few years ago on a family summer holiday and well remember the mixture of brilliant sunshine and showers that we had – there's a good reason why it's called 'Green Spain'!
The garden celebrates the pilgrim's route of  Santiago de Compostela, which I'd love to hike some day, with the pilgrim's symbol of scallop shells scattered on the path. Overhanging the romantic shrine to the Virgin Mary was a Camellia tree, frequently found in this part of Spain. Since the camellia flowers in the spring, designer Rose McMonigall had used pink coloured shells to represent the camelia petals that might drop onto the pilgrim's path.
RHS Garden Holidays
If you're a garden enthusiast, take a look at the RHS Garden Holidays, which are organised by the Royal Horticultural Society, offering tours of the world's great gardens, accompanied by horticultural experts.
RHS Hampton Court Flower Show
The RHS Hampton Court Palace Flower Show takes place 5-10 July 2016 – visit the RHS website  for more information on this and all the other RHS flower shows.
Pin It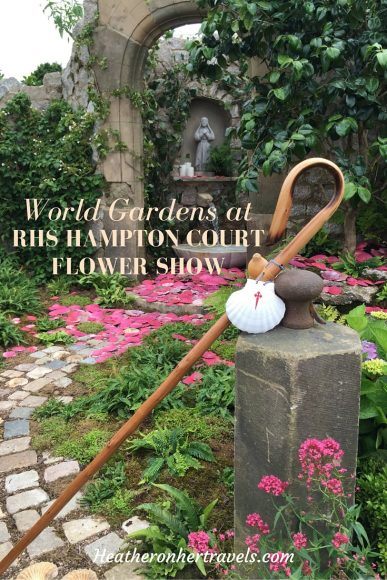 Thanks to RHS Hampton Court Flower Show who provided me with free entry to the show.
This article is originally published at Heatheronhertravels.com – Read the original article here
In this guest post, my assistant Nancy, who is a keen golfer, shares her recent stay at Sawgrass Marriott Golf Resort and Spa which we won in the Passports with Purpose Giveaway. 
Life in the central United States offers a variety of climate changes. Stormy spring weather quickly morphs to the hot and steamy "dog days" of summer. Autumn brings relief with mild temperatures and colorful foliage. Then, often suddenly, comes the cold, sleet and snow. It's then that Midwesterners seek respite from the grueling winter weather.
For many the perfect escape is sunny Florida. That's why my husband and I were thrilled to be gifted a two-night stay for two at Sawgrass Marriott Golf Resort & Spa. Located in the Florida community of Ponte Vedra Beach and close to the Atlantic shore, it's a perfect winter break location.
A serene oasis
Marriott's Sawgrass resort is located in an oasis of nature, just off the scenic A1A highway. The serene setting immediately put us into a tropical state of mind. After checking into our room with a lovely pool view, we set off to explore the Audubon rated grounds.
We strolled around the edges of the lake bordered by cozy villas nestled among lush plantings, where a gazebo provided a wide view of the main hotel building. Crossing the lake bridge, we approached an expansive outdoor deck. After a drink from the outdoor bar we settled in to watch ducks paddle around a waterfall in the distance. Signs indicated the possibility of an alligator sighting, but we were not so lucky. This seemed the perfect Florida setting, with gentle breezes, bright blue sky and Spanish moss-draped live oak trees.
Continuing our tour, we sauntered around the two pools surrounded by colorful plantings and sun loungers. Although still a bit cool for us, some hardy souls were splashing about.
Sharing your vacation experience
Nearing the lobby we encountered one of Marriott's "Selfie Spots". Guests are encouraged to frame themselves against the picturesque background and post the photo on social media using the tag #onlyatsawgrass. Complimentary wireless in the lobby and public areas of the resort make this a snap. This spot featured the opportunity to hit a golf ball to the green on the small island in the lake beyond. Although we are avid recreational golfers, we declined to attempt the shot. We imagined the employee designated to take the paddleboat across the lake to confirm a potential hole-in-one was not disappointed.
As evening approached we obtained our complimentary cocktails, the signature Sawgrass RumRunner. Finding a spot around the lower level outdoor firepit, we toasted to an enjoyable first day in paradise.
Heading to the sand
Bright and early the next day we boarded the complimentary shuttle for the short ride to the resort's beach access. The Cabana Club, situated on Ponte Vedra Beach, boasts sugar-fine white sand, Olympic-size pool, and beach side dining. Although brave enough only to roll up our trousers and walk at the edge of the surf, we did partake of another Selfie Spot with the crashing waves of the Atlantic Ocean in the background.
Returning to the resort, we boarded a chauffeured cart that transported us to the adjacent TPC (c) Sawgrass clubhouse where we were met by one of Marriott's volunteer "Storytellers". We thoroughly enjoyed the intimate guided tour of this elegant facility rich with golf history, artwork and memorabilia.
After browsing the pro shop we returned to the golf cart for a tour of the Stadium Course. We marveled at hole 17, perhaps the most recognizable hole in golf, with its heart-shaped island green. Proof that this hole is challenging to even the best golfers are the many thousands of balls retrieved each year from the surrounding water. This day, however, we heard no one call "fore", as the course was closed in preparation for the famous Players Championship held annually in May.
Thanks to Marriott for providing our stay at Sawgrass Marriott Golf Resort & Spa through their donation to Passports with Purpose, a travel blogger's initiative designed to raise funds for various causes around the globe. Our appreciation to Heather who generously gifted us this package.
Who is Sawgrass Marriott best for?
Serious and casual golfers alike will find an abundance of courses nearby. The resort is within easy driving distance to the beaches of the Atlantic Coast, and St. Augustine, America's oldest city, is a short drive away.
Getting there
The resort is conveniently located an easy 40 minute drive from Florida's Jacksonville airport.
To book Sawgrass Marriott Golf Resort & Spa
Book your stay at Sawgrass Marriott Golf Resort & Spa on their website at Marriott.com and follow their social media channels on Twitter @SawgrassMR, on Facebook and on Instagram. To compare prices and book use my Hotels Combined Booking page.
Other places to enjoy in Florida
What does Orlando offer other than Disney?
Our Top 5 Florida Beaches
Pin It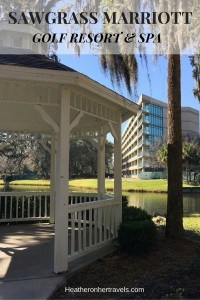 This article is originally published at Heatheronhertravels.com – Read the original article here
March 14, 2015 by Guest Author
Filed under World, Accommodation, Leisure, Misc, featured, Eating and drinking, Guest post, Hotels, Shopping, Sightseeing, Spa & Pampering, USA
In this article our guest author, Susan Foster shares her girl's weekend getaway at the historic Hotel del Coronado, set by the sea in San Diego, California.
My friend Cherie and I traveled quite a bit together in college and for some years afterwards. These trips came to a halt during the years we raised our children. Recently however, we have enjoyed a girl's weekend getaway together every-other year. A perk of midlife has been the significant upgrade in the accommodations we can now both afford!
This year's destination: San Diego
Cherie is from Virginia and I live in Montana. This year, we chose to meet at the warm coastal resort town of Coronado, just across a bridge from San Diego, California.
Deciding to splurge, we booked a long-weekend stay at one of the leading San Diego hotels, the historic and luxurious Hotel del Coronado. Built in 1880, it is now an American National Historic Landmark.
A glitch in our plans!
Our flights were originally scheduled to arrive into San Diego late morning on a Friday, within minutes of each other. Unfortunately, an airplane mechanical difficulty delayed Cherie's arrival until evening. I found out by reading a text from her just before boarding my own flight:
Despite feeling horrible for Cherie, the Hotel del Coronado was a lovely place to spend an afternoon alone.
I explored the sprawling grounds and beautiful building, walked several miles on the hotel's private beach, ate a lovely ocean-side meal, and watched an incredible sunset from the balcony of our full ocean-view room.
Once Cherie finally arrived, we salvaged the rest of her day by enjoying a light meal and some talented live music downstairs in the Babcock and Story Bar.
Saturday was a full day!
Wearing the matching outfits we had unknowingly packed, we headed down to the beach for a walk, then consulted the helpful hotel concierge to assist with the planning of our day.
 Old Town Trolley Tour and a day in San Diego
It had seemed unnecessary to rent a car. A cab from the airport cost about $30 US, and the village of Coronado is an easy walk from the hotel. Coronado offered more than enough to entertain us, but we decided to spend a day exploring San Diego. We purchasing discounted Old Town Trolley Tour tickets ($33 US each) from the concierge, which turned out to be the perfect way to experience the city.
The trolley route covers 25 miles in about two hours, and the driver provides an entertaining and informative narrative. Passengers can get on and off as they please at any of the 11 different points of interest. Trolleys cycle through each stop about every half hour throughout the day.
Typically, I prefer to be "off the beaten path" and avoid tourist-type activities. With our limited time schedule though, I enjoyed the comprehensive overview of San Diego provided by the Trolley Tour. We disembarked at five stops.
Our first stop was Balboa park in San Diego
Home to 15 museums, and a vast number of other interests, several days could easily be spent at Balboa Park. A free, narrated 15-minute tram tour of the park convinced us both to return someday with more time to explore.
Next up: Little Italy, San Diego
This hilly community with many enticing shops and restaurants is, according to our driver, the largest "Little Italy" in the United States. Had we desired Italian food, this would have been a perfect place for lunch.  Or – we could have had a pint in the British Pub we discovered there!
Visiting Old Town, San Diego
We couldn't leave without a stop at Old Town San Diego. Established in the 1700's, we enjoyed walking through the historic buildings.
Our concierge recommended El Agave Tequileria. The authentic Mexican food and margaritas (mine was avocado!) were excellent.
A stop at San Diego Harbor
You could easily spend an entire afternoon at the San Diego Harbor. We just briefly walked up and down the harbor, but enjoyed seeing the ships and submarines which can be toured there.
Shopping at Seaport Village, San Diego
We enjoyed the quaint shops here, and saw some incredibly beautiful jewelry.
The sea wall was the perfect place to sit and sip a cup of coffee.
The setting sun looked like a ball of fire, back-lighting the sailboats and ships at sea, and the beautiful trees in the park.  We were so enchanted we lost track of time, and missed the last trolley – which we had planned to take to the Gaslamp District, known as the "happening place" for nightlife!
Back to Hotel del Coronado
Reevaluating our plan, we took a taxi back to the Hotel del Coronado. Once there, we ended the day with a glass of wine and some tasty snacks.  The February temperatures had cooled enough to need a coat, but we were comfortably warm sitting by an outdoor fire-pit at the Sunset Bar.
Sunday: Relaxation and spa day!
After a walk on the beach we reported to the Del's Fitness Center, to join a group for a yoga session on the beach.  It was my first yoga experience, and I absolutely loved it, perhaps thanks to the ocean setting!
The Spa at the Del offers over 50 different treatments and advance reservations are recommended.  We pampered ourselves with manicures, pedicures, and facials, and enjoyed all of the delightful spa amenities, such as the steam room, hot tub and sunbathing by the infinity pool.
We watched the sun set while enjoying delicious "Charred Brussels Sprouts," followed by salad and wood-fired pizza outdoors at ENO Pizzaria and Wine Bar.
It would be impossible to fully sing the praises of the Hotel Del Coronado, without making this article much too lengthy. You can read the article on my own blog with more about the history and amenities of this glorious hotel.
My only complaint is that our stay was much too short. Planning our next reunion will be easy – returning to San Diego and the Hotel del Coronado is a must!
About Hotel del Coronado
Hotel del Coronado is a luxury seaside resort in Coronado, California, just minutes from downtown San Diego. In existence since 1888, the hotel is now a beautiful National Historic landmark and a world-class luxury resort. Rooms rates are from $425 USD; book mid-week for lowest rates and be sure to check the resort website for special offers. Website | Twitter | Facebook
Book Hotel del Coronado and other San Diego hotels through our Hotels Booking Page
Read more about Hotel del Coronado in Susan's article: Hotel del Coronado – Perhaps a glimpse of heaven
Susan received some complimentary services from the Hotel del Coronado during her stay, however all opinions expressed are her own.
Thanks to Susan Foster for sharing her weekend in San Diego.  Susan's blog the most – of every moment is about making the most of all life's moments with recipes, tips, inspiring stories and excerpts of life in Montana. You can connect with Susan on Twitter | Facebook | Google+ | Instagram | Pinterest
For more US getaway ideas:
Five Must Try Foodie Experiences in Portland, Oregon
9 Cool things we did in Austin, Texas
Visit Chicago for pizza, popcorn and a walk by the river
Pin It
This article by is originally published at Heatheronhertravels.com – Read the original article here
You'll also find our sister blog with tips on how to build a successful travel blog at My Blogging Journey