February 17, 2016 by Heather Cowper
Filed under United Kingdom, Europe, Accommodation, Leisure, featured, Budapest, Denmark, Germany, Hotels, Hungary, Sightseeing, Sweden
I often get asked which hotel I'd recommend for a short break in Europe, which is a tough one since we all have different ideas about what makes the perfect hotel. Instead of reeling off a list of lovely hotels that I've stayed in (although you can see a few below), I thought instead I'd walk you through the process I use to find my ideal hotel. Using these tips you should be able to find the hotel that suits you best and enjoy a fabulous weekend away.
Read more about the Bristol Hotel in Bristol | Compare prices and Book for the Bristol Hotel
Why is a hotel best for a European Citybreak?
Before I share how to find the perfect hotel for your European city break, let's consider why I'd recommend choosing a hotel at all? After all you could book a friendly B&B or local apartment, as I have done myself on occasion. I've found that if you are spending a relatively short time in a destination and planning weekend breaks for couples or small groups then a hotel is usually best. Here's why.
With apartments and B&Bs there's less flexibility with the check in times. You may have to meet the owner or key holder at a certain time and there's no opportunity to arrive earlier. With a hotel there's always someone at reception, so you arrive at your convenience, drop off your bags if your room isn't ready and get out to start enjoying your weekend break. If you prefer to relax there's normally a hotel lounge where you can get a coffee, but either way you won't be hanging around the streets with your luggage. I typically book an apartment when I am staying for a week or more, or am travelling in a large family group. Then those precious hours waiting to check in are not such a big issue.
Read about our stay at Intercontinental Hotel Budapest | Compare Prices and book for Intercontinental Hotel, Budapest
Finding a hotel that matches your budget
One of the biggest considerations for weekend citybreaks is how much you can afford to spend on a hotel and what it will buy you. Sometimes there's a trade off between price and location but we'll come to that in a moment. As an example, you might be planning a trip to Stockholm and want to check roughly what your budget will buy you. This is where it's useful to do a quick check on the going rate for the price of different levels of hotels in Stockholm to see if we're talking pleasantly affordable or need to take out a second mortgage.
I typically use a hotel comparison site like Hotels Combined that shows the best prices from a range of different booking sites; you can try this out on my Heatheronhertravels hotel booking page which is powered by Hotels Combined. By putting in your chosen city and dates (or tentative dates if you're not sure) you can then filter on the 3 star, 4 star or 5 star hotels to see what you can get within your budget. For a further comparison you might change your search to another city such as Gothenburg and find that prices are lower than Stockholm which could influence your decision on where to go. Occasionally there's a big event or conference in town that inflates the hotel prices, so if you have flexibility in your schedule, check the price for a few different dates.
Read about our stay at Elite Plaza Hotel in Gothenburg, Sweden | Compare prices and book for Elite Plaza Hotel, Gothenburg
Location Location
Having established what kind of hotel you're likely to find within your price range it's time to look at different locations in a city that work best for you. There are a few things that might influence you here such as:
A hotel that's walking distance from the main sightseeing area.
A hotel that's well located for a specific place you want to visit.
A hotel that's well located for transport links, for instance close to the metro or main train line from the airport
A hotel that's in a well lit, mainstream location if you're a solo traveller.
Personally, if I'll only be there for a few days, my first priority is to find a hotel close to all the main sights so that I can see as much as possible in the time I have. At this stage you could have a quick look at the destination's official tourism website to establish where the major attractions are located, and if it's a larger city perhaps to look at the metro or public transport map since there may be multiple areas for sightseeing. Having established where the main sites are, you can filter based on distance from a key tourist spot or just click through to see the hotels on a map.
Read about our stay at Riad Star in Marrakech | Compare prices and book for Riad Star 
Find a style that suits you
As everyone's idea of a perfect hotel may be different, you'll want to consider the style of the hotel. Some of you may like clean modern lines, others classic elegance or a trendy boutique style and I've enjoyed stays at hotels that offer all of these styles. Use the filters on the booking comparison website to see what's available in different categories such as luxury, romantic, boutique/design. You may also want to do an online search for something like "boutique hotels in Stockholm" to see what hotel names keep popping up. This is the time to look at the photos on the hotel booking page or hotel's own website to give you a feel for whether the style is right for you. After all, one person's vintage charm is another's outdated and shabby.
Read my article about Qube Hotel and what we did in Heidelberg | Compare prices and book for Qube Hotel
What facilities are important to you?
If certain facilities like a gym, spa or free wifi are essential to your enjoyment, now would be the time to put these into the filters of your hotel comparison website and make sure you are selecting hotels that have what you need. You may need to prioritise your wish list, as in smaller cities the perfect hotel with everything you require may not exist, or at least not within your budget.
Read my article about Kurhotel Skodsborg in Copenhagen | Compare prices and book for Kurhotel Skodsborg
Make a shortlist
Having considered price, location, style and facilities it's time to make a shortlist of hotels. You should aim to have a list of 5-10 hotel names that would broadly match your requirements and jot them down somewhere with space to add comments beside them.
Read the reviews
Now it's time to read the reviews. While most hotel comparison websites, such as Hotels Combined, have reviews I find the best place for this is Tripadvisor. Although there's been a bit of discussion about fake reviews on TripAdvisor I've generally found that if you scroll through and scan at least 15 reviews posted over a few months, you will get a balanced overview of the hotel. Things that reviews will often cover are:
How well located the hotel is for sightseeing
The staff and service – is there one member of staff singled out for criticism or praise?
The style of hotel, decor and general upkeep.
Mention of any building work or renovation going on in the hotel or nearby. If so check the date as this may now be complete.
Mention of hidden charges, things that weren't working, rooms that were noisy.
When reading the reviews take a balanced view to consider whether any concerns raised by reviewers would affect your enjoyment of the hotel or are just unfortunate one-offs. Note how the hotel management answer the reviews, especially any negative ones.
If you scan through the reviews for your shortlist of hotels, you will probably eliminate a few of them based on the comments and ideally get to a list of around 5 hotels to investigate in more detail.
Read my article about Absalon Hotel and what we did in Copenhagen | Compare prices and book for Absalon Hotel
Shop around for the best price
With your shortlist of five hotels I'd go back to a hotel comparison site such as my Heatheronhertravels hotel booking page powered by Hotels Combined and do a price check for the dates you require. The beauty of Hotels Combined is that it scours a wide range of booking websites to come up with the best price deals. Of course you need to be sure you are comparing like with like. Check whether breakfast is included, that you're comparing the same standard and type of room and look out for extras like local taxes. If any of your shortlisted hotels don't have availability for your dates, it may be worth e-mailing the hotel directly just to check.
Read about our stay at the Moorland Garden Hotel in Devon | Compare Prices and book for the Moorland Garden Hotel 
Check the cancellation terms
Be sure to check the cancellation terms, which can be quite generous on hotel comparison and booking websites, but not always so generous when booking direct with the hotel. I was once in a situation where my plans changed before a hotel stay I'd booked and I found myself liable for the whole bill – read my article on how to avoid hotel cancellation fees. If there is a claim of 'free cancellation' check the small print to see what this actually means.
Get the maximum benefit
Perhaps you're down to a much shorter list of just two or three hotels that meet all your requirements, so now it's time to make sure you're getting the most for your money. Scrutinise the deals on sites such as Hotels Combined to check whether there are any other benefits that would save you money, such as free parking. It's also wise to check the hotel website to see if they have any special offers, for instance 3 nights for the price of 2, or packages that include extra benefits that would interest you. In the spring and autumn when hotels have to work harder to fill their rooms, they are much more likely to offer extra benefits to entice you.
Read about our stay at Hotel Weissen Rössl at St Wolfgang in Austria  | Compare prices and book for Hotel Weissen Rössl
Make your booking!
I normally find that it takes around an hour to do the research I've described above, but for me that's time well spent if I choose a hotel that's perfect for my European City break. Now it's time to make your booking, taking care to save or print off the confirmation, then relax until it's time to go. Hope you have a great time!
Do you have a favourite approach to choosing the perfect hotel? I'd love to hear your tips in the comments.
Disclosure: If you book through my Hotels Combined booking page on this site I will receive a small commission at no extra cost to you which helps support this site.
Pin It
This article is originally published at Heatheronhertravels.com – Read the original article here
December 28, 2015 by Heather Cowper
Filed under United Kingdom, Europe, World, Leisure, featured, Art and design, Brittany, Copenhagen, Costa Brava, Cruise, Denmark, Devon and Cornwall, Eating and drinking, France, Germany, Greece, Greece & Turkey Cruise, India, Italy, Luxembourg, Museums, Sightseeing, Spain, Venice, Walking, Zakynthos
We're in that lull between the feasting and celebration of Christmas and the fresh starts and new plans of New Year. It's the quiet time when we can reflect and review the year that's gone, the time to reminisce and consider what the year brought us: the adventures and challenges, the excitement of visiting new places, the holiday times we enjoyed with loved ones. Here's a look back to the travels I enjoyed in 2015.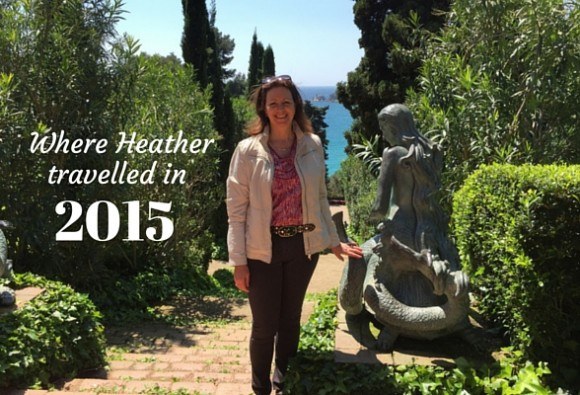 January – A cottage stay and fossil hunting in Devon and Dorset
We started the year with a weekend at Red Doors Farm in Devon through Premier Cottages, a collection of 500 year old thatched cottages, set around a cobbled farmyard. My teenage son and friends made good use of the indoor swimming pool and proved that you're never too old to feed the goats and chickens. We climbed up to the hill fort near the farm and enjoyed a bracing walk along the beach at Lyme Regis where we spotted fossils on the ammonite pavement that was revealed at low tide.
Read More: Fossil hunting and a weekend in the country at Red Doors Farm, Devon – video
February – A charity visit to India
In February I flew with Jet Airways to India for a week that was off the tourist map, although I spent a little time exploring Bangalore at the beginning and end of the trip. My purpose was to visit a local charity that I support in Andhra Pradesh and see some of the projects that we had funded. Together with one of the charity trustees I was treated to Bollywood style dances in all the local schools, had endless cups of teas with the nuns who ran them, cut the ribbon on a new water purification plant and presented a womens' tailoring class with their new sewing machines. It was a week that made me realise more than ever that when you give to those in need, you come away much richer from the experience.
Read More: 13 stories from my charity visit to India – going off the tourist trail
March – A weekend by the sea in St Mawes, Cornwall
We spent a weekend with friends at the magical Dreamcatchers house from St Mawes Retreats with a view over the Fal estuary in Cornwall. From the bedrooms we could see the tankers passing St Anthony's lighthouse and the St Mawes ferry heading for Falmouth. We'd stayed at another St Mawes Retreats house before (read my review of Stargazers here) so we knew that we could expect gorgeous Designers Guild fabrics and luxurious furnishings, with sea views to die for. This time we wandered around the harbour and took the St Mawes ferry across the estuary for a Cornish pasty and ale pub lunch in the quaint streets of Falmouth.
Read More: Sea views and springtime in St Mawes – our weekend in Cornwall
April – Venice with the family
I was lucky enought to win an apartment stay with Go with Oh through the Passports with Purpose fundraiser and decided to use it for a few days in Venice with my family. Although we visited a few tourist highlights like the Doge's Palace, we found that the neighbourhoods away from St Mark's square were much more enjoyable to wander around. We loved the modern art at the Peggy Guggenheim and saw Venice from the water on our boat tour with Walks of Italy when we climbed up the campenile of San Georgio Maggiore for views across the lagoon to San Marco. The only disappointment was the food, but hopefully you'll do better than me with my tips on How to not eat badly in Venice.
Read More: Join me on our Venice boat tour – with Walks of Italy
April – A weekend in Wiltshire and a sunrise visit to Stonehenge
I stayed at Sarum College inside the close of Salisbury Cathedral for the Social Travel Britain conference and part of the weekend included a walking tour of the cathedral, a private viewing of Magna Carta and a visit to Edward Heath's old residence of Arundells. The highlight, though, was a sunrise visit to Stonehenge during which we were allowed to walk within the stone circle. This access is only allowed on special guided tours and most tourists can't get up close to the stones, so it made the experience much more magical.
Read More: Sunrise at Stonehenge – inside the stone circle
May –  Lloret de Mar in Costa Brava, Spain
Lloret de Mar is one of those coastal resorts on the Costa Brava coast of Spain that was built up in the 1960s as one of the first places to welcome mass tourism from the UK. I was there as a speaker at the TBEX conference but took some time out to explore the town and discover its history. While the Lloret de Mar of recent years has gained a reputation for 20-somethings looking for nightlife and older couples seeking a retirement in the sun, I enjoyed walking around the older squares and along the rocky coast path on the edge of town.
In the Museu del Mar, I discovered the connections to Cuba where many locals sailed to make their fortunes, returning to build the grand mansions on the seafront. I tasted the Daiquiri cocktails, another import from Cuba and now the favoured drink of Lloret de Mar, and I loved the restful Santa Clothilde gardens, planted in Italian Renaissance style, overlooking the sea.
Read More: Lloret de Mar – sun, sea and so much more…
June – A weekend in Copenhagen with my daughter
I've visited Copenhagen many times and in June I returned with my daughter for the opening of  the Absalon Hotel which had been newly renovated in Designers Guild furnishings. I was able to interview Tricia Guild, Creative Director of Designers Guild who was there to open the hotel, as well as trying out new restaurants and cocktails with my daughter. We also spent a couple of nights up the coast at the gorgeous spa hotel, Kurhotel Skodsborg where we wafted around the pools and jumped off the jetty to cool off after our sauna.
Read More: Like mother, like daughter – what we loved on our trip to Copenhagen
June – Alpine Sports Week in Wilder Kaiser, Austria
I love being in the mountains in summer so I jumped at the chance when I was invited to try out some of the outdoor activities on offer during Alpine Sports Week in the Wilder Kaiser region of Austria. During this week different mountain sports are on offer, from high rope walking to canyoning, mountain-biking to Via Ferrata and all for the knockdown price of €99 for 5 days of activities with expert guides. It was the perfect opportunity to try something different, since I'm a keen hiker but was able to test myself with the mountain-biking and high wire climbing in the Hornpark tree forest.
Read More: Heather goes e-mountain-biking in Wilder Kaiser, Austria – video
July – A week with the family in Zakynthos, Greece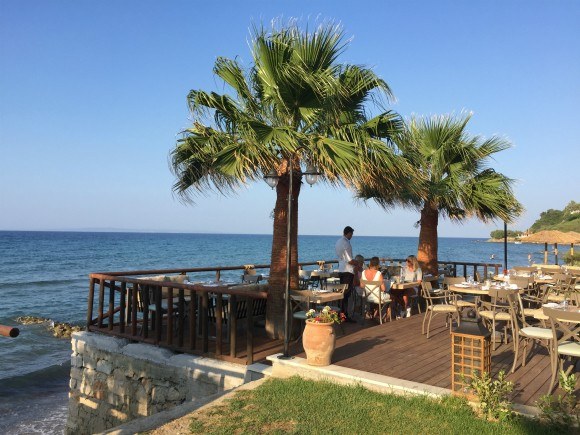 In July we made our annual visit to Zakynthos in Greece to visit my sister who runs two hotels there with her husband. We spent the week visiting different beaches, swimming, eating, sunbathing and catching up on family news. This summer my niece had returned to the island after training with a leading hotel group and had decided to get involved in the family business, opening a new Mediterranean restaurant in an idyllic setting by the sea. Anadalis, as it is called, is named after the old estate on which the hotel is built which once belonged to an aristocratic family with a house just a little way up the shore, but you'll have to read to article to find out why the locals thought the old ruined mansion was haunted. If you visit Zakynthos I highly recommend that you book a table for dinner as the sun goes down over the bay.
Read More: Anadalis – a Mediterranean restaurant by the sea in Zakynthos, Greece
August – Our Azamara Greek Island Cruise
Later in August we were back to the Greek islands again for a cruise with Azamara Club Cruises which took us from Athens to Santorini, Mykonos, Patmos, Kusadasi and finally to Istanbul where we ended our cruise. We absolutely loved the luxurious small ship cruise experience with Azamara Club Cruises where the spotlight is firmly on the destinations you visit, creating unique experiences like our magical evening concert among the ancient ruins of Ephesus as the sun went down.
Read More: Windy Mykonos – Day 2 of our Azamara Greek Island Cruise
September – A walking holiday in Austria with Headwater Holidays
September saw me back in Austria for a few days walking with Headwater Holidays who specialise in relaxing walking and cycling holidays. I was accompanied by my friend Julia for our annual walking trip which has become our tradition since we walked the Tour de Mont Blanc together. On the first day on the high slopes of the Gaistal valley I fell down a slope and hurt my ankle but using the Headwater walking guides we chose the less strenuous walks on subsequent days and enjoyed the rest of the holiday. We watched a rifleman's parade in Seefeld and walked along a Mental Power trail, walked through the wild Leutasch Gorge and round the lakes above the picturesque town of Mittenwald with its painted houses. Each day brought different mountain scenery and things to see, confirming my love of the mountains in summer.
Read More: Hiking in Austria – the views from the cross at Seefelder Spitze
September – A gourmet visit to Luxembourg
In September we spent a few days in Luxembourg, a city and tiny country that's full of surprises. While Luxembourg is known as a centre for international business, we found a charming and easily walkable city with great food, museums and a fascinating history, making it an ideal weekend break location. We also spent some time touring the Moselle wine region where the Moselle river forms the border with Germany, with many wineries to taste the delicious white wines the sparkling Cremant which was my favourite.
Read More: A gourmet walking tour of Luxembourg old town
November – The Christmas Markets of Heidelberg, Germany
At the end of November we spent a few day in Heidelberg, Germany to see the Christmas Markets and generally get into the festive spirit. We'd visited Heidelberg previously on a day trip from our Rhine River Cruise and were pleased that we could have more time to explore this picturesque and romantic town at our leisure. We took the river boat down to the Neurberg Abbey Christmas Market, climbed up to the castle, learned the history of the ancient university and student fraternities and ate plenty of hearty German food, delicious cakes and chocolates as well as drinking quite a few mugs of hot Glühwein.
Read More: A Food Lover's Guide to Heidelberg, Germany
December – A weekend in Le Havre, France
My final trip of this year was a hop over the channel to le Havre with Brittany Ferries to discover what this channel port would offer for a weekend break. Most Brits drive through Le Havre on their way to their holidays in France but I discovered that there are many fascinating things to see here that make it worth stopping to visit the city and surrounding area. The city was reconstructed after heavy bombing in WW2 and the architecture of the new town (now a UNESCO World Heritage site) represents the modern designs of the 1950s. We visited a 1950s show flat which would have been allocated to those who lost their own houses in the bombing, as well as a gorgeous 18th century ship owner's mansion. Another highlight was the MUMA modern art museum, a light and airy glass building with the largest collection of Impressionist paintings outside Paris, since painters such as Monet loved this part of the Normandy coast. I'll be writing about my weekend in Le Havre very soon so stay tuned.
Reviewing the year was a fun way to remind myself of all the fun I had on my travels in 2015. There's much more to come in 2016 and I wish you Happy Travels for the year to come.
Please note that many of the trips were hosted by the companies mentioned and you can find more details in the articles from each trip.
Pin It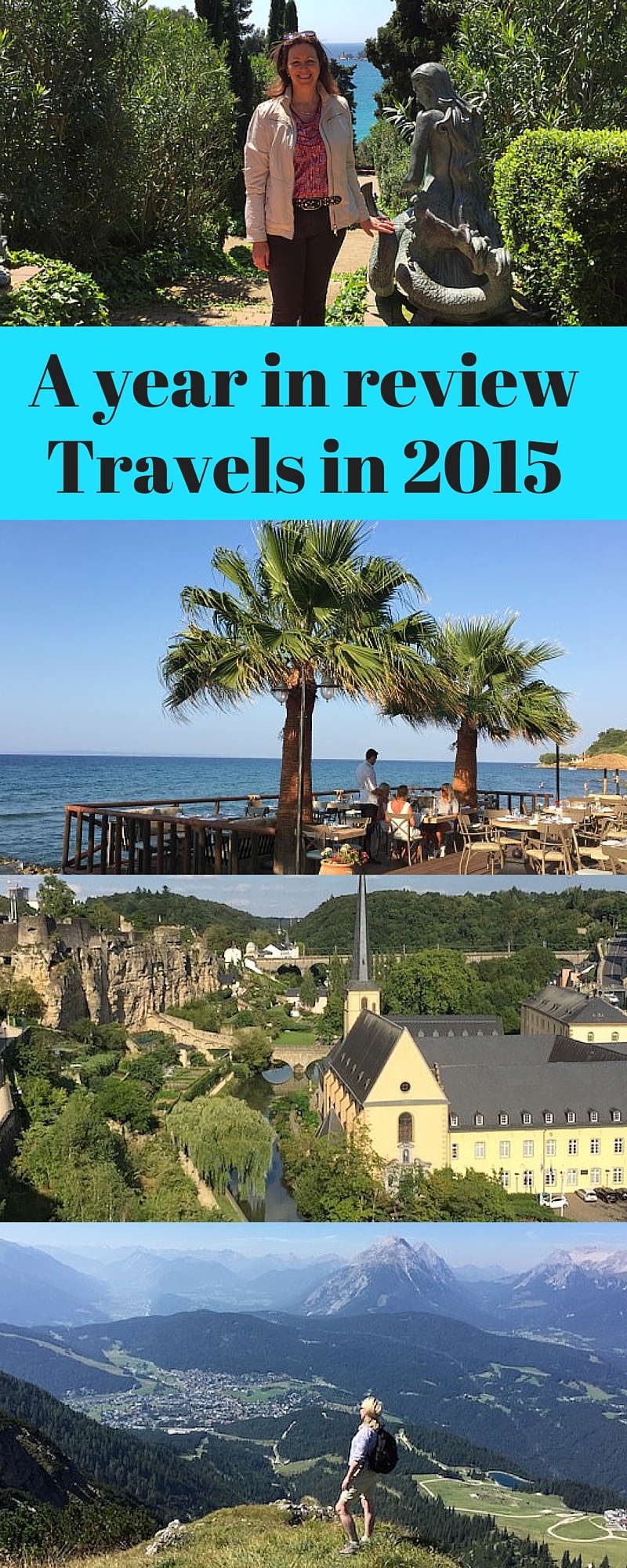 This article by Heather Cowper is originally published at Heatheronhertravels.com – Read the original article here
You'll also find our sister blog with tips on how to build a successful travel blog at My Blogging Journey
From the wall of the Moselle Valley winery in Luxembourg, the figure of St Willibrod looks down at me, his three fingers raised. In this corner of Europe, St Willibrod is seen as the protector of the grapes and his three raised fingers mean; "drink three glasses a day and you will be fine"!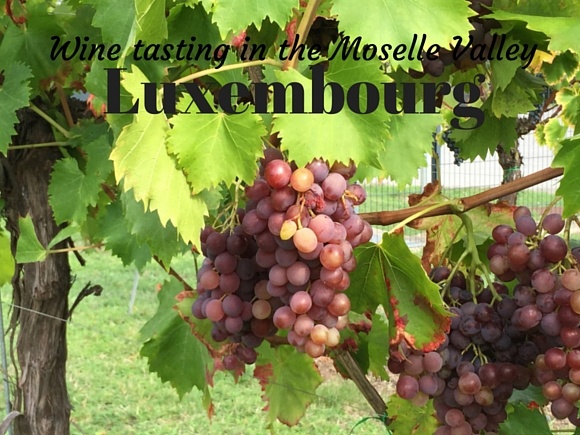 The growers here know that saintly patronage plus nearly 2000 years of expertise will ensure the continued success of wines from Luxembourg. History, tradition and continuous dedication from family businesses are as constant as the Moselle River that runs between the vineyards.
You can also read about our gourmet walking tour of Luxembourg Old Town here
If you have an interest in wine you'll know of the Moselle river that forms the border between Luxembourg and Germany. You'll probably also know the grapes; Pinot Blanc, Pinot Gris, Riesling, Gewurztraminer, Chardonnay and for the specialist the intriguing Elbling, Rivaner and Auxerrois.
But almost nobody has heard of Luxembougois wine, since 66% of the annual production is sold within Northern France, Germany and Belgium, where fine food and wines are truly appreciated. The Luxembourgois I meet over our long weekend are, for good reason, very supportive of the wines produced in the Grand Duchy.
Our wine tasting tour of the Moselle valley begins at the wine museum in Ehnen where we look around the old stone buildings and barns, filled with agricultural implements that were once used in the cultivation of the vineyards. The figure of a lady is dressed in the costume of yesteryear, with her basket ready to hoist on her back and drop in the bunches of grapes as they are picked.
At the back of the buildings, vines are planted to show us the different varieties and the shell of a tiny helicopter, once used for crop spraying, sits like a relic from a James Bond film.
At the Domaines Vinsmoselle we enjoy meeting Stephen De Roy, a gentleman of extraordinary knowledge who guides tours at the winery. Founded in 1921, Domaines Vinsmoselle encompasses more than 300 winemakers who sell their grapes to the business, producing rich and varied wines with distinct flavours. Spread over 42 kilometres along the Moselle, the Luxembourg vineyards produce mainly white wines, with a particularly mild microclimate and a rainfall that is spread evenly over the year.
Moselle wine facts

Phylloxera disease was introduced to Europe when avid botanists in Victorian England collected specimens of American vines in the 1850s. When the disease struck the European vines, school boys were despatched to remove the aphids and galls on the affected vines.
Belgium used to grow its own vines but Napoleon had them all destroyed in 1804 to protect the French market.
In the expansion of the processing plant at Domaines Vinsmoselle, a Roman frieze depicting grape production was unearthed dating from AD 800 – the Romans loved good wines too!
During our wine tasting we learn the differences between a Pinot Noir "élevé en barrique" (aged in an oak barrel ) and one aged in a stainless steel tank. Stephen comments " If I want to taste oak I go to the forest. Why do I want oak in my wine?" 
A big speciality of the Moselle region is the sparkling Cremant, a welcome alternative to the ubiquitous Prosecco we often drink at home. We sample the secret distillation of spirit, which when added to the Reisling produces the delicious Cremant sparkling wine, that is also available in many different grape varieties.
For non-drinkers there's a fresh grape juice called Tam Tam, which paradoxically is made from only the finest grapes, since there is no fermentation to remove the taste of bruised or bad grapes which you can get away with even in the grandest of the grand crus.
When we ask Stephen for his favourite wine he is quick with his choice, a 2009 Riesling from the Charte Schengen prestige brand. The only grapes used are from vines over 30 years old, with roots up to 40 metres deep, on the steep and ordered slopes that run down to the Moselle river.
These come from just twelve selected growers in close proximity to the winery, including four growers from France, four from Luxembourg and four from Germany. In this multi-national wine co-operation we are reminded that the Grand Duchy was a founder member of NATO, and the Schengen agreement covering free movement within Europe's borders was signed in 1985 just down the road from here.
Although we don't have time to visit the European Museum in Schengen we do see a little of the town from the river, when we take a Moselle boat trip from Remich, to while away a rainy Sunday morning.
There's another opportunity to try the 2013 Riesling from Charte Schengen at dinner that evening when we enjoy a gastronomic barbeque at the winery Pundel. It's known as the king of wines in Luxembourg and is sensational, with a balanced bouquet of citrus fruits, apricot, apple, peach, pear and lime with notes of eucalyptus and bizarrely, petrol.
The Pundel winery is a modern glass building and from the rooftop terrace where dinner is served we have a fabulous view of the vines running down to the river. Sadly it's raining tonight so we collect our dinner of steak and seafood brochets from the gourmet barbeque and head inside to help ourselves to salads and side dishes.
Our wine tasting tour of the Moselle Valley ends with an evening at the Grape and Wine festival at Grevenmacher further along the river. We wander from one end of the high street to the other, past the stages playing rock music to appreciative teenagers, past the stands selling every kind of local wine and stopping for a late night snack of sugary waffle piled high with cream. We follow the parade of marching bands, headed by the princess of the wine festival and her attendants, who are chosen from local families, before watching the grand finale firework display over the Moselle river.
As we leave the Moselle Valley of Luxembourg to head home, I'm quite prepared to adopt St Willibrod's motto of three glasses a day in the interests of good health and wellbeing. With a glass of Luxembourg sparkling cremant or vintage Riesling in my hand I'll happily raise a glass and drink to that!
More articles about Luxembourg
Read about our Gourmet walking tour of Luxembourg Old Town
From LuxeAdventureTraveler: Unexpected Luxembourg: Fine wines and fabulous food
Where to stay in the Moselle Valley of Luxembourg
Heather and Guy stayed in the Villa Welcome annex of the Mondorf Parc Hotel, a leading spa hotel in Mondorf-les-bains. We had a very comfortable modern suite with a large bedroom, separate seating area and en suite shower room. The Villa Welcome was a short walk from the main hotel building where we had breakfast and guests can make use of all the hotel facilities.
The main hotel building is quite modern but the angular design softened by plenty of large glass windows  looking out onto beautifully maintained gardens with seasonal floral displays.
The hotel is well known for its spa, with warm indoor and outdoor pools that are fed from the thermal springs that have a high mineral content for good health and wellbeing. The spa can also be visited for the day, if you are staying in the area and want an opportunity to relax and unwind. There is plenty of parking space at the hotel and the bus stop is situated on the road just outside the hotel, with connections to Luxembourg city.
Compare prices and book for Hotel Mondorf on my Hotels Booking Page (powered by Hotelscombined.com)
Hotel Mondorf Domaine Thermale, 52 Avenue des Bains, Mondorf-les-Bains, Luxembourg. Website: www.mondorf.lu | Twitter | Facebook |
Looking for Airport Parking?
Heather used the Meet and Greet Parking Service at Heathrow, booked through Airport Parking and Hotels (APH) who offer airport parking at a range of airports across the UK as well as travel extras such as airport lounge booking and airport hotel stays.
Visitor Information for a wine tour of the Moselle Valley in Luxembourg
For more information to plan your visit to Luxembourg check out the Visit Luxembourg Website | Twitter | Facebook | Google+
For more information on the Moselle Region of Luxembourg check out www.visitmoselle.lu  | Facebook
The wine museum is at 115 route du Vin, Ehnen, Luxembourg. Website: www.museevin.lu Open daily April – October
Domaines Vinsmoselle – Caves de Wellenstein at 37, rue des Calves, Wellenstein, Luxembourg. Website: www.vinsmoselle.lu. Guided tours of the Caves are available by arrangement May-October €6 per person including a glass of wine.
We took a boat trip on the Moselle river from Remich with Navitours. Website:  www.navitours.lu. The tour took 1 hr 45 and took us down to Shengen and back to Remich. Most of those on board were having a buffet lunch for €45 per person although we opted for the cheaper €15 ticket without lunch and just had a snack in the bar area.
Our gastronomic barbeque was at winery Pundel at Wormeldange-Haut. Website: www.pundel-vinspurs.lu The winery is open for special events through the summer season which can be booked in advance. Check the website for more details.
We visited the Grevenmacher 66th Grape and Wine Festival on 11 September 2015. For more information check their website: www.grevenmacher.org
Read More: You can also read about our gourmet walking tour of Luxembourg Old Town
Thanks to Visit Luxembourg who hosted Heather and Guy's weekend stay in Luxembourg
Pin It!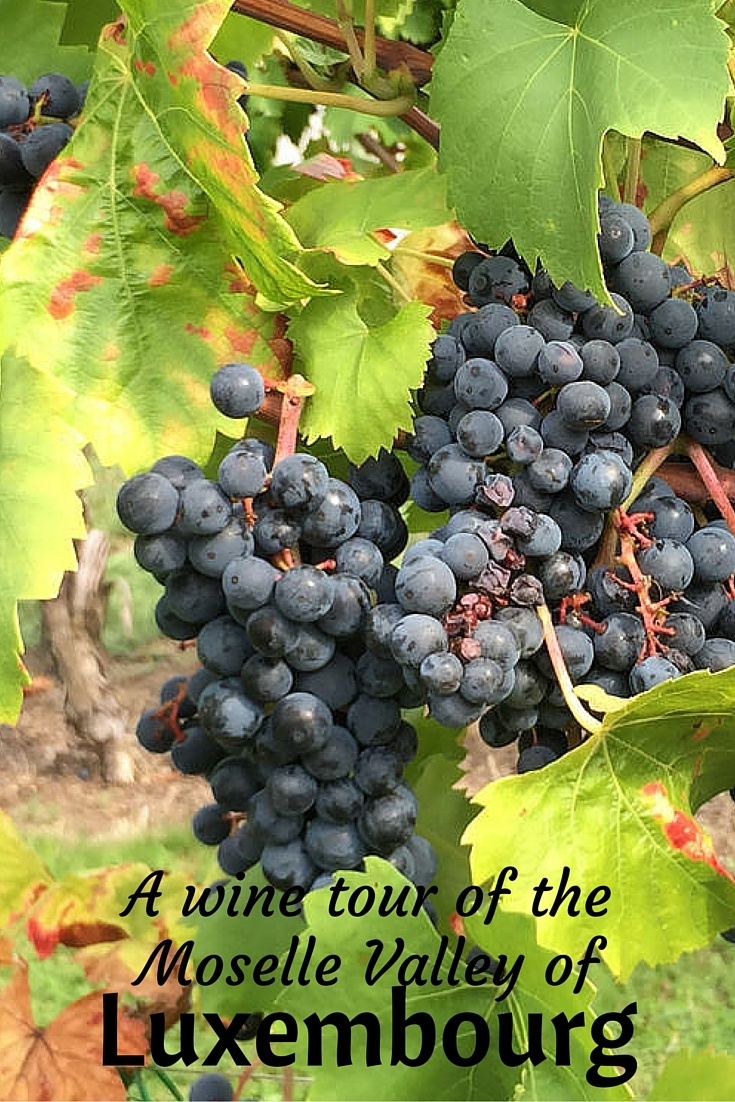 This article by Heather Cowper is originally published at Heatheronhertravels.com – Read the original article here
You'll also find our sister blog with tips on how to build a successful travel blog at My Blogging Journey