My guest-post today is from Amie O'Shaughnessy of Ciao Bambino, who shares her tips for finding family-friendly accommodation in Rome.
The accomodation challenge for families in Rome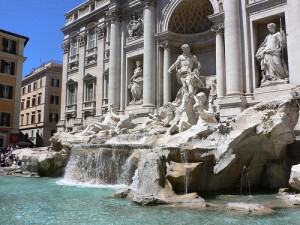 The biggest challenge in finding a family-friendly hotel is Rome is figuring out which properties accommodate 3 or more people in a single configuration given that rooms in the historic center are small. In addition, families with young children who want separate sleeping areas need to find hotels with connecting rooms or multi-room suites.
Apartments are available, but excellent options seem to be particularly difficult to find in Rome—I have yet to identify a reliable, high-quality rental agency with many apartments in desirable locations for families.
That said, if you want at least limited services and no minimum-stay requirements, a hotel is the best choice anyway. We've uncovered a number of reliable hotels with configurations that work well for families at "reasonable" price points. Reasonable is in quotation marks because Rome is like London and accommodations are very expensive, especially when you need to book the larger room categories.
An important factor is location. Rome is massive. Although public transportation is plentiful, this can be a hassle with kids and part of the joy of visiting Rome is walking. You don't want to spend all your time getting from place-to-place underground or stuck in traffic on a crowded bus.
5 reliable hotels for families in Rome
Located between Piazza Navona and Trastevere, Hotel Ponte Sisto is located in the heart of historic Rome. A typical Italian 4 star, the hotel is clean, well-appointed, and comfortable (not stylish). The atmosphere and service is warm and friendly. Family Suites work well for groups of 4 and 5 people. A few rooms have a private terrace—it's worth asking if one is available. Note, some units face a busy road and families with noise sensitivity should request quiet rooms accordingly. Rooms for 2-3 people start at 200€ per night.
There are few tourist attractions more coveted in Rome than the Piazza di Spagna (Spanish Steps). Internazionale Domus is literally in the piazza and a few of the units have terrific views of the steps and all the action. One thing I like about this property for families is that they offer apartment-style units with kitchenette facilities and separate sleeping areas—ideal with young children! Families need to consider that this is not a traditional hotel and amenities are limited (no lobby, room service, 24-hour front desk staff, onsite restaurant). The trade-off is the fantastic location and space for the money. Rooms for 2-3 people start at 205€ per night.
Residence Barberini is a typical European apart-hotel. The décor is very modern and units are sparsely furnished. Apartments have kitchenette facilities and a few can accommodate families of 4 and 5 people in one-bedroom units with sofa beds. Although the immediate area around the hotel is quite commercial and not as appealing as other neighborhoods—the trade-off is easy access to public transportation and tourist attractions. Families need to consider that onsite amenities are limited (small lobby, no onsite restaurant) and that the owner is an avid art collector—there are nude photographs in public areas and hallways. Rooms for 2-3 people start at 230€ per night.
One of our community members recommended Albergo Santa Chiara as an excellent option for families. The location is fantastic behind the Pantheon and the surrounding area is wonderful for walking and exploring. Guest rooms are clean and comfortable. Note, there are a limited number of room options with larger capacity and cribs need to be requested at the time of booking. Rooms for 2-3 people start at 310€ per night.
The Raphael Hotel is located on a quiet street adjacent to one of my favorite places to loiter with kids in Rome—Piazza Navona, where there is an enormous car-free space for kids to run around. Like Albergo Santa Chiara , the surrounding area is wonderful for walking and exploring. The ivy-covered hotel has a lovely rooftop terrace with views of Rome's landmarks. Unfortunately, there are only a handful of suites that can accommodate families here and these rooms are more expensive. If you have a flexible budget, this is a Ciao Bambino favorite! Rooms for 2-3 people start at 280€ per night.
Family-friendly hotels with swimming-pools
Many families want to find a hotel with a swimming pool during the hot summer months. I haven't had personal experience with these hotels, but clients over the years have recommended two properties as good options: 1) Aldrovandi Palace located in a residential area near the Borghese Gardens and 2) Rome Cavalieri Hilton located near the Vatican. Note, I'm not crazy about the location of either hotel for overall sightseeing and both options are high-end accommodations and quite expensive.
My thanks for this guest post to Amie O'Shaughnessy is the Editor of Ciao Bambino, a family travel blog and guide to the best accommodations for families.
P.S. Do check out my current giveaway – just leave a comment to enter the draw for this gorgeous 100% Fairtrade Cotton, designer shopper bag from Greenwich in London
More Rome articles to enjoy
The market at Campo de'Fiori
The turtle fountain in Rome
Street entertainment in Piazza Navona in Rome
Read more travel articles at Travel Blog Home
Don't miss out – subscribe to Heather on her travels