In this guest post, Stefan Arestis of Nomadic Boys takes us on a delicious journey around his favourite Argentina foods, from Mate to Malbec and Empanadas to Chimichurri.
Argentina is well known for its many parilla steak houses and for good reason. With more cattle than people, a gathering in Argentina with friends and family, on a Sunday for an asado barbecue, is a meat lover's paradise.
But there's more to food in Argentina than just consuming your body weight of cow meat. After two months travelling in Buenos Aires and across the country, here are my eight favorite foods of Argentina: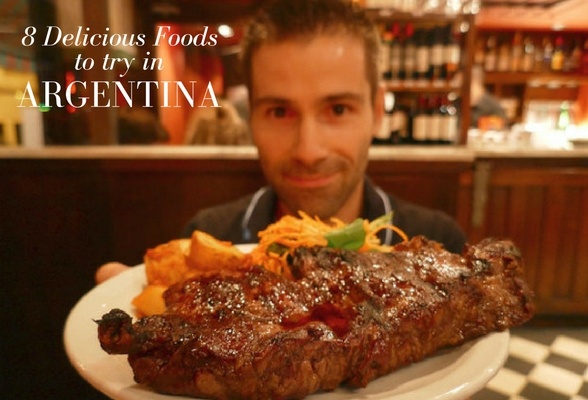 Popular foods in Argentina
1. Milanesa a la Napolitana
Milanesas are breaded seasoned meat fillets, which are dipped into egg, covered in bread crumbs and then fried. They are like Austrian schnitzels but beef is more commonly used instead of pork. Milanesas are a nod to the large Italian influence on foods in Argentina after millions emigrated in the late 1800s and early 1900s.
The milanesa a la napolitana, like the napolitana pizza adds a layer of tomato sauce, mozzarella and ham. It was named after the restaurant Nápoli in Buenos Aires where it was created in the late 1940s and has now become one of the most popular Argentinian foods. When asking our local friends what they miss most from Argentina, they will frequently say they crave a milanesa a la napolitana, washed down of course with the most popular drink…
2. Mate: herbal tea
Mate (pronounced MAHteh) is an institution here. The Argentinians are proud, passionate mate drinkers: it's ingrained in the culture, the focal point in social gatherings, handed around for everyone to share. Whether you're in a business meeting, out in the park with a group of friends or buying a ticket at the bus station, you can be sure to see the iconic flask with pot and metal straw.
Mate is a black herbal tea made from the yerba mate herb, grown in the Northeast Argentinian provinces of Misiones and Corrientes. To prepare the mate, the herb is placed in the mate pot (called a gourd), hot water (not boiling) added and it is then served from a metal straw (called the bombilla).
We visited the touristy Iguazu Falls in Northeast Argentina, which had an hour long queue for the train to take you up to the Devil's Throat. For the Argentinians no problem – whip out the large flask, packet of mate herbs, gourd and bombilla and very soon a mate will be passed round. Completely impractical, very sociable, yet oh so very Argentinian!
3. Dulce de Leche Cookies
Dulce de leche is caramelised milk, used everywhere, particularly in all desserts, and one of the most popular foods in Argentina. This stuff is like the blood of Argentina. One particular dulce de leche dessert are alfajor de maicena cookies. These are 2 vanilla biscuits, which are bound using (lots of) dulce de leche, which is then coated with grated coconut.
Extremely delicious but goodbye abs!
4. Empanadas
Empanadas are a popular snack either to accompany meals or as an appetiser. They are stuffed pastries with a variety of fillings, which are then fried or baked. Empanada comes from the Spanish word empanar.
The most popular filling is confusingly called carne, which means meat, but refers to beef. Other popular fillings include pollo (chicken) jamón (ham) and queso (cheese).
The tastiest empanadas we tried are the spicy empanadas con carne picada North Argentina. The indigenous Quechua influence means that more spices are used in cooking giving them more flavor.
5. Choripán: chorizo hot dog snacks
Choripán is an Argentina snack, a hot dog served with a chorizo sausage and salad. The name describes its ingredients: chori for the chorizo and pan meaning bread.
Like empanadas, choripáns are finger food, which you're likely to eat as an appetiser at an asado or as a snack at a Boca Juniors football match.
6. Ice Cream
Argentinian ice cream or helado is world famous and another nod to the strong Italian influence in Argentina.
Opinions about where you can try the best helado in Argentina varies with immense volatility. The Porteños will say it's in Buenos Aires, the Rosarians will swear it's in Rosario, the Cordobeses will have you believe it's in Córdoba etc…!
You can be sure an helado in Argentina will blow your mind, and with flavours like dulce de leche or tiramisu, you can't go wrong.
7. Malbec Wine
Argentina developed a world famous wine reputation over the last 20-30 years, primarily as a result of several grapes brought over from France. These grapes didn't grow as well in French vineyards, but the climate in Mendoza meant they instead flourished here, particularly Malbec.
Argentina is one of the few countries we've been to where wine is more popular than the national beer – Quilmes. A few glasses of Malbec nicely complement every steak meal. We tried so many delicious brands that it's hard to pinpoint a particular favorite.
8. Chimichurri
Chimichurri is like the Argentinian pesto. It is a parsley/garlic based sauce, usually used to marinate grilled meats or as a dipping sauce for bread and choripáns.
There is no uniform recipe, but our recipe for Argentinian chimichurri includes finely chopped parsley, minced garlic, olive oil, dried oregano, chili pepper and vinegar.
In most restaurants in Argentina, you will first be presented with a bread basket, which will come with a variety of dipping sauces, including chimichurri, as well as criolla (tomatoes and raw onions) and provencal (chopped parsley and garlic in oil).
More things to see in South America
Beyond the Galapagos – Ecuador's forgotten treasures
More than Machu Picchu – alternative Inca trails to try in Peru
Finding Paradise in Ilha Grande, Brazil
About the Author: Stefan Arestis is one half of The Nomadic Boys, a gay couple with Stefan (Greek) and Sebastien (French) travelling the world on a 2-year adventure which started in Asia in 2014. They are currently on a big trip around Latin America starting south in Buenos Aires and slowly working their way North.
You can also find The Nomadic Boys on Facebook, Instagram and Twitter.
Pin It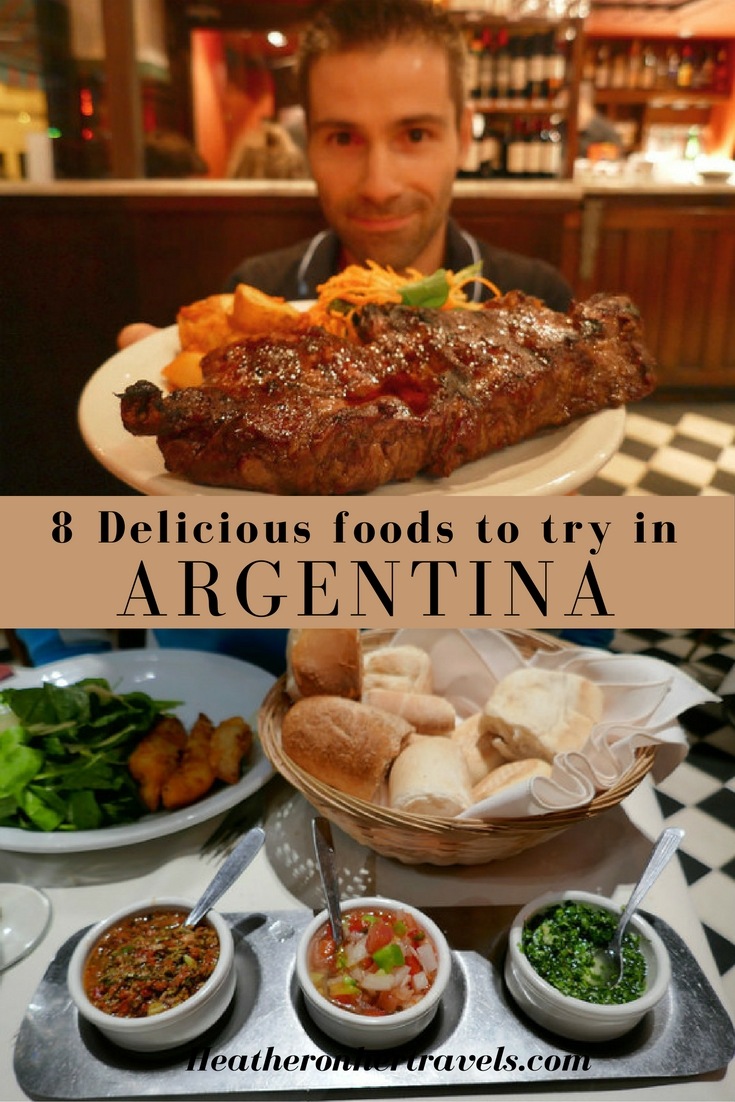 This article is originally published at Heatheronhertravels.com
This article may contain affiliate links that provide commission on purchases you make at no extra cost to you. As an Amazon Associate I earn from qualifying purchases.