Tokyo is a big city, quite the definition of urban sprawl, so talking about the best places to eat in Tokyo could take a while! In this guest article Agness from eTramping shares the restaurants that served the best Tokyo food during her stay, and a few others that came highly recommended even though she didn't get the chance to experience them all.
To start us off, here's a list of what to eat in Tokyo.
Sushi (goes without saying!)
Ramen noodles
Soba noodles
Yakitori (grilled chicken skewers)
Okonomiyaki (savory pancakes)
Where to Eat in Tokyo
With approximately 160,000 top restaurants in Tokyo and the highest number of Michelin stars for one city, finding the best restaurants in Tokyo may bring the renowned 'needle in a haystack' situation to life. And don't get us started on the language barrier! Do you have any idea how hard it is getting to a restaurant called 手打ち蕎麦 成冨 (Narutomi Soba) when the sign is only inscribed in Japanese?
You may also enjoy: Alternative places to visit in Tokyo: A 2 day itinerary
Nevertheless, finding your way around Tokyo's food market is not that hard; the aroma and queues will always point you in the right direction. And, after going through our tips on where to get quality, quantity, or affordability for your meals, you'll be good to go.
Where to find the best Sushi in Tokyo
You can't possibly leave sushi out while in Tokyo. Tsukiji fish market is the most popular fish market in the world, packed with all kinds of edible sea creatures. The market is open from 9am to 2pm to the public, and the famed tuna auction runs from 5am to 6pm. So where do you get to have the best sushi in this vast market?
Sushi Dai
The Sushi Dai shop is the most popular of them all, and they deal with a never-ending line of customers that extends on to the road and often takes a while to get through.
Other places to have great sushi around the fish market include Daiwa sushi and Suchizanmai. All these joints are located on Jogai, the outer part of the market. The only downside is that you might have to wait for over two hours to grab a bite. Is the wait worth it? If you have enough time, probably yes. I mean, why else would the locals wait in the line that long? But you can find other excellent restaurants without a long line in Tokyo. Here are some of them.
Sushi no Midori
The restaurant chain has branches in Shibuya, Ginza, and Akasaka among other locations. They serve good quality sushi at an affordable price, and for as long as you make reservations, you don't have to wait in line. Also, you might want to avoid Sushi no Midori on weekends and peak hours – like noon and 7 pm.
Read more: Sushi experience in Tokyo from eTramping
Mantenzushi
You can find this sushi shop at Tokyo station or Nihonbashi. At only 6,800 JPY, you get two dozen pieces of sushi for their omasake sushi course (omakase means the chef decides what make). They say they used to receive locals only, but foreigners are visiting in more significant numbers nowadays. We recommend making reservations. The Nihonbashi Mantenzushi outlet is faster for making reservations.
Where to find the best Ramen in Tokyo
There are hundreds of ramen restaurants in Tokyo and the locals there really love these noodles. They are cheap (about 600 JPY or 6$) and very tasty.
Ramen Street in Tokyo
Ramen Street is located at Tokyo station. Here, 8 of the best and most famous ramen shops from different parts of Japan were selected to open a branch. Each shop serves a different type of ramen, so you might want to try first different types of small-sized ramen bowls.
You may also enjoy: Cool-hunting in Tokyo – food, fashion and street-style with La Carmina
The most famous ramen shop on the street is Rokurinsha Tokyo. However, that fame also comes with a long queue, so we took a leap of faith and went to Oneshiki Jun (俺式 純). There we each had a bowl of the creamy tonkotsu ramen. Yes, it was pretty good. Other chains that serve good ramen include;
Ichiran – for Hakata style Ramen
Originally from Fukuoka, this restaurant is located on all major stations in Tokyo. It has also been featured on Forbes and a few other media outlets. Ichiran serves an authentic pork-based Hakata-style ramen in an individual booth, so you feel comfortable eating your meal. The broth is as rich as it is smooth and the noodles thin. Also, you could get extra noodles by saving the extra soup (kaedama) for another round.
Nakamoto – for spicy Ramen in Tokyo
For spicy ramen, this is the place to go. They offer a variety of ramen depending on the level of spiciness on a scale of 0 – 10. For a first-timer, you probably want between four and six just to be safe. Nakamoto has a branch on Shinjuku, Shibuya and probably all other major stations. They have at least 19 locations, mostly in Tokyo.
Visit the Sumo Wrestling area of Tokyo
In case you find yourself around the sumo wrestling area in Tokyo, do not miss out on the sumo food experience. For this one, we just chose Chanko Tomoegata blindly. It looked quiet on the outside, but the inside was teeming with locals. Their chanko (a type of meat and vegetable stew) was insanely tasty.
You may also enjoy: Take you hobby on holiday – follow your interests in Vietnam
We suggest you try the Sumoheyafu Higawari Chanko for around 1,890 (18 $). It features chanko, rice, sashimi, and a few salads as well as a deep-fried croquette.
Tokyo Metropolitan Government Building (Tocho)
Now, this place is not famous for restaurants, and most locals probably don't even know about it. However, you won't believe the fantastic range of food they have there. The restaurant was established in the 32nd floor to keep employees closer during lunch hours. Judging by the array of food we saw, it would seem they wanted those guys to stick around so bad!
We were referred to Tocho by Emiko, an acquaintance who worked in the building. Here, you can examine the real-looking plastic food showing the food's nutrition, identify the number you want, and purchase it at the ticket machine. In addition, there is an elegant color-coded system that helps you determine which section of the kitchen to go for pick-up. Once you get your tray of food, sit on a table where you'll enjoy an incredible view of the city, or enjoy a casual conversation with some employees.
Prices range from 420 to 680 JPY ($4-$7). For this amount, you could choose from a rich menu of Japanese culinary arts, including grilled fish, noodles, katsu, some Chinese food prepared Japanese-style, curry and so much more.
Nakajima (near Shinjuku station)
It won't be fair to talk about food in the city with the highest Michelin stars without mentioning a single place you can dine in one of these stars' experience. Nakajima is just the place to go for an affordable one Michelin star meal. A lunch set costs 800 Yen (USD 7.40). Considering Japan is one of the most expensive cities in the world, this is as low as it gets.
About a 10-minute walking distance from Shinjuku station's south exit, try finding Hihara Building. There'll probably be a queue extending from a flight of stairs during peak hours. Our advice, get there before lunch, say at around 11:30 am. We arrived at around quarter past one, and they put up a stop-queuing sign at 1:30 pm!
Do you know of other good places and things to eat in Tokyo? Share them with us in comments below!


Author Bio: Originally hailing from Poland, globe-trotting duo Agness and Cez now travel the world for fun. Best friends since university, the two decided to ditch their nine to five jobs in favor of exploring everything our planet has to offer. Together, they set up eTramping back in 2011, a blog dedicated to bringing you the best advice on how to make your trip a truly memorable experience. They particularly specialize in adventure travel, so follow them on Facebook, Instagram and Pinterest to discover their next crazy pursuit!
Information for visiting Tokyo

Need a travel guide for Tokyo?
We recommend the Top 10 Tokyo DK Eyewitness Travel Guide or the Lonely Planet Discover Tokyo guide
Need a hotel in Tokyo?
Check out some of these Tokyo Hotels and read Tokyo hotel reviews on Tripadvisor
Looking for a guided tour in Tokyo?
Check out and book these guided tours in Tokyo – if you love food we recommend the Tsukiji Outer market 3 hour food and drink walking tour or the 3 hour Tokyo food tour culinary adventure
Book your holiday to Tokyo
If you would like to visit Tokyo as part of a holiday to Japan we recommend these holidays and cruises in Japan from Titan Travel
Pin it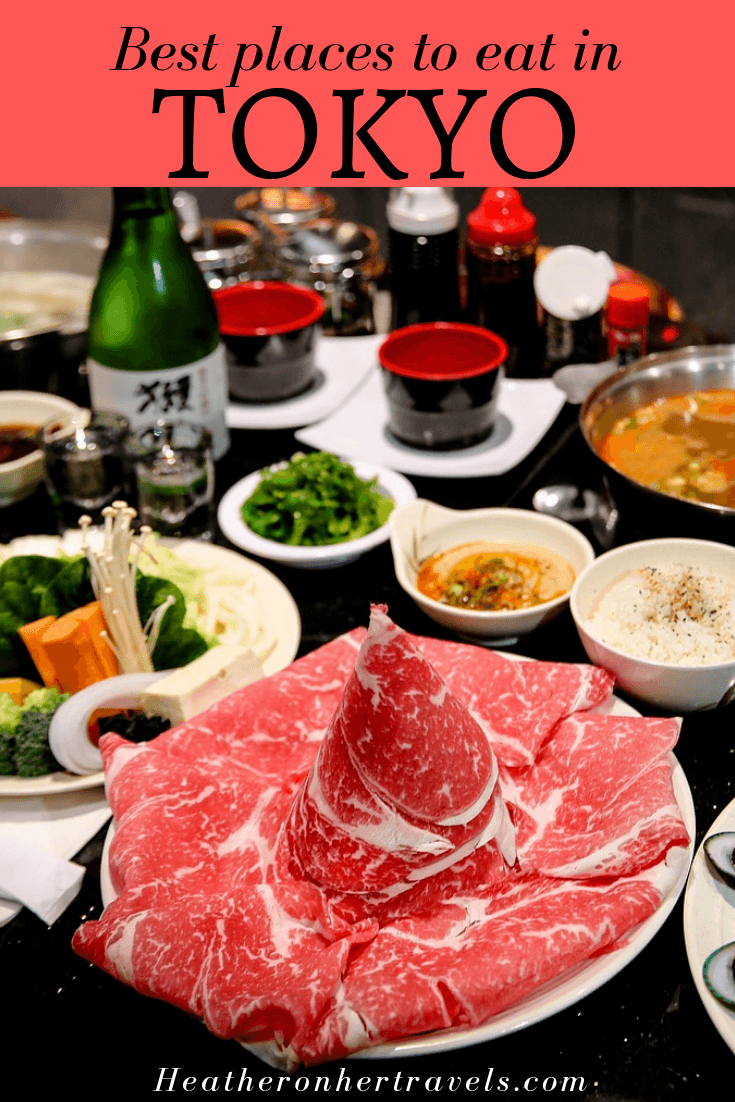 This is a guest post* from Agness at eTramping
* More info on my policies page
This article may contain affiliate links which earn me a small commission
This article is originally published at Heatheronhertravels.com – Read the original article here