The Cotswold Way is a National Walking Trail that meanders through some of the most beautiful English countryside, from Bath to Chipping Campden. This 102 mile path runs through the Cotswolds Area of Outstanding Natural Beauty, and you couldn't ask for a more quintessentially English landscape, of rolling fields, honey stone villages and spectacular views. You can walk the whole trail comfortably in 10 days, although faster walkers may cut this down to 7 or 8 days.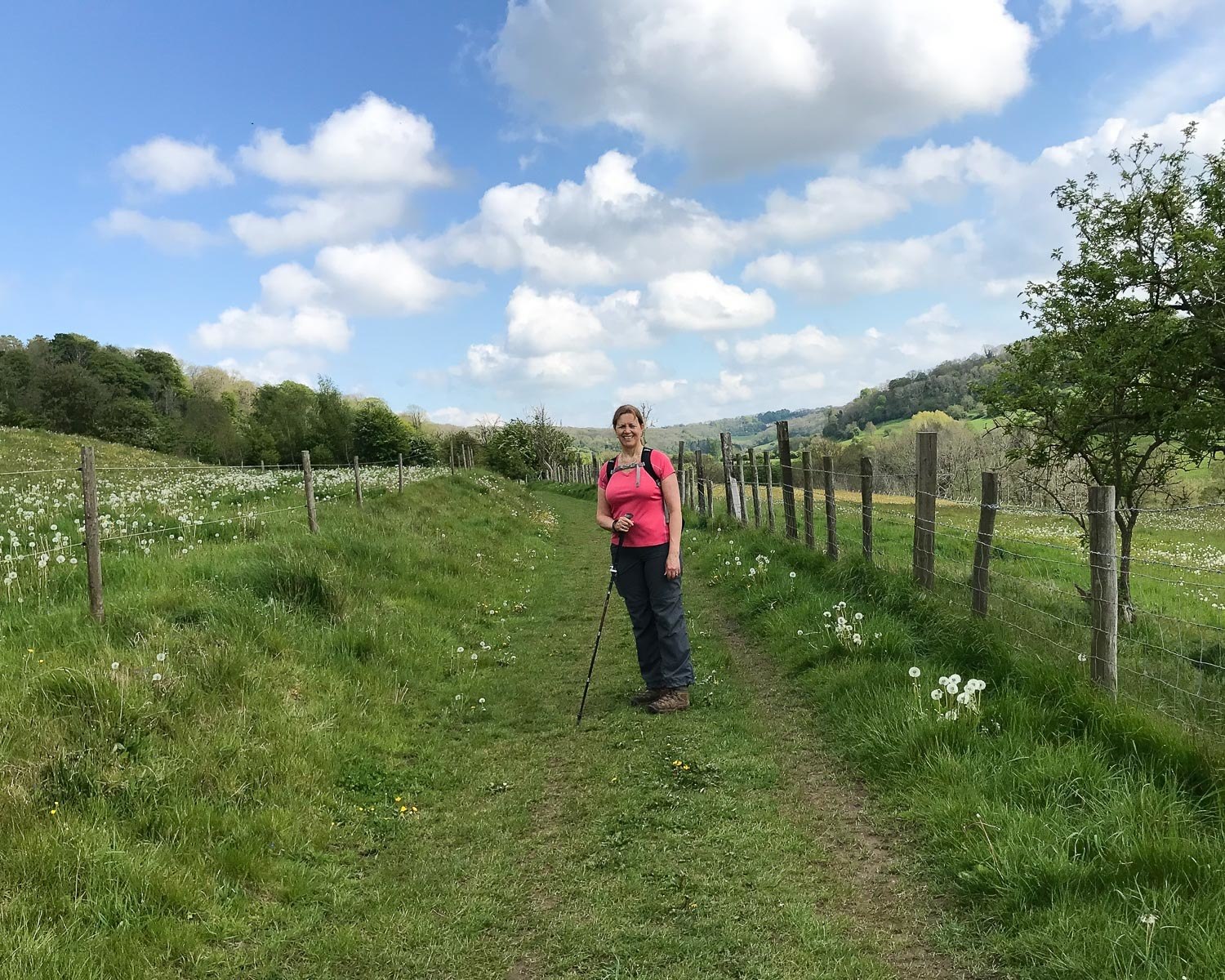 About the Cotswold Way
I opted for the gentler pace and have been walking the Cotswold Way in day stages starting in Bath, at the southern end of the trail, which happens to be close to where I live in Bristol. The trail is more often walked from North to South starting at Chipping Campden. I walked it South the North starting in Bath, but there's no problem whichever way you choose, as the paths are well signposted. Since there is so much to see, this Cotswold Way guide covers the first 3 days of my walk and I'll be writing about later stages of the walk as I complete them.
The first 3 day-walks on the Cotswold Way, running northwards from Bath, would make an ideal long weekend or 3-4 day break. You won't want to miss the glories of Bath, with its Roman Baths and elegant Georgian architecture, so I'd add a day on to your walking itinerary.
The Cotswold Way takes you out of Bath through rolling countryside, woods filled with wildflowers, with occasional glimpses of elegant stately homes and picturesque villages. There are plenty of places to stop and admire the view and by the end of this 3 day stage at Wotton-under-edge you reach the western edge of the Cotswold Escarpment with even more fantastic views to come, on one of the top National Trails in England.
This article may contain affiliate links that provide commission on purchases you make at no extra cost to you. As an Amazon Associate I earn from qualifying purchases.
Cotswold Way Day 1 – Bath to Cold Aston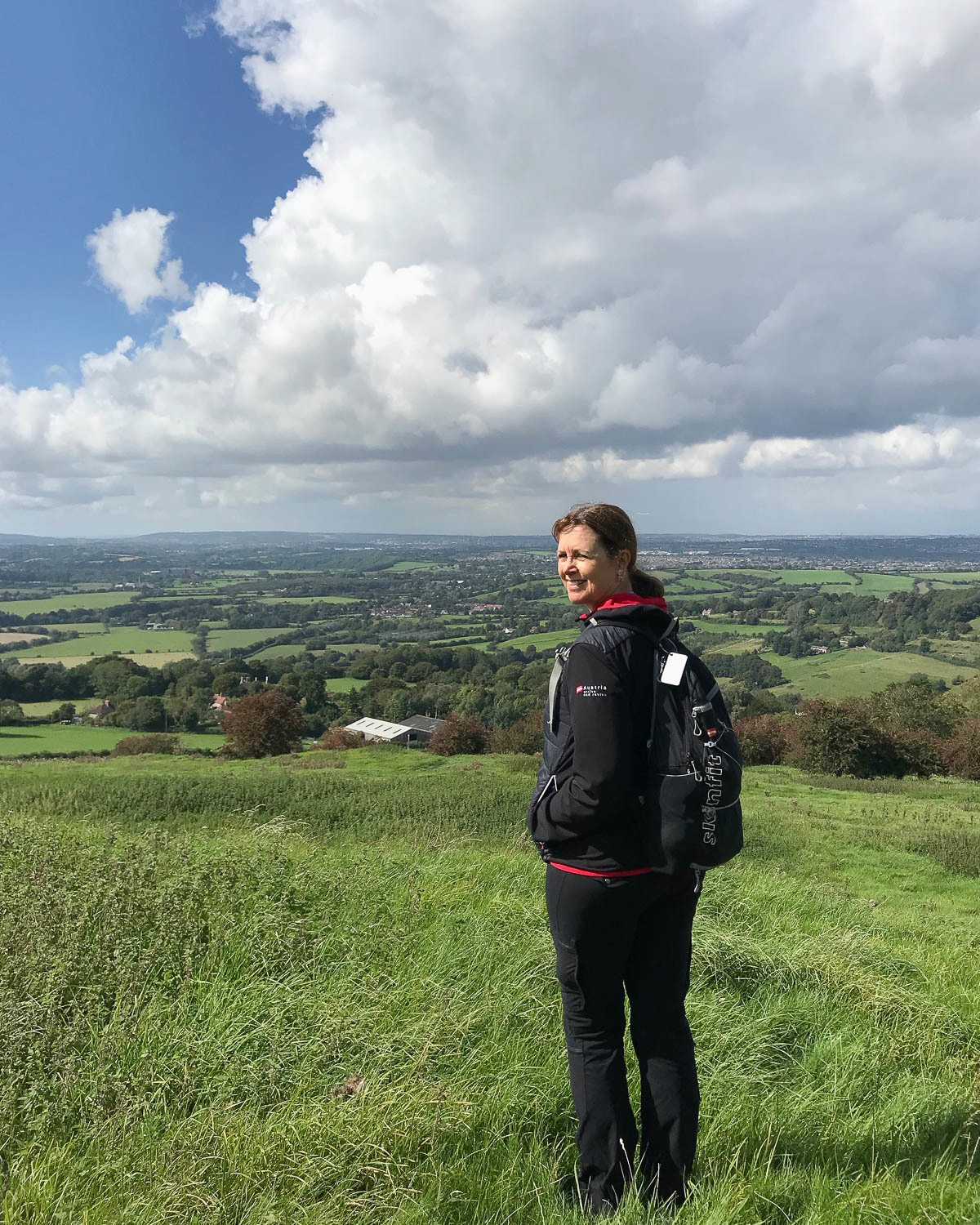 Overview of Day 1
The Cotswold Way starts at Bath Abbey in the centre of Bath, rising through undulating farmland onto the Lansdown Escarpment. There are some wonderful viewpoints with spectacular views towards the cities of Bath and Bristol and the river Avon flowing between them.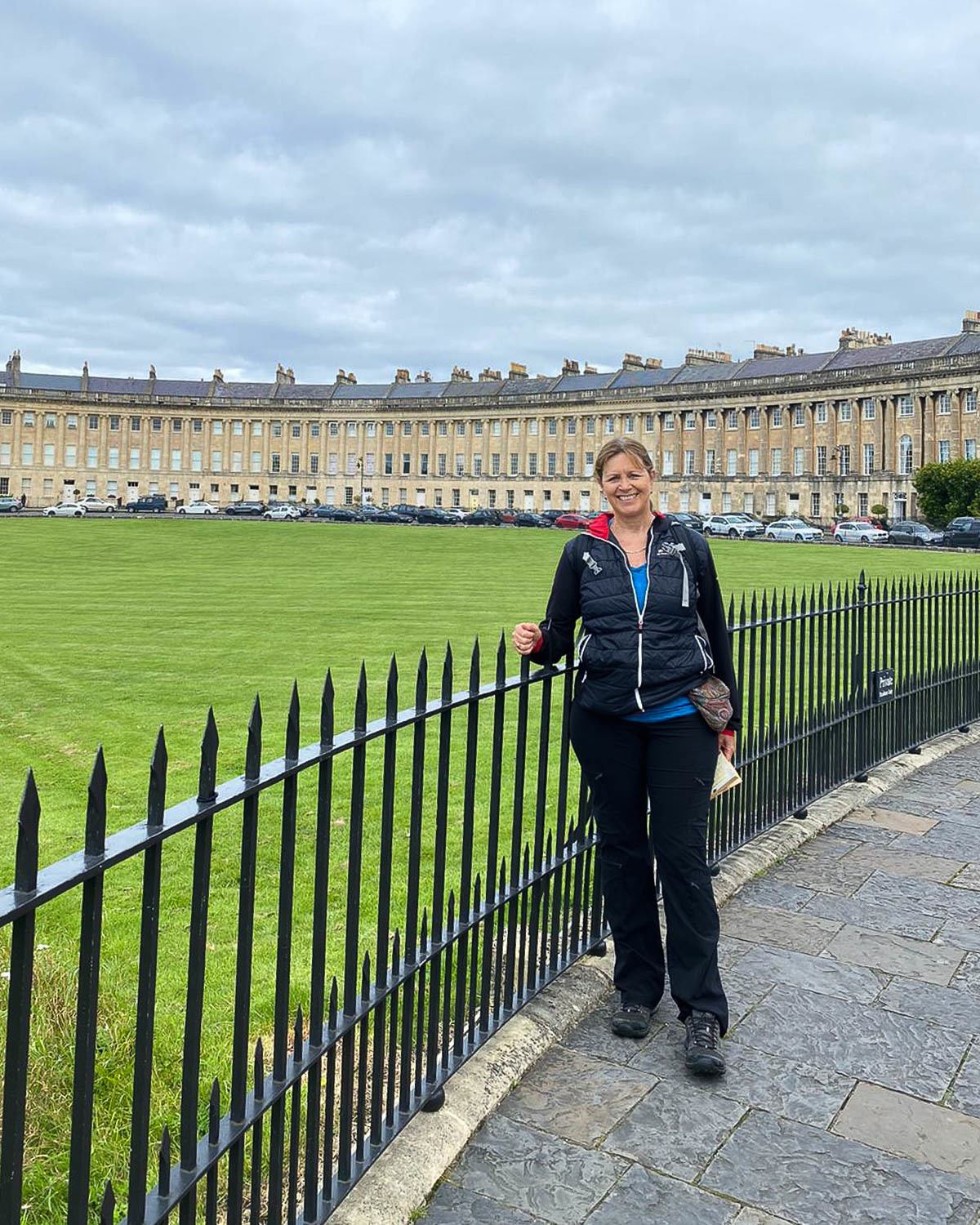 If you have not already visited Bath, you should add a day on to your planned itinerary to visit this beautiful city. Bath is full of honey stone Georgian buildings, with more sights than you can pack in before your walk, without making too long a day. It would also be fun to walk this stage in reverse from Cold Ashton to Bath, as arriving among such beautiful surroundings would make an inspiring end to the walk.
Day 1 Walking Route: Bath – Weston – Lansdown Hill – Cold Ashton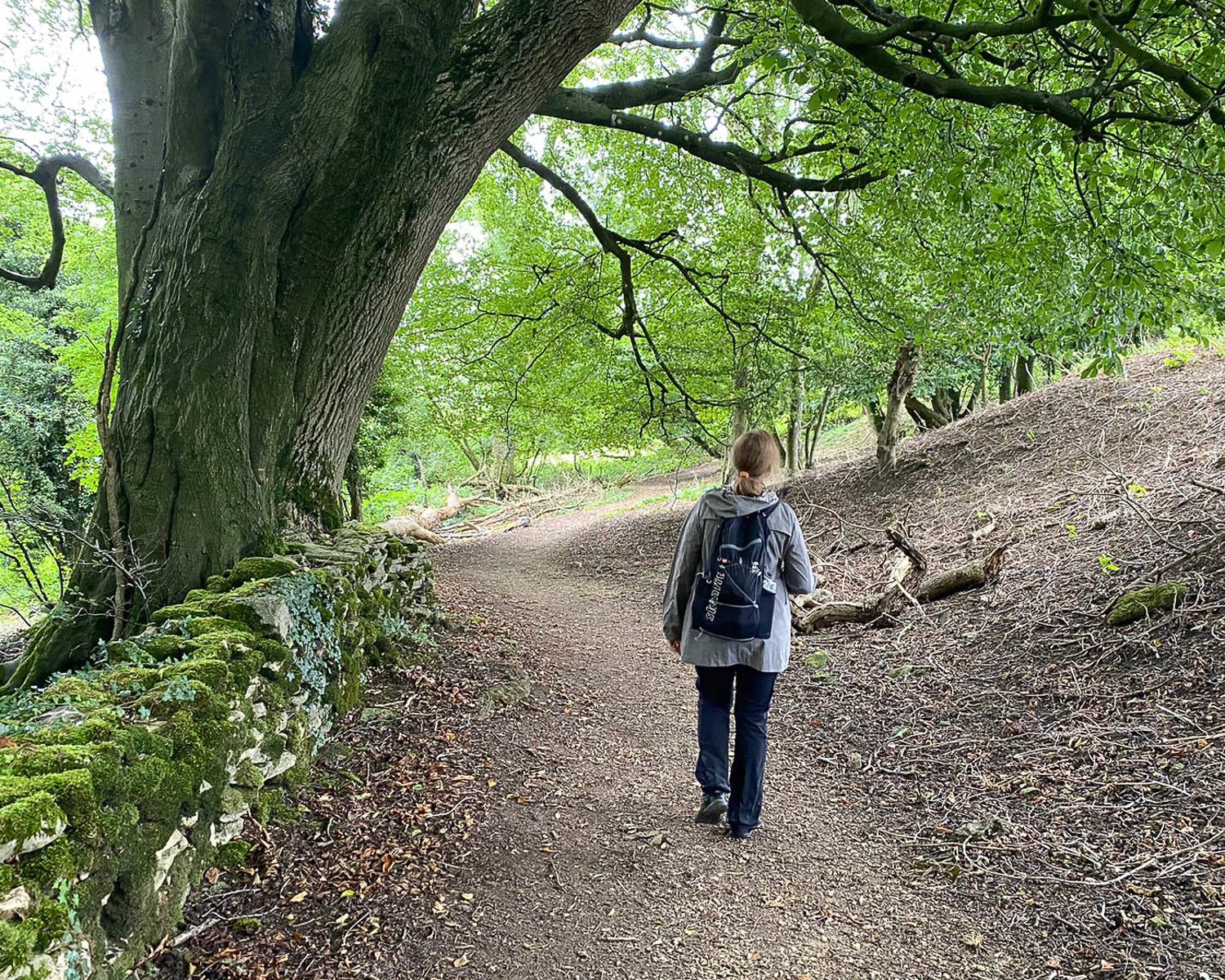 Highlights Day 1
Kelston Round Hill – after leaving Weston the walk rises up through undulating fields and pastures and you really start to feel you have left Bath behind.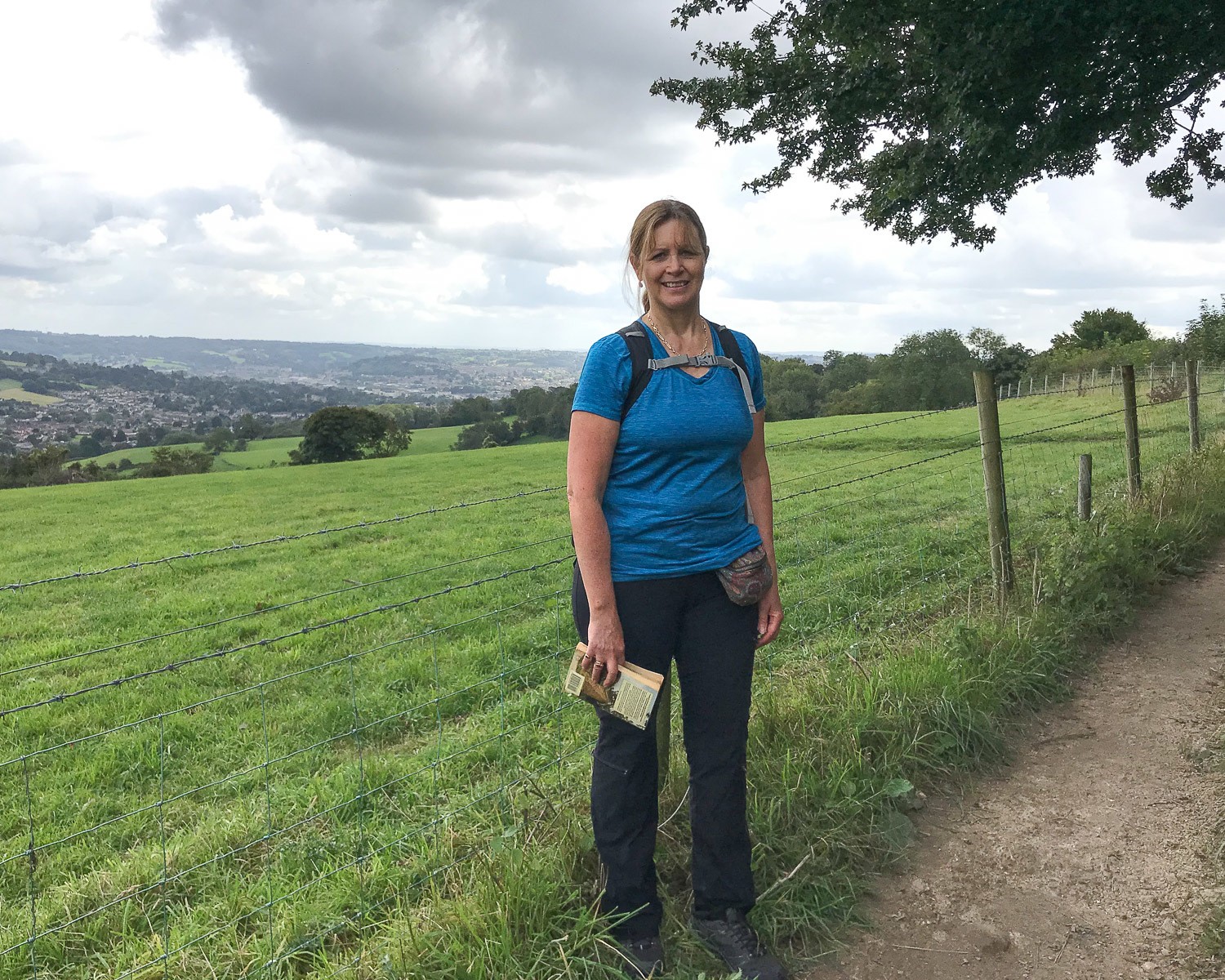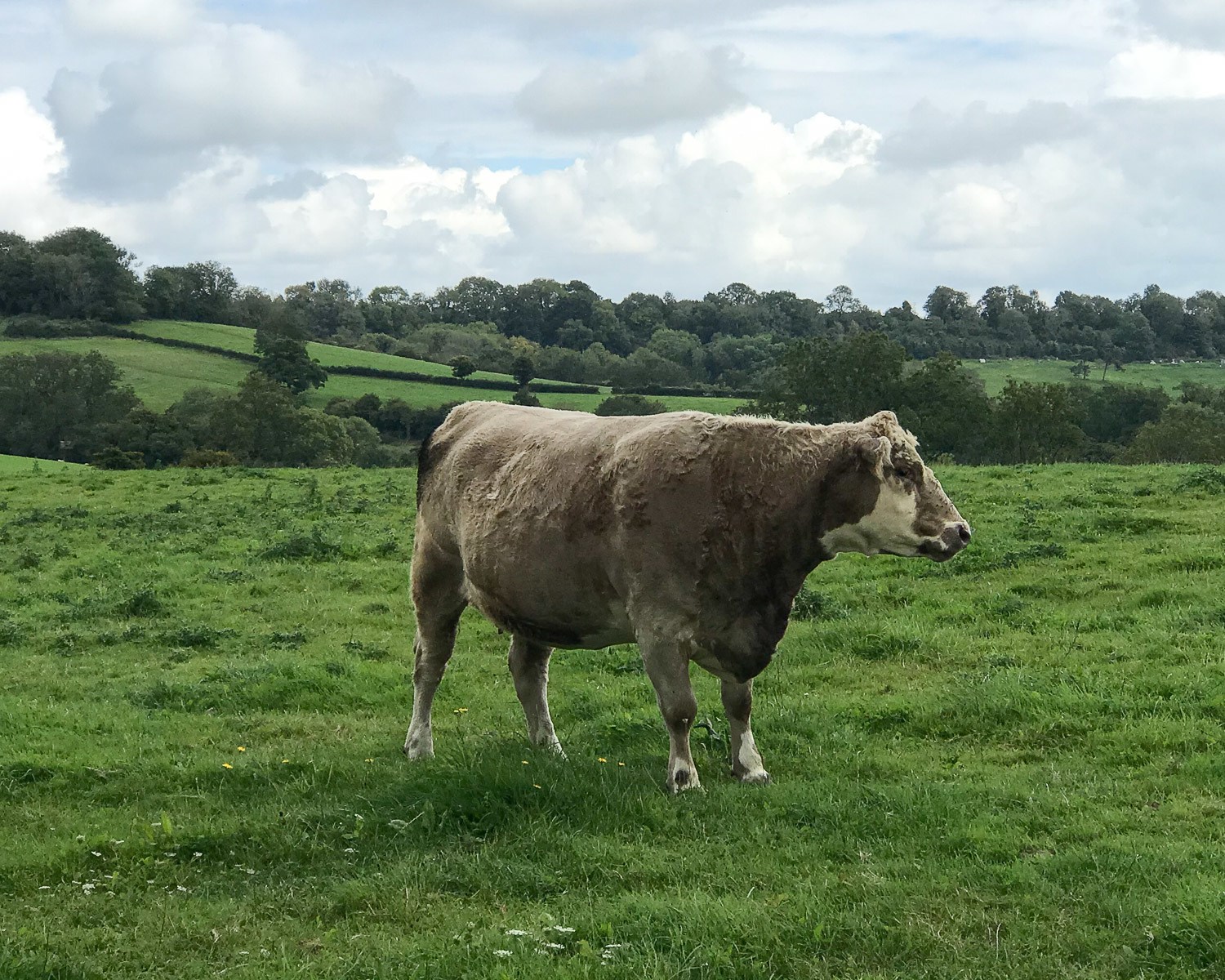 Prospect Stile – after the steep climb up to Bath Racecourse at Lansdown, look back towards Kelston Round Hill and enjoy a panoramic view that encompasses both Bristol and Bath.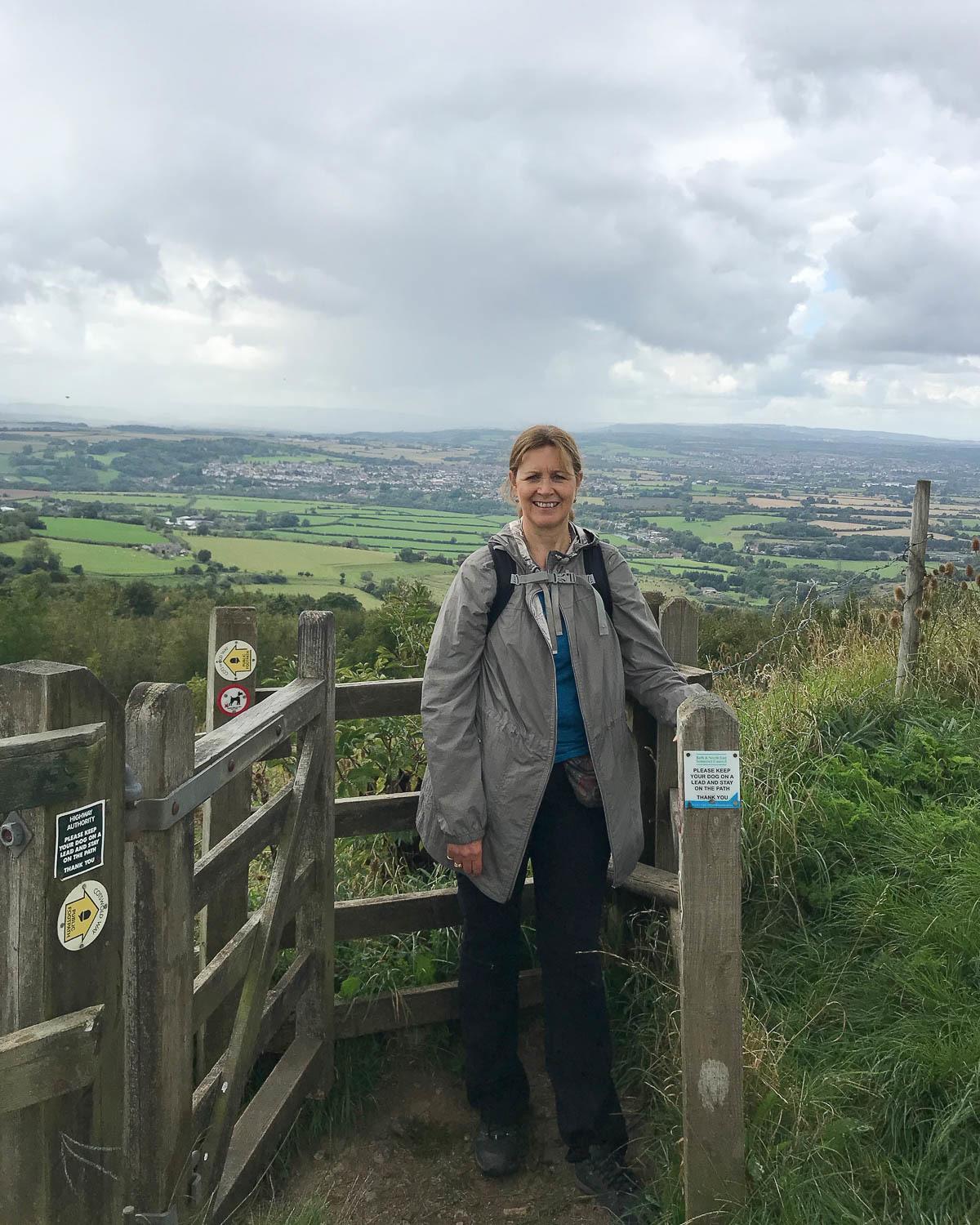 Little Down Hill Fort – there are breathtaking views once you have passed Bath racecourse and we made this ancient site our picnic spot at the top of the escarpment overlooking the countryside and Bristol in the distance.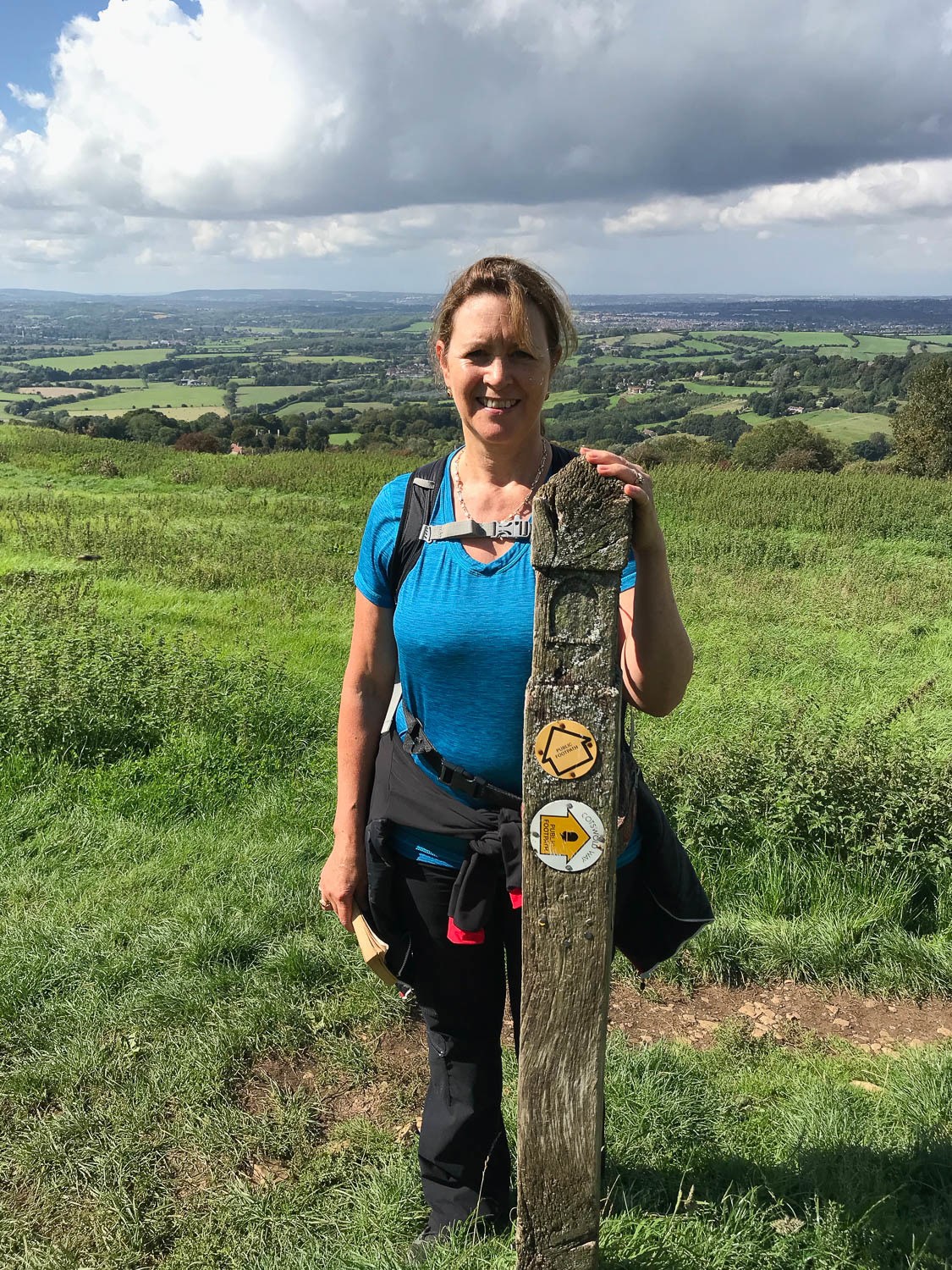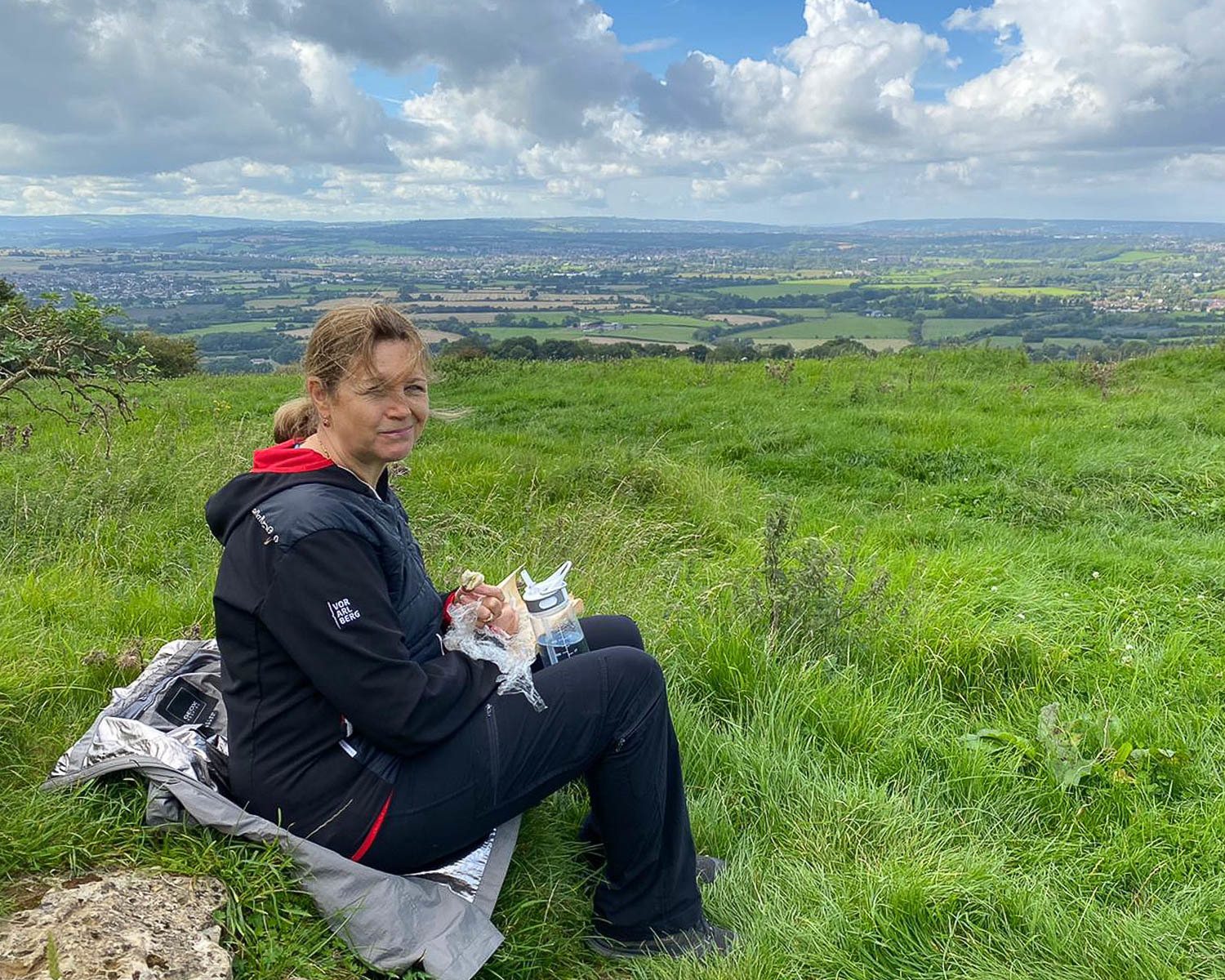 Pipley Barn cafe – a charming place to stop for tea and cake if it's open and perhaps see one of the impromptu performances that they lay on at weekends. Gareth the juggler was in full flow as we bought an ice cream there. I loved the striking metal dragon sculptures beside the path by David Michael Morse.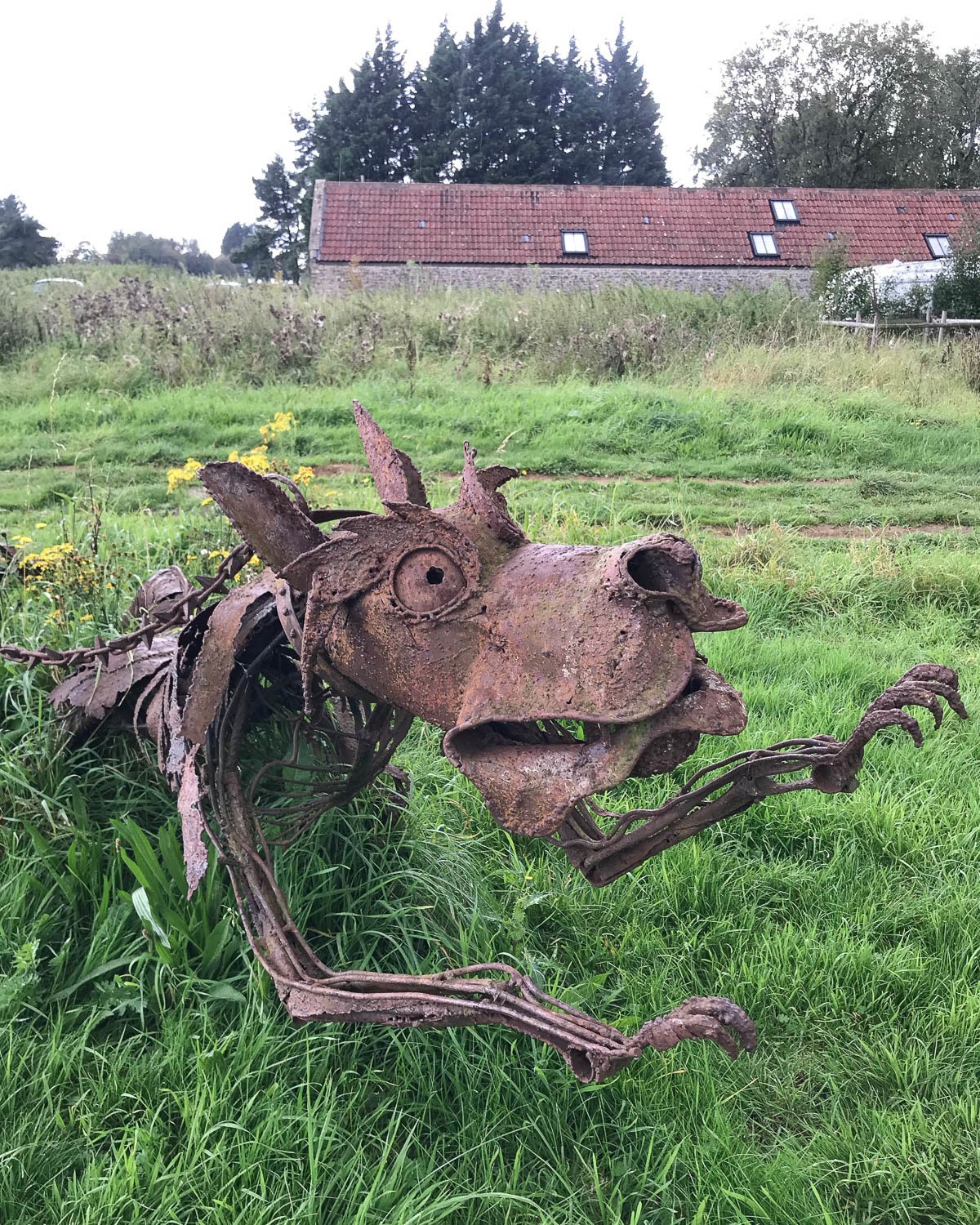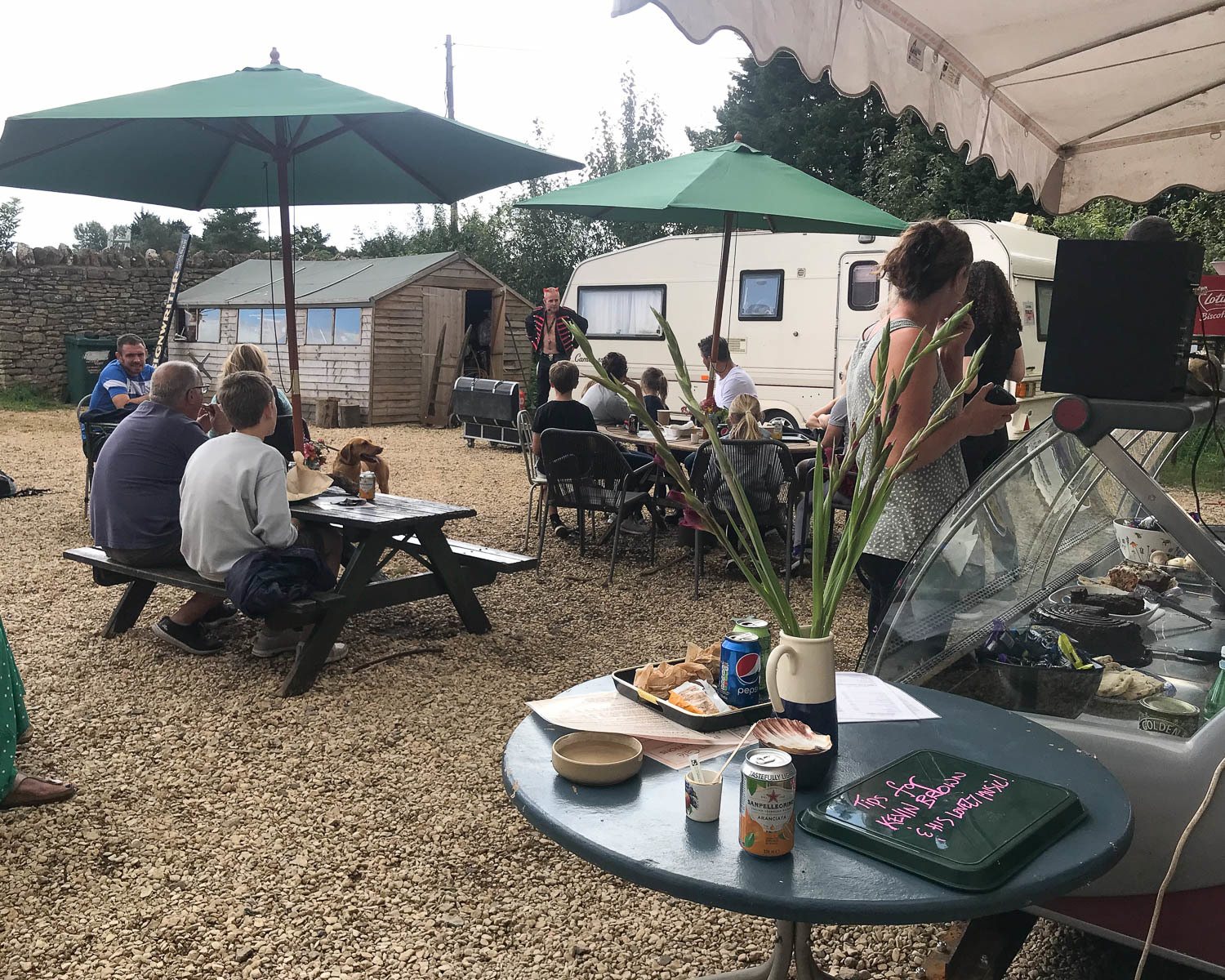 The Granville Monument and information plaques about the Battle of Lansdown, a Civil War battle that took place in this area in 1643 with a series of flag post markers at key places from the battle.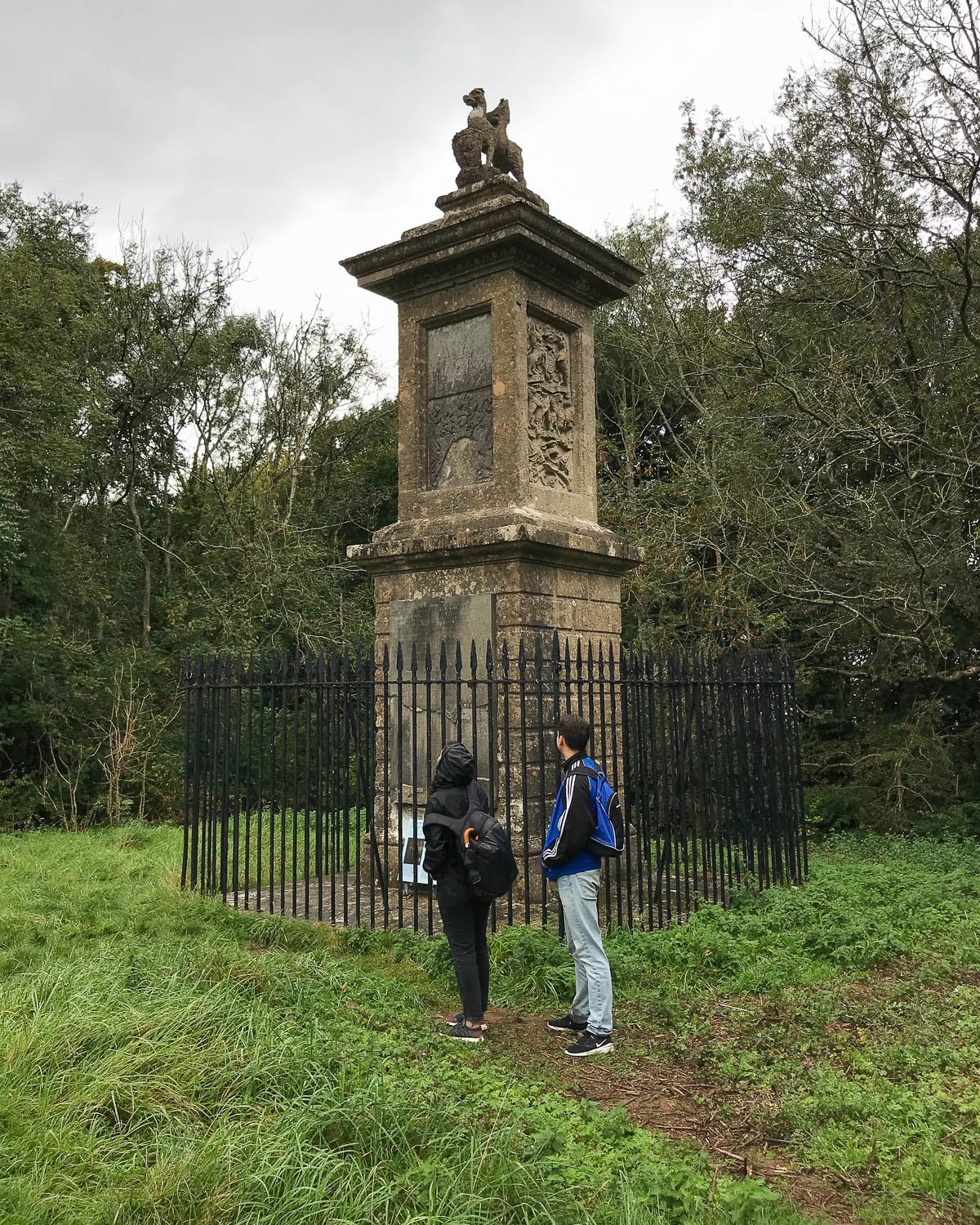 Day 1 – Facilities & shops
There are numerous shops, pubs and cafes at the start of the walk in Bath. The village of Weston is an hour into the walk and has a small supermarket open daily, where you can buy picnic provisions, as well as a pharmacy and a few other shops. We did not pass any other shops or pubs en route, but after around 4 hours we passed Pipley Barn which has a seasonal cafe serving passing walkers near the Lansdown Golf Course. Toilets available in the Bath Victoria Park car park at the start and at Pipley Barn cafe if open.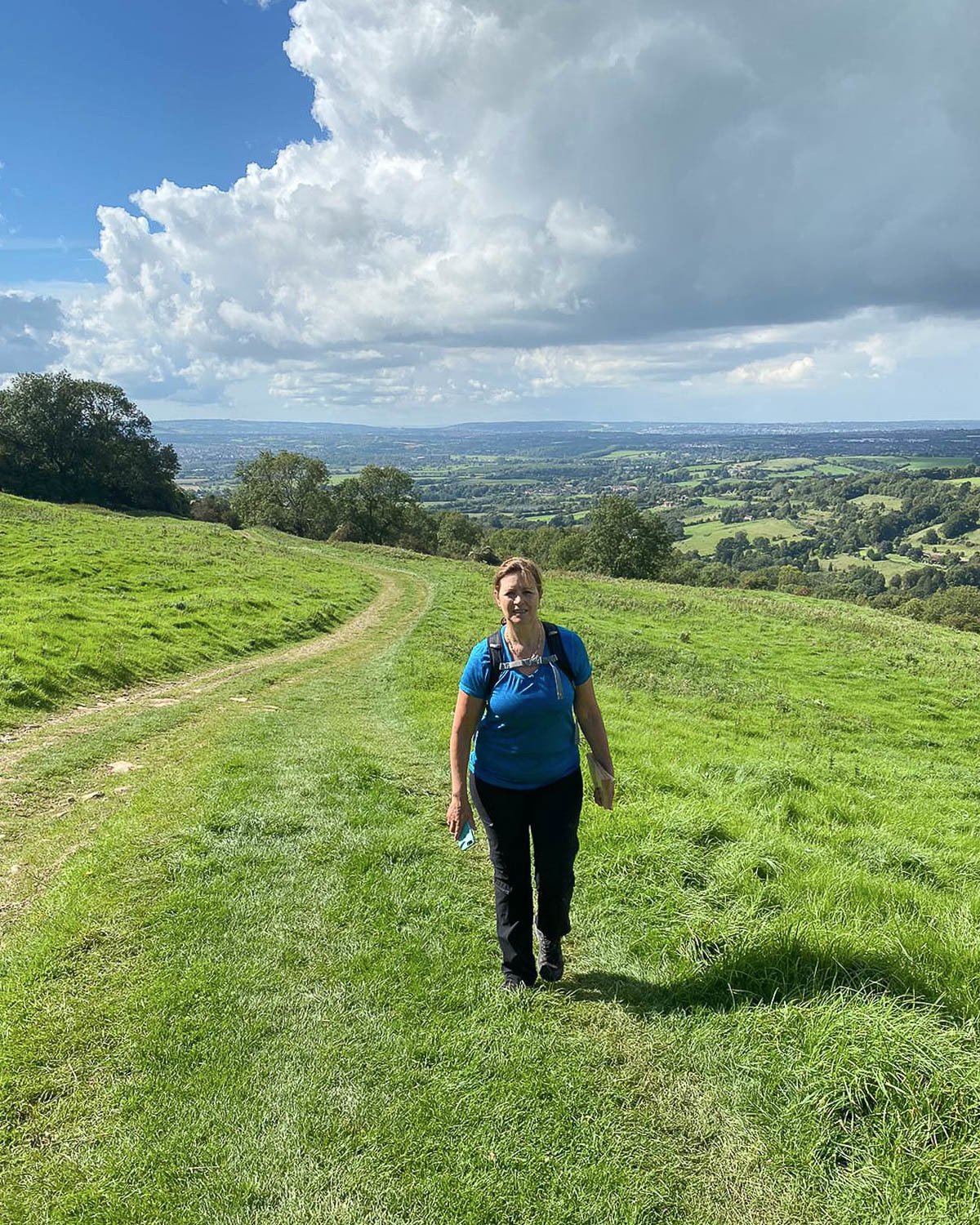 Parking in Bath and Cold Aston
In Bath we parked in the Victoria Park car park just below The Royal Crescent (charges apply) and walked up from there. Parking in Cold Aston at the end of our walk is available in the Village Hall car park which is free and open all day but locked after 11pm. We positioned one car there and used it to drive back to the start where we had parked.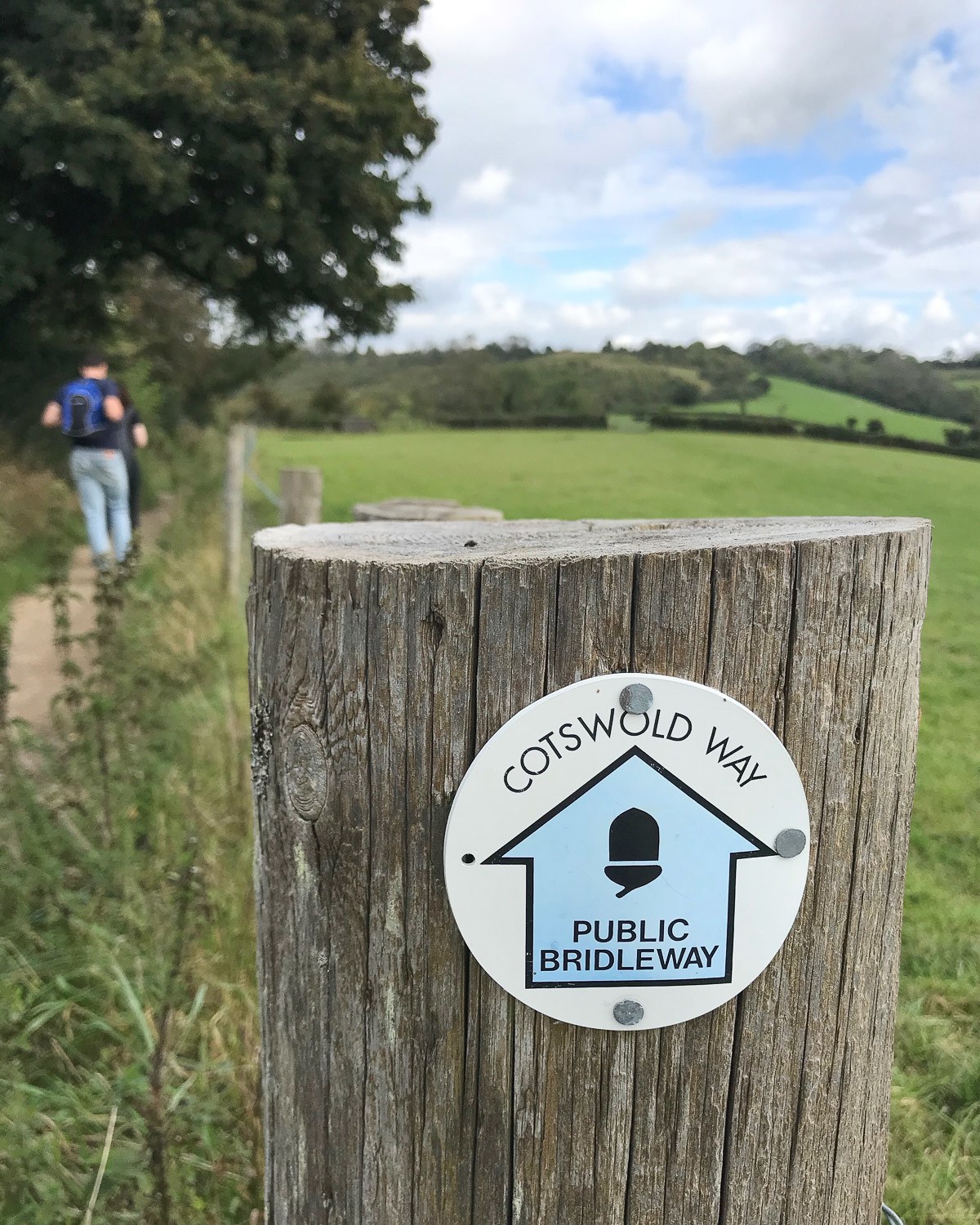 Where to stay in Cold Aston
If you are walking continuously, the best place to stay around Cold Aston is Hill Farm (B&B just before Cold Aston) or continue on to Pennsylvania where there are 2 cottage B&Bs, Cornflake Cottage and Swan Cottage. Campers should head to Cold Ashton Cafe at Folly End Farm where camping may be arranged in the field.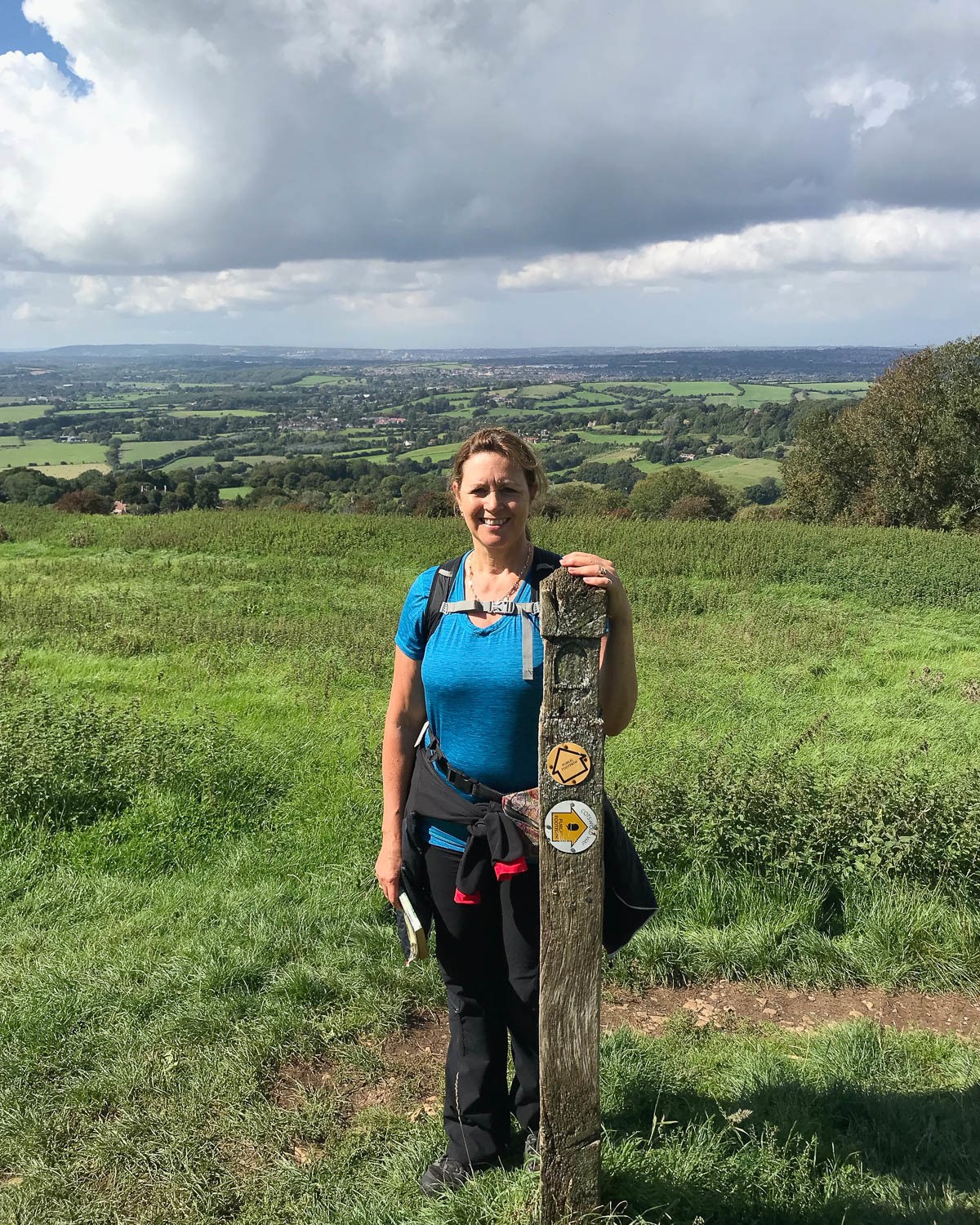 Where to stay in Bath
It's worth adding a day to your Cotswolds Way itinerary, to explore the heritage city of Bath, so you may need accommodation here for a night or two. There's lots of choice of Bath hotels to suit all budgets, but if you want to treat yourself to a boutique style hotel we recommend Hotel Indigo, Francis Hotel M Gallery, or No. 15 Great Pulteney. There are also many luxury hotels and elegant B&Bs, but for no frills accommodation try the YHA Bath or Z Hotels Bath.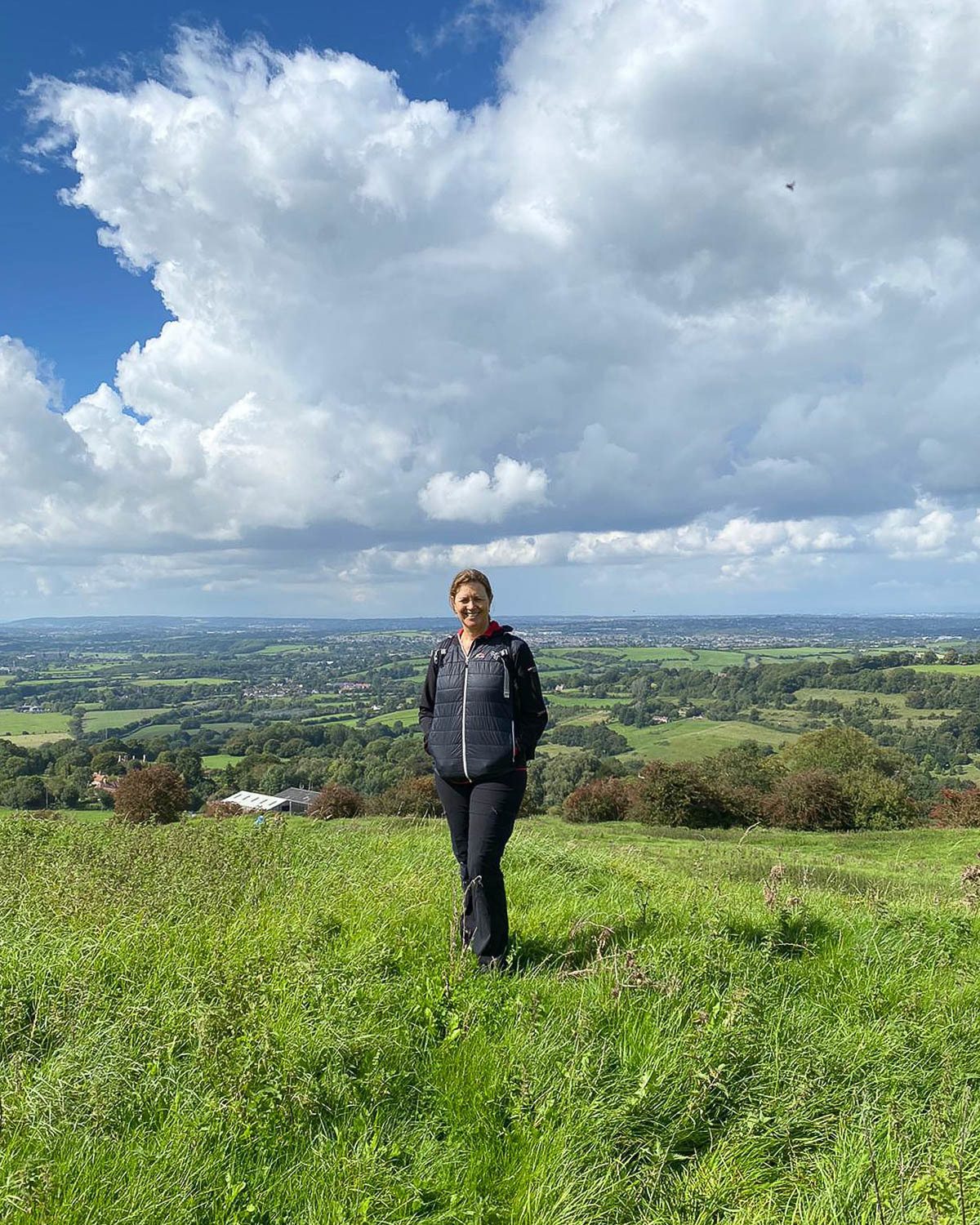 Day 1 – Distance and timing
This stage from Bath to Cold Aston has a daily distance of 16 km / 10 miles and our guidebook estimated 5 3/4 hours. It actually took us 7 hours including a generous lunch break and numerous photos stops, and we did linger around Bath. Most walkers would probably do it in 6 hours if you don't make as many stops as us.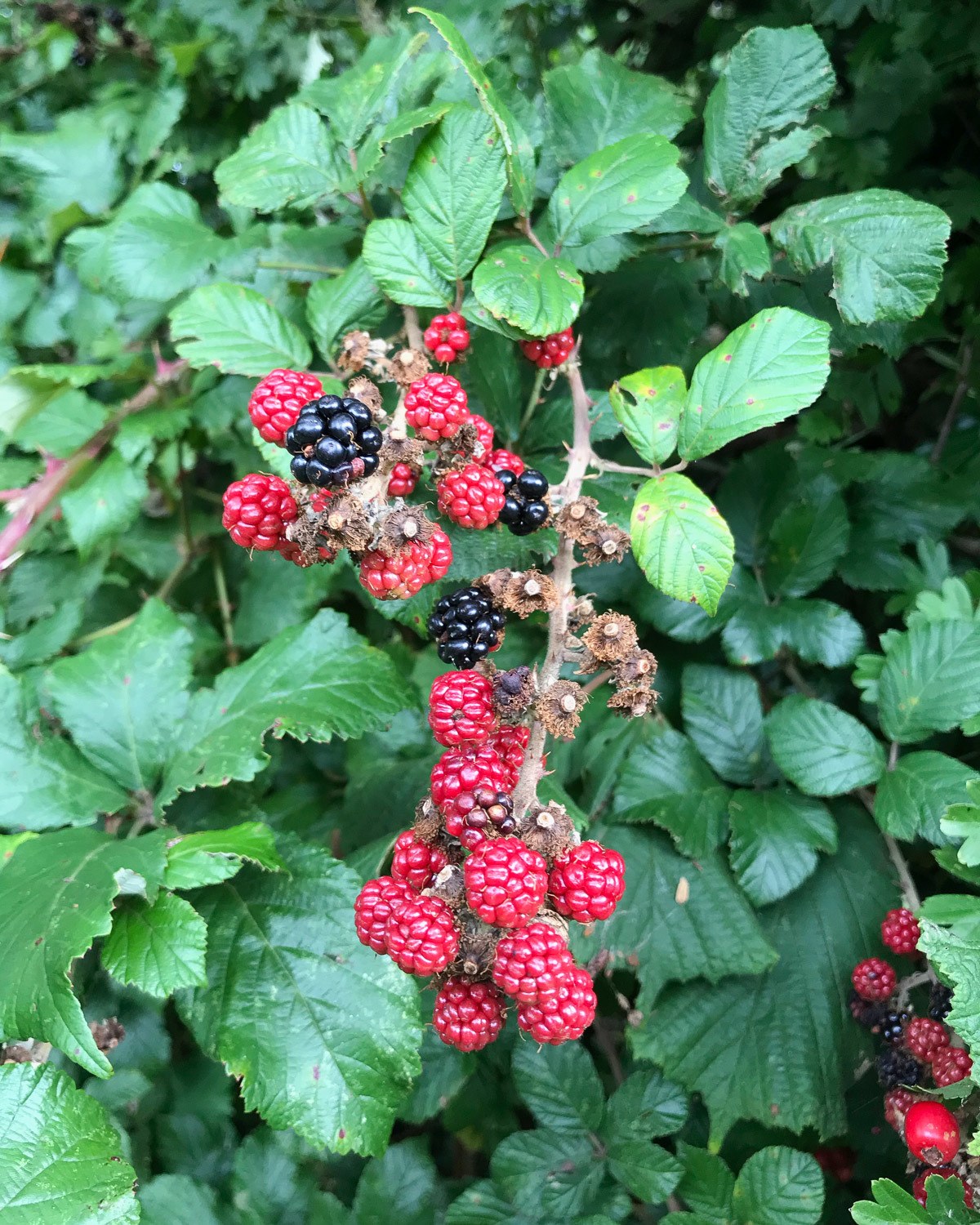 Cotswold Way Day 2 – Cold Aston to Old Sodbury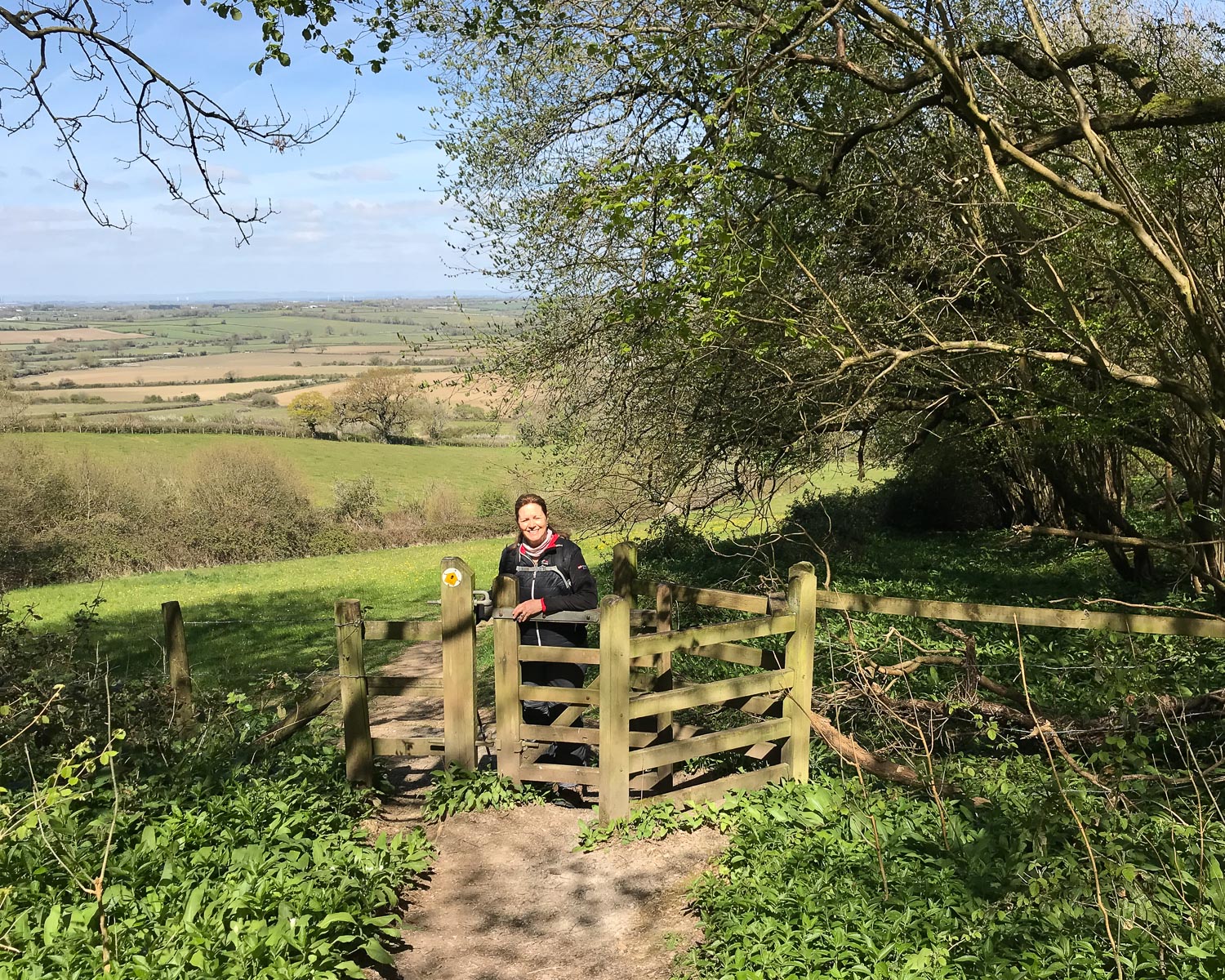 Overview of Day 2 – Cold Aston to Old Sodbury
This section of the Cotswold Way is somewhat marred by busy roads and the proximity to the M4 motorway, which you cross half way through the walk. Nevertheless there are pretty views as the path leads through beech woods full of spring flowers, past Dyrham Estate and through the English pastoral landscape of Dodington Park. We enjoyed our lunchtime stop by the village pond in Tormarton and made surprisingly good time to reach the village of Old Sodbury. If you want to extend the day's walk you can continue on to Little Sodbury.
Day 2 Walking Route: Cold Ashton – Pennsylvania – Dyrham – Tormarton – Dodington Park – Old Sodbury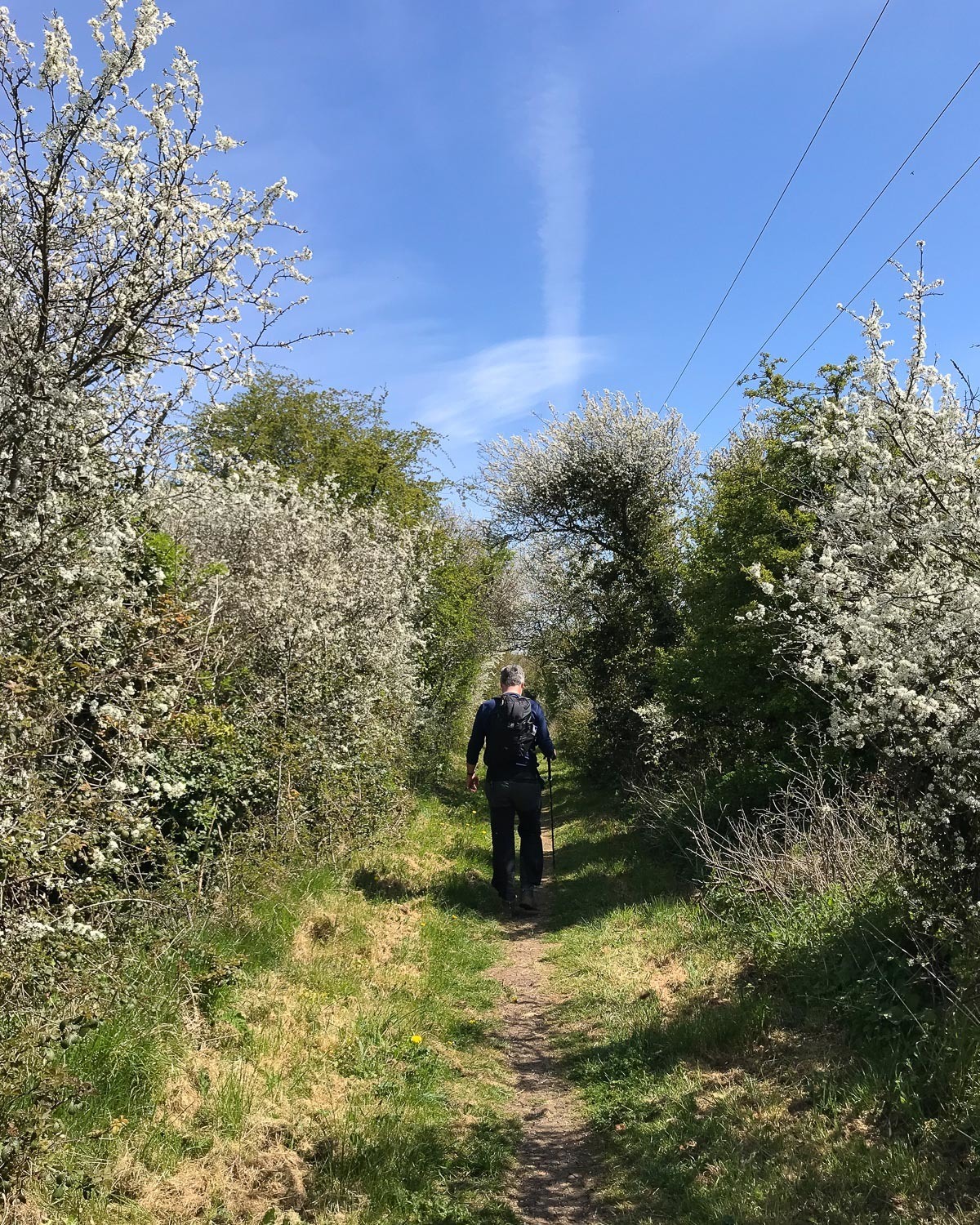 Day 2 – Highlights
Pretty Dyrham Wood between Pennsylvania and Dyrham Park. As we were walking in early May the path meandered gently downhill through swathes of bluebells and wild garlic, opening up to views over the countryside.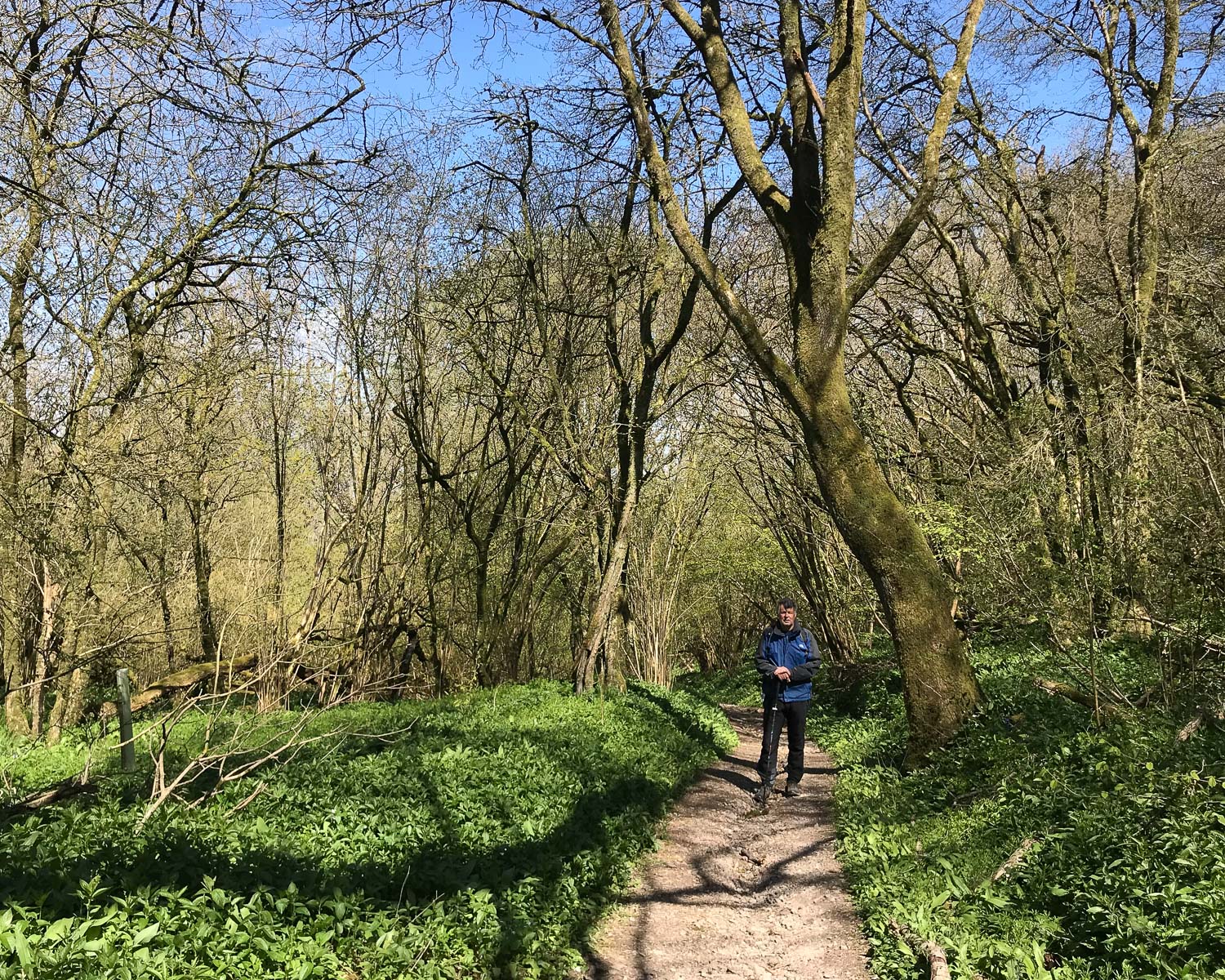 Dyrham Park – the Cotswold Way passes behind Dyrham Park (National Trust) and although we didn't go in, there's a nice view of the back of Dyrham House and formal gardens through the wrought iron gates.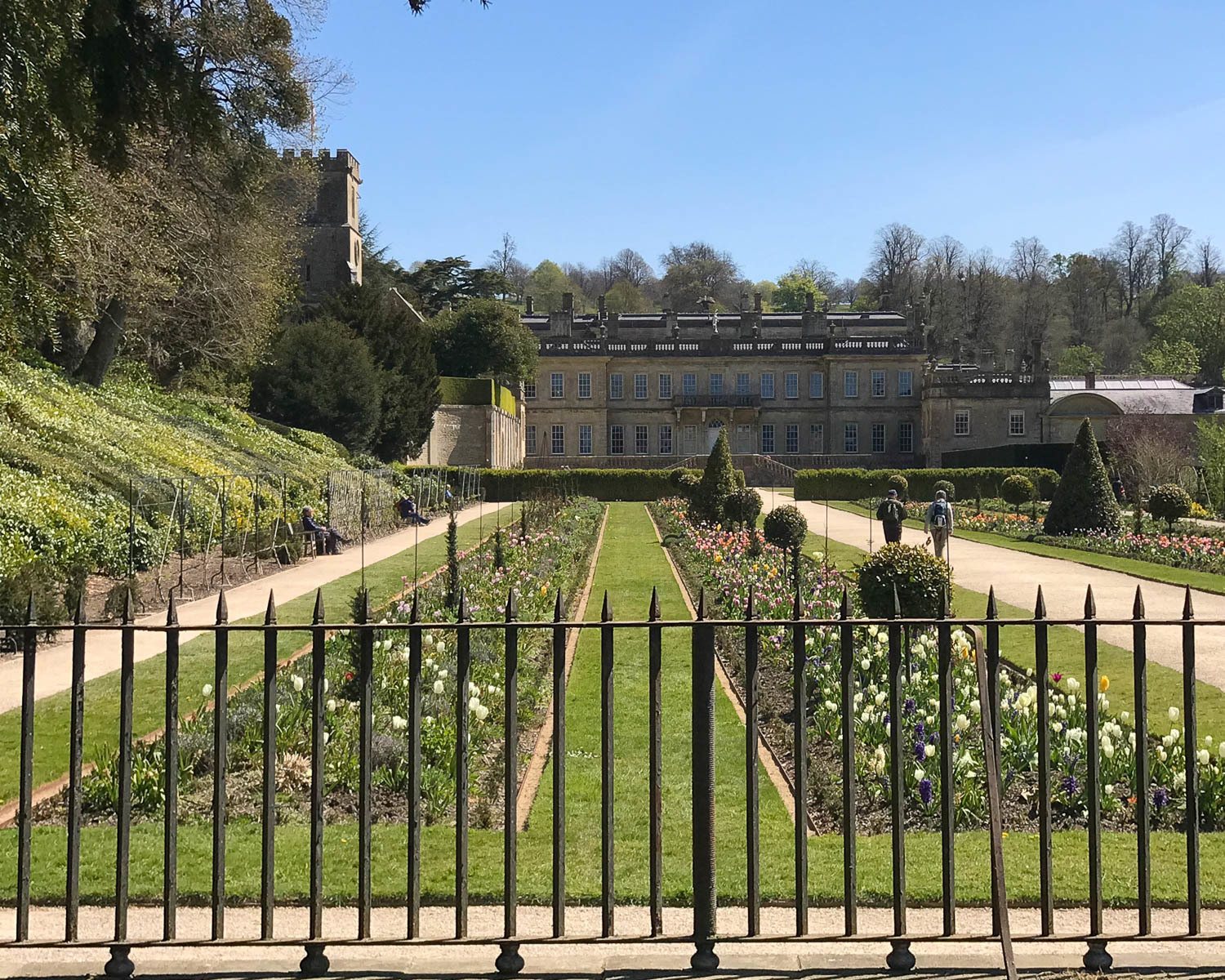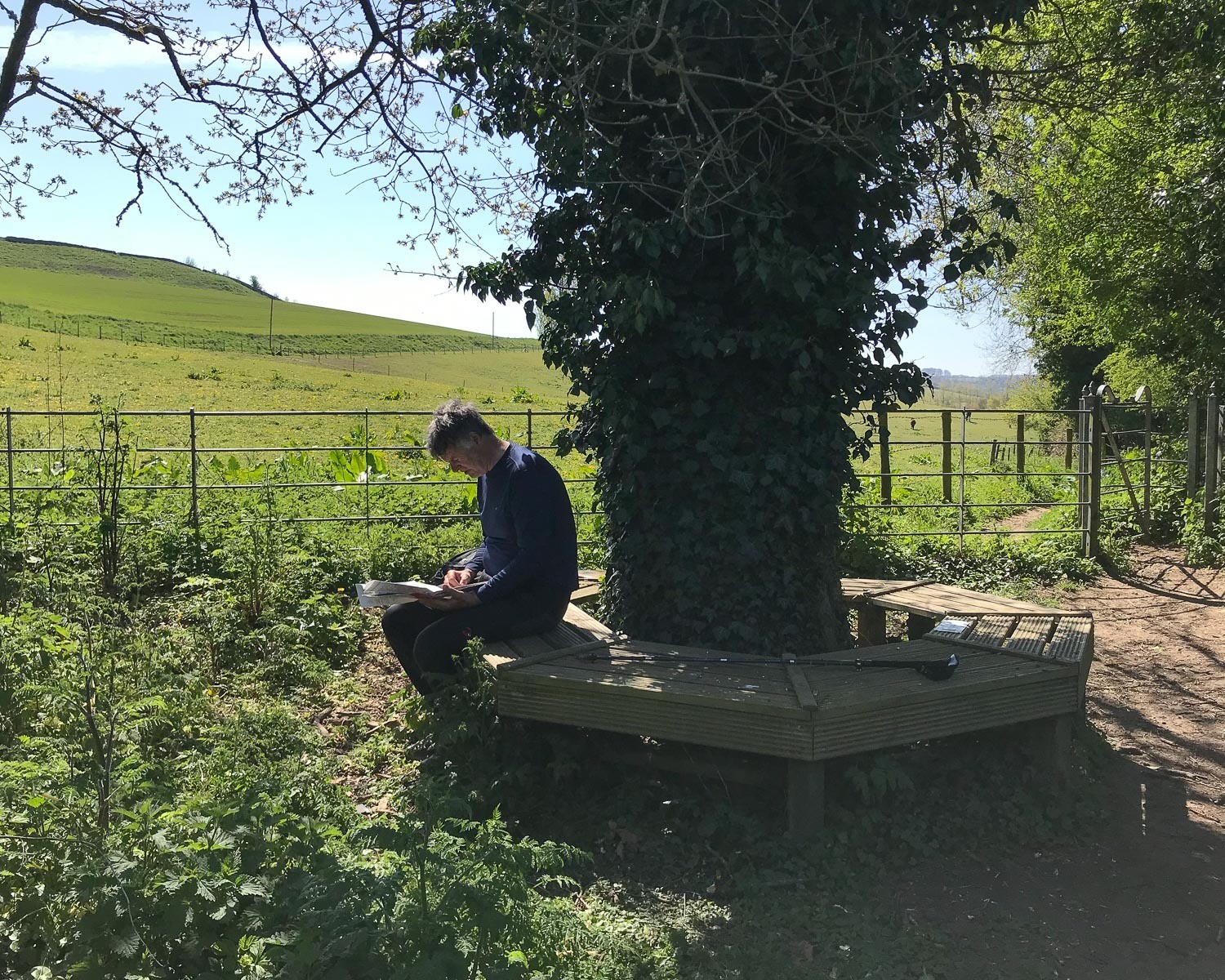 The village pond at Tormarton – the village of Tormarton is a great place to stop for lunch, full of pretty houses and a couple of pubs. It's surprisingly quiet despite being so close to the M4 motorway. We had our picnic on the benches overlooking the Lady Altrincham Tormarton village pond, a tranquil wildlife haven for ducks and birds.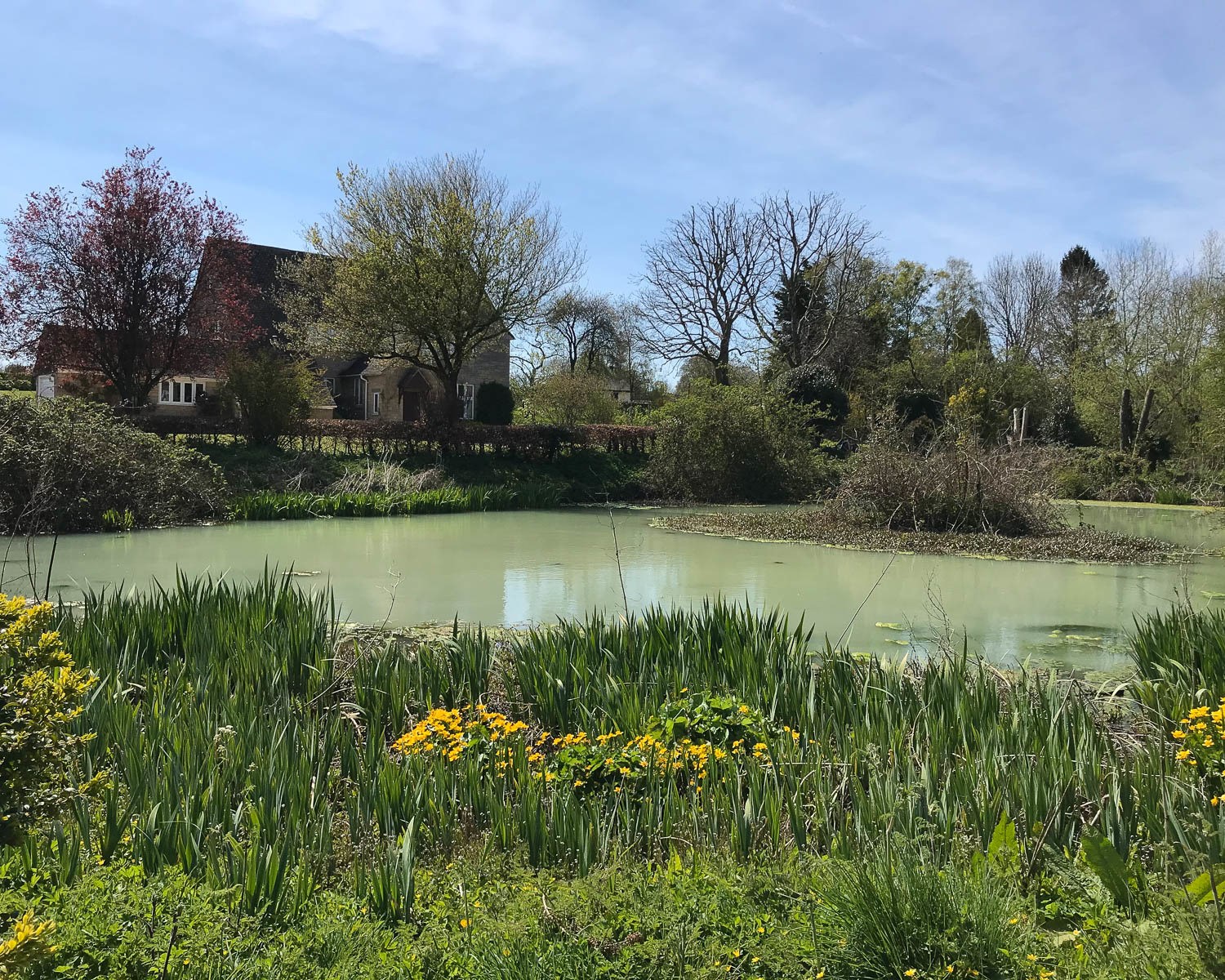 Dodington Park – the walk through this park gave us a glimpse of the well managed estate of businessman James Dyson, with rolling pasture, trickling streams and herds of sheep grazing. Unfortunately the trees hide any view of the Grade 1 listed main house and there are ample notices to deter you from straying off the footpath.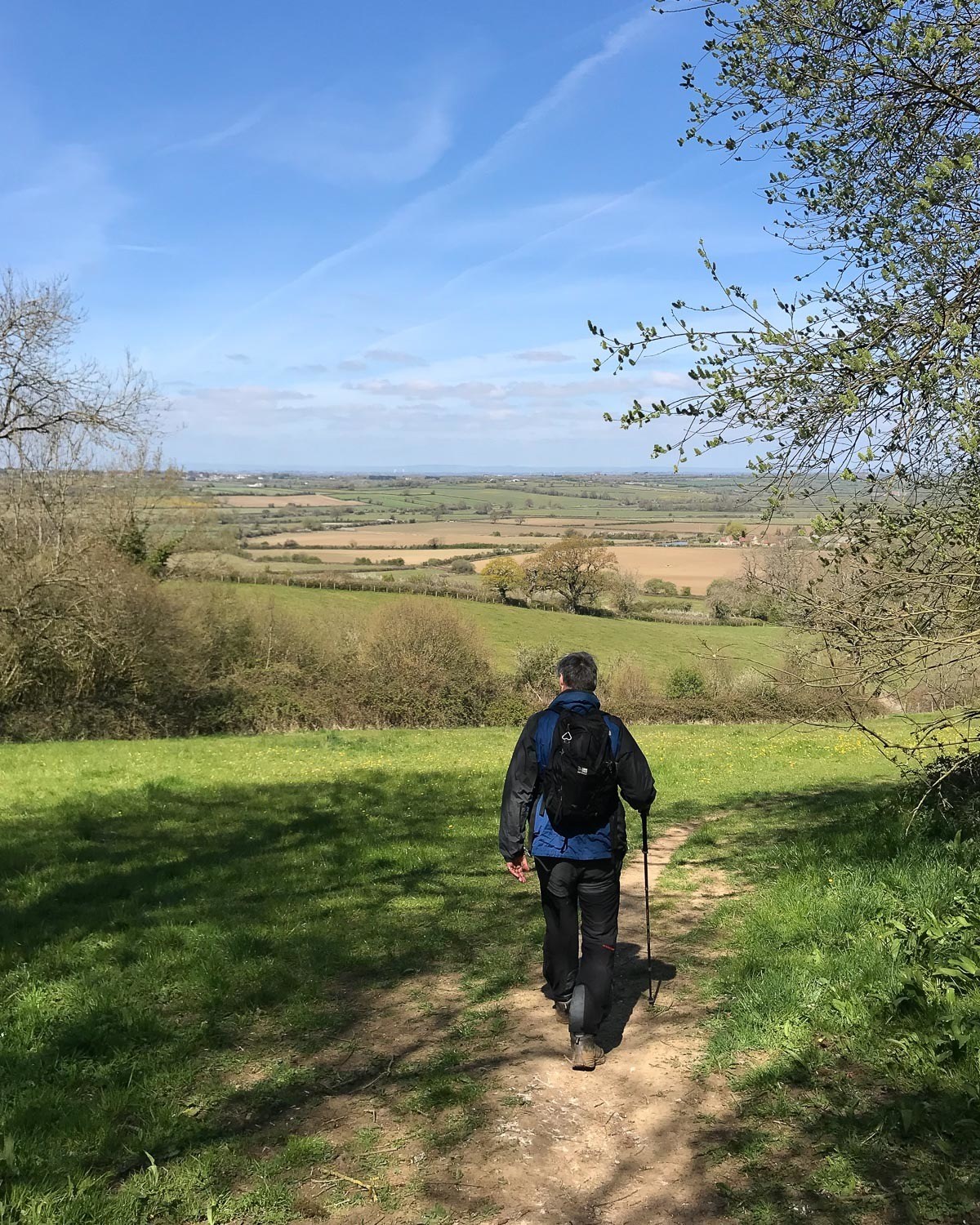 Extra places to visit – Dyrham Park
You'll pass Dyrham Park on this day's walking, which is run by the National Trust and worth a visit. There's no access from the Cotswold Way path which is at the back of the house, so you'll need to make your way to the main entrance at the front. The Baroque style house sits within a valley and there's a pretty church to one side, surrounded by formal gardens and parkland. The house starred in the film Remains of the Day and inside you can see art and 17th century Delft porcelain and well as the Victorian kitchens.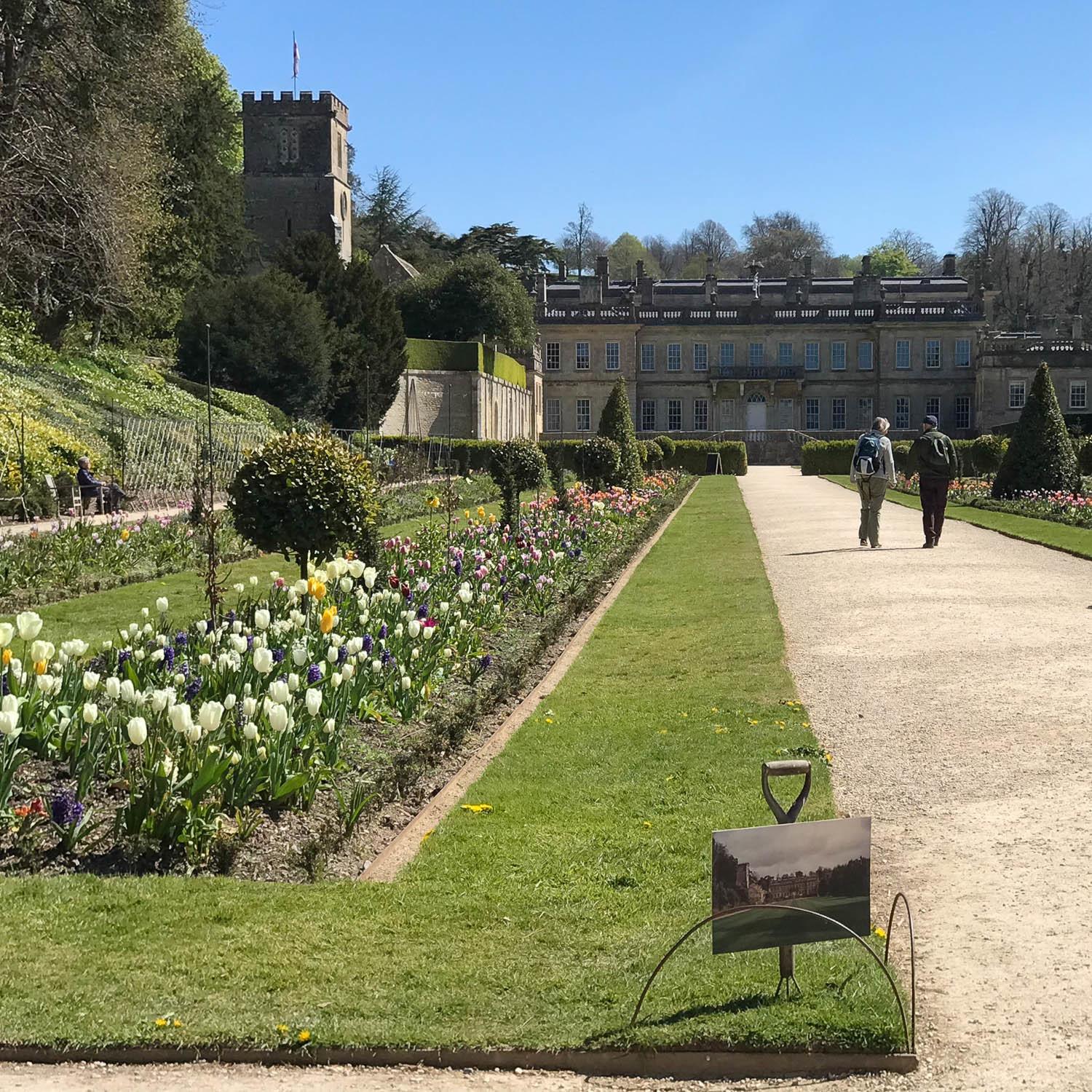 Day 2 – Facilities and shops
There are no shops at the start of the walk in Cold Aston, but soon after leaving the village you pass the garage at Pennsylvania which is probably the best place to stock up on any snacks you need. At Tolldown you can make a short detour from the Cotswold Way if you want to visit the Marshfield Bakery and Fine Cheese Company next door. At the end of the walk there's a service station on the main road as you enter Old Sodbury.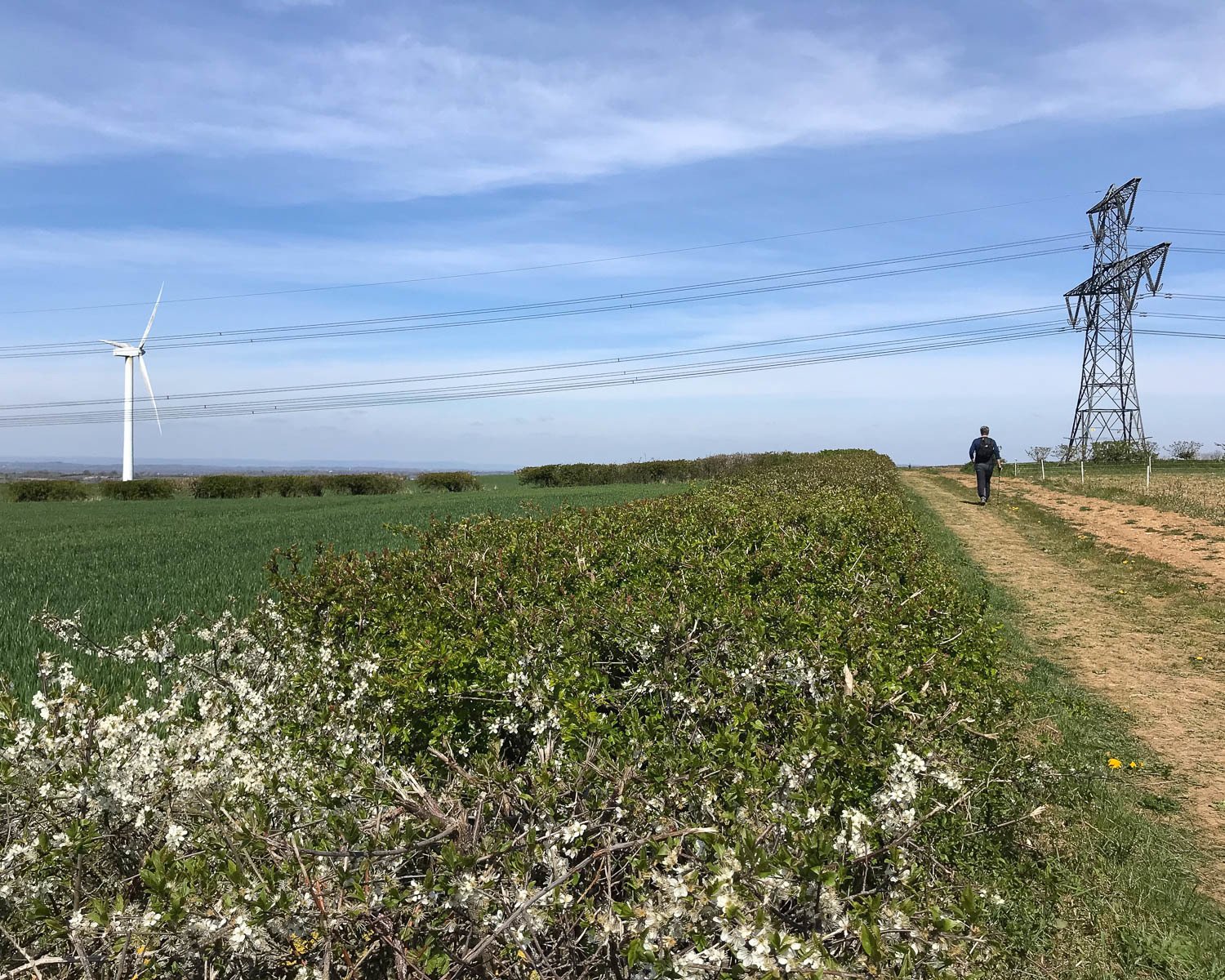 If you haven't brought a picnic and are not impressed by what's available at the garage shop, your best bet is a pub lunch at Tormarton. In Cold Ashton there's a cafe at Folly End Farm, a couple of pubs at Tormarton and The Dog Inn pub at Old Sodbury. The best place for a lunch stop is around Tormarton, where there's a pleasant village pond with benches for a picnic or food available in the pubs (but check first as they may not do lunch every day). The only toilets are in the pubs you pass.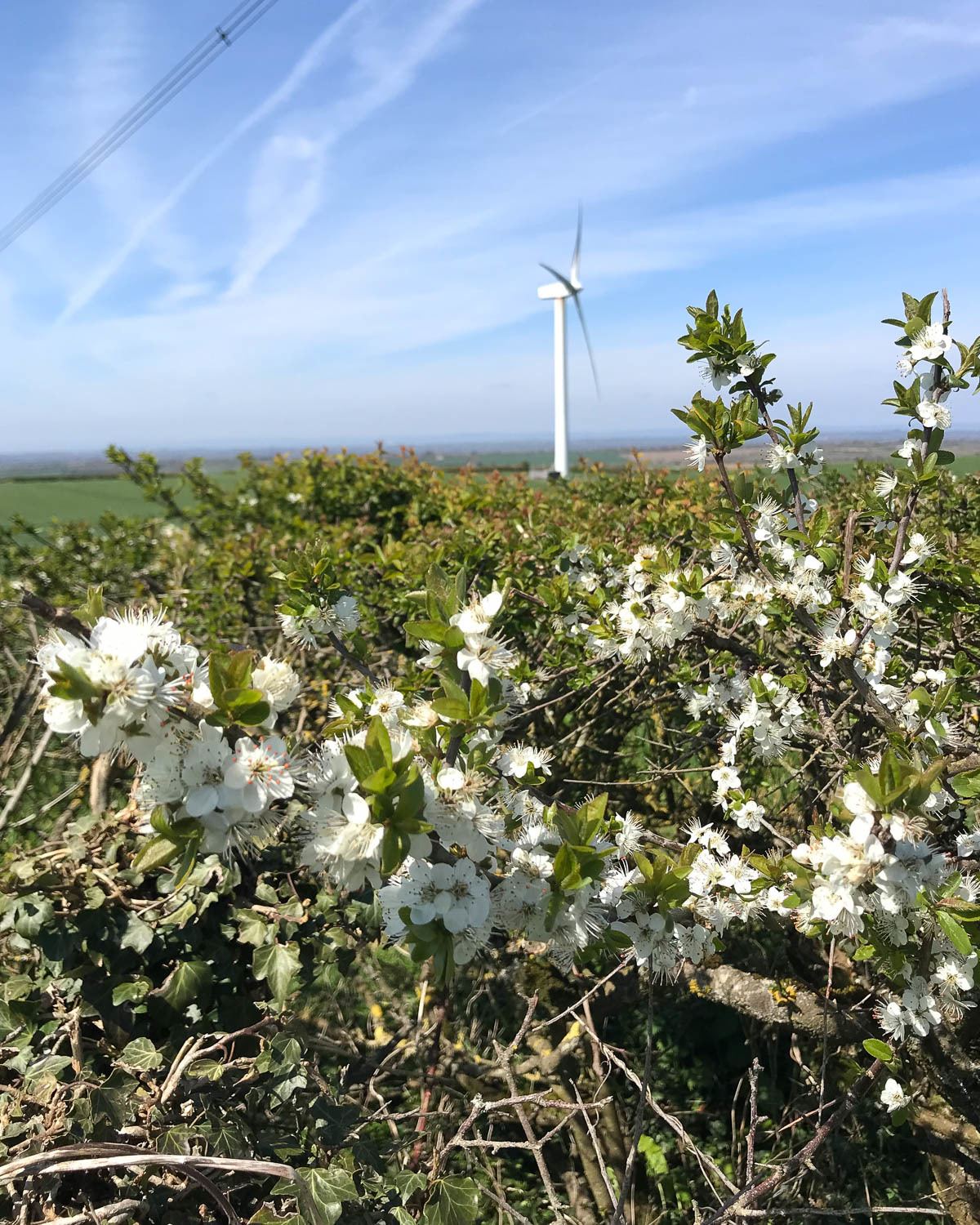 Parking in Cold Aston and Old Sodbury
In Cold Aston at the start of our walk we parked in the Village Hall car park which is free and open all day but locked after 11pm. At Old Sodbury, there is plenty of unrestricted street parking on the road that leads up to the school and church.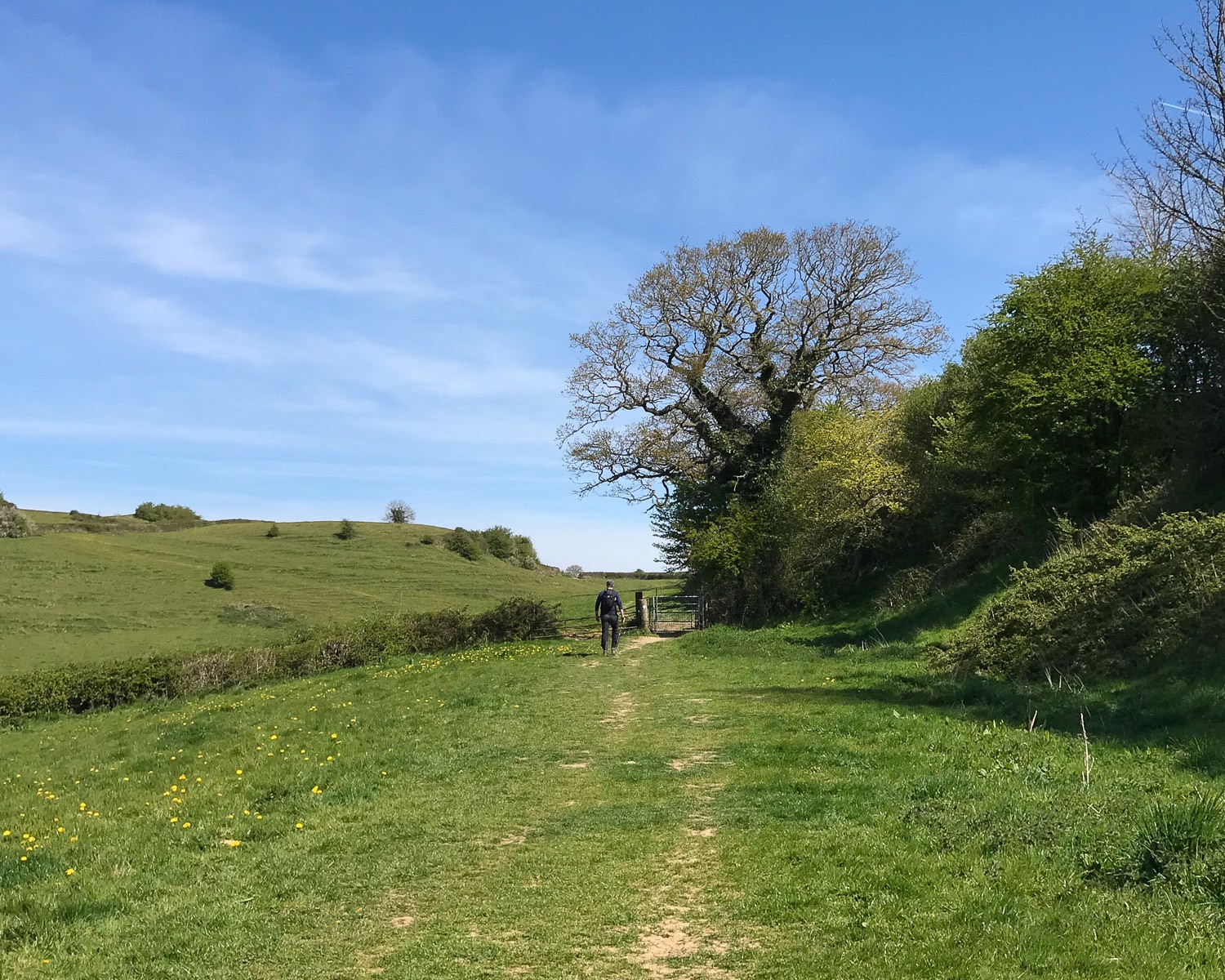 Where to stay in Old Sodbury
If you are walking continuously, the best place to stay in Old Sodbury is the Dog Inn (right on the trail) or Cross Hands Hotel ( a short walk from the trail). B&B accommodation in or around Old Sodbury includes Rock Cottage and Sodbury House. If you enjoy camping, continue to Little Sodbury where Cotswold Meadow Camping have ready erected tents and a shepherd's hut as well as normal camping pitches.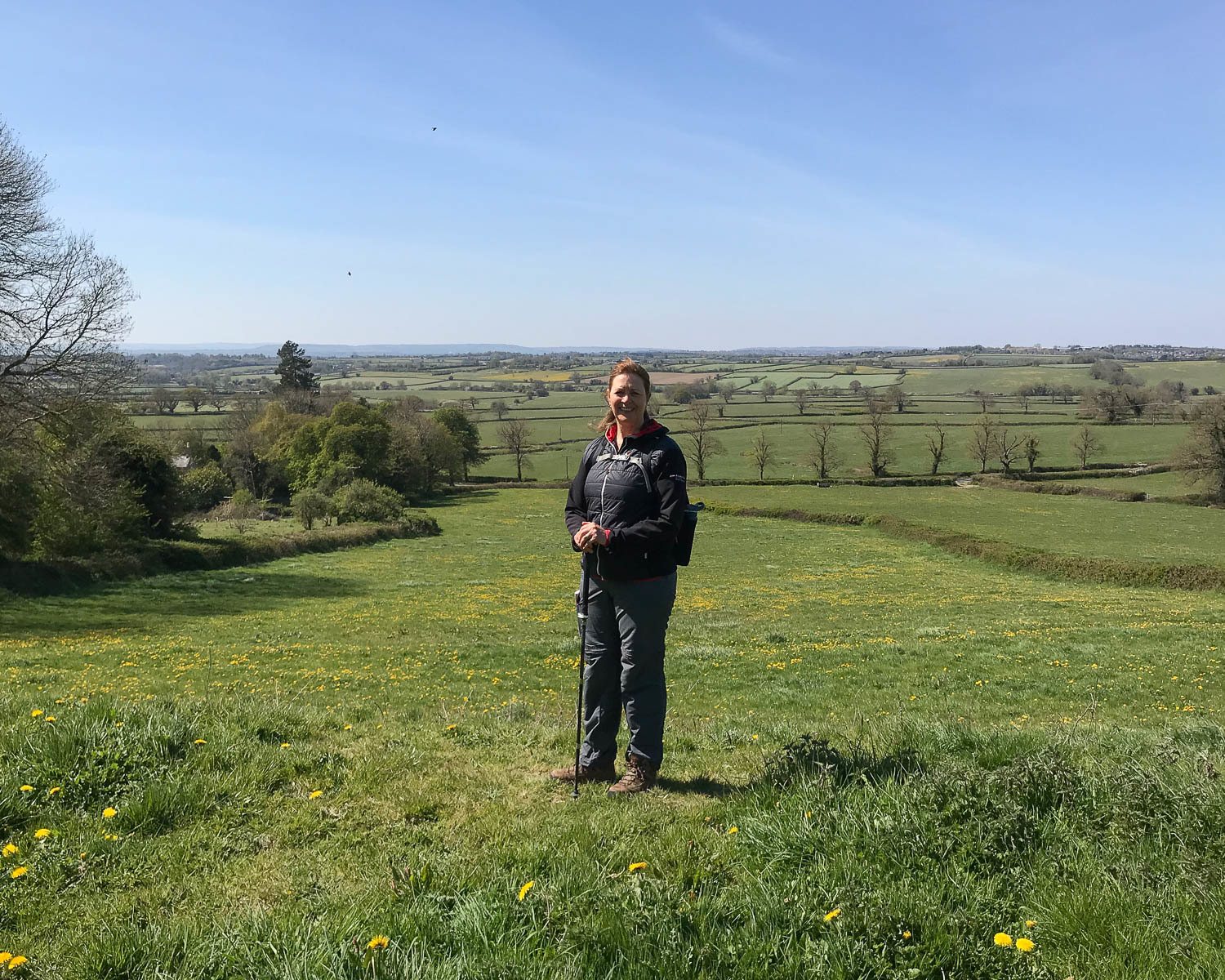 Day 2 – Distance and timing
This stage of the Cotswold Way from Cold Aston to Old Sodbury is around 13.7 km / 8 1/2 miles and the guidebook estimated 4 3/4 hours. It actually took us 4 1/4 hours including a 30 minute lunch break and a few photos stops, so a little shorter than we expected.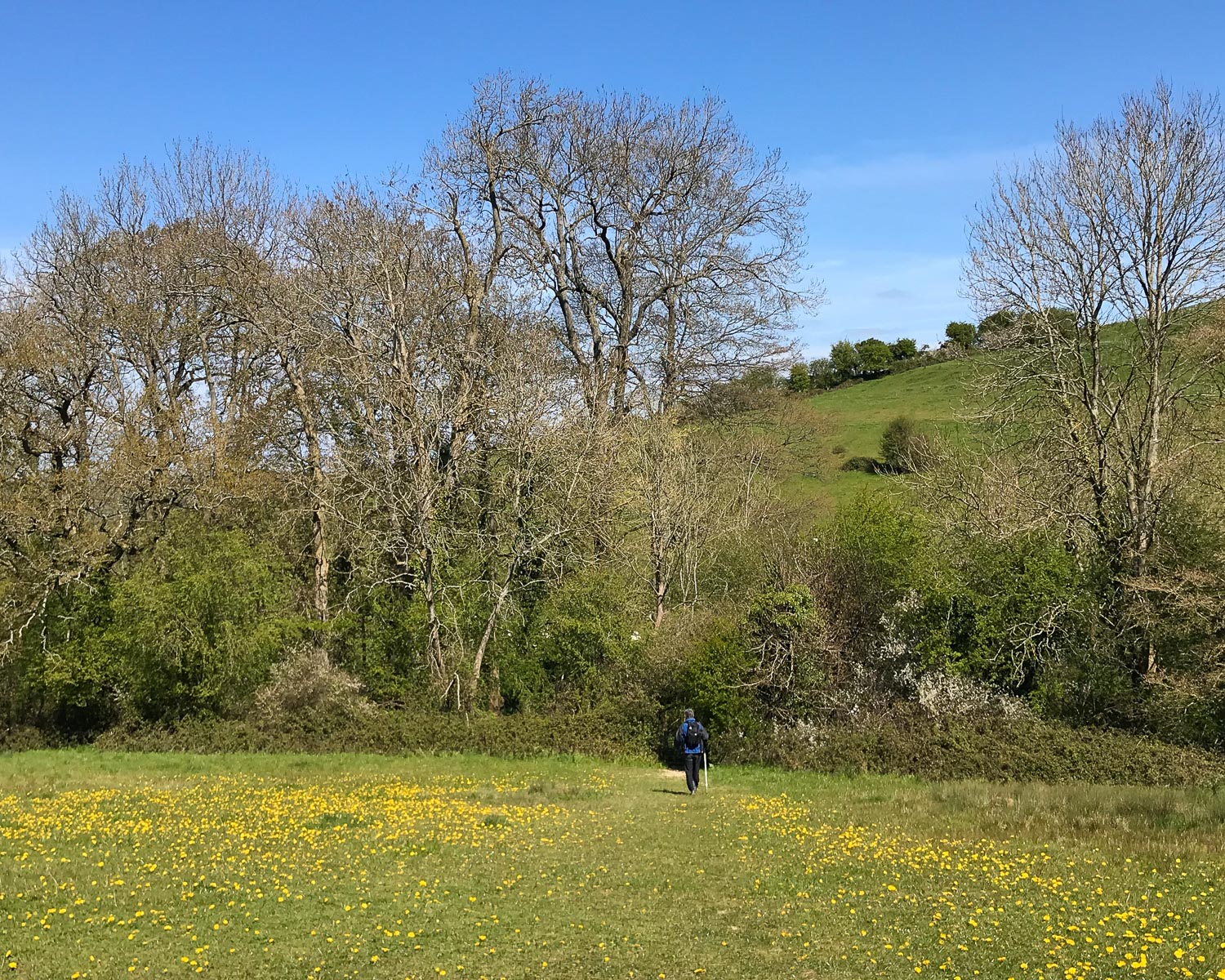 Cotswold Way Day 3 – Little Sodbury to Wotton-under-edge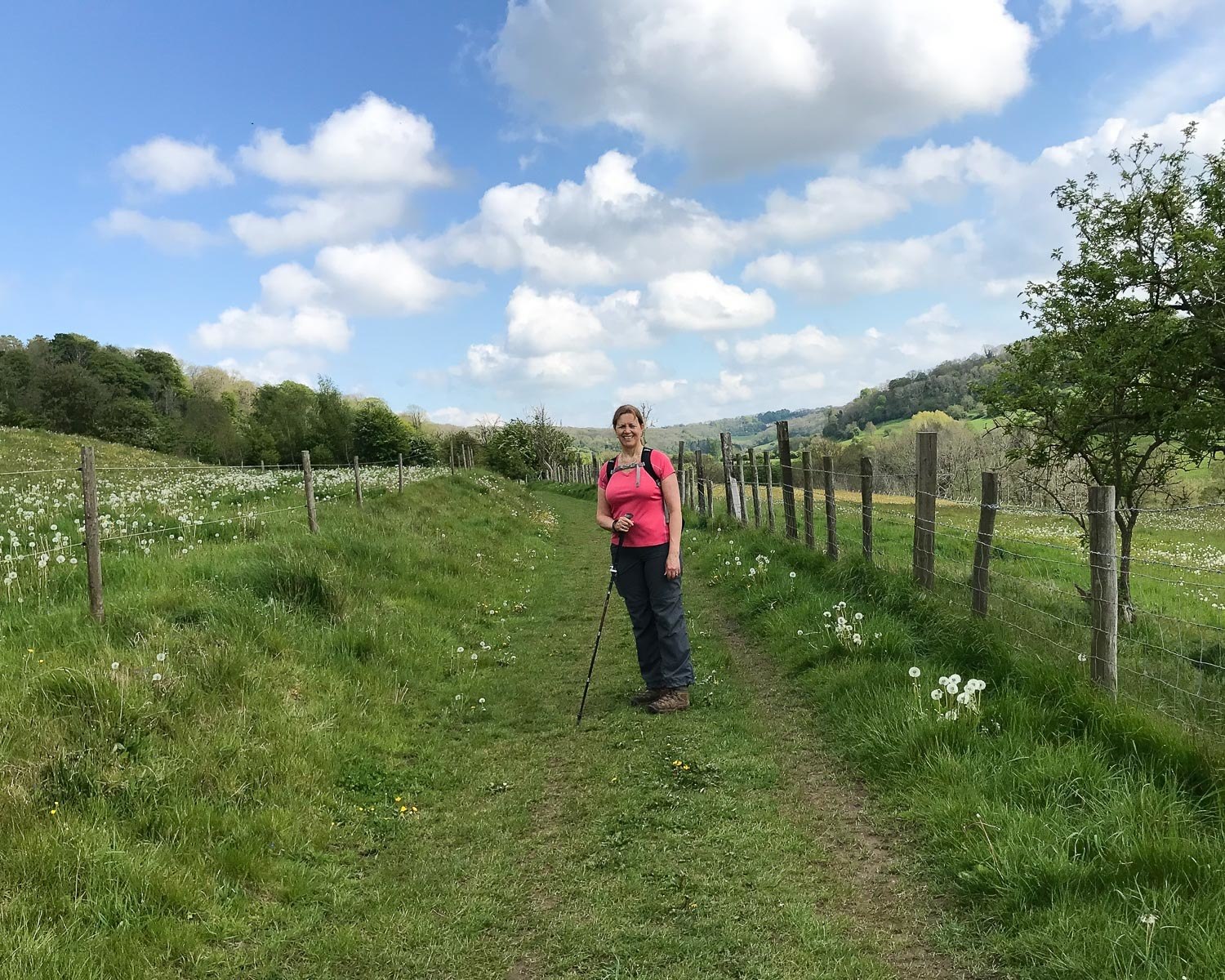 Overview of Day 3 – Old Sodbury to Wotton-under-edge
This section offers a pleasant day's walk through a gently rolling landscape of fields, beech woodlands and historic villages. The main attraction is the chance to admire the picturesque mellow stone hamlets and soak up the peace of the Cotswold countryside. The day ends in Wotton-under-edge, an attractive Cotswold town where it's worth taking a bit of time to walk around the village streets and peek into hidden courtyards through gaps between the shops.
Day 3 Walking route: Old Sodbury – Little Sodbury – Horton – Hawkesbury Upton – Lower Kilcott – Alderley – Wortley – Wotton-under-edge.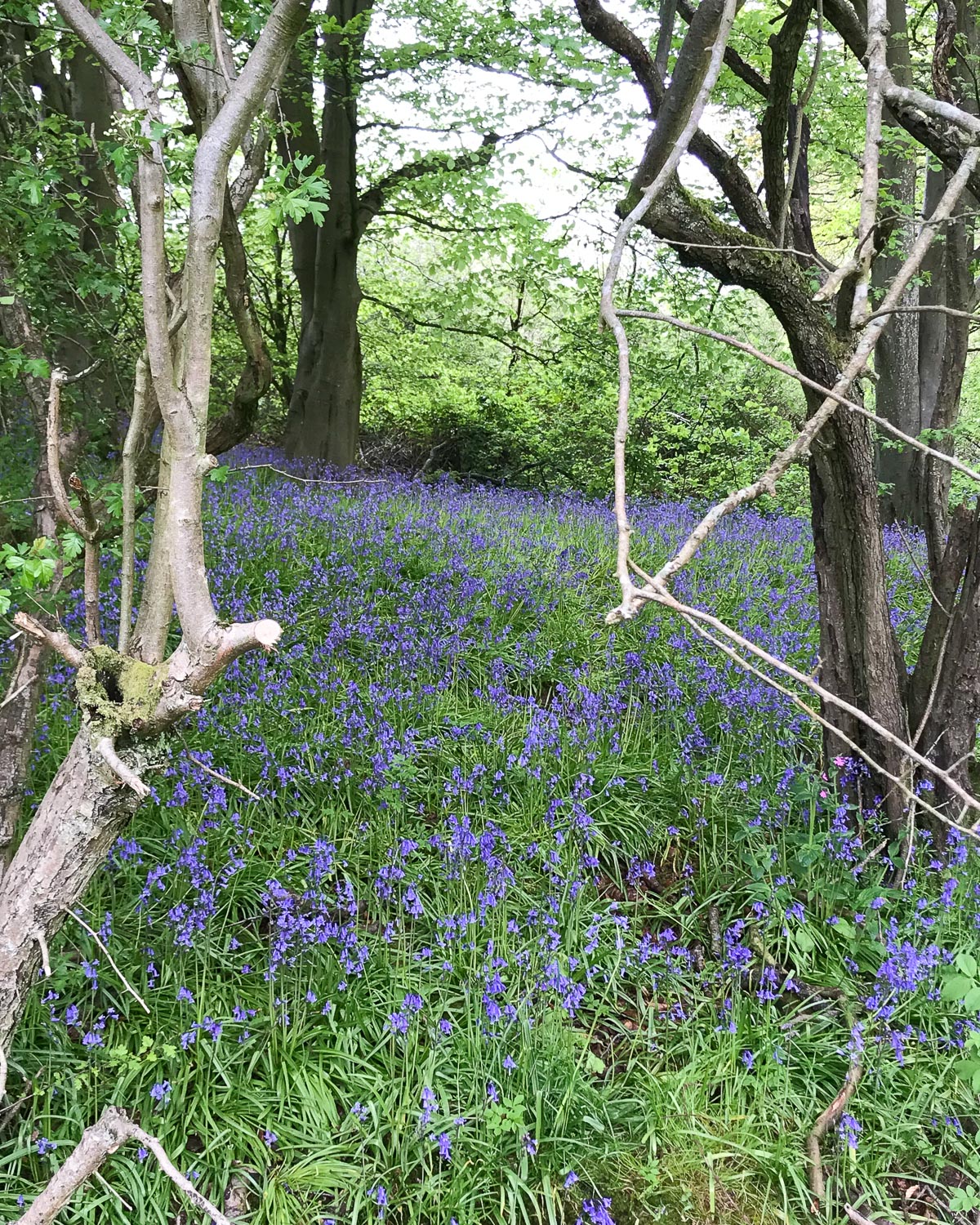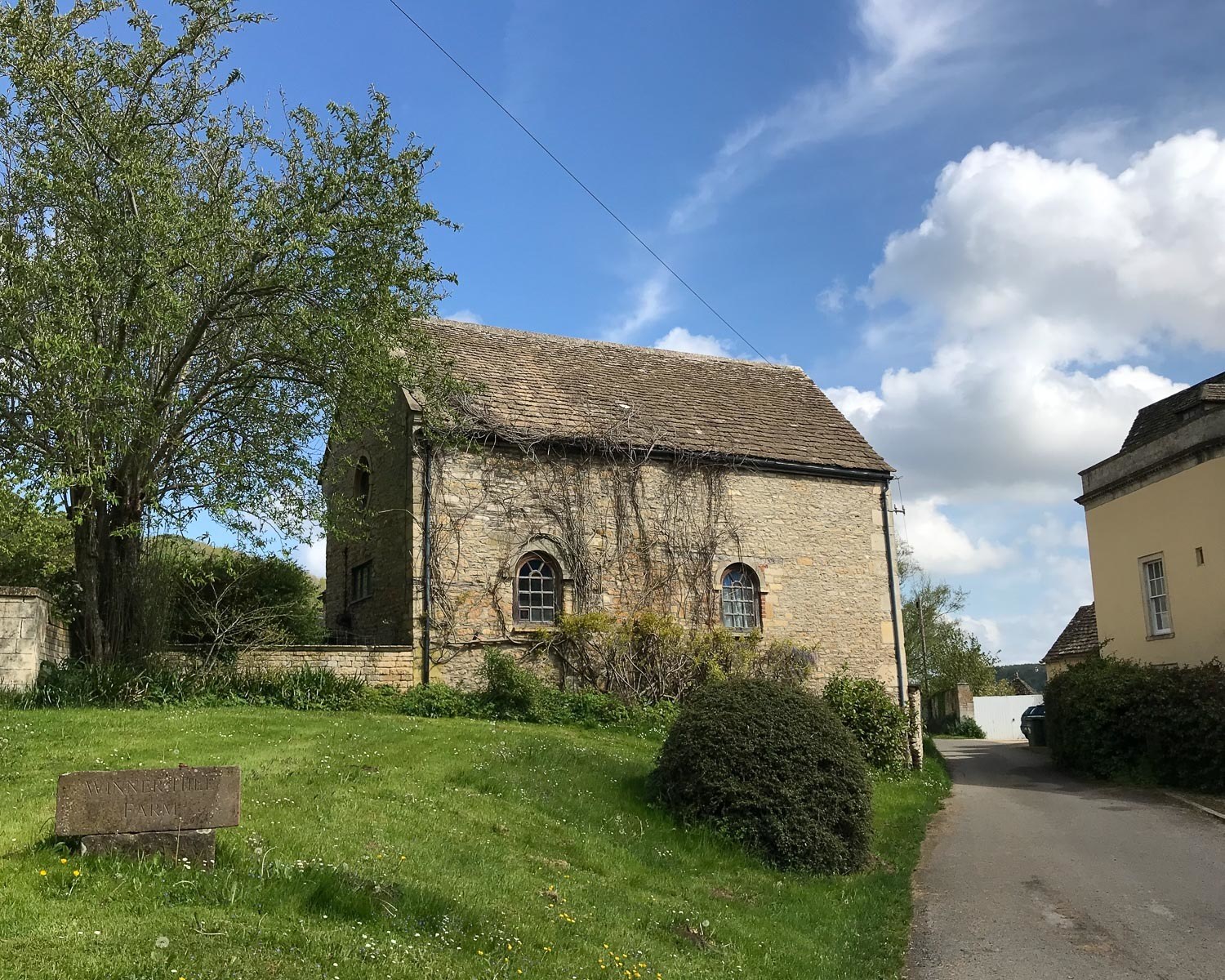 Day 3 – Highlights
Horton Court and St James the Elder – The Cotswold Way runs on high ground above the historic sites of Horton Court with its attractive 12th century church, run by the National Trust. It's only open July – September but if you want to take a look at the exterior, you are probably better to follow the lane directly to it rather than try and scramble down from the path. We could only get a tantalising glimpse through the trees but just a little further there's a bench with a glorious view.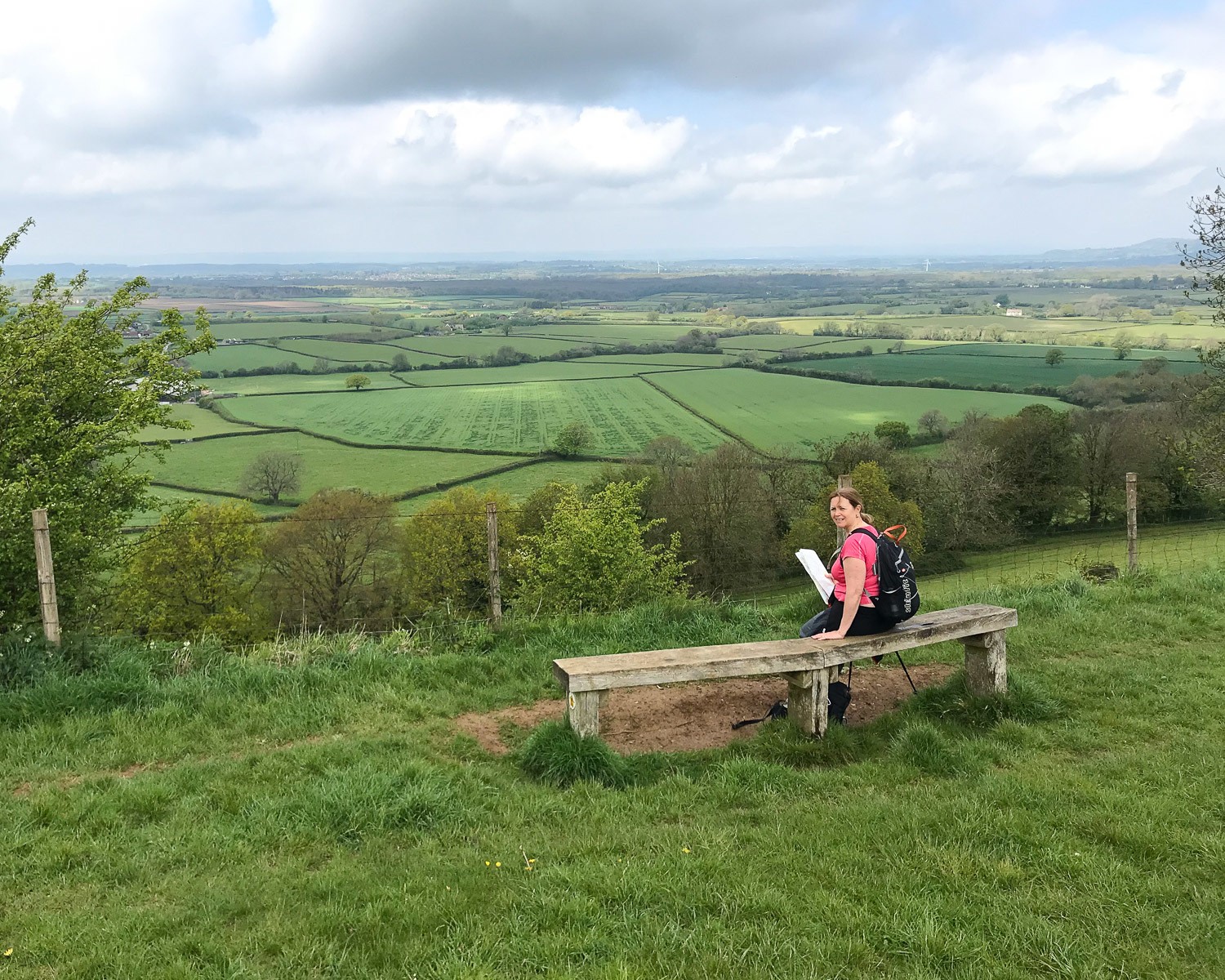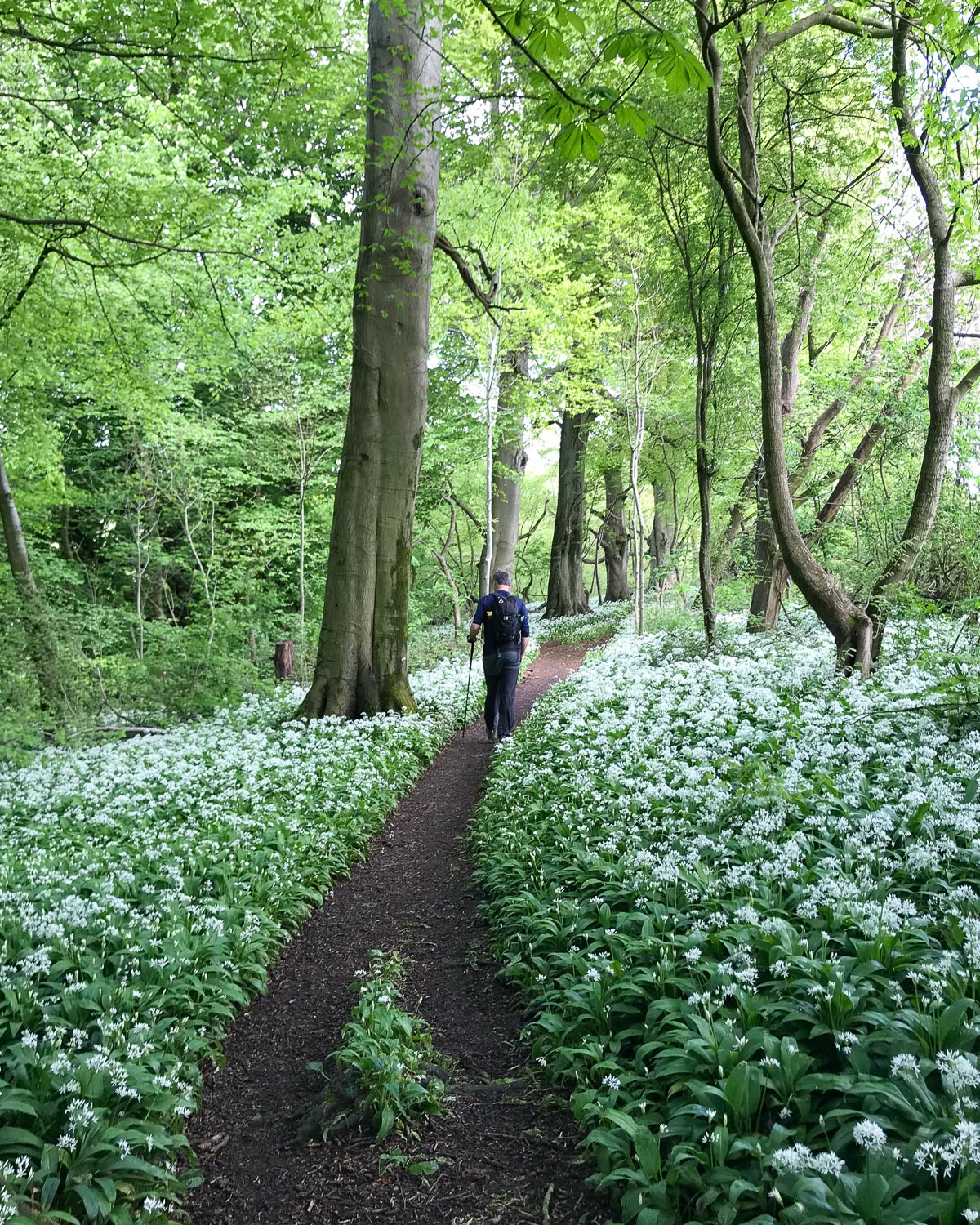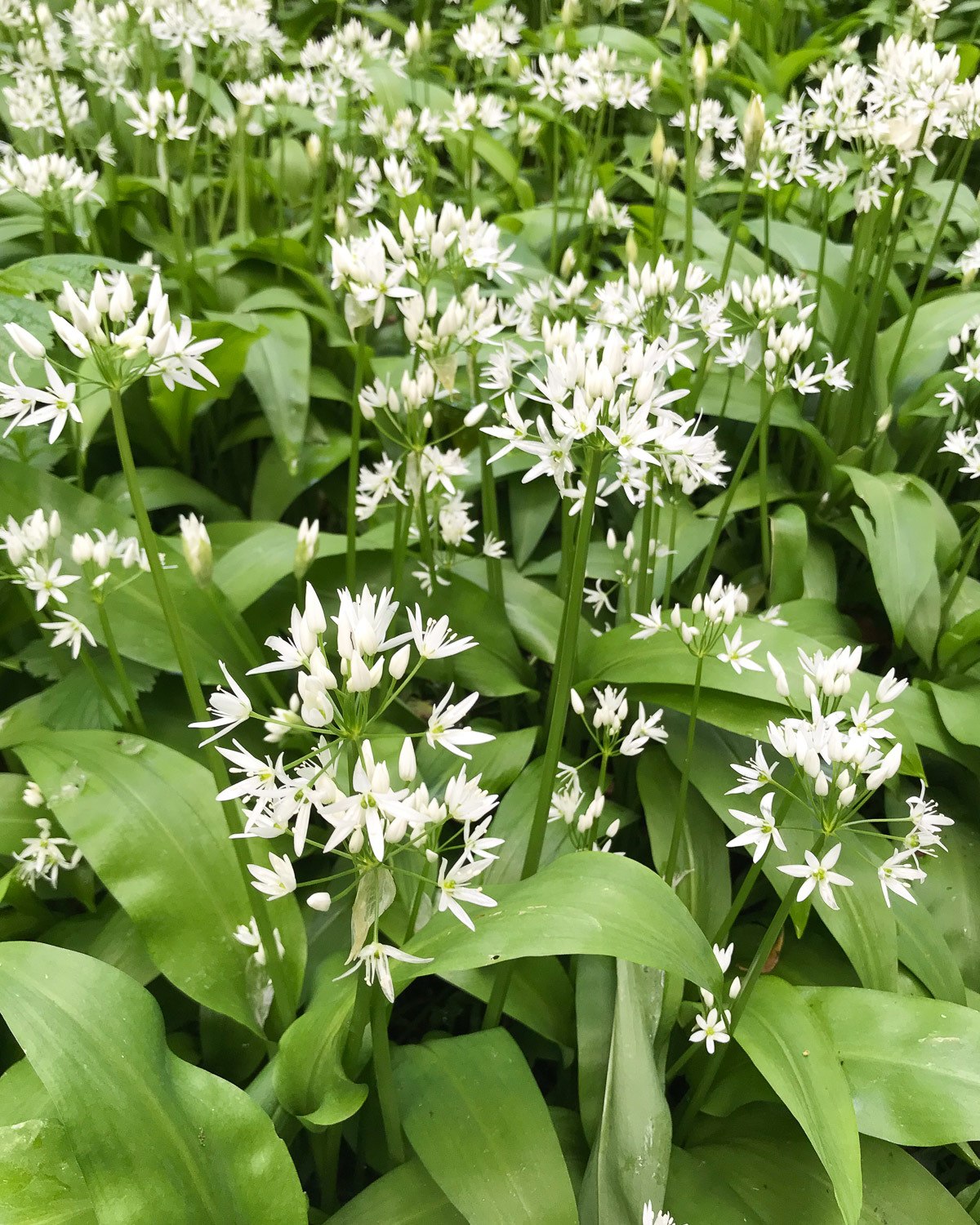 Hawkesbury Upton – This attractive village is well worth a stop, although the path only runs past the reflective Drover's pool, so you have to walk into the main village to find the excellent pubs and village shop.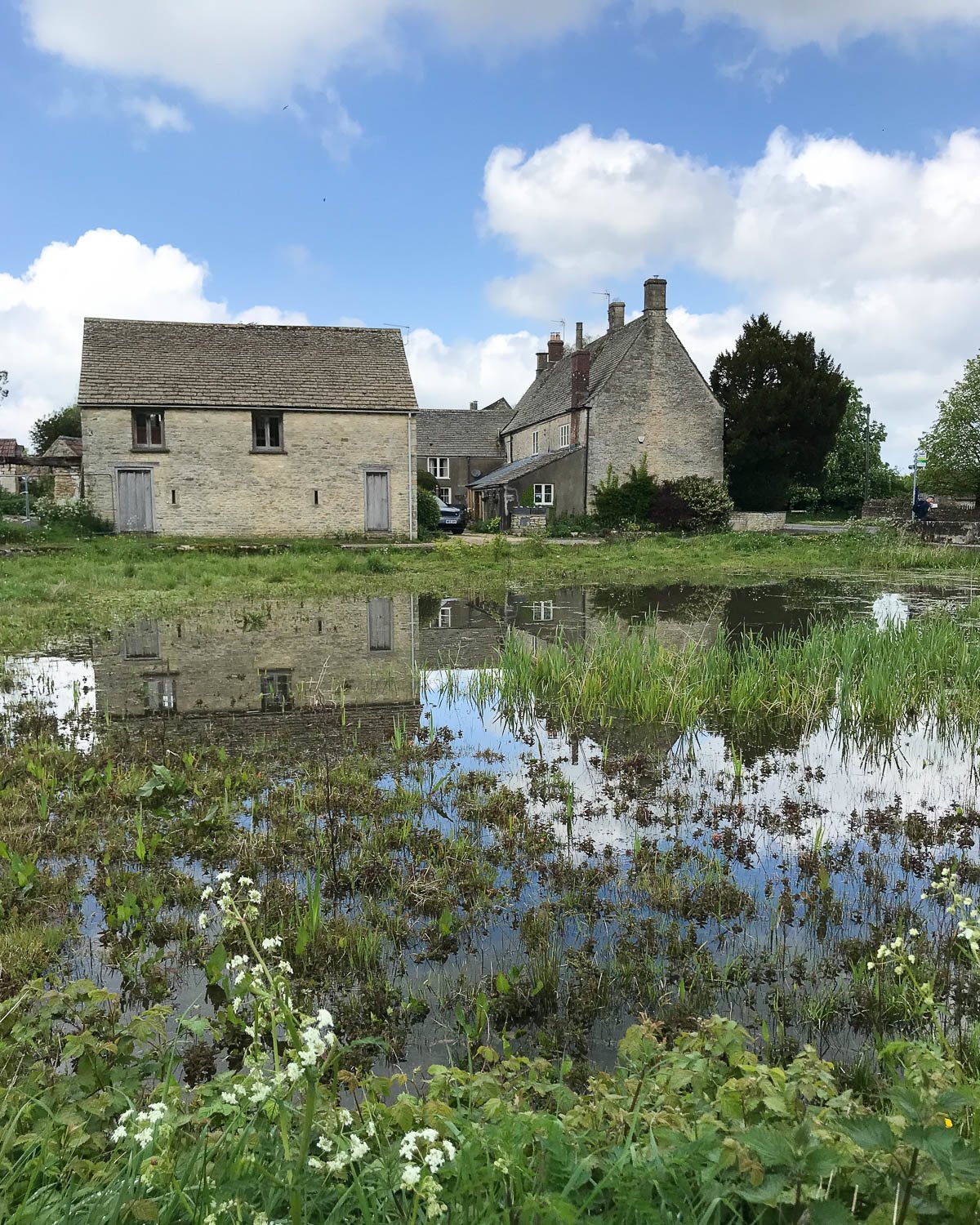 Monument to General Lord Robert Somerset – There didn't seem to be any way to climb this tall monument or even get close to it, but it made an interesting point of reference on the skyline and we had our picnic on the bench nearby. Erected in 1846, the Somerset Monument commemorates General Lord Robert Somerset, son of the Duke of Beaufort, whose family seat is at nearby Badminton, serving as a soldier at Waterloo and was MP for Cirencester.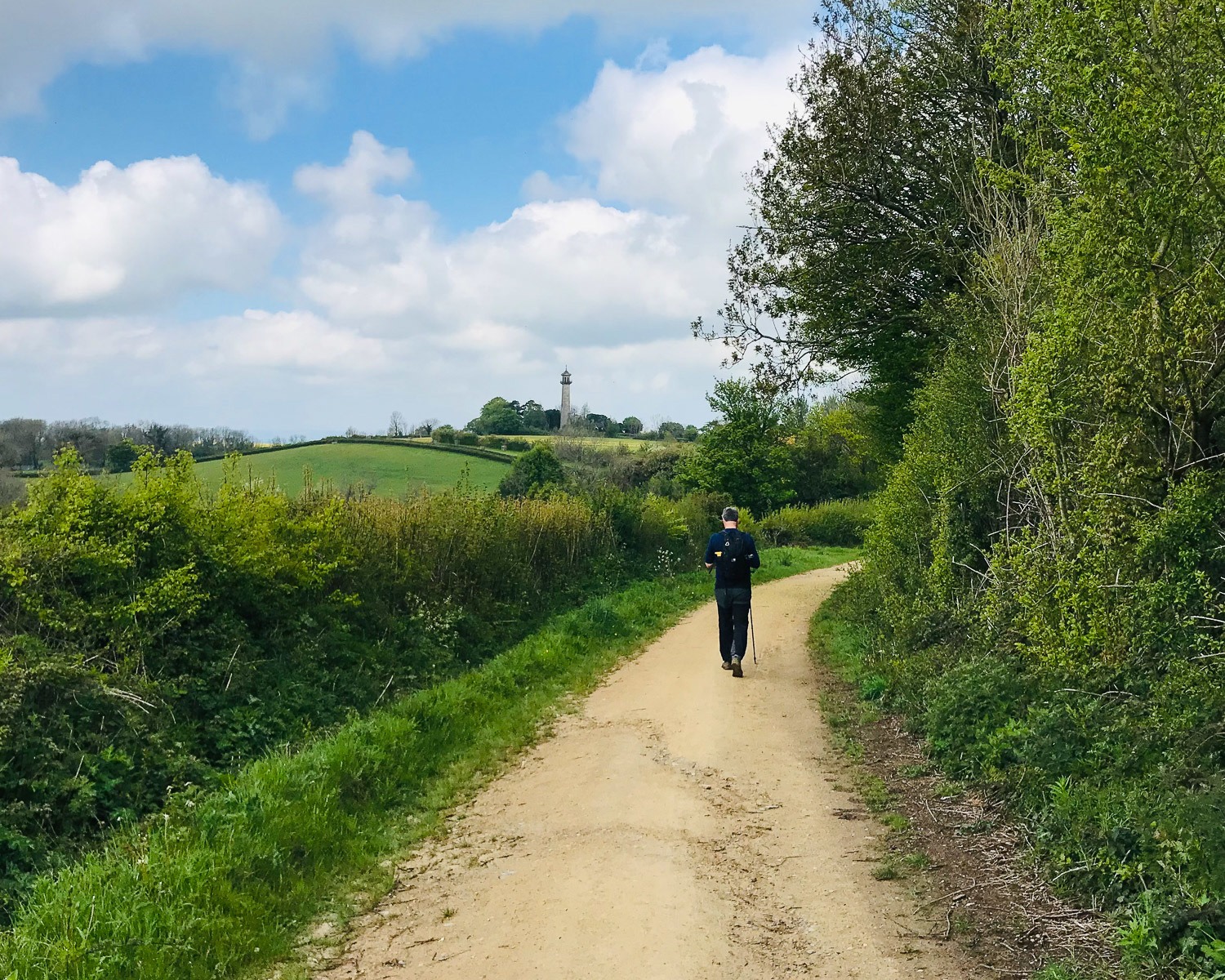 The Drover's trail – in several parts of the walk we were following an old Drovers trail along which livestock were brought to market. These trails often run between steep banks through shaded woodlands, worn down over the centuries and are cool and atmospheric, if a little spooky.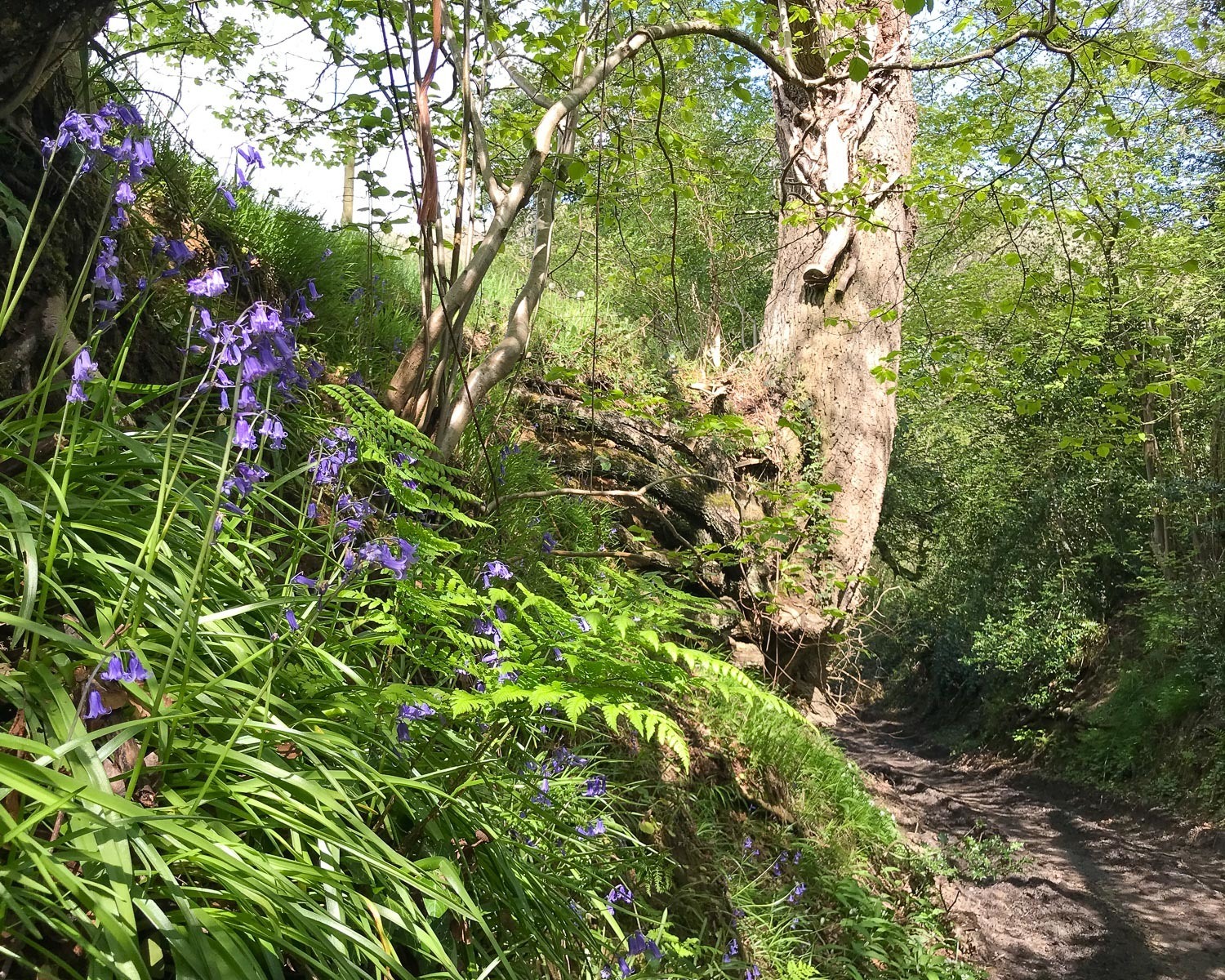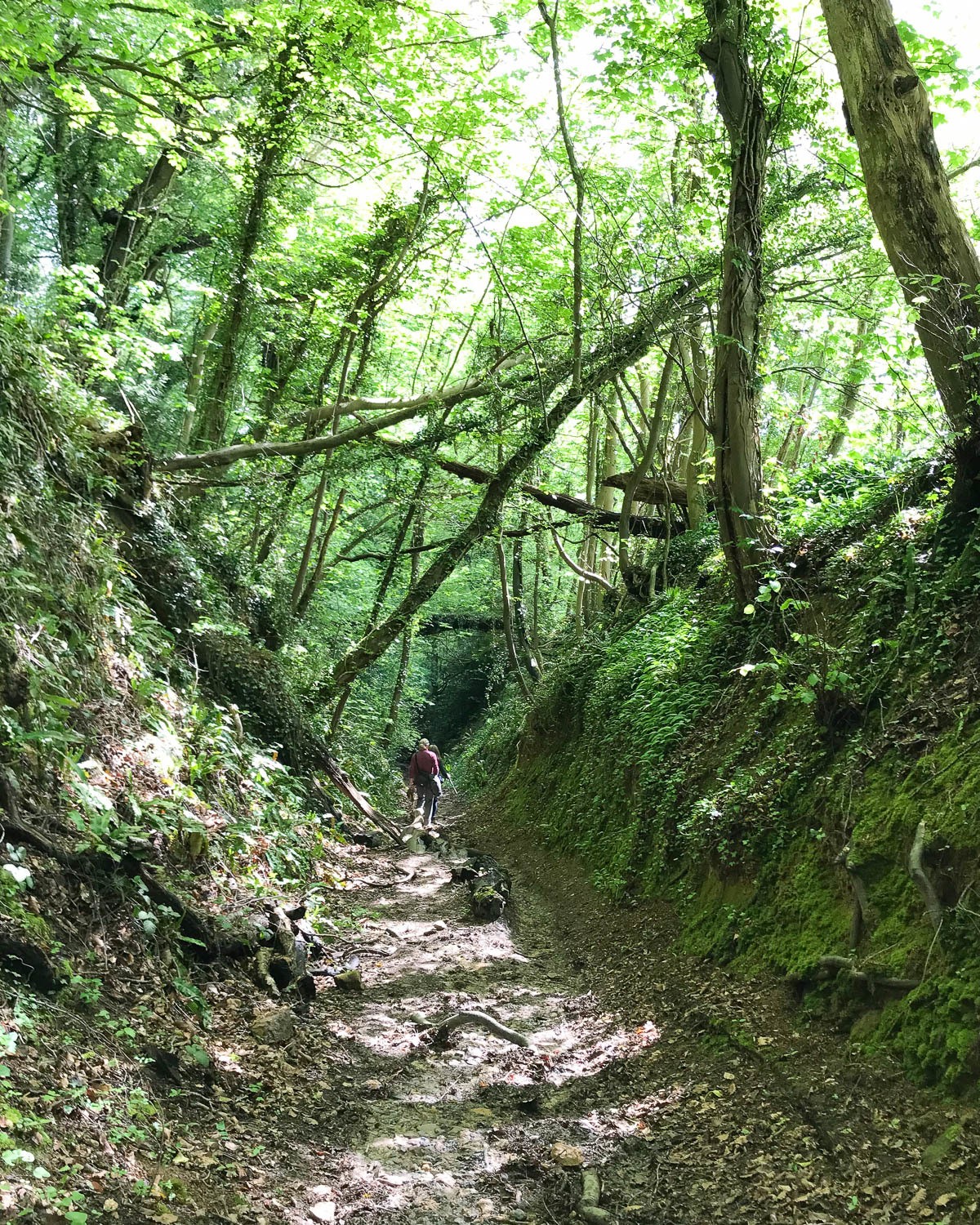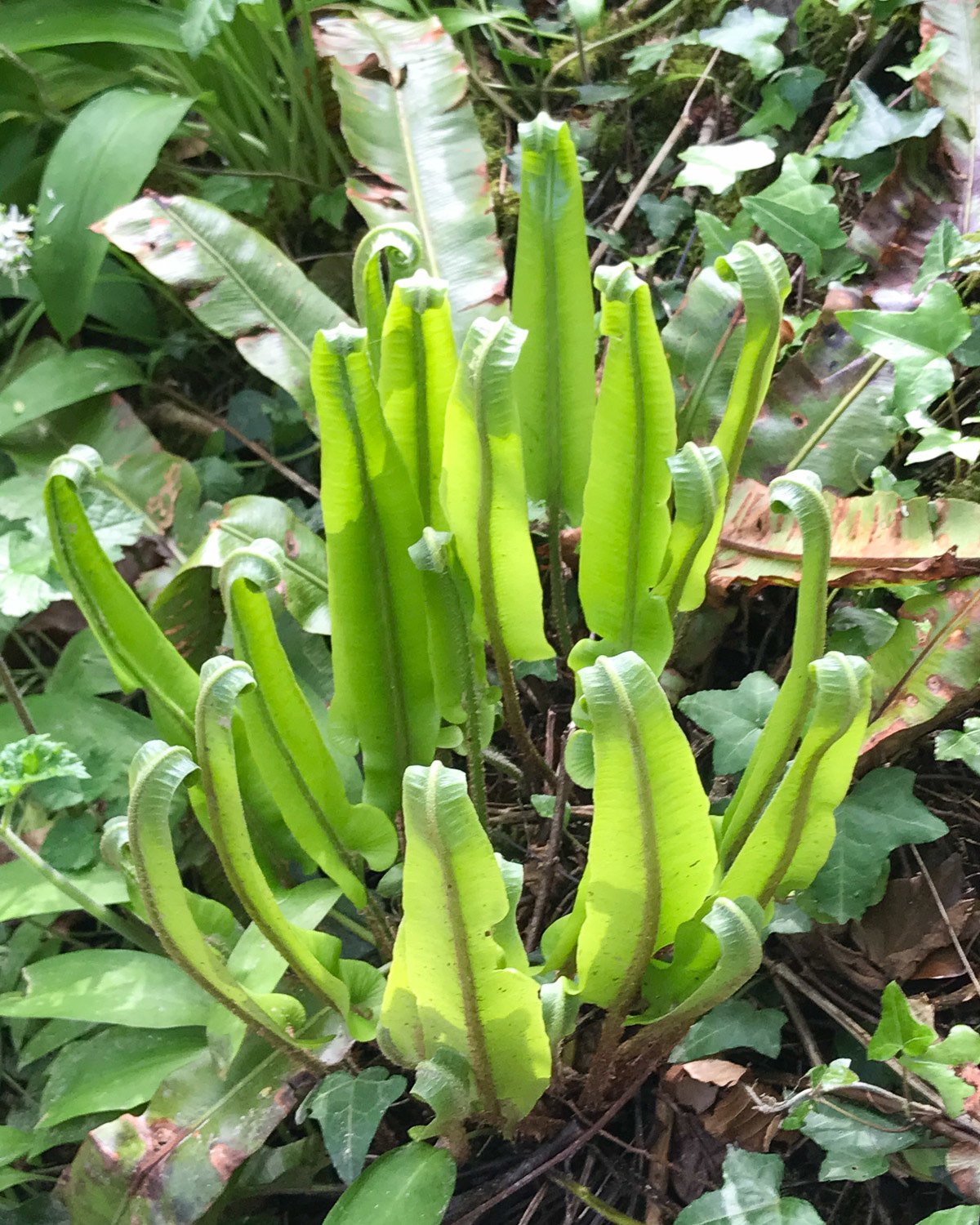 Lower Kilcott – we walked through this pretty hamlet along a shallow chalk stream, in an enclosed valley that felt very far from the madding crowd.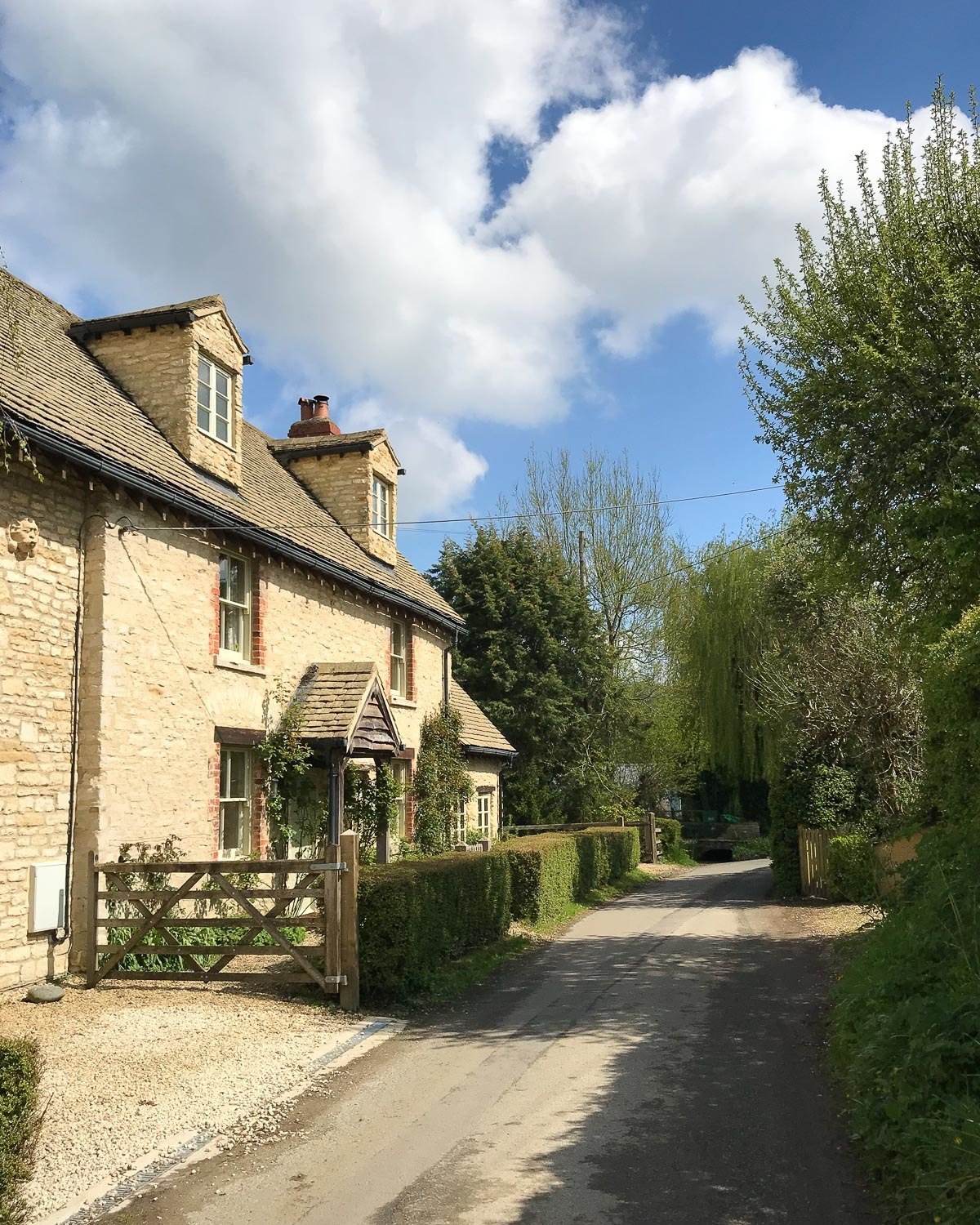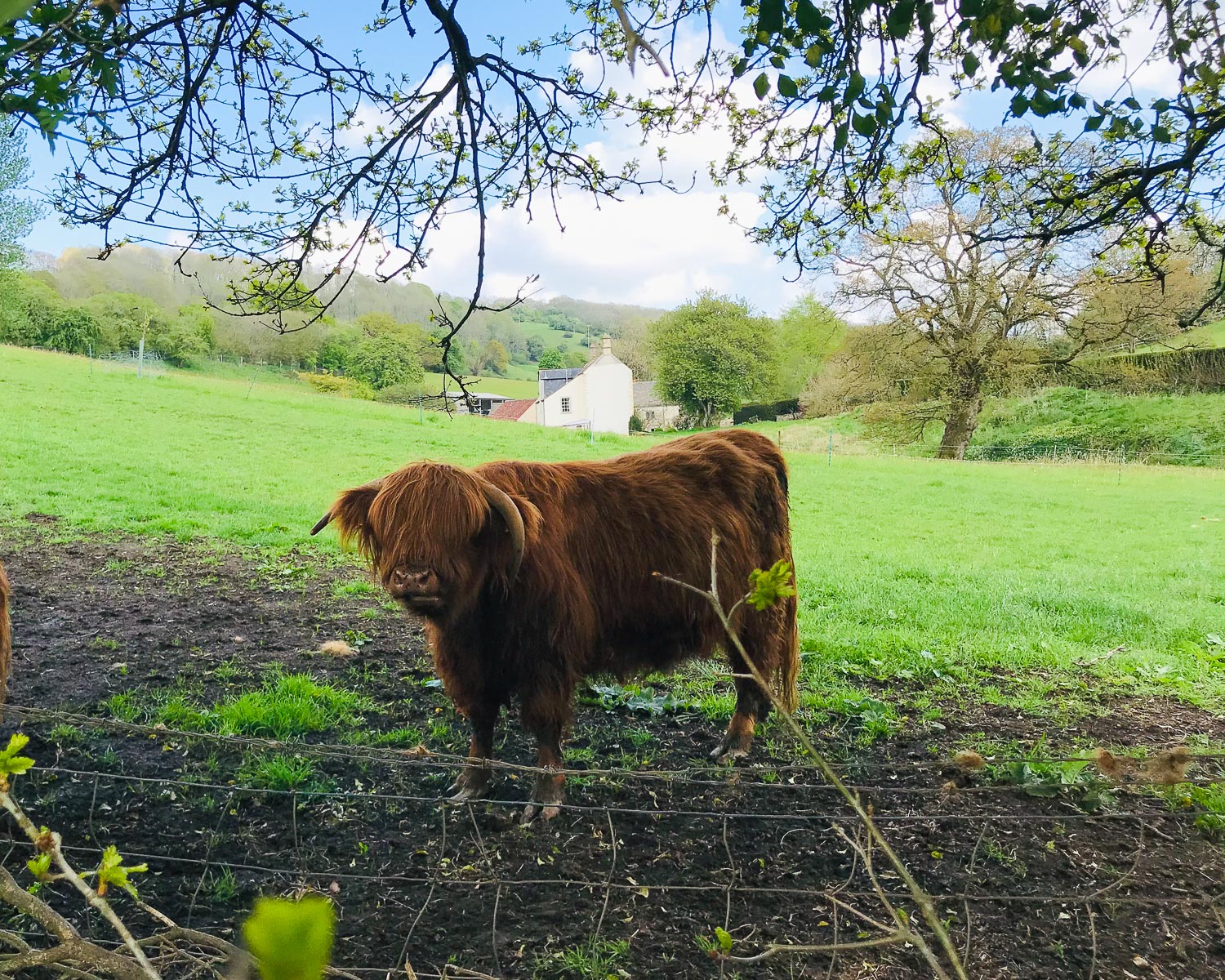 Day 3 – Facilities and Shops
Leaving Old Sodbury, there's a chance to buy some snacks at the garage on the main road, but you'll find a better choice at Hawkesbury Upton which has a village shop, post office and several places to eat. Once you leave Hawkesbury Upton, there's not much else (unless you make a detour to the pub at Hillesley) until you reach Wotton-under-edge.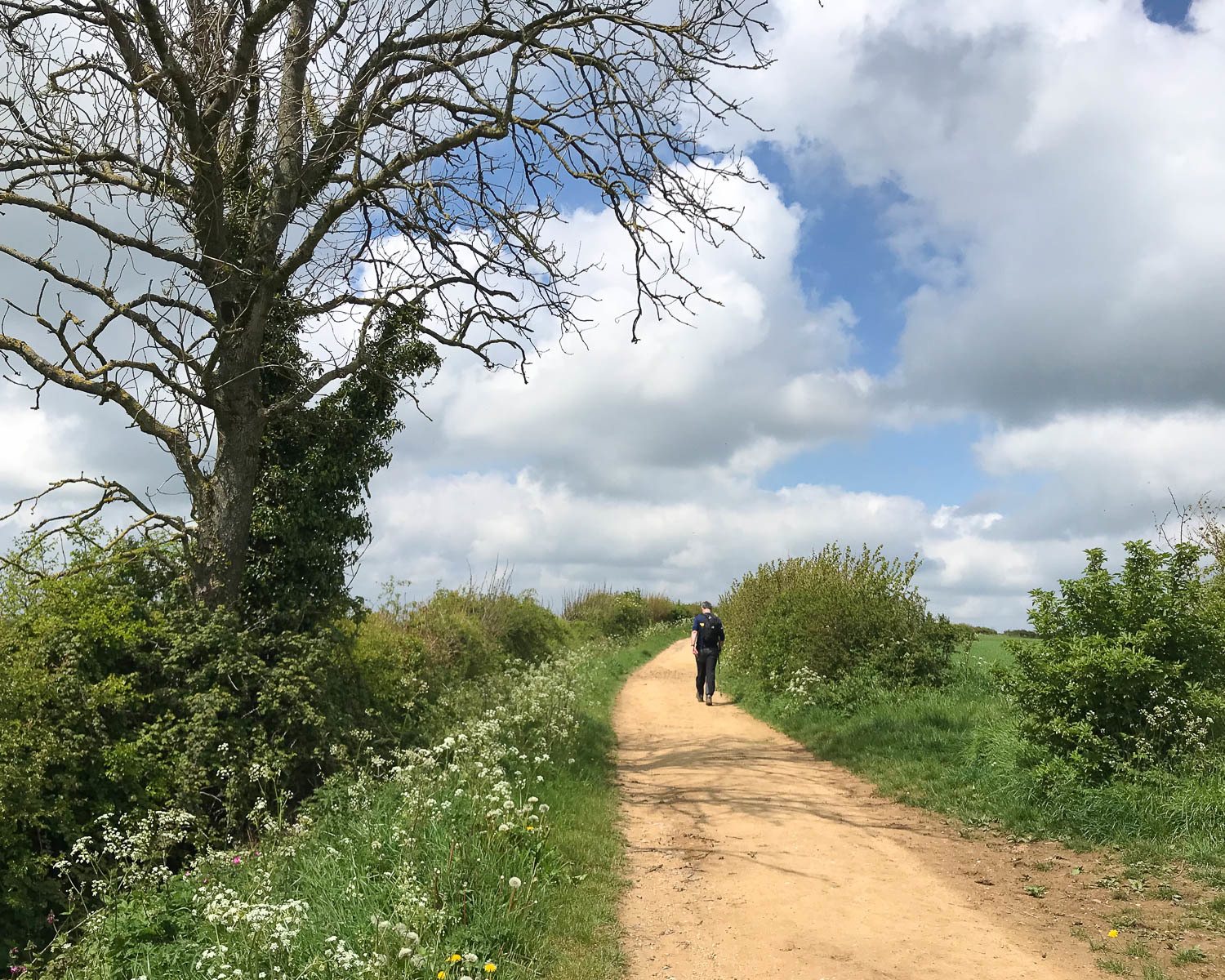 The pleasant country town of Wotton-under-edge offers a good range of shops, pubs and cafes where you can stock up for the next day's picnic or get an evening meal. If you are after a pub lunch, the best bet is in Hawkesbury Upton at either The Fox Inn, which incorporates the Cotswold Kitchen or the Beaufort Arms. We walked to the edge of Hawkesbury Upton and had our picnic on the bench opposite the Somerset Monument. The only toilets on the walk are in pubs or cafes but there are public toilets in Wotton-under-edge.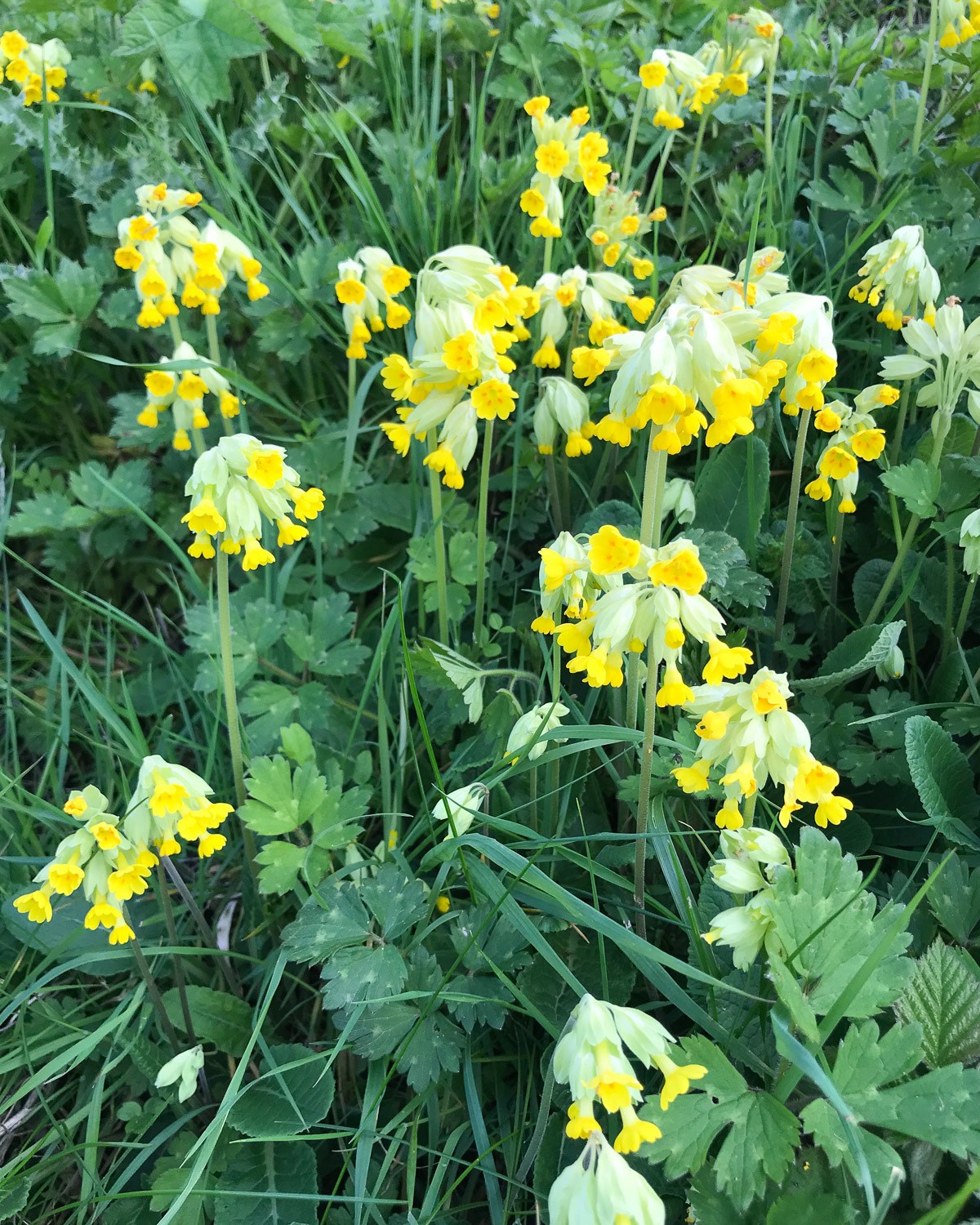 Parking in Old Sodbury and Wotton under edge
At the start of our day's walk, we parked in Old Sodbury on the road that runs through the village leading up to the school and church, where parking is unrestricted. At the end of our walk in Wotton under edge there is a free village car park, but parking is restricted to 3 hours. Instead we parked along Old Town road, where parking was unrestricted, despite the flow of traffic being quite busy. There's also the small Potters Pond Car Park which is free and has a maximum stay of 23 hours.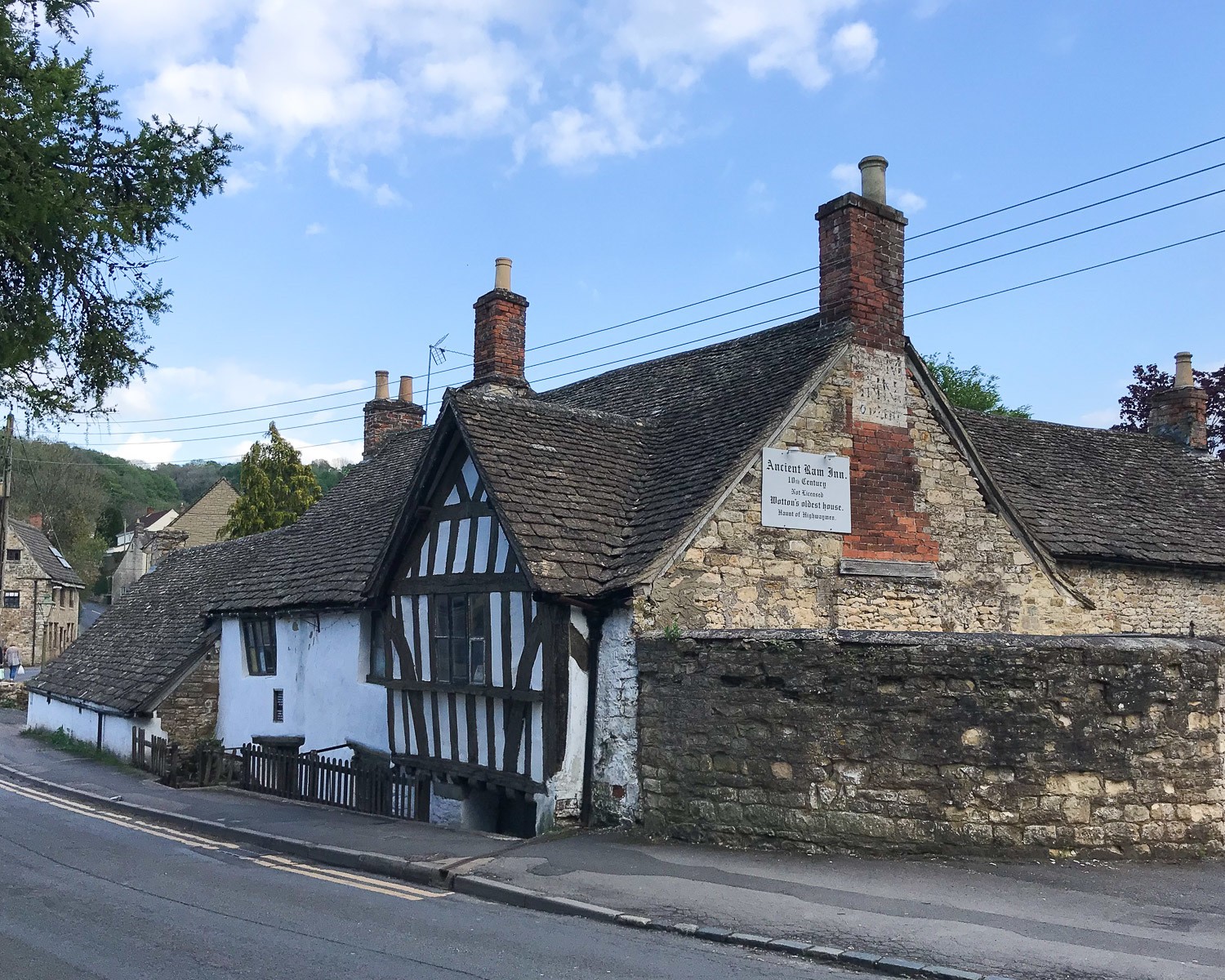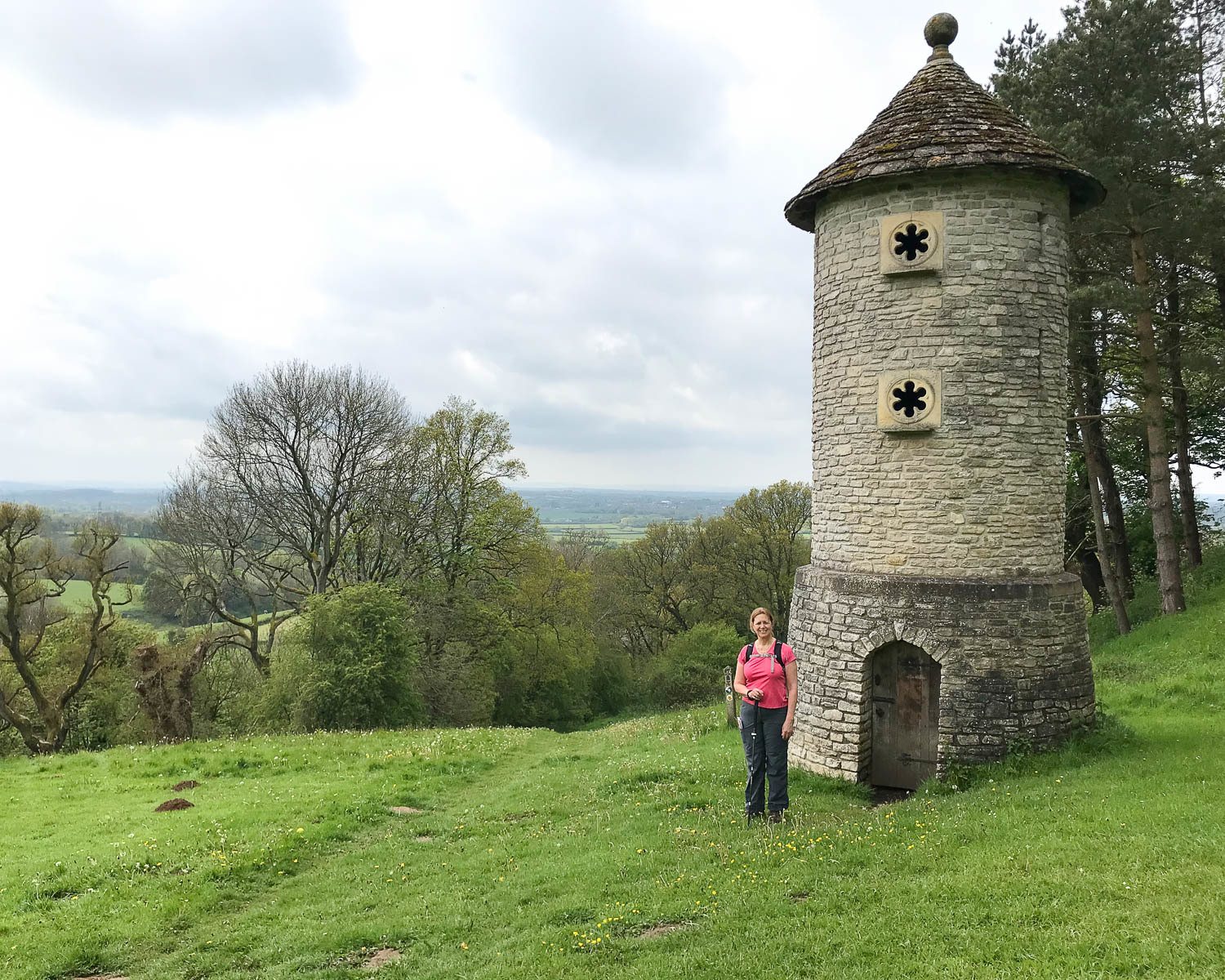 Where to stay in Wotton under edge
If you are walking continuously, Wotton under edge is an ideal place to stay at the end of Day 3, with a good range of shops and places to eat. The Swan is a 17th century inn conveniently located in the centre of town or there are a couple of B&Bs in Merlin Haven; Number Eleven and Hawk's View (the guidebook has more details). There are other B&B accommodation listings on the Wotton under edge website, although most are outside the town. If none of these are suitable, you could also continue to North Nibley, where you can find accommodation at The Black Horse Inn.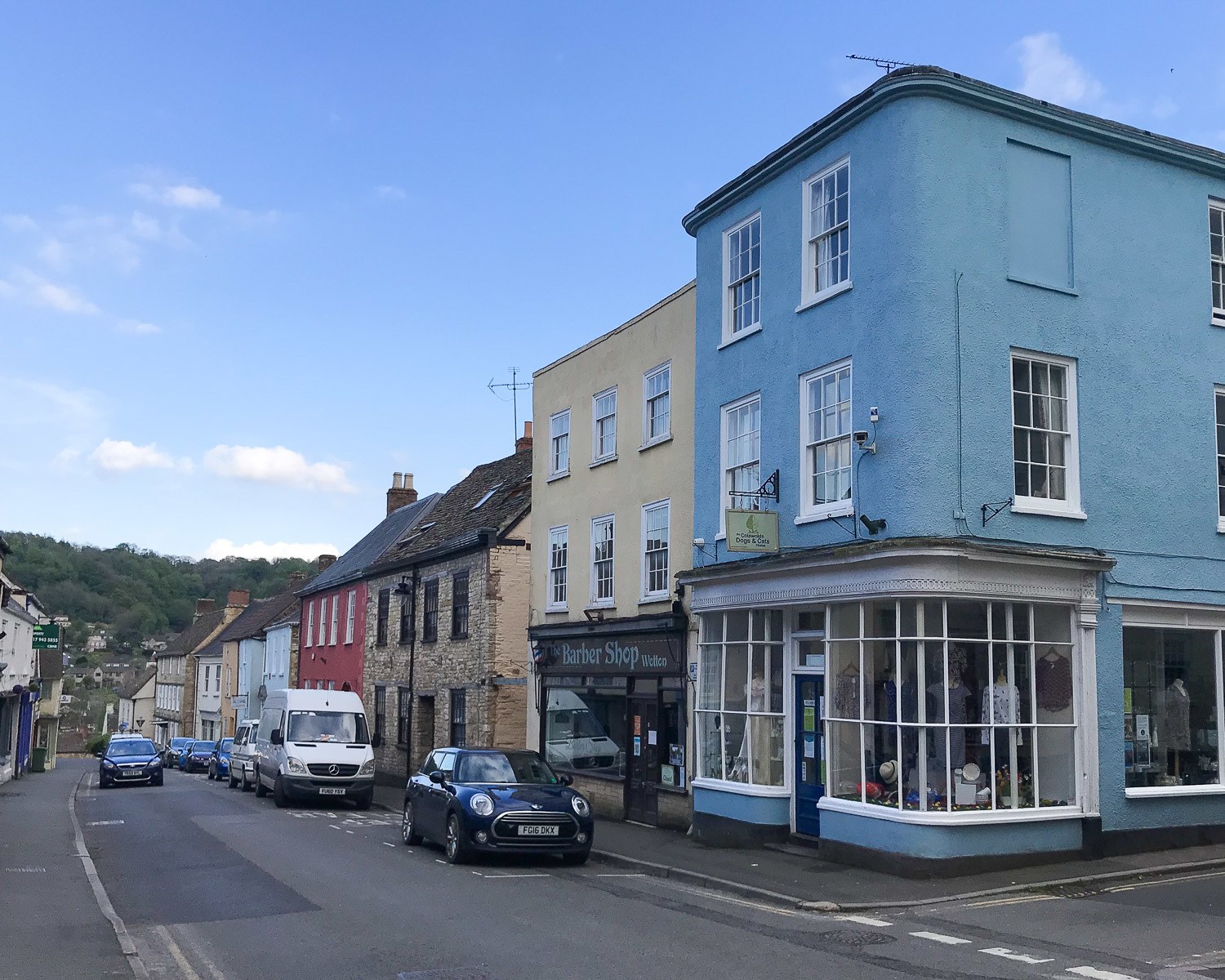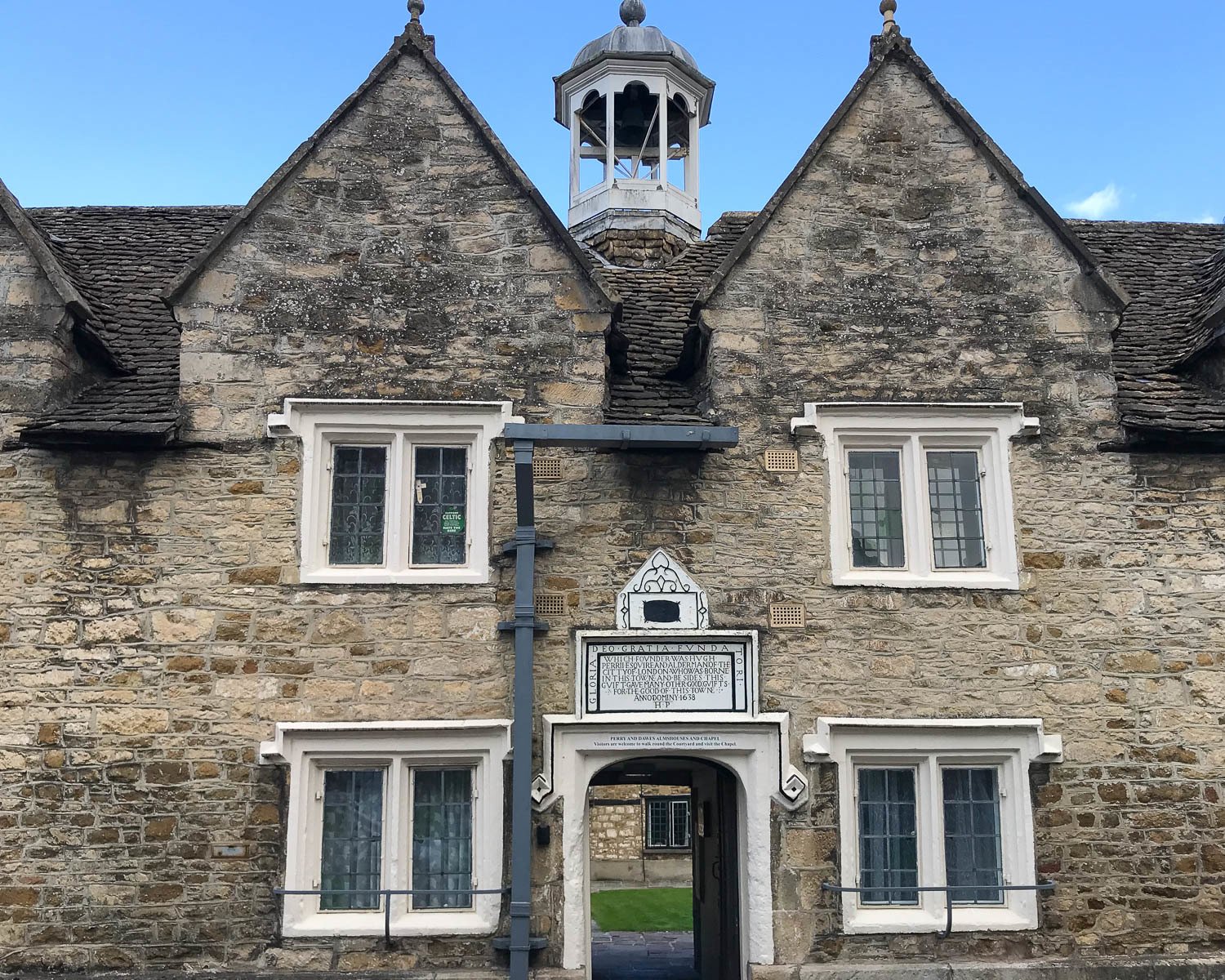 Day 3 – Distance and timings
This day's walk on the Cotswold Way from Old Sodbury to Wotton under Edge is around 19.7 km / 12 1/4 miles and the guidebook estimated 6 3/4 hours. It actually took us 6 hours including a 30 minute lunch break and a few photos stops.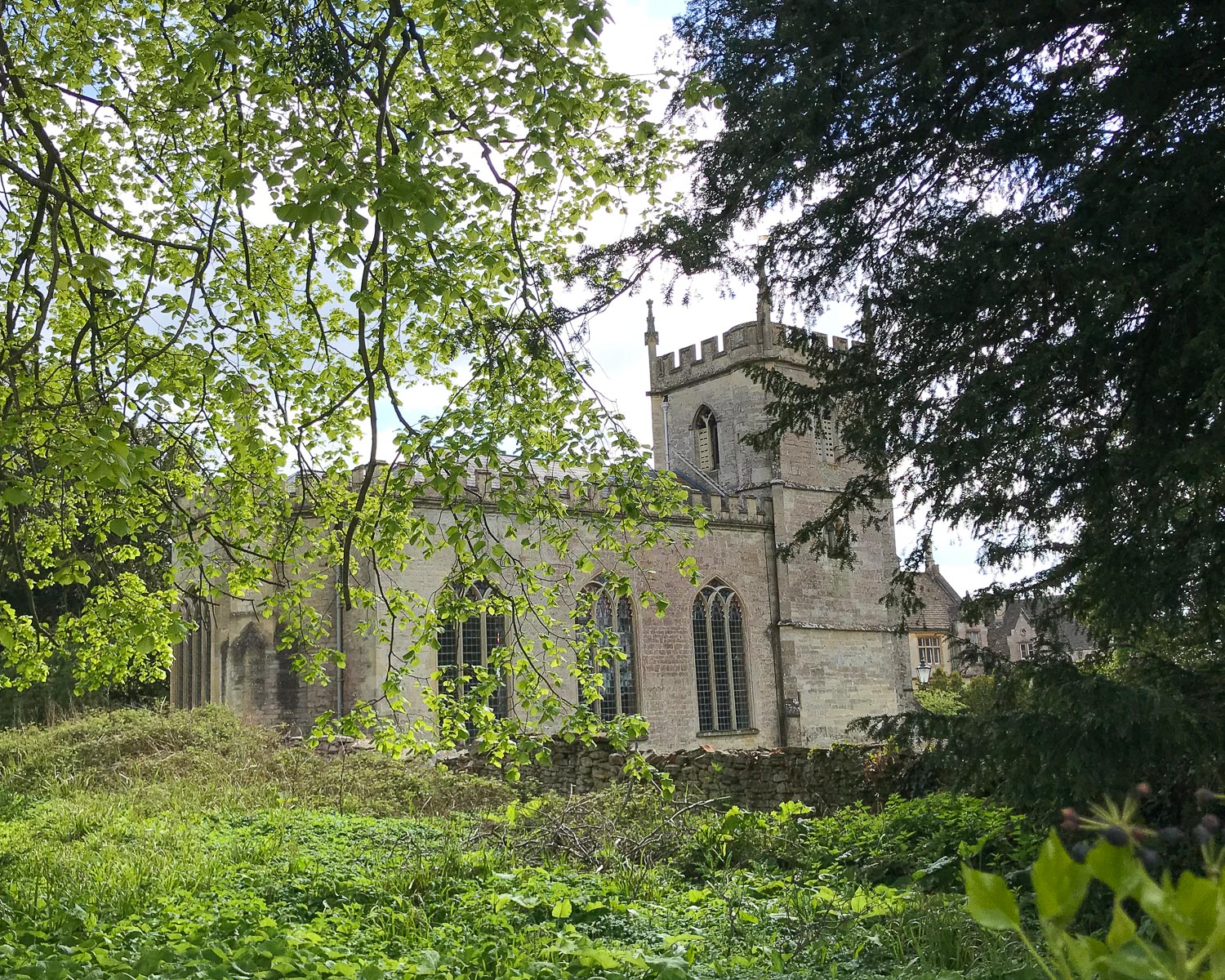 Cotswold Way Guidebook
To help you plan your trip, we highly recommend the Trailblazer guide to the Cotswold Way by Tricia & Bob Hayne & Henry Stedman. This excellent guide uses detailed, hand drawn maps which are easy to follow whichever direction you choose to walk the Cotswold Way. There are also descriptions of the towns and charming villages the trail passes through, with information on pubs, places to stay and timings. The introductory chapters also give plenty of useful information and tips about nature, safety, transport and itineraries.
Other information to help with planning is available on the Cotswold Way National Trails website where you can also order their own guidebook and the Cotswolds Tourism website.
Places to stay on the Cotswold Way
Find information on hotels in the Cotswolds and other places to stay on your walk.
Other useful information for the Cotswold Way
How fit do I need to be? – The Cotswold way is not too physically demanding so long as you allow enough time – say 10 days. As long as you are healthy and moderately fit you'll be fine. If you decide to do it in 7 days continuously, the pace might be a bit more punishing, but the trail is well maintained with no particularly difficult sections.
Are there any steep climbs? The countryside is gently rolling with plenty of hills, but this is not the mountainous terrain you might find in the Alps. You can regularly expect a moderate climb and a few steeper climbs but nothing too exhausting.
Can I get lost? The Cotswold Way is well signposted and with the help of a good guidebook like the Trailblazer guide to the Cotswold Way you're unlikely to get lost. Cell phone reception is reasonably good so you can also use Google Maps if you miss a turning.
What if I don't want to carry my baggage? If you are walking continuously but don't want to carry all your gear, there are a few companies that offer a baggage delivery service such as Carryabag and Cotswold Luggage Transfers. For shorter legs you could also try local taxi services or check if B&B accommodation hosts offer a baggage transfer service.
Do I need a guide? You are never far from a town or village and the path is well signposted so I'd take a guidebook but you don't really need anyone to guide you.
When is the best time to walk the Cotswold Way? If you plan to walk continuously May to September offers the best weather, although you should be prepared for showers and variable temperatures at any time of year. April and October can also have beautiful weather but are less predictable. I personally would not plan to walk in winter since paths can be very muddy and temperatures miserably cold.
How much should I budget? The main daily cost is food and accommodation. Most accommodation includes a hearty breakfast, for a picnic lunch I'd budget £5-10, for a pub lunch £10-15, for a simple pub supper £15-20. Accommodation ranges from £60-£150 per room/night for 2 people sharing. If you are on a tight budget, camping may be the answer.
What's the average hiking distance each day? If you take the most leisurely pace and break the Cotswold Way into 10 sections, each day's walk will average 10-11 miles / 16-17 km. If walking at a faster pace in 7-8 days, the distances are more like 16-17 miles / 25/26 km per day.
Pin it for later
This article is originally published at Heatheronhertravels.com