As the weather starts to cool in Europe, many people look for winter sun destinations that are easy to reach from Europe. It certainly lifts your mood, when you leave the cold, grey days of winter behind and step off a plane to enjoy a week or two of sunshine and blue skies. Located off the coast of Africa, the Canary islands make the ideal winter-sun destination and Lanzarote offers a unique combination of sandy beaches, mouthwatering seafood and a striking volcanic landscape. Here are 10 reasons why we think Lanzarote is one of the top winter sun destinations in Europe!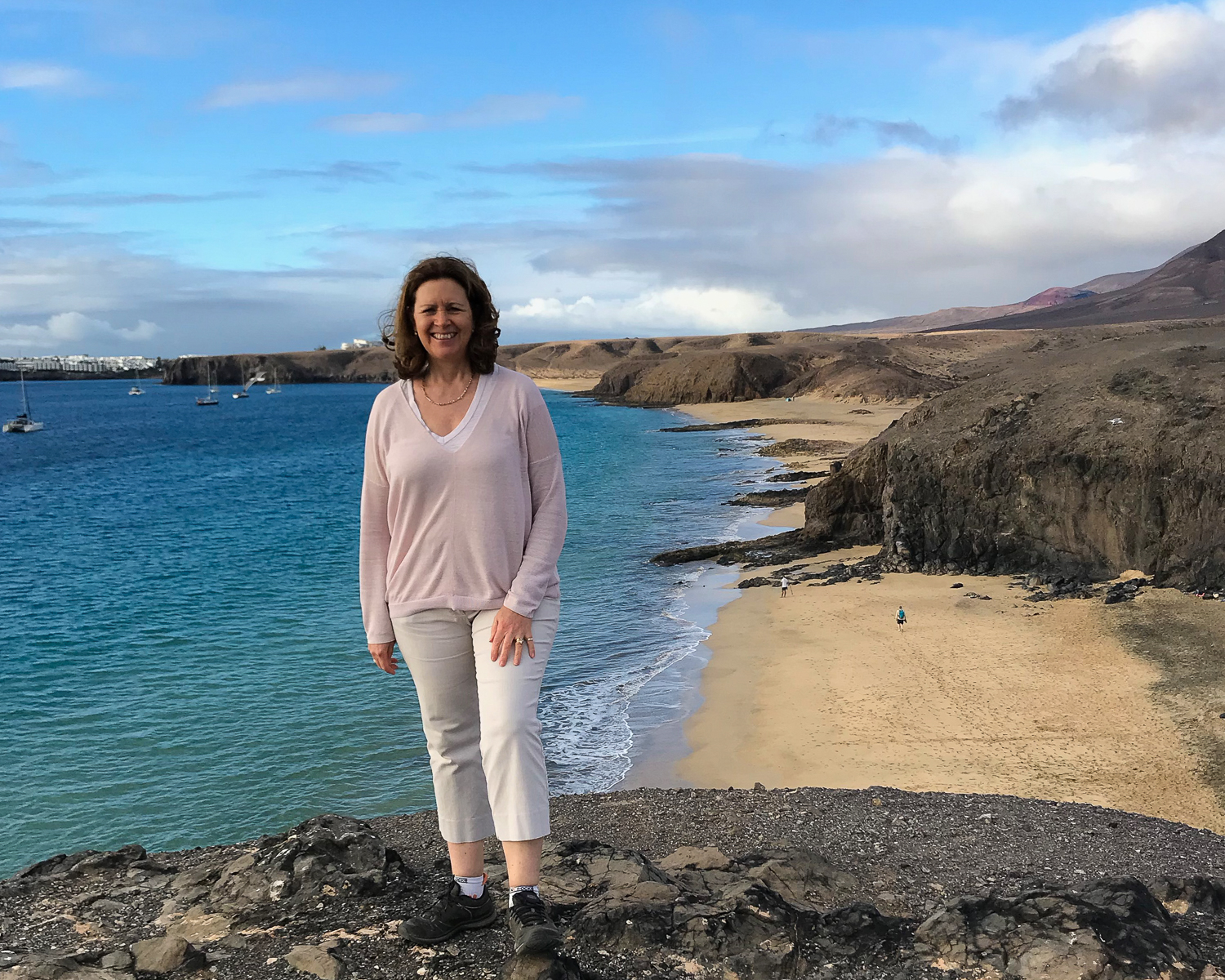 This is a sponsored article in partnership with Barceló Hotels.
This article may contain affiliate links that provide commission on purchases you make at no extra cost to you. As an Amazon Associate I earn from qualifying purchases.
1. Year round sunshine
Located just off the coast of North Africa, the Canary Islands including Lanzarote enjoy a warm and sunny climate year round. Winters here are warmer and milder than the UK or other northern European destinations.
Nicknamed the "Island of Eternal Spring", Lanzarote is technically a sub-tropical desert with a dry, volcanic landscape and very low rainfall of 150mm per year. Even though showers are more common through the winter months, they don't come very often and when they do the sun is quick to follow.
While the temperature in August can climb to over 25 degrees C, the winter months of November to February hover around a pleasant 20 degrees C with an average of 6-8 hours of sunshine. On sunny days you can normally wander around in shorts and t-shirt, changing into long trousers, pullover or a light jacket in the evening, as the temperature cools down.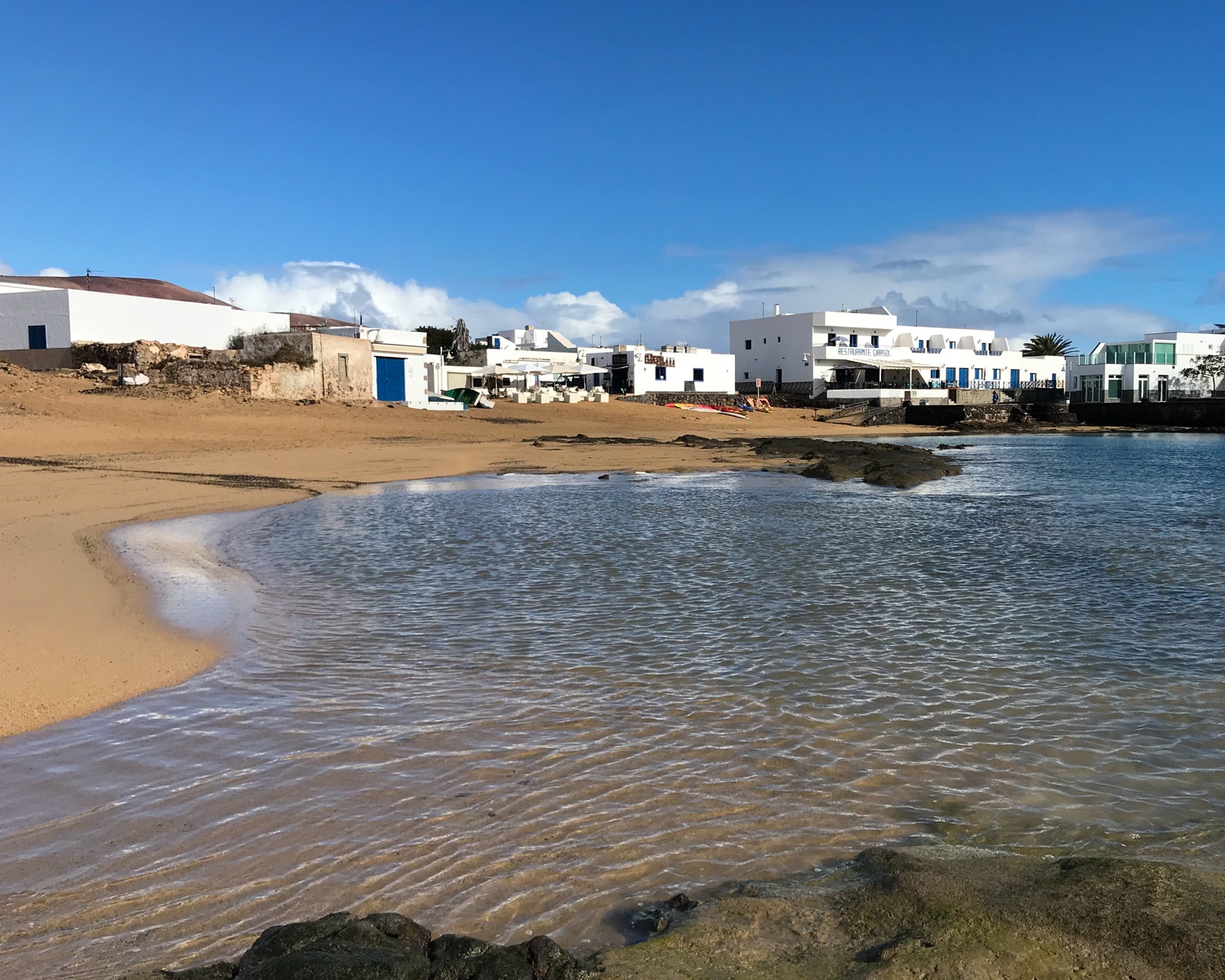 So while you can't expect the burning temperatures of the tropics, a winter sun holiday in Lanzarote offers warm sunny days and a very comfortable temperature for sightseeing, walking and cycling, or sunbathing on days when the sun is hottest.
Read more about everything we enjoyed on our trip in this article: 30 amazing things to do in Lanzarote
2. Short flight time from Europe
Most flights from the UK to Lanzarote take just over 4 hours, meaning it's not long before you'll be sitting by the pool with a cocktail in your hand, enjoying some sunny weather. There's plenty of choice too, since Lanzarote is one of the most popular of the Canary Islands, with flights offered by both scheduled and low cost airlines. Take a look at the flights offered by easyJet, Ryanair, Jet2, TUI, Wizz Air, British Airways and Iberia.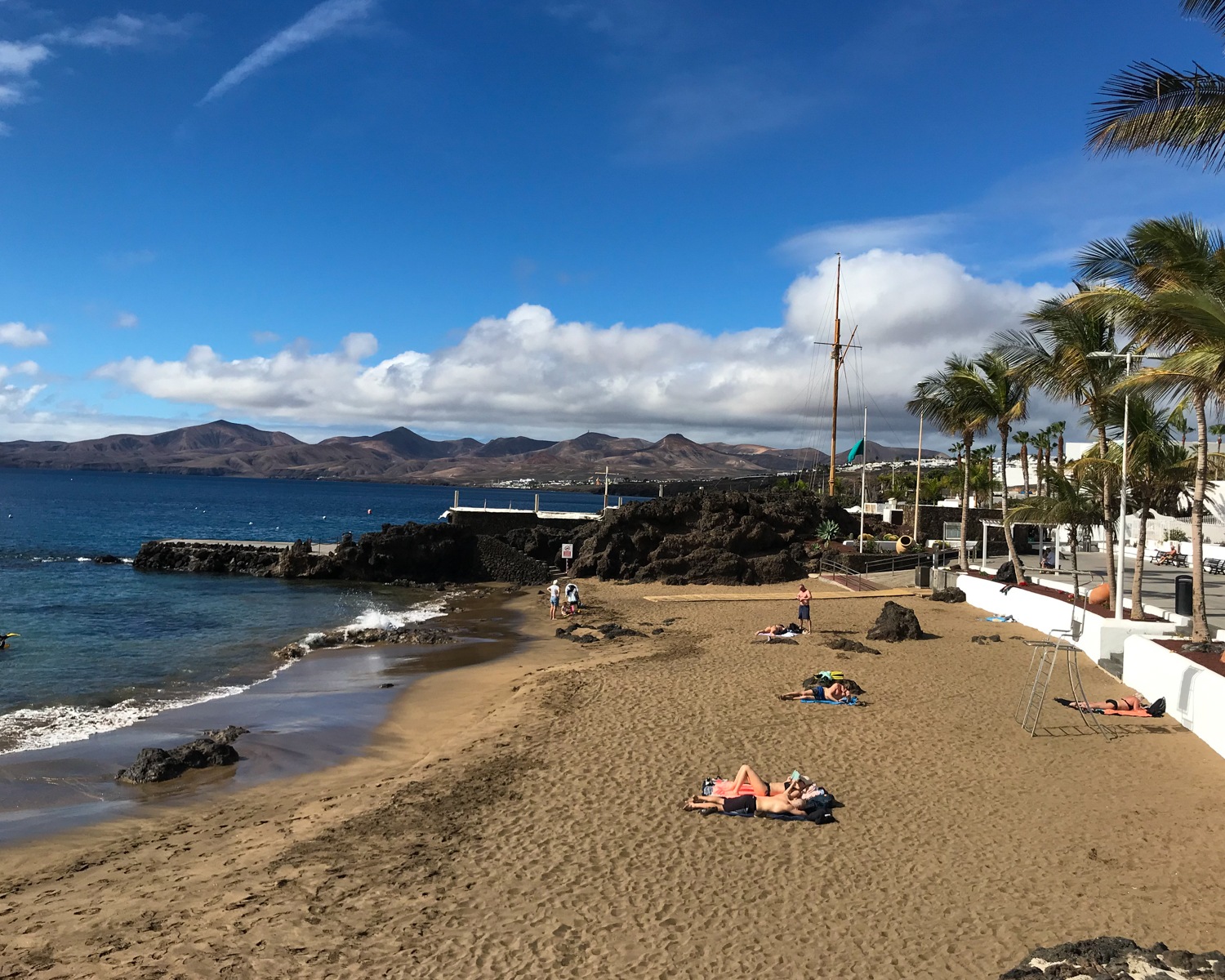 From many UK destinations there are several flights per day, giving you plenty of choice to hunt around for the best flight deals. Because it's so easy to get to Lanzarote, many companies also offer package holidays with quality hotels like Barcelo (take a look at their hotel offers) which may prove better value than trying to book flight and accommodation individually, especially for families.
3. It's Spanish with a twist
There are times when you long to go somewhere different, off the beaten track and little more unusual. But other times you may want the familiarity of a European culture, the convenience of paying in Euros and the ease of getting by in English or a smattering of Spanish.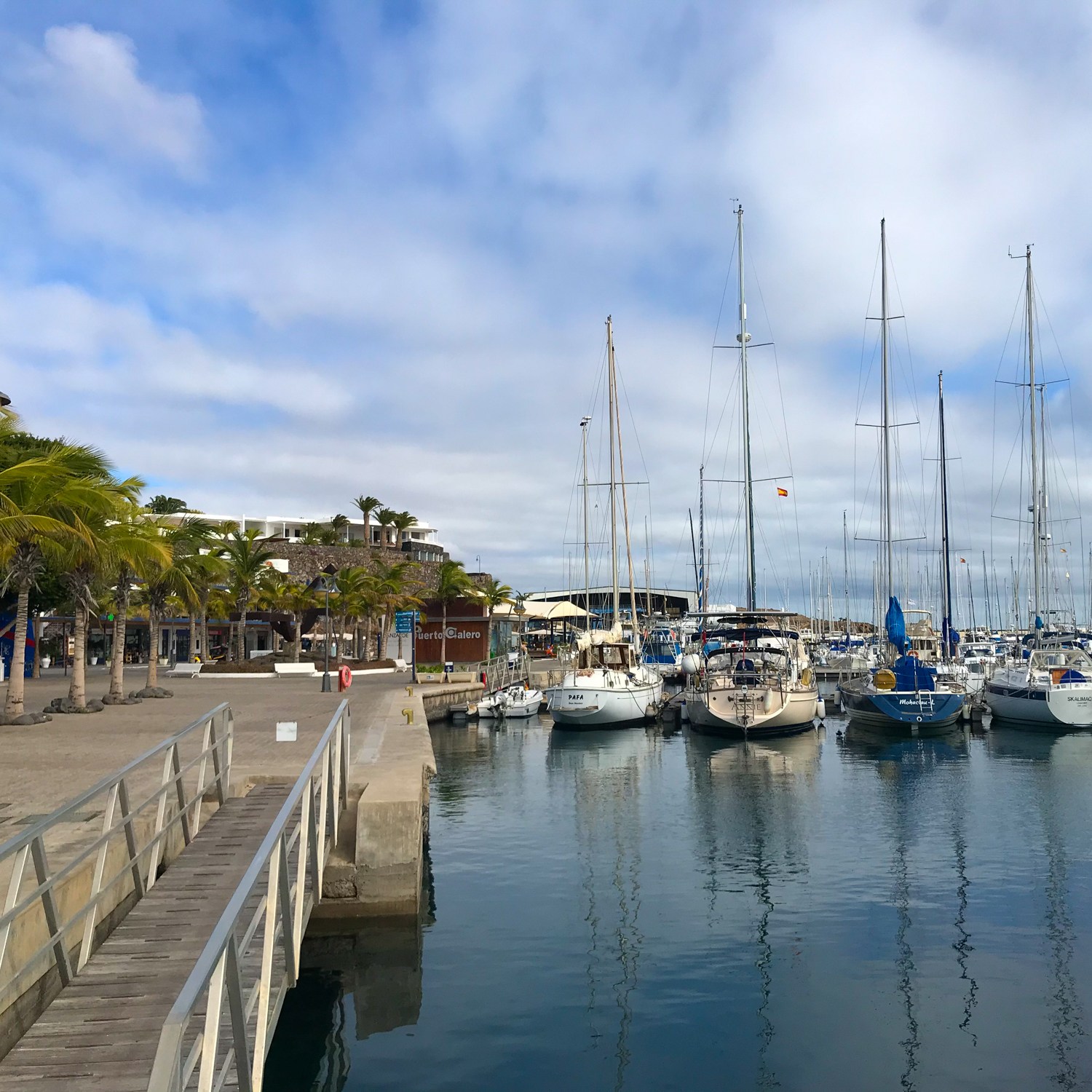 Lanzarote is politically part of Spain, so Spanish is the island's language, with English widely spoken by anyone working in tourism. This means that the culture and food feels very European, and at times you could easily imagine that you're on a beach in mainland Spain.
But dig you'll a little deeper and you'll find a melting pot of influences, from the African spices brought by the Berbers, to the ancient Greeks and Romans whose trading routes brought them here, to the merchants from Genoa and Lisbon who also passed through in the Middle Ages.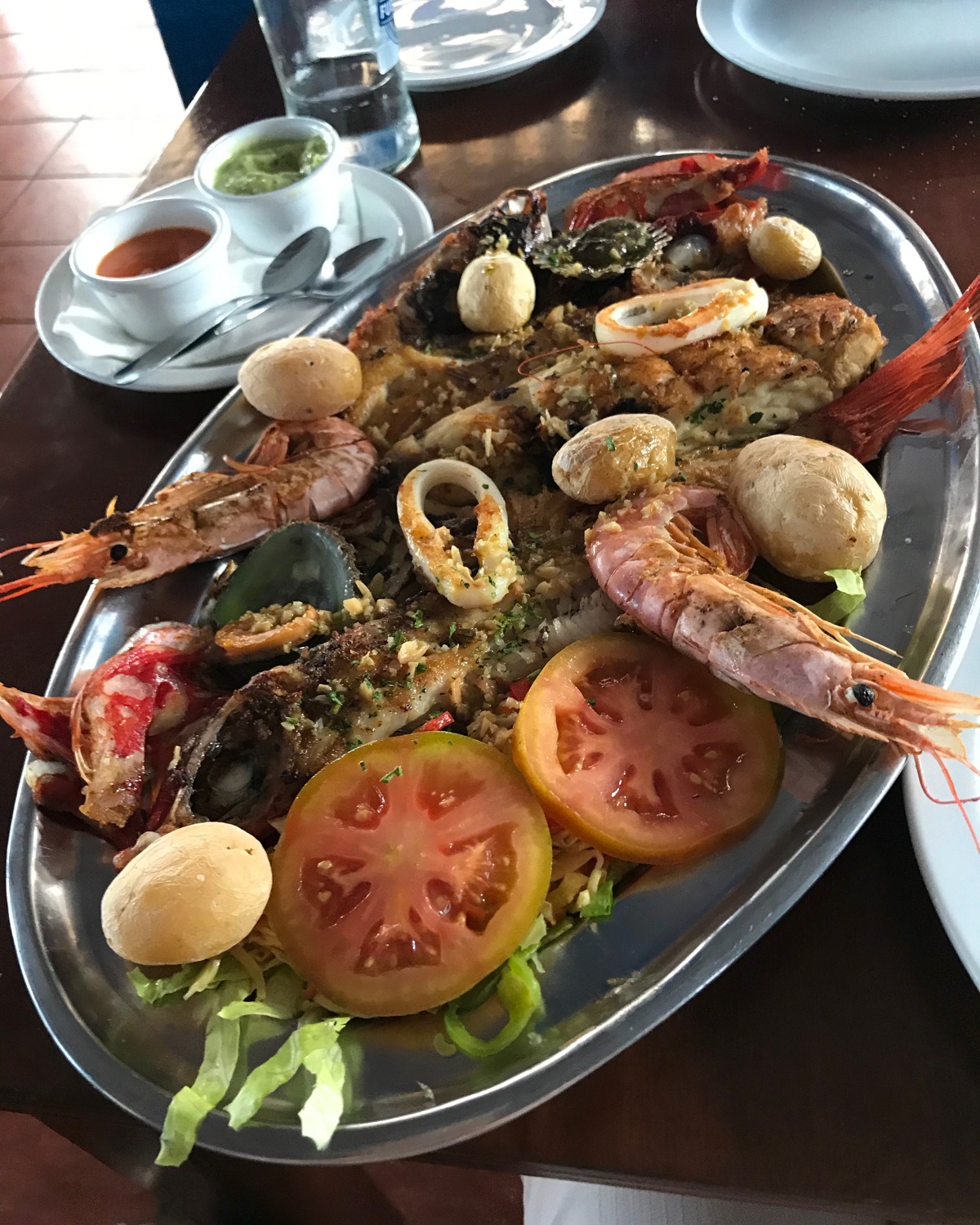 All these influences have combined give Lanzarote a culture all of its own, moulded by the stark, volcanic landscape and farming traditions. So while you are technically in an autonomous province of Spain, you can certainly find that off the beaten track and culturally rich experience if you look for it.
Read More about the delicious wines grown on the island: Lanzarote Wine: Explore the vineyards and wineries
4. Fantastic hotels
As Lanzarote is such a popular island to visit, there's a wide range of accommodation, from self catering apartments and rural converted fincas, to modern resort hotels that offer a wide range of facilities and entertainment. If the resort experience is one that you enjoy, check out the stylish accommodation offered by the three Barcelo hotels that are located in and around Costa Teguise.
For couples the Barceló Teguise Beach offers a 4 star adults only experience in a beachside location, while the smaller 4 star Barceló Lanzarote Playa is also right on the beach. The all-inclusive 4 star Occidental Lanzarote Mar is ideal for families and those who enjoy sport, since it has a professional cycling centre and Olympic size pool.
Costa Teguise is an excellent location to base yourself within Lanzarote, since it is just a short drive from the airport and the island's capital of Arrecife, and also close to many of the Cesar Manrique cultural attractions and golden sandy beaches.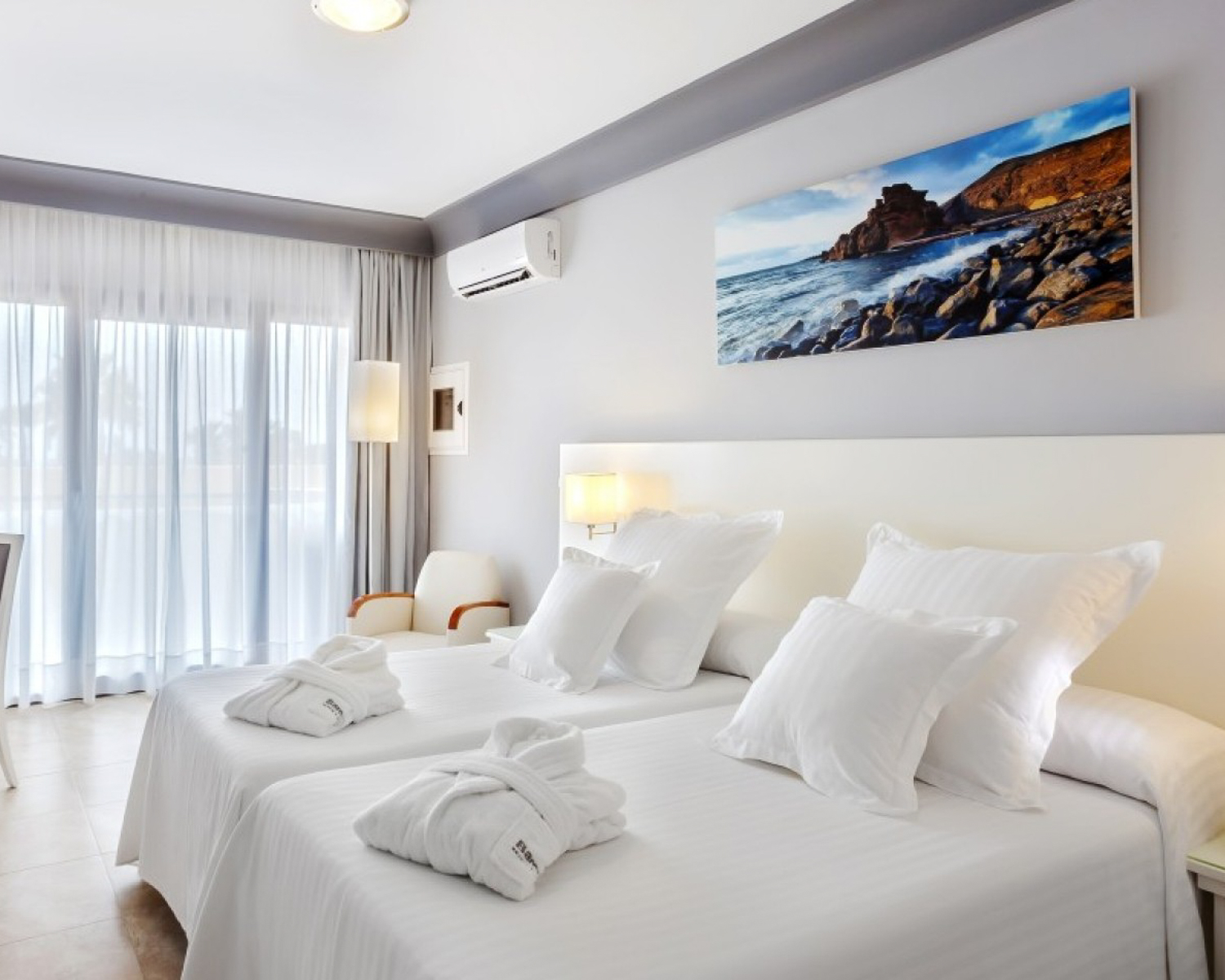 Barceló Black Friday Deals
For the best hotel prices check out the Barcelo Hotel Offers. The best rates are guaranteed when you book directly with Barceló and when you sign up as a my Barceló member.
5. Sea swimming
Lovers of sea swimming will enjoy a dip throughout the winter months in Lanzarote, especially in November and December when the water holds onto some of the summer warmth at around 20 degrees C. In January and February, the water may be a little more bracing at around 18 degrees C, but on a sunny day is very refreshing.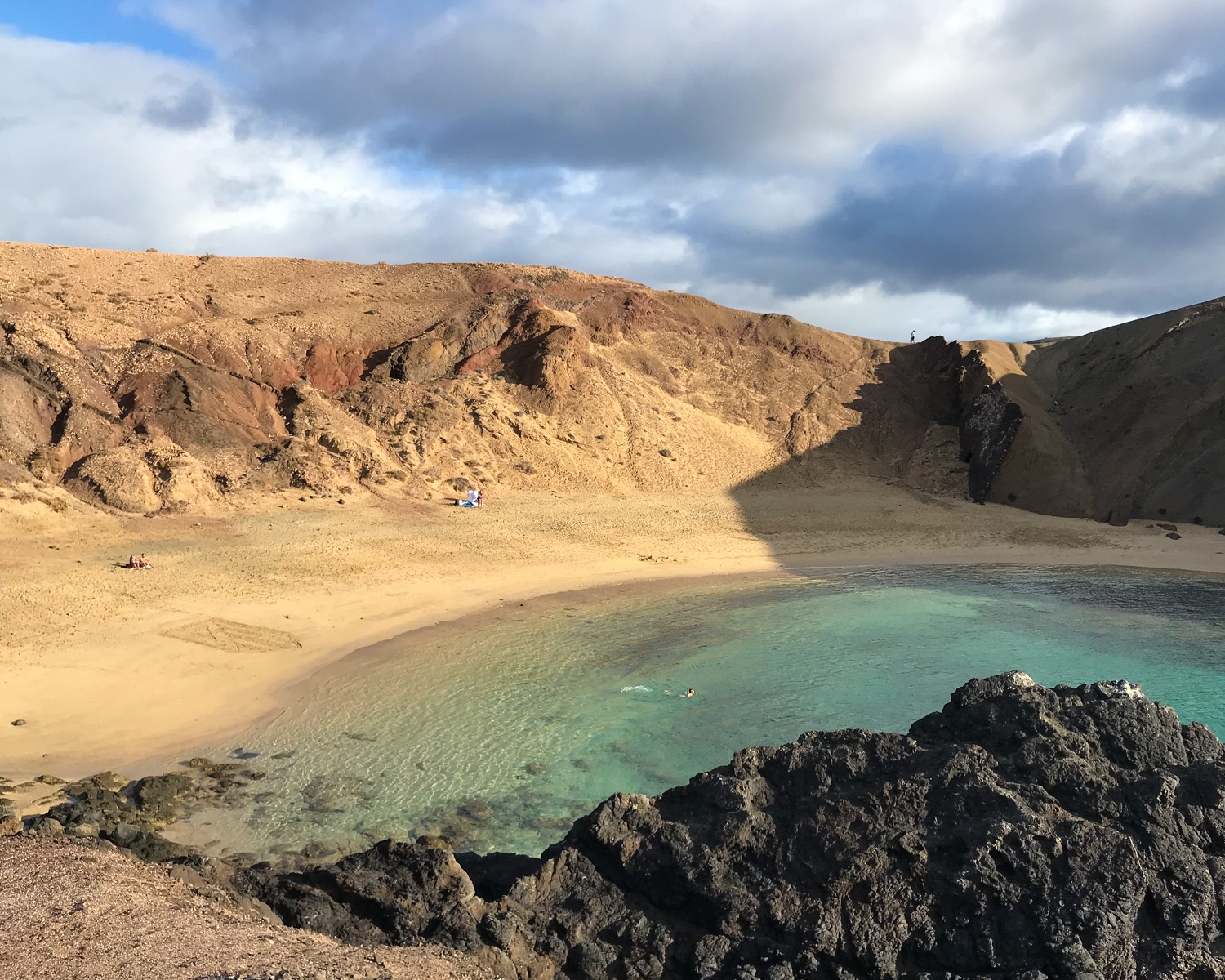 You'll be spoiled for beautiful beaches on Lanzarote, from the resort beaches of Costa Teguise and Puerta del Carmen, to the calm turquoise waters of the Playa de Papagayo reserve, to the wilder surfing beaches of Arrieta and Famara.
For a change from the beaches, head to Punta Mujeres to swim in the natural swimming pools that have been created along the sea front. While the surf is higher along this windy shore, the enclosed rock pools with ladders and steps make it a safe place to swim.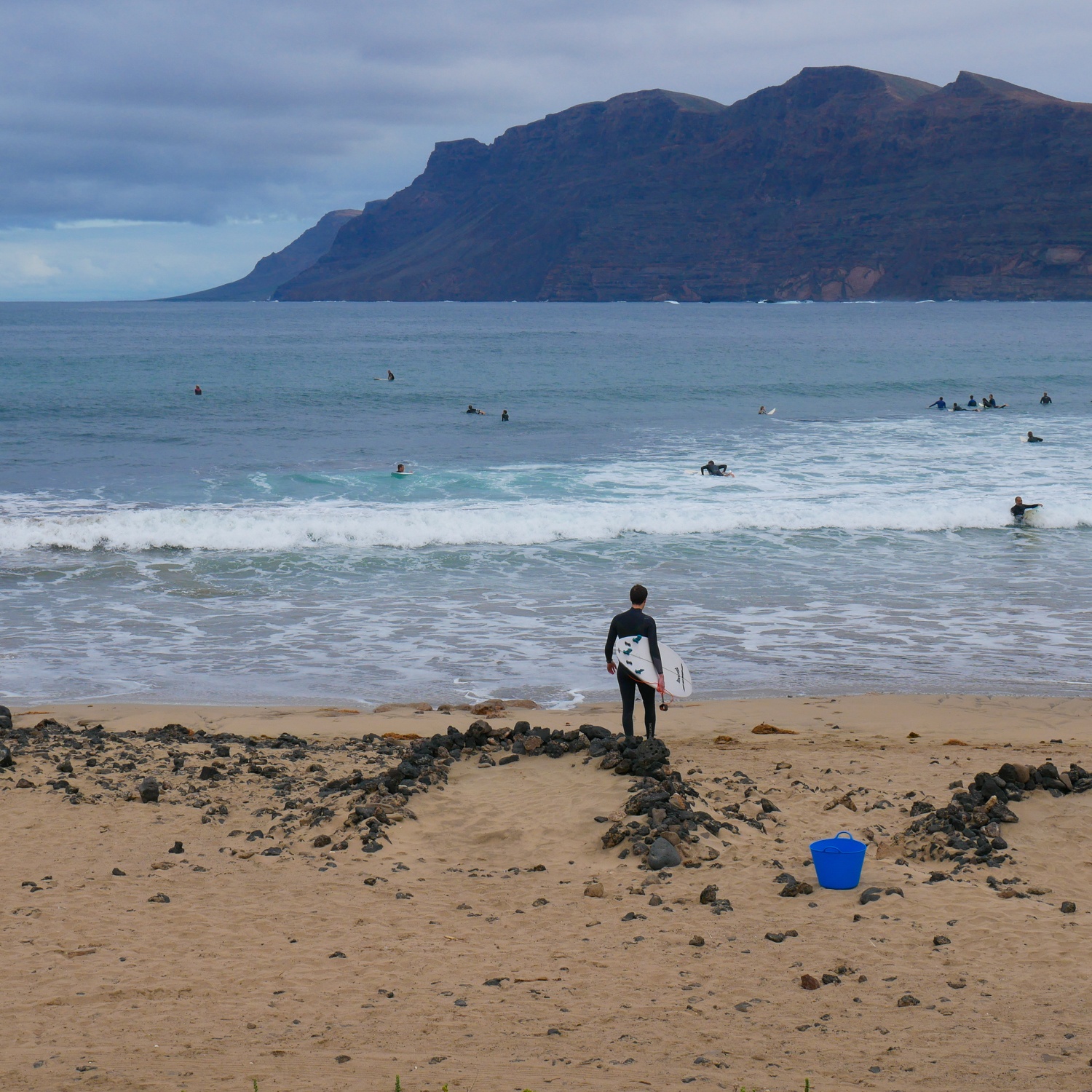 Stay at Barceló Teguise Beach
The Barceló Teguise Beach is a 4 star Adults Only hotel is set on the beachfront of Costa Teguise, with access to the beautiful Las Cucharas beach. The hotel went through a refurbishment in 2015 with modern furnishings and latest technologies in its 305 rooms.
With a range of restaurants and bars, buffet breakfast, wellness centre, 2 pools and a gym, this is a hotel that has everything you need to relax, pamper yourself and have a fantastic holiday.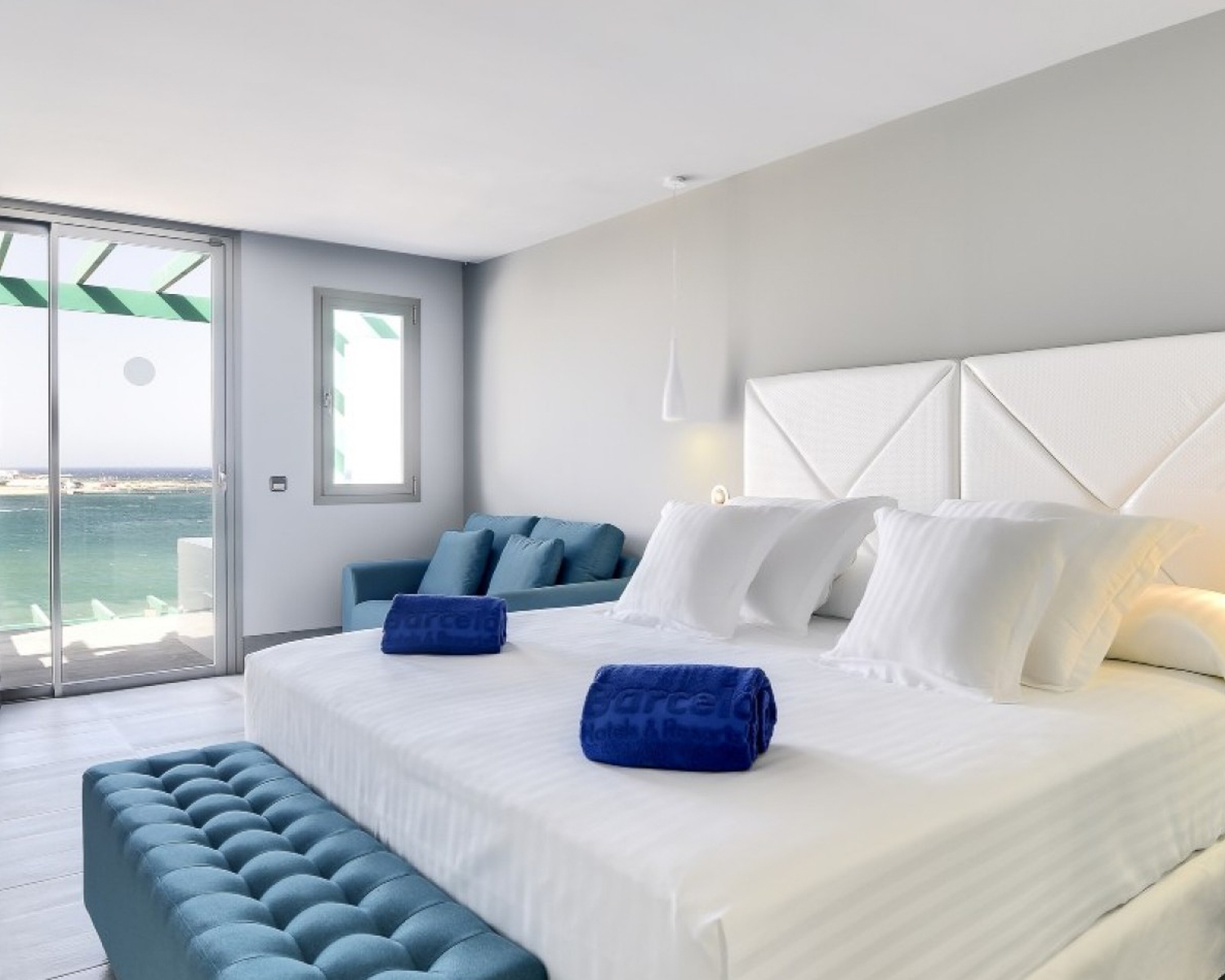 Barceló Hotel Offers
For the best hotel prices check out the Barcelo Hotel Offers. The best rates are guaranteed when you book directly with Barceló and when you sign up as a my Barceló member.
6. Small and easy to get around
Lanzarote is the fourth largest of the Canary Islands and measures around 60km by 25km, but packs a lot into a small area. You can easily drive from one end to another in a couple of hours and the roads are excellent but not especially crowded. However the island's small size covers a wide range of landscapes, from the green, palm filled valleys around Teguise and Haria, to the stark volcanic landscape of Timanfaya and picturesque sandy coves of Playa de Papagayo.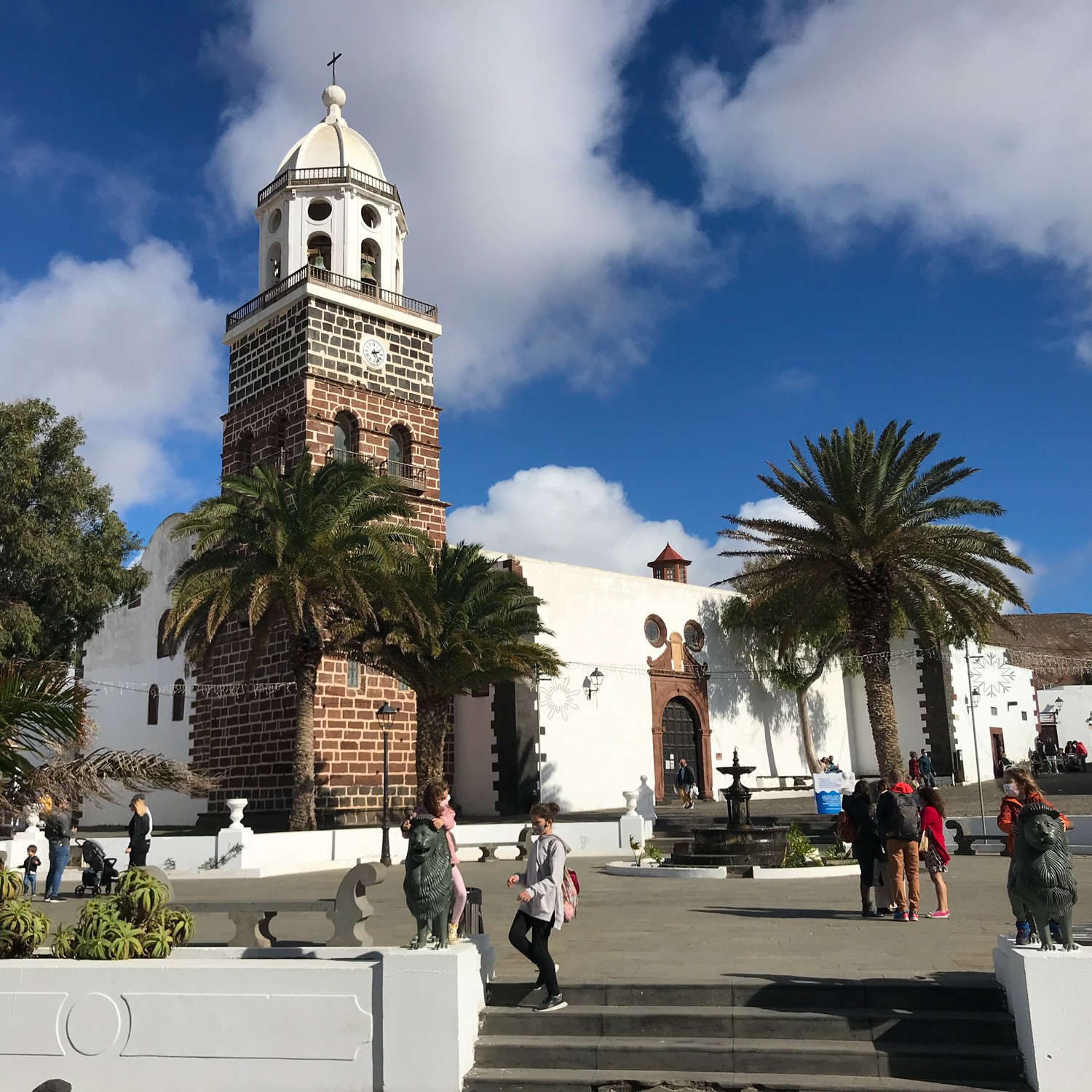 It's easy to hire a car at the airport and pleasant to drive around, to visit different beaches and cultural attractions. While on the road, look out for some of the striking "wind toy" sculptures on the roundabouts that were designed by artist Cesar Manrique. If you prefer not to drive, there are good bus connections around the island from the capital of Arrecife, or from resorts like Costa Teguise and Puerto del Carmen where a wide range of day tours are on offer.
7. The food's to die for
The food of Lanzarote has a definite Spanish flavour in the fresh fish, tapas and hearty game stews of mainland Spain. You can also find international cuisine for every taste, especially in the holiday resorts, from the English style pubs to Indian restaurants and burger bars. But there are culinary influences that are unique to the Canary islands, in the palms and cactus of nearby African shores, the spices that were brought by passing merchant ships and the chilli and potatoes introduced from South America.
Look out for Papas Arrugadas, the small Canarian potatoes with a wrinkly, dark skin that are typically cooked in sea water and served with generous helping of red or green mojo sauce. Seafood is everywhere, and I recommend ordering a parrillada pescado or platter or fish for two people, with a range of freshly grilled fish, prawns and possibly the local limpets. While the volcanic areas of the island are too dry for most livestock, rabbits are hunted and goats are kept in small herds, so you'll find both these meats on the menu in hearty peasant stews.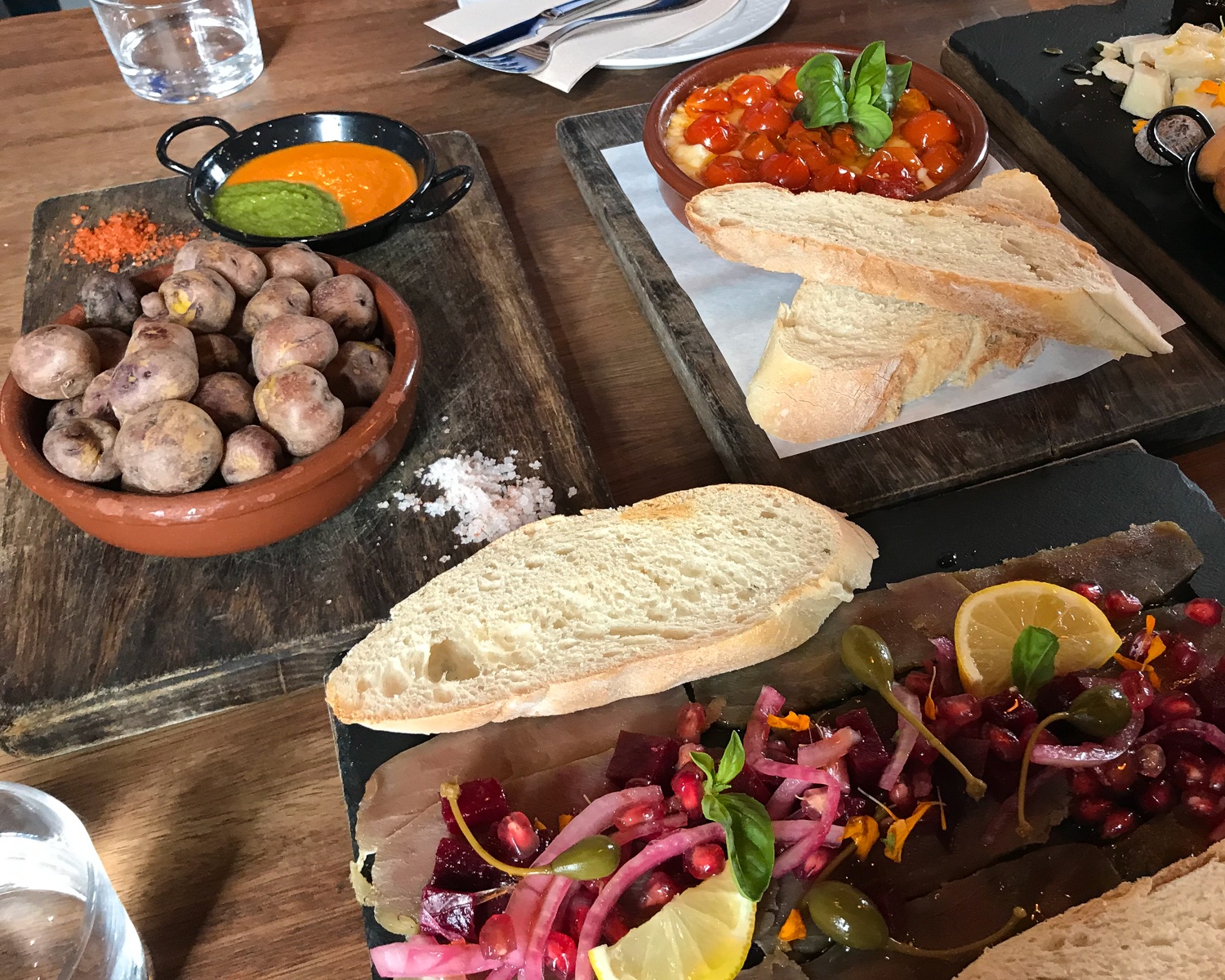 If you have a sweet tooth, order a Bienmesabe, a typical local desert made with ground almonds, eggs and sugar or the sweet cake made of Gofio, a flour made fromtoasted grains of barley or corn. Finally, be sure to taste some of the local wines that grow in the La Geria Region, where you can visit many of the wineries for a vineyard tour and tasting.
Read more about the delicious dishes we ate in Lanzarote: Food in Lanzarote – 25 dishes and drinks you'll want to try!
Stay at Barceló Lanzarote Playa
The 4 star Barceló Lanzarote Playa is located close to Costa Teguise, a short distance from Playa de la Cala del Ancla. The hotel offers all inclusive packages including buffet dining and entertainment and sports facilities, with all inclusive plus including a la carte dining options and additional drinks and services.
The hotel is decorated in upscale and contemporary style, with 224 rooms, 2 outdoor pools and a children's pool. This is a great option if you want a slightly smaller all-inclusive resort experience, but with access to lots of facilities.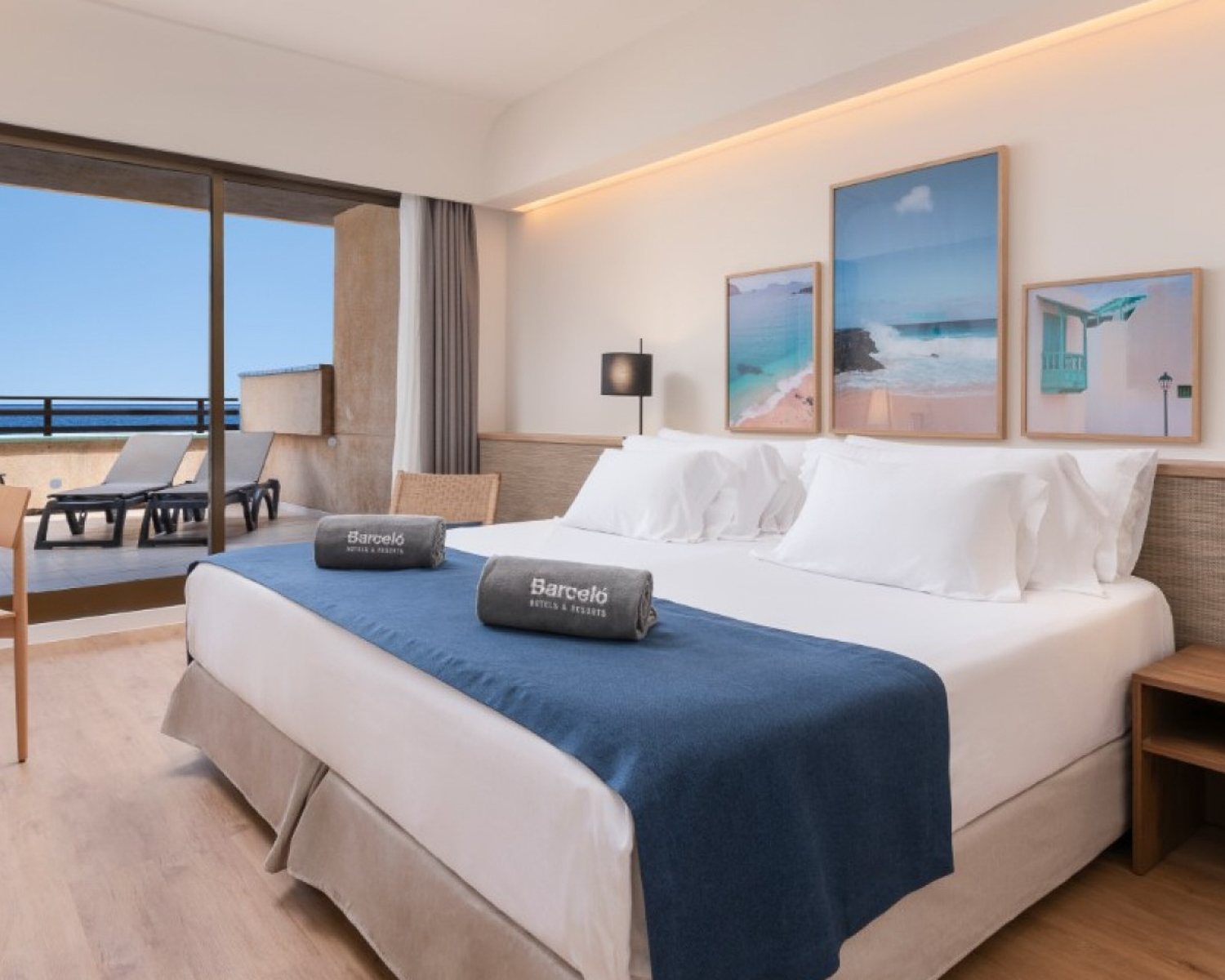 Barceló Hotel Offers
For the best hotel prices check out the Barcelo Hotel Offers. The best rates are guaranteed when you book directly with Barceló and when you sign up as a my Barceló member.
8. There's so much art and culture
The local hero of the Lanzarote art scene is Cesar Manrique and you can't go far on the island without feeling his influence, from the low rise traditional style white buildings that he popularised, to the visitor attractions that he created. When you visit for a winter sun break, the warm sunny days are perfect to put you in the mood for sightseeing and visiting the beautiful places created by Cesar Manrique to support his vision of sustainable tourism on Lanzarote.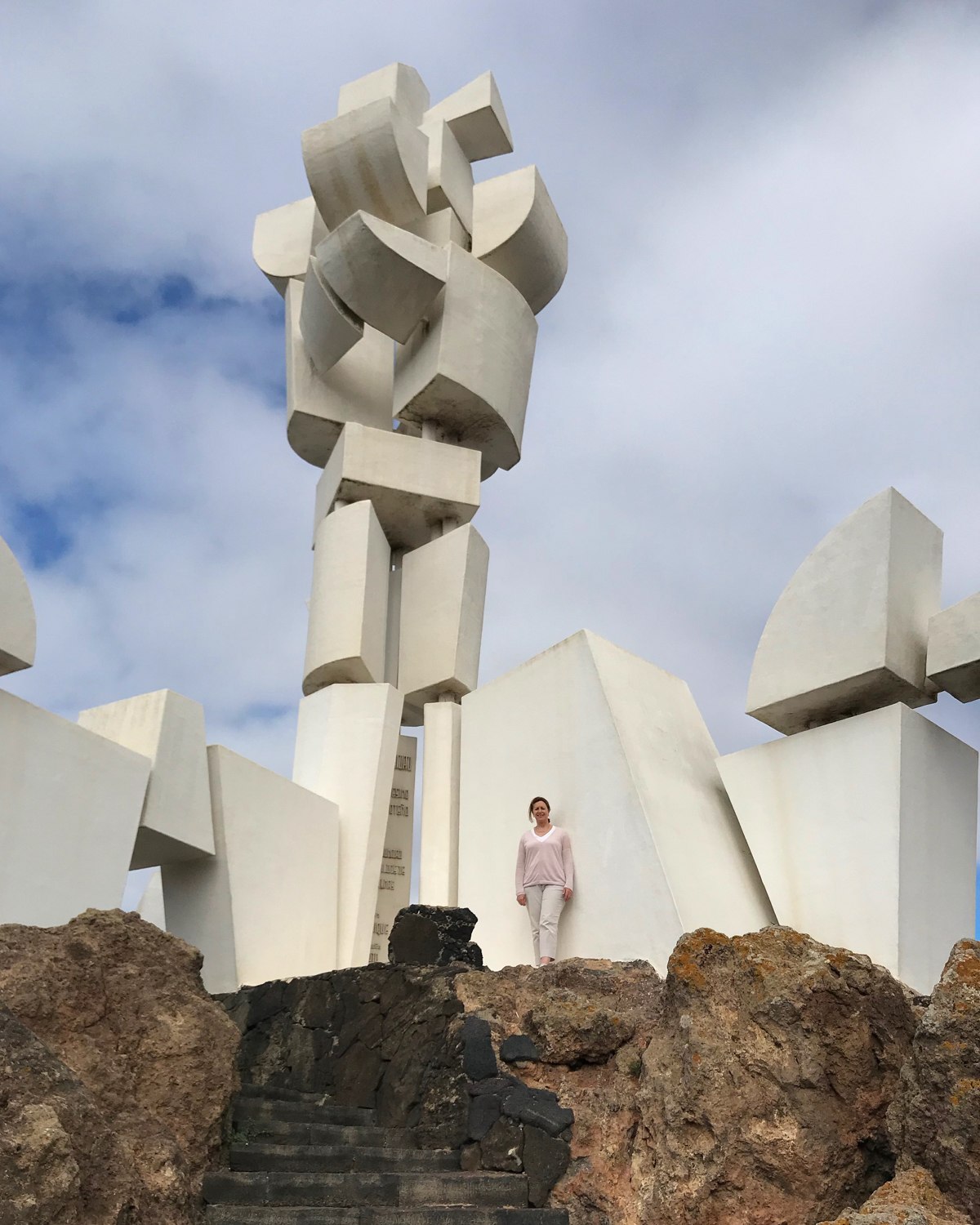 In the centre of the island, the Museo – Casa del Campesino is a homage to the farming life of Lanzarote, with artisan workshops, farming museum and excellent restaurant dedicated to local dishes, set in an old Finca. Nearby, the Monumento a la Fecundidad (Monument to Fertility) makes a sculptural focal point, constructed from old agricultural tanks.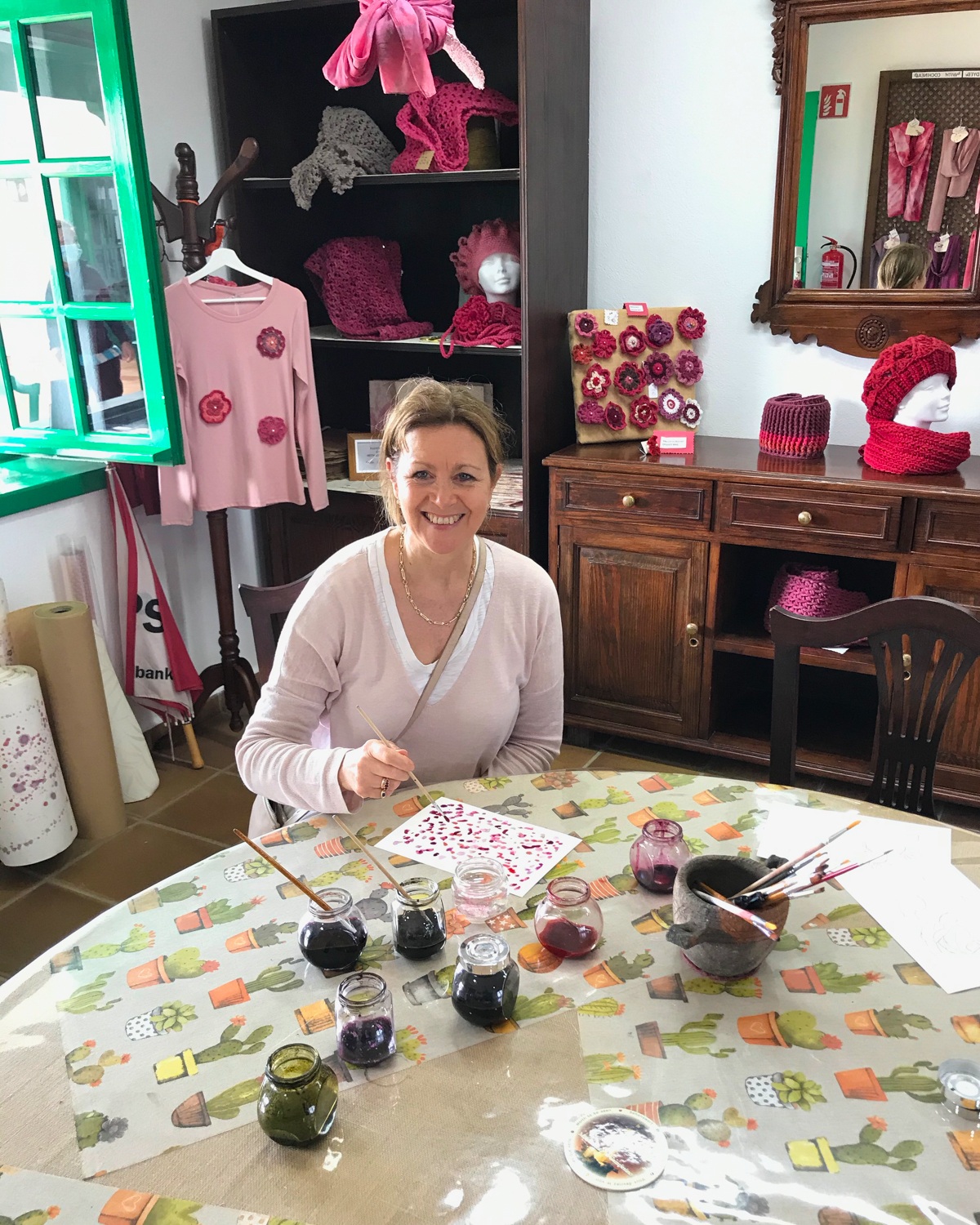 You can visit both of Cesar Manrique's houses at Tahiche and Haria, designed with his characteristic white walls and blue pools, with the workshops where he painted and exhibition space at Tahiche. Lovers of the visual arts should head to the island's capital Arrecife, where the International Contemporary Art Museum is housed in the old stone fortress of Castillo de San José.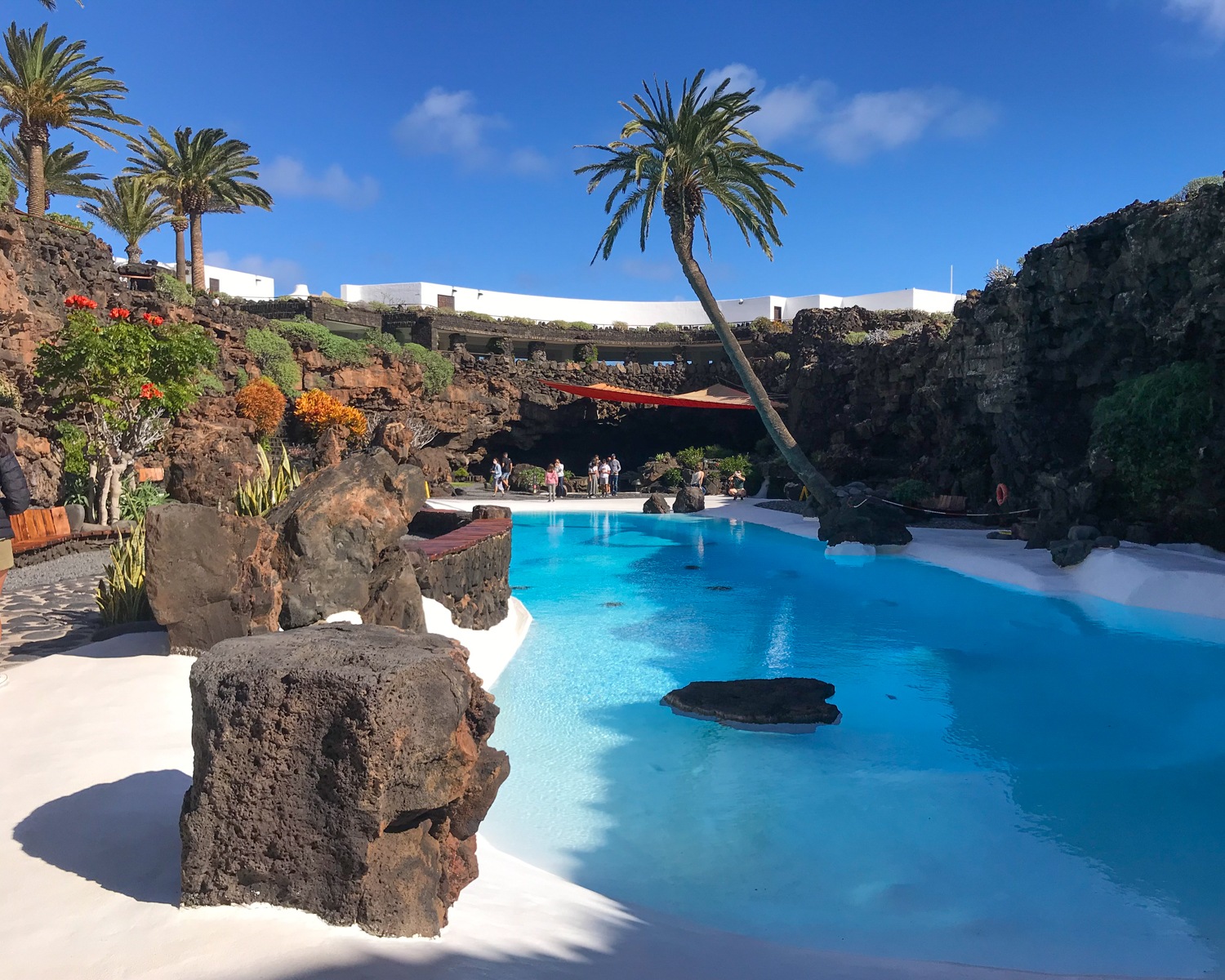 Photographers will get the most instagrammable shots at LagOmar, the house designed byartist Jesús Soto that once belonged to film star Omar Sharif. Another photogenic location designed by Cesar Manrique is the Jameos del Agua caves complex, where a volcanic lake filled with tint albino crabs gives way to a blue lagoon surrounded by palm trees. Also a pleasure to visit is the Jardin de Cactus with 4500 cactus from all over the world, contained within the sheltered walls of an old quarry.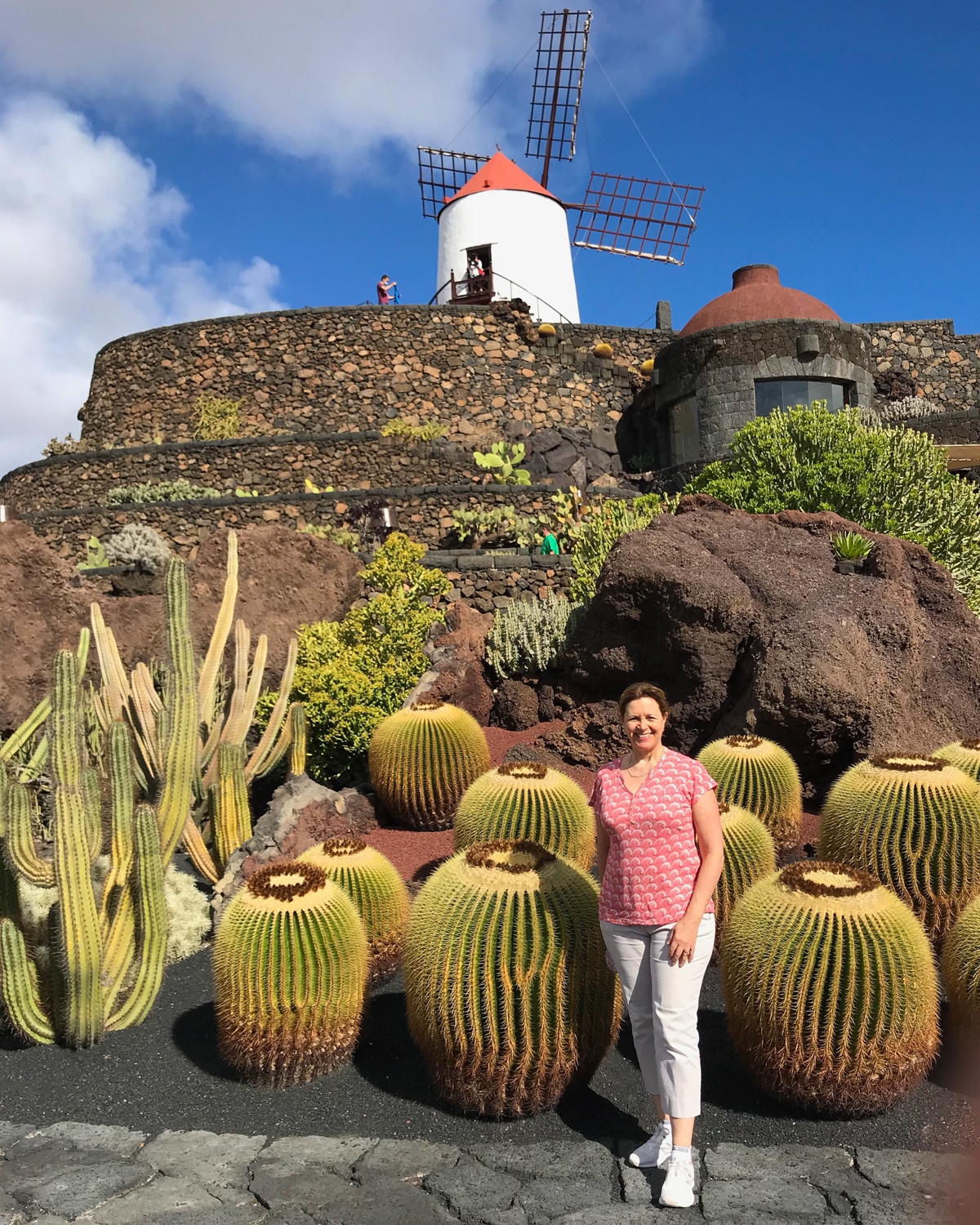 9. The striking volcanic landscape
In the Timanfaya National Park you can visit the area that was devastated by volcanic eruptions in the 1730s, when 200 square km of fertile farmland was showered with ash and lava. The resulting landscape is austere and other-worldly, so unsurprising that this area has doubled in many science fiction movies as the moon or some far off planet!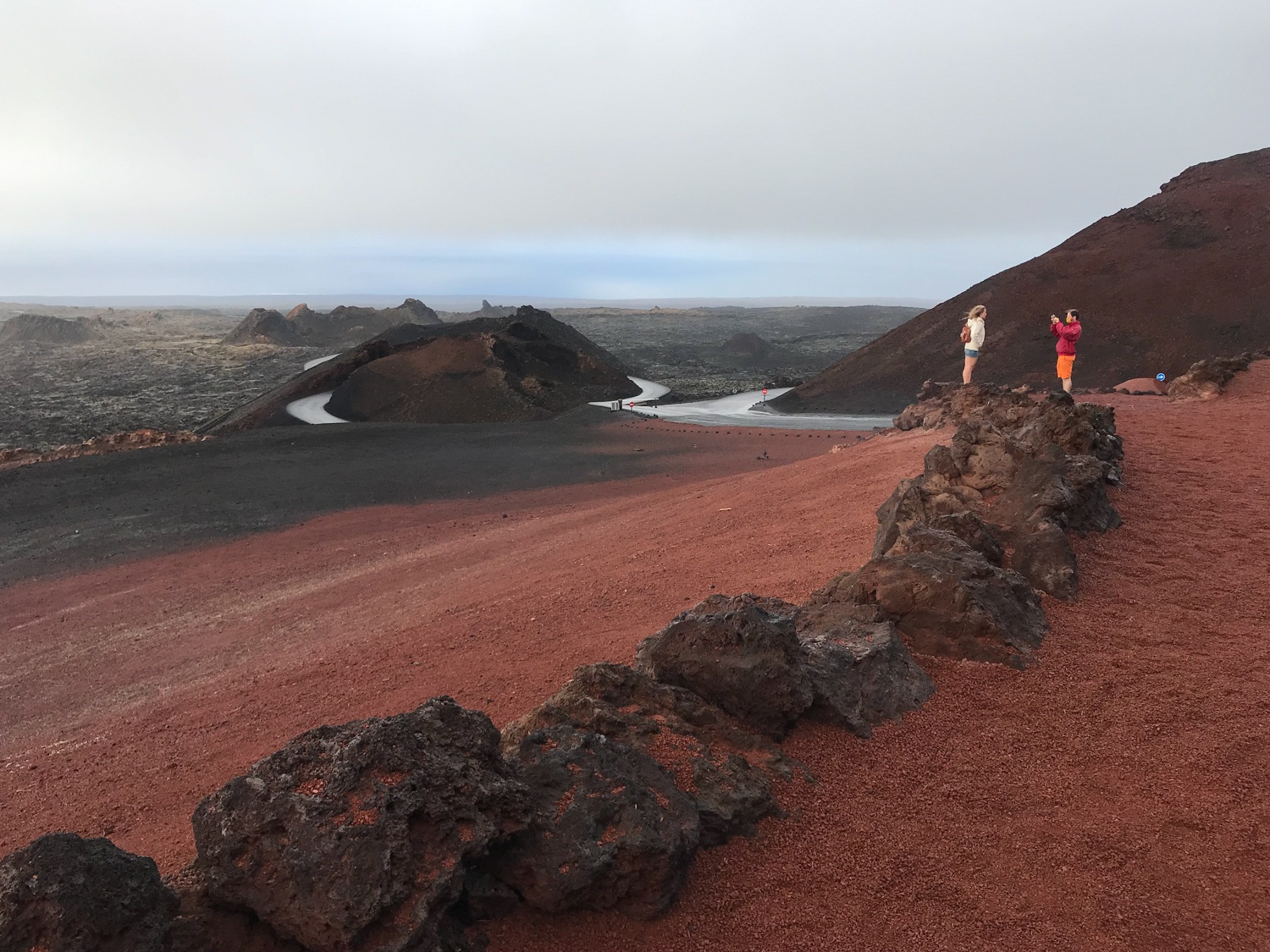 While most of the volcanoes in Lanzarote are now dormant, you can get a feel of the volcanic activity at first hand by visiting the Montañas del Fuego or Fire Mountains within the Timanfaya Park. Leaving your car at the El Diablo restaurant, a coach tour takes you along the narrow track of the Ruta de los Volcanes, ending with a demonstration of a geyser of water heated by the volcanic rocks below the surface and a menu in the restaurant of roast chicken or steak barbecued over hot volcanic stones.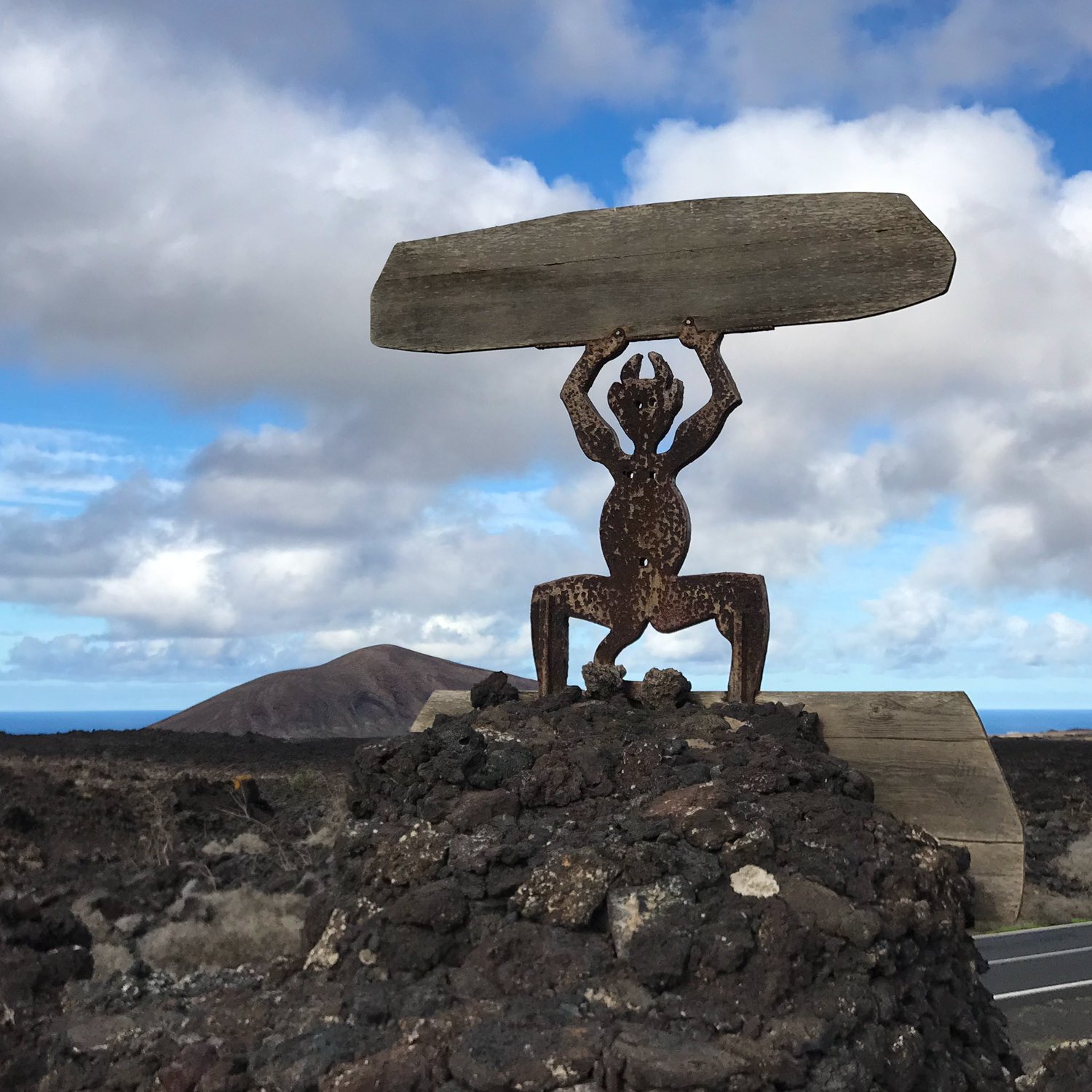 Within the park there's also the chance to stop at the Echadero de Camellos or camel station, to take a ride on one of the camels that were traditionally used as farm animals in Lanzarote. The nearby visitor centre offers a chance to learn more about the volcanic activity in Lanzarote with videos of lava flow, and a simulation of the eruptions.
Read More: Timanfaya National Park and the volcanoes of Lanzarote
Stay at Occidental Lanzarote Mar
The 4 star Occidental Lanzarote Mar is ideal for families and those who love sports. This is a larger hotel with 442 bright and spacious rooms, close to Costa Teguise Resort and a short drive from the sea. Families will love the range of swimming pools (3 pools for children, 2 pools for adults) as well as children's playgrounds and kids clubs to keep the little ones entertained.
If you are in to sport, you'll want to make use of the Olympic size swimming pool, professional cycling centre, fitness studio and wellness centre. You'll find a range of different bars and restaurants with all-inclusive packages available. This is a great hotel with something for all ages and tastes, so perfect if you are travelling with a group of friends.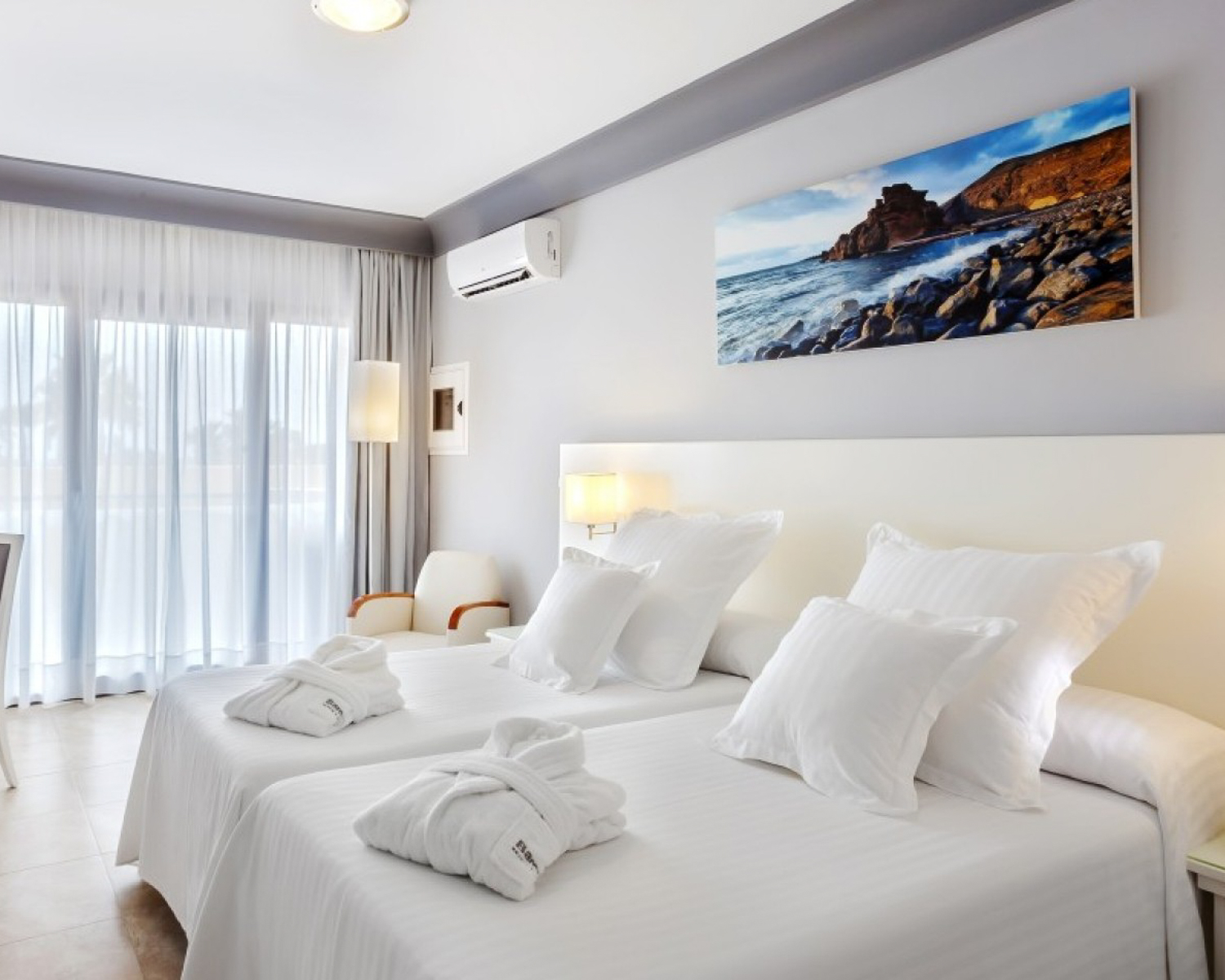 Barceló Hotel Offers
For the best hotel prices check out the Barcelo Hotel Offers. The best rates are guaranteed when you book directly with Barceló and when you sign up as a my Barceló member.
10. The weather's perfect for hiking and cycling
Winter is the ideal time in the Canary Islands to enjoy outdoor activities like walking and cycling, with sunny weather but temperatures around 20 degrees C that won't leave you exhausted and sunburned. The mild winters make Lanzarote a favourite destination for serious cyclists to come and train, with many hotels like the Occidental Lanzarote Mar offering excellent sports facilities and a professional cycling centre.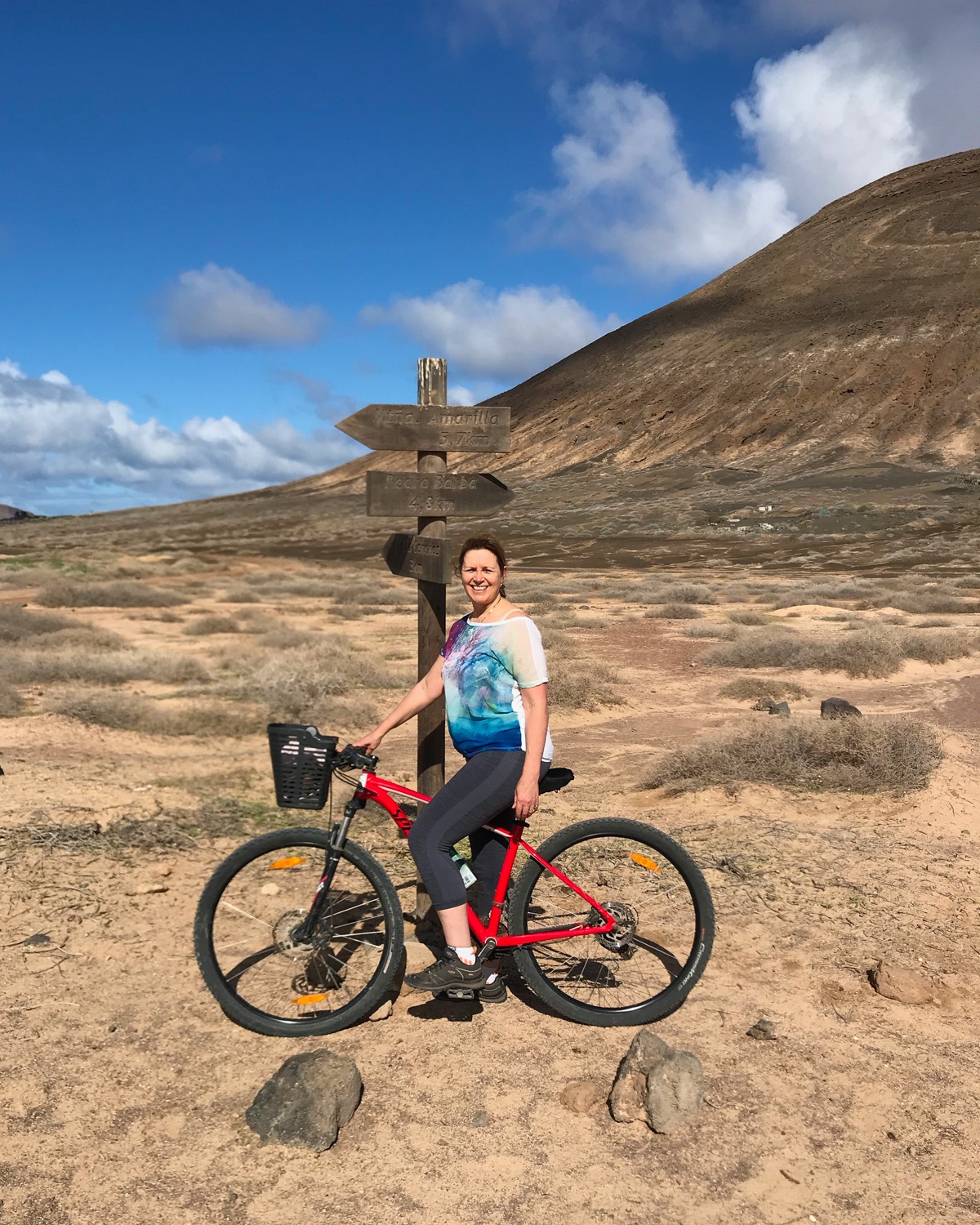 But even if you're not quite at Tour de France level, you can still enjoy cycling for fun. For a great day out, take the ferry from Lanzarote on the 30 minute crossing to its smaller sister island of La Graciosa where you can hire bikes and spend the afternoon cycling to all the best beaches.
Read more about our day of cycling: Visiting La Graciosa from Lanzarote – a day of cycling and swimming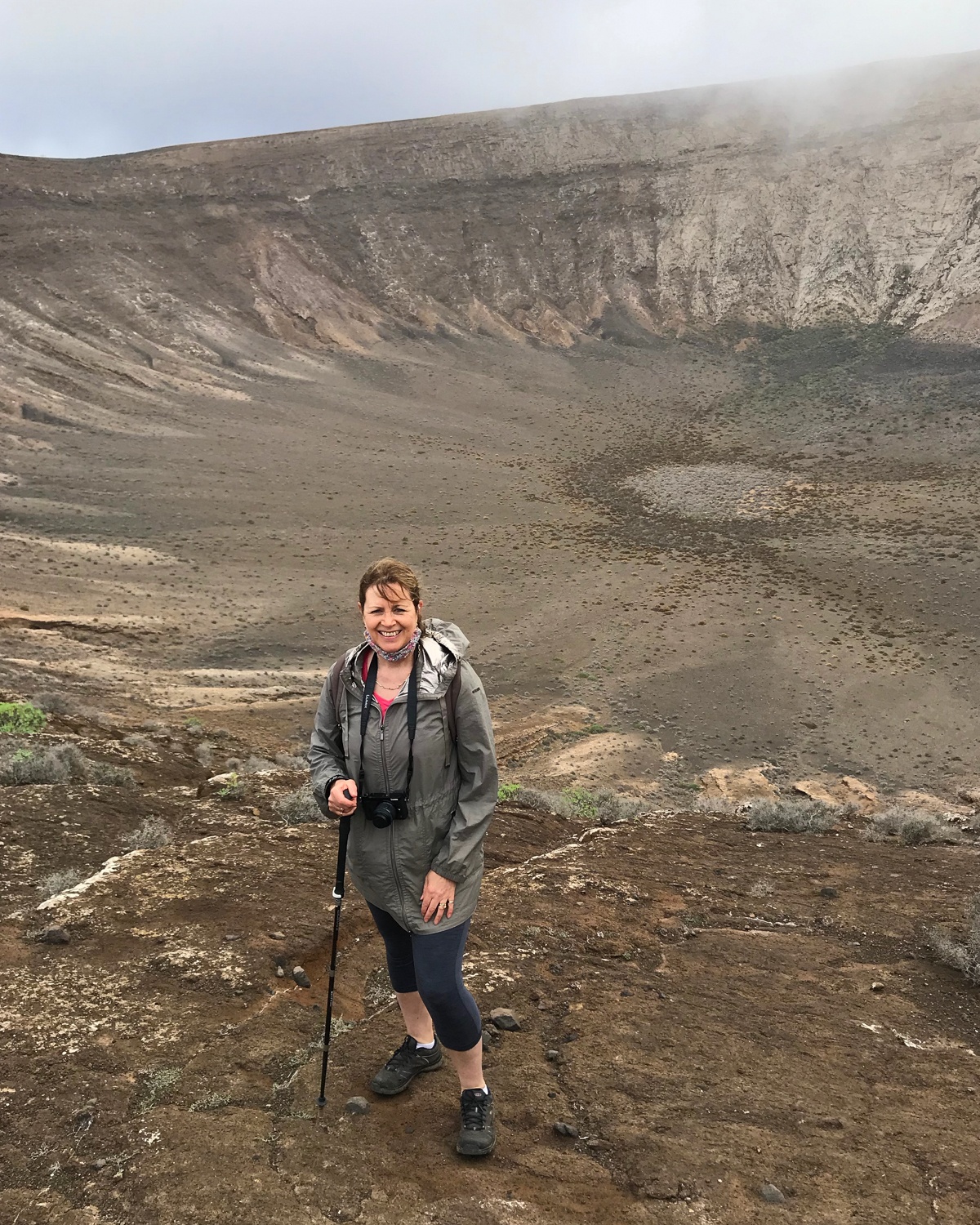 For hiking, there are numerous easy trails to follow, especially in the Parque Natural de los Volcanes that adjoins the better known Timanfaya National Park. Our favourite was the climb up to Caldera Blanca, one of the extinct volcanoes with great views over the lava fields created by the eruptions of the 1730s.
Read Next
If you'd like to explore more about Lanzarote, read my article on 30 amazing things to do in Lanzarote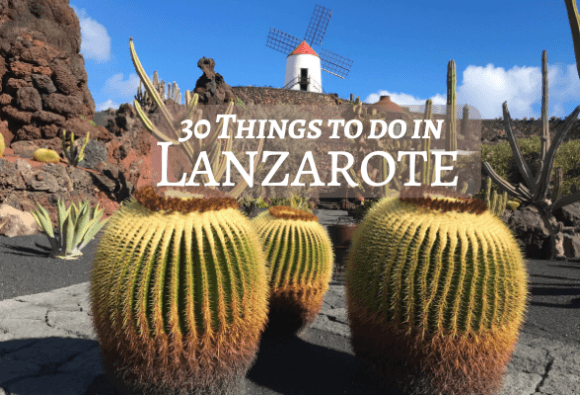 Plan your trip to Lanzarote
Find more information to plan your visit to Lanzarote on the Turismo Lanzarote website and the Hello Canary Islands website.
Barceló Hotel Offers
For the best hotel prices check out the Barcelo Hotel Offers. The best rates are guaranteed when you book directly with Barceló and when you sign up as a my Barceló member.
The my Barceló discount is up to an additional 20% for reservations at barcelo.com and its own call center, depending on the stays already enjoyed (see program conditions). The application of the offer as a whole would be the promotional code for this campaign, the hotel's own offer and the my Barceló customer discount. Promotion subject to the maximum discount allowed in each hotel.

About Barceló Hotels
Barceló is the 2nd largest hotel chain in Spain and the 29th in the world, with a portfolio of 251 hotels of 4 & 5 stars, and more than 55,000 rooms in 22 countries. To get the best deals on your next sunshine holiday, check out these Barceló Black Friday accommodation deals on hotels and resorts worldwide for latest discounts and bargains.
Pin it
This article was sponsored* by Barcelo Hotels
* More info on my policies page