Most people in Britain think of Le Havre as a place to get off the ferry and drive straight on to their holiday in France. For the French however, it's a sailor's haven, a seaside resort for families and a gateway to the Alabaster Coast, with the translucent light so loved by the Impressionist painters. On my weekend in Le Havre I discovered there's a lot more to this UNESCO World Heritage site than meets the eye and with daily ferries on the Portsmouth Le Havre crossing with Brittany Ferries, it's ideal for a weekend break. Here's my weekend guide to what you can see in Le Havre, France.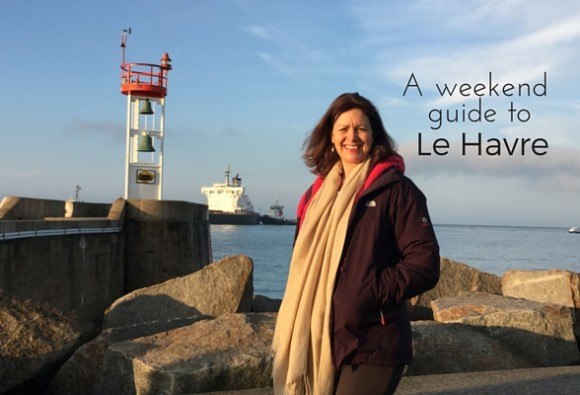 Arriving on Brittany Ferries to Le Havre
We arrived in Le Havre port on an overnight sailing with Brittany Ferries, having slept well in our cabin bunks, risen to a good breakfast and gone up on deck just as dawn was breaking. With flat-fronted post-war buildings lining the port, you won't find much of the picturesque, since most of the town was destroyed by Allied bombing in the Second World War. The man awarded with the monumental and unenviable task of rebuilding Le Havre and rehousing the 80,000 people who had been made homeless, was architect Auguste Perret.
Need somewhere to stay? We recommend the Novotel Le Havre Centre Gare, which is comfortable, modern and well located within walking distance of the ferry port.
The post-war architecture of Le Havre
Rather than try to reconstruct the town in the old style, the acres of rubble were replaced with a unified town plan, with the inhabitants being rehoused in new apartments, allocated based on the size of the houses they had lost. The approach was not universally popular since the people of Le Havre just wanted their old town back, even though the scale of the devastation made this impossible.
You may also enjoy: A guide to Monet's Garden at Giverny – Normandy, France
Since there was no source of stone nearby, little petrol to transport materials and a minimal post-war budget, the options were limited. Perret's solution earned him the name The Poet of Concrete. This flexible material could be easily transported and mixed on site, to create low rise apartment blocks that were harmonious, yet each subtly different in their colours, textures, classical columns and balcony design.
From the top of the Hôtel de Ville Le Havre, we were able to look out over the town and see how it had been rebuilt with ordered boulevards and everywhere rectangular apartment blocks. Perret's modernist vision has now been awarded UNESCO World Heritage Site status, as an example of post-war town planning and the innovative use of concrete.
If you go: Enquire in the Hôtel de Ville (town hall) or Maison du Patrimoine (the Le Havre tourist information centre) at 181, rue de Paris, to check whether there are guided tours up the tower of the Hôtel de Ville, which are recommended for the 360 degree views over the town.

Need a place to stay? Hotel le Carmin is close to the Hôtel de Ville, with colourful, modern rooms.
The Church of St Joseph in Le Havre
As you come into Le Havre by ferry, the spire of St Joseph's church rises 350 feet above the town, serving as a lighthouse for sailors to navigate into safe harbour. The church is one of main tourist attractions in Le Havre, a landmark building that Auguste Perret designed after the war, built on the site of earlier churches that had been destroyed.
Like the rest of Perret's designs, St Joseph's is a monument in concrete, the solid, square base not giving much away of what is inside. The exterior has an industrial feel, like a giant warehouse, but once inside, the interior is softened by the glow of the stained glass in geometric patterns.
Need somewhere to stay? Hotel Vent d'Ouest has a cosy atmosphere and nautical theme, and overlooks St Joseph's church.
Unusually the church is built on the square Greek cross, with the spire rising like a chimney above the central altar. Perret left the concrete structure unadorned, just as it came out of the moulds, but he commissioned the design of the stained glass from another artist, Marguerite Huré.
The 6500 pieces of stained glass rise in grades of colour getting paler until they end with white at the top of the spire. The impression is a harmonious whole but there are subtle variations of colour which change with the direction of the sun. To the east the lilac, green and gold represent the nativity, to the north the blue represents the Virgin Mary and to the south the orange and gold represent the victory of Christ triumphant.
You may also like to read our article about Things to do in St Malo
Other than the stained glass there is little decoration, only the two statues of the Virgin and Saint Joseph that were brought from an earlier church. St Joseph's church is austerely beautiful and unique. The stained glass colours reminded me, as I looked up the spire towards the sky, of a child's kaleidoscope with dots of colour forming ever changing patterns.
I remember my grandfather made one for my mother during the war with balls of coloured foil sweet wrappers. Perhaps Marguerite Huré had one too? The church was completed after Perret's death in 1957 and is dedicated to the victims of the bombings in Le Havre.
Read more about St Joseph's Church, The symbol of Le Havre's rebirth
If you go: St Joseph's church, Bd François 1er, 76600 Le Havre. Free entry. Open daily 10:00-6:00pm except during services.
The Auguste Perret Show Flat in le Havre
To get a feel for the accommodation that was built to rehouse families after so much of the town had been destroyed in the war, visit Appartement Témoin Perret, the 'Show Flat' which is an example of one of the apartments that has been furnished as it would have been in the 1950s.
In order to maximise the limited space, at a time when the priority was to rehouse the largest number of people, Perret created an open plan layout with a living area off which all the other rooms flow. It was revolutionary that the bathroom was not outside in the yard and the kitchen was now in the heart of the home, boasting labour saving appliances such as a refrigerator, pressure cooker and vacuum cleaner.
If I was a modern woman of the 1950s, having lived through the war and the town laid to rubble, I think one of these flats might have looked like heaven to me! I'd be happy to move in myself, with the wooden floors, colourful rugs and warm oak furniture, reminiscent of the classic Scandinavian designs of the same era. I loved the way that even the wardrobes were filled with clothing from the period and the shelves stacked with crockery, as if the family had just popped out to do some shopping.
If you go: Auguste Perret Show Flat, Maison du patrimoine, 181 rue de Paris. Entry: 5 €, free for under 26 yrs and on 1st Saturday of every month. Open Weds, Sat, Sun for tours at 2pm, 3pm, 4pm, 5pm and additional times in July/August.

Need somewhere to stay? Le Petit Vatel is centrally located with a nautical theme close to Le Volcan
Le Volcan in Le Havre
What Le Havre lost in its picturesque pre-war town, it has more than made up for in stunning modern architecture like Le Volcan, the Volcano shaped cultural centre by Brazilian architect, Oscar Niemeyer. We walked down the steps from the road to an open piazza below the level of the main town and through the library which was packed with families, teenagers and locals of all ages.
It's not really a place you would think to go as a tourist, but walking through into the space below one of the two 'volcanos' we could see what an effective and clearly much loved venue this is. Orange and yellow chairs are grouped around casually, with book-cases for browsing, rooms to watch a DVD or listen to music and spaces to just hang out with your friends or people-watch from the upper level balconies. I think there are probably a few quiet corners if you just want a snooze too!
If you go: Le Volcan, 1 quai George V. Free entry for the library, also musical and artistic events are held here.

Need a place to stay? Oscar Hotel is a modern budget hotel that's centrally located and close to le Volcan
MUMA Modern art museum
One of my favourite things to do in Le Havre was the Musée Malraux of Modern Art or MUMA, a light and airy glass sided box that contains the largest collection of Impressionist paintings outside Paris. Start your visit on the quayside opposite the museum where you'll find an information board telling you about the view that Monet painted from this very spot which he named "Impression, Sunrise" giving name to a whole movement of painting – Impressionism.
The art museum is a restful setting for the Impressionist paintings, many of them donations and legacies from major private art collections. Who needs Musee d'Orsay, when you can see the Monet lilies painted at Giverny, Renoir's pretty em>Excursioniste with walking pole in hand, the elegant Degas ballerinas and artworks by Pissaro, Sisley and many others. I loved the colourful, flowing art of Raoul Dufy, who was born in Le Havre and the whole wall upstairs of Normandy cows and pastel sailing boats by Eugène Boudin who painted all along this coast.
You may also like to read our article about Things to do in St Malo
When MUMA was built in the 1960s it was quite unusual to have a café in a museum and it looked the perfect place to sit with a coffee to contemplate the boats passing by on the Seine estuary. If you love the Impressionists, there's a whole trail along the coast of information signs at the places where key paintings were made. Pick up a leaflet at the Maison du Patrimoine visitor centre (181 rue de Paris) or download the iphone app here
If you go: MuMa André Malraux Museum of Modern Art, Cost: 5€ , free for under 26 years and on 1st Saturday of month. Open daily except Tuesday 11am – 6pm. Arrive by bus Line 3 from the train station.
Maison de L'Armateur – the Shipowner's mansion
In contrast to all all the modern architecture is the Maison de L'armateur or Ship Owner's Mansion, an elegant 18th century house that faces the harbour. Built in 1790 by a leading Le Havre architect, it was later bought by a wealthy merchant, Martin Pierre Foache, to use as his offices as well as the winter residence of his family.
What makes the house unusual is the central glazed atrium illuminated by a glass skylight, off which the rooms of the house radiate on four floors. The mansion is elegantly furnished with wooden parquet flooring, marble fireplaces, pictures, furniture and objects of the period that show the lifestyle lived by a wealthy 18th century merchant.
The ground floor was used for storage, with the ship-owner's office on the first floor, while upper floors were the living space of the shipowner's family. From the upper floor rooms I could look out and imagine the merchant spending time with his family, while keeping one eye on his ships passing through the port from his window.
If you go: Maison de l'Armateur, 3 Quai de l'Ile. Cost: €5, free under 26 yrs and 1st Saturday of month. Open: 11:00 a.m. – 12:30 and 1:30 p.m. – 6:00 p.m., except Weds from 2:00 p.m. – 6:00 p.m. Guided tours Sat 11:00 a.m. and 3:30 p.m. Sun 11:00 a.m. Closed on Tuesdays, Wednesday mornings.
By the water in Le Havre
If you love the sea, there are plenty of places to walk close to the water in and around the port of Le Havre. Stroll along the Bassin de Commerce, the harbour front, cruise port, the marinas and the beach promenade which comes alive in summer with pop-up bars and restaurants. My sister also enjoyed a visit to Les Bains des Docks, a modern public baths and spa, with pools, sauna, jets and leisure facilities that sounded amazing.
On the cliffs at Etretat
A 40 minute drive north along the coast from Le Havre is the small seaside town of Etretat with a pebble beach. The white cliffs of the Alabaster coast extend at the edge of town, where you can get the famous views of the sea arch la falaise d'aval and the seascapes loved by the impressionist painters.
On the cliff tops where there's a car park you can walk around the pretty chapel of Notre Dame de la Garde, with cow head gargoyles along one side that match the Normandy cows munching contentedly in the fields. The original chapel was destroyed in WW2 so what you see is a reconstruction built in the 1950s, and unfortunately wasn't opened when we visited so I couldn't look inside.
Need a place to stay? The Dormy House has a grassy terrace with views over Etretat and is traditionally and comfortably furnished.
From the chapel, paths lead along the cliff top and down to some of the hidden beaches under the cliffs that earn this the name of Alabaster coast. It was quite windy on the cliff top and I didn't dare go much closer to the edge for fear of being blown over!
Behind the chapel is another monument known as L'Oiseau blanc that commemorates the transatlantic flight from Paris to New York in 1930 of Costes and Belmonte. They had been preceded in 1927 by Charles Linderberg who being the first (and American) is of course the one to be remembered. However there were six unsuccessful attempts before his and four of these disappeared into the Atlantic, never to be seen again.
After our wander along the cliff top we drove down to the small town of Etretat which was full of charming houses, bars and restaurants. There were just a few people strolling around and walking on the pebble beach but I imagine that it is packed in summer.
If you visit Etretat by car, you may like to also stop at Manoir de Cateuil at Valaine close by, a farm where they make cider, keep goats and sell cheese and goats milk ice cream as well as delicious chocolates which we tried – check the website for more information.
Need a place to stay? Detective Hotel is in the centre of Etretat and has a quirky detective theme, with retro furnishings
If you go: Etretat is a 40 minute drive north from Le Havre on the D940 and there is a car park on top of the cliff. You can also take the No 24 bus from Le Havre which runs a few times a day.
Try the Normandy cuisine at Le Havre
If you'd like to try some of the traditional dishes of Normandy – often based on cheese, cream, cider and calvados, I can highly recommend Le Bouchon Normande in Le Havre where we had dinner one evening (77 Rue Louis Brindeau). The restaurant has a cheerful bistro atmosphere with a menu of homely dishes that use the best of the local ingredients from the nearby market and the surrounding region. There are a wide range of choices from soupe de poisson and terrine de campagne to escargot (snails), tête de veau (brains) and tripe if you really insist. And of course there will be at least one desert that includes the famous Normandy apples in one form or another.
You may also like to read our article about Things to do in St Malo
For food shopping in Le Havre, the covered market is open daily from 10am and well worth a visit to drool at the selection of ripe fromage, charcuterie and chocolat. On Sunday morning there's also a street-market surrounding the market hall where we found even more delicious specialities like these Coeur de Neufchâtel heart shaped cheeses which the local ladies used to award to the soldiers and a sign of their favour. Since we were travelling home on Brittany Ferries there was no issue with space and we stocked up with a few delicacies of cheese, saucisson and Normandy cider to take back and enjoy.
Normandy Cooking
For a real taste of Normandy, France we spent a morning at the country house outside Le Havre of Chef Régine who runs cookery classes as well as a "Chef Chez Vous" service where she will come and cook for your group or party.
Donning our chef's hats we were able to try out some of the traditional dishes that Régine had recreated from the recipe books of Claud Monet who lived nearby at Giverny. Most delicious was the cheese soufflé made with gruyere, cream and nutmeg followed by the Chicken Honfleur with chicken poached in a creamy sauce of butter, wine and calvados with a scattering of piquant capers.
Lunch was served at a long table in Régine's elegant conservatory clothed in vines and lemon trees, while we imagined ourselves to be living the rural French lifestyle that Monet might have enjoyed amidst his gardens at Giverny.
The piece de resistance was the Apple Giverny tart, a round of buttery shortbread topped with apple pieces cooked in butter and a most delicious salted butter caramel sauce. As you can tell those Normandy cows have a lot to answer for! We all came away vowing to recreate that desert and luckily Régine provided us with the recipe so I can share it with you.
Apple Giverny Tart
To make the caramel sauce mix in a saucepan 100g caster sugar and 3 soupspoons of water, add 100 salted butter cut in pieces and heat gently, adding 40cl cream slowly. Bring to the boil then turn down the heat and cook gently until thickened. Serve with the apple tart made with a shortcrust base topped with small cubes of apple that have been gently cooked in butter with a sprinkling of vanilla sugar.
Chef Régine can be contacted through Chef Chez Vous
Our weekend in Le Havre ended as we boarded the Brittany ferry bound for Portsmouth late on Sunday afternoon for the sailing home, just as the sun was setting over the harbour. After a five hour crossing with a few drinks and a nice supper, we arrived back in Portsmouth later that evening. Our weekend with Brittany Ferries had proved that the channel ports like Le Havre are far more than a gateway to your holiday in France. They are weekend destinations in their own right, offering delicious food, fascinating history, impressionist art, refreshing walks by the sea and all in an easy hop across the channel. Who needs to fly?
Have you ever visited Le Havre and if so were you just passing through? Perhaps you'll be tempted to go back and explore? Do let me know in the comments!
Read more about Le Havre and Brittany

Lines of Escape: A winter sun weekend in Le Havre
Mrs Ayla's Adventure: A weekend discovering Le Havre
Heather on her travels: A Road trip through Brittany and Normandy
Heather on her travels: Gone fishing for crabs in Brittany
For more information
To plan your weekend break in Le Havre visit the Le Havre Tourisme website and follow them on social media: Twitter | Facebook | Youtube
You can find more about the wider region on the Normandy Tourism website: Twitter| Facebook | YouTube | Pinterest
Plan your ferry to Le Havre with Brittany Ferries who sail from Portsmouth to Le Havre, Caen, St Malo, and from Poole to Cherbourg and from Plymouth to Roscoff and St Malo. Connect on Social Media | Twitter | Facebook| Pinterest | Youtube | Blog
Where to stay in Le Havre
We enjoyed a very comfortable stay at the 4 star Novotel which is a short distance from the ferry port and the train station. The 134 room hotel is modern in style and we had a spacious bedroom on the first floor with an extremely comfortable mattresses. There was a good breakfast buffet and a tram stop close by to reach the centre of town, although we could also have walked. Novtel Le Havre, 20 Cours La Fayette, Quai Colbert, 76600, Le Havre, France.
Getting to Le Havre on Brittany Ferries
Heather travelled on Brittany Ferries who sail daily to Le Havre as well as a number of other ports in Brittany and Normandy. The ferries from Portsmouth sail daily in winter at 23.15 arriving at 8.00 the next morning and returns from Le Havre at 17.15 or 22.00 with more sailings in high season. Travelling as a foot passenger on the Le Havre Ferry with an en suite cabin both ways would cost around £100 per person or £140 per person if taking the car (based on 2 people sharing).
We sailed on board the Etretat, with a bar, lounge and small cinema as well as a self service restaurant with excellent food. Check the Brittany Ferries website for more information and to book your crossing.
Pin It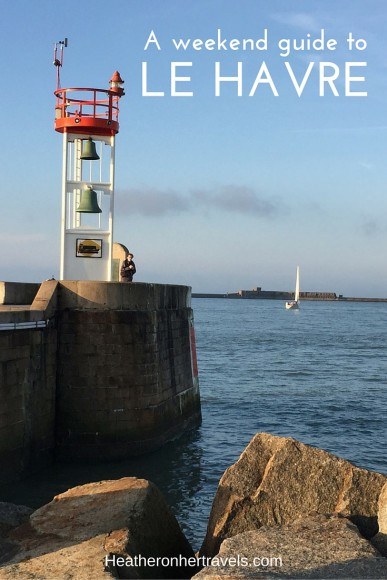 Thanks to Le Havre Tourism and Brittany Ferries who hosted* Heather and her sister for a weekend break in Le Havre.
* More info on my policies page
This article is originally published at Heatheronhertravels.com – Read the original article here
This article may contain affiliate links that provide commission on purchases you make at no extra cost to you. As an Amazon Associate I earn from qualifying purchases.