On my recent visit to Copenhagen, I enjoyed the company of my daughter, Sophie-Anne, who shares her tips for things that mums and daughters can enjoy together in Copenhagen.
Unless you are travelling alone, there will always be a difference of opinion on what to do and see. One art lover's Picasso museum is another girl's prison, so it can be hard to find a balance. This is certainly true of different ages, and although I am probably going to end up as my mother at the end of my road to adulthood, for the time being we have varying opinions on a day well spent.
Last summer my whole family went to Copenhagen and the trip was a great success, with every family member enjoying the Danish capital. This summer my mum and I returned for a girl's only trip leaving the boys at home to the British rain. Just like last summer it was easy to find things to do that we would both enjoy as there are so many cool trendy neighbourhoods of Copenhagen. Here are some of the things in Copenhagen that we both enjoyed;
Tivoli Gardens
Tivoli amusement park is beautiful and not tacky! Repeat, not tacky – a rarity in the world of amusement parks! Like most Danish things, it is tasteful and quirky (it has the most adorable little houses for the ducks on the lake). However, it still earns its title as an amusement park and has all the theme park rides to amuse those who dare to try them out. Last year my brothers and I dared to go on all the biggest rides while my dad and mum lounged about admiring the beautiful gardens. You can also go to Tivoli in the evening when it is all lit up or watch ballet on the Pantomime Theatre stage.
Sculpture at Ny Carlsberg Glyptotek
I loved the sculpture museum at Ny Carlsberg Glyptotek, perhaps for more sentimental reasons than my mother. My grandmother bought me children's books based around famous art pieces, and one in particular 'The little ballerina' was my favourite. It was based on Degas' little ballerina statue and his ballet paintings. Like most little girls I was enchanted with the whole ballet world so adored the book and was madly in love with Degas' ballerinas and the little ballerina statue. I finally managed to see the statue at Ny Carlsberg Glyptotek, which was a real treat for me, and of course all of Degas' other beautiful paintings. There are lots of statues that are amazing, and also paintings upstairs showing a range of artists such as Gaugin and Picasso. There is also a lovely café in the museum for a culture break.
Shopping on Strøget
Now what would a girl's holiday be without shopping? The Danish girls are all so stylish that it would be a crime (in my very female eyes) not to visit the shopping street of Strøget. Illums Bolighus is my favourite, a beautiful department store which most people can find a section to nestle themselves into. Also handy that it is located next to the Royal Copenhagen store, so I can let my mother wander off to look at the teacups, saucers, plates and then catch up with her for the 5 minute china tour as opposed to a 45 minutes tour. Georg Jensen is also a must see with beautiful silverware and jewellery – I've got my eye on the daisy bracelet and my mum on the grape ring.
Swim in the harbour
If you are visiting in summer I urge you to go and swim in the harbour at Islands Brygge, where you can mill around the locals on the grass enjoying the sun. Part of the harbour is enclosed for the public to swim, with lifeguards, a children's pool and a diving area next to a grassy area which creates a lovely ambiance and relaxing vibe in the middle of the busy city. And best of all it's free to go! It would be easy to take a picnic on your bike and sit on the grass and let the day roll past slowly.
Cocktails in Copenhagen
Both my mum and I love cocktails, which is also true of all the other girls among my cousins and aunts. I love sitting in a beautifully decorated bar with my mum sharing a few exquisite cocktails. We visited Lidkoeb, which was a gorgeous cocktail bar with well picked furnishings. I asked for the most popular cocktail, which the friendly bartender informed me was usually anything with ginger in as the Danes love it – a perfect fit for a fellow ginger lover. My mother had the Kolonihaven with geranium gin, cloudy apple and cucumber juice which was also delicious.
We were also lucky to visit the very V.I.P whisky bar at the top with table service only and the finest whiskies from around the world. In Copenhagen there is plenty of choice for a nice evening drink around Copenhagen, such as sitting on the Nyhaven canal, heading to the meat packing district in Vesterbro or crossing on the ferry to Paper Island where Copenhagen Street Food has all varieties of street food served from trailers.
Eating out in Copenhagen
Any student will tell you that one of the biggest perks of travelling with a parent is a bill being paid for. This means you can have a real drink and not just tap water, and you have full range of the money choices instead of just the ones under £10.
In Copenhagen my mum and I ate in the amazing uFormel restaurant which is new Nordic cooking, very modern but out of the student budget. The restaurant menu has a range of small plates, with the idea that you order a few, and they come out in order like a 3 course meal. I had the ceviche – a trip down memory lane from my South America trip and a plate of the most amazing tender lamb! Both were delicious and strayed into adventurous eating, which was perfect for me as I hate going to a restaurant only to find the menu comprises of things I could cook at home myself. (Read the review of uFormal from Alex Berger who joined us for dinner)
In complete contrast we also visited the Urban House in Vesterbro which has a hot dog bar, with lush hot dogs smothered in various delicious toppings. Although my mum tends to find such places by herself these days, it can be a delight when the kids introduce those above them in the family tree to the new modern crazes or places they otherwise wouldn't visit.
More things to do in Copenhagen
Which Copenhagen district to choose for a City Break – a guide to the city's neighbourhoods and best places to stay, from up and coming Vesterbro to classy Frederiksberg
Light, Air, Water – finding a healthy holiday in Copenhagen – healthy tips for rest and relaxation on your spa break by the sea in Copenhagen
10 summertime cool things to do in Copenhagen – rent an apartment to live like a local and enjoy the summer in Copenhagen
Visiting Copenhagen
For more information about things to do in and around Copenhagen, check out the Visit Copenhagen website as well as the Visit Denmark website for other parts of Denmark.
Heather and Sophie-Anne flew with Scandinavian Airlines from London Heathrow to Copenhagen. SAS fly several times a day to and from London to Copenhagen giving you a choice of times to make the most of your time in Copenhagen. On arrival take the train direct to the centre of Copenhagen.
Heather and Sophie-Anne used the Copenhagen Card which covers free public transport around Copenhagen as well as free or reduced price entry to many of the attractions in and around Copenhagen.
Pin It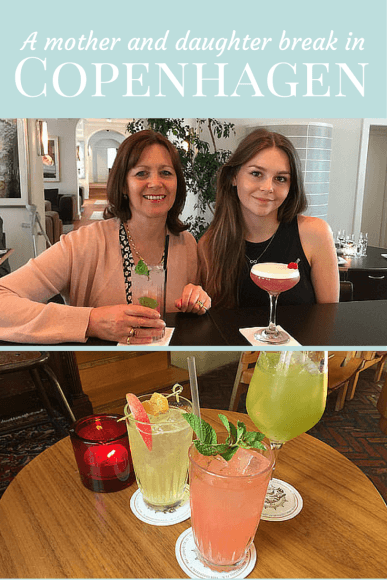 Thanks to Wonderful Copenhagen and Visit Denmark who provided some of the experiences mentioned and to SAS who provided Heather's flight. This article was brought to you in partnership with Wimdu.
This article is originally published at Heatheronhertravels.com – Read the original article here

You'll also find our sister blog with tips on how to build a successful travel blog at My Blogging Journey