With sandy beaches, shallow bays and rolling farmlands, Canada's smallest province of Prince Edward Island provides a bounty from its cold Atlantic waters and rich, red soil. The culture of PEI food is relaxed and authentic, with a deceptively homespun blend of lobster suppers and farmers markets, craft beer and seasonal produce that might have come straight from the fictional Anne of Green Gables farm at Avonlea.
But Canada's Food Island also holds its own for the most sophisticated foodie, offering the finest quality of produce from land and sea, with celebrity chefs like Michael Smith spreading the reputation of food in Prince Edward Island to an international audience. We found so much to enjoy in the food of PEI, so come along with us for a tour of the delicious flavours, outstanding restaurants and food experiences we found when we stayed in the island capital of Charlottetown and toured around Prince Edward Island.
This article aims to inspire you for future trips. We recommend that you check latest government advice before booking to travel and the websites of any places you wish to visit to check the latest situation.
Seafood in PEI – the freshest harvest from the sea
You can taste the freshness of the PEI seafood and Prince Edward Island is one of the leading seafood producers for the rest of Canada. With miles of sandy beaches, shallow bays and pristine Atlantic waters, the island takes pride in the sustainability and quality of its harvest from the sea, so there's no better place to try the freshest lobsters, mussels, oysters and clams.
Read about 10 fun things to do in Prince Edward Island and Charlottetown
PEI Lobster from the cold Atlantic waters
The cold Atlantic waters off Prince Edward Island make an ideal breeding ground for lobsters and other seafood with the fishing of lobsters being regulated by quotas and fishing restrictions to ensure a bountiful supply. The lobster season in runs through May and June, when the PEI lobsters are at their peak and there's a second season from August until October.
The famous Prince Edward Island Lobster suppers originated as fundraising held in church halls, where friends and family would gather for a starter of chowder or mussels followed by whole boiled lobster served with butter. The tradition of the lobster suppers in PEI is continues in restaurants around the island, such as Lobster on the Wharf in Charlottetown, New Glasgow Lobster suppers or Fisherman's Wharf in North Rustico where you can order your own Lobster Supper.
Try the Lobster Roll in PEI
We visited Lobster on the Wharf on the waterfront at Charlottetown, with its seafood market where you can take a look at the lobsters and oysters and make a purchase if you wish. In the restaurant next door we tried their famous lobster roll, which is another PEI favourite, especially eaten at lunchtime.
The large chunks of lobster are served with crisp lettuce and just the right amount of mayo so as not to overpower the lobster, then tucked into a soft floury white roll. The local restaurants all compete for the title of best PEI lobster roll and with a view of the harbour we think ours was definitely a contender. It's hard to believe that not so long ago, lobster were considered as poor man's food and were so plentiful that they could be used on the farmer's fields as fertiliser.
Read more about Delicious Canadian food – 40 food experiences to make you fall in love with Canada
PEI Oysters from the island's bays and inlets
The shallow bays around PEI are also perfect for oysters and like a good wine the flavour can depend where there are farmed or caught. The most famous variety is the Malpeque oyster originating in Malpeque Bay on the north shore of PEI which are now farmed all over the island, with the oyster season running from May to November. You may also see oysters on the menu named after the areas they come from such as Colville Bay or Raspberry Point oysters.
It's a personal choice whether you like to eat the PEI oysters freshly opened and raw or cooked. I prefer them natural with perhaps a squeeze of lemon so that you can taste the flavour of the sea, but there are also many delicious ways to cook the oysters in their shells or fry them in cornflour to use in different dishes. If you want to try just one or two, you can often buy them individually at seafood counters like Lobster on the wharf in Charlottetown.
Numerous oyster bars in Charlottetown will serve you a plate of oysters, such as Claddagh Oyster House where we were able to compare the flavours of different varieties. You'll also find many other restaurants around the island such as Malpeque Oyster Barn that specialise in Prince Edward Island oysters. They will typically display the oysters on ice, showing the names of the different varieties depending on what's freshly caught that day.
PEI Mussels – enjoy them all year round
The PEI mussels are another of the seafood delicacies to try and a large bowl of mussels makes a great lunch or an appetiser before your main dish of lobster. Wild mussels grow abundantly along the shoreline PEI but they have also been farmed here since the 1970s, grown in mesh socks suspended from ropes in shallow bays and inlets to allow the sea water to wash around them.
The PEI mussel season is not restricted to when there's an R in the month, so the Prince Edward Mussels are harvested and available to eat all year round. You'll find mussels on the menu of all the restaurants that specialise in seafood in PEI and we enjoyed ours at 21 Breakwater in Souris on the northern shore of PEI, where they were served with country bread and a creamy sauce on the side.
PEI Clams – dig them from the beach
Clams are found in the soft wet sand of many beaches when the tide goes out and clam digging in PEI is a favourite local activity that you can also try as a visitor. Ready to cook clams are on sale from seafood farms, where they have been collected in the wild and then cleaned in tanks of seawater.
A traditional way to try the Prince Edward Island clams is to cook them on the beach where the clams are dug, washed in seawater and then steamed in seaweed over an open fire in a clam bake.
If you are just visiting, it's probably easiest to try clam digging in PEI by booking an activity with ExperiencePEI who offer a number of different food experiences on Prince Edward Island.
PEI Ice cream and Gouda cheese
Moving away from the sea shore you'll find rolling fields and fertile farmlands with the rich, red soil that's ideal for dairy production. Another famous export of PEI is the COWS Ice cream, which started at the creamery in Cavendish but is now sold in many different locations around Canada.
I popped into their central Charlottetown location right next to the Confederation Centre of Arts to try some of their fresh strawberry ice cream from an ever changing selection. Their ice cream is served with a large dollop of humour and the different flavours have quirky names like Cowconut cream pie, Cownadian Maple and Moonicorn. You'll find COWS Ice cream in several other locations of PEI as you travel around the island, so be sure to try some of their luscious island ice cream.
Read more: A foodie guide to Victoria in Canada
COWS also make cheese on Prince Edward Island, with more information on their Cows Creamery website and you can also look out for the artisan Glasgow Glen Farm Gouda which is sold from their farm shop and at Farmers markets. A typical dish on the menus of many local restaurants is a charcuterie and cheese tasting board, which is ideal for sharing over a craft beer and a great way to sample some of the locally made cheese and other delicacies. We ordered the delicious platter below at Terre Rouge (now Terra Rossa) in Charlottetown.
PEI Farmers Markets – eat fresh, buy local!
If you want to get an even better sense of the wealth of fresh farm produce that's available in Prince Edward Island, be sure to visit the Charlottetown Farmer's market which is a short distance from the downtown area. The market has an authentic feel and seems to epitomise the ethos it proclaims of Eat Fresh! Buy Local!
In the green painted market hall, small food producers set up their stalls, selling the most seasonal of island produce, many proudly proclaiming their pesticide free and organic credentials. When we were there in early summer, it was all about the spring greens, with baby turnips, kale and rhubarb, while a few months later I'm sure that the shelves would be full of strawberries, blueberries and other soft fruit.
This PEI Farmers market takes place every Saturday 9am to 2pm all year round in a permanent building at 100 Belvedere Avenue. Look out for the different varieties of PEI potatoes, and the jars of homemade jellies, jams and handicrafts to take home. Mixed in with the produce there are stalls selling lunchtime dishes and snacks to take away; cakes, pastries and seafood snacks.
Read more: Food adventures on our Canadian Road Trip in Ontario and Quebec
It's worth coming hungry to try out some of the home baked goods in the small cafe. If you're driving around the eastern side of the island, there's also the Summerside Farmers Market that also opens every Saturday 9am – 1pm. Also in the centre of Charlottetown, opposite the Confederation Arts Centre there's a Sunday farmer's market with 70 different food and craft producers. You can find a full list of other Farmers Markets in PEI here.
More info: Charlottetown Farmer's Market | Summerside Farmers Market | Downtown Farmer's Market Charlottetown
The Potatoes of Prince Edward Island
The humble PEI potato is elevated and celebrated, since the rich, red soil of Prince Edward Island grows more potatoes than any other Canadian province. There's even a potato museum in PEI! On the western side of the island, the Canadian Potato Museum is set among the potato fields where you can visit farm buildings, learn about the potato growing business and taste lots of potato based dishes in their cafe. If you're visiting a Farmers Market, look out for some of the different colours and varieties of potatoes, which seem to love PEI's well drained, sandy soil and gently rolling fields.
One of the best places to try the tasty local potatoes is at The Chip Shack, a food truck on the waterfront at Peakes Quay in Charlottetown. The hand cut chips made with local potatoes are double fried to make them extra crunchy and we can couch for their deliciousness!
The Chip Shack also sells other local favourites like lobster rolls, chilli hot dogs and poutine and there are outdoor picnic tables where you can sit to eat with a view over the marina. The owner Caron is the self proclaimed Queen of Fries and dispenses hugs and smiles at The Chip Shack with lots of bubbly enthusiasm.
Eat your greens in PEI
Kale and leafy greens may not be the most inspiring vegetable, but we found that the locally grown greens were widely used in salads and other dishes when we ate out in Charlottetown.
When used in such a creative way, it became a pleasure to get our daily quota of greens in dishes like this kale salad with beets, goats cheese and caramelised pecans at Terre Rouge (now Terra Rossa) at 72 Queen St in Charlottetown.
Food tours in PEI
For foodies who want to dip into the local food culture, we highly recommend taking a PEI food tour. In just a couple of hours you can taste your way through the flavours of Prince Edward Island, not to mention asking your guide for recommendations for the best restaurants to visit later. Many of the places I've mentioned were visited on our fantastic food tour with Experience PEI. We tried theirTaste the Town tour, but Experience PEI offer a number of other tours and food experiences, such as their Shots and Pints drinks tour or their Mussel and Lobster shore boil.
Our Prince Edward Island food tour not only took us to a range of different food spots around Charlottetown, but gave us a great insight into the island's history as we passed through the historic quarter of the island's capital. The tour included quite a few different food and drink stops and we certainly didn't need to eat much else for the rest of the day!
If you're looking for a unique food experience, you might also check out the Culinary Institutes Boot Camps with half day or full day courses where you can work with a chef to create local dishes based on the seasonal local produce.

The Restaurants in PEI that we enjoyed
The best restaurants in Charlottetown
Although we were in Prince Edward Island for only a few days, we managed to try out a number of places to eat in Charlottetown, that we can highly recommend. At the heart of the dining scene is Victoria Row, a pedestrianised street beside the Confederation Centre of Arts that houses some of the best restaurants in Charlottetown, in a row of turn of the century brick shops and warehouses. During the summer months, the sidewalk becomes a patio bounded by flowering planters, as the restaurants spill out and locals enjoy a drink and bite to eat while soaking up the sunshine.
Turning the corner along Queens Street there are lots of other restaurants on this main thoroughfare through the historic downtown area of Charlottetown. We had a great meal at the well known Charlottetown restaurant Terre Rouge (Now Terra Rossa) at 72 Queens St and you might also like to try the oysters and other seafood at Merchantman fresh seafood and oyster bar at 23 Queens Street. If you have a sweet tooth, take a look at Anne of Green Gables Chocolates at 100 Queen Street for traditional chocolate and truffles that PEI's red haired island heroine Anne Shirley would have dreamed of.
Down the side street of Sydney Street we also dined one evening at Brickhouse Restaurant offering a relaxed atmosphere and brasserie style dishes using local produce, washed down by craft beers and cocktails. For beer lovers The Gahan House is a brewery and restaurant that has a brewery in the basement, where we tried some of their beers on our food tour with Experience PEI. Also on the same street is the Old Dublin Pub and Claddagh Oyster House which has a pub atmosphere and is a great place to try the local seafood and other seafood dishes.
If the sun's shining, I'd recommend walking down to Peakes Quay, where there are several other seafood restaurants including the Chip Shack, Lobster on the Wharf and a branch of the COWs creamery ice cream.
If you want to see more of Charlottetown, we recommend this 1 hour bus tour that will take you to see all the city highlights.
More PEI Restaurants – around the island
As we toured around Prince Edward Island, we also discovered some other excellent restaurants and places to eat. After visiting Green Gables Heritage Place on the north shore, we stopped at The Dunes Gallery which has a lovely restaurant overlooking a pretty garden full of sculptures.
Read more: 10 fun things to do in Nova Scotia on a 3 day road trip
The gallery features the pottery of owners Peter and Joel as well as supporting local artists, with the colourful paintings and prints of over 50 artizans on display. Although the restaurant was closed when we visited, we'd have loved to have eaten in the glass conservatory leading out to the gardens, with a lunchtime and dinner menu based on fresh seafood and local produce.
Even if you're not eating there, you'll enjoy this treasure trove of creativity which is well worth a stop on the PEI Arts and Heritage Trail featuring 140 artists, artisans, arts and heritage sites around the island.
Dalvay by the sea
In an idyllic position, overlooking the sand dunes of the northern shore we found Dalvay by the Sea, which is a privately owned historic hotel and a national monument. The substantial house was built by a wealthy businessman, Alexander MacDonald as his summer residence, which he named after his childhood home in Scotland, Dalvay-by-the-sea.
Read more: 10 fun things to do in Halifax, Nova Scotia
The hotel also featured in the Anne of Green Gables films and TV series as the White Sands Hotel mentioned in the novel where Anne attended a music recital. The interiors are lined with wooden panelling that's reminiscent of an oversized holiday cabin, with 25 guest rooms in the main house, furnished with antiques in classic style.
The Macmillan dining room restaurant offers an upscale dining experience in the house's original dining room where the MacDonald family would entertain their guests. Although we didn't have a chance to eat here, this would be a fabulous place for dinner or perhaps afternoon tea by the stone fireplace in the lobby or in the spacious and elegant library.
21 Breakwater in Souris
The 21 Breakwater restaurant is in a century old house, set back a little from the road with a view over the water in Souris, a fishing and holiday community on the north shore. We stopped for lunch as we toured the Points East coastal drive for an excellent bowl of mussels served with salad and country bread. The dining room is simply furnished with wooden tables and bentwood chairs, with a homely feel and the menu incorporates all the island's favourite seafood dishes such as lobster roll, fish tacos and mussels as well as salads and sandwiches. In their adjoining Second Side Bar you can order craft beers and cocktails with a selection of appetisers.
Fancy's Coffee Counter in Murray River
We received a warm welcome at Companion Coffee which has now rebranded as Fancy's Coffee Counter in Murray River, a pretty community on an inlet by the sea where many people keep their boats or stop on the way to the ferry to Nova Scotia. This small cafe specialises in freshly roasted and ground coffee, so we ordered a cup to try with one of their berry and white chocolate muffins. They also sell a few craft and natural food products from local artists and producers that are worth a look for an authentic PEI souvenir.
Breweries and wineries to visit in PEI
Throughout Canada we've found a strong craft beer culture and Prince Edward Island is no exception. If you're staying in Charlottetown, there are plenty of bars where you can try the local beer, like The Gahan House where we stopped on our food tour with Experience PEI. The brewery is in the basement of the building where you can peer through the glass windows to see the brewers at work, then taste some of their handcrafted ales with a bite to eat. The names of the beers along conjure up the spirit of Island life, with Island Red amber ale, Sydney Street dark stout or Raspberry sour, a wheat beer flavoured with island raspberries.
Outside Charlottetown there are many breweries and cider makers that often make a great stop as you tour the island as you can buy the beer to drink later, taste in their tap rooms and often have a bite to eat at the same time (be sure to appoint your non-drinking driver). There's a full list of craft beer and cider makers on the Tourism PEI website.
If you are more of a wine drinker there are several PEI wineries that you can visit and take a winery tour as well as doing some wine tasting and buy a bottle or two. Assuming you want to enjoy the wine but don't have a designated driver, you may want to book with PEI wine tours who can take you to all the best wineries around the island. There's a full list of wineries on Prince Edward Island on the Tourism PEI website, but a couple that offer tours and tastings are Rossignol Estate Winery and Matos winery and distillery.
You may like to try this Prince Edward Island Lighthouse and Winery tour that includes a stop at the Rossignol Estate Winery
PEI Food festivals and experiences
If you're visiting Prince Edward Island, you may want to plan your trip to coordinate with one of the fabulous food festivals that take place, especially in the autumn.
At the time of writing in 2020, some of these festivals may be postponed until 2021 or take place in a different form, so please check before you travel.
Fall Flavours PEI – This month long festival takes place in September and early October, with a series of events that include a restaurant programme showcasing local chefs, culinary events and activities all over Prince Edward Island. Fall Flavours incorporates the 2 day PEI beer festival in September to showcase local craft beers.
PEI Shellfish festival – A four day festival that takes place in September with culinary demos by local chefs, dining experiences and competitions for the best oyster shucking and seafood chowder.
Tyne Valley Oyster festival – A weekend festival at the start of August, incorporating the Canadian Oyster shucking championship which draws competitors from all over Canada, as well as oyster suppers, a family centred oyster parade and music events.
Summerside Lobster Carnival – a 3 day festival in July which is community and family centred with culinary events, parades and competitions that celebrate the culture of lobster fishing and eating in PEI.
PEI Festival of Wines – a 3 day festival in May with wine tasting and winemakers dinners. There's also a 1 day PEI spirits festival in November.
Where to stay in PEI
We loved our stay in Charlottetown at The Great George Hotel which made a perfect base for us to see the island's capital as well as touring all the other places we visited around PEI.
The Great George is a historic boutique hotel that has expanded from its original corner building, taking in all the pretty pastel painted houses nearby that hide hotel rooms beside their quaint facades.
The hotel has been the smart place to stay in Charlottetown since the 1850s, when it hosted some of the delegates at the Charlottetown Conference when Prince Edward Island became the Birthplace of Confederation.
The Great George is in a perfect location for sightseeing and despite being bang in the centre of Charlottetown's historic district, there's a car park tucked away in the courtyard which means that it's no problem to park your rental car.
Inside there's a homely but elegant feel, with the spacious ground floor given over to comfortable sofas and seating areas where you might sit and read, have a chat or play a board game seated around the fireplace. This is also where a buffet breakfast is served with fresh fruit, yoghurts and those very moreish cinnamon buns to go with your coffee.
The atmosphere of The Great George Hotel is warm and welcoming, with friendly but unobtrusive service and I'd highly recommend it as a place to stay in Charlottetown. The hotel does not have a restaurant, but as you are in the heart of the historic district, there are any number of excellent places to eat within a few minutes walk of the hotel, including the collection of bars and restaurants along pretty Victoria Row.
More info: Great George Hotel website | Book and check prices here | Take a look at the other hotels in Charlottetown here.
Visitor Information for Prince Edward Island
To help plan your trip visit the Tourism Prince Edward Island Website and the Discover Charlottetown website
There are lots more ideas for foodies on the Canada's Food Island website, with information of food producers, experiences and events on Prince Edward Island.
Check prices and book here for hotels in PEI
Need a guidebook for Prince Edward Island? We recommend the Lonely Planet Guide
Getting to Prince Edward island: We flew into Halifax, which is the closest international airport, and then drove to PEI as part of our 7 day road trip around Nova Scotia and PEI. The island is connected to the mainland by both a bridge and a regular ferry service and it's fun to try both if you can. We drove across the Confederation Bridge from New Brunswick, from where it's a 45 minute drive to Charlottetown. There is a toll when crossing from PEI to New Brunswick, but it's free in the other direction when travelling from New Brunswick to PEI.
On the way back, we explored the South East area of PEI and then took the Wood Island Ferry back across to Caribou, Nova Scotia. There are up to 8 ferry crossings per day which is operated by Northumberland Ferries.
For other things to see in Canada visit the Canada Tourism website.
Pin it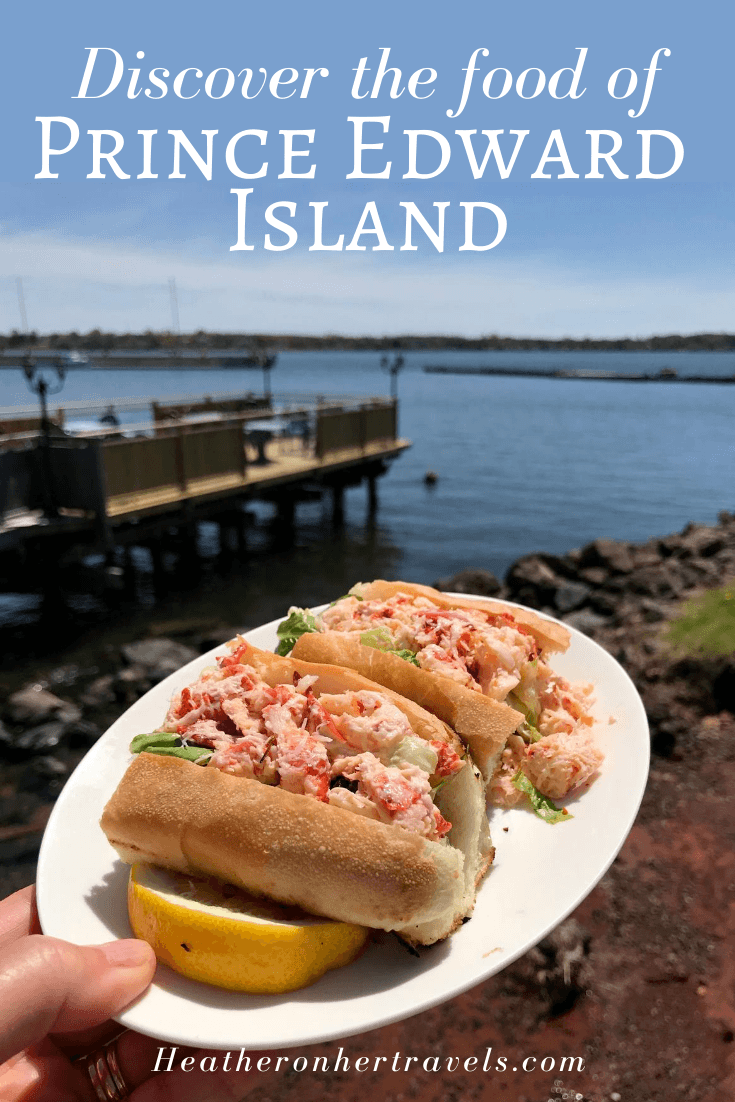 This article was sponsored* by Tourism PEI who provided the hotel stay, meals and experiences mentioned.
* More info on my policies page
This article is originally published at Heatheronhertravels.com – Read the original article here
This article may contain affiliate links that provide commission on purchases you make at no extra cost to you. As an Amazon Associate I earn from qualifying purchases.