In St Peter's Basilica in Rome, pilgrims come to pay their respects to the bronze statue of St Peter, the first Pope and rock of the early church, over whose tomb the basilica was built. But many wonder why do you touch St Peter's foot?
Pilgrims would bend down to kiss the foot of St Peter's statue in the Vatican, and over the years the metal has worn away so that the toes blend in with the rest of the foot. Nowadays most visitors opt for touching the St Peter statue foot instead of kissing it, but the feet are still worn down due to the human contact.
Get fast track access in this 3 hour tour of the Vatican Museum, Sistine Chapel and St Peter's Basilica
When we visited there was a steady stream of visitors passing by the statue, some hurrying on to see the next thing, some pausing to say a prayer and others posing to have their photo taken. It's a way to find some personal meaning in a place where one might otherwise be overwhelmed by the scale and magnificence of it all.
Check out this Vatican highlights tour – with skip the line access the the Vatican Museums, Sistine Chapel and St Peter's Basilica as well as a small group size of 12 people
I'm glad that visitors can get close enough to make contact in this way – it would be a pity if all the beautiful objects were shut away behind glass like Michelangelo's Pietà, which was protected behind glass after someone took a hammer to it.
It somehow misses the point of why such religious works of art were created in the first place.
More articles about Rome
Three coins in the Trevi fountain
The mouth of truth at Santa Maria in Cosmedin
Peep through the keyhole at the Priory of the Knights of Malta
See all my Rome photos on Flickr
Pin It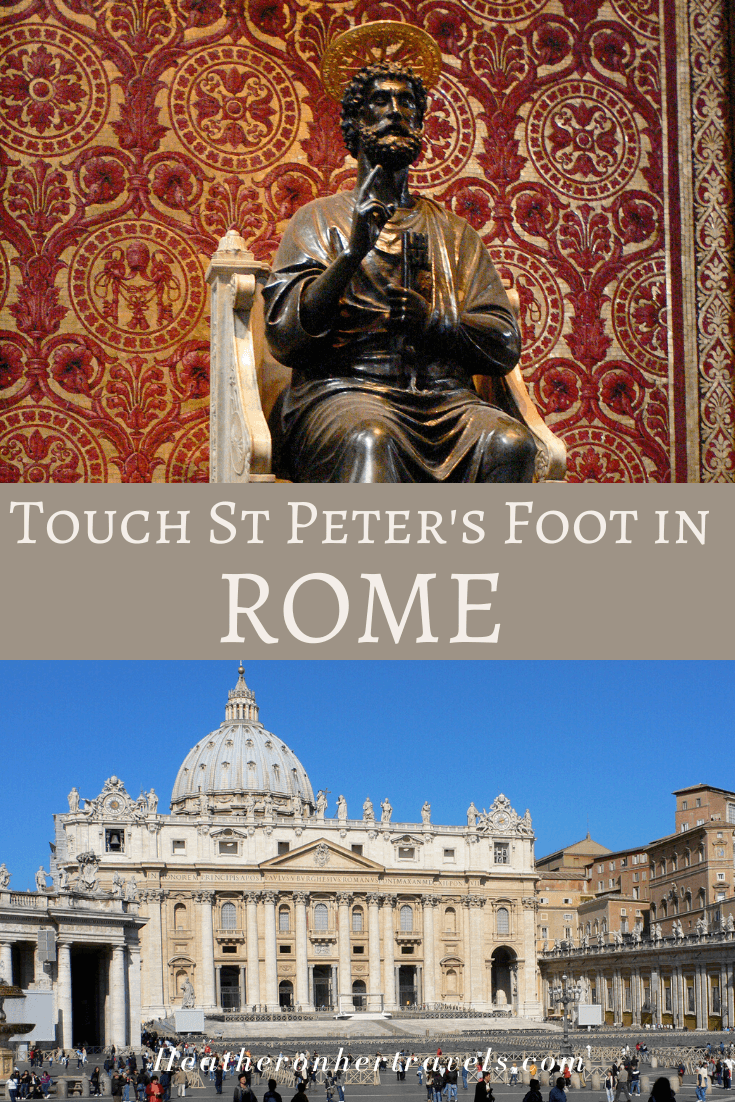 Photo credit: Michelangelo's Pietà by twstringer
This article is originally published at Heatheronhertravels.com – Read the original article here
This article may contain affiliate links that provide a small commission on any purchases you make at no extra cost to you.