As I drove through the West Sussex countryside, I was captivated by the gently rolling landscape, the fields filled with spring crops of yellow rapeseed and the pretty villages with their red brick and stone cottages. I was on my way to meet my sister, for a couple of days exploring the delightful market town of Petworth and the countryside nearby, staying at the Halfway Bridge Inn in Lodsworth. The town makes an ideal base for a relaxing country weekend with plenty to see, great food and gorgeous walks within the South Downs National Park – so here's a flavour of how to spend a perfect weekend in Petworth.
This article may contain affiliate links that provide commission on purchases you make at no extra cost to you. As an Amazon Associate I earn from qualifying purchases.
Saturday Morning – A wander around Lodsworth
I always try to discover what's around the places I stay, so our morning started with a short drive up the road from The Halfway Bridge, to the pretty village of Lodsworth. It would have been a beautiful walk across the fields, filled with yellow rapeseed, but as we planned to continue on to Petworth, we took the car and popped into the Langham Brewery.
The brewery is housed in an 18th century granary barn and there's a small tasting area by the door as you enter. The friendly brewers are only too happy to give you a few tasters, to help you decide what to buy. As you savour a taste of West Sussex real ale, look around at all the vats where the beer is being brewed.
The Langham brewery is well known locally for its traditional cask conditioned real ales, which will probably be on sale in many local pubs you stop at for a drink. Enthusiasts will be happy to hear that you can arrange a 2 hour brewery tour for your group, with plenty of tasting opportunities!
You may also enjoy: 10 things to do in Cheltenham in just one day
Buying our picnic at the Lodsworth Larder
A little further up the road is the heart of the Lodsworth village and we stopped at the community-run Lodsworth Larder, to buy a few items for our picnic lunch. Look out for the ciabatta bread that's made at the Farreti bakery next door to the Langham brewery, as well as local cheeses and other items made by Sussex craft producers.
St Peter's church in Lodsworth
Leaving our car in the Lodsworth Larder car park, we took to opportunity to look around the village, with pretty cottages made of stone and red brick, in the West Sussex style. Down the lane, past gardens overflowing with wisteria and flowering clematis, we found the church of St Peter's, and had a look around the beautiful medieval stone interior with modern stained glass at the entrance.
Read my review of The Halfway Bridge where we stayed
A wander around Petworth
Our next stop was the attractive market town of Petworth, known as a centre for antique shops and stylish boutiques, with plenty of good food, arts and culture. If you're shopping, you'll find all the necessities of life such as a bank, supermarket and pharmacy, but Petworth is really a place to shop for the better things in life, designer fashions, delicious food and artistic finds for your home. This is the home of independent shopping, with small streets and pedestrian lanes, that give a glimpse into courtyards and gardens tucked away through an archway or gate.
There is a town car park if you're staying a while, but the first hour of parking is free in the streets of Petworth. This was just long enough for us to have a look around the clothes shops, browse in the second hand book stores and wander along some of the pretty cobbled streets and courtyards.
We stopped at The Hungry Guest Deli where we could have lingered for hours, drooling over the delicious food, much of it locally sourced. They even have a cheese room where everything is beautifully laid out and kept at the perfect temperature. There are a few stools and counters at the window where you can buy something in store and then eat or drink it there and then.
Read my review of The Halfway Bridge where we stayed
Other shops that we loved included;
Petworth Antiques Market – a light and airy warehouse, full of smaller stands stocked by different antique dealers, for collectables and fun things for the home. (East Street)
Petworth Vintage Market – in the lane beside Coco Café and Sugar Lounge, a shed and courtyard selling cool collectables and antiques. (Saddlers Row)
Kevis House Gallery – A small gallery in Lombard Street with changing exhibitions of different artists. They also have the Petworth Penthouse – a luxurious 3 bedroom self-catering apartment above the gallery.
Artful Teasing – scented toiletries and skincare, heavenly fragrances for you and your home. (5 Lombard Street)
Red Card – The place for pretty greeting cards and small gifts (6 High Street)
Tallulah Fox – Inspirational pieces for the home with cushions, ceramics and quirky printed aprons and tea towels. (Lombard Street)
If you're looking a bite to eat, we'd recommend you try;
Cates Deli – A family run deli filled with delicious things to buy for your picnic and a small cafe area attached
The Hungry Guest Cafe – sister café to the Hungry Guest deli, serving brunch, light meals and coffee all day. (Lombard Street)
Coco Café & Sugar Lounge – cakes, chocolates and nostalgic sweets accompanied by tea, coffee and hot chocolate – ices and sodas in summer (Saddler's Row)
We'd have liked to pop into Petworth Cottage Museum, to see how people lived in days gone by, but it wasn't open until the afternoon and it was time to press on to Petworth House. Petworth Cottage Museum Open 2-4.30pm April-October daily Tuesday-Saturday.
Petworth House
Petworth House and Park is just on the edge of Petworth town, so it's easy to visit both in one day. This impressive mansion was built in 1682 by the heiress Elizabeth Percy and her husband the Duke of Somerset. It's surrounded by a 700 acre deer park, which was landscaped by Capability Brown. The successive owners: the Earls of Northumberland, Duke of Somerset and Earls of Egremont, built up an outstanding art collection over the centuries. It features important artists such as Van Dyck, Reynolds, Titian and Turner, making one of the best collections of Old Masters outside London and a heaven for art lovers.
After our picnic lunch on the edge of the deer park, we entered the pleasure gardens of Petworth House. The grassy slopes were covered with daffodils that had mostly finished flowering, but were now replaced with a thick carpet of bluebells under the trees. Beside the path were rhododendrons and azaleas, with big blowsy blooms of pink like frothy ball gowns, a contrast to the delicate bluebells and white bark covered with lichen. We followed the path up to the Ionic Temple, created by Capability Brown, which stood on a mound, with views over Petworth town.
Read my review of The Halfway Bridge where we stayed
Our walk led on towards Petworth House, which although packed with artwork is not too overwhelming if you just home in on a few different rooms or paintings. There are leaflets that allow you to pick out themes of some of the most famous paintings, such as the eight Turner paintings including a couple of Petworth Park, or the collection of paintings of scenes from Shakespeare collected by the 3rd Earl of Egremont.
One of my favourite rooms was the Marble Hall, originally the grand entrance of Petworth House. Everything about it was designed to impress visitors, who arrived along the driveway and past the formal gardens, before Capability Brown turned them into a deer park. I also loved the Carved Room with the Holbein copy of Henry VIII, surrounded by wooden garlands of fruit and flowers, created by Grinling Gibbons.
Across the courtyard from the main house we found the Servant's Quarters, in a long low building housing the original kitchens and store rooms. We wandered through the meat larder and winter dairy, and the grand kitchen with shelf upon shelf of polished copper pans and jelly moulds. There was a passageway from the kitchens leading under the courtyard, so that food could be transported to the house, without having to go outside. At one end of the building is the shop and café, with some seating extra at tables outside in the courtyard.
Read my review of The Halfway Bridge where we stayed
If you go: Petworth House is run by the National Trust, open most days 10am-5pm (house from 11am). Entrance charges to house and pleasure grounds. Entrance to the deer park only is free. There are regular guided tours. Check the website for more details.

If you'd like to read more about Petworth House, we recommend the National Trust Guidebook to Petworth House.
Where to stay for a weekend in Petworth
I highly recommend staying at The Halfway Bridge just outside Petworth – read my review of The Halfway Bridge here. The old coaching inn is set back from the road between Petworth and Midhurst and rooms are in a separate converted barn which is a couple of minutes up the lane. The rooms were cosy and comfortable, stylishly decorated and overlooking a grassy courtyard. Most of all we enjoyed the delicious dinner and breakfast at the inn, which is served at wooden tables among the exposed brick and wooden beams surrounded by old photos of the inn. The food was outstanding, beautifully presented and featuring local produce and there's a comfortable bar area if you just want a pint of local ale or a G&T.
Rates per night based on 2 people sharing b & b: Standard Rooms from £98, Deluxe Rooms from £112, The Suite £147. There is free Wi-Fi and parking. Check prices and book for The Halfway Bridge
A country walk from Lurgashall
For Sunday morning, what better than a country walk across the fields, followed by lunch at a country pub? My sister had found just such a walk, which started at the nearby village of Lurgashall and made a circular route through Lickfold, passing the Blackdown distillery for a quick wine tasting.
We parked our car by the Noah's Ark Inn in Lurgashall and felt we'd discovered a quintessentially English village. The pub overlooked the village green, surrounded by old brick houses, covered with wisteria in full bloom. The small pavilion with a clocktower seemed to be waiting for a village cricket match to start and the red telephone box and old signposts pointing to nearby villages, completed the perfectly English scene.
Read my review of The Halfway Bridge where we stayed
As we left the village behind, we could hear pigeon cooing in the ancient oak trees with a froth of cow parsley along the edge of the lane. We followed the footpath beside a freshly ploughed field, with bright green shoots of spring wheat in the next field. The verges were scattered with bluebells and we could look up to the wooded slopes of Bexley Hill with an aerial at the top.
Reaching a lane, we walked towards a large millpond, with water running through the sluice gate. The water was gushing down to the meadows, where a tranquil stream meandered through the reeds, and a little further up the path we reached a farm. In the enclosed farmyard, the pigs were wallowing on the muddy ground, with cockerels pecking in the dirt. In the orchard opposite more hens were clucking under the apple trees and a baby lamb gazed at us from the safety of its mother's back.
At around the halfway point of the walk we reached Lickfold Inn, a country pub with a fine dining restaurant upstairs. We settled into the bar for a mid-morning coffee, a comfortable place with a fire laid and herringbone brick floor. The furnishings here were definitely up a notch from your average pub, the oak tables and chairs mixed in with leather bar stools and rather elegant sofas, upholstered in smart tweeds and linens.
We had a peek upstairs at the restaurant which took the elegance to another level and would definitely be the place for a special occasion lunch or dinner. In the bar we eyed up the tempting menu of English bar snacks, such as local asparagus, chicken and foie terrine or pork and prune sausage roll, but decided to save ourselves for lunch at the end of our walk.
Read my review of The Halfway Bridge where we stayed
Walking up the path from Lickfold Inn we came upon a flock of black faced sheep and lambs, lying in the field under Blackdown hill. Once they realised that we had no food for them, they decided our paparazzi photos were too much of an intrusion, and with a loud Baaa walked haughtily off in the opposite direction. The path took us past woodland full of bluebells and into an open field, where we breathed in the rich aroma of cow manure. Across the field we could see the source of the smell, with cows in the straw filled barn peering out at us.
Looking for more walks in West Sussex? We recommend the Pathfinder West Sussex and South Downs Walks.
Not long before our walk took us back to Lurgashall, we made another welcome stop at the Blackdown Distillery. Within an old barn was the distillery shop, where a friendly lady pressed us to try some of the spirits and fruit liqueurs made at the distillery. There was Sussex dry gin and silver birch vermouth, as well as raspberry, strawberry and black cherry liqueurs, as well as the more unusual flavours of walnut, elderberry and rose petal.
The shop was quaint with all the bottles nicely displayed and an "alchemist at work" area at one end, where they do group tastings or create bespoke gins for special clients. Of course we couldn't resist buying a few miniatures to take home and the full bottles are also on sale as well as available by mail order.
From the distillery we walked on through the wood with banks of bluebells on either side. The path opened out to a couple of open fields, where a white pony was grazing and the apple orchards were a sea of blossom. Through the trees, we could spot the church spire by the Lurgashall village green, where we had started our walk.
By the time our 2.5 hour walk brought us back again to the Noah's Ark Inn, we felt we had really earned our lunch. We found a table in bar area and ordered from the specials board, a smoked salmon sandwich on granary for me and a lamb kofta from the main menu for my sister. I'd highly recommend the Noah's Ark Inn for either lunch or dinner, although I imagine that it must be packed on summer weekends, so you probably need to book.

Plan your weekend in Petworth
More information to plan your weekend on the Discover Petworth Website
More hotels in Petworth
The Angel Inn – This is a good choice if you prefer to stay in Petworth itself. There's a traditional bar serving local ales and dishes made with fresh, locally sourced produce. Upstairs are 6 bedrooms which have been recently refurbished in soft shades starting from £100 including breakfast.
Check prices and book for The Angel Inn
The Old Railway Station – For something a little different check out The Old Railway Station where you can stay either in Old Station House or in one of four restored Pullman carriages.
Check prices and book for The Old Railway Station
Hotels in Midhurst
The Spread Eagle Inn – Midhurst is a good alternative to Petworth if you'd like to stay in another of West Sussex's charming market towns. The Spread Eagle Inn is one of England's oldest coaching inns and has 39 elegant bedrooms as well as an indoor pool and spa and a restaurant with huge inglenook fireplace. Check prices and book for The Spreadeagle Inn
Hotels near Chichester
Goodwood Hotel – Close to Chichester, the Goodwood Hotel is set in the 12,000 acre Goodwood estate, with luxurious décor and the Farmer, Butcher, Chef restaurant featuring produce from the estate. Check prices and book for The Goodwood Hotel
Pin It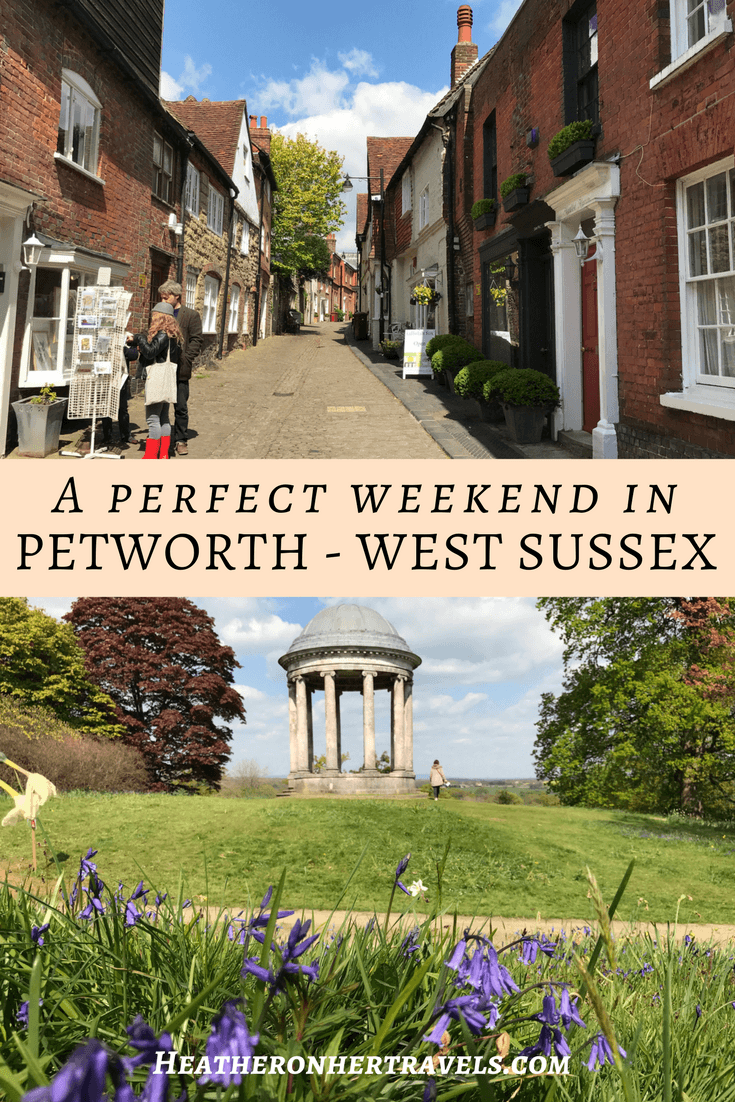 This article is originally published at Heatheronhertravels.com – Read the original article here